15 Best Old-Fashioned Recipes to Bring Back for Fall
Celebrate the foliage, the crisp nights, and, best of all, do it while wearing flannel.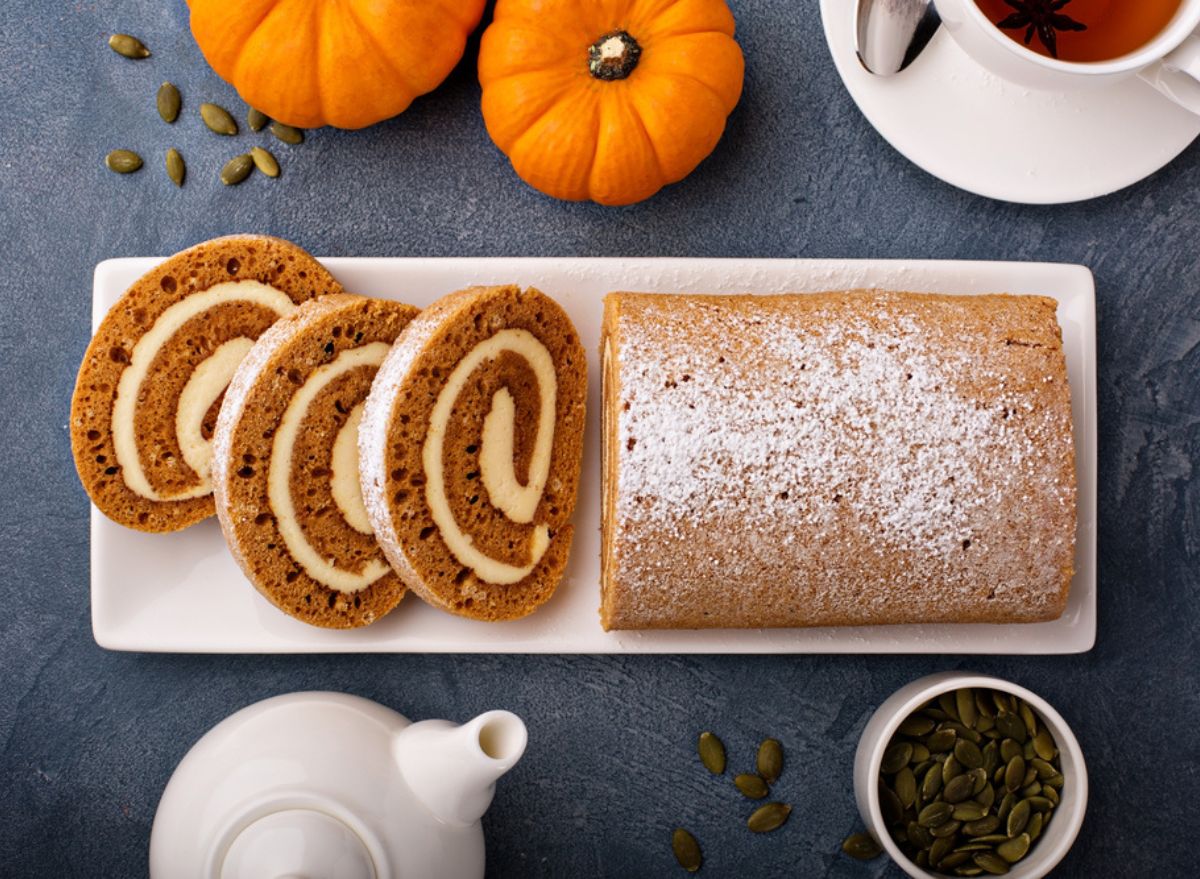 If your favorite month is October and your favorite season is autumn, it's time to celebrate. It's the season when the leaves brushstroke the forests and mountains with color, the air is cleaned with the wind, and recipes for comfort food and bonfire-perfect cocktails slip into kitchens and restaurants.
Welcome to comfort food season. For centuries, bright orange pumpkins have appeared in dishes like soups, pies, and muffins. Squash has been stuffed and baked. Cranberries are feted in cocktails and relishes. And apples are sipped in ciders and baked with cinnamon.
Bring back these 15 old-fashioned recipes to celebrate the foliage, crisp nights, and the best of fall flavors. Plus, try these 11 Old-Fashioned Snacks With Healthy Modern Twists.
Roasted Stuffed Acorn Squash
This sweet and nutty stuffed veg recipe is fun to play with after a jump in the leaves—load it up with ingredients like mushrooms, onions, cheese, and chicken, and pop it in the oven. This recipe from Fool Proof Living includes protein-rich quinoa and is garnished with cranberries, apple, and fresh parsley, for a sweet-savory, nourishing combo.
Get the recipe from Fool Proof Living.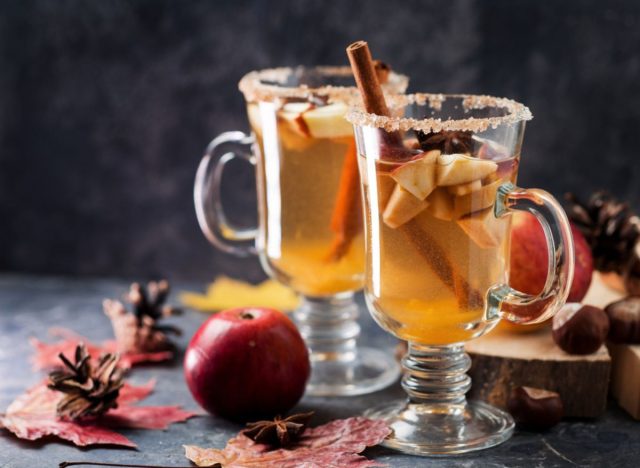 Who can resist a beautiful ripe apple, Eve couldn't. And autumn is the best time, of course, to give in to the temptation to make fresh apple-inspired recipes.
This is a versatile sip, sweet for the kiddos and also ripe for an adult sip with a rum spike. It's a feel-good fall favorite that warms the heart and makes your home smell great, too.
Make this recipe on the stove or in the slow cooker; if making it for a dinner party or party, add the rum 15 minutes before guests arrive when using the slow cooker.
Get the recipe from Sweet Humble Home.
This classic, old-fashioned British fall treat gives a proper curtsy to ingredients like ginger, cinnamon, and treacle (blackstrap molasses). Parkin is similar to gingerbread and is ritually eaten on Bonfire Night, November 5, which celebrates the failure of Guy Fawkes to blow up the Houses of Parliament in 1605.
Get the recipe from Daring Gourmet.
Grandma's Sweet Potato Casserole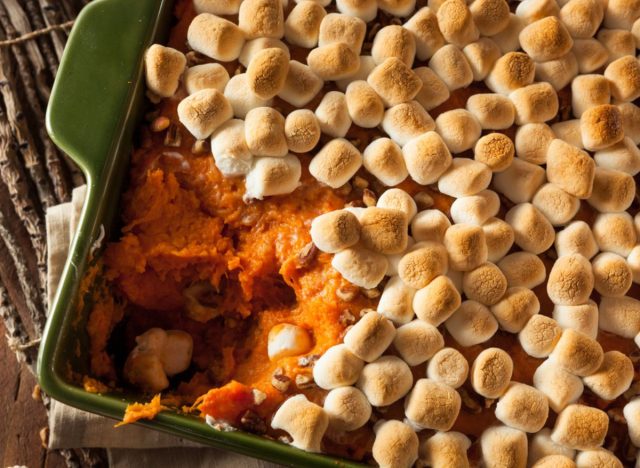 Autumn is sweet on sweet potatoes. And any grandmother will tell you, one of the most popular ways to enjoy the rust-colored, knobby starch is in a casserole. It goes a long way, is nourishing and delicious.
Get the recipe from Kate Shungu of Gift of Hospitality.
Baked Apples and Cinnamon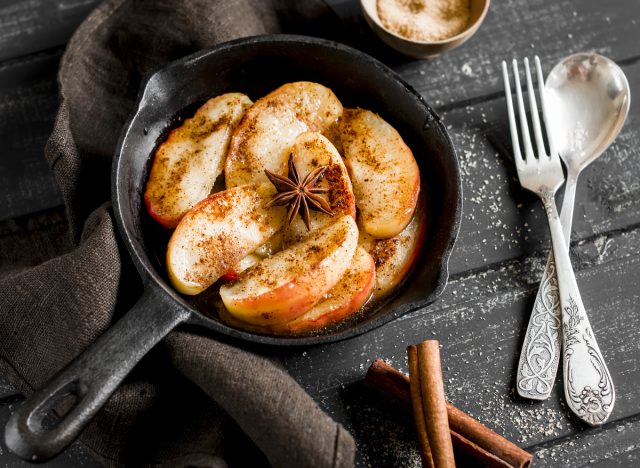 This was a favorite of mine growing up—my mom loved to celebrate apple season with this fragrant dish that would accompany pork chops or be served for dessert with vanilla ice cream. But it was always much more than the taste. "Loved the smell of them baking, it meant fall," says my mom. "That's the point, the smell of these fall dishes cooking."
Get the recipe from Sugar Spun Run.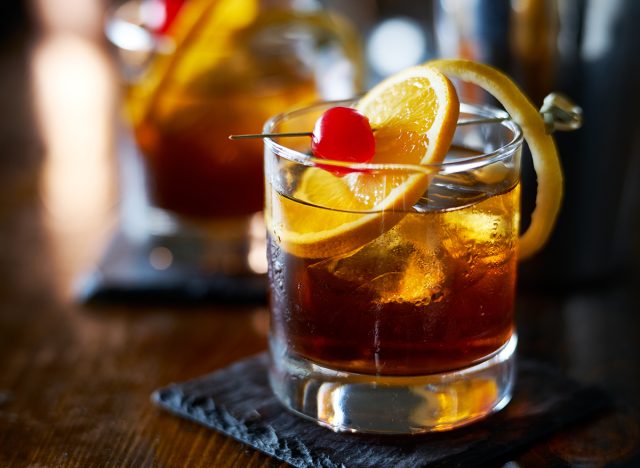 Autumn also ushers in a lovely new cocktail season. Chris Bidmead, the founder of Bar Methods, loves this fall-inspired, classic Old Fashioned that has "a lot of room for creativity." The key: apples and unfiltered cider. "Since there is a natural sweetness in the cider, it doesn't take much to help it along and make a beautiful syrup," he says. The recipe calls for two parts cider to one part sugar in the raw. Pair that with a high rye bourbon to get a little more complexity and spice from the whiskey for some warmer notes. Then a few dashes of cardamon and angostura bitters along with a small pinch of salt. Stir that up and garnish with an apple slice and a cinnamon stick and you're ready to sit outside with a warm flannel.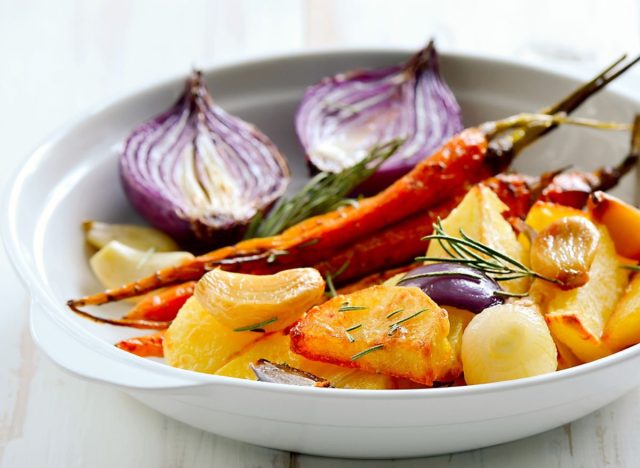 Autumn puts the spotlight on root vegetables, a true celebration of earth and harvest. One of the beauties of these vegetables is their versatility. There's also the idea that root vegetables can be enjoyed with little effort. And, of course, they are prepared as sides to meat dishes but are also in all their glory as a plant-based meal.
"This dish is perfect for those that love things simple and easy, and it can be made in just a few minutes," says Isla Zyair, blogger and plant-based nutritionist at Obesity Controllers Association.
"All you need are some root veggies of your choice—sweet potatoes, carrots, parsnips—olive oil or butter, rosemary or thyme leaves if desired, salt and pepper to season as needed, parchment paper or a silicone baking sheet liner (to prevent sticking), and time."
Recipe: Preheat the oven to 400 degrees F before arranging ingredients on the baking sheet. Drizzle with the desired amount of oil or butter, then place in the oven for 25 to 30 minutes until root veggies are crispy and golden.
In colonial times, this popular apple-centric dessert was loved. Fast forward to more recent decades, and former president Ronald Reagan had Apple Betty on his wish list while in the White House, and enjoyed it often (when he wasn't eating jelly beans.)
The Yale Literary Magazine published a recipe for Apple Betty in 1964, which gave rise to its popularity. Make sure you check out this iconic dessert.
Get the recipe from The Pioneer Woman.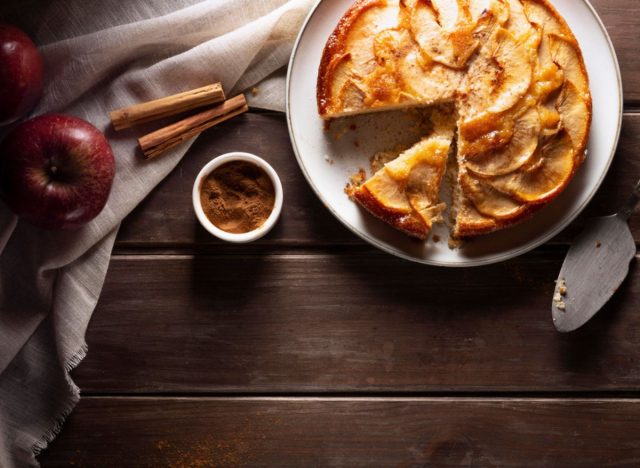 A combo of apple pie and apple cobbler, this is a classic American dessert that is more on the tart side than sweet, thanks to the addition of apple cider vinegar and three pounds of Granny Smith apples, with a top crust that soaks up a semi sweet-and-sour viscous pool of spiced juices as it bakes, says Brian Theis of The Infinite Feast. The dish gets its name from the act of "doturing" (breaking the crust with a knife and pushing it into the filling halfway through cooking), he says. The result is that the top crust absorbs the spicy apple juice while cooking.
Get the recipe from The Infinite Feast.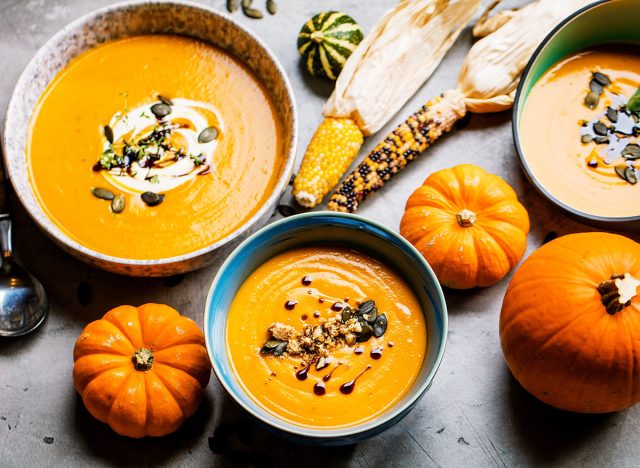 Pumpkins and autumn, are a colorful combo. And pumpkin soup is a perennial favorite this time of year. It's filling, healthy, and can be made with pure pumpkin or canned. And did you know that pumpkin is technically a fruit? Ginger is also harvested in autumn and used to liven up many fall favorite dishes from savory to sweet. This vegan Pumpkin Ginger Soup soup is the best of both worlds, plus it's easy to make and freeze well to be enjoyed throughout the colder months.
Get the recipe from Fool Proof Living.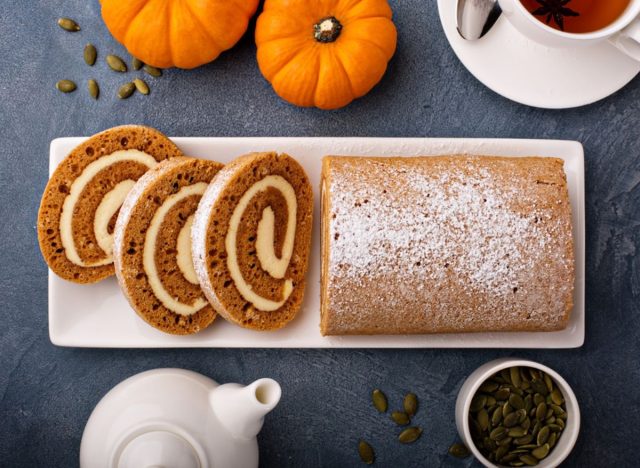 We're on a roll with pumpkins, and so why not a pumpkin roll, a favorite of home bakers in the cooler months to celebrate pumpkin season? Think jelly roll, but made with pumpkin filling rather than jelly.
Get the recipe from Tastes Better From Scratch.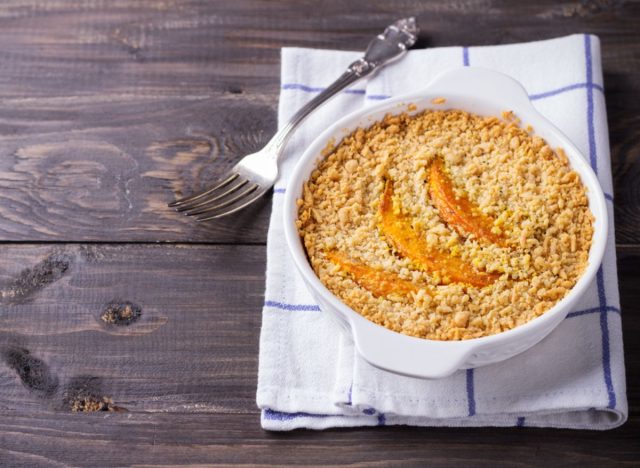 Again, pumpkin. Apple cobblers are more widely known than pumpkin, and this recipe switches up the apple for pumpkin for one fine cobbler. Serve it cold or warm, with ice cream or whipped cream.6254a4d1642c605c54bf1cab17d50f1e
Get the recipe from Made in a Pinch.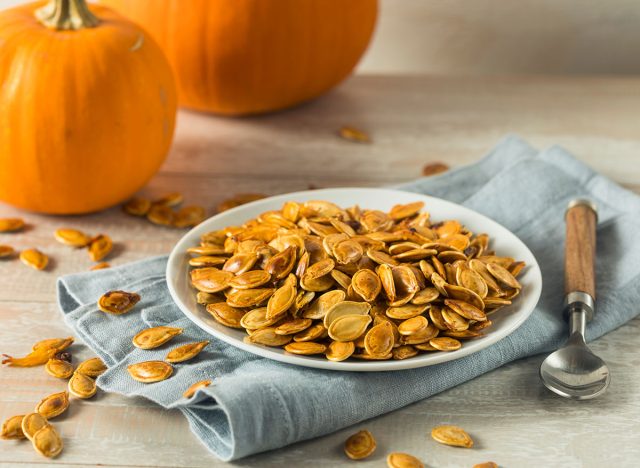 The seeds of the pumpkin don't get as much attention as the fruit itself, but they are an autumnal treat. And couldn't be any easier to make—scoop the seeds out of the pumpkin, let them dry overnight, and then pop them into the oven with a little olive oil, salt, and pepper. Toss in some cayenne if you want to spice them up.
Get the recipe from Tastes Better From Scratch.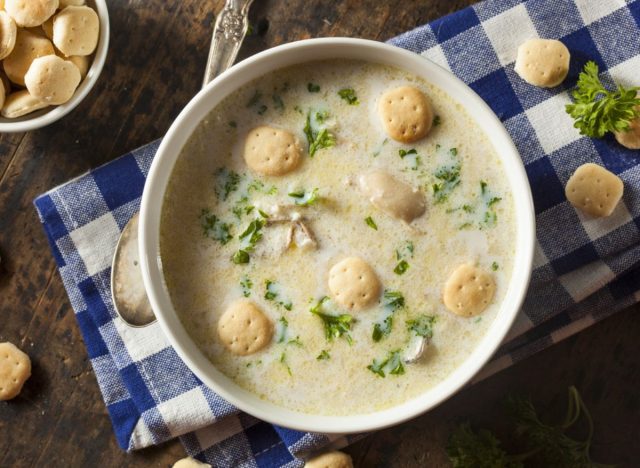 Autumn is the best time of year for harvesting and shucking oysters, and the bivalves are feted with oyster festivals and oyster farm tours like the annual Wellfleet Oyster Festival on Cape Cod each October. There are many oyster dishes dating to the distant past, including this pearl of a recipe.
Get the recipe from She Wears Many Hats. 
The tart little red berry is also celebrated in fall, on the Cape and in other parts of the country, like Wisconsin and Oregon. One of the most popular cranberry-themed recipes is for cranberry relish at Thanksgiving. But an early fall treat, when those cranberries are being harvested and the days are still warmish, is a Cape Codder, a two-ingredient cocktail made with vodka and cranberry juice over ice and garnished with a lime.
The cocktail can be traced to Ocean Spray, which first marketed the cranberry juice, vodka, and lime cocktail as the Red Devil in the 1940s. It's a perfect drink to toast the fall season.