13 Old-School Ingredients Making a Comeback in Restaurants, According to Chefs
Everyone is looking for a little taste of nostalgia—in come these vintage components.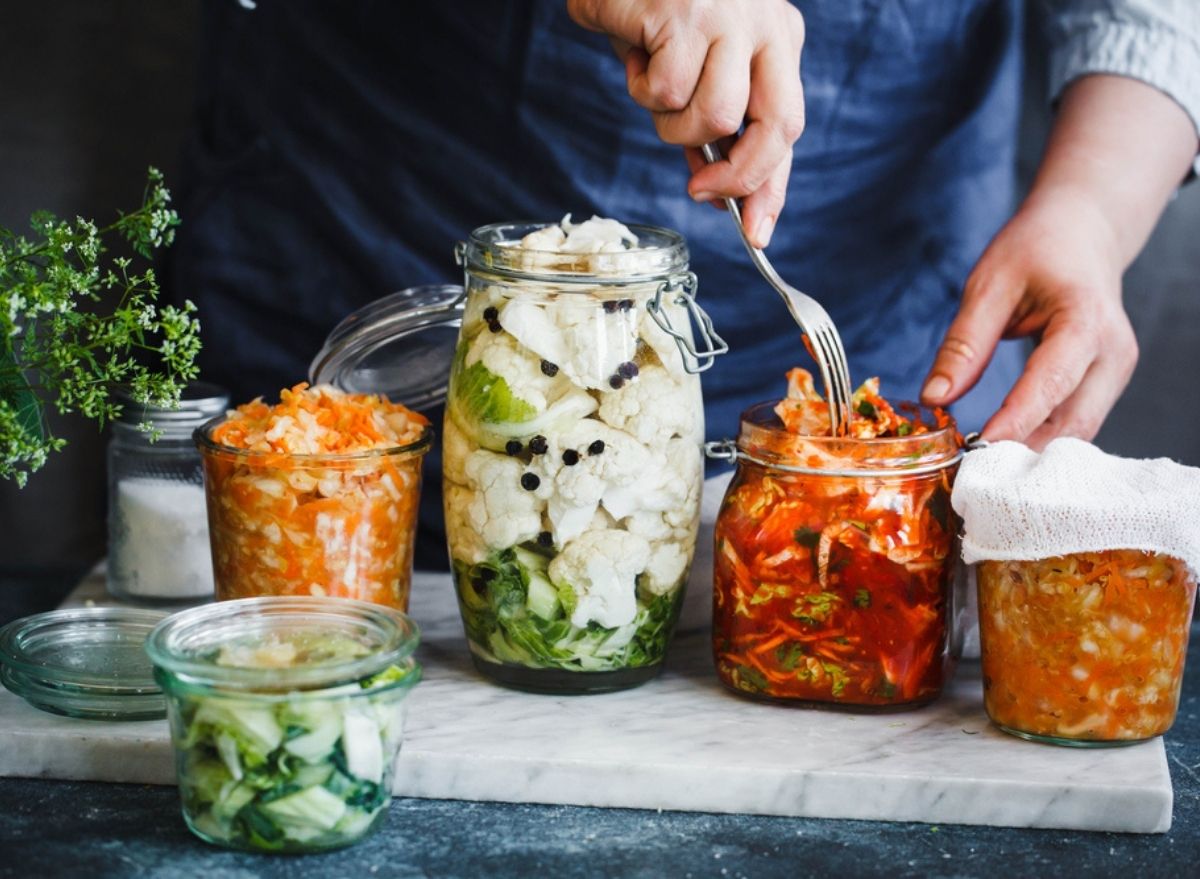 We're all guilty of feeling the twinge of nostalgia on occasion and nothing can take you back to a moment, a place, or a time like the smell and taste of a retro dish or certain old-school ingredients. If you're thrown back to the '90s when you try a fruit-forward cocktail or still dream of molten chocolate cake right from the oven, we've got great news for you: these dishes are making a comeback, along with some ingredients you'd never expect.
While you might welcome coffee, molten chocolate, and fruit purees back with open arms, some of these ingredients may seem a little unfamiliar. However, many are commonplace in other cuisines, such as fermented vegetables like kimchi or salted fish like bottarga. Others, to those in the know, may already seem familiar, like bone broth and white asparagus. 
Espresso martini dominance aside, read on to learn what throwback ingredients chefs and bartenders are most excited about right now. 
Bone Broth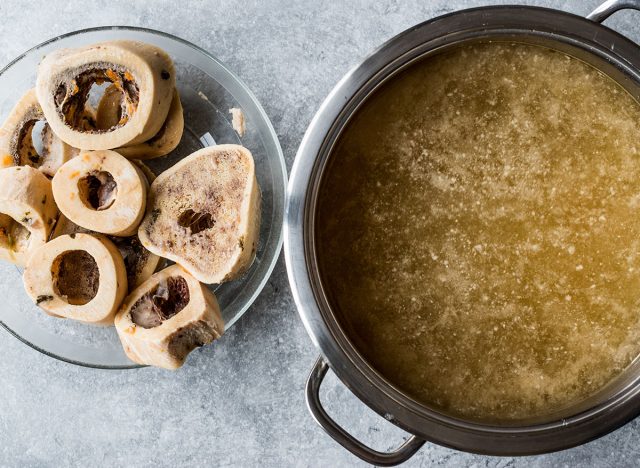 You've probably heard this ingredient mentioned for its health properties, but beyond that, it adds tons of flavor to so many dishes, says Chef and Food Stylist Jen Dyer Brown. 
"Bone broth, a centuries-old health tonic made by simmering bones for a long time, is making a comeback on menus over the past few years. It's a versatile ingredient that adds flavor to soups, stews, and beverages," says Brown. "Chefs and food enthusiasts love it because it's rich in collagen, amino acids, and minerals, and a great source of calcium, magnesium, and phosphorus."  
Coffee and Espresso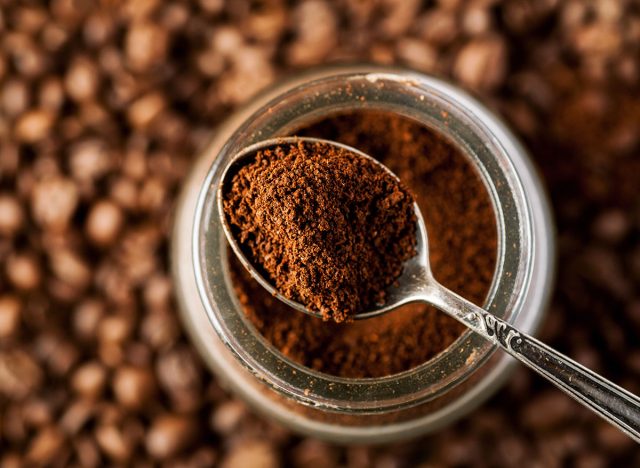 This came up a lot, mostly due to the resurgence of the drink you're probably getting sick of, the espresso martini. But this old-school ingredient is also seeing popularity again as a spice rub, says Alex Guzman, chef and owner of Archer & Goat in NYC.
"Coffee is an ingredient that I have been seeing a lot lately on menus, incorporated in every part of the meal," said Guzman. "From coffee-rubbed steaks, to coffee desserts like tiramisu, to coffee cocktails."
He continued, "The espresso martini has definitely made a comeback in the last couple of years and it's fun to see all the different variations. Our version at Archer & Goat includes masala chai and mole bitters, the spices and the chocolate notes pair really well with the espresso coffee in the cocktail."
Anthony Caporale, director of spirits education at the Institute of Culinary Education, also sees this rising trend, saying, "I've been seeing a resurgence of espresso used in cocktails, and in particular, the espresso martini seems to have returned in a big way, especially online.  I'm not sure if it's bartenders intentionally going retro, or simply discovering on their own that espresso makes a great cocktail ingredient, but either way, it's fantastic to see."
Molten Chocolate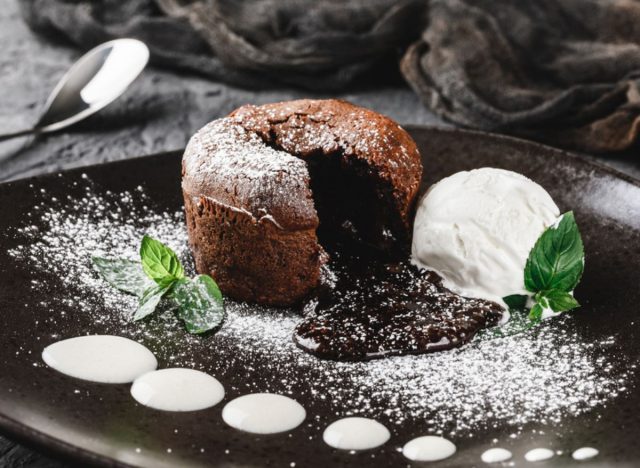 Lava, or molten chocolate, cakes had a big, big moment in the 1990s (probably thanks to chef Jean-Georges Vongerichten), and they're apparently on the verge of a comeback says Christina Ferrari, who owns Shoreline Lake Boathouse & American Bistro, in Mountain View, Calif.
"Lava or molten chocolate cakes are seeing a resurgence," says Ferrari, who has a decadent flourless chocolate cake on her menu. 
It's not surprising, because, as Ferrari notes, "Who doesn't love gooey delicious chocolate!" She explains why they've added this retro recipe, saying "In the case of younger patrons, while the nostalgic element is part of the draw, we are also providing exposure to something brand new, to people with curious palates. For older patrons, bringing back something that they enjoyed in the past (and continued to enjoy, but which, unfortunately, "fell out of favor" due to dining trends) is also rewarding."
Animal Fats
David Benstock, co-owner and executive chef of IL Ritorno in Florida, is "personally loving the comeback" of cooking with different animal fats. 
"It unlocks so many different flavors and brings richness to vegetables and other ingredients that really take dishes to the next level. A lot of people forget how much flavor is in these fats compared to your everyday oils," says Benstock. "For instance, duck fat is used in a lot of French cooking, and schmaltz can give so much flavor when cooking fried chicken or schnitzel, and even latkes. And then you have tallow, which can be used to baste steaks or even cook eggs. This is very present in IL Ritorno's new spring menu; we serve our house-made bread with tallow butter, we baste our steaks in tallow, and we confit potatoes and fava beans in duck fat."
Fermented Ingredients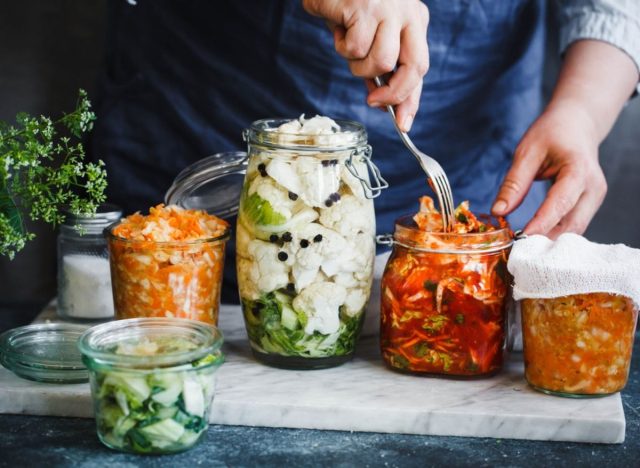 Chef Charles Olalia, Makeready Group's corporate director of culinary operations says fermented ingredients are making their way into kitchens. 
"Fermenting is back more than ever! A few of our kitchens have installed larders so we can ferment on-property. We have been fermenting our own house vinegar, imparting layers of flavor to any dish," says Olalia. 
Brown agrees, explaining why they're so popular, "Kimchi, sauerkraut, pickles, kefir, kombucha, and yogurt are some of the more popular examples. They contain probiotics, beneficial bacteria that boost the immune system and support gut health. Chefs and food enthusiasts love fermented foods because they add complex flavors to dishes."  
Absinthe
This legendary anise-flavored spirit, which originated in ancient Egypt and peaked in popularity in the 1800s, is starting to pop up on cocktail menus again says Tuscan Brands beverage director Jose Luis Betancur.
"At Bar Toscana, we are bringing back the traditional ritual of the Absinthe drip, which is basically social bohemian European drinking and determining how herbal and/or diluted you like your drink, the power of balance and sweetness," says Betancur. This process sees sugar dripped into the liquor to achieve that balance.
They're also adding the strong spirit to cocktails, he told us. "Besides the drip ritual, there are several classic cocktails that only use a wash of absinthe in the glass or a few drops."
Purées and Fruit Juices in Cocktails
Fun and bright ingredients are having a moment after years of bourbon-based drinks dominating cocktail menus, says Buttermilk & Bourbon Group Beverage Director Sarah Heimreid.
"I've been seeing more fruit purées and juices coming back. You're not going to see a screwdriver on a menu again but maybe a more well-thought-out balanced version," says Heimreid. "One drink we do at both of the Buttermilk & Bourbon locations is the Crime of Passion. It combines the elements of an Old Fashioned with a passion fruit liqueur, Love Potion bitters, and a touch of raspberry purée to make a refreshing tangy, and slightly bitter cocktail. It's still all about balance and not having things taste overly sweet, so mixing some of the classic elements with the more fun and bright ingredients that we saw in the 90s."
Cornmeal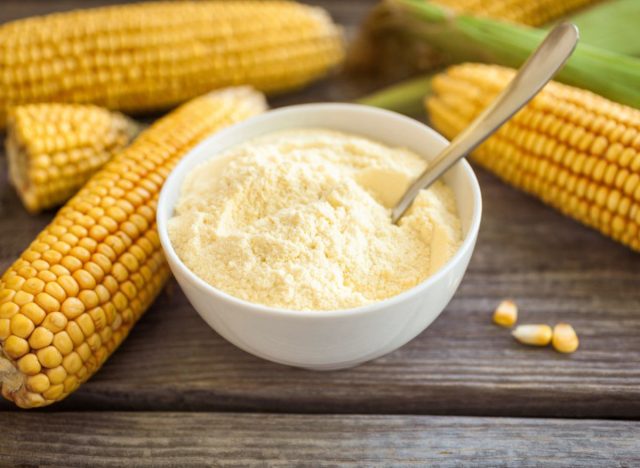 This classic ingredient is seeing a return on menus, according to chef Robbie Shoults, owner of Bear Creek Smokehouse in Texas. 
"An old-school ingredient I'm seeing on and adding to the menus again is cornmeal," Shoults told us. "Cornmeal is an old-fashioned ingredient that has been used since the beginning of time and has become popular again. At Bear Creek Smokehouse, we now have cornbread on the menu as well as our unique Jalapeno Honey Corn Muffins, both made from cornmeal."
Celery Root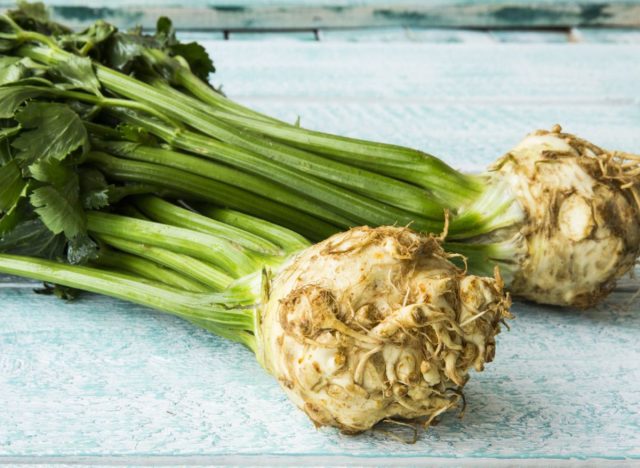 Blaine Welsh, the executive chef at Destino in Washington, D.C., is excited about the return of celery root, also called celeriac on menus. 
"We marinate our celery root in a barbacoa marinade, then grill it. It's plated with a celery root puree and topped with an apple tomatillo salsa. The dish is completely vegan without sacrificing taste," says Welsh. "You can find recipes from Thomas Keller, Charlie Trotter, and other chefs from the 90s and early 2000s that used celery root. It's a very versatile product. It's high in fiber with a very slight bitterness which allows you to cook and marinate it almost any way you like."
Bottarga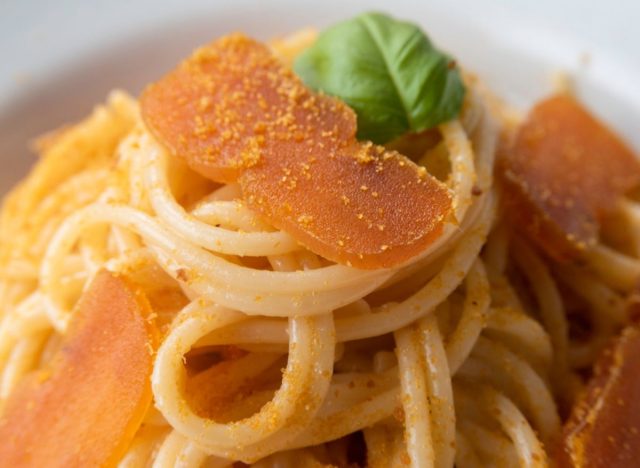 Never heard of this one? It's a super old school and delicious preparation, says executive chef Will Cisa of Jettie Rae's Oyster House in North Carolina. 
"Recently we've had the pleasure of working with mullet roe to make a house-made bottarga (the salted, pressed, and dried roe sac of a fish), a culinary tradition dating back to ancient Egypt," Cisa told us, about the origins of this dish. "Bottarga is an exciting way to add clean fish flavor and umami to finish our dishes, and we're glad to help North Carolina fisherman find a market for this delicious, plentiful fish."
Stuffed Olives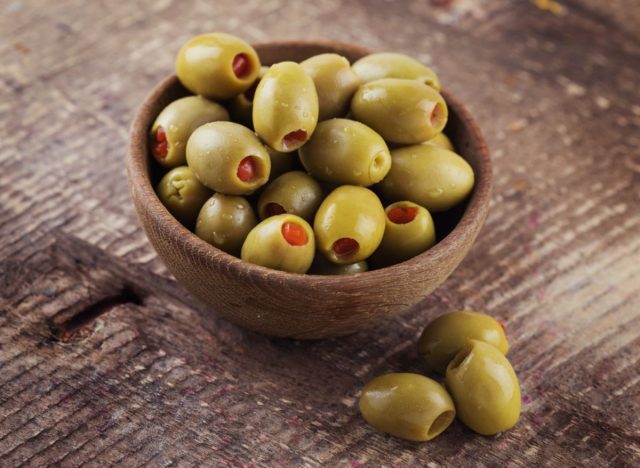 Chef Kyle Patterson, of the retro Sinema Restaurant & Bar in Nashville (it's inside a restored 1940s movie theater) says the standard olive is coming back in different ways.6254a4d1642c605c54bf1cab17d50f1e
"I don't think olives ever went away, but we've been on an olive kick recently. Our preparation is definitely a nod to 'old school' while modernizing them," Patterson says. "We love Gordal olives and have been stuffing them with 'Nduja sausage and then tossing them in a garlic chili crisp that Chef Nikolai from Black Dynasty Ramen educated us about," the chef shared. "We then finish them with lime zest and micro cilantro. The olives themselves are meaty and perfectly brined and are the epitome of something simple executed extremely well. They're worth celebrating."
Duck Liver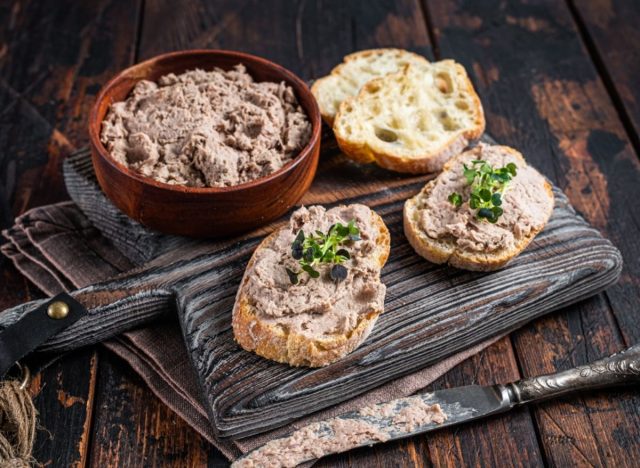 Paté was a huge dish in restaurants in the 90s, and much of it was made with this ingredient. Executive Chef Dane Blom of Grange Restaurant & Bar in California, has seen it come back. 
"Duck liver has been experiencing a recent resurgence in the form of pate and mousse on many menus since it peaked in popularity in the 1990s and early 2000s," says Blom. "We routinely feature it at Grange Restaurant & Bar in Sacramento, and it's exciting to me because it's a prime example of how everything that goes out of fashion can return in popularity in different, more modern iterations."
White Asparagus and Various Beans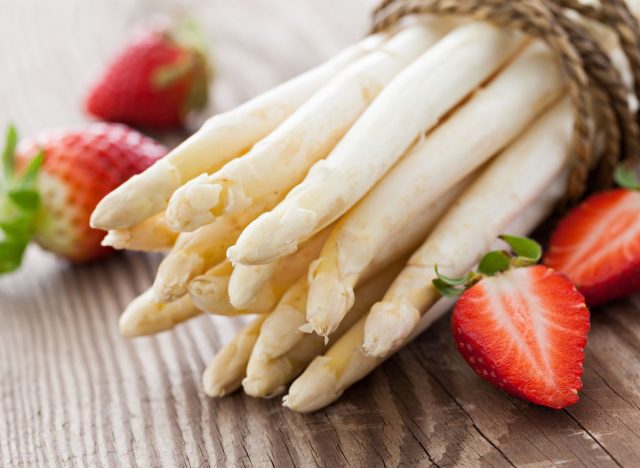 You don't see a lot of white food on menus at the moment, but Soogil Lim, chef and owner of Soogil in NYC is trying to change that. Lim says they're adding "White asparagus and beans such as fresh garbanzos, fava, English peas," to the restaurant's menu because, "They are great spring ingredients and it's good to see them back on the menus versus ramps, for example, which have recently become trendy spring items."
Tanya Edwards
Tanya Edwards is a seasoned food and health journalist, who has held roles at Yahoo Health as Managing Editor and at Food Network as Programming Director.
Read more about Tanya