8 Grocery Delivery Services You Never Knew About
We put together a list of our favorite online food retailers who are still shipping groceries without ridiculous wait times.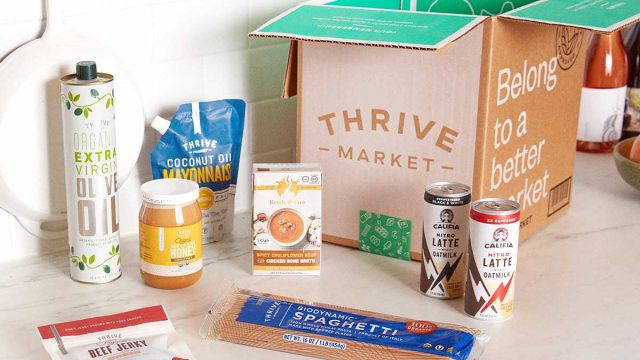 Don't want to leave your house to get groceries? Can't get a delivery time window? Don't feel like dealing with the headache of waiting in line to simply get into the store? Shopping during coronavirus has been a headache to say the least. Not only have people had to take extra precautions when being in grocery stores, but securing a delivery timeslot for services like FreshDirect, Instacart, and Whole Foods is nearly impossible. (In fact, Whole Foods Delivery Times Are In Such High Demand, People Are Trying to Steal Them.)
Whether you want to avoid shopping at grocery stores as much as possible or make fewer trips, there are still ways to order your favorite foods online—you just have to know the right sites.
We put together a list of our favorite online food retailers who are still shipping groceries without ridiculous wait times. Keep in mind that most of these websites sell only shelf-stable products, but that will still help you keep your time in supermarkets to a minimum.
These are the best online retailers for food during COVID-19 pandemic. (They're so useful, you'll probably continue to use them after stay-at-home orders are removed.)
Think of BUBBLE like your local boutique store. The online marketplace is a one-stop-shop for the best of the best when it comes to innovative, high-quality health food brands. Now, you don't have to visit all your favorite brands' websites to order your pantry staples—just head over to BUBBLE and place an order to get them all in one box. Our favorite BUBBLE feature is that you can search the website by lifestyle, diet, and functional needs, such as for Keto, gluten-free, and immune-boosting products.
Thrive Market is what you would get if Costco, Whole Foods, and Amazon Prime had a baby. That is to say that it's an (a) membership-based online grocery retailer that sells food at wholesale prices, (b) offers only the highest-quality, organic, non-GMO foods, and (c) delivers all of this directly to your door.
For $59.95 a year (or in other words, just $5 a month) you get access to thousands of healthy pantry staples from your favorite brands—as well as "store brand" (Thrive Market) goods—at wholesale prices without having to buy everything in bulk. That means 25 to 50% off the standard retail price you buy in the grocery store. This grocery delivery service isn't just something you should consider during quarantine. "At Thrive Market, our mission is to make healthy living easy and affordable for everyone. We serve families across the entire country and pride ourselves in serving communities that are food insecure or do not have immediate access to healthy, organic products," says Nick Green, Thrive Market co-founder and CEO.
If you're going to get one grocery subscription service, you should make it Thrive Market.
RELATED: 23 Healthy Foods You Should Always Buy From Thrive Market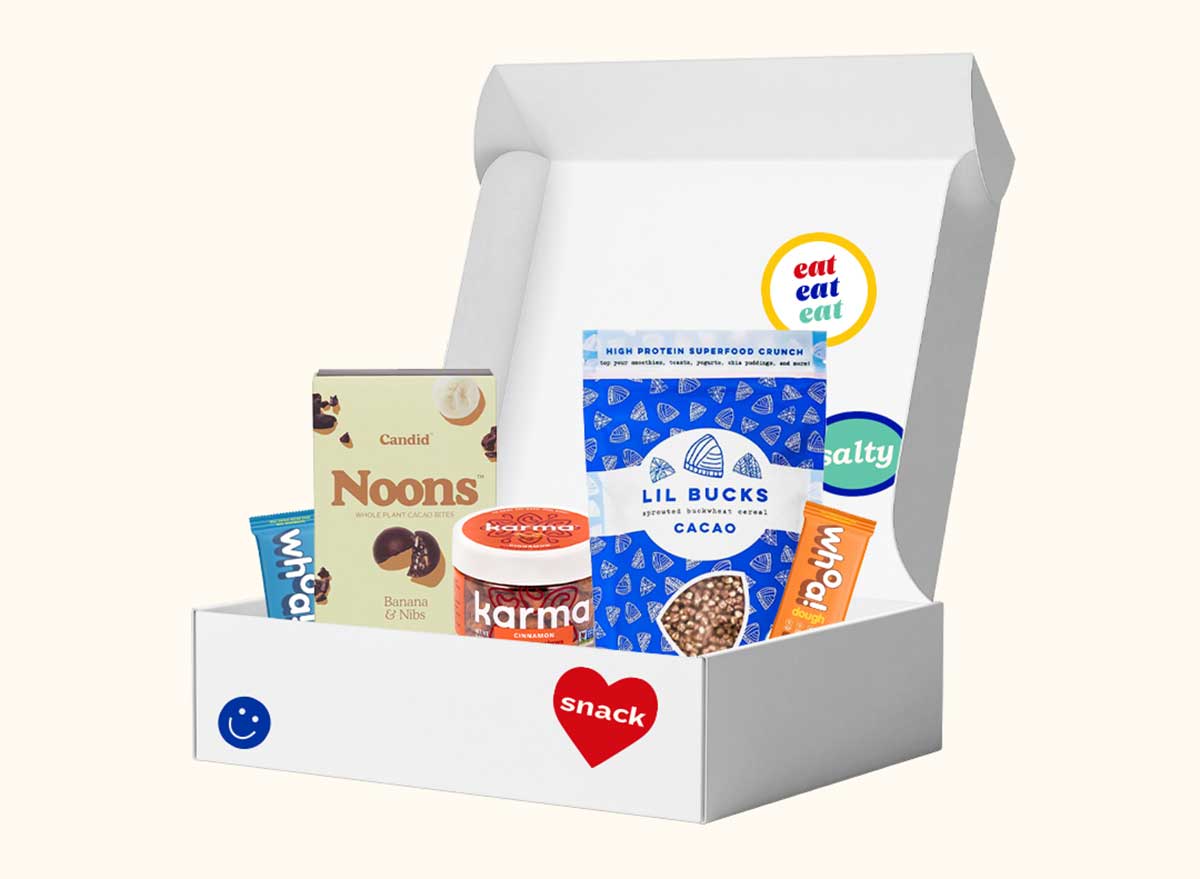 Before the days of shelter-in-place orders, Pop Up Grocer was just that—a popup grocery shop. But in our COVID-19 world, popup stores can't really operate. Instead of closing up shop, the service pivoted to creating curated subscription boxes. Inside each box is a surprise selection of the newest healthy grocery items. Order one for yourself and then send one to your friend or neighbor to spread the love. Right now, 10% of Pop Up Grocer Box sales are being donated to Feeding America.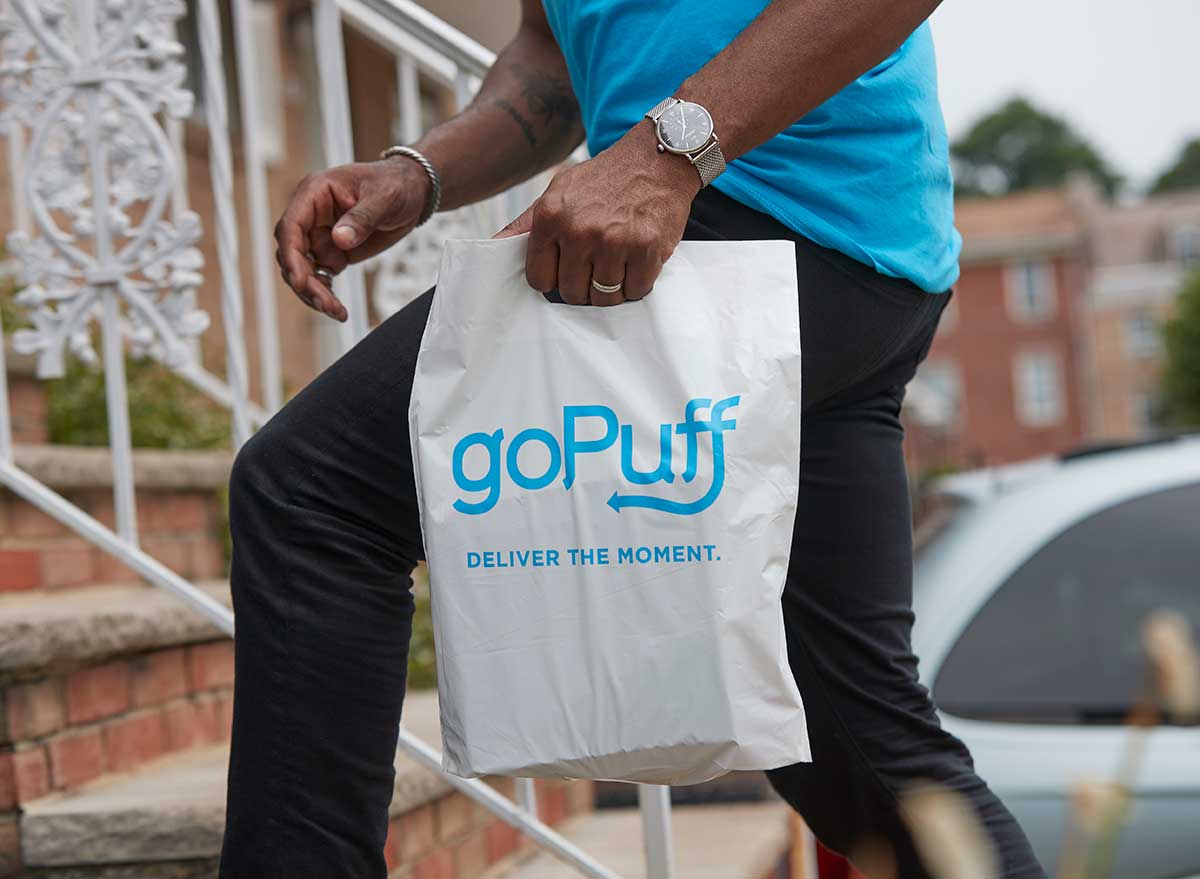 goPuff is like a 24-hour convenience store—except it's a delivery service. For a flat $1.95 delivery charge, you can order food, drinks, and even everyday essentials from 10:00 a.m. to as late as 3:00 a.m. in most markets and 24/7 in others. They also deliver beer, wine, and liquor in select locations. goPuff is available in more than 175 markets. For a complete list or to see if they deliver to your area, shop their link below.
RELATED: Your ultimate restaurant and supermarket survival guide is here!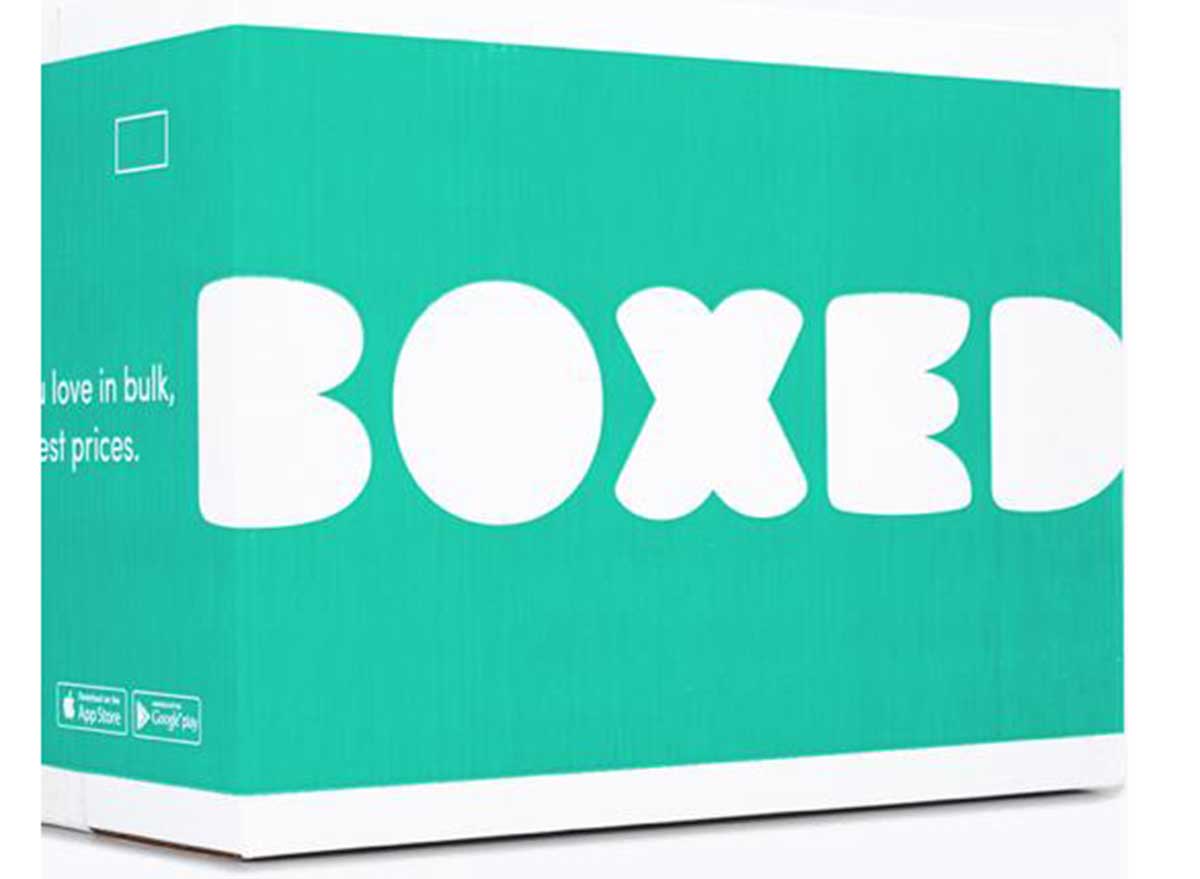 Boxed is essentially just like Costco, but as a completely online delivery service and no membership fee. Products—from groceries to health supplies to household essentials—come in larger quantities at affordable prices. If you like to meal plan or have a busy family, this is the perfect service for you.
If you're plant-based or vegan, this should be your go-to online grocery delivery service. Vegan Essentials has everything from refrigerated and frozen "meat and seafood" like Beyond Beef to shelf-stable essentials like Paleo-friendly Primal Kitchen products.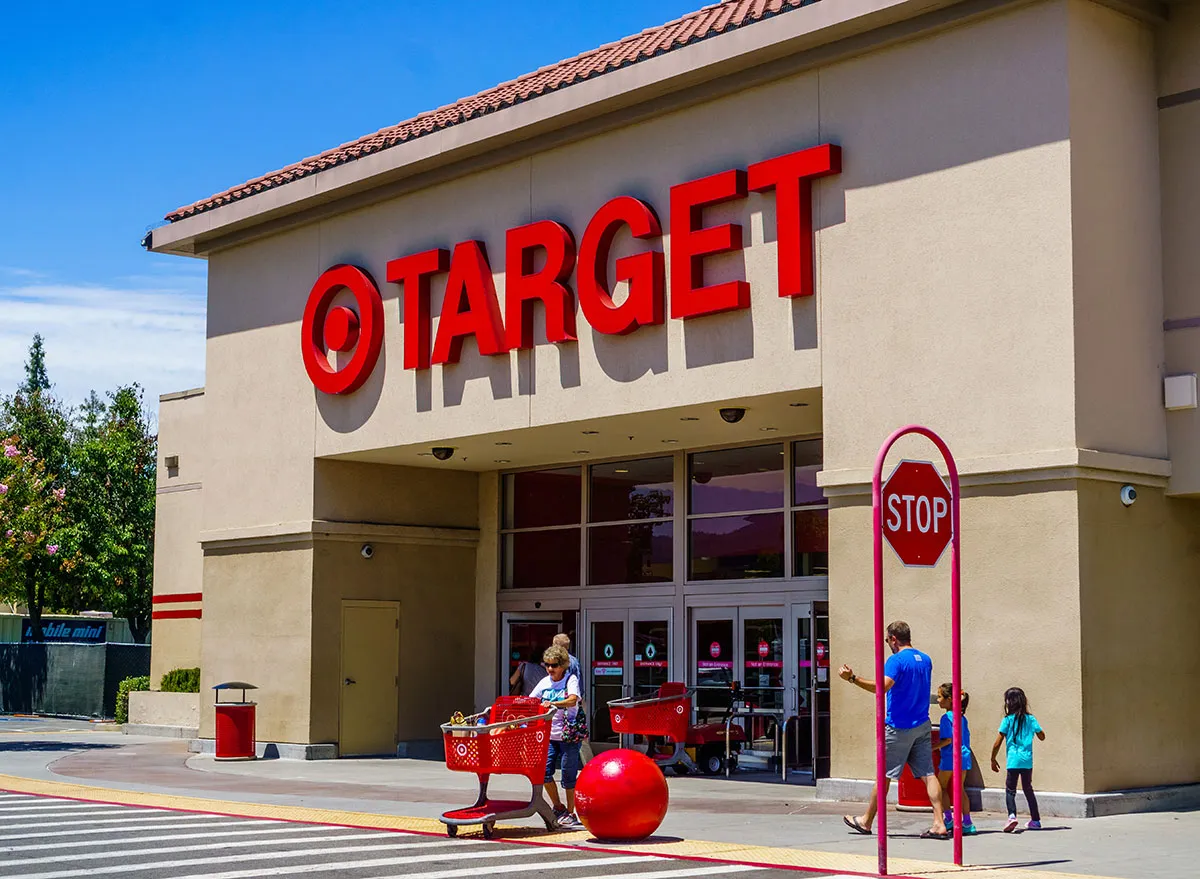 Target has stepped up to the plate during the pandemic and has been incredible at keeping up with demands. The retailer has been able to stick to promised shipping times and is still offering free two-day delivery on orders of $35 or more. (While Amazon is prioritizing only essential items and delaying other orders for up to a month—even for Amazon Prime members.) While you can easily order groceries through Target's typical service, you can also try their new Shipt program. You can get essentials with same-day delivery and even schedule your delivery time when you check out. Target is offering a free 4-week trial, then it's $99 annually for unlimited orders of $35 or more. You can also pay a delivery fee for each Shipt order.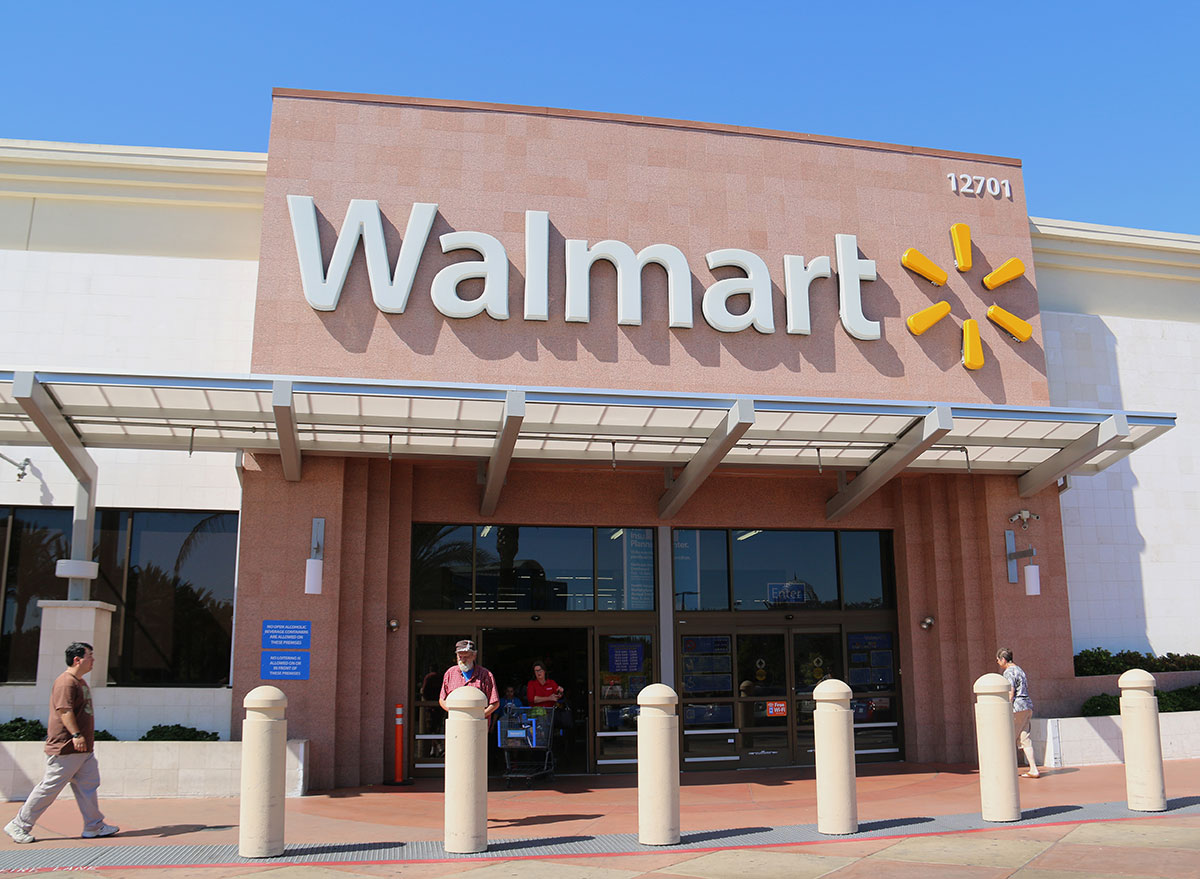 Walmart has been overwhelmed with shoppers—so much so that the retailer recently had to implement one-way aisle stickers to increase social distancing and give customers more space on each aisle. Unfortunately, customers are claiming it's been a disaster, with many people not really understanding what's going on. To save yourself the headache, you can just order your groceries online through Walmart's dedicated Walmart Grocery App. For shopping list inspiration, check out these 17 Foods You Should Buy at Walmart During the Coronavirus Outbreak.
Olivia Tarantino is a senior editor of
Eat This, Not That!
, specializing in nutrition, health, and food product coverage.
Read more