14 Best Online Grocery Delivery Services of 2022, Reviewed
We put together a list of our favorite online food retailers.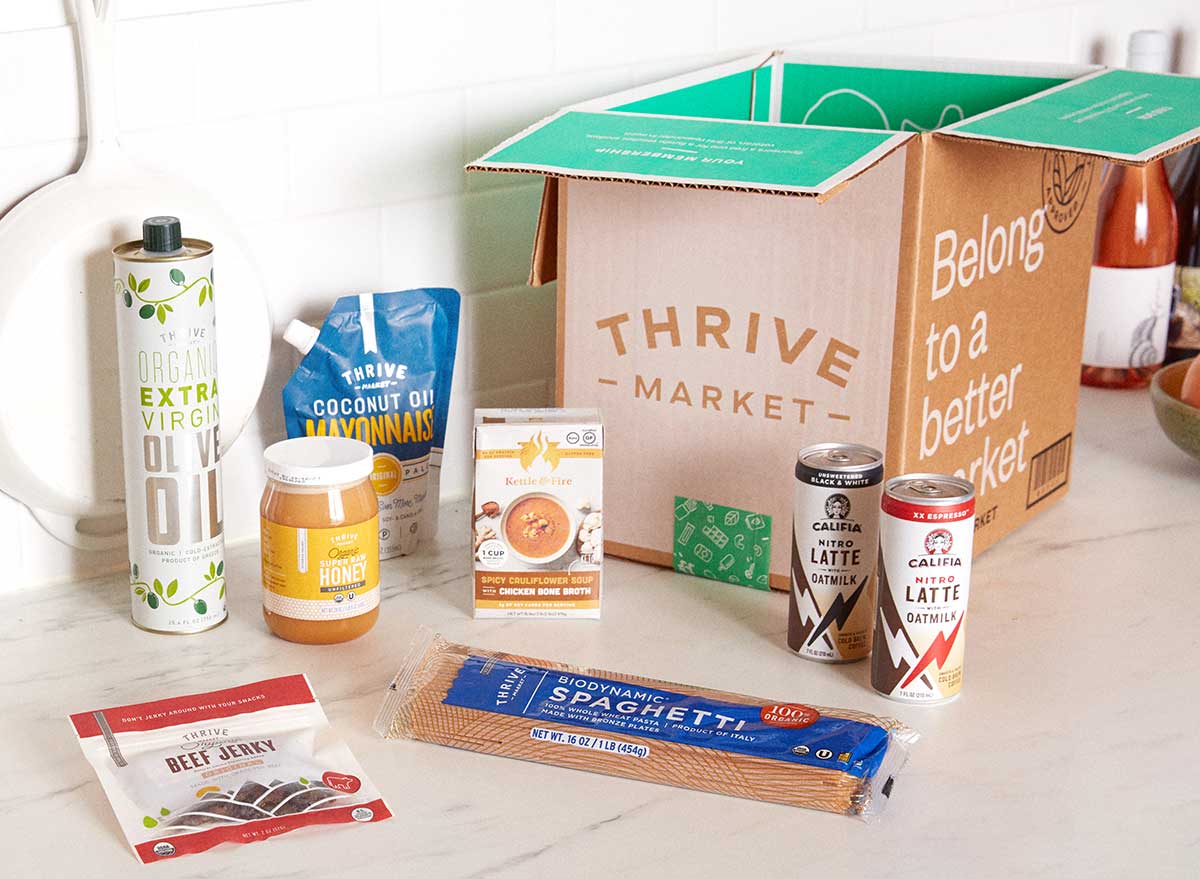 This post contains affiliate links. If you use these links to buy something, we may earn a commission.
Don't want to leave your house to get groceries? Or perhaps you don't feel like dealing with the headache of waiting in long lines to check out dozens of items. Whether you want to simplify, automate, and/or shorten the time you spend grocery shopping, there are numerous ways to order your favorite foods online—many of which offer products at significant discounts to traditional retail.
We put together a list of our favorite online grocery delivery services that ship your favorite groceries directly to your door, some of which have no delivery fees. The following services are a mix of options that sell shelf-stable products and perishable items to help you keep your time in supermarkets to a minimum.
These are the best online grocery delivery services, reviewed by our editors and Lauren Manaker, MS, RD, CDN, a registered dietitian on our medical expert board and author of Fueling Male Fertility. Read on, and for more on how to eat healthy, don't miss The #1 Best Juice to Drive Every Day, Says Science.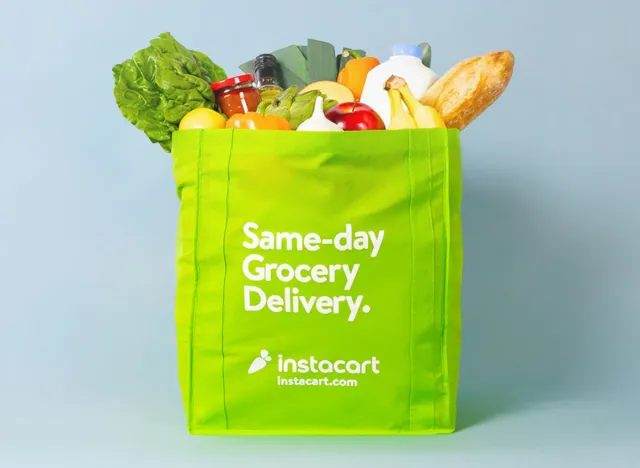 Membership fee: Instacart is free to use or you can pay $99 per year or $9.99 per month for Instacart Express
Delivery fee: $3.99 for same-day orders over $35 or free for Instacart Express members. Additional service fees apply.
Instacart—the original online grocery delivery service—allows you to order groceries from your local grocery stores (grocery stores have to opt-in) by pairing you up with a personal shopper. Same-day delivery can happen in just hours after you place an order or you can schedule a delivery for specific timeslots later in the day. If any item is ever out of stock, your shopper will message you to ask what you'd like to replace it with or if you just want a refund.
"I love Instacart because it helps me have a constant flow of perishable staples, thanks to the convenience that it offers. The shoppers always read my notes and follow through when I request bananas that are slightly underripe or avocados that aren't too mushy. I also love how shoppers communicate in real-time, making finding substitutions super simple," says Manaker.
Membership fee: $59.95 annual membership (but if you don't save at least $60 over the course of the year, Thrive will credit your account the difference after you renew).
Delivery fee: Free shipping on orders over $49, or $5.95 flat rate if not.
Thrive Market is what you would get if Costco, Whole Foods, and Amazon Prime had a baby. That is to say that it's an (a) membership-based online grocery retailer that sells food at wholesale prices, (b) offers only the highest-quality, organic, non-GMO foods, and (c) delivers all of this directly to your door in a matter of days with no shipping charge if you have a minimum cart order.
You get access to thousands of healthy pantry staples from your favorite brands—as well as "store brand" (Thrive Market) goods—at wholesale prices without having to buy everything in bulk. "Thrive makes eating well incredibly convenient. I especially love their Thrive Market private-label offerings that are offered at a great price point and made with quality ingredients," says Manaker.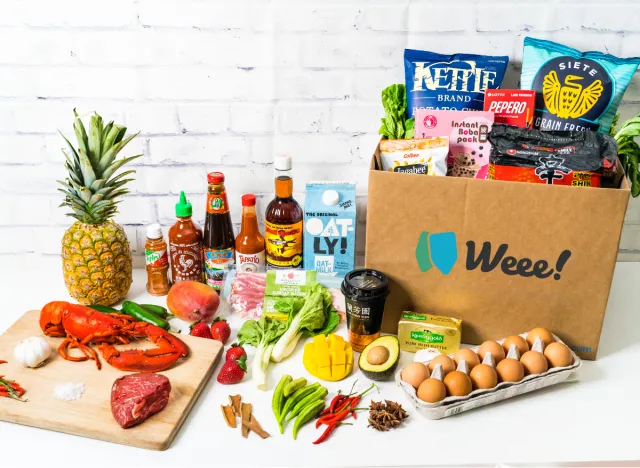 Membership fee: None
Delivery fee: Free delivery over $35 (otherwise, $5 flat rate for local delivery and $5.99 for nationwide shipping)
Weee! is an Asian and Hispanic e-grocer that has over 4,000 products to choose from, including hard-to-find-in-your-local-grocery-store goods from around the globe (think: tamarind, Chinese sausage, curry paste, enoki mushrooms, and gochujang). You'll find everything from fresh produce and meat to baked goods and snacks. Plus, depending on where you live, you can even order items from local restaurants!
"For certain foods that aren't found at many grocery stores in the U.S., this site offers a slew of items that are popular in Asian and Hispanic cuisines. This is a nice site to lean on when hard-to-find favorites are needed," says Manaker. Right now, Weee! delivers fresh grocery service to 18 states and ships non-perishables nationwide (excluding Alaska and Hawaii).
Shop Weee! here. (All new customers are eligible for $10 off orders $35+)
Membership fee: None
Delivery fee: Free shipping on orders over $50, or $5.95 flat rate if not. $10 minimum order.
This is an online marketplace that sets itself apart from the online grocery delivery service pack with its commitment to creating a more equitable and sustainable world. Products include food, beverage, wellness, personal care, pets, and household items from brands you know and love as well as innovative newcomers that you otherwise would find in smaller boutique grocery stores.
"Hive is my go-to for pantry staples," says Manaker. "They curate items that are made with quality ingredients, so you don't have to question whether their items are loaded with junk. Plus, when you purchase an item, you get an alert letting you know which humanitarian cause your purchase is supporting. From combating hunger to fighting for a healthier planet, every cause included is one that is important to me," she says.
"Finally, their shipping methods are incredibly sustainable, helping support your planet even more. When I shop for food, I want to make sure the item is made with quality and sustainable ingredients, and the company making the item gives back in some way. Shopping at Hive saves me the effort of hunting down items that check all of these boxes," says Manaker.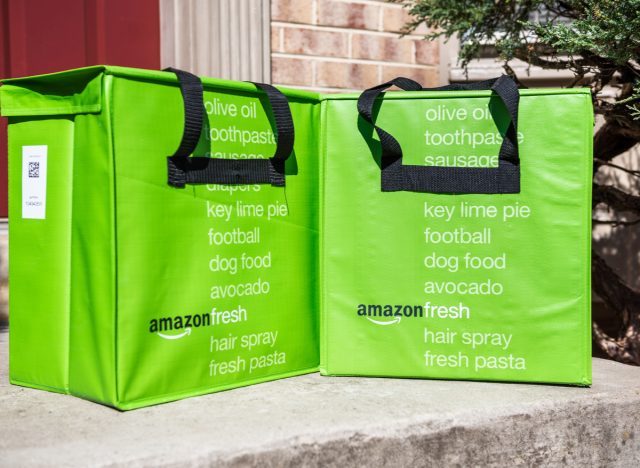 Membership fee: Requires Amazon Prime membership ($119 per year or $12.99 per month)
Delivery fee: Free shipping on orders over $50, or $5.95 flat rate if not.
Amazon Fresh is the online retail giant's delivery service that is available in most markets. You can order both perishable goods and prepared foods at low prices as well as pantry and household staples like laundry detergent and cereal. With Amazon Fresh, you have access to more national brands that wouldn't be sold at Whole Foods (like Oreos and Pepsi) because of Whole Food's commitment to non-GMO products.
Membership fee: Weekly subscription service that starts at $65 per week for 3 two-serving meals with more plan options plus a-la-carte pricing for additional groceries
Delivery fee: Free shipping on orders over $70, or $6.99 flat rate if not.
Hungryroot is a personalized, AI-powered online grocery service. The company deliver 3 two-serving meals' worth (with their base plan) of fresh produce and proteins to your door on a weekly basis based on the results of a quick quiz that gets to know your diet goals and identifies any dietary restrictions you may have.
"Hungryroot can help take the guesswork out of 'what's for dinner.' This service sends a variety of foods that can create a balanced meal, or it can simply act as your grocery service to load you up with snacks and staples too," says Manaker.
If you need help coming up with what to cook for dinner, Hungryroot also has over 5,000 shoppable recipes in its online cookbook. In addition to your weekly meals, you always have the option to add other grocery staples to your weekly order a-la-care.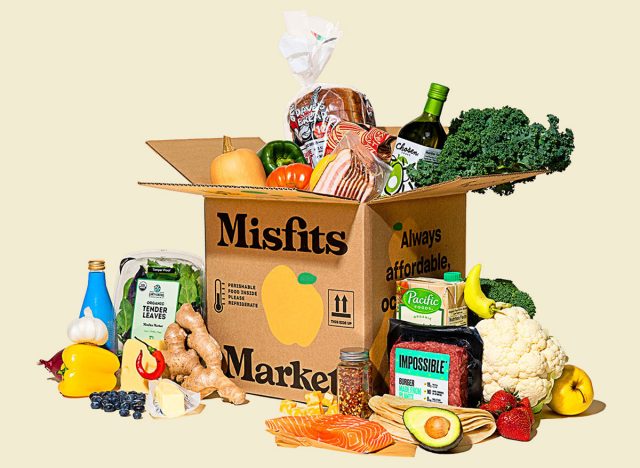 Membership fee: Free
Delivery fee: Flat rate by zip code starting at $6.99 per order with a $30 minimum cart
What was once a produce delivery service has now evolved to be one of the best online grocery delivery services.
"Food waste is a huge concern, especially in the U.S. Misfits Market is offering an important service, selling food that doesn't look 'perfect' but is still nutritious and sustaining. (It's also up to 40% off traditional grocery store prices!) I love using any service that combats food waste, and Misfits Market certainly fits the bill," says Manaker.
In addition to delicious, fresh produce, you can also add high-quality pantry staples, meats, and seafood to your order that you'd typically buy in a grocery store—making Misfits Market an all-in-one shopping solution.
Membership fee: Requires Amazon Prime membership ($119 per year or $12.99 per month)
Delivery fee: $9.95 service fee for two-hour delivery orders and for one-hour delivery windows, with an additional delivery fee based on the order's subtotal for one-hour delivery
If you live near a Whole Foods, you should consider this one of the best online grocery delivery services you can try. "Having Whole Foods at your fingertips is an amazing phenomenon. I love leaning on Whole Foods for fresh meats and produce in a pinch," says Manaker. While delivery was once free and same-day timeslots were commonplace, there is now a service fee—but depending on where you live and how long checkout lines can be for the organic retailer, it's well worth it. You can also schedule a free pickup if you don't mind getting in your car (or walking).
Membership fee: None
Delivery fee: Free shipping on orders over $49, or $6.99 flat rate if not.
Boxed is essentially just like Costco but a completely online delivery service and no membership fee. Products—from groceries to health supplies to household essentials—come in larger quantities at affordable prices. If you like to meal plan or have a busy family, this is the perfect service for you.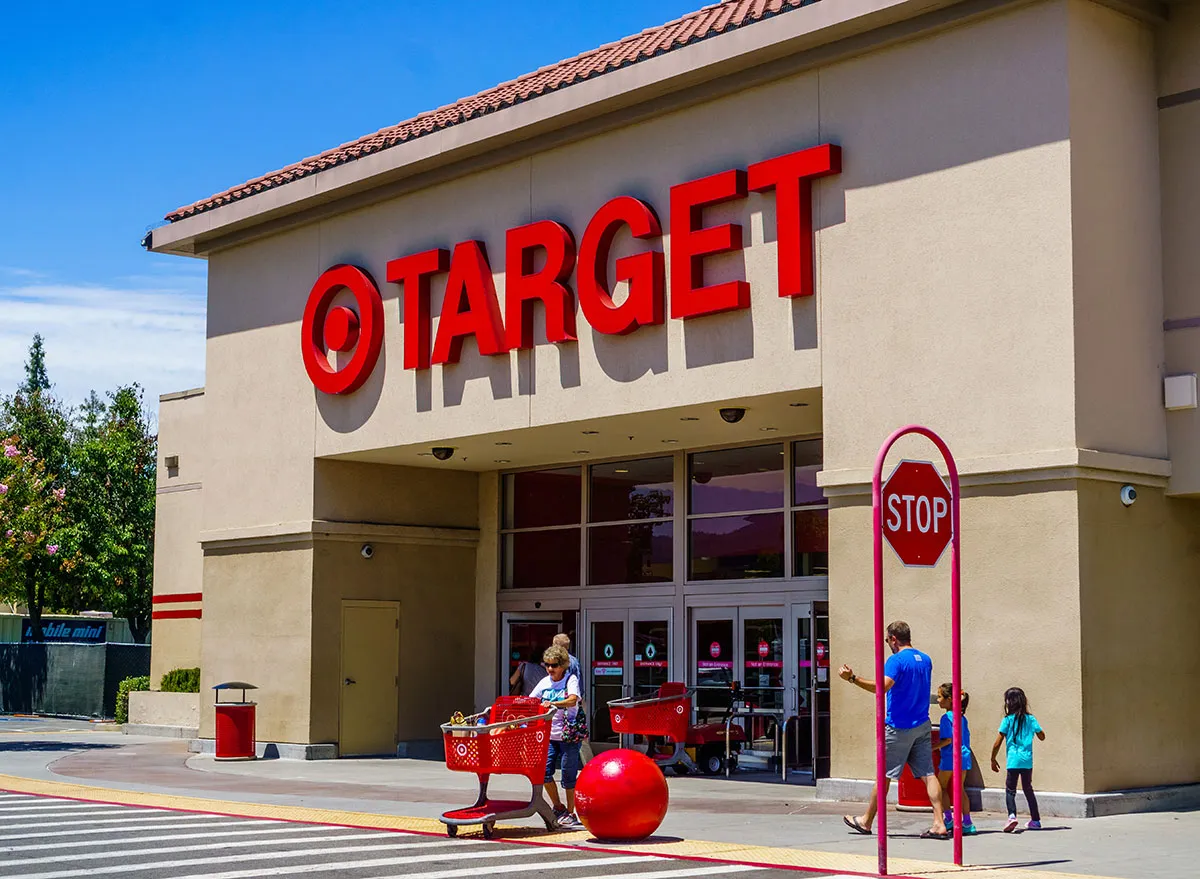 Membership fee: Free or $99/year for free deliveries on orders over $35.
Delivery fee: $9.99 flat rate or free with Shipt membership
While you can easily pick up groceries at your local Target, you can also try their new Shipt program. You can get essentials and produce with same-day delivery and even schedule your delivery time when you check out.
Membership fee: None6254a4d1642c605c54bf1cab17d50f1e
Delivery fee: Free shipping on orders over $80, shipping costs vary based on cart size under $80
Think of BUBBLE like your local boutique store. The online marketplace is a one-stop shop for the best of the best when it comes to innovative, high-quality health food brands. Now, you don't have to visit all your favorite brands' websites to order your pantry staples—just head over to BUBBLE and place an order to get them all in one box. Our favorite BUBBLE feature is that you can search the website by lifestyle, diet, and functional needs, such as for keto, gluten-free, and immune-boosting products.
Membership fee: None
Delivery fee: Flat rate by zip code starting at $9.99 per order
If you're plant-based or vegan, this should be your go-to online grocery delivery service. PlantX has everything from refrigerated and frozen "meat and seafood" like NUGGS to shelf-stable essentials like Paleo-friendly Primal Kitchen products.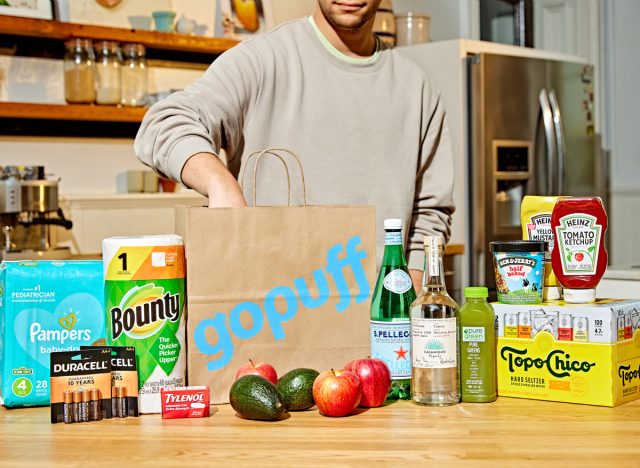 Membership fee: None
Delivery fee: $1.95
Gopuff is like a 24-hour convenience store—except it's a delivery service. For a flat $1.95 delivery charge, you can order food, drinks, and even everyday essentials from 10:00 a.m. to as late as 3:00 a.m. in most markets and 24/7 in others. They also deliver beer, wine, and liquor in select locations. Gopuff is available in more than 1,000 cities in the US and UK. For a complete list or to see if they deliver to your area, shop their link below.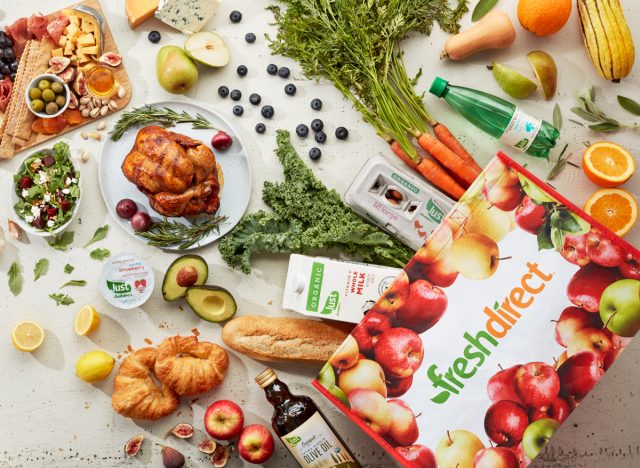 Membership fee: None
Delivery fee: $5.99 to $7.99 depending on location with a $30 minimum order
FreshDirect is a grocery delivery service that serves customers across seven states throughout the New York, Philadelphia, and Washington, D.C. metropolitan areas. The company offers everything you could find in your local grocery store, including meat, fish, produce, and specialty items through direct relationships with suppliers, growers, and farmers.
Olivia Tarantino
Olivia Tarantino is the Managing Editor of Eat This, Not That!, specializing in nutrition, health, and food product coverage.
Read more about Olivia