23 Healthy Foods You Should Always Buy From Thrive Market
Of the many healthy food products you can buy on Thrive Market, we hand-picked 23 we think are worth trying.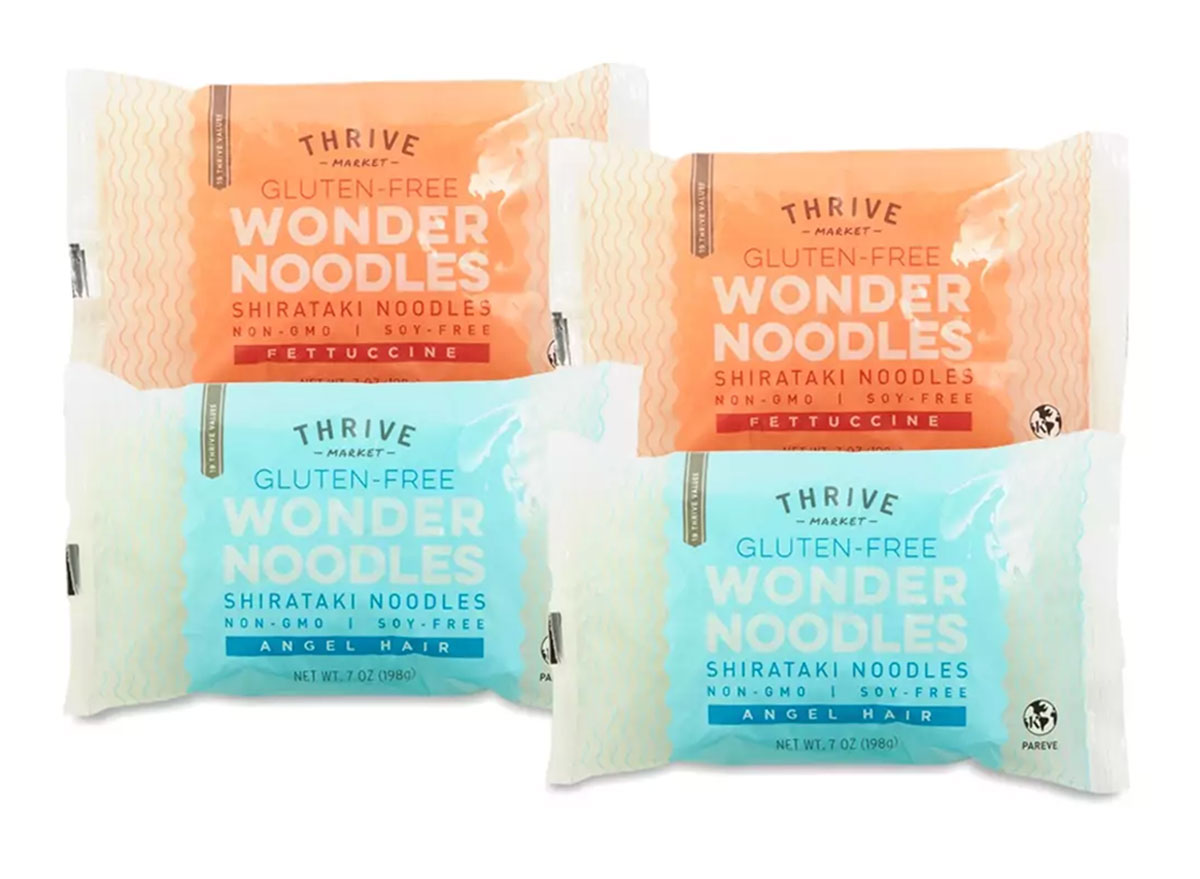 This post contains affiliate links. If you use these links to buy something, we may earn a commission.
Healthy packaged foods can be expensive, there's no question about that. However, what if we told you there was a way to buy nutritious goods (supplements and vitamins included) for considerably cheaper? Such a place exists, and you don't even have to leave your house. The key to buying affordable healthy packaged foods is from an online marketplace, and that's where Thrive Market comes in.
What is Thrive Market?
What makes Thrive Market different is that it eliminates the middleman of a grocery store, so you avoid paying for retail markup like you would at a traditional supermarket. You can choose from 6,000 organic, non-GMO, non-toxic, and sustainable products on the site, including snacks, shampoo, probiotics, tea, and even bath tissue.
On Thrive Market, a lot of the popular healthy food items you typically buy in stores are marked down anywhere from 25 to 50 percent of their original price, and the average consumer saves $30 on every order. You can even try a 30-day trial risk-free to see if this way of shopping is right for you. In order to buy products from Thrive Market, you must pay a membership fee of $60 per year, or $5 per month.
We looked at Thrive Market's list of best-selling products as well as the site's blog to gather a list of 23 healthy products worth stocking up on from the online store.
Now, here are the 23 products you should buy if you sign up for Thrive Market.
CHOMPS Original Grass-Fed Beef Snack Sticks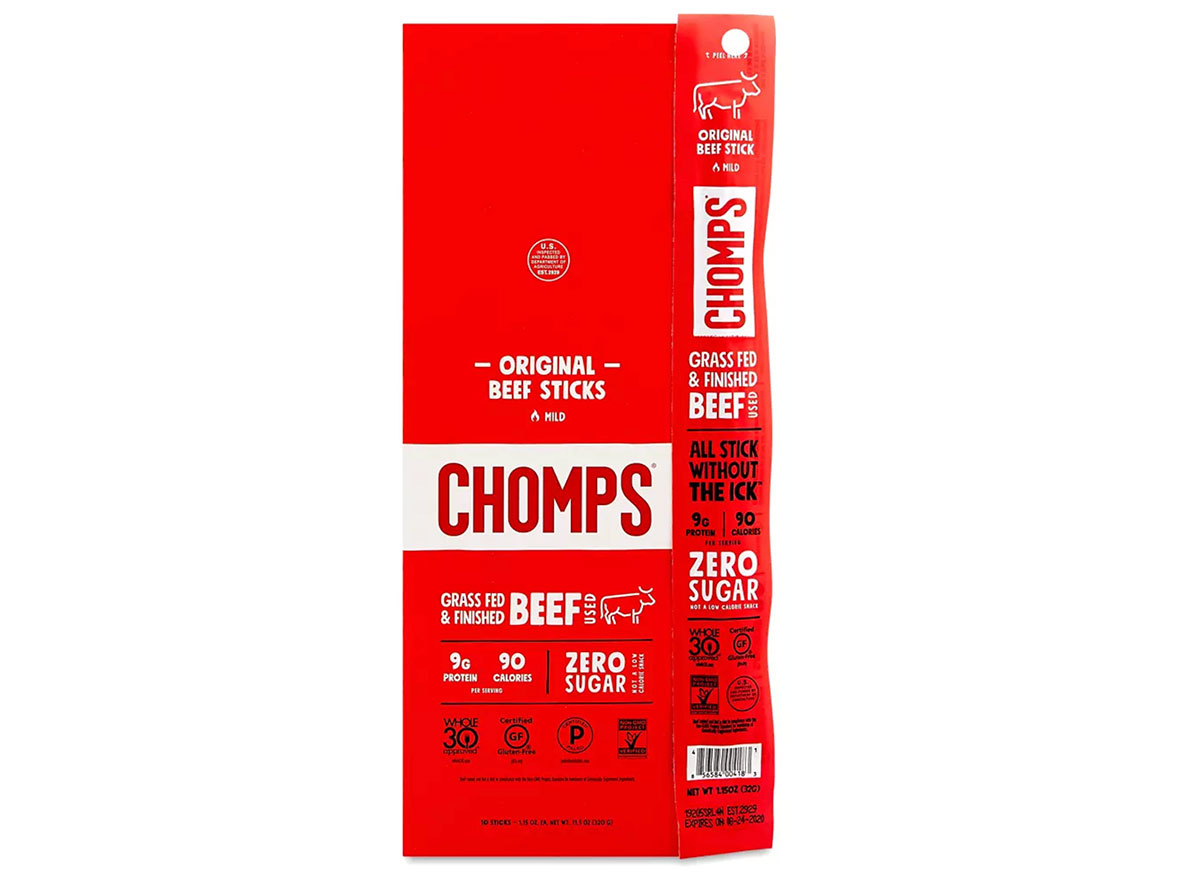 One of Thrive Market's best selling products is CHOMPS, a jerky brand that exclusively uses grass-fed beef. Their original flavor is a hit among Thrive consumers, but if you're looking for a flavor with a hint of heat, you can opt for the brand's jalapeño variety.
Four Sigmatic Lion's Mane & Chaga Mushroom Coffee Mix
You've probably heard about chaga mushroom coffee before, but have you tried it? It's currently one of Thrive Market's best-selling products. This isn't traditional coffee grounds though, as it's actually instant coffee powder (think Nescafé) so it dissolves in hot water.
Thrive Market Keto Noodles
One serving of these noodles only has 2 grams of carbs, which means it won't make a large dent in your carbohydrate allowance if you're following the keto diet. Unlike traditional noodles, this variety doesn't require any boiling. All you have to do is drain the noodles, rinse them, and then heat them up in the microwave so they're nice and warm.
Thrive Market Grass-Fed Collagen Peptides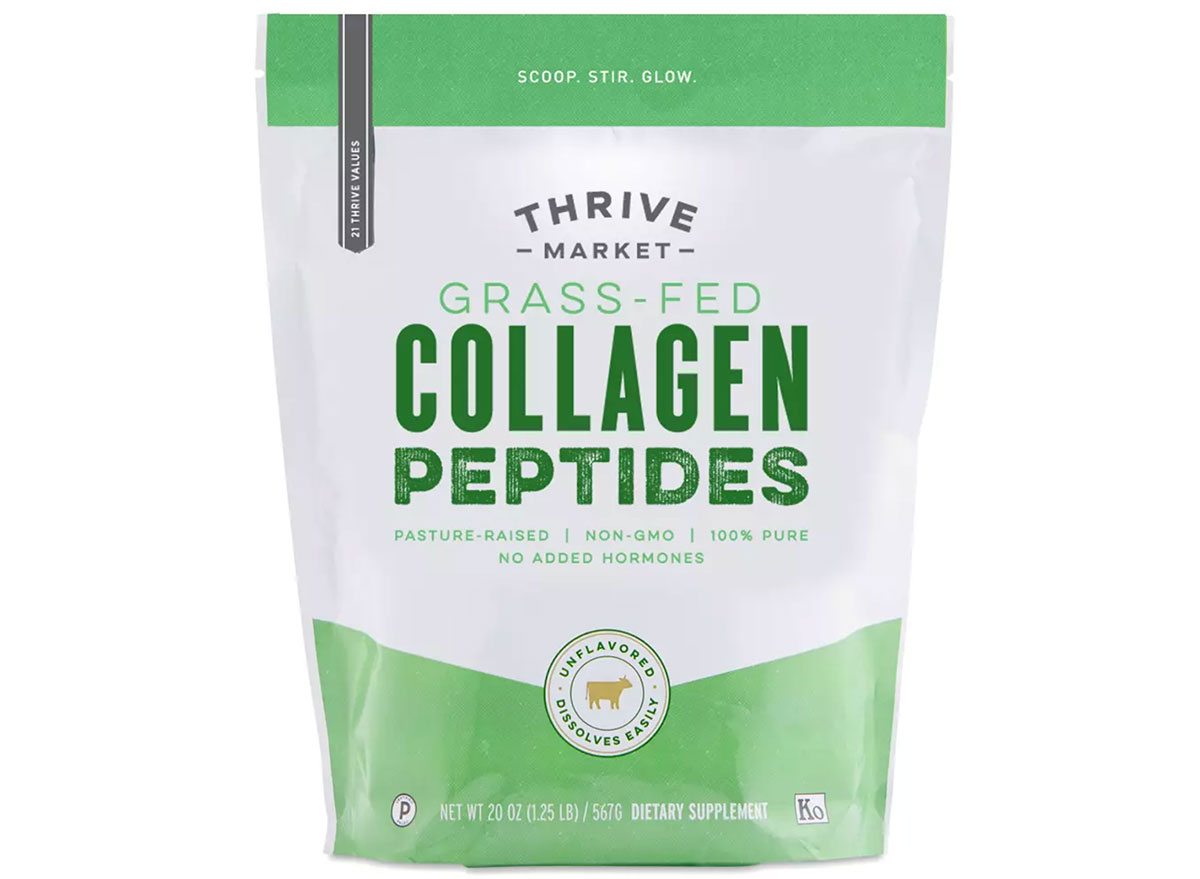 Collagen peptides have been trending this year, which is likely why it's one of Thrive Market's top-selling products. These grass-fed collagen peptides come in a powder that dissolves into both hot and cold beverages alike and is essentially tasteless. Each scoop only contains 40 calories and 10 grams of satiating protein. For something that supposedly helps promote skin, hair, and nail health, you can't get much easier than that.
Thrive Market Grain-Free Tortilla Chips
For those who follow a grain-free diet either by choice or for health reasons, this is a wonderful alternative to the traditional corn tortilla chip. Made with a blend of cassava flour and coconut flour as well as avocado oil and chia seeds, these chips are void of any potentially inflammatory grains.
Calbee Lentil Tomato Basil Snapea Crisps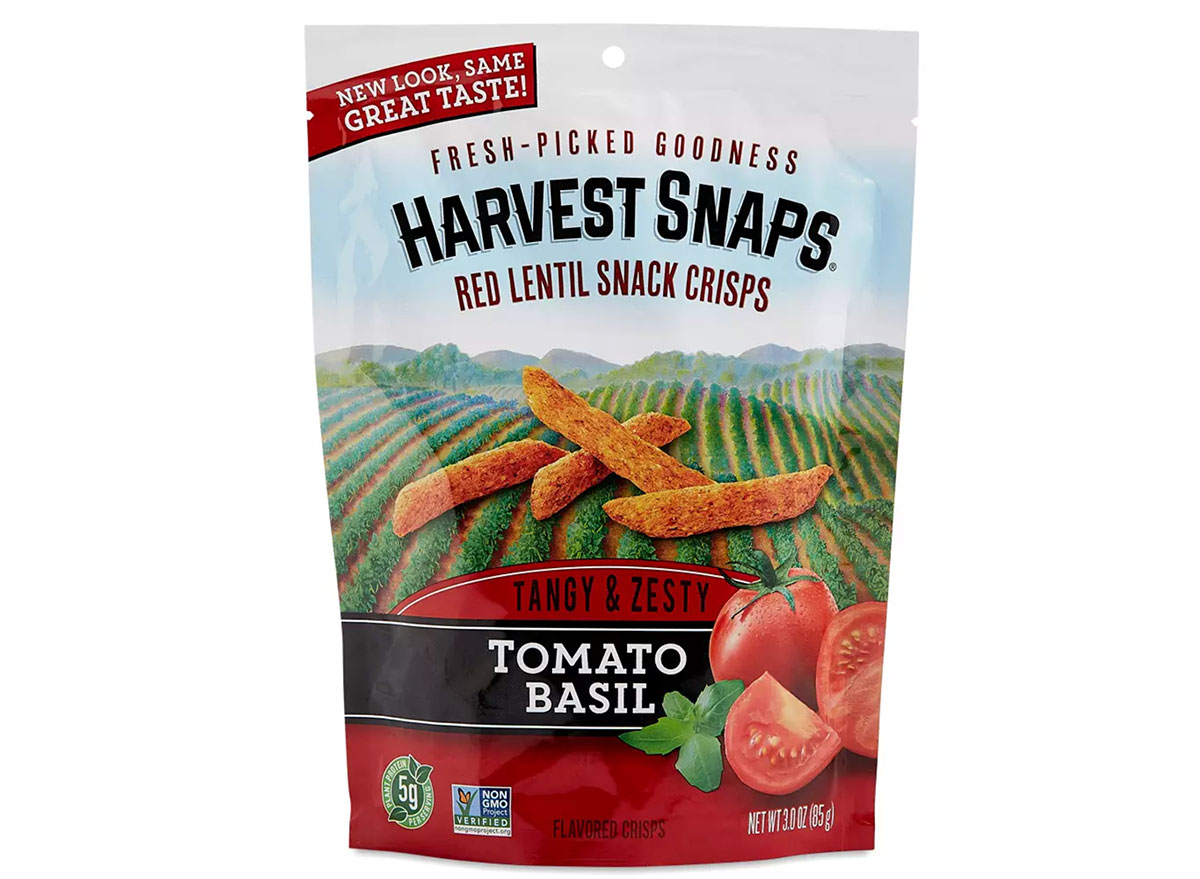 This red lentil-based snack is light, crispy, and a good source of protein and fiber.
Divine Organics Pili Nut Butter
Native to Tropical climates (primarily Southeast Asia) pili nuts, when ground into a spread, lend a silky texture. The nuts are also low-glycemic, which means they won't make your blood sugar spike. Put a tablespoon of this nut butter in place of almond butter in your breakfast smoothie.
Maya Kaimal Tikka Masala Simmer Sauce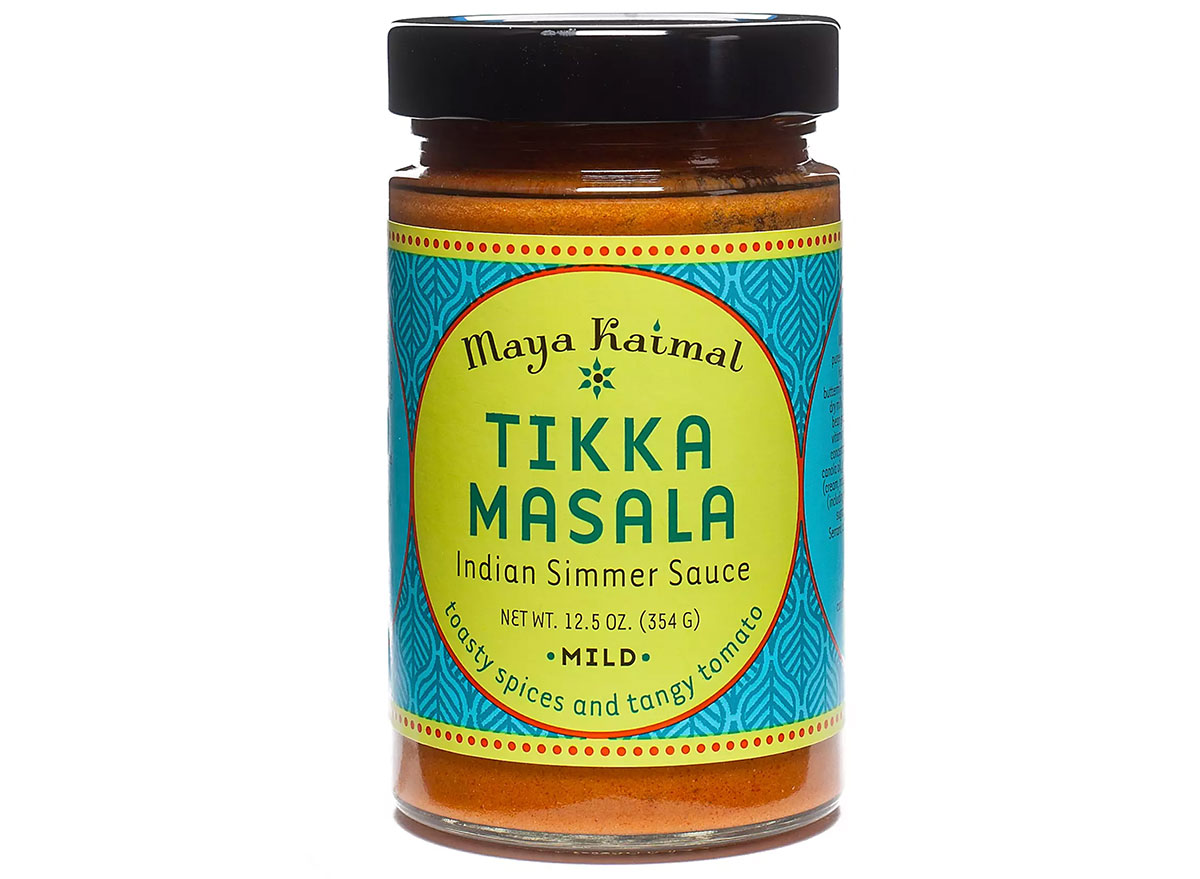 This Tikka Masala will jazz up any rice and vegetable dish. Made with a blend of cinnamon, clove, cardamom, ginger, and tomato, this sauce will be able to warm you to your core and bring a dose of flavor to your dishes.
Thrive Market Wild Pink Salmon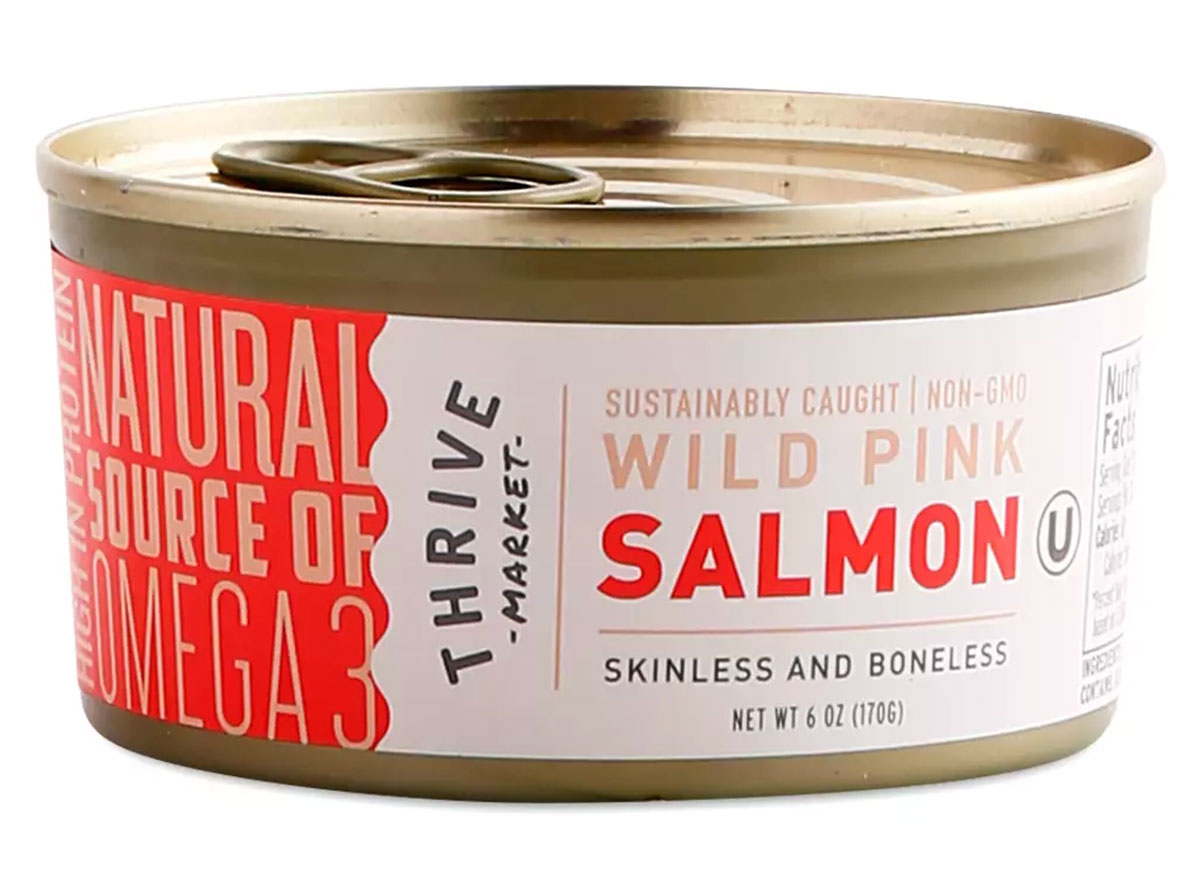 Where you can find wild-caught salmon this cheap? Hardly anywhere. Thrive Market's canned salmon is a hit among online shoppers.
Primal Kitchen Chipotle Lime Mayo with Avocado Oil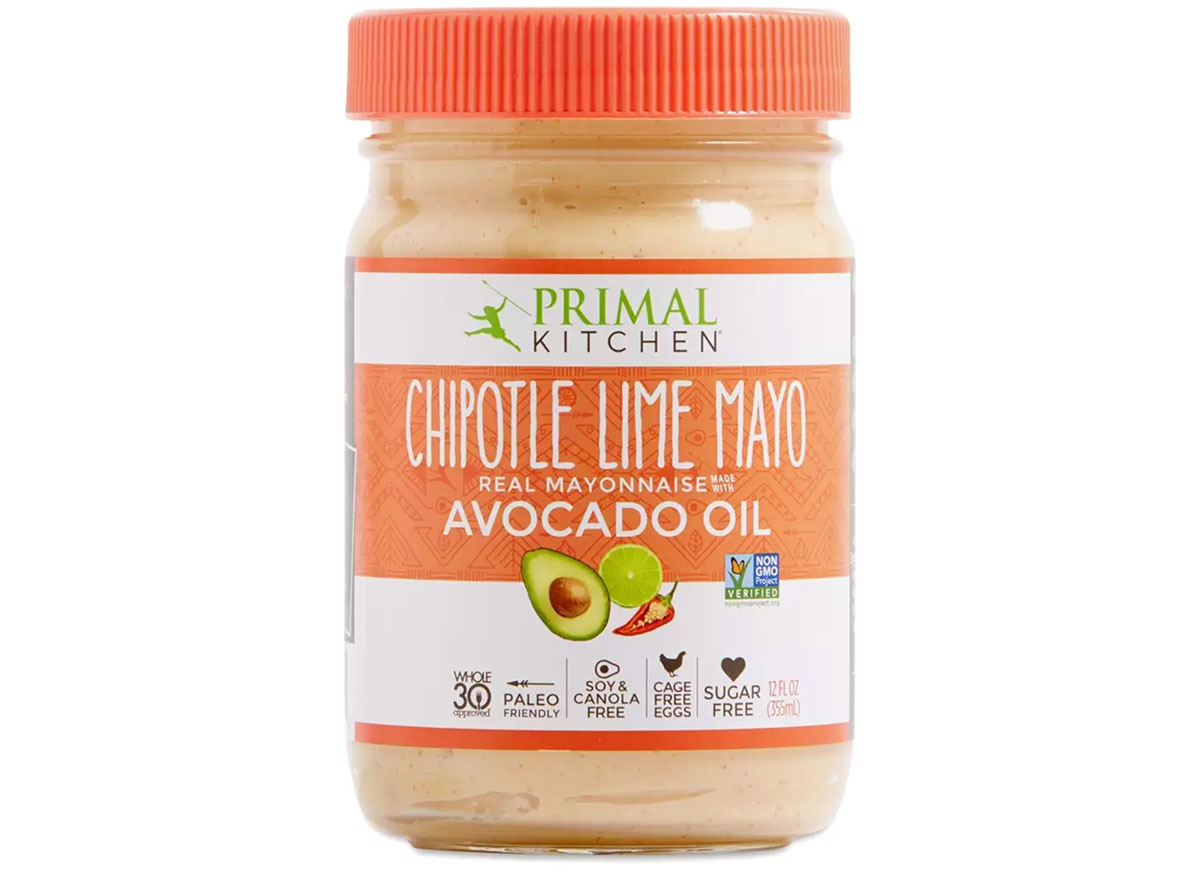 Primal Kitchen is a great brand for those who follow the paleo diet. Free of dairy, grains, gluten, and sugar, this chipotle lime mayo is the perfect spread for a chicken sandwich or a zesty dip for air-fried French fries.
Thrive Market Organic Ceremonial Matcha Tea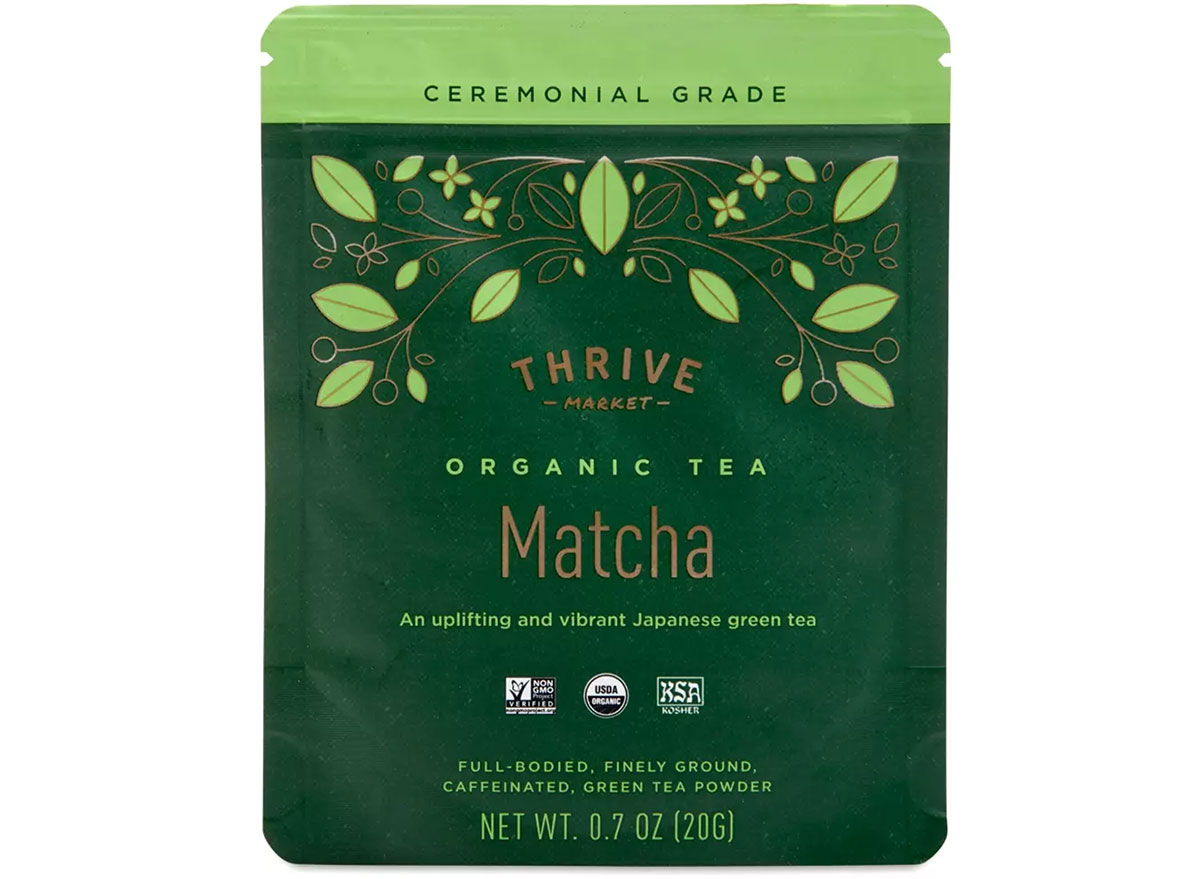 Matcha powder is huge in the wellness industry right now and ceremonial grade is the best quality you can buy. The tea is sourced from the Shizuoka and Kagoshima regions of Japan and is rich in both taste and aroma.
Larabar Peanut Butter Chocolate Chip Bars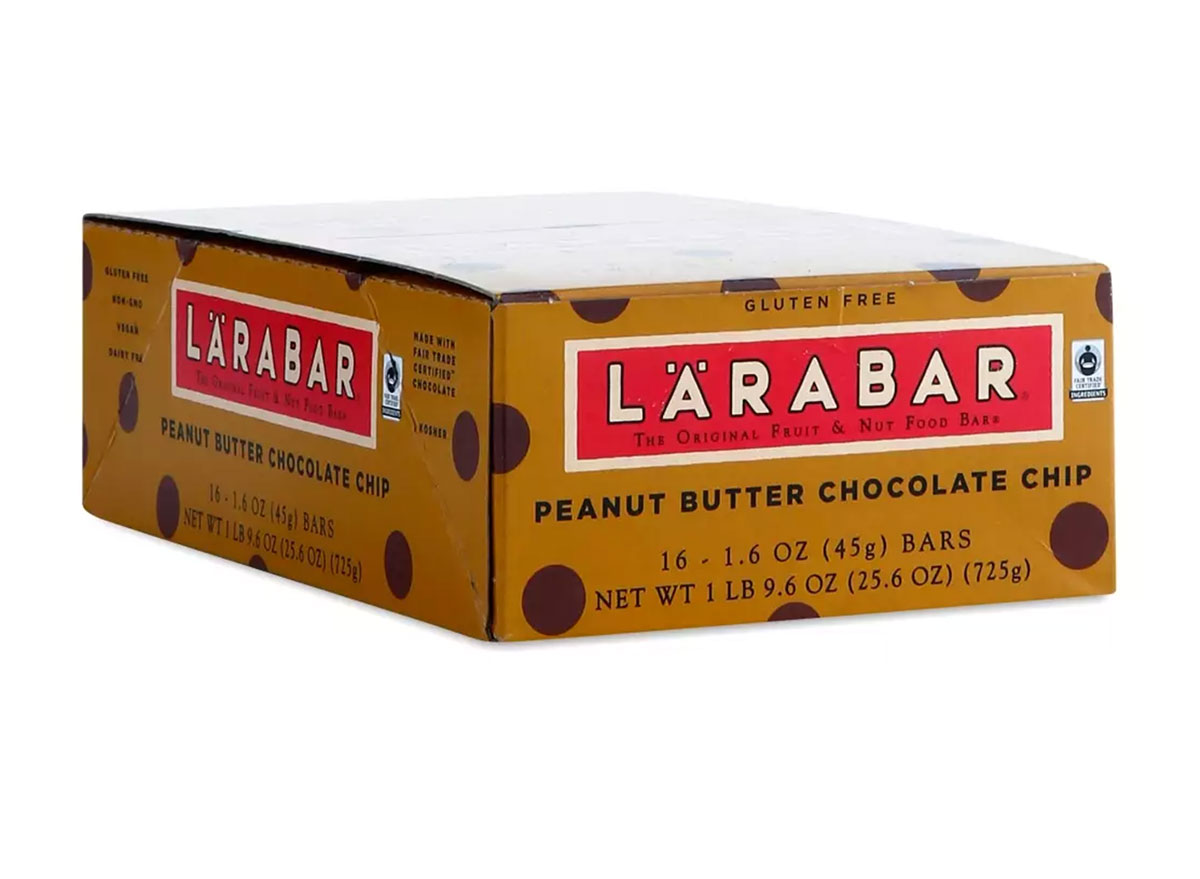 Larabar is a popular gluten-free snack sold on Thrive Market. The peanut butter chocolate chip flavor boasts 6 grams of protein and Fair Trade Certified chocolate chips. This is one of the best-selling flavors on the site, however, there are many other flavors you can buy on Thrive including coconut cream pie, cashew cookie, and cherry pie.
Thrive Market Organic Apple Sauce
6254a4d1642c605c54bf1cab17d50f1e
There is only one ingredient in this applesauce: organic apples. This is a great healthy snack to enjoy while on the go!
Thrive Market Organic Biodynamic Whole Wheat Fusilli
If you're a fan of traditional Italian noodles, you're bound to love Thrive Market's whole wheat semolina fusilli. The wheat used in this pasta is grown using biodynamic farming practices in the Tavoliere delle Puglie region of Italy.
Thrive Market Organic Roasted Garlic Pasta Sauce
To go on top of those noodles, try this pasta sauce! It's a hit among Thrive Market shoppers and it's made with 100 percent certified organic ingredients.
Modest Mylk Unsweetened Macadamia Mylk Base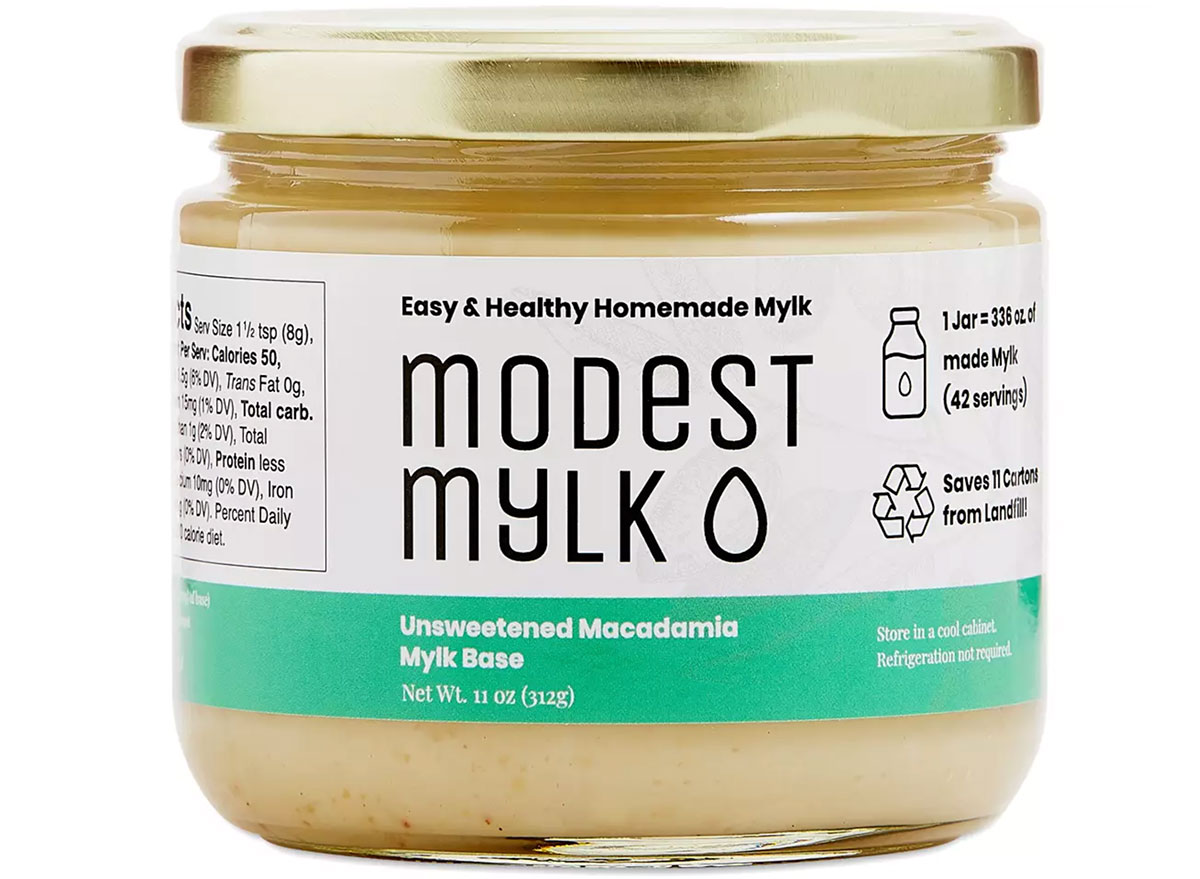 One of Thrive Market's most unique and popular products is its Modest Mylk base. Combine one tablespoon of this macadamia Mylk base with 16 ounces of water and then blend on high speed for one minute. Store in an airtight container and refrigerate for a couple of hours. Shake before serving and voila, you have a creamy milk alternative.
Thrive Market Organic Ghee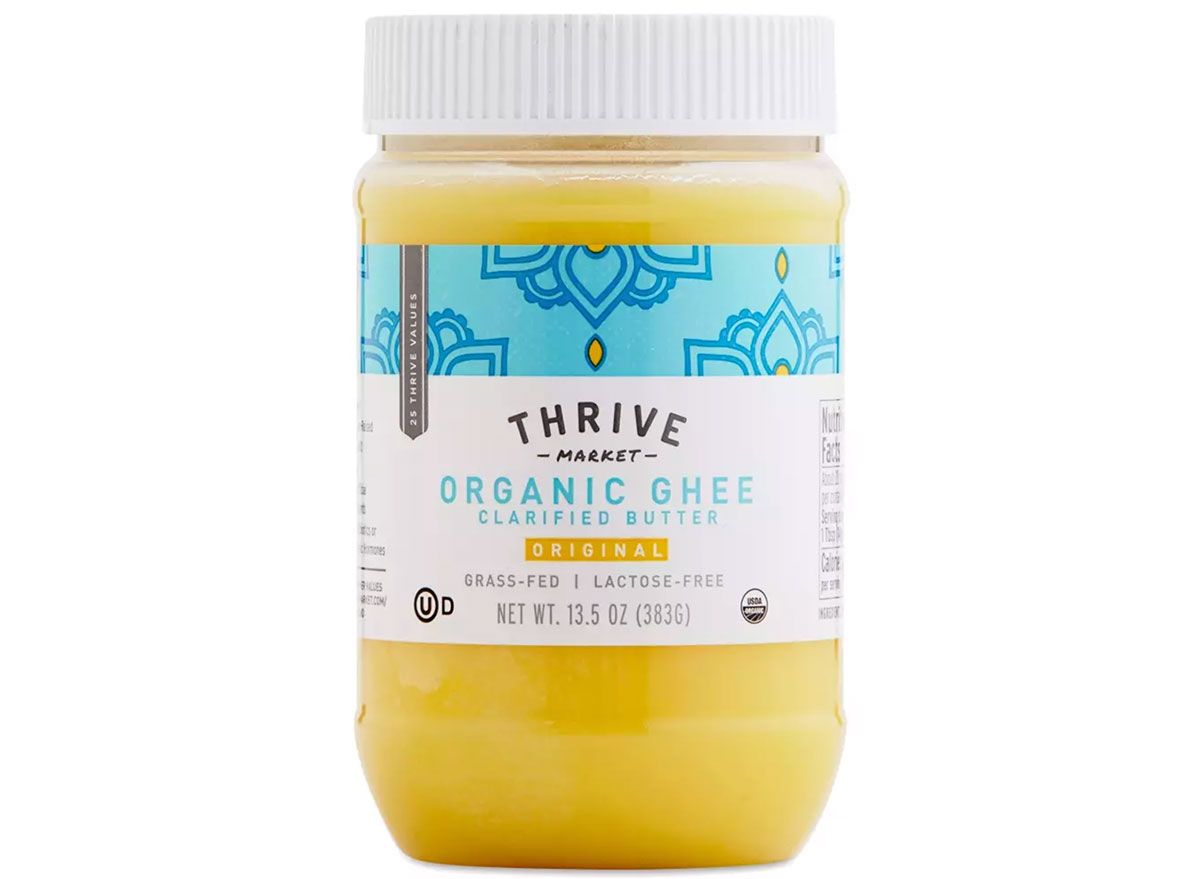 Ghee is another trending health product and those who are lactose-intolerant can eat it as well and not have to worry about it upsetting their stomach.
Thrive Market Organic Whey Chocolate Protein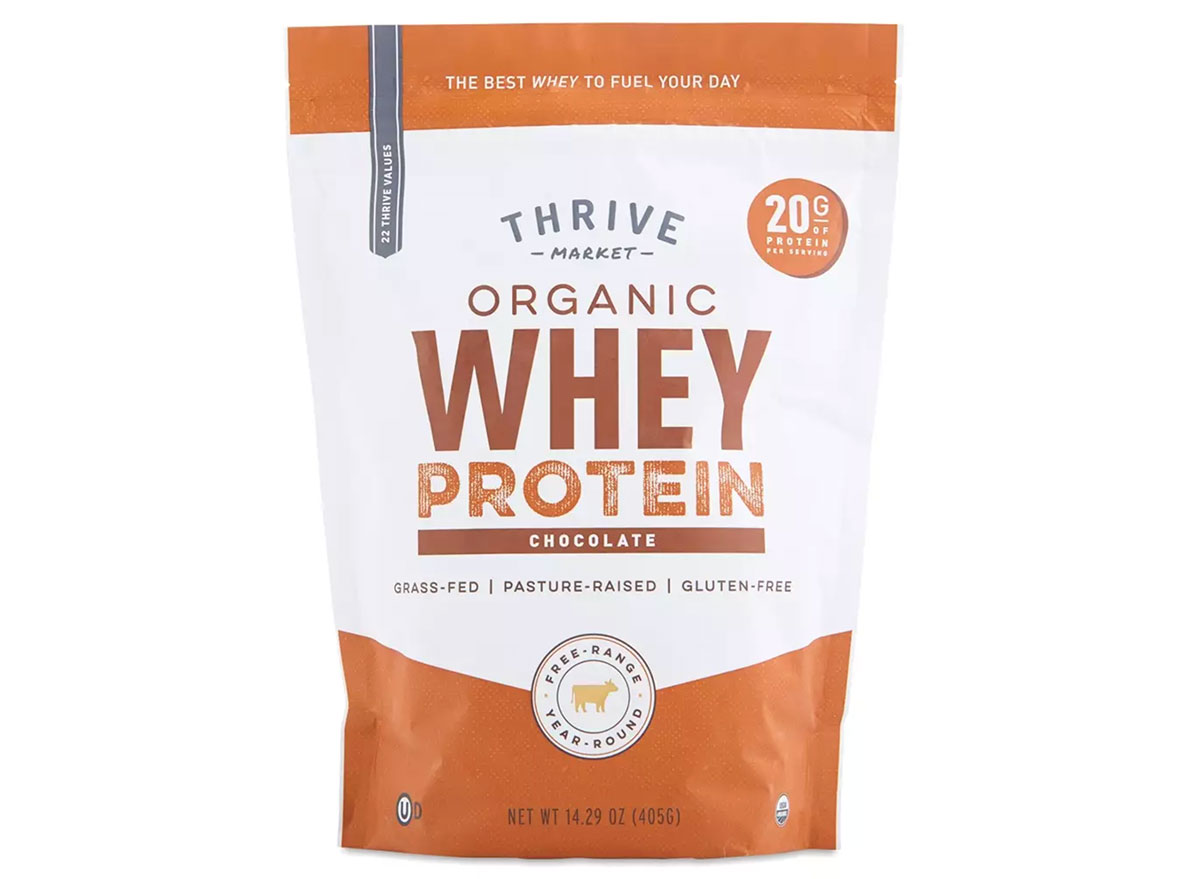 This grass-fed whey protein contains a whopping 20 grams of protein in each scoop and all for absolutely no sugar.
Nuttzo Organic Crunchy Power Fuel
Allergic to peanuts? No problem, because this nut and seed butter is completely free of them. Instead, this product contains a blend of cashews, almonds, brazil nuts, flax seeds, chia seeds, hazelnuts, and pumpkin seeds.
Lundberg Family Farms Bold Bites Samosa Tortilla Chips
These samosa flavored corn and rice-based tortilla chips are all the rage on Thrive Market. Enjoy the flavors of this delicious Indian dish in crisp chip form anytime, anywhere!
Epic Sea Salt & Pepper Venison Steak Bars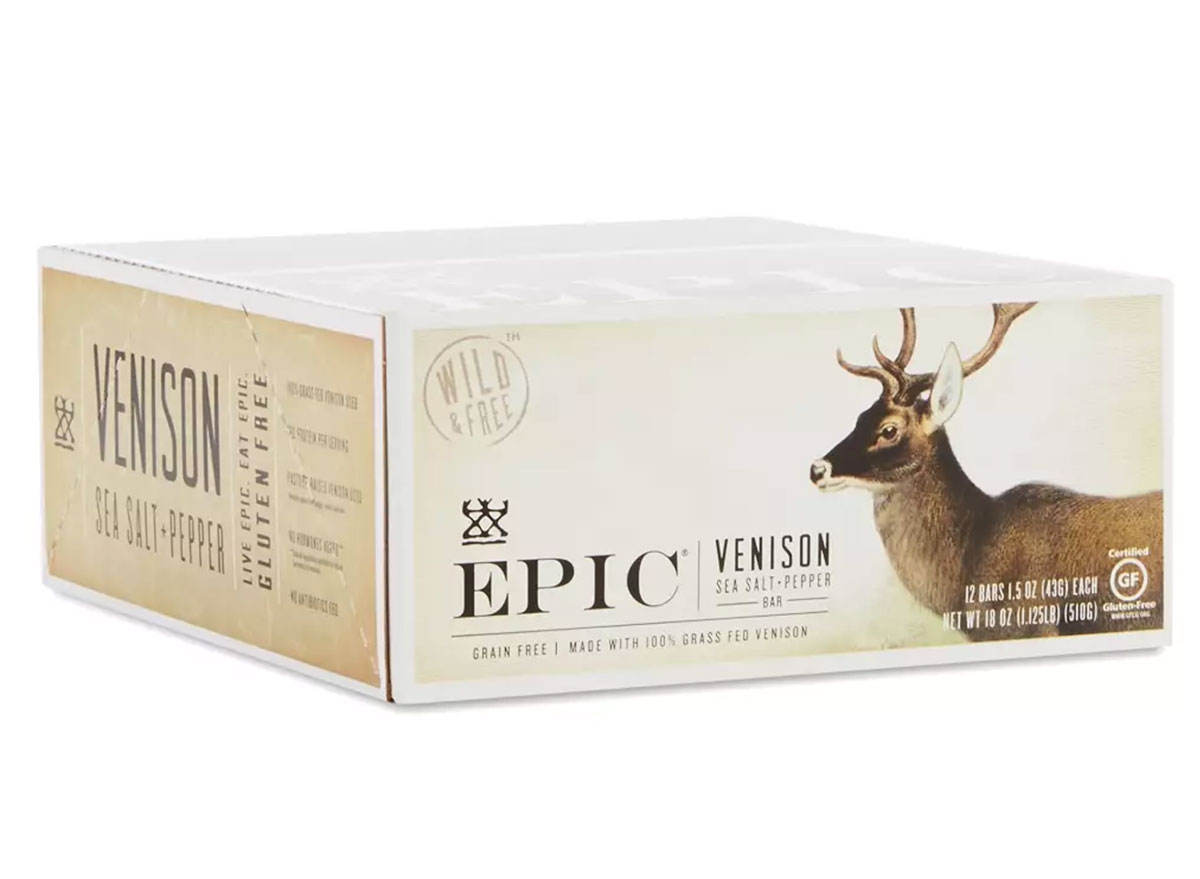 Venison is a lean protein, and Epic meat bars are a great fueling snack to have midday. You can also pair it with an ounce of your favorite cheese, crackers, and raw veggies for a light lunch. Thrive Market consumers love this variety, however, there are various other types of meat including lamb and bison.
Paleonola Chocolate Fix Grain-Free Granola
Another grain-free product that's made its way to the popular items list at Thrive Market is Paleonola's own chocolate granola. Instead of oats, this granola is made with almonds, pecans, honey, dried cranberries, and various other seeds, nuts, and flavors. Our paleo diet friends can enjoy this granola, too!
Purely Pecans Pecan Butter, Nuttin' But Pecans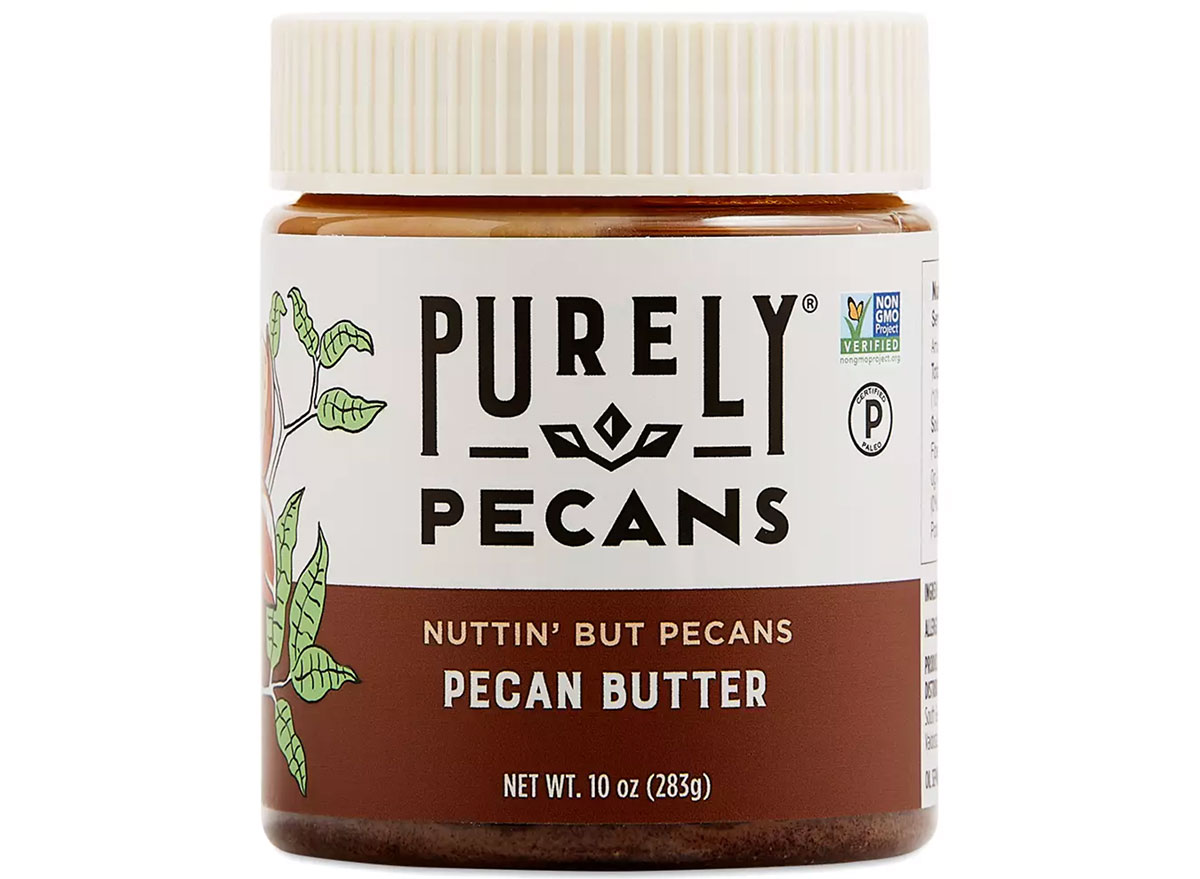 Pecan butter? No wonder why this item is a hit—it sounds absolutely delicious. There's nothing quite like noshing on a buttery pecan and with this brand, you can enjoy it in spreadable form.