Over 60? Do These Exercises Before Breakfast, Say Experts
These are the most effective ways to work out in the AM, according to top trainers.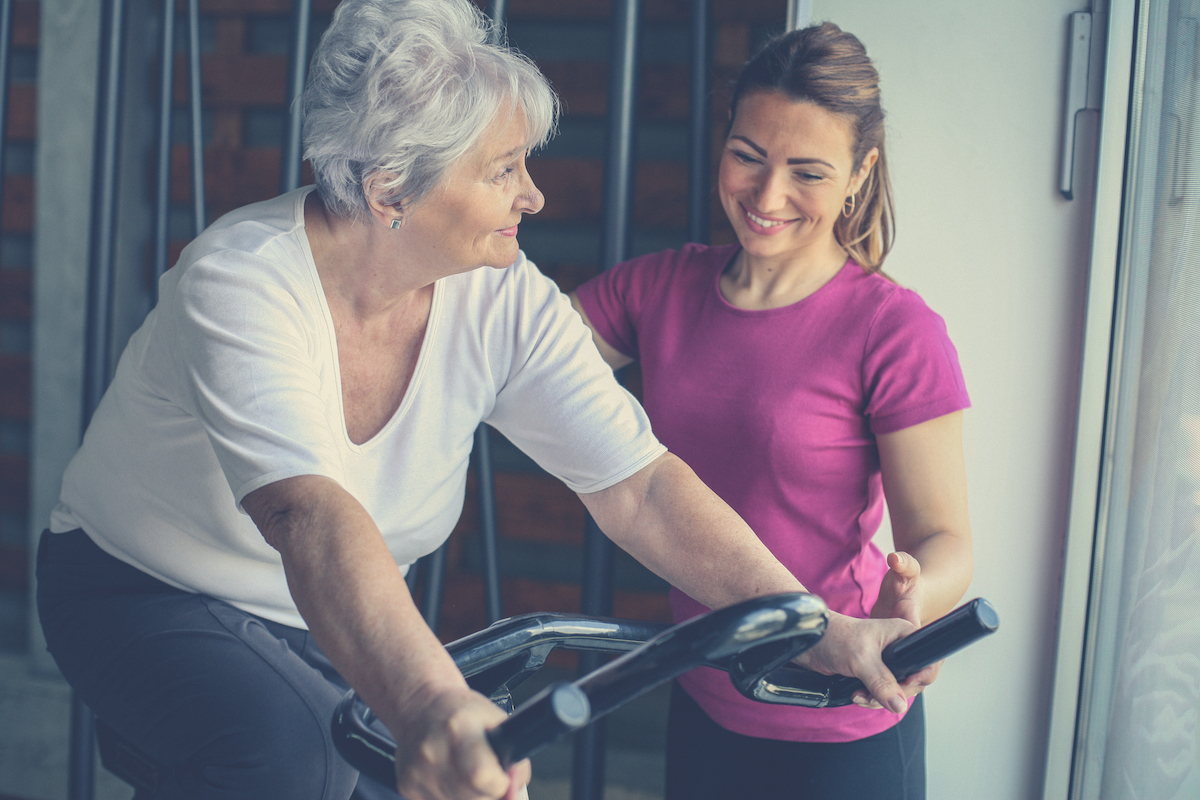 Exercising before breakfast is an excellent way to jump-start your day with a much-needed burst of energy. What's more, if you do the right exercises, you'll find that that energy keeps on coming, as getting your heart rate up can create an after-burn effect, where you will continue to burn more calories well after you've hit the showers. Bonus: If you eat your breakfast within 30 to 60 minutes after working out, you'll reap even more of the benefits. You'll get not only the after-burn effect, but you'll also speed up muscle repair and recovery through the replenishment of lost electrolytes and nutrients.
Now, if you're 60 years old or older, it can be tricky to find the right kind of workout that won't put excess strain or pressure on the joints, but which still does the job of getting the heart rate up while burning calories, boosting endorphins (those "feel good" happy hormones), and strenthening muscles.
Good news: If you think you need to be doing crazy-intense exercise routines in AM, you can rest easy. One study published in the Journal of Sports Medicine showed that some low-intensity, joint-friendly workouts can also lead to an after-burn effect—not just high-intensity workouts like HIIT training or boxing. So what are the best exercises you should do in the morning if you're over 60? Read on to learn what they are. And for more great fitness advice, see here for 5 of the Best Exercises People Over 60 Can Possibly Do.
Hitting the Water for a Swim Workout
Swimming is great for anybody with joint pain, given that people often experience more joint stiffness and tension with age, so this kind of sport would be especially helpful for those ages 60 and up.
"You can get a great cardiovascular workout in safely and you can go at a safe pace and lower intensity, given that you may be limited based on injury," says Zac Armstrong, NASM CPT and Master Instructor for YogaSix. Let yourself feel alive in the water for water aerobics or a few laps of your favorite stroke—you'll get your heart rate up but keep the pressure off the joints. And for some exercises to avoid, don't miss this list of The Worst Exercises You Can Do After 60.
Yoga
Yoga is beneficial to anyone looking to get in a reasonable workout without pushing themselves too hard or putting excess strain on joints. "In additional to being a calming exercise, it also helps you gently build muscle (depending on intensity) and improve mobility," he says.
Assuming you perform yoga at a slower pace and with more stretching and low impact motions (think restorative yoga or a yoga flow, instead of a yoga sculpt class), this is a great way to get active without over-working yourself. If you feel more comfortable, though, add in a light set of weights to hold as you go through the motions in order to add some extra resistance. And for more great exercise advice, don't miss The Secret Mental Trick for Getting a Lean Body, Say Experts.
Go for a Brisk Walk or Jog
"A walk is a great way to get in a workout, especially since it also serves as a method of relaxation, which can be associated with lower blood pressure and cortisol levels and better overall heart health," he says.
The most important thing is that you remain safe, so walk for a reasonable distance (don't start jogging 8 miles or setting too lofty a goal) and stay hydrated. Carry water with you and include electrolytes if you need a boost (think: coconut water, low-sugar sports drink or a banana). If you're interested in some great ways to walk to get lean, don't miss The 4 Walking Workouts That Will Help You Get Lean, Says Top Trainer.
Take a Cycling Class or Bike Ride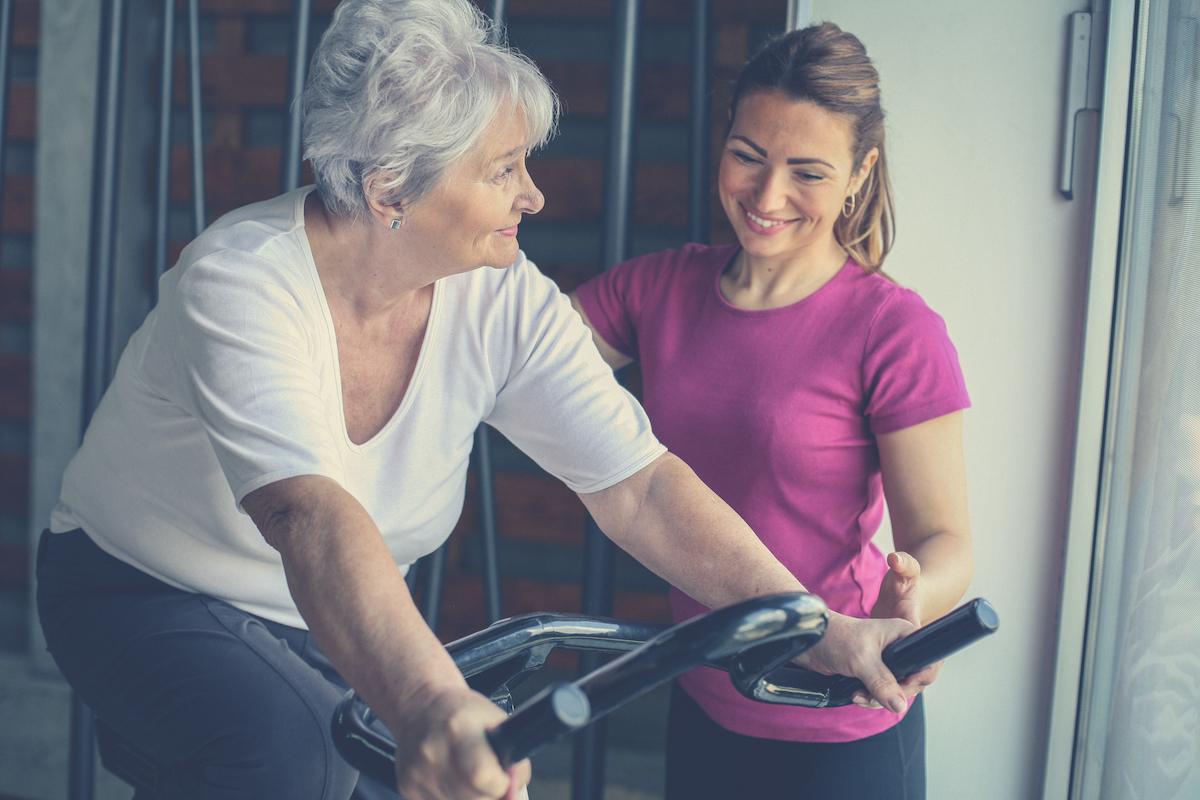 Enjoy the "experience" cycling or biking can offer for an indoor or outdoor ride. "A rhythm-based riding to the beat of music can promote a sense of fun while simultaneously torching calories," says Donna Cennamano, NASM, CPT, trainer and Master Instructor for CycleBar.
Of course, while some may be able to go faster than others, due to more athletic stamina or lack of injury/joint stiffness, overall you will more likely choose a more moderate ride or a bike ride at age 60+.
"You can perform this modality at a slower pace to ensure you are being active yet safe," she says. Speak to a trainer or cycling instructor to figure out what is best for you or try a leisurely bike ride instead—just pedaling along and staying active will still quality as a workout!
After Breakfast: HIIT and Weighted Exercises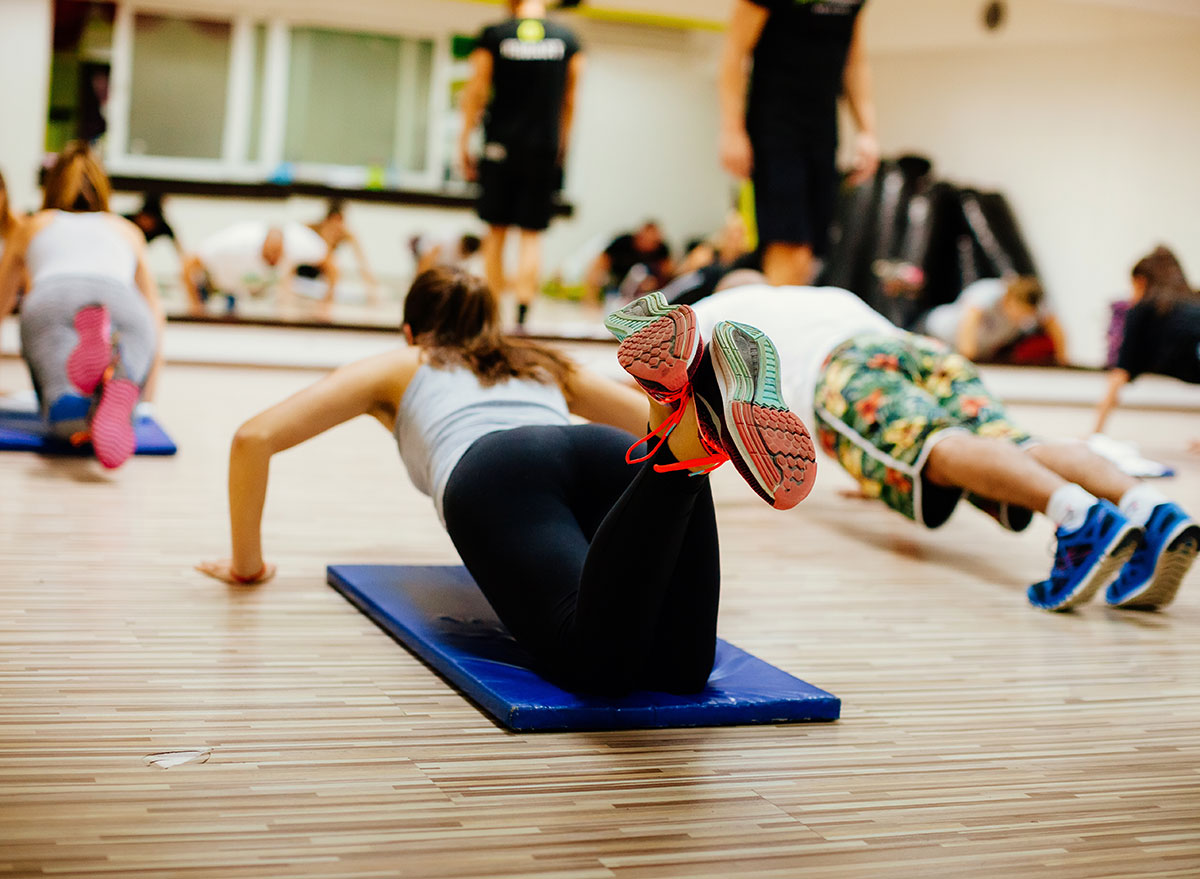 While you don't want to go too heavy on the weight load or intensity of those HIIT moves, HIIT and strength training are both effective (more calories burned in less time) at building strong bones and muscles (weighted moves increase in muscle mass and bone density to prevent osteoporosis alter in life).6254a4d1642c605c54bf1cab17d50f1e
"I would recommend saving HIIT and weight training until after breakfast to replenish glycogen and protein for muscle tissue," says Cennamano. "According to a study conducted by the Mayo Clinic, HIIT training may be more beneficial in adults over 65 in helping reduce degeneration of tissues than other forms of exercise," she says.
Just remember: Keep your intensity to a manageable level and progress slowly as you see gains. And if walking is your favorite form of exercise, don't miss The Secret Cult Walking Shoe That Walkers Everywhere Are Totally Obsessed With.
Isadora Baum
Isadora Baum is a freelance writer, certified health coach, and author of 5-Minute Energy.
Read more about Isadora