8 Overrated Italian Dishes That Chefs Never Order
Don't waste your time or money on these meals, the experts explain why.
Italian food is one of the most popular cuisines in the U.S. According to IBIS World, there are over 60,000 restaurants that are considered Italian in the U.S., up 4% from 2022. While what qualifies as authentic Italian is up for debate, most Italian-style restaurants offer a variety of well-known classic dishes. But, unfortunately, some restaurants do not execute these favorites well and, in some cases, these poor facsimiles for the real thing have become entirely overrated. 
Consider the simple spaghetti and meatballs. For many people, this was a staple growing up, so the problem restaurants have to compete with is nostalgia, a hard speed bump to overcome. For other dishes, they can be hard to execute perfectly in a restaurant environment or they just aren't worth the price.
We asked chefs to think about their recent dining experience and to share what they think are the most overrated dishes they just won't order anymore at Italian restaurants. For most, it came down to value and what they can prepare better at home—which is honestly not that different than the way most of us look at a menu when dining out.
Read on to find out what chefs skip at Italian restaurants and what they go for instead.
Eggplant Parmesan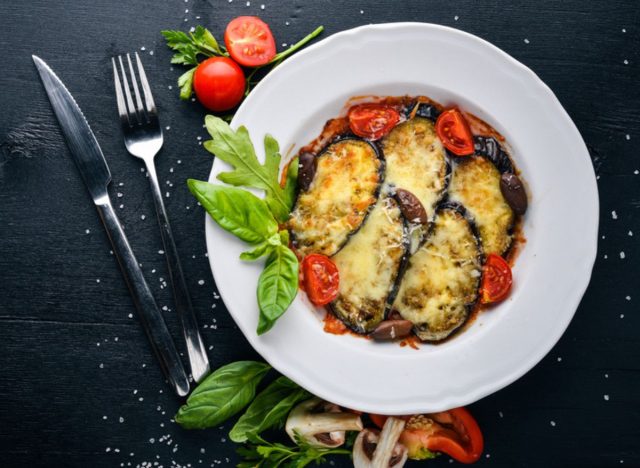 Private Chef Christopher Spinosa, who's currently appearing on Next Level Chef with Gordon Ramsay, has very strong feelings about ordering eggplant parmesan at a restaurant.  "My answer is Eggplant Parmesan. I have never, and I mean NEVER, in my entire existence been to an Italian spot that makes good eggplant parm," Spinosa says. "It's always way, way, way too overcooked and mushy (despite the fact that it's supposed to be a pan-fried item). I make a way better execution of it on my own, so I've just decided to part ways with that dish unless it's made by myself."
Pasta Pomodoro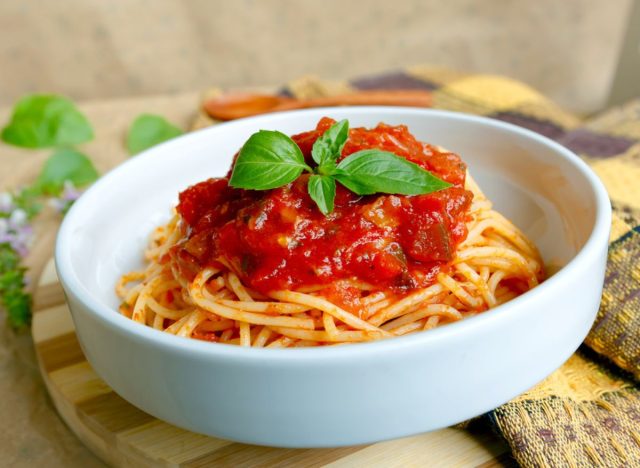 Chef Jaime Chabla of the beloved NYC restaurant Il Monello loves this dish but thinks getting it at a restaurant is redundant. "Simple pasta pomodoro, it's very basic and easy to recreate at home. You can make it better or equally as good at home so there is no need to order from a restaurant," he says.6254a4d1642c605c54bf1cab17d50f1e
Spaghetti and Meatballs
This dish has come up before, and Michelin-nominated chef Christos Bisiotis echoes every other chef we've talked to about this dish, saying simply that he skips, "spaghetti and meatballs because it's not Italian."
Chad Huff, executive chef at Marisi Italiano in California, said, "spaghetti and meatballs isn't something you'll see in a restaurant in Italy, as they are two separate dishes, Spaghetti al Pomodoro and Polpette. Putting them together happened in the U.S."
Garlic Bread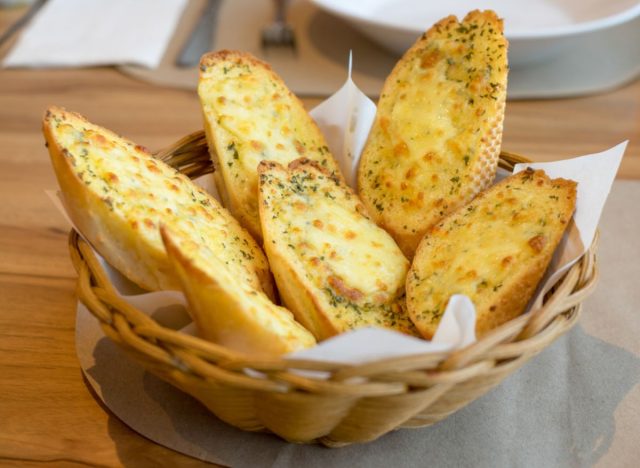 While this starter is popular on restaurant tables across the country, often with a side of warm marinara, MARKET at EDITION Chef John Fraser skips this favorite. For him, it's simply a matter of preference for high quality.  "What I would not order at an Italian restaurant is garlic bread," Fraser explained. "Although I love bread and garlic, respectively, I prefer a great quality bread and an excellent olive oil to pair with."
Linguine and Clams
For Celebrity Chef Ryan Rondeno, it's about having the skills to make this dish better at home. "The very popular linguini and clams is a dish that's good in its own right but can be made better at home. The clam dish is cooked in a white wine garlic broth, linguini, and fresh herbs to give it a little bounce," Rondeno explained. "It's cool if you're searching for simplicity, but one must know that this dish deserves more flavor. "
And, if you'd like to try making it yourself, Rondeno has some suggestions: "For example, starting out with pancetta, guanciale, or even bacon adds some smokiness to start. Then move on to shallots and garlic. We can cook that for a minute allowing the flavors to develop. Next, toast spices such as crushed fennel seed, dried lemon and orange zest, and tarragon. I like to add the clams next and deglaze them with white wine. Once the clams open, remove and set in a bowl. The broth can be reduced and finished with butter. I like to add the pasta and clams back to the dish. Be sure to add scallions and a touch of fennel pollen. In any dish that we make, don't forget to taste."
Lasagna
Chef and Author Allen Bixby explains that the process of making lasagna means it's often not freshly made when you order it out, and thus, it's a pass for him.  "For me, it is lasagna that is taboo to order in a restaurant. Yes, making it is a big project, a true labor of love. But the result, when you put your own touch on it, is quite amazing. Generally, a restaurant has to re-heat it in some fashion," Bixby explained. "Then they often add extra saucing and cheese to improve the presentation or hide the effect of re-heating. Add to that there are so many styles and components of making lasagna; the sauce, drier vs. wetter, cheese choices, meat choices. So many variables influence the end result."
Pasta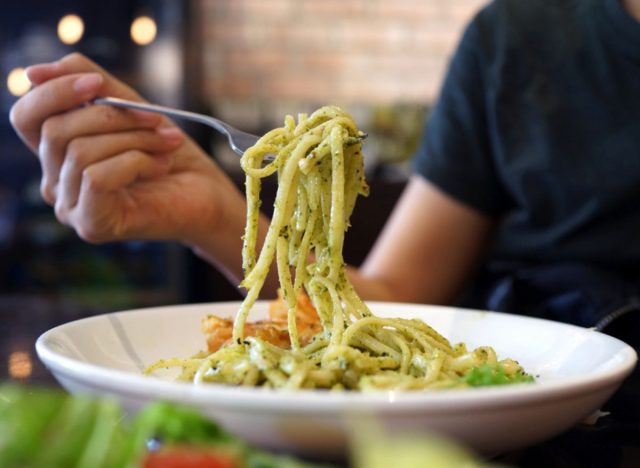 Bixby also notes that pasta dishes aren't always worth the price, and something he keeps in mind when ordering. "Not always, but often, pasta is overpriced in restaurants," he said. "As an operator, it makes for great margins. As a consumer, it usually doesn't represent the best value. That's always a consideration for me as well.
The Same Old Thing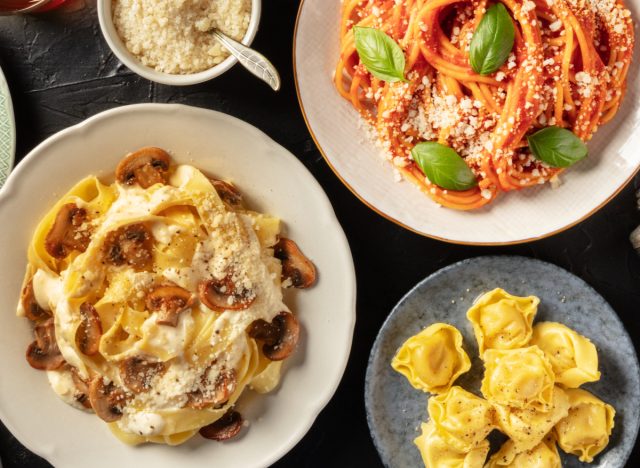 Il Tinello East's Chef Ray Dodoc says he likes to order something he hasn't tried before or something off the special's board, and that's a great way to expand your culinary horizons. "When eating at a fine dining Italian restaurant, going with something new, perhaps trying out a specialty the restaurant offers," says Dodoc. "As for what I would not suggest to order would be, something you always go for, for example, if you always order linguine in oil, perhaps try something new like for example, our Amatriciana pasta dish consisting of, Bucatini, tomato, paramatta, and onions or perhaps our tableside cacio e pepe is a great option to order here at Il Tinello East."
Tanya Edwards
Tanya Edwards is a seasoned food and health journalist, who has held roles at Yahoo Health as Managing Editor and at Food Network as Programming Director.
Read more about Tanya