Pepsi Is Combining Cola and Coffee In a New Beverage
It has double the caffeine of a regular Pepsi.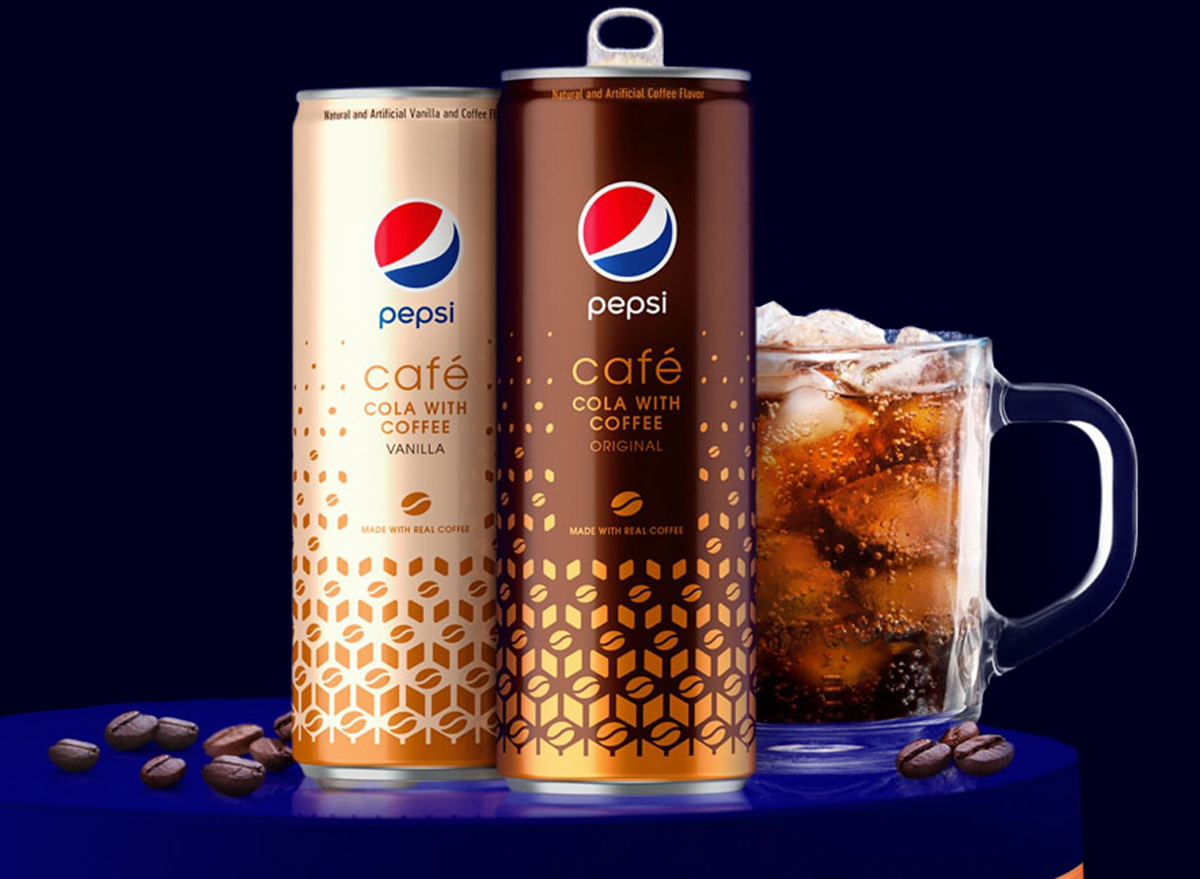 Pepsi is about to get a whole lot more caffeinated. The company is set to launch a new kind of bubbly beverage that's a combination of cola and coffee—and there's truly nothing like it in the United States right now.
Called Pepsi Café, the drink will boast twice the amount of caffeine of a normal Pepsi drink, which means more pep in your step during your usual afternoon slump. Set to launch in April 2020, the beverage will come in two signature flavors—original and vanilla—and will be available for a limited time.
Historically, the coffee-soda concept hasn't exactly performed well for PepsiCo over the years, so it's no wonder why the company isn't saying this drink is a permanent fixture.
For instance, do you remember Pepsi Max Cino? The sugar-free, coffee-flavored soda debuted in 2005, only to be removed from the market just a year after launch. And before Pepsi Max Cino came and went, there was the original coffee-flavored Pepsi drink, Pepsi Kona, which hit supermarket shelves in 1996. (Have you seen any cans or bottles of the stuff in the past, oh, decade-and-a-half? Yeah. We didn't think so.)
Coca-Cola also had the idea of a cola-coffee drink back in 2006, with the introduction of Coke Blak. However, just a year after it launched stateside, it failed to pick up a strong following and was discontinued.6254a4d1642c605c54bf1cab17d50f1e
"That was a trend before its time," Nancy Quan, Coca-Cola's chief technical officer, told CNN Business. "I don't think people were ready to have a coffee portfolio within the Coca-Cola brand."
However, in recent years, Coca-Cola launched Coca-Cola Plus Coffee in international markets like Australia, Thailand, and Italy. According to CNN Business, the product was supposed to launch in the States this year, but—with just days left and no announcement on the horizon—it has yet to hit shelves.
"Cola has been a pretty stagnant category over the last 20 to 30 years," Todd Kaplan, vice president of marketing for Pepsi said to New York Post. "As consumer preferences continue to evolve, we at Pepsi need to evolve as well to better meet those needs."
Time will tell the fate of Pepsi Café, but we can't wait to taste-test the new drink come April. And for more new launches from the company, Here's What You Should Know About Bubly, Pepsi's Sparkling Water Line.