The Best Plant-Based Fast-Food Items, Ranked By a Dietitian
We asked a registered dietitian to rank the best plant-based item at 10 different fast-casual restaurants.
After years of ordering a disappointing side salad or a serving of French fries, those who follow plant-based diets can finally enjoy more options at fast food restaurants. The real question is, are most of these meatless, and even vegan-friendly options healthy?
It's no surprise that some plant-based fast food items definitely have better nutritional records than others. But, if you had the option to order either a burger, a taco, or a veggie-filled sub, could you confidently answer which one is the healthiest for you?
To get some insight, we asked Jessica Penner, RD to rank some of the top plant-based fast food options out there. (Related: The 7 Healthiest Foods to Eat Right Now.)
"I created a ranking system based on different factors I use when choosing food: low sodium, high protein, high fiber, low sugar, fresh veggies, and how much the food is processed," Penner explained. "I scored each of the items with my ranking system."
Without further ado, here are 10 of the top plant-based menu items available at fast food restaurants, ranked from unhealthiest to healthiest.
Beyond Burger at BurgerFi
1 burger
: 732 calories, 51 g fat (11 g saturated fat), 1,812 mg sodium, 36 g carbs (7 g fiber, 9 g sugar), 33 g protein
BurgerFi, which opened in 2011, is a newer fast food chain with a mission to serve hormone- and antibiotic-free burgers and hot dogs. But what about vegans, vegetarians, or "flexitarians"?
Luckily, BurgerFi started testing the plant-based Beyond Burger in 2017 and quickly launched it nationwide. There is a standard Beyond Burger as well as a vegan option.
Although Penner did give this burger high marks for its protein content, fiber, and inclusion of fresh veggies (lettuce, tomato, and onion), the burger lost points for its high sodium level. Ideally, some adults should have no more than 1,500 milligrams of sodium daily, and this burger alone surpasses that.
Impossible Sliders at White Castle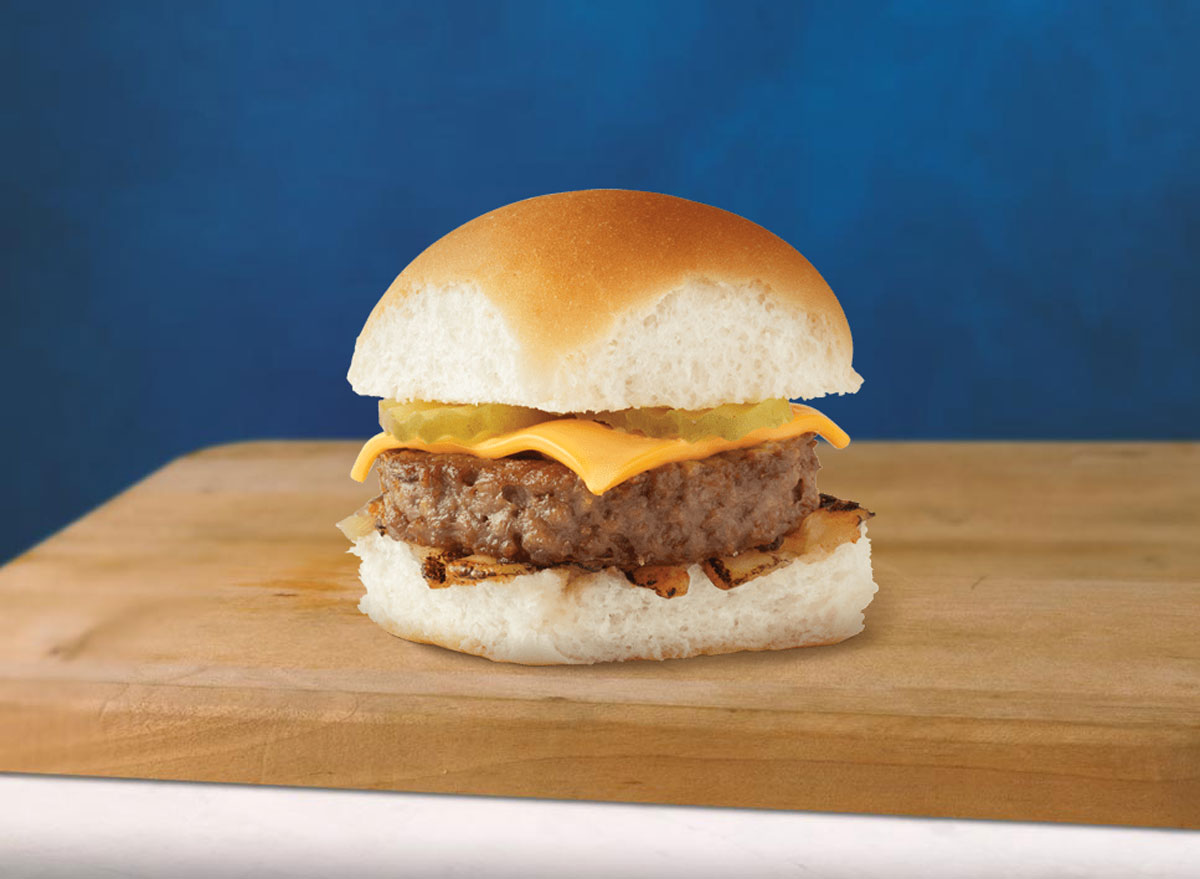 1 slider
: 230 calories, 12 g fat (6 g saturated fat), 620 mg sodium, 16 g carbs (0 g fiber, 2 g sugar), 12 g protein
Similar to Beyond meat, Impossible Foods offers a processed, plant-based burger that looks and "bleeds" like beef. This can be an attractive option for people who are cutting back on their red meat intake, but still crave the real thing. Because reducing red meat consumption can decrease risks of heart disease, certain cancers, and diabetes, it's not a bad idea to switch to something plant-based once in awhile.
However, Penner advises to still be wary of the nutritional makeup of plant-based fast food items. She ranked the Impossible sliders without cheese pretty low on this list for a number of reasons. While she did give some points for the slider having a moderate amount of protein and low sugar content, this slider still missed the mark for being highly processed and lacking fiber and fresh veggies.
Beyond Famous Star Burger at Carl's Jr.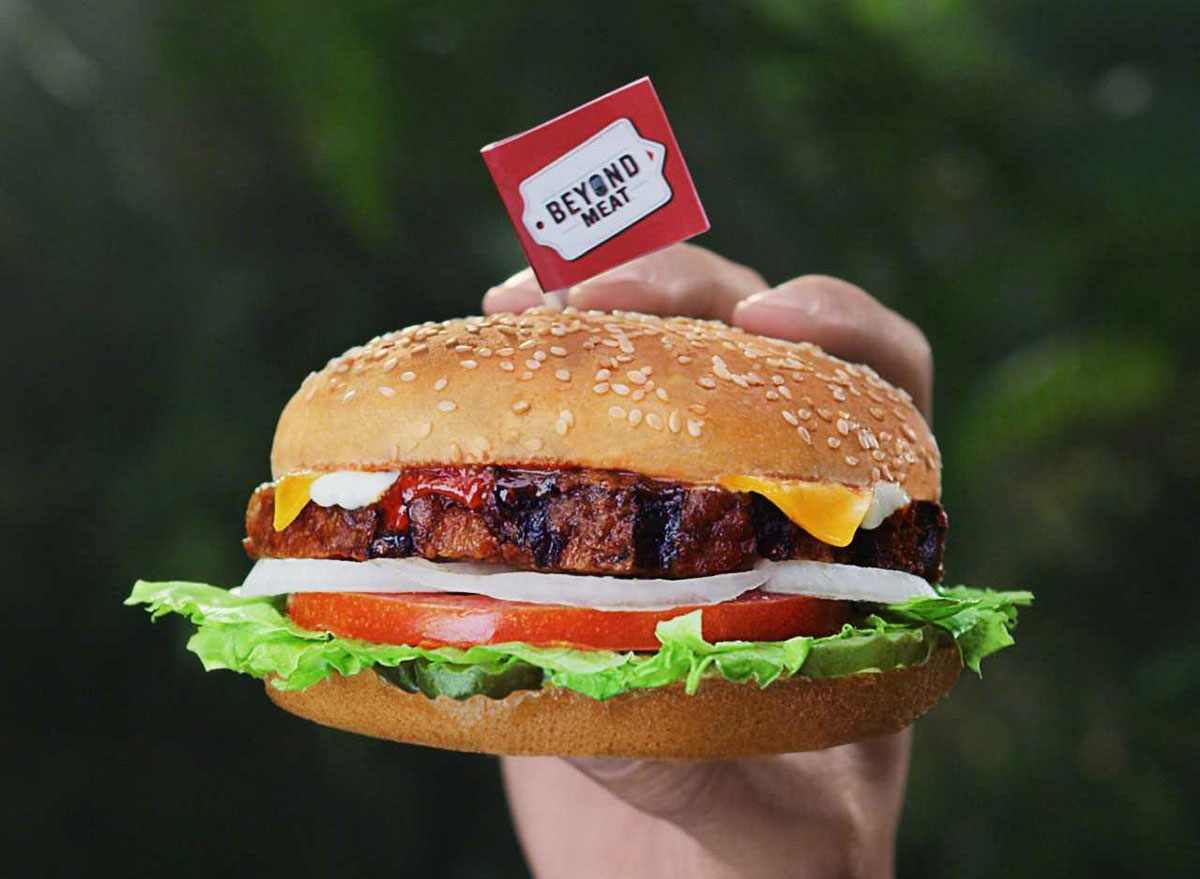 1 burger
: 770 calories, 44 g fat (13 g saturated fat), 1,600 mg sodium, 61 g carbs (2 g fiber, 12 g sugar), 33 g protein
Another Beyond meat-based burger, the Beyond Famous Star Burger from Carl's Jr. is high in sodium and fat—in fact, this burger has as much fat as about 13 slices of bacon, which is also considered a full day's worth of the macronutrient if you follow a 2,000 calorie diet.
Penner gave this burger high marks for its protein content plus points for including fresh vegetables like lettuce, tomato, and onion. It earned no points for being highly processed and having higher than five grams of sugar. She also docked points for the 1,600 milligrams of sodium.
Veggie Shack at Shake Shack
1 burger
: 530 calories, 27 g fat (7 g saturated fat), 1,250 mg sodium, 56 g carbs (6 g fiber, 10 g sugar), 16 g protein
Shake Shack's Veggie Shack is the first menu item on this list that is made with a less processed patty. This burger, served on a wheat bun, is made from "real greens, grains, and herbs" according to the company, then topped with roasted tomato, lettuce, avocado, and lemon mayonnaise.
It earned several points from Penner for its high fiber content and fresh veggie toppings. Anything with more than 5 grams of fiber earned high praise from the dietitian. Fiber is essential for myriad health reasons: regular bowel movements, lower LDL (bad) cholesterol levels, stabilized blood sugar levels, satiation, and reduced risk of heart disease and cancer. The recommended daily amount of fiber ranges from 25 to 38 grams daily depending on the person, and this burger offers up to 29% of that.
It also contains a moderate amount of protein, but not as much as some of the other options. This burger is high in sodium and sugar, which led to points being docked.
Impossible Whopper at Burger King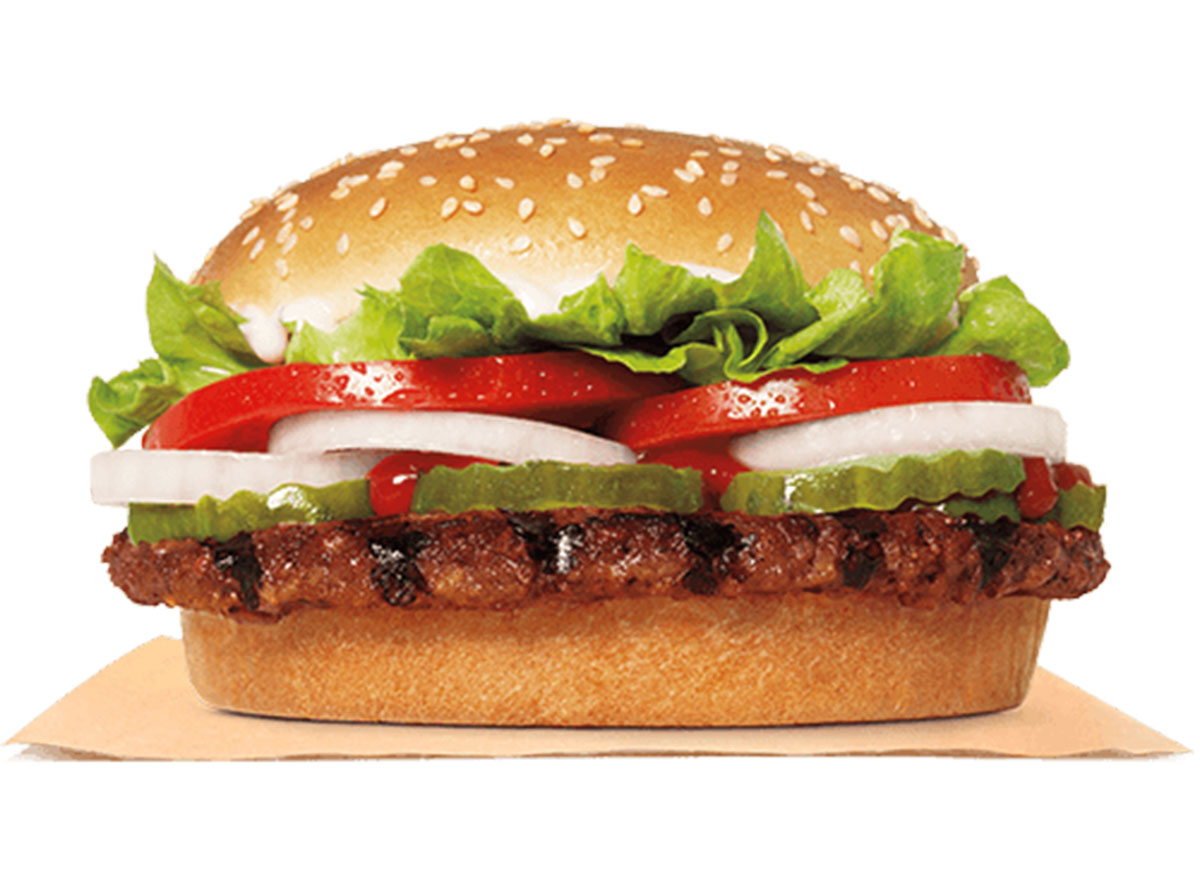 1 burger
: 630 calories, 34g fat (11 g saturated fat), 1,080 mg sodium, 58 g carbs (4 g fiber, 12 g sugar), 25 g protein
The Impossible Whopper garnered a lot of hype when it debuted in 2019. The processed, plant-based patty includes lettuce, tomato, onion, pickle, mayo, and ketchup. For vegetarians and vegans, you'd need to request this to not be broiled but microwaved, as it is typically made on the grill with regular beef. But for those reducing their red meat intake, this could be a good option.
The protein content was a plus for Penner, and additional points were given for fiber content and the fresh vegetable toppings. Still, the burger is high in sodium, fat, and sugar.
Beyond Sausage Breakfast Sandwich at Dunkin'
1 sandwich
: 510 calories, 26 g fat (10 g saturated fat), 820 mg sodium, 40 g carbs (2 g fiber, 3 g sugar), 26 g protein
Beyond Meat has been developing other types of plant-based meat alternatives outside of the hamburger. It recently launched a processed, plant-based sausage, which is now available in a breakfast sandwich at Dunkin'.
Not suitable for vegans, the Beyond Sausage Breakfast Sandwich includes the Beyond sausage patty, real egg, and real white cheddar on an English muffin.
Penner was impressed with this protein-rich breakfast, and it earned points for its fiber content and just three grams of sugar. While still high in sodium, it does have less than some other plant-based fast food items. Why it didn't rank higher? It lacks fresh veggies though, and the plant-based sausage patty is highly processed.
Baja Black Bean Veggie Wrap at Starbucks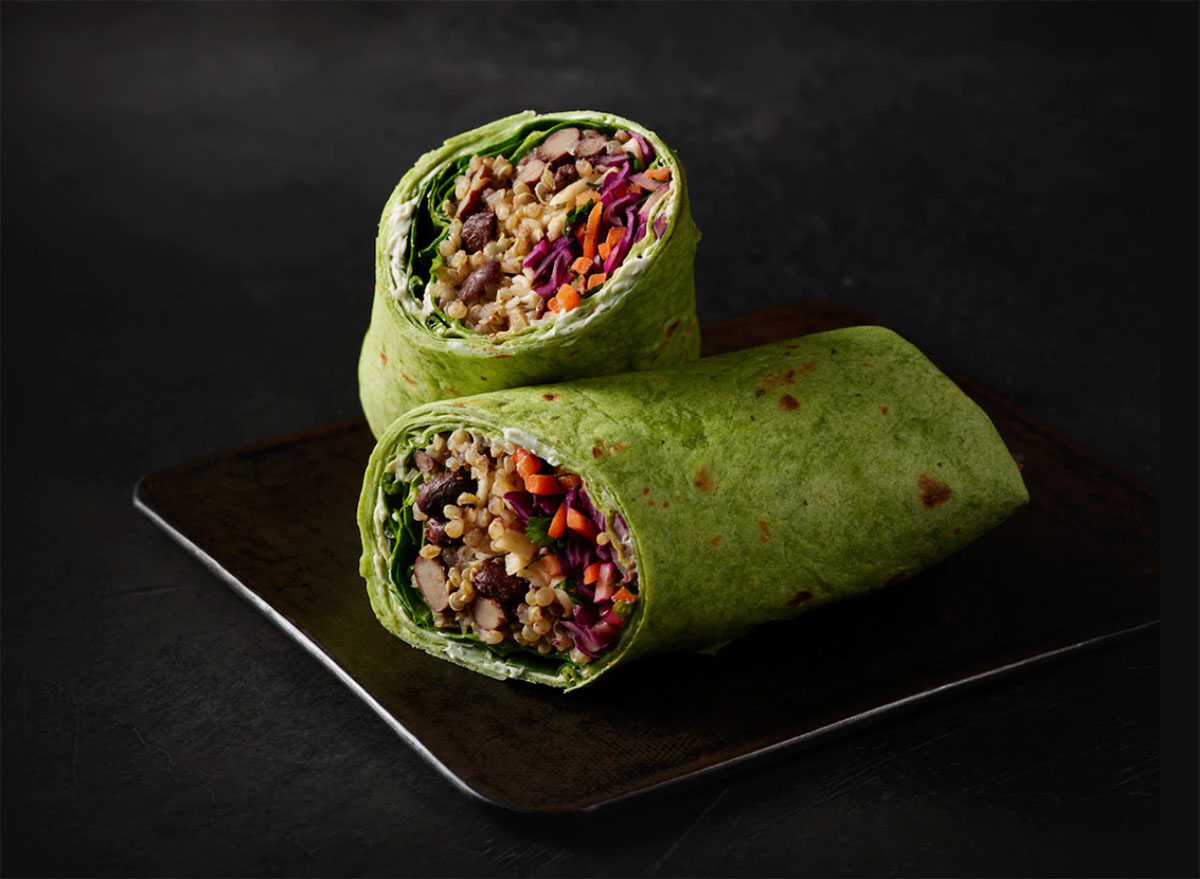 1 wrap
: 570 calories, 22 g fat (11 g saturated fat), 1,300 mg sodium, 73 g carbs (7 g fiber, 5 g sugar), 21 g protein
Starbucks' Baja Black Bean Veggie Wrap is a vegetarian-friendly option that swaps processed meat alternatives for hearty black beans. It still packs ample protein and fiber though, which is why Penner awarded this dish a high ranking. It also includes fresh mixed veggies and is minimally processed—just watch out for that sodium content!
Monica Auslander Moreno, MS, RDN, founder of Essence Nutrition, is also a fan of this veggie wrap, because it has "nice amounts of vegetables and flavors included, not to mention, Starbucks is replete with a lot of other nutrient-dense options and I always feel comfortable pulling over there on road trips because I know they have so many healthy options."6254a4d1642c605c54bf1cab17d50f1e
Veggie Delite Sub at Subway
6-inch sub
: 190 calories, 2 g fat (0.5 g saturated fat), 240 mg sodium, 39 g carbs (5 g fiber, 6 g sugar), 9 g protein
While everyone patiently waits for the Beyond Meatball Marinara sub to return, those following plant-based diets can indulge in this menu staple: Veggie Delite Sub. Although it is completely customizable, the 6-inch sub comes complete with lettuce, spinach, tomato, cucumber, bell peppers, and onion.
This option nears the top of the list of plant-based fast food items because it is low in calories, fat, sodium, and processed ingredients. Penner loves the amount of fresh veggies packed into this sandwich as well as its high fiber content. It lost a few points for being higher in sugar (over five grams is Penner's criteria) and low in protein. Our bodies need protein for healthy bones and skin as well as strong muscles, just to name a few of its roles. Plus, a balanced meal with a good amount of protein can help you feel full and focused.
Don't miss How Much Protein You Should Actually Eat in One Meal, According to Experts.
Veggie Power Menu Bowl at Taco Bell
1 bowl
: 430 calories, 17 g fat (5 g saturated fat), 810 mg sodium, 57 g carbs (10 g fiber, 2 g sugar), 12 g protein
If you are looking for a healthy, plant-based option head to Taco Bell. If you aren't sure where to start on the veggie menu, go for the Veggie Power Menu Bowl.
This option is lower in calories and sodium than several other options on this list. Penner gave it points in several categories, including extra points for high fiber and low sugar, some points for a moderate amount of protein (more than 10 grams), and points for including fresh vegetables and minimally processed ingredients.
"I know that Taco Bell has hired full-time dietitians who work tirelessly to expand vegan options (and sustainable options) onto their menu," Moreno says. "I salute them and thus would go for that Taco Bell Veggie Bowl—it also seems really flavorful."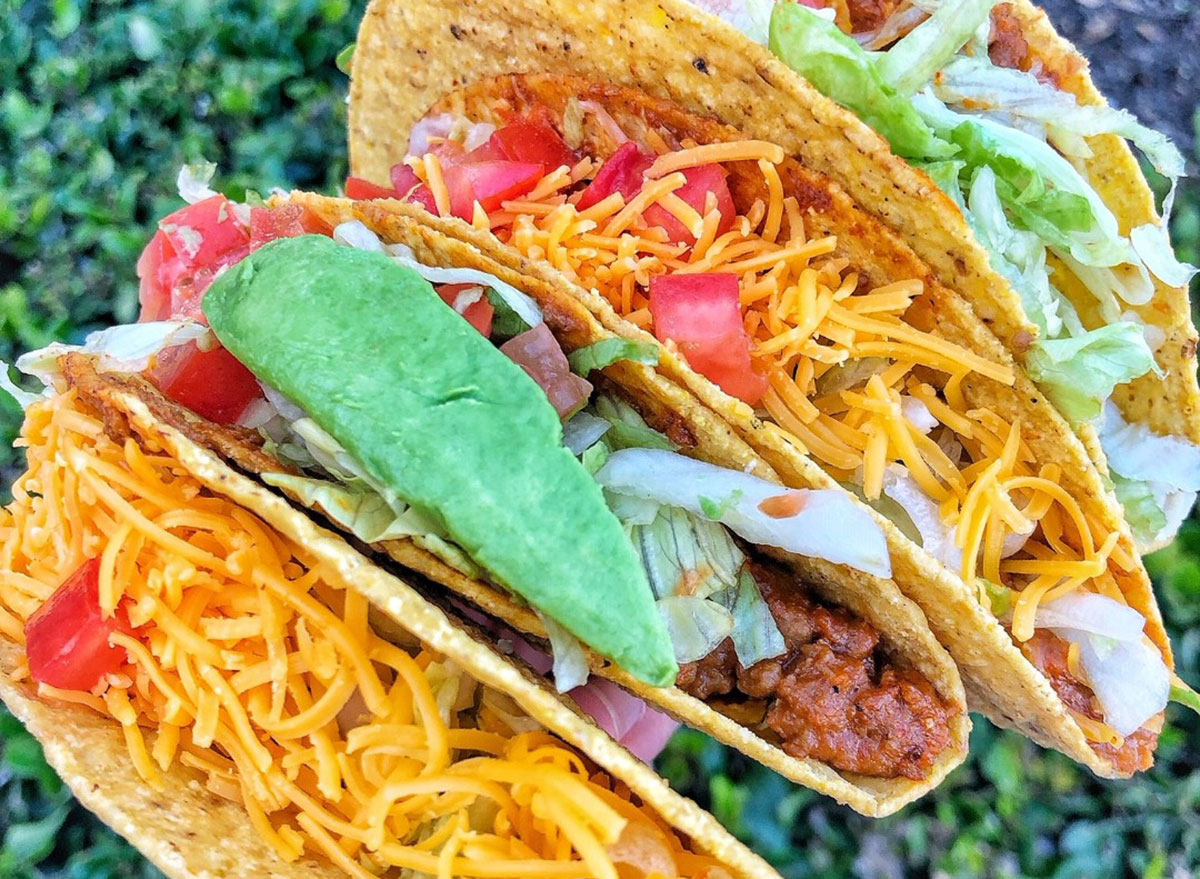 1 taco
: 300 calories, 19 g fat (10 g saturated fat), 510 mg sodium, 15 g carbs (2 g fiber, 1 g sugar), 19 g protein
As long as you keep portions in mind (i.e. sticking to one taco instead of multiple), the Beyond Taco at Del Taco is one of the best plant-based fast food items you can find.
One taco is low in sodium, calories, and sugar while being high in protein and offering some fiber to boot. It also includes some fresh lettuce and tomato. You can also order a similar Beyond Avocado Taco, which offers even more fresh veggie toppings and is vegan. All of these reasons led to Penner giving this fast food option the highest ranking.
Now, don't miss the Worst Fast Food Burgers of 2020.
Paige Bennett
Paige is a Los Angeles-based editor and freelance writer. In addition to writing for Eat This, Not That!, she works as the content editor for Inhabitat.
Read more about Paige