Worst Fast Food Burgers of 2020
Here are seven of the unhealthiest burgers you bought this year.
Since the 1920s, Americans have been flocking to fast food restaurants for quick, cheap meals. Fast-forward 100 years and fast food chains are still reinventing their classic burgers to draw in new crowds and keep customers' taste buds excited.
But one thing that has hardly changed is just how unhealthy fast food can be for your overall health. Even with the launch of plant-based options, these quick-service restaurants are notorious for boasting high fat and sodium contents in most of their menu items. After all, we have an entire list of the unhealthiest fast-food burgers filled with classic burgers at all your favorite burger spots for a reason.
This year, many of these beloved fast-casual establishments introduced several new burger options (or witnessed tried-and-true ones become trendy), each of which could use a serious nutrition makeover. We spoke with Lindsey Pine, MS, RDN, CLT to point out some of the unhealthiest burgers she's seen on menus this year.
Now, here are the least nutritious fast food burgers you bought in 2020 and after, don't miss McDonald's Is Making These 8 Major Upgrades.
Whataburger: Hatch Green Chile Burger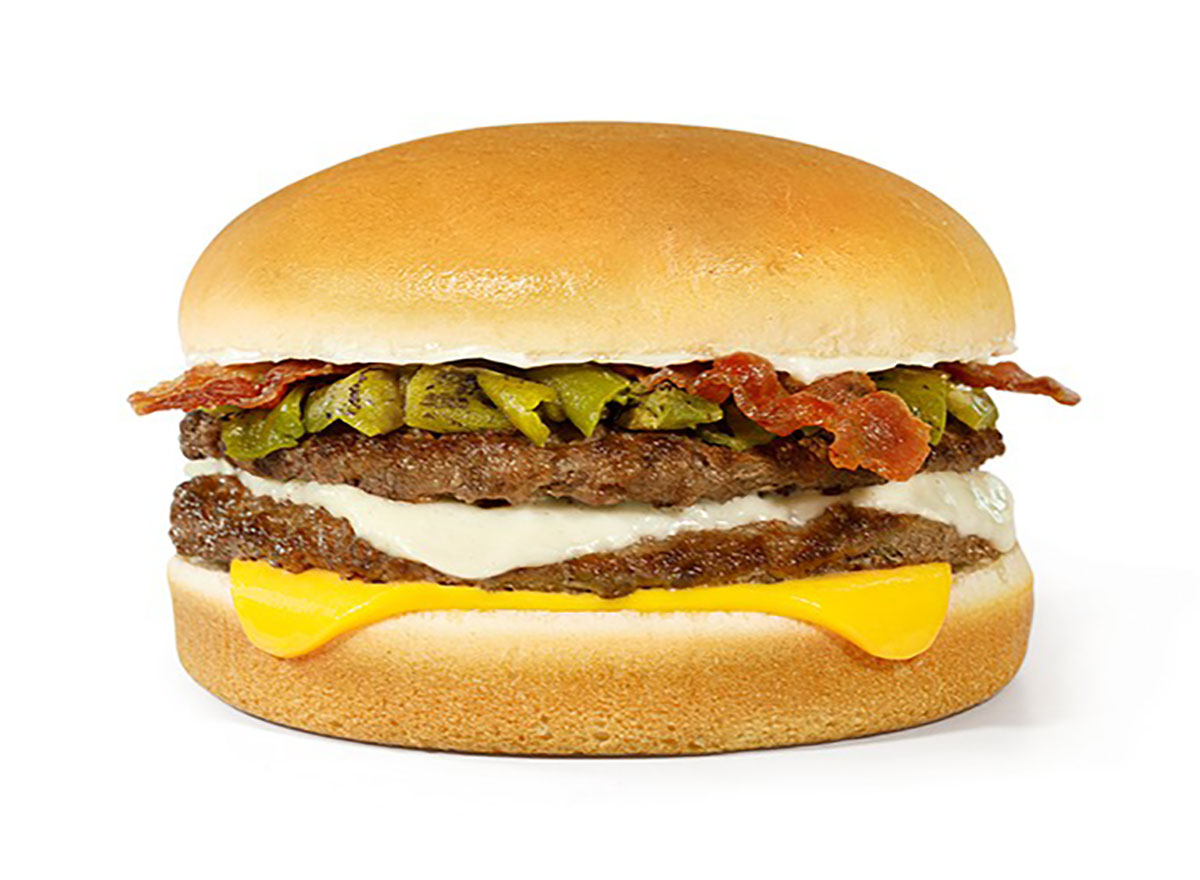 1 burger
: 1,160 calories, 71 g fat (25 g saturated fat, 2 g trans fat), 2750 mg sodium, 66 g carbs (3 g fiber, 15 g sugar), 61 g protein
With two beef patties, three strips of bacon, two slices of cheese, and green chiles all slathered in mayonnaise, it's not surprising this newly released burger is one of the worst options for your health.
"All of the numbers are pretty obscene on this one, including the 71 grams of fat, 15 grams of sugar, and 2,750 milligrams of sodium. That amount of sodium is the equivalent to approximately 10 dill pickle spears," Pine says. "To top it off, we've got 2 grams of trans fat. We want that number to be zero. This type of fat increases inflammation and bad LDL cholesterol, lowers good HDL cholesterol, and can increase your risk for heart disease."
For more, be sure to check out 13 Unhealthiest Diet Habits for High Cholesterol.
Burger King: Impossible Whopper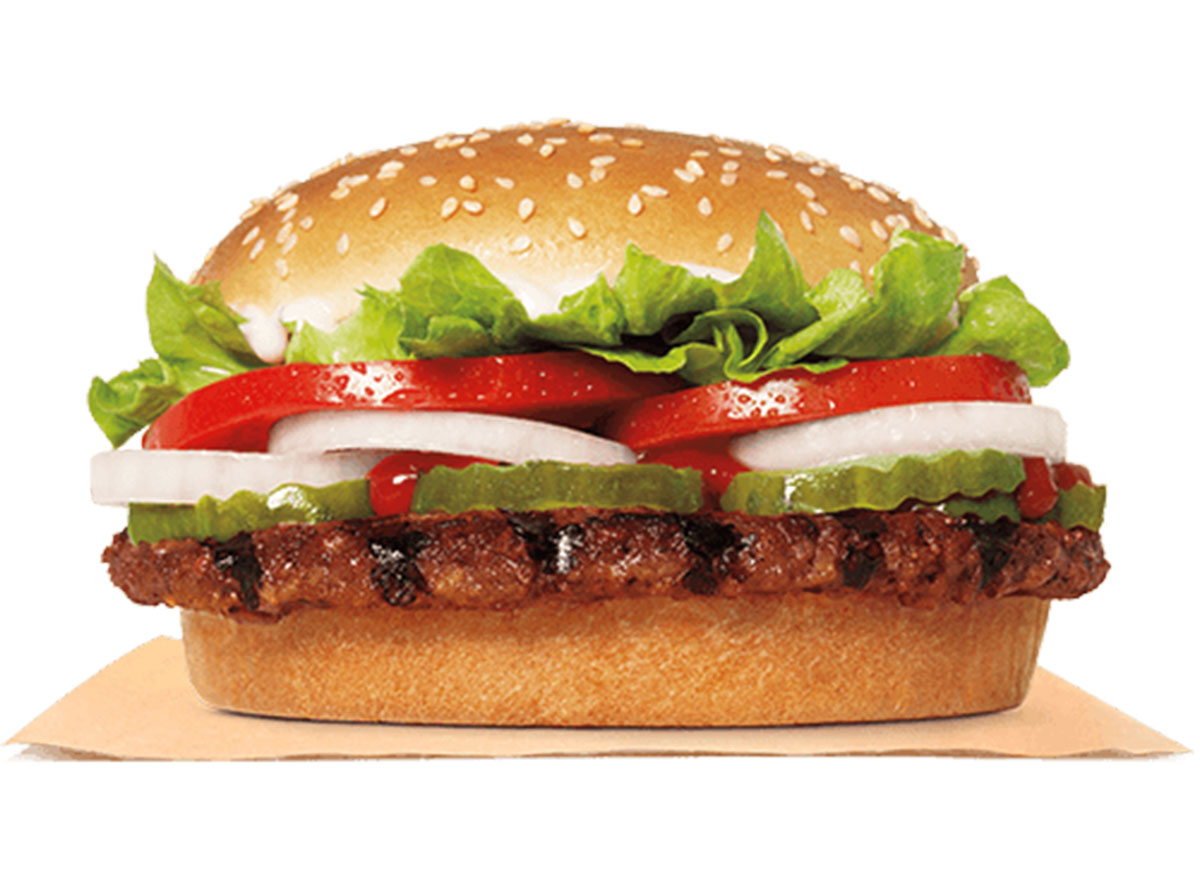 1 burger
: 628 calories, 34 g fat (10.7 g saturated fat, 0 g trans fat), 1,078 mg sodium, 58 g carbs (4 g fiber, 12 g sugar), 25 g protein
At first glance, the buzzworthy Impossible Whopper seems like a good option. If you don't eat meat and are craving a fast-food burger, this is certainly a fine option. But, when it comes to health, this burger is still high in sodium, fat, and carbs.
"Just because it's plant-based, doesn't mean it's a health food," Pine warns. "On the bright side, it has the most amount of fiber out of all of the burgers on this list at 4 grams and is the only burger listed that doesn't contain trans fat."
McDonald's: Quarter Pounder with Cheese & Bacon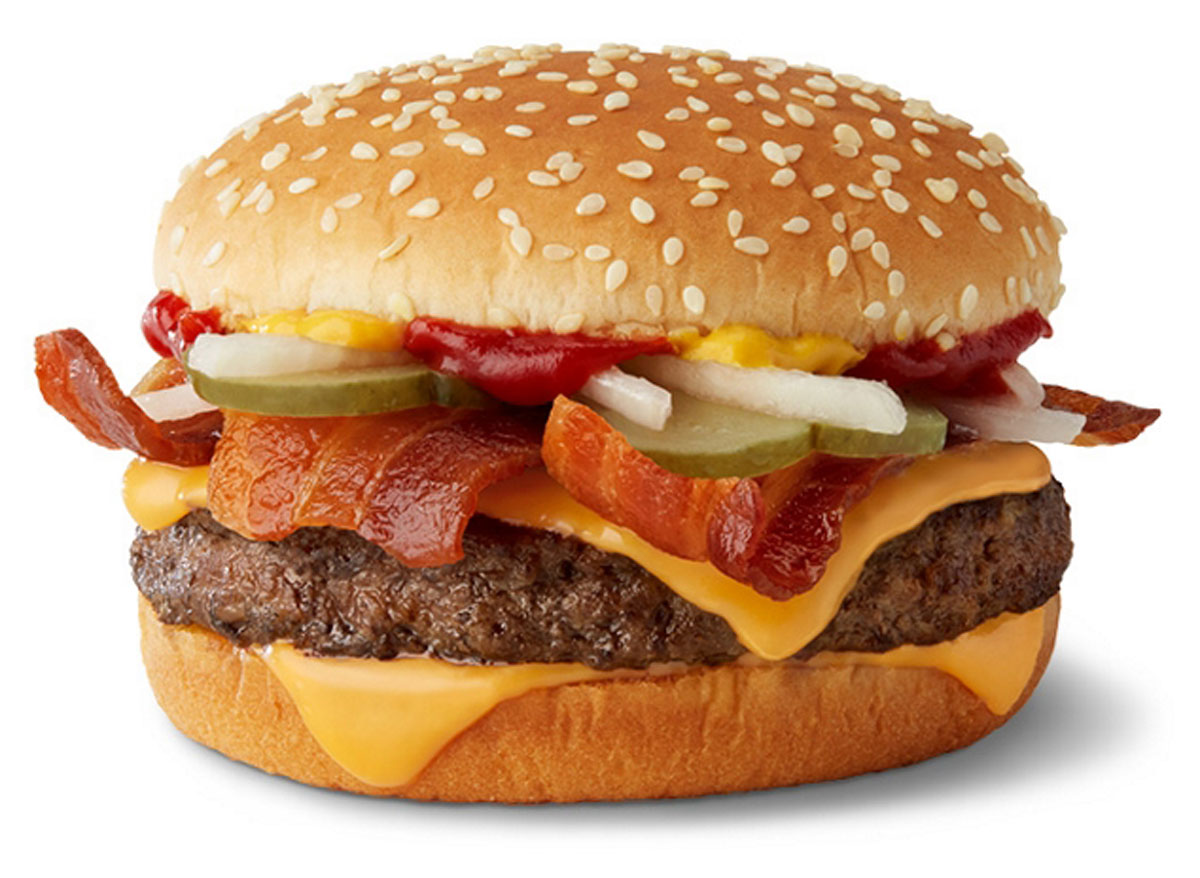 1 burger
: 630 calories, 35 g fat (15 g saturated fat, 1.5 g trans fat), 1,470 mg sodium, 43 g carbs (3 g fiber, 10 g sugar), 36 g protein
Made famous by the Travis Scott campaign, the Quarter Pounder with Cheese & Bacon is the artist's go-to McDonald's order—despite the fact that celebrities are often known to have strict diet and exercise regimens. This burger is definitely more of an occasional treat than a nutritious dinner option.6254a4d1642c605c54bf1cab17d50f1e
Pine points out that while this burger is lower in fat and carbs than other burgers on the list, the trans fat and sodium levels are both problematic. "If you already have high blood pressure, you'd basically max out your entire day's worth of sodium on this one burger."
Don't miss Eat These Foods to Lower Your Blood Pressure, New Study Says.
Sonic: Garlic Butter Bacon Burger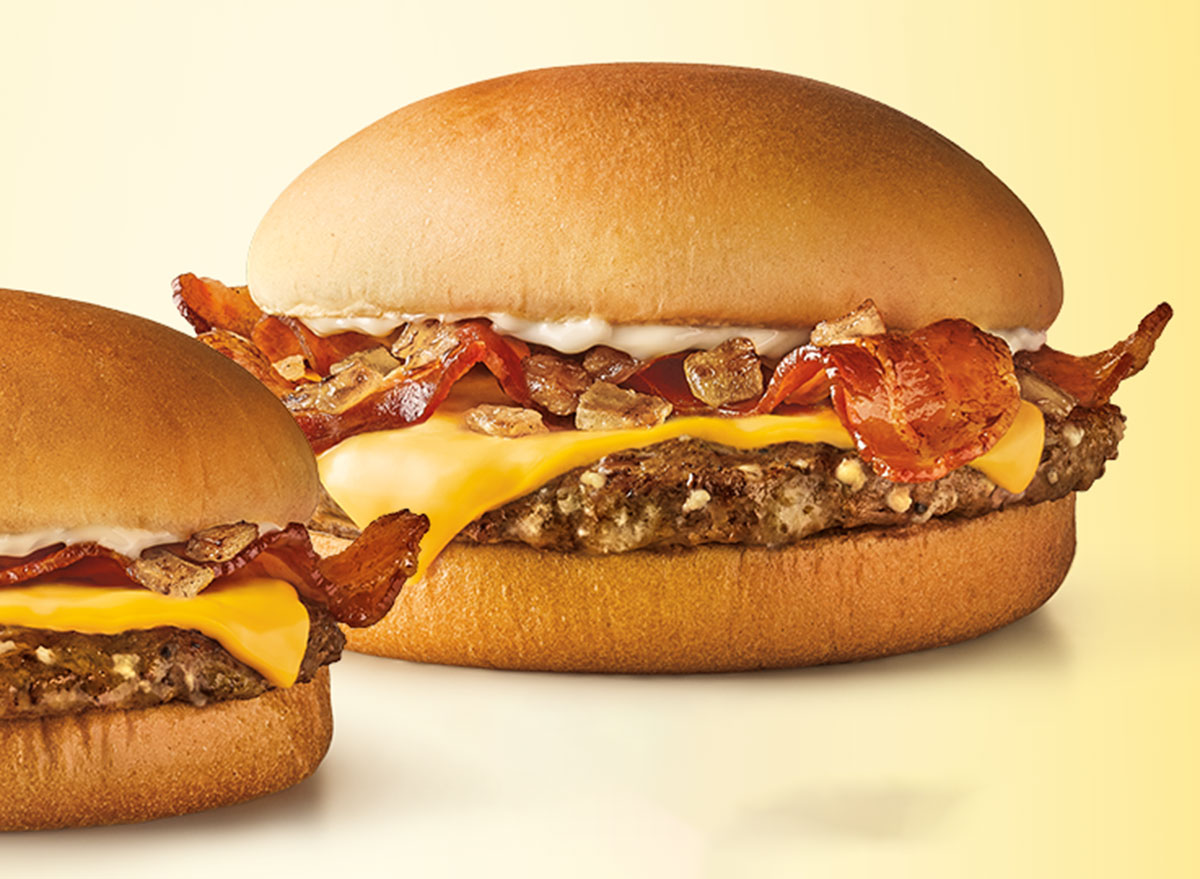 1 burger
: 870 calories, 55 g fat (15 g saturated fat, 1.5 g trans fat), 1,510 mg sodium, 55 g carbs (2 g fiber, 11 g sugar), 36 g protein
Piled with grilled onions, a beef patty, American cheese, mayonnaise, bacon, and garlic butter, this is one fatty burger.
"Same story with this burger as the others: high calorie, high saturated fat, high trans fat, and high sodium," Pine says. "The 2015-2020 Dietary Guidelines for Americans recommend eating less than 10% of total calories per day from saturated fat. To put that in perspective, the 15 grams of saturated fat in this burger equates to 135 calories. If you are eating 2,000 calories per day, two-thirds of your daily total of saturated fat would come from this burger."
For a visual, this burger has about the same amount of saturated fat as a full cup of canola oil.
Carl's Jr.: Monster Angus Thickburger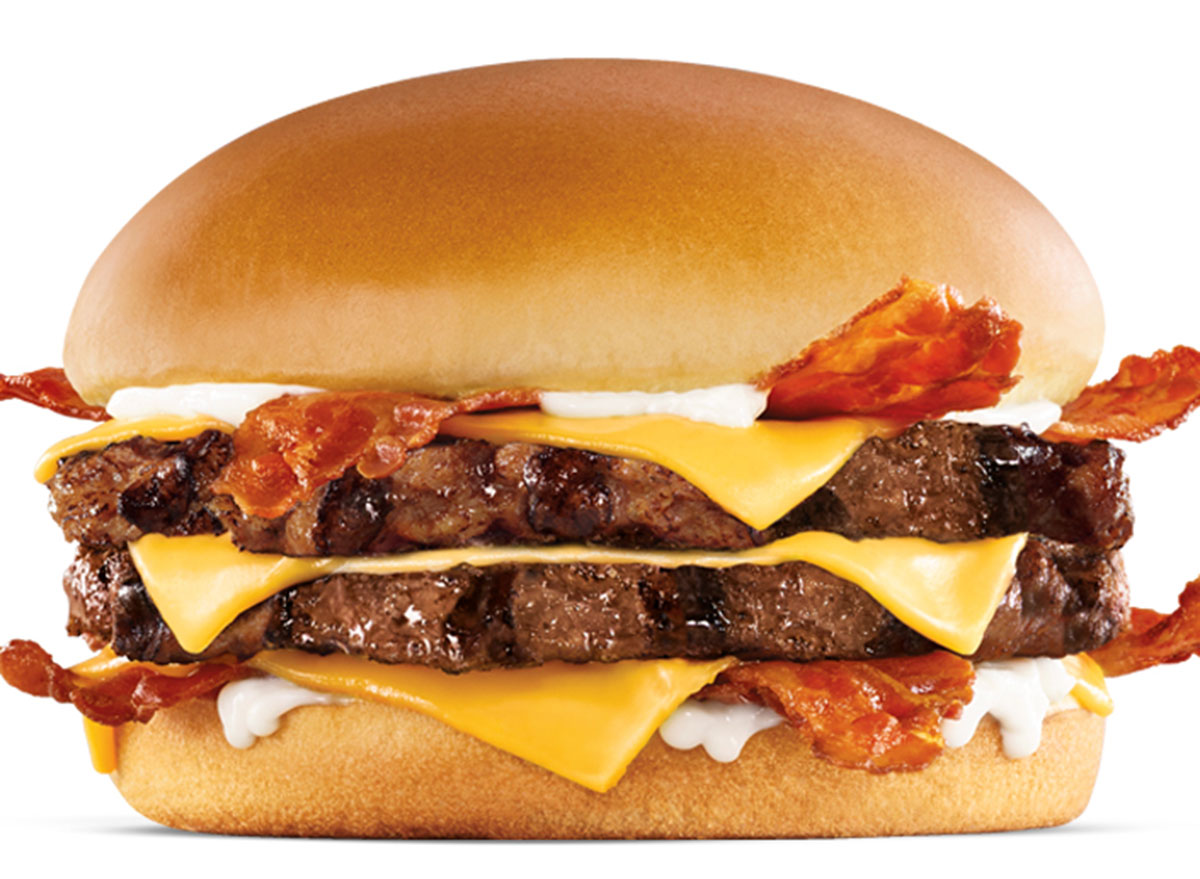 1 burger
: 1290 calories, 89 g fat (32 g saturated fat, 4 g trans fat), 3,120 mg sodium, 53 g carbs (2 g fiber, 10 g sugar), 76 g protein
The popular Monster Angus Thickburger is just as scary as it sounds: nearly a pound of beef, four strips of bacon, and three slices of American cheese come together with a couple layers of mayonnaise to create the ultimate heart health nightmare.
"This burger is a recipe for inflammation," Pine warns. "It is the clear winner in terms of sheer quantity and the obvious loser when it comes to our health. It comes in at 1,290 calories, and insane amounts of fat—about the same as a little more than half of a stick of butter—and sodium [at] 3,120 milligrams. That's a similar amount of sodium as contained in approximately 300 potato chips!"
Another frightening statistic? The amount of trans fat. Pine calls the 4 grams of trans fat in the Monster Angus Thickburger "crazy high," noting that it is incredibly rare to see any food with that amount of trans fat these days.
Wendy's: Pretzel Bacon Pub Cheeseburger
1 burger
: 840 calories, 52 g fat (20 g saturated fat, 1.5 g trans fat), 1,300 mg sodium, 53 g carbs (3 g fiber, 7 g sugar), 40 g protein
Who doesn't love a good pub-style burger? This burger is certainly different from the others with a pretzel bun, beer cheese, and fried onions, but all those added toppings can spell trouble for our health. In addition to these toppings, the Pretzel Bacon Pub Cheeseburger also has a quarter-pound beef patty, bacon, honey mustard, pickles, and muenster cheese.
All of these toppings contribute to this burger's high-fat content. Pine notes that fat, generally, isn't evil, but "we want to be eating mostly heart-healthy unsaturated fats from ingredients such as olive oil, avocados, nuts, seeds, and fatty fish, not loading up on saturated fat from animal protein."
Don't miss out on The Unhealthiest Wendy's Burgers Ever.
Culver's: Colby Jack Pub Burger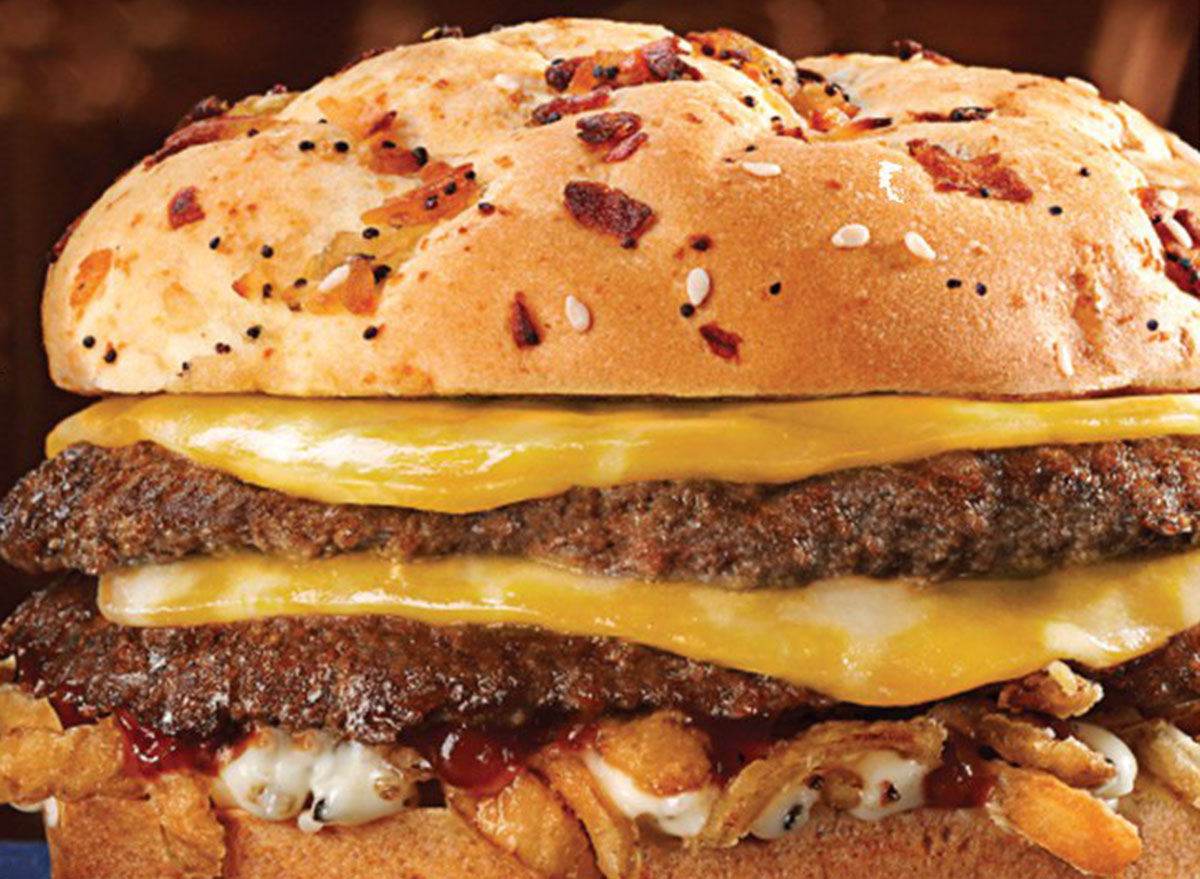 1 single burger
: 700 calories, 40 g fat (12.5 g saturated fat, 0.5 g trans fat), 940 mg sodium, 56 g carbs (2 g fiber, 8 g sugar), 28 g protein
A limited time and recurring offer at Culver's, the Colby Jack Pub Burger is another indulgent fast food option with an everything-seasoned bun, Colby jack cheese, fried onions, 4-pepper mayonnaise, A1 steak sauce, and your choice of either one, two, or a whopping three beef patties. Although it returned to Culver's earlier this year, this fan-favorite is not currently on the menu.
While the calories, as well as the sodium and fat contents, are all concerning regardless of how many patties you order, Pine says stick to the single if you do want this burger for lunch.
"While the single patty isn't great at 700 calories, the triple contains 1,200 calories and 30 grams of saturated fat. Yikes! On the bright side, I suppose, the single patty burger is the only option on this list that contains less than 1,000 milligrams."
Now, for a light-hearted read, check out The Top 10 Most Viral Food Moments of 2020.
Paige Bennett
Paige is a Los Angeles-based editor and freelance writer. In addition to writing for Eat This, Not That!, she works as the content editor for Inhabitat.
Read more about Paige