11 Most Popular Foods That Are Loaded With Sugar
They might be longtime favorites, but these foods are better left in the grocery store and out of your kitchen.
If there's one thing that is hard to give up when you're trying to make healthier eating choices, it's sugar. The sweet stuff is found in tons of foods, and those pesky added sugars are actually causing a lot of harm. A recent study in the European Journal of Preventive Cardiology even found that sugar consumption is actually linked to developing larger fat deposits around the heart and in the abdomen. Simply put, this is bad news for your overall health.
The researchers in the study found that sugar intake—including sipping on sugar-sweetened beverages and eating foods with added sugar—over a 20-year period were both related to greater fat storage around organs.
So what can you do to best avoid this from happening?
Well, you're going to make sure you don't eat foods that are loaded with sugar, specifically added sugars. Keep in mind the American Heart Association recommends men should consume no more than 36 grams of added sugar per day, and women shouldn't have more than 25 grams. There are plenty of foods out there that will close to or actually wipe out this allotment in just one serving.
To best help you out, we rounded up a list of some of the most popular grocery-store foods that are overflowing with sugar. And if you're really trying to stay on course, be sure you're stocked up on The 7 Healthiest Foods to Eat Right Now.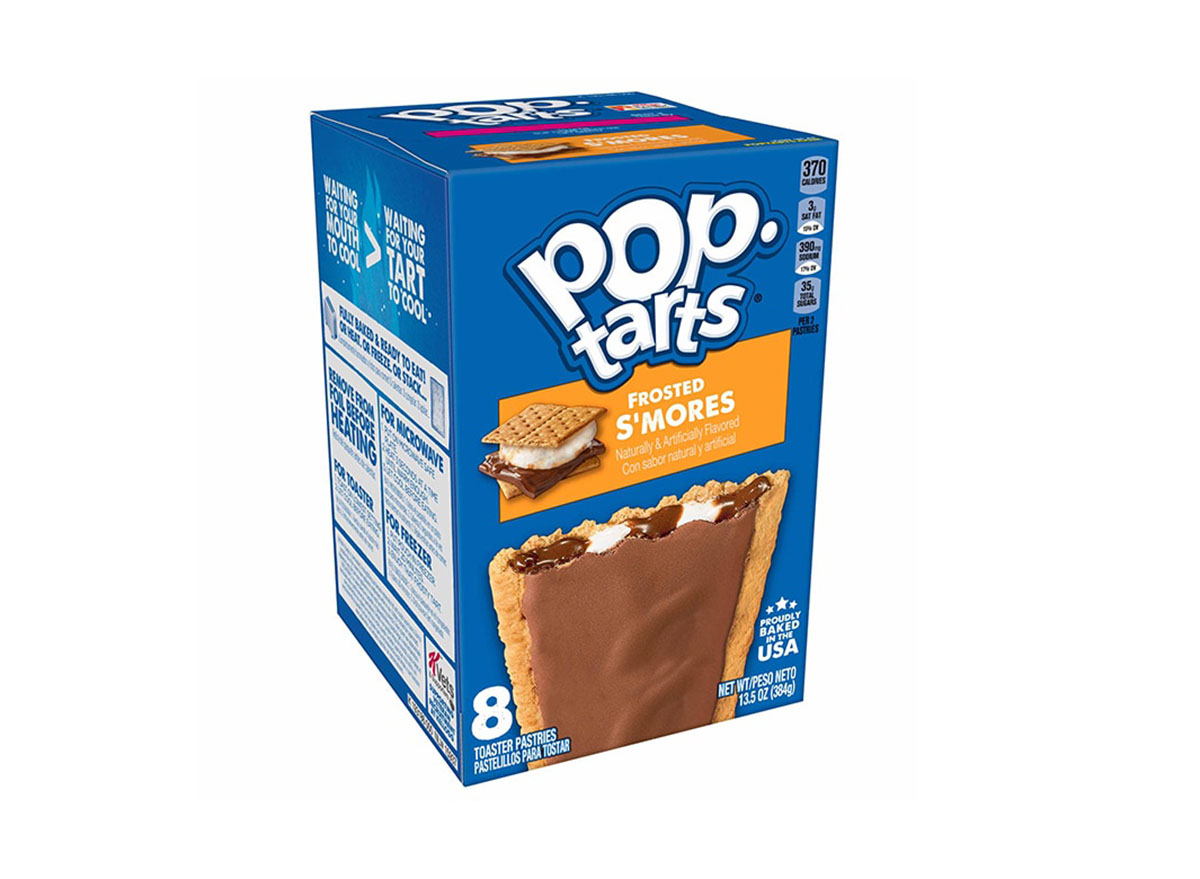 Per package
: 370 calories, 9 g fat (3 g saturated fat), 390 mg sodium, 67 g carbs (1 g fiber, 35 g sugar), 5 g protein
Oh, the Pop-Tart. These pastries seem like a harmless way to start the morning when you're in a hurry. And maybe they were a staple of your diet as a kid, so you're thinking of adding a box to your grocery list for when you're in the mood for a throwback snack. Hate to break it to you, but these are just sugar bombs. The classic Frosted S'mores flavor is loaded with 35 grams of sugar, 33 of which are added sugars. Not an ideal way to start your day…
Healthy Choice Sweet & Sour Chicken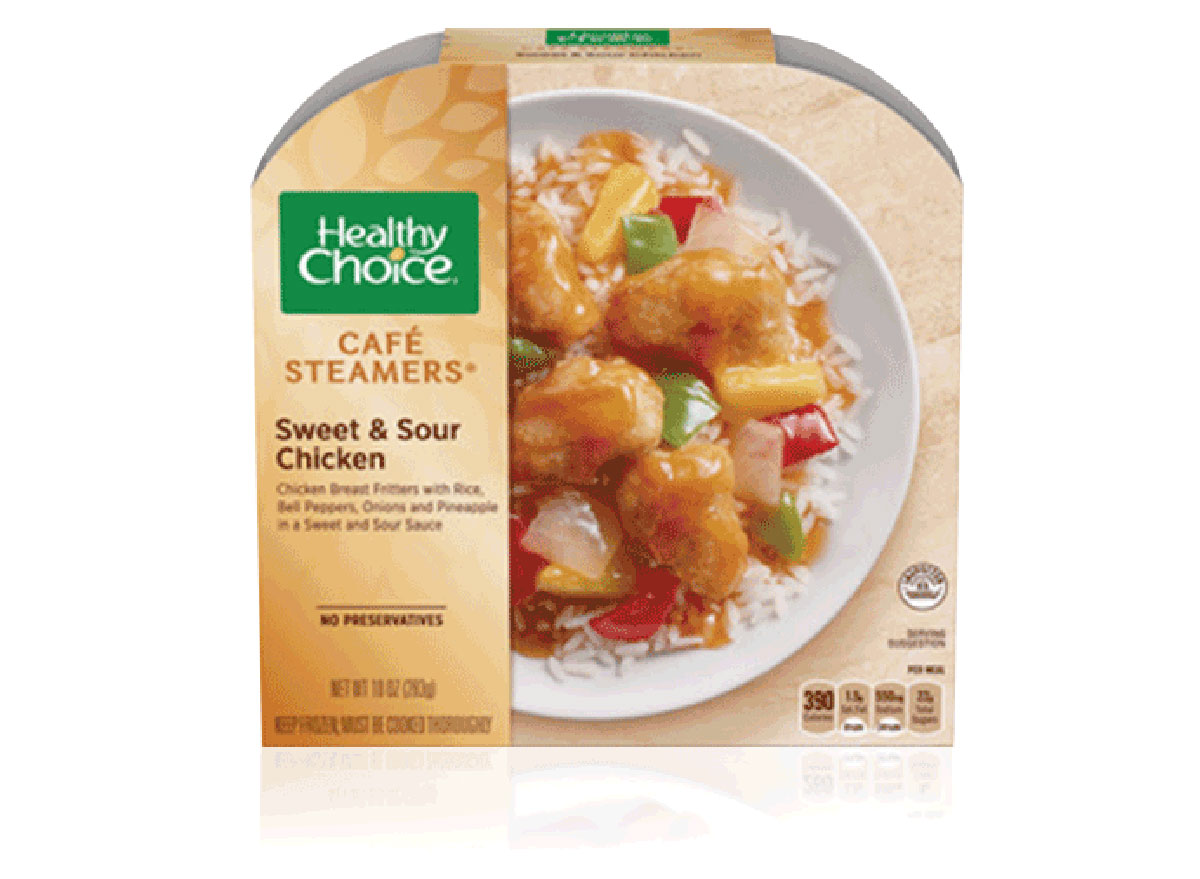 Per package
: 390 calories, 9 g fat (2 g saturated fat), 550 mg sodium, 63 g carbs (3 g fiber, 22 g sugar), 12 g protein
Frozen dinners are forever a convenient freezer staple and the Healthy Choice line seems like a solid option. Well, don't be fooled, as it's just another seemingly healthy food. The sweet and sour chicken entrée is packing 22 grams of sugar into your main meal. Not something you would expect from a chicken-based dish!
Simply Cranberry Cocktail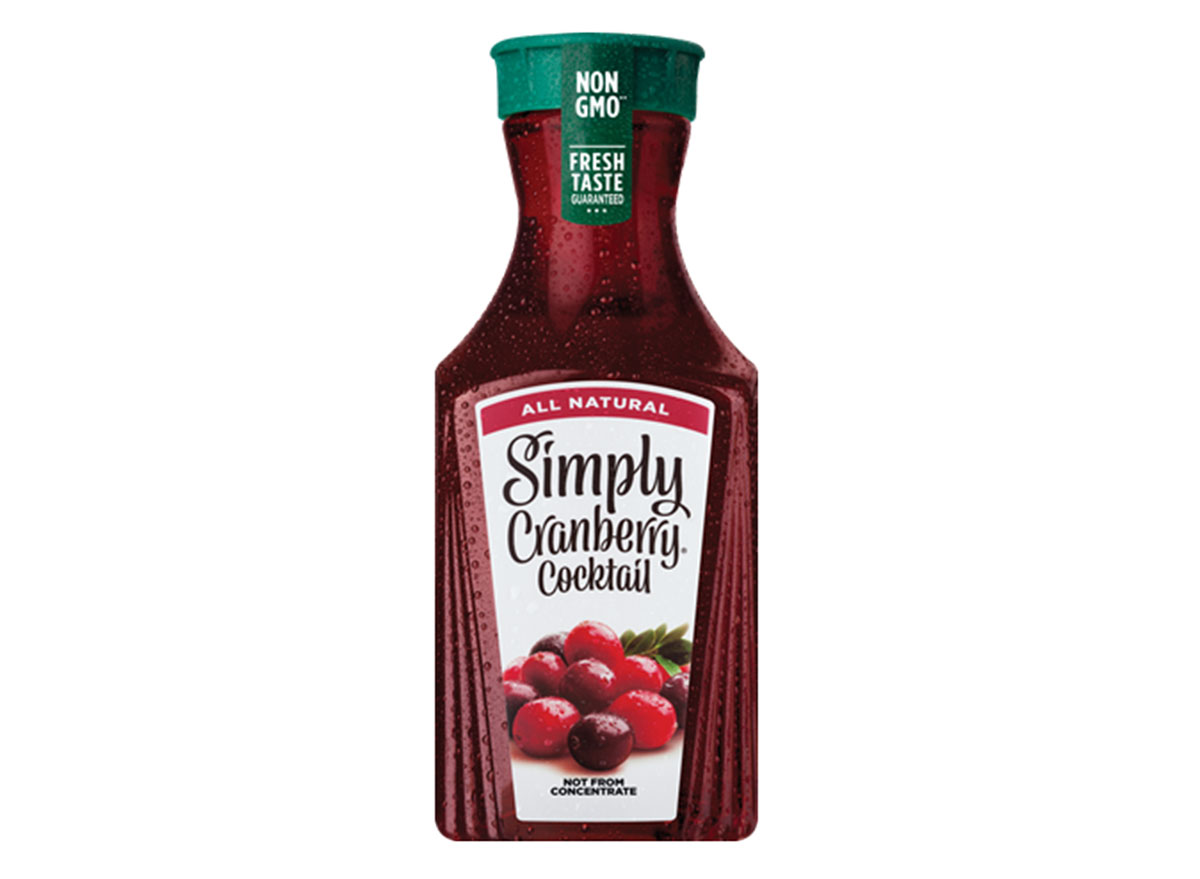 Per serving
: 130 calories, 0 g fat, 15 mg sodium, 34 g carbs (34 g sugar), 0 g protein
Cranberry juice is fruit-based—what could be so bad? If you see "cocktail" on a juice label, though, you'll soon realize that's just a code word for "sugary." One glass of this juice and you're sipping on 34 grams of sugar, 29 of which are added.
Looking for more helpful tips? Your ultimate restaurant and supermarket survival guide is here!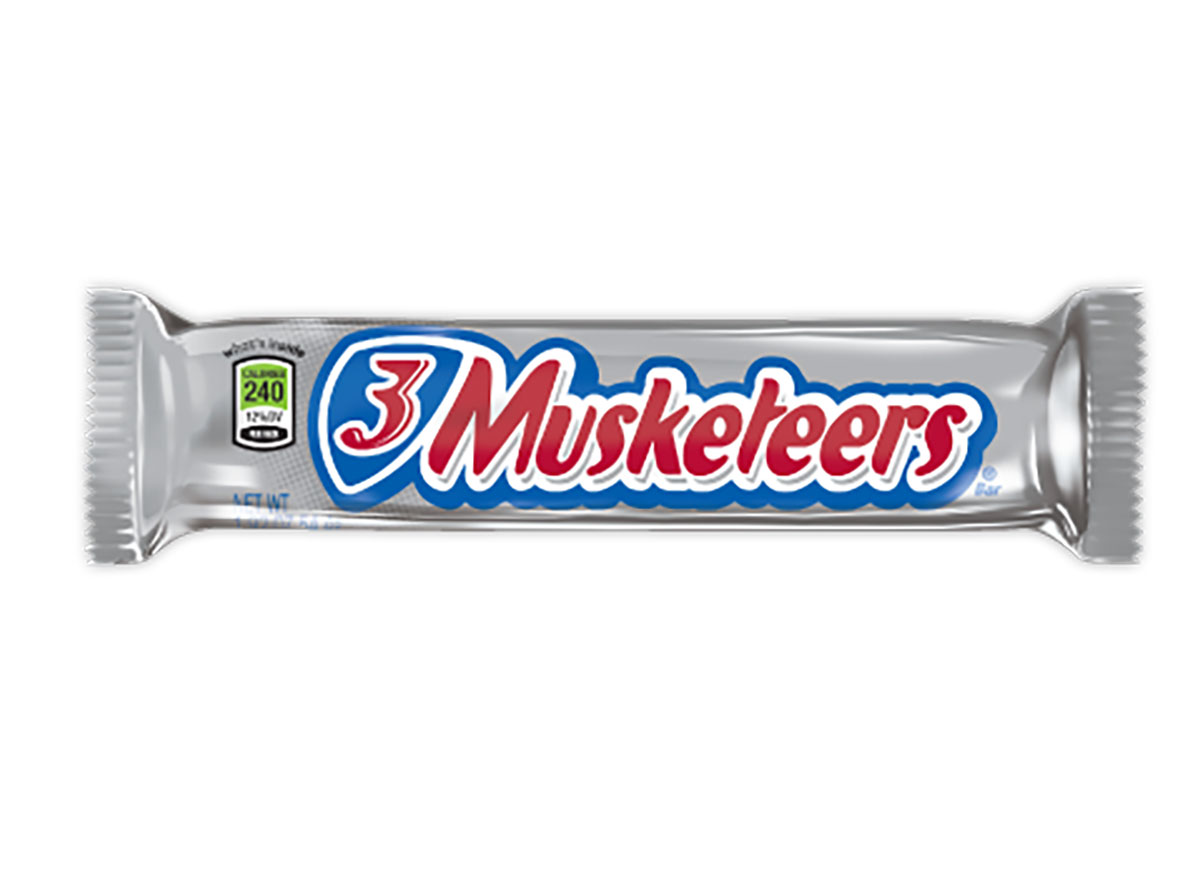 Per 1 bar
: 240 calories, 7 g fat (5 g saturated fat), 95 mg sodium, 42 g carbs (<1 g fiber, 36 g sugar), 1 g protein
Those candy bars while you're in the grocery store checkout line might be tempting, but just steer clear. The perfect example? A 3 Musketeers bar.
Eating one of these means you're consuming 36 grams of straight sugar and corn syrup. And it seems like a candy bar that wouldn't be as bad, as it's just milk chocolate that is filled with a fluffy mousse. It actually claimed the top spot on our list of the beloved candy bars we ranked by how toxic they are!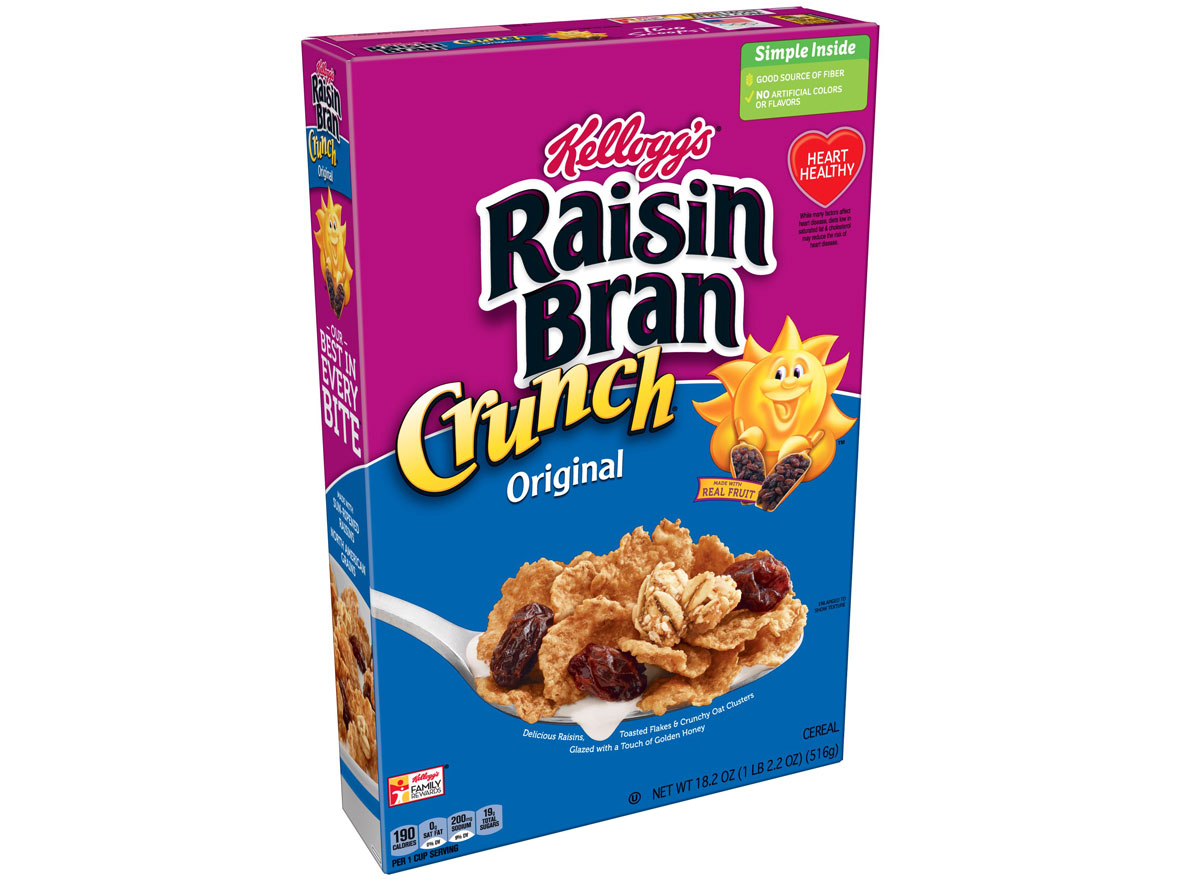 Per serving
: 190 calories, 1 g fat (0 g saturated fat), 200 mg sodium, 46 g carbs (4 g fiber, 19 g sugar), 4 g protein
Another bubble we're bursting—most cereals are filled with tons of sugar. Even options such as Raisin Bran Crunch that you would think would be a healthier choice. Dried fruits, like the raisins here, should actually be eaten in moderation. They aren't as filling as fresh fruit and are higher in sugar—a double whammy!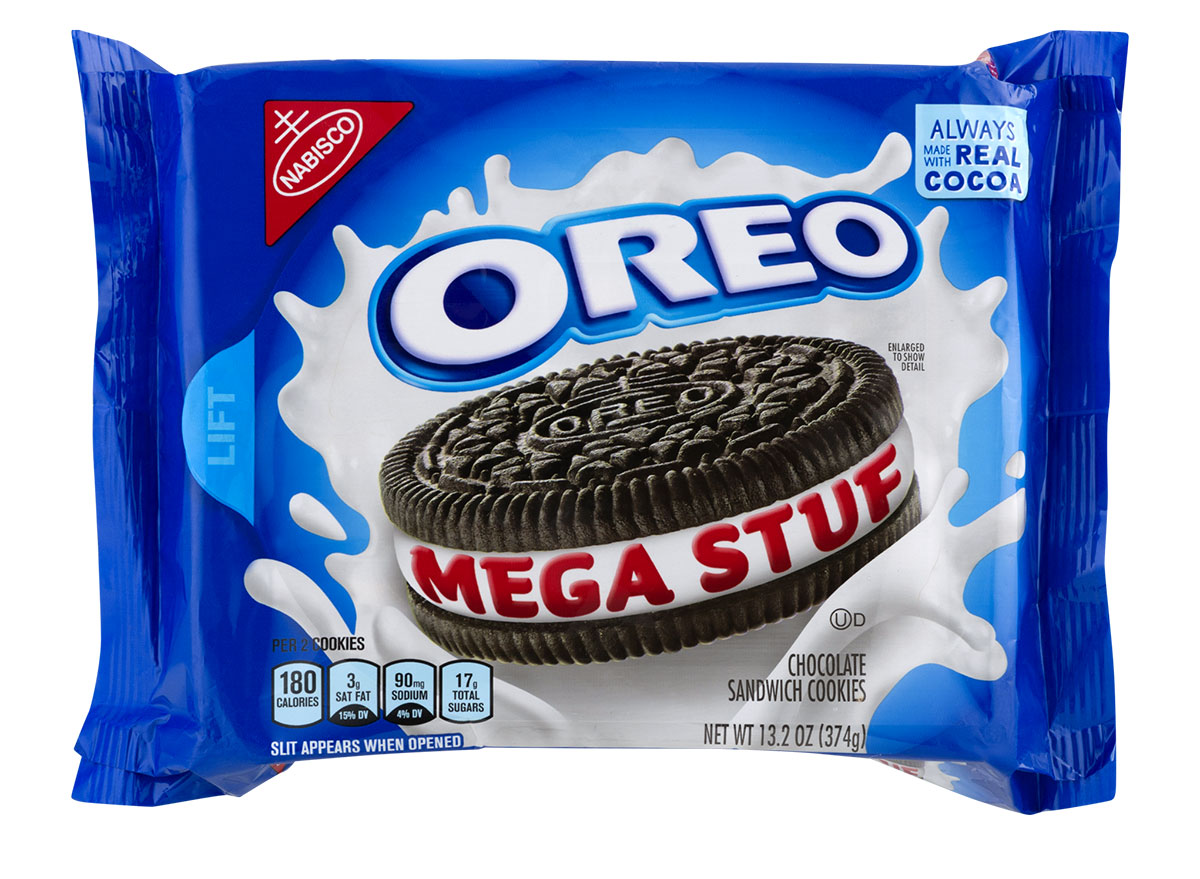 Per serving
: 180 calories, 3 g fat (0 g saturated fat), 90 mg sodium, 25 g carbs (0 g fiber, 17 g sugar), <1 g protein
Oreo's Mega Stuf features more creme between the two iconic chocolate cookies, making for an overly sweet snack. These are just excessive!
Ben & Jerry's Chubby Hubby
Per serving
: 460 calories, 28 g fat (15 g sat fat, 0.5 g trans fat), 220 mg sodium, 45 g total carbs (0 g fiber, 35 g sugar, 28 g added sugars), 10 g protein
There are plenty of better-for-you ice cream varieties out there, but Ben & Jerry's Chubby Hubby isn't one of them. We know—the vanilla malt ice cream that is loaded with peanutty fudge-covered pretzels, more fudge, and peanut buttery swirls is a staple flavor. But it happens to be one of the ice cream flavors with the most calories you'll find in the freezer aisle. Plus, one serving has as much sugar as you would get if you ate three and a half Original Glazed Krispy Kreme Donuts.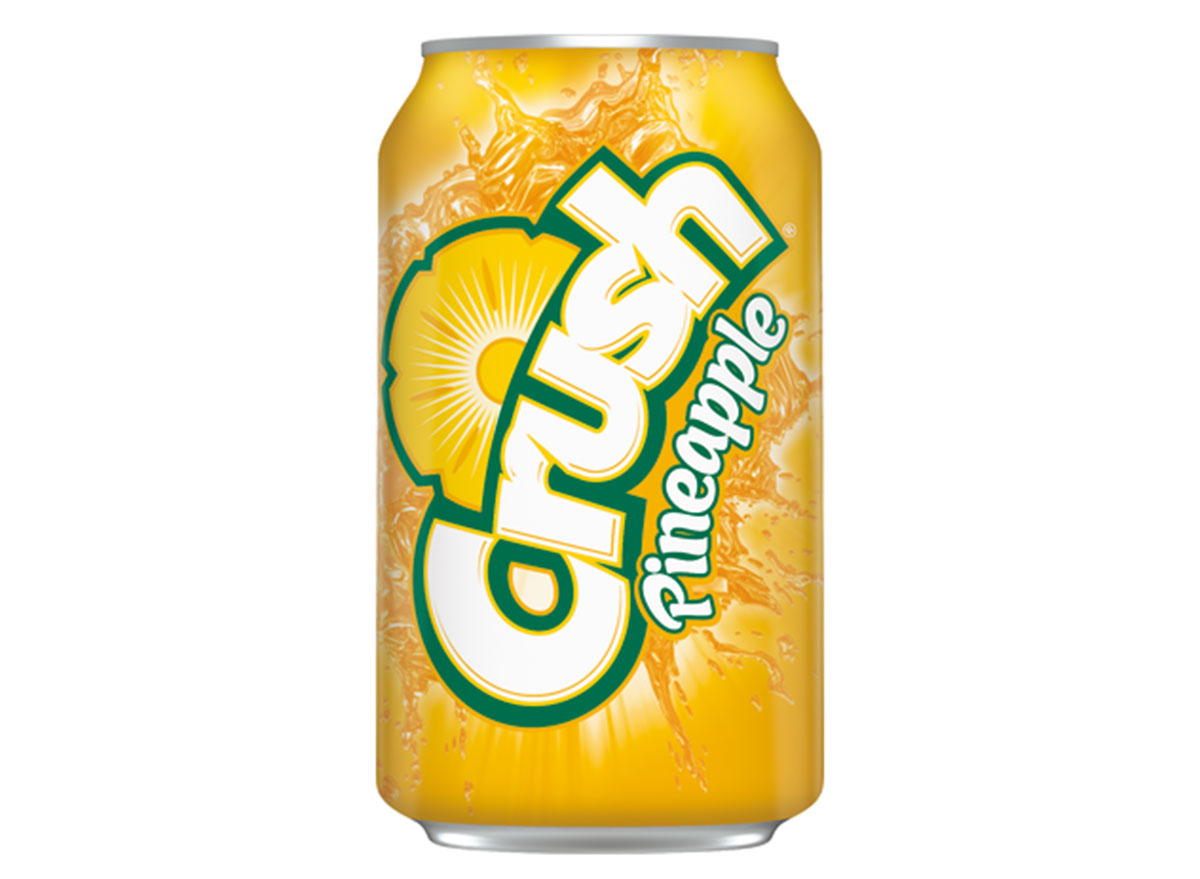 Per 12 fl oz can
: 190 calories, 65 mg sodium, 52 g carbs (51 g sugar)
If you thought going for a fruit-flavored soda is a better option than say a can of Coca-Cola, these flavors are even worse!
Just take a look at the nutrition breakdown of a 12-ounce can of Crush Pineapple. It's packing 190 calories—nearly 200 calories just for one small drink. What's even more startling is the sugar, though. This beverage serves up 51 grams of the sweet stuff.
Yoplait Whips Yogurt Mousse
Per container
: 170 calories, 4 g fat (2.5 g saturated fat), 150 mg sodium, 27 g carbs (24 g sugar), 5 g protein
Plain yogurt is a great addition to your diet and can even help you lose weight. But not all yogurt is created equal, and Yoplait's Sea Salt Caramel Yogurt Mousse is proof. It has the same amount of added sugar as what's in a serving of Ben & Jerry's Pistachio Pistachio Ice Cream…
Quaker Real Medleys Oatmeal+ Apple Walnut
6254a4d1642c605c54bf1cab17d50f1e
Per container
: 290 calories, 7 g fat (1 g saturated fat, 0 g trans fat), 250 mg sodium, 54 g carbs (5 g fiber, 22 g sugar), 6 g protein
Oatmeal is another solid breakfast food to add to your rotation, as it's full of fiber, packed with nutrients, and can even help lower your cholesterol. Instant oatmeals, though, are trouble for your waistline. Just take this Apple Walnut flavor from Quaker's Real Medleys cups. It's serving up 22 grams of sugar—17 of which are added sugars.
Sara Lee Lemon Meringue Crème Pie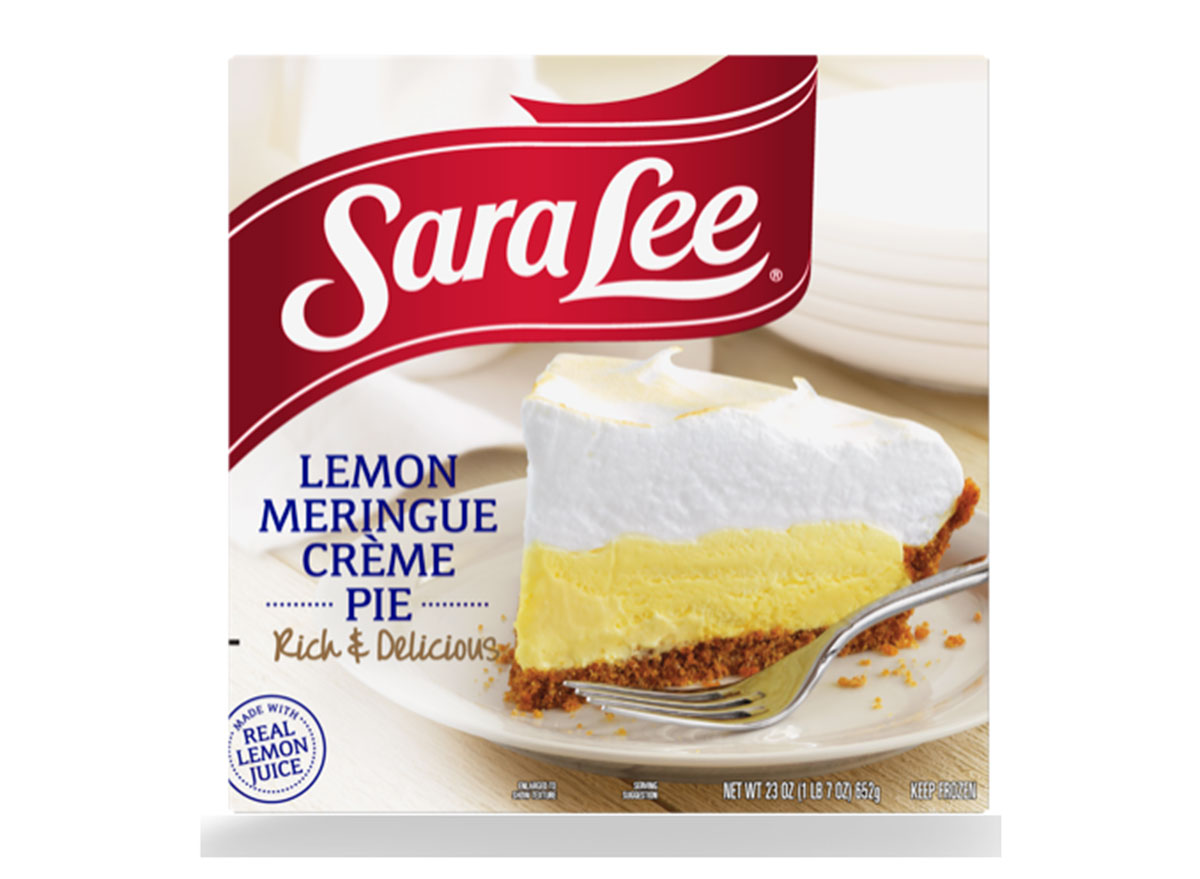 Per serving
: 380 calories, 12 g fat (7 g saturated fat, 0 g trans fat), 320 mg sodium, 63 g carbs (1 g fiber, 51 g sugar), 5 g protein
It's hard to resist dessert all the time. So go ahead and treat yourself! As long as it's not to a slice of Sara Lee's Lemon Meringue Crème Pie. One slice of this frozen dessert has 51 grams of sugar. That's more than you would get if you ate 10 Sugared Donuts from Dunkin'. Big yikes.
Jennifer Maldonado
Jennifer Maldonado is a senior editor at Eat This, Not That!, specializing in food and health content.
Read more about Jennifer