What a Professional Chef Orders at Panera
The fast-casual restaurant is a favorite among cooking experts.
Panera Bread is unlike any other fast-casual spot. Since Panera came onto the scene decades ago, it has been a total game-changer. What started as The St. Louis Bread Company in Missouri during the late-80s has grown into a huge fast-casual restaurant chain with nearly 2,000 locations throughout the United States.
It's no surprise that Panera Bread is so popular, though—even professional chefs love it. Not only does the chain offer a wide range of delicious freshly baked artisan bread, muffins, pastries, and more, but they also have a lengthy menu full of flatbreads, soups, sandwiches, salads, coffee, smoothies, and snacks. Whether you're looking for a place to have a quick and healthy lunch or need a spot to catch up with friends over coffee and pastries, Panera has you covered.
If you're interested in learning what the experts order when visiting this popular spot, read ahead. From soup and grilled cheese to comfort-food classics, like macaroni and cheese and pizza, here's exactly what professional chefs order at Panera.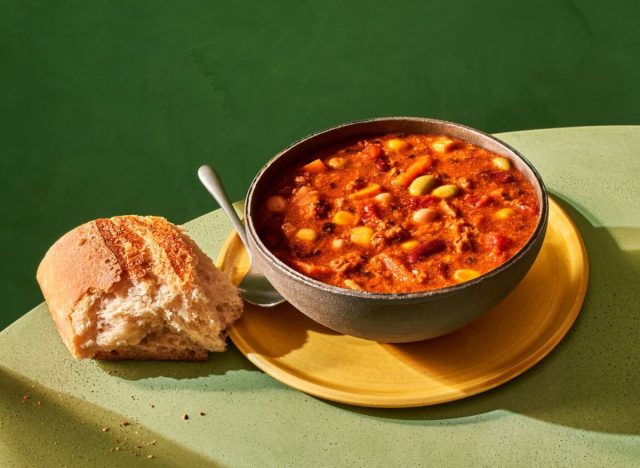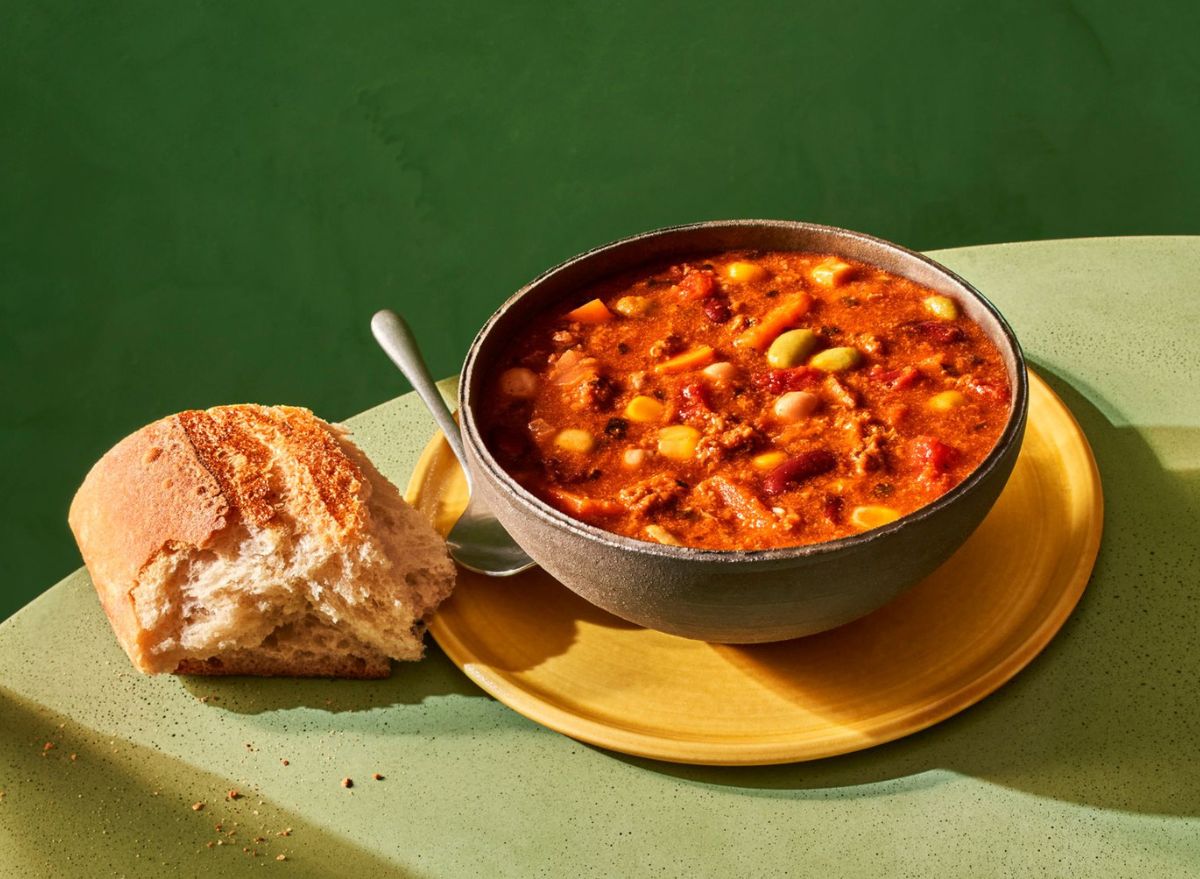 Robbie Shoults, celebrity chef and owner of the award-winning restaurant Bear Creek Smokehouse in Marshall, Texas, shares that he's a big fan of ordering the turkey chili. "I love the turkey chili because it is thick, rich, and full of flavor," he explains. "I like the combination of the ground turkey along with the kidney beans and chickpeas." He points out that it has a great amount of protein and isn't filled with a ton of calories.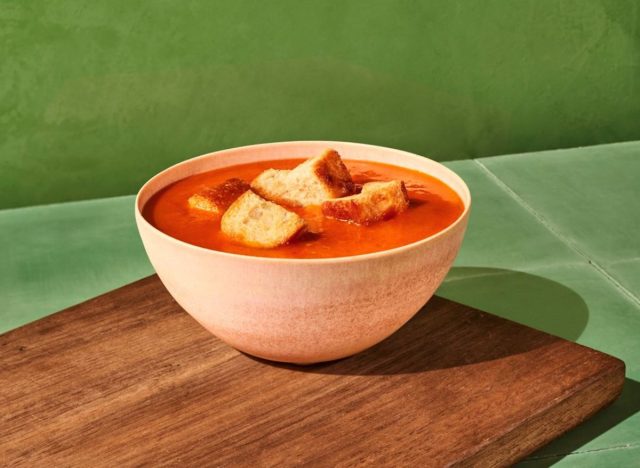 If Shoults wants something a little less heavy, he'll go for an order of tomato soup. "If I'm trying to stay light on my feet, I choose their creamy tomato soup," he says. "And always add Tabasco sauce for a kick!"
Diana Manalang, chef and owner of Little Chef, Little Café in NYC, also shares that she enjoys the tomato soup and especially likes how it comes with a piece of bread on the side. "The creamy tomato soup is great for dipping that hunk of bread," she adds.
Simmered with pear tomatoes, cream, and black pepper croutons, Panera Bread's tomato soup tastes better than any canned version out there. Order it with grilled cheese or enjoy it with one of the restaurant's famous salads.
Broccoli Cheddar Soup in a Bread Bowl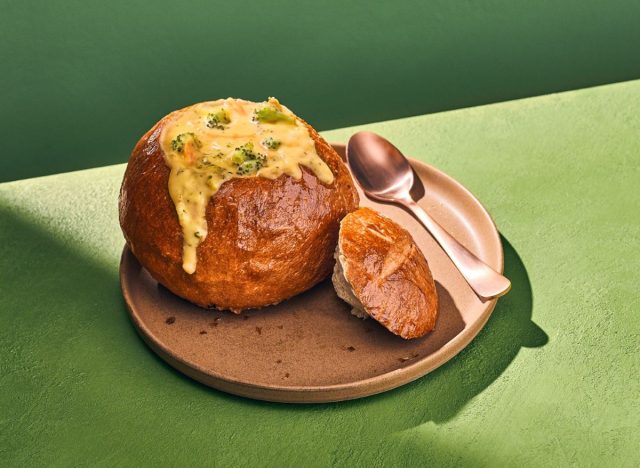 Another soup Manalang loves? The chain's famous broccoli cheddar soup, most specifically in a bread bowl. "Give me soup in a bread bowl any day of the week," she says. Garnering tons of copycat recipes for it on the Internet, the broccoli soup is made using a tasty blend of chopped broccoli, shredded carrots, and an undeniably smooth cheese sauce. Seasoned with paprika, turmeric, red pepper, and tangy Dijon mustard, this dish is one you must have at least once. Order it with a side of chips or sans bread bowl—you really can't go wrong with this top-tier option.
Grilled Cheese with a Side Salad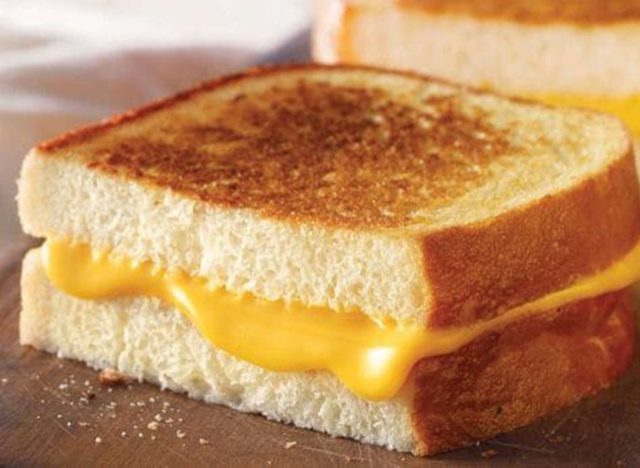 "I am also a big fan of the 'you pick two,'" explains Manalang. "It's a great way to get everything in one meal—a sandwich and a salad or a soup and a salad to cover all the bases for grain, dairy, meat, and fruits and veggies."6254a4d1642c605c54bf1cab17d50f1e
When it comes to ordering a sandwich, she often goes for the grilled cheese, which is crafted using slices of American cheese melted on thick country bread. "For sandwiches, I like the classic grilled cheese, and truth be told, I haven't tried many of the other sandwiches on the menu since the salad and soup get me every time!" she explains.
If she orders the 'you pick two' and chooses a salad, she usually opts for the strawberry poppyseed salad, which features Romaine lettuce, mandarin oranges, fresh strawberries, blueberries, and chopped pineapple, or the Caesar. "I am also always down for a Caesar salad," she adds.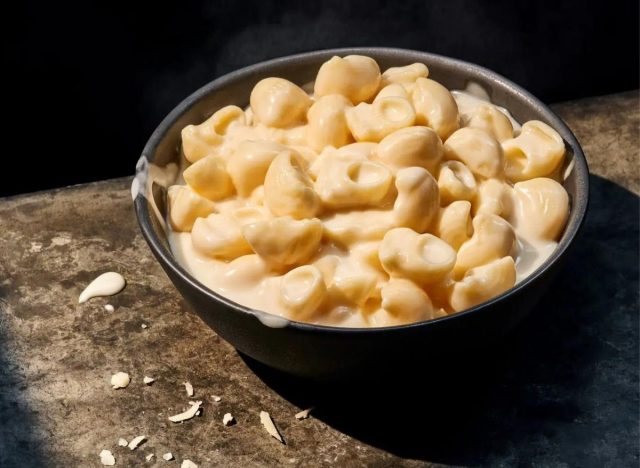 Manalang also approves of the mac and cheese. "The mac and cheese is always a great idea," she shares, "I don't care if it comes from a bag!" Crafted using chewy pasta, cheddar, and cream, this delectable dish is the perfect balance of taste and texture. The best part? It can be enjoyed during any time of the day—eat it for a quick lunch, serve it with dinner, or take it with you as a snack while on the go.
And if you're a fan of the mac & cheese and broccoli cheddar soup, then you'll love this tidbit of information. If you weren't already aware, a few years ago, the chain announced its Broccoli and Cheddar Mac & Cheese, which combines two of its most delicious dishes, broccoli cheddar soup and mac and cheese. Still (thankfully) included on the menu, this pick is great if you're feeling indecisive.