9 Restaurant Chains That Serve the Best Eggplant Parm
The hearty vegetable dish is a beloved Italian specialty at many popular chains nationwide.
The product recommendations in this post are recommendations by the writer and/or expert(s) interviewed and do not contain affiliate links. Meaning: If you use these links to buy something, we will not earn a commission.
Whether you're a vegetarian or you're looking for a different spin on the classic chicken parmesan, eggplant parmesan is a quintessential Italian dish in its own right. Some diners will judge a restaurant based entirely on the quality of its eggplant parm, and with good reason. A well-made eggplant parm is crispy, saucy, and eminently satisfying.
Making eggplant parmesan is a true labor of love. The eggplant must be sliced, breaded, fried, layered with sauce and cheese, then baked—sometimes double-baked—when being prepared into a parmesan dish.
So, on those occasions when you're short on time or want someone else to do the cooking, it's a good idea to head to a restaurant that knows how to do it right. These popular chains have been getting raves for the way they carefully prepare and serve the hearty vegetable dish. You likely do not live too far from at least one of them.
Buca di Beppo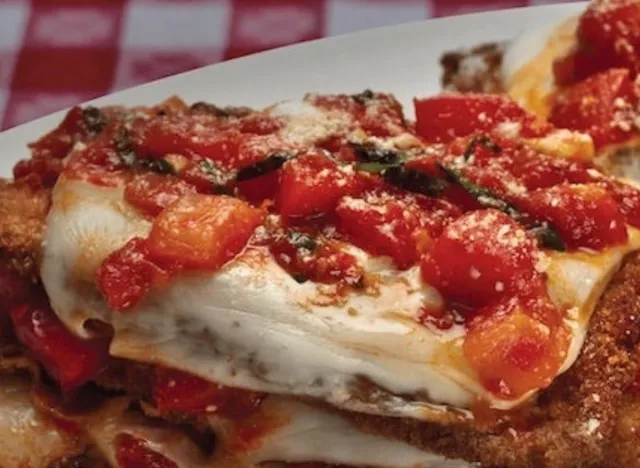 Eggplant Parmigiana (1 order)
: 910 cal, 55 g fat (20 g saturated fat), 2930 mg sodium, 67 g carbs (12 g fiber, 24 g sugar), 40 g protein
The portion sizes at Buca di Beppo are gigantic. The popular Italian chain serves its food, from salads to pasta, family-style. Every dish is meant to be shared. That includes the eggplant parmigiana, which comes topped with homemade marinara sauce, Roma tomatoes, basil, and mozzarella. Order a small to feed two or three people, or a large to feed five. "Our main dish, the eggplant parmigiana, was absolutely delicious!" raved one customer on Tripadvisor. "Some of the best. Would definitely come back for that!"
Olive Garden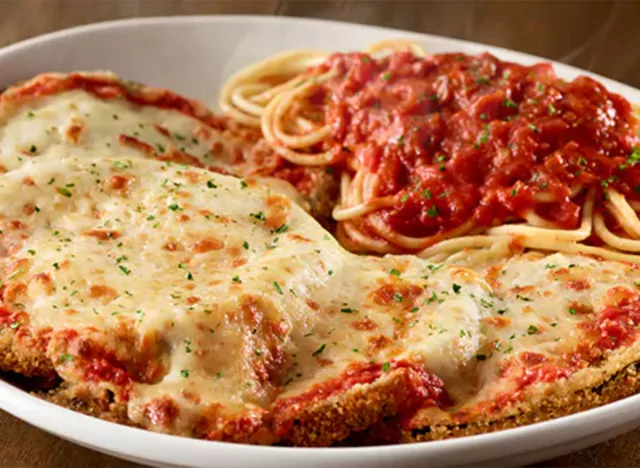 Eggplant Parmigiana (1 order)
: 1070 cal, 58 g fat (14 g saturated fat), 2440 mg sodium, 108 g carbs (11 g fiber, 20 g sugar), 35 g protein
Whether it's the endless breadsticks, the bottomless salad, or the array of pasta dishes on the menu, you'll have a hard time leaving Olive Garden hungry. Its eggplant parmigiana checks all the boxes, starting with its hand-breaded eggplant, which is lightly fried before being topped with marinara sauce and melted mozzarella cheese. It comes served with a side of spaghetti. "Hungry for their fresh salad and was glad to find they offer Eggplant Parmigiana," wrote one satisfied customer shared on Tripadvisor. "I ordered it with light cheese. It was cooked perfectly and was delicious."
Carrabba's Italian Grill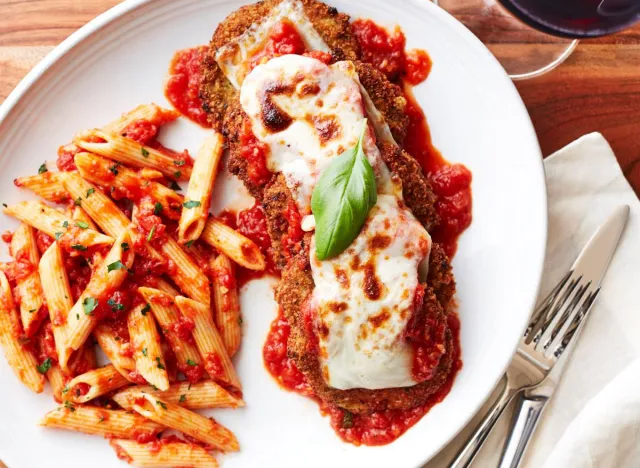 Eggplant Parmesan (1 order)
: 1230 cal, 64 g fat (26 g saturated fat), 3490 mg sodium, 122 g carbs (16 g fiber, 20 g sugar), 46 g protein
Eggplant parmesan is a tricky dish to get right, and critics can be quite vocal if you miss the mark. That doesn't appear to be the case with Carrabba's Italian Grill. The restaurant describes its eggplant parmesan as made with "layers of sliced eggplant coated with seasoned breadcrumbs and topped with our pomodoro sauce, parmesan, romano, and mozzarella cheese." The dish had a brief hiatus from Carrabba's menu, only to reappear and seemingly improve on what it was before, according to one reviewer on Tripadvisor: "They finally brought back Eggplant, They made it years ago, but it wasn't very good; now it's perfect."6254a4d1642c605c54bf1cab17d50f1e
Bravo! Italian Kitchen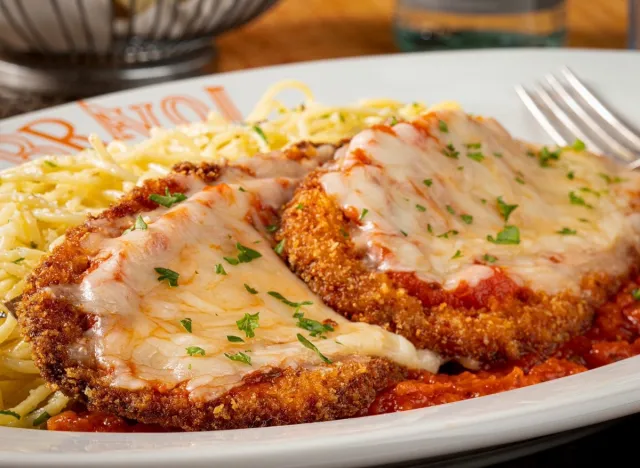 Eggplant Parmesan (1 order)
: 690 cal, 51 g fat (14 g saturated fat), 1100 mg sodium, 37 g carbs (8 g fiber, 13 g sugar), 25 g protein
Bravo! Italian Kitchen has an entire section of its dinner menu devoted to parm dishes in many forms, including chicken, veal, and eggplant. The eggplant parmesan comes with crispy breaded eggplant, marinara, mozzarella, and an herb linguine. One happy customer left a Tripadvisor review titled "Baked-Eggplant Parmesan Wowzers!" The customer shared, "I thought I'd just try the eggplant. It was incredible. Crispy. Flavorful. Beautiful."
Bertucci's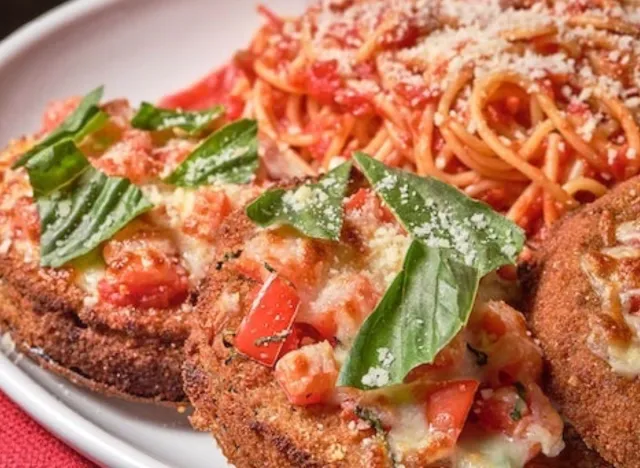 Eggplant Parmesan (1 order)
: 800 cal, (4 g saturated fat), 1590 mg sodium, 102 g carbs (6 g fiber, 22 g sugar), 23 g protein
There may be trouble ahead for the decades-old pizza chain Bertucci's, as it went bankrupt for the second time in late 2022. Perhaps it can rally customers to get once again excited for its array of Italian-inspired entrees, like its eggplant parmesan. It's made with "Thick cut crispy eggplant topped with house-made marinara sauce, marinated tomatoes, fresh basil, pecorino romano and mozzarella, served with spaghetti."
Biaggi's Ristorante Italiano
Eggplant Parmesan (dinner portion)
: 1110 cal, 45 g fat (21 g saturated fat), 2740 mg sodium, 126 g carbs (9 g fiber, 21 g sugar), 46 g protein
If you happen to live near Biaggi's Ristorante Italiano, it may be worth making a trip soon to try its eggplant parm. On the menu, Biaggi's describes its eggplant parmesan as "breaded and lightly fried eggplant," topped with with marinara Sauce and Italian cheese blend and served with a three-cheese Alfredo rigatini on the side. One Tripadvisor reviewer declared, "Eggplant Parm is superb." Another customer on Yelp wrote, "I went with the eggplant parm, and it was fantastic. The side pasta came in a wonderful red cream sauce, and the eggplant was cooked perfectly."
The Spaghetti Warehouse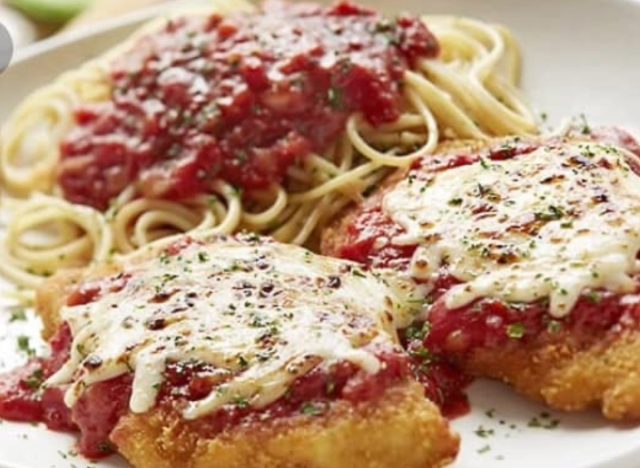 Eggplant Parmigiana (1 order)
: 1370 cal, 74 g fat (21 g saturated fat), 1273 mg sodium, 130 g carbs, 44 g protein
The Spaghetti Warehouse is keen on ensuring there's enough eggplant parmesan to go around. You can order this dish from the specialties menu as a single entrée for one person, or upgrade to  the"ultimate feast," which provides a big enough portion for two hungry diners.
Johnny Carino's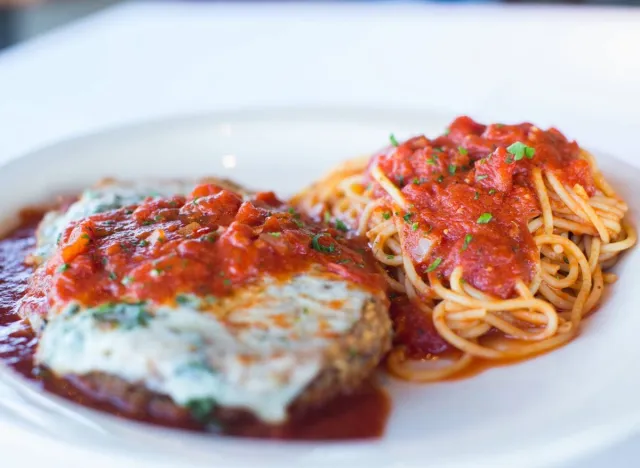 Eggplant Parmesan (Dinner Serving)
: 544 cal, 124 g fat (29 g saturated fat), 446 mg sodium, 70 g carbs (12 g fiber, 12 g sugar), 19 g protein
Johnny Carino's offers a handmade version of chicken, veal, and eggplant parmesan. The eggplant version comes topped with a spicy marinara sauce, along with parmesan and mozzarella cheese. If you're having a hard time deciding what to order for dinner, you can try the eggplant parmesan along with another entrée as part of its Italian combinations. You might have a hard time choosing, however, when you hear what some customers have to say about the eggplant parm. One reviewer on Tripadvisor noted that it was "Some of the Best in Austin." Another customer who dined at the Pigeon Forge, Tenn., location also claimed on Tripadvisor it was the "best Eggplant Parm in town," adding, "Pleasantly surprised with the entrees and the taste and quality."
Maggiano's Little Italy
Eggplant Parmesan (1 order)
: 2130 cal, 21 g fat (4 g saturated fat), 3920 mg sodium, 214 g carbs (17 g fiber, 23 g sugar), 42 g protein
Maggiano's Little Italy is a chef favorite, thanks in large part to its flavorful entrées. The eggplant parmesan is prepared a little differently here, topped with melted provolone cheese instead of mozzarella. It also comes topped with a  tomato ragù and served with side of Spaghetti Aglio. You can also order the eggplant parm al forno style, along with any other entrée at Maggiano's. Finishing the meal in the oven before serving will give it a nice crispy texture on top.
Carly Neil
Carly Neil is a freelance writer specializing in all things food, travel, Disney, and theme parks.
Read more about Carly