10 Restaurant Chains That Serve the Best Baked Ziti
Few dishes are as comforting as a warm baked pasta like the classic ziti, prepared with care at these popular chains.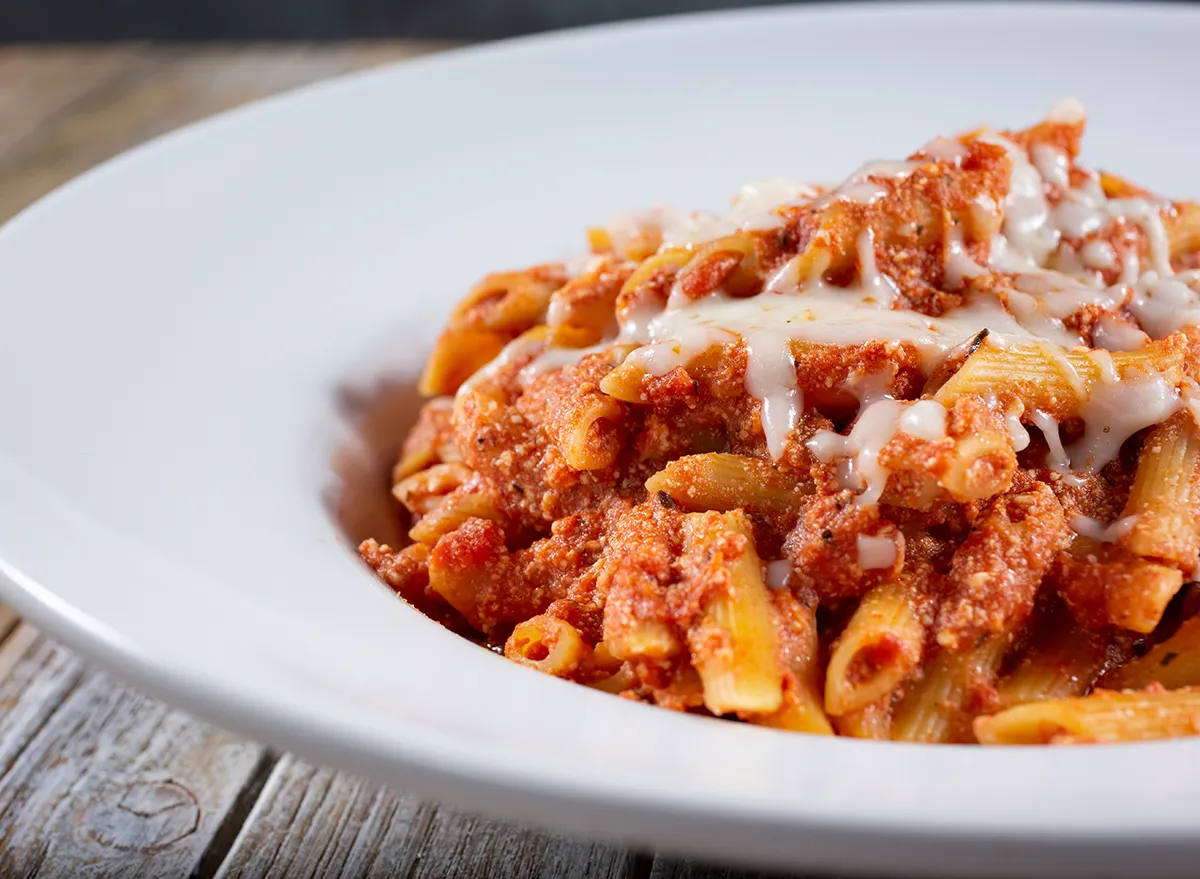 The product recommendations in this post are recommendations by the writer and/or expert(s) interviewed and do not contain affiliate links. Meaning: If you use these links to buy something, we will not earn a commission.
Step into any Italian restaurant, and you'll be presented with an array of pasta dishes. Many will consist of boiled noodles tossed in a sauce, either with or without meat, and often topped with cheese. Those are fine on their own, but if you want to play a bit with both flavor and texture, try a baked pasta dish on your next dinner out—specifically baked ziti.
One of the ultimate comfort foods, baked ziti can be as simple as noodles, sauce, and cheese baked in the oven, or it can be more complex, incorporating a variety of meats and toppings. No matter how it comes prepared, you'll find that baked ziti dishes have a rich, savory flavor with perhaps an added crispy bite from the noodles popping out the top and the bubbling cheese. Once you try baked ziti, you may never order regular pasta again.
In order to make that determination for yourself, you have to try the best of the best. That's where this roundup comes in. Here you'll find a lineup of popular restaurant chains that serve the absolute best baked ziti. These chains span the nation and include smaller regional businesses and major national brands as well. You may find that you aren't too far from one of these establishments, and the perfect dish of baked ziti is just a quick car ride away.
Maggiano's Little Italy
Taylor Street Baked Ziti (1 tbsp)
: 1610 cal, 90 g fat (36 g saturated fat), 4460 mg sodium, 137 g carbs (12 g fiber, 24 g sugar), 67 g protein
Baked ziti fans need not look further than Maggiano's Little Italy for a memorable experience. Its Taylor Street Baked Ziti is made with Italian sausage and tomato ragù, then topped with mozzarella cheese. One customer believes that the rest of the menu isn't even worth considering, noting on Tripadvisor, "I love this place and don't get to enjoy it nearly as often as I would like to. I order the baked ziti every time and get lunch for tomorrow!" Another reviewer echoed that sentiment, commenting on Yelp how no matter how many times they order the baked ziti, it's always delicious. The reviewer shared in a five-star rating the dish is filled with "cheesy, warm goodness – primarily getting a five for consistency every time I come here."
Buca di Beppo
Per Serving (1 order)
: 680 cal, 28 g fat (15 g saturated fat), 125 mg sodium, 0 g carbs (0 g fiber, O g sugar), 12 G protein
Buca di Beppo is a unique Italian restaurant chain in that the food is served family-style, intended to feed a crowd. However, there's no blame to be made if you decide to tackle a bowl of pasta on your own. There's practically every pasta dish under the sun available at Buca di Beppo, including Baked Ziti. The pasta is tossed with mozzarella and provolone cheese, along with a rosa sauce. It's then topped with ricotta and Italian-style bread crumbs before baking in the oven. One happy customer said on Tripadvisor that the Baked Ziti "was this delicious! It was amazing; soft, creamy, tasty, and more than enough. Must try!"
Olive Garden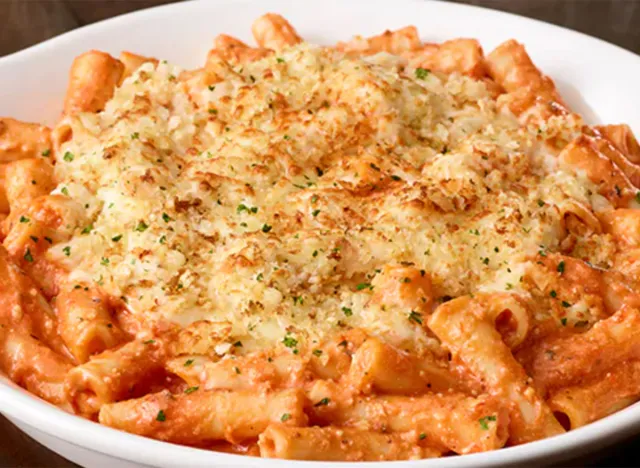 Five Cheese Ziti al Forno (1 order)
: 630 cal, 35 g fat (18 g saturated fat), 1220 mg sodium, 57 g carbs (4 g fiber, 9 g sugar), 24 g protein
Entering Olive Garden with an empty stomach is key if you want to make it through dinner before filling up. After a hearty round of breadsticks and salad, it's time for the main course. The five cheese ziti al forno is an Olive Garden classic. It's made with a blend of Italian cheeses, pasta, and Olive Garden's signature five-cheese marinara sauce. One Redditor noted that the Five Cheese Ziti al Forno was "honesty the best pasta I've ever had," and another Redditor noted the dish's repeatability as a go-to dish, sharing, "The five-cheese ziti al forno was my jam."6254a4d1642c605c54bf1cab17d50f1e
Biaggi's Ristorante Italiano
Baked Ziti al forno (1 order)
: 1570 cal, 107 g fat (67 g saturated fat), 3320 mg sodium, 41 g carbs (1 g fiber, 8 g sugar), 70 g protein
Peruse the menu at Biaggi's Ristorante Italiano, and you'll quickly discover that there are several dishes you won't find anywhere else. There are the classic pasta dishes, but then there are the Signature Pasta dishes, including Biaggi's baked ziti al forno. This unique variation of a classic pasta dish comes with shrimp and grilled chicken, along with caramelized onions, crispy pancetta, Italian cheese blend, and lobster cream sauce. Waiters at Biaggi's and customers alike know that the baked ziti is a hit, with one Yelp reviewer sharing, " I took the waiter's advice and got the Ziti al Forno and loved it."
BJ's Restaurant and Brewhouse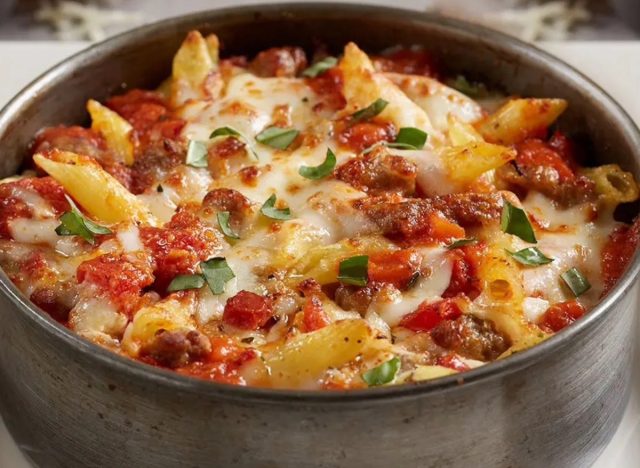 Deep Dish Ziti With Garlic Breadstick (1 order)
: 1470 cal, 94 g fat (36 g saturated fat), 2936 mg sodium, 108 g carbs (8 g fiber, 17 g sugar), 45 g protein
Customers may know BJ's Restaurant and Brewhouse for its deep-dish pizzas, but its pasta dishes are also worth considering as your next meal. That deep-dish mentality extends to the Deep Dish Ziti, made with a trio of meats: housemade meatballs, Italian sausage, and diced pepperoni. From there, it's tossed in a marinara sauce and creamy Alfredo, along with Italian herbs and BJ's signature five-cheese blend, parmesan cheese, and fresh basil. As if that wasn't perfect enough already, this baked ziti comes with garlic bread on the side.
Fazoli's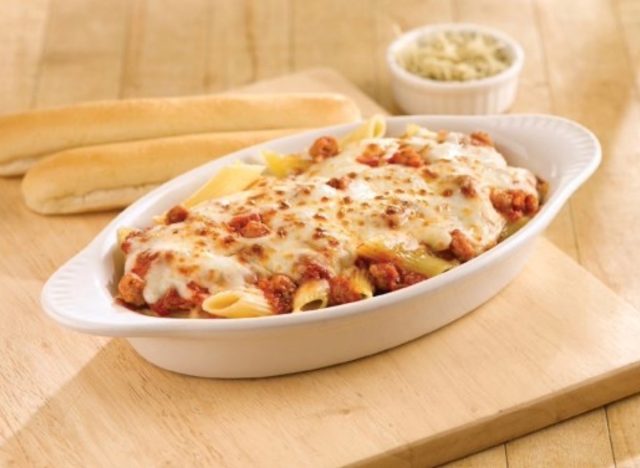 Baked Ziti (1 order)
: 730 cal, 21 g fat (10 g saturated fat), 2460 mg sodium, 110 g carbs (10 g fiber, 12 g sugar), 29 g protein
The baked ziti at Fazoli's is tossed with marinara and meat sauce, then topped with mozzarella and provolone cheese before it is "baked to a golden, bubbly perfection," according to the restaurant. If you want to take your baked ziti to the next level, Fazoli's also offers signature baked versions. One is a spicy baked ziti with chicken tossed in a spicy tomato pepper sauce. The other is a spicy baked ziti with sausage, tossed in that same spicy sauce but with Italian sausage instead of chicken.
The Spaghetti Warehouse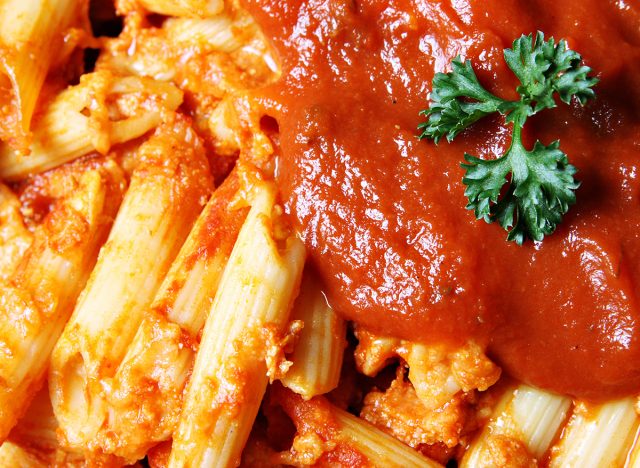 If the thought of eating a bowl of pasta while seated in an old-fashioned trolley car sounds like your idea of a great night out, you must head to The Spaghetti Warehouse. The Spaghetti Warehouse leaves little to the imagination on its menu. The usual suspects are all there to satisfy those carb cravings, including baked ziti. Any baked pasta dish comes served tossed in either the signature housemade tomato sauce or housemade meat sauce. From there, it is tossed with garlic butter and ricotta cheese, topped with mozzarella cheese, and baked. As one reviewer noted on Tripadvisor, adding protein to the dish can bring it to the next level: "Baked Ziti with mozzarella and grilled chicken was to die for."
Mama Romano's
If you live in Florida, you may be familiar with Mama Romano's. The small Italian restaurant chain only has a few locations, but don't let its small footprint lead you to think it can't deliver what the larger chains can. Its oven-baked pasta dishes, including the baked ziti, are made to order, and they even add a disclaimer on the website that additional prep time is needed as it is made fresh with each order. One customer left a review on Yelp admitting their misstep in not ordering the baked ziti the first time around, sharing, "My friend's baked ziti was wow!!! I'm coming back for that dish next time."
Pastini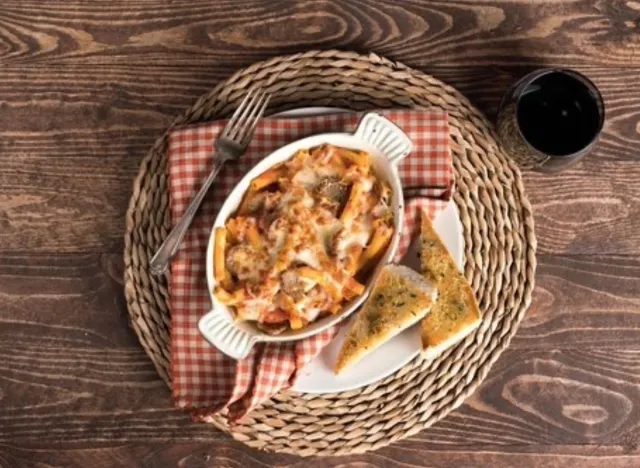 Pastini is a small Italian restaurant chain found exclusively in Oregon. It may be well worth a visit just for the pasta dishes served here, as customers seemed very satisfied from the sound of the reviews. One of those dishes diners speak highly of is the baked ziti with Italian sausage. The pasta comes tossed with grilled Italian fennel sausage and a tomato-cream sauce before baked with parmesan cheese. One Yelp reviewer noted that the baked ziti was "fresh and delicious." Another Yelp reviewer shared that while they could have used more sauce, the baked ziti "was very delicious," and that "it came out hot and fresh, and I couldn't complain!"
Dough Bro's Italian Kitchen & Bar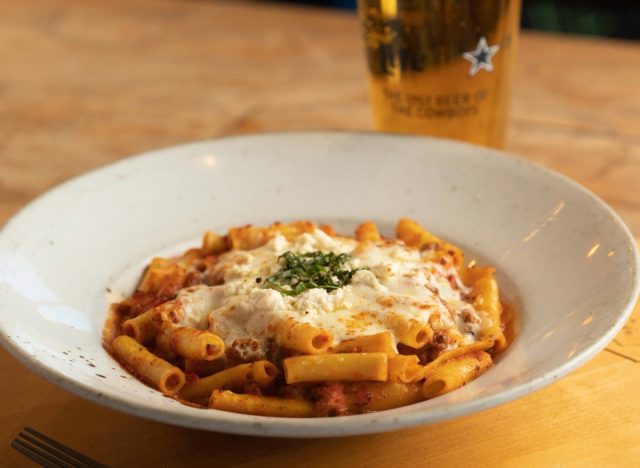 Dough Bro's Italian Kitchen and Bar is a small restaurant chain found in Texas. Its menu includes baked ziti on its menu, which takes the ziti noodles and tosses them in sausage and rose sauce before combining them with a cheesy blend of mozzarella, ricotta, and parmesan. One customer left a review on Dough Bro's website, advising others, "Y'all, don't walk, run to get this baked ziti; it's amazing. It's the perfect blend of cheese and meat, and cooked to perfection every time." Another customer praised the fresh ingredients, sharing, "The ricotta is fresh, made in-house to perfection. The sauce is meaty, with flavor that only comes from a scratch recipe and fresh ingredients."
Carly Neil
Carly Neil is a freelance writer specializing in all things food, travel, Disney, and theme parks.
Read more about Carly