6 Ways Restaurants Could Be Exposing You to Coronavirus
Make sure where you choose to eat is taking all the necessary steps to protect you.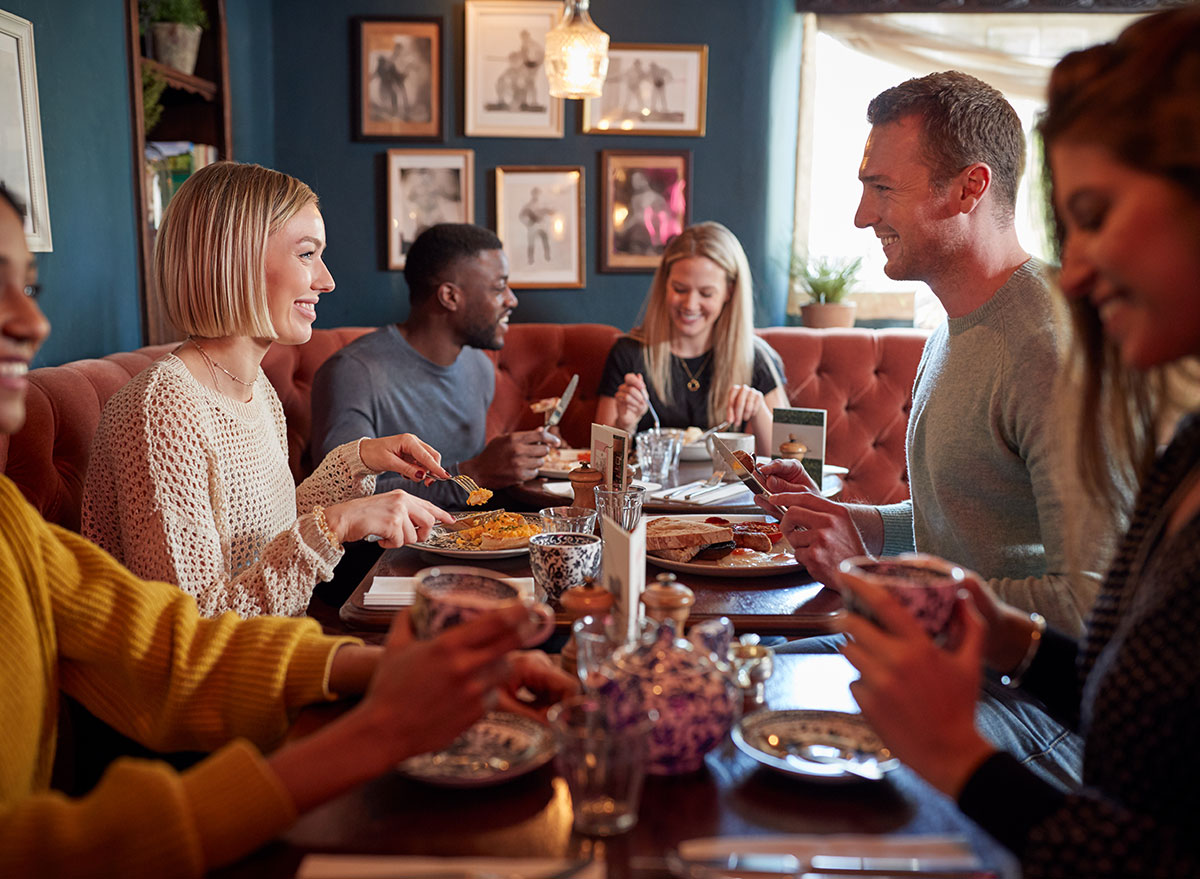 In the months since the COVID-19 pandemic shuttered hospitality businesses across the country, the idea of dining out has become a deep longing for millions who miss their favorite restaurants, cafes, and bars. But even as they slowly begin their phased reopenings, the experience of getting a table for a meal will change drastically thanks to new safety protocols. You can expect most compliant restaurants to have easily recognized additions like hand sanitizer stations, plexiglass partitions between tables or bar seats, a more spread-out floor plan, and potentially even temperature checks at the door.
But even with a new reality, there will be some operators who forget—or simply chose not—to take all the necessary steps to protect their patrons. So how can you be sure you'll be safe when you dine out? We've consulted the National Restaurant Association's (NRA) recently released guidelines to come up with a few ways that a careless restaurant could wind up exposing you to coronavirus.
Handing you laminated menus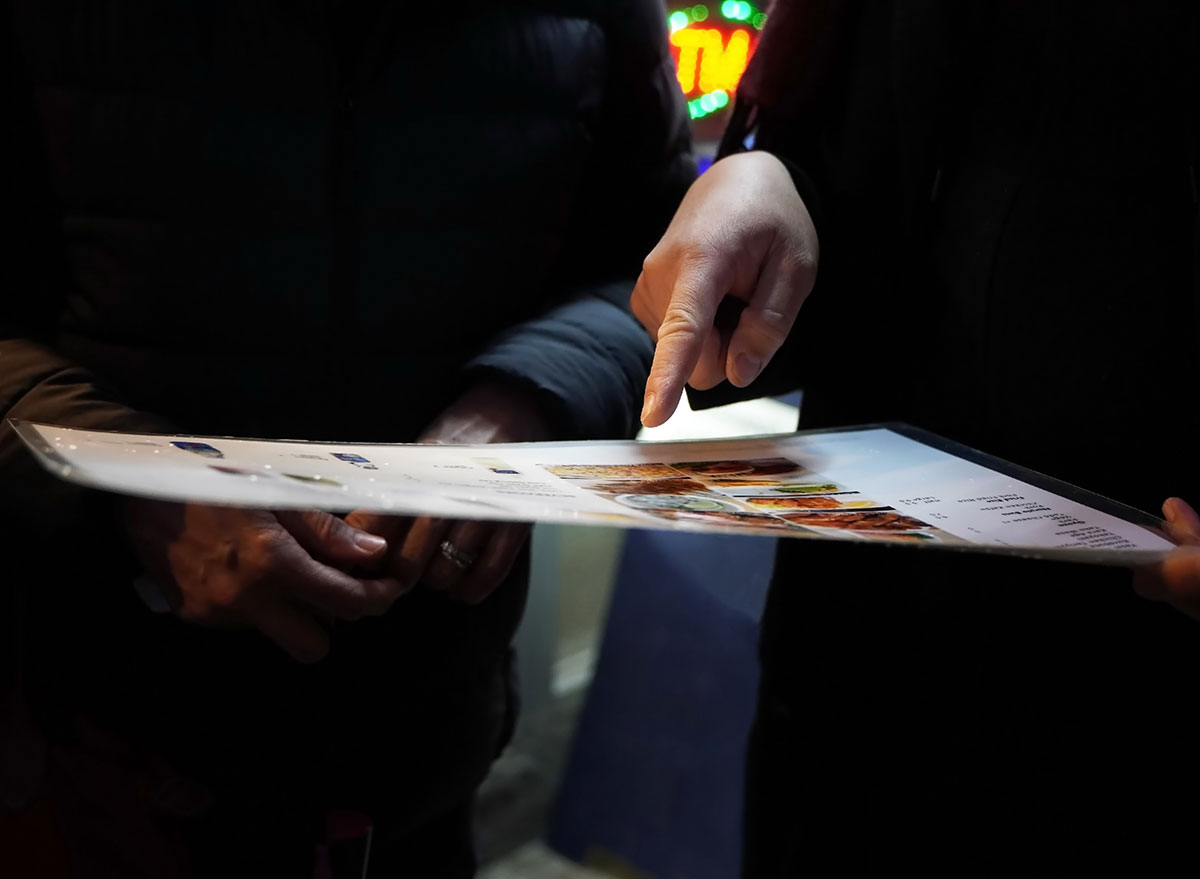 Sitting down and indecisively poring over a menu is a tradition as old as restaurants themselves. But in the COVID-19 era, reused menus create a major potential point of contamination for diners. Restaurants playing it safe will likely hand you a single-use paper menu that can be disposed of when done, or they'll have you scan a QR code so you can peruse the menu safely from your own smartphone. If your server offers you neither, ask for a fresh paper takeout menu you can use instead. (Related: Here's Exactly When Every Fast Food Restaurant Plans to Reopen.)
Tables and seats aren't being sanitized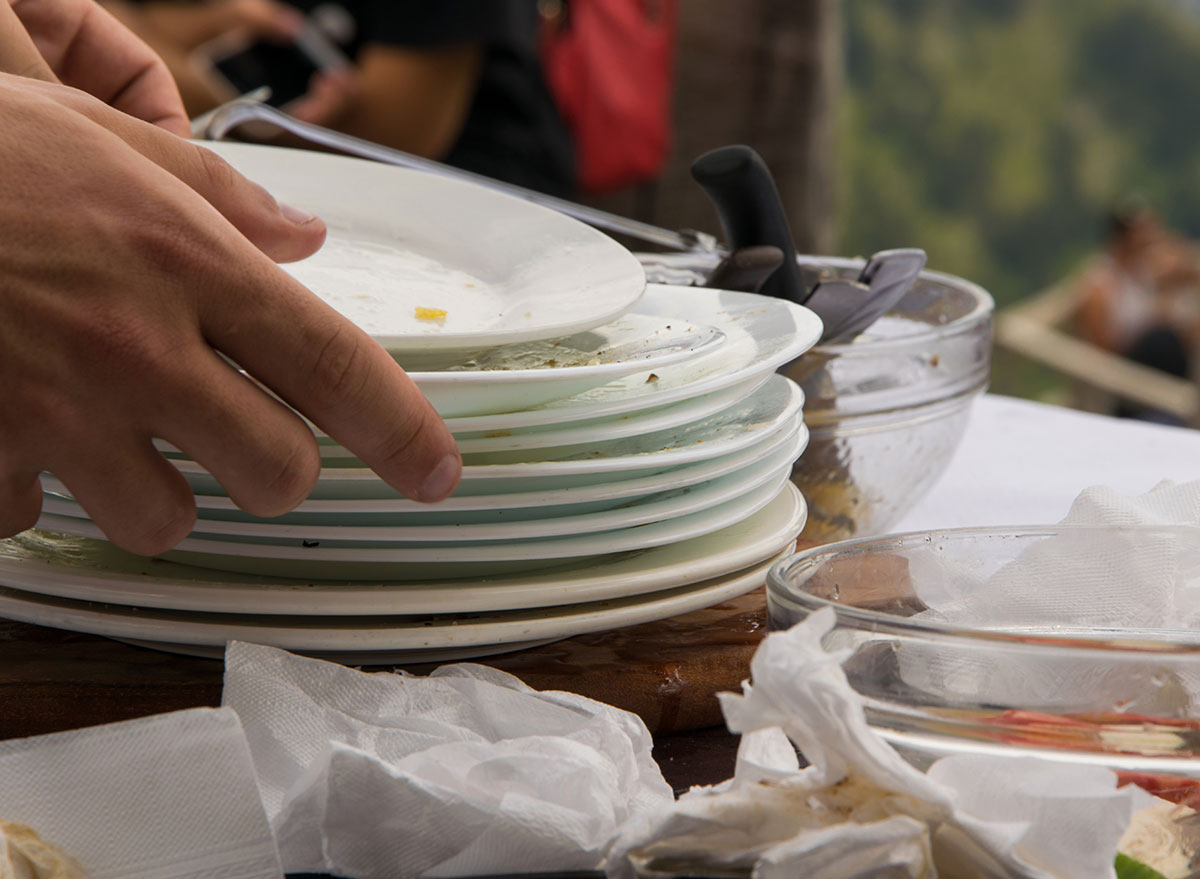 For most restaurants, table clearing between parties used to require clearing plates, removing glasses, and wiping down the tabletop with a sanitizer soaked rag. Now, truly sanitizing tables against coronavirus will require wiping down all condiment bottles, seatbacks, booth benches, and the forever filthy and often forgotten underside of the table—a constantly grazed surface that tends to go dangerously unnoticed. If you're feeling unsure about the cleanliness of your table, use a portable wipe of your own, request a different seat, or choose to have your meal packed to go. (Related: The #1 Worst Way You're Spreading Germs at the Grocery Store.)6254a4d1642c605c54bf1cab17d50f1e
Staff aren't wearing face masks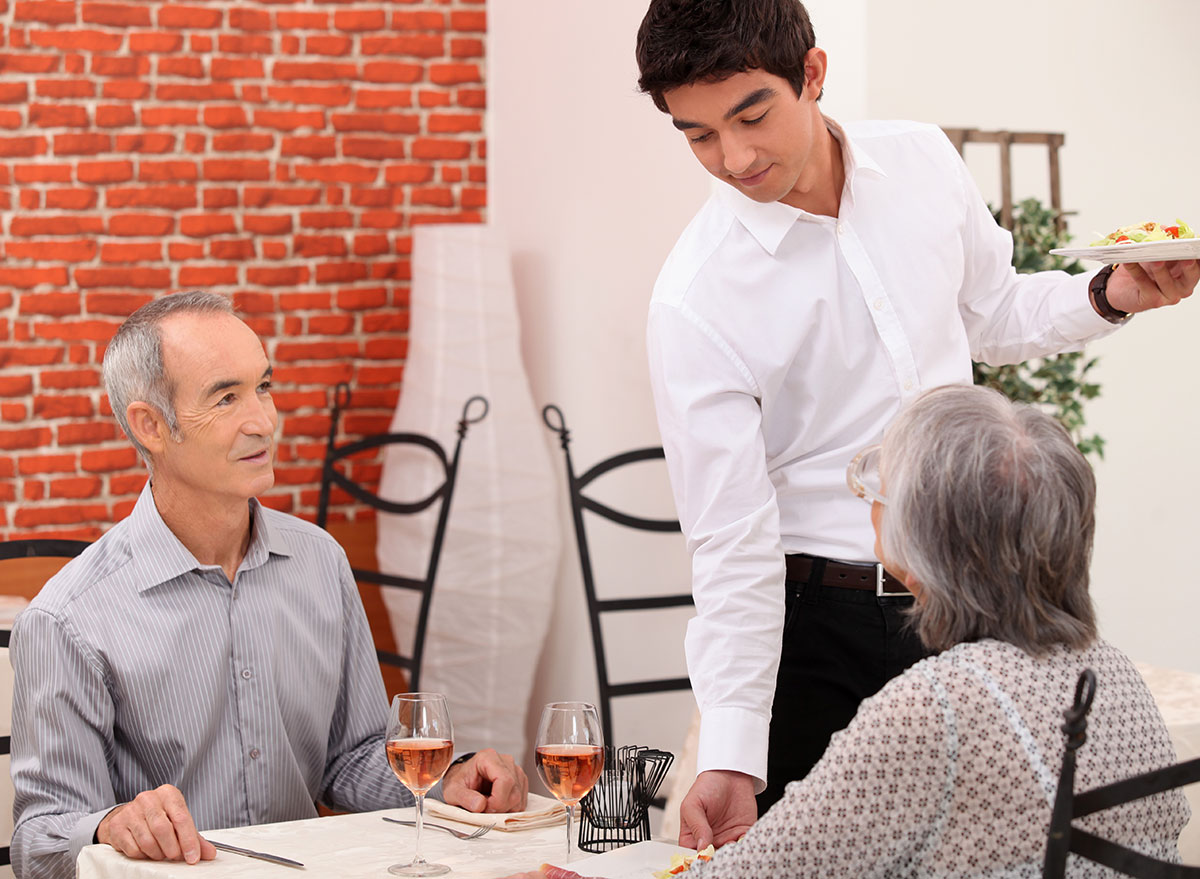 As of now, most states reopening are echoing the CDC's guidelines when it comes to requiring waitstaff to wear face masks. Unfortunately, this rule is not being followed by counties across the board, and certain businesses have opted out of such requirements. If you notice front-of-house staff working without their faces covered, ask if you can be served by someone who is. If no one is available to cover your table while wearing one, consider requesting your meal to go instead.
In combination with handwashing and wearing a face mask, the CDC has maintained that keeping a distance of six feet between yourself and others is one of the best ways to prevent the spread of COVID-19. Unfortunately for most restaurants, this would mean that a good percentage of their seating will have to be forfeited in order to stay within these guidelines. If you notice a restaurant's seating plan doesn't seem to fall in line with social distancing, ask the host if they're planning on keeping tables between parties open. If not, see if you can be sat in a secluded area of the restaurant, or ask if you can order a meal for takeout instead. (Related: 7 Warning Signs It's Not Safe to Eat in a Restaurant.)
They're packed at peak hours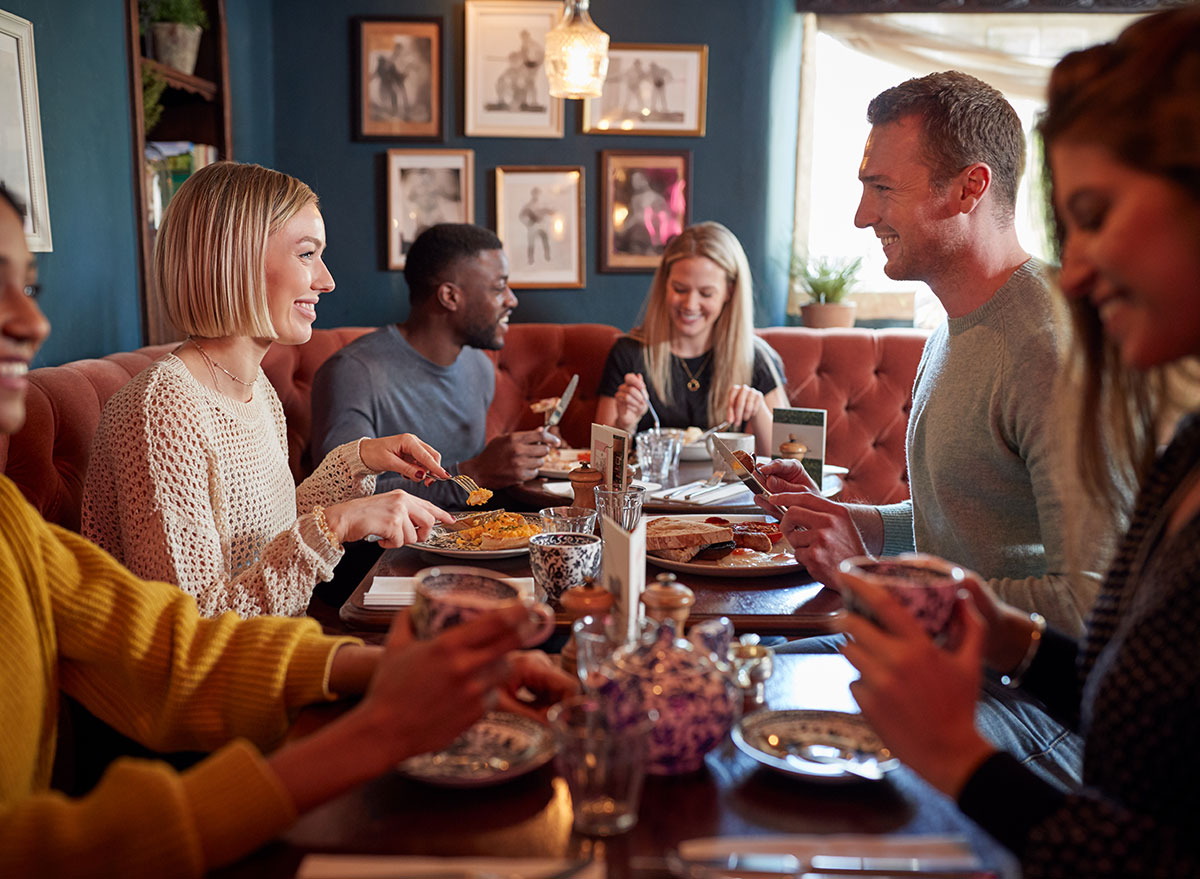 With the state of the hospitality industry, it's safe to assume any restaurant wishes they could go back to being as lively and crowded as a good Saturday night rush. But while social distancing may still be the best bet against public transmission of the coronavirus, a restaurant can only spread tables so far before they run out of room. Ask your host or server if the restaurant is observing any reduced capacity guidelines to avoid overcrowding before you sit down. If you arrive to an already jam-packed dining room, your safest bet may be to order a to-go meal instead of grabbing a seat.
Not preparing the kitchen staff
One of the most difficult safety checks in the new world of eating out post-coronavirus is gauging the back-of-house staff's level of preparedness. And while the CDC has recommended performing a temperature check of all employees at the beginning of each shift, it's not required by law—which can be an important safety step for anyone handling food. If you can't see the line and you have a reason for concern, ask your host or server if kitchen staff are wearing face masks and what the policy on employee screening is before taking a seat. If you're uncomfortable with the answer, you might want to opt for a different dining option altogether. For more, educate yourself on the one type of restaurant that's disappearing the fastest—and how you can help save it.
Zachary Mack
Zach is a freelance writer specializing in beer, wine, food, spirits, and travel. He is based in Manhattan.
Read more about Zachary