This One Type of Restaurant Is Disappearing the Fastest
If we don't support these businesses, we may lose many of them for good.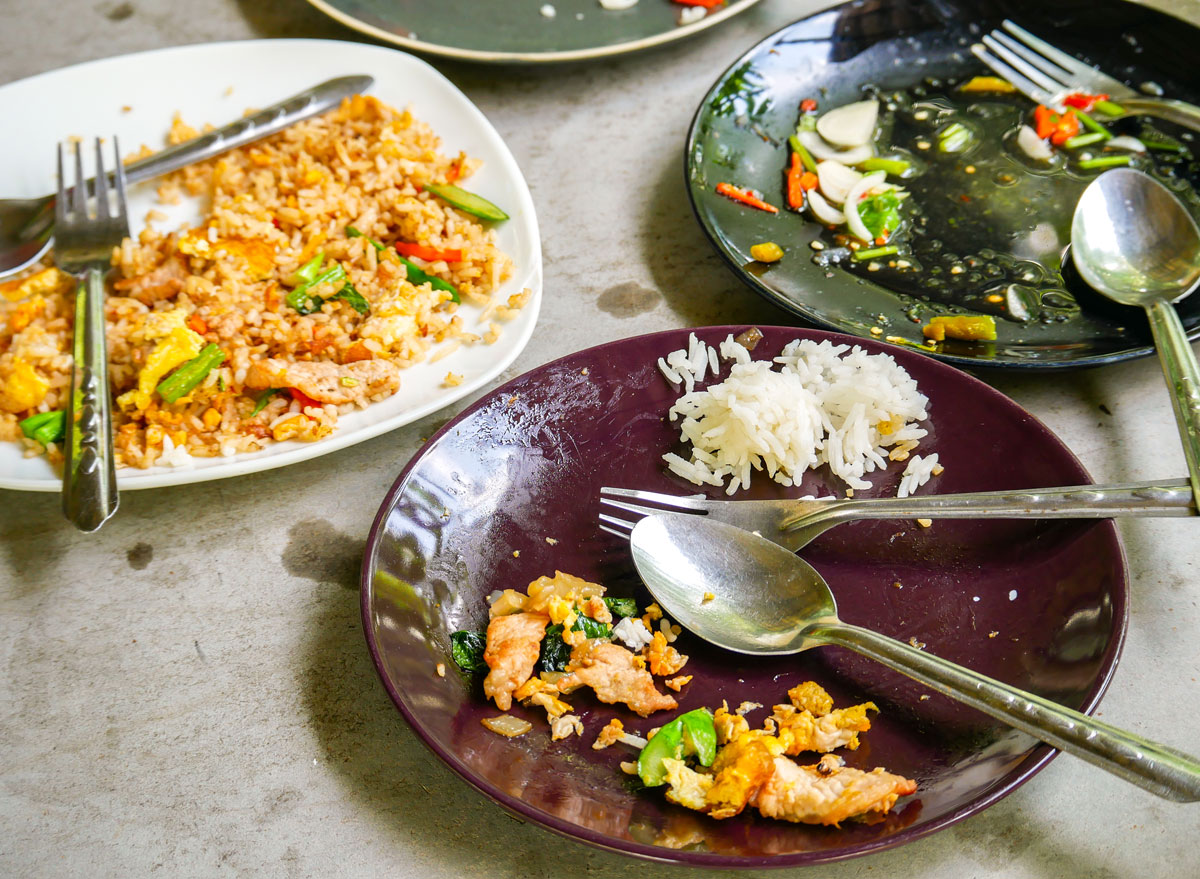 It's safe to say that all restaurants have experienced hardship and financial difficulty during the coronavirus pandemic. However, Chinese restaurants in particular have experienced immense difficulty over others. Not only were they suffering during city shutdowns, but Chinese restaurants have had to endure months of slow business even starting as early as January due to scared customers and concerns surrounding COVID-19, which was first detected in Wuhan, China. Acts of xenophobia and hate crimes have caused issues not only at restaurants, but in Asian communities around the country.
This, of course, means a significant decrease in profits, and Chinese restaurants are continuing to suffer because of it. Without any support, we will see Chinese restaurants disappearing the fastest from our communities.
Chinese restaurants have experienced a significant loss in business.
Lucy Yao, a New York City-based musician and educator, grew up working in Chinese restaurants throughout her childhood. While she always experienced hateful comments and xenophobic customers (one person even threw General Tso's chicken at the restaurant owner), she says the amount of hate crimes surrounding coronavirus in the Asian community is astronomically higher—and no one is noticing.
Reported hate crimes toward the Asian community have spiked over the past few months. Nevertheless, Asian communities have been dealing with xenophobic comments for so long, that these reports probably don't even match the actual amount. "Your strength is coming from being able to tolerate something," said Yao. "The number of hate crimes that are reported that actually happened is probably wildly off."
Sadly because of this, many businesses are suffering significantly. Workers feel unsafe to work or even travel to restaurants and fewer people are ordering. CNN Business reports that as of April 15, 59% of independent Chinese restaurants across America have stopped taking debit and credit card transactions, meaning many businesses have ceased operations.6254a4d1642c605c54bf1cab17d50f1e
Seeing a decrease in profits has been common for many restaurants, but because of the nature of Chinese restaurants, their loss is much greater. Typically Chinese restaurants keep prices of food low and they profit off a volume of food, meaning they need to sell a lot of it in order to have enough money to get by. Some of this is coming from the believed notion that Chinese food should be cheap, so restaurants have been able to keep the prices low because they end up selling that much food within the day. However, since fewer people are ordering Chinese food, businesses aren't able to even scrape by—or pay rent.
STAY INFORMED: Sign up for our newsletter to get the latest coronavirus foods news delivered straight to your inbox.
Businesses were already suffering before stay-at-home mandates.
Grace Young, a cookbook author and culinary historian who recently won a James Beard Award, recently wrote an article about New York City's Chinatown suffering for Food & Wine. Business was already down significantly in January 2020 because fewer people from China were flying and numerous people were scared of stepping foot into Chinatown because of how this disease was being called the "Chinese virus." Poster House, a museum located in NYC, asked Young to help out with an exhibit. But as things got serious in New York regarding COVID-19, the project for Poster House transformed into an online series about how the pandemic significantly impacted Chinatown.
"It's very hard for Chinese restaurant owners right now," said Young. "I think the xenophobia, all of this anti-Chinese sentiment, is not helping business."
Young took a trip to Chinatown to record interviews for this online series. During her time in Chinatown, she found out that 70% of the businesses were going to be closing the following day, simply because they didn't have enough coming in to continue operating. As she walked around from business-to-business, numerous owners refused to be interviewed. "In Chinese culture, it's sort of losing face to even talk about the fact that you're going through a difficult economic time," said Young. "It's just too private, too personal."
While she was able to get a few interviews with some brave restauranteurs, hours after her time in Chinatown, New York City's Mayor Bill de Blasio announced that all restaurants were to be closed that following Tuesday. Her time in Chinatown became a documentation of one of the biggest things to happen in Chinatown's history.
Wellington Chen, the Executive Director for NYC Chinatown's Partnerships, said that 117 restaurants out of 291 decided to stay open after the shutdown. But by early April, only 39 eateries were able to stay in business. The rest closed.
Two months later, as restrictions start to loosen up, Chinatown—along with numerous Chinese restaurants around the country—are starting to open back up for business. On May 28, Chen reported that 126 eateries were open in Chinatown and they are hoping the number continues to grow. That's where we as consumers come in.
How you can support Chinese restaurants at home.
It may seem simple, but actually putting your money toward their services and enjoying your favorite Chinese dishes at home on a regular basis is going to significantly help your favorite eateries.
But here's the real catch: Try to avoid ordering through your usual third-party services. When you order from a company online, some of them take around 30% of the profits from that purchase, meaning less money is going in the restaurant's pockets. Instead, call the restaurants and order directly from them.
Another great option is to order through Chowbus, which is a company focusing on Asian restaurants specifically. They are working hard to create more business opportunities for these eateries, which includes expanding their delivery breadth. In Chicago alone, they expanded delivery up to a 40-mile radius. Because of their efforts, Chowbus has been able to see a significant amount of partners back on the app and in business already—about 90%.
"We're doing as much as we can to help the restaurants go through this hard time," said Linxin Wen, CEO of Chowbus. "While we don't see any of Chowbus' restaurant partners going out of business, that doesn't mean the restaurants didn't take any hits."
This is where you come in by ordering from your favorite Chinese restaurants. However, even Young says that it would be helpful to order food even more often than just a Friday night takeout and to support all types of Asian businesses in the community that are struggling.
"That's a lovely sentiment, but it takes more to show your love by showing up once a week, we really need to show up two, three times," said Young. "It's like a very ill patient, like taking care of your grandma. If you really love this neighborhood, and what it stands for, you have to really monitor and really take care and check-in. And not just eat in restaurants, but shop in the stores, have a massage, fix your watch down there, buy your baked goods, shop for your groceries in the supermarkets."
If you're not near Chinatown you can even support by ordering Chinese food through Chinatown for Manhattan medical workers.
But according to Chen, not every restaurant in Chinatown can make a takeout model possible. "Most Chinese food is meant to be eaten piping hot like dim sum with a rolling steamer," said Chen. "They're not geared for takeout."
This means that as your cities start to open back up, ordering takeout is good, but actually going to the businesses that aren't doing takeout can help as well. Because many of them are tiny hole-in-the-wall locations in Chinatown that won't be able to seat as many customers due to social distancing, Chen says they are doing surveys of the restaurants and getting geared up to do closed street outdoor seating so these restaurants can continue to serve a variety of customers.
And do this often! If social distancing is going to be a part of our future for who knows how long, these businesses only have a few months of warm weather to take advantage of dining outdoors. 
"If we don't support during the coming summer, this will be one of the darkest winters," says Chen. "People will not be able to hang on because they need to make up for what they lost from January to now. So [we have] between July and August, and hopefully, September and early October, if the weather does not turn cold and rainy. After that, we cannot do outdoor dining, and distancing will be hard to do. So please come and support these mom and pops."
Both Chen and Young are on the same page in terms of what you can do at home: Give these businesses the initial support they need. "Their decision right now is that if we don't give them initial support, they may just pack up and go," said Chen. "And that is the critical moment we are so concerned about."
Lastly, you can do this by bringing awareness on social media. Poster House is hosting a campaign where you can share about your favorite Chinatown experiences on Instagram using the hashtag #ChinatownStories. Tell the world why you love Chinatown, what your favorite places and eateries are, and bring awareness to their needs to others. This can help support a thriving community within your city—and not just in New York. Support the Chinatowns in your metropolitan areas and your favorite Chinese eateries in your town, because their stories are likely the same.