The Surprising Reason Your Favorite Restaurants Have Reduced Their Hours
Even after taking the right safety precautions, these beloved eateries are struggling without this one key component.
While some restaurants are struggling to stay in business due to repercussions from the coronavirus pandemic, for others, business isn't hard to come by. Arnold's Restaurant is one of those, a beloved lobster and clam bar located in Eastham, MA. According to Cape Cod Health, Eastham has seen less than 10 cases of coronavirus since the beginning of March. Yet even though the number of COVID-19 cases is low for their town, Arnold's still had to make the difficult decision to close their doors on Tuesdays and Wednesdays. This differs from their usual summer model of staying open every single day during July and August, arguably the busiest months due to an influx of vacationers in Cape Cod.
However, their reasoning behind closing had nothing to do with a shortage of customers (they still have plenty), but in terms of the help they have behind the counter.
Restaurants are struggling without enough employees.
"People think we've reduced our hours because we're freaked out about COVID," says Andrew Wright, the General Manager for Arnold's Restaurant. "But we're not freaked out about COVID. Since the beginning, we've been in total compliance with the state and local mandates in terms of what we have to do. We have the plexiglass up, we have everyone wearing masks. None of it's optimal, but it's workable. What's not workable is not having employees. So when people ask [why we're closed], I tell them. And I kept repeating myself."6254a4d1642c605c54bf1cab17d50f1e
Wright placed small yellow signs in plexiglass on every table with an apology from Arnold's management about having to make this difficult decision, as well as their reasoning behind it—a shortage of restaurant workers. According to Wright, Arnold's would need at least 75 to 80 employees on their roster for a normal summer season. Wright says he notices a 25% dip in his roster, and more than 50% of his line cooks not returning to work.
"Up until last week, I was the only guy that was working every hour on the cooking line," says Wright. "Now there's two of us. Every hour we're open, you'll see me back there on the fry line. Which is fine, I get it, it's what I have to do. But I know people who are employable and who have worked here who even accepted this job this year, but then decided to take unemployment until the 'free money' was over."
Having fewer workers at Arnold's Restaurant is due to two government responses to the pandemic. The first was the suspension of visas for foreign work and travel students, which have actually been a large part of the local labor force in Cape Cod through government-sponsored programs. Wright estimates about 35% of his usual employee roster comes from workers in this program. Currently, he has none.
The second reason for restaurants reducing hours, and probably the most significant, is one that many are probably familiar with—unemployment benefits. Along with the usual unemployment benefits workers receive, the government-mandated a $600 weekly bonus for workers without jobs. According to Secretary of Labor Eugene Scalia in a press release from the U.S. Department of Labor, "the $600 weekly unemployment compensation boost included in the CARES Act will provide valuable support to American workers and their families during this challenging time."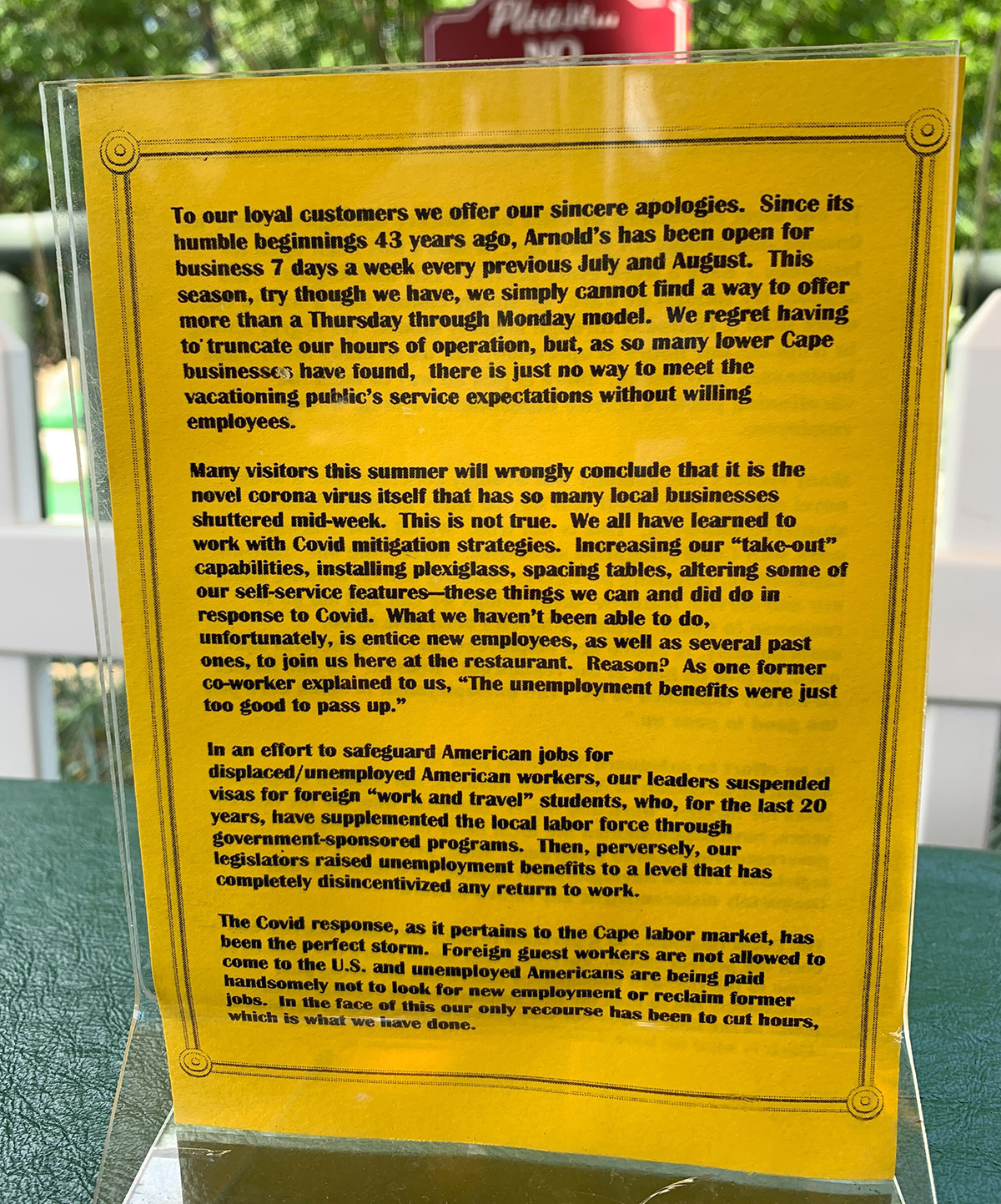 While the amount is generous and can improve life significantly for the unemployed, when comparing paychecks for restaurant workers at establishments similar to Arnold's, the evidence is clear: The bonus pays more than their normal wage.
"The minimum wage in Massachusetts right now is $12.75," says Wright. "But in Cape Cod, if you think you can get anybody to wash dishes or do any of that stuff for minimum wage, you're crazy. It's not that we're not paying people. The question really is, how much do customers want to pay for a fish and chip?"
Wright says being paid $600 a week is enticing for employees who regularly work under demanding circumstances, like in the kitchen at a favored Cape Cod restaurant.
This bonus was enacted by the government on March 27, and was set to execute until July 31. Currently, an extension for this bonus has not been announced.
How the bonus has affected restaurants and workers
So what about these workers? With stipends coming in that exceed their usual paychecks, it can be demotivating to start up work again—especially in public environments like restaurants, daycares, and shopping centers. But in the case for Wright, the motivation he's witnessing behind not returning to work has nothing to do with safety around COVID-19. In fact, he's had former workers ask to be paid in cash so they can continue to collect unemployment on top of their normal work wages. 
"The unemployment program has it's merit there, there are a lot of people out there who have lost their jobs and need help because of COVID," says Wright. "But when an employer is begging a former employee to please come back, because we really need you, and the answer is 'no, unless you pay me in a way that will not interfere with the inflow of our weekly check from the government,' there's something really wrong with that. I have had people tell me they won't come in here as long as the unemployment is available."
Even though the bonus is set to end on July 31, Wright isn't confident that Arnold's will return to a 7-day week model in August. Some of his summer help includes college students, who will have to leave in early August before the school season. Many of the businesses in Cape Cod rely heavily on a 12-week summer season, and while Wright feels Arnold's will be able to scrape by, he's not confident that many of the beloved small businesses on the island will be able to survive it—even though these establishments are littered with "Help Wanted" signs right outside their front doors.
"The towns aren't big enough to support this," says Wright. "We go from towns with only 2,000 people to towns of 25,000 people in July and August, because of visitors. That's a huge call for service…so where are we going to get these people? I have a lot of young kids here that don't want a 40-hour week commitment, so I have a lot of part-time kids. But that doesn't get us to keep our doors open."
At the beginning of the pandemic, The National Restaurant Association estimated 5 to 7 million lost jobs in the restaurant industry. Even though the stipend has benefited many who have lost jobs and need to support families, in the case for restaurants now begging workers to return (especially for those relying on summer business to hold them through the winter), this could be the nail in the coffin for many of our beloved eateries.
For more coronavirus restaurant news, be sure to sign up for our newsletter.