The 7 Safest Chocolate Products, According to a New Study on Heavy Metals
Scientists tested dozens of popular brands for toxic metals and these products were deemed "safer options."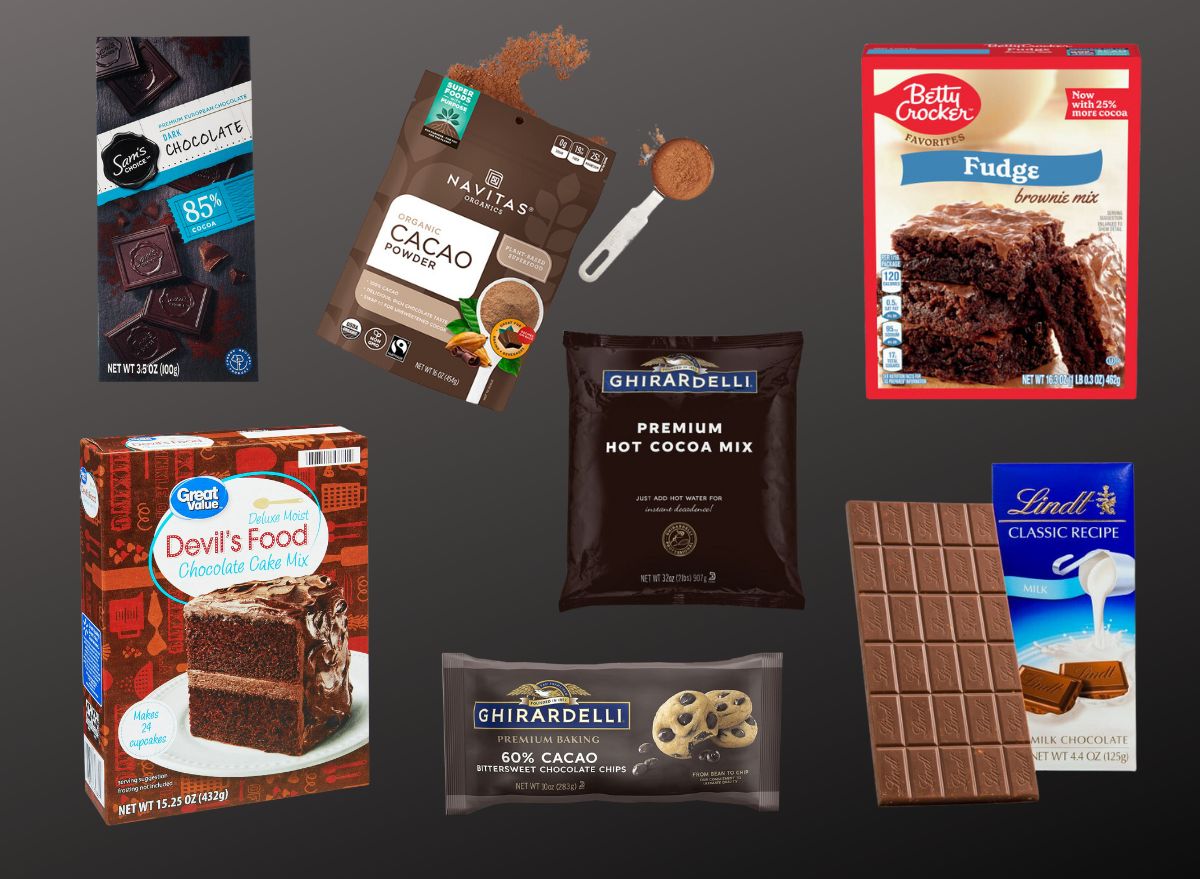 The product recommendations in this post are recommendations by the writer and/or expert(s) interviewed and do not contain affiliate links. Meaning: If you use these links to buy something, we will not earn a commission.
If you're a fan of dark chocolate, particularly because of its purported health benefits, you might have been shocked by last year's report about toxic heavy metals in some of your favorite sweets. An investigation by Consumer Reports this past December found high levels of lead and cadmium in 23 popular dark chocolate bars.
The results of the investigation triggered multiple lawsuits against popular retailers and manufacturers, including Hershey and Trader Joe's, and likely prompted many shoppers to think twice about the cocoa-laden snacks they purchase, or even to avoid them altogether.
Now, the consumer watchdog group is back with another heavy-metal investigation, spanning a whole range of chocolate products, including both dark chocolate and milk chocolate bars, chocolate chips, cake and brownie mixes, and hot chocolate mixes, too. Sixteen of 48 products included in the study—or, exactly one-third—were found to contain concerning levels of either lead or cadmium or both, according to the report. Consistent exposure to heavy metals can pose serious health risks, especially during childhood and pregnancy, the group noted.
Because there's no federal standard for toxic metals in food, scientists working for Consumer Reports have based their findings on California's maximum allowable dose levels for lead and cadmium, which the group described as "the most protective available." The researchers measured the amounts of metals in three samples of each product and averaged the results.
While it's helpful to know which products flunked the heavy-metal tests, it's perhaps even more beneficial to know which items were found to be the safest, so you can better know which brands are the best to buy.
Here are the seven chocolate products that Consumer Reports determined to be "safer options," according to the latest study.
Sam's Choice Dark Chocolate 85% Cocoa Bar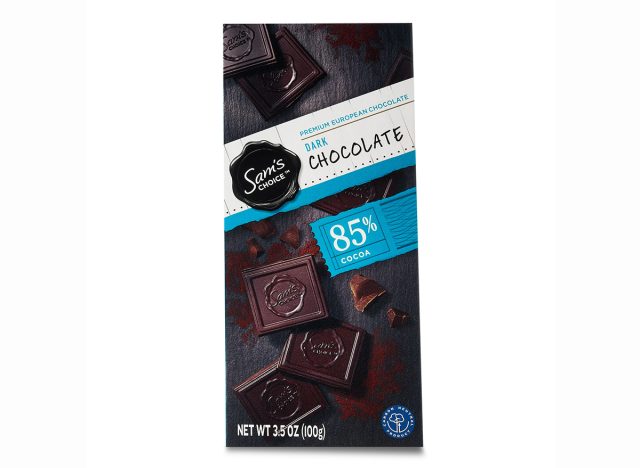 Per Serving (3 squares)
: 190 cal, 16 g fat (10 g saturated fat), 125 mg sodium, 11 g carbs (4 g fiber, 4 g sugar), 2 g protein
Out of seven dark chocolate bars recently tested by Consumer Reports, this Sam's Choice variety was one of only two brands to fall below the consumer watchdog's threshold for both lead and cadmium. The other brand, Divine 70% Deliciously Smooth Dark Chocolate, actually tested lower for cadmium, but Sam's Choice tested lower for lead, which is why it's considered safer—"because that heavy metal poses particular concerns and no amount of it is considered safe," CR explains. Another Sam's Choice variety (the Dark Chocolate 72% Cocoa bar) actually tested even lower for lead, but it also tested above the limit for cadmium, making the 85% cocoa bar the overall safer choice, based on the test results. A two-pack of 3.5-ounce bars costs $16.99 at Walmart.
Lindt

Classic Recipe Milk Chocolate Bar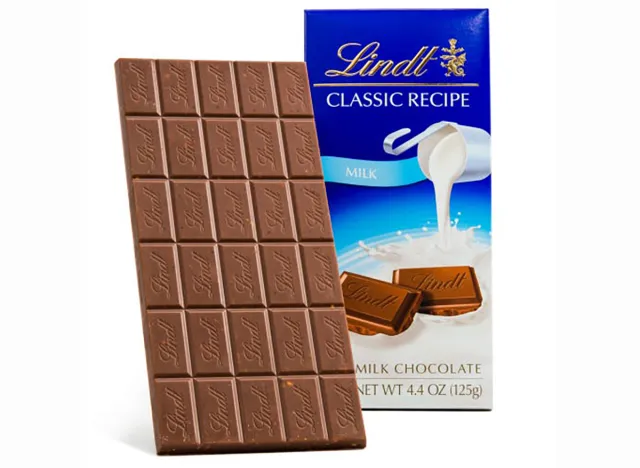 Per Serving (7 pieces)
: 160 cal, 9 g fat (5 g saturated fat), 35 mg sodium, 17 g carbs (1 g fiber, 15 g sugar), 3 g protein
When it comes to heavy metals, milk chocolate is a much safer choice than dark chocolate in general. That's because "it has less cocoa solids," CR notes, thereby making it less susceptible to contamination. So, it's probably no surprise that not one of the five milk chocolate bars included in CR's most recent study actually scored poorly on the heavy metal tests. Yet, of those five, this Lindt variety exhibited the absolute lowest level of lead and second-lowest amount of cadmium. In fact, it showed the lowest lead levels of any product in the entire study. A 4.4-ounce bar costs $4.59 on Lindt's website.
Ghirardelli

Premium Baking Bittersweet Chocolate Chips 60% Cacao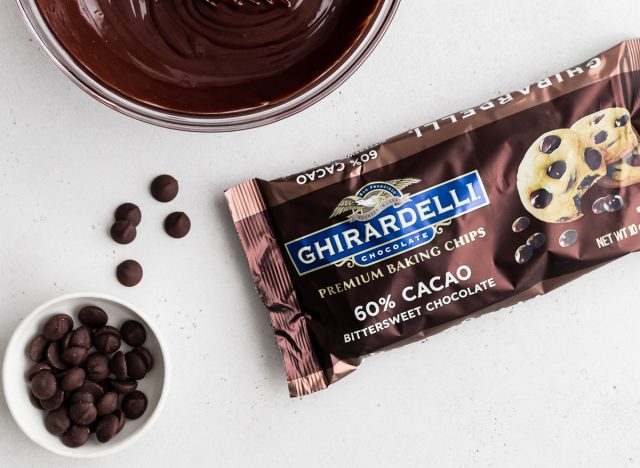 Per Serving (17 chips)
: 80 cal, 6 g fat (3.5 g saturated fat), 0 mg sodium, 8 g carbs (1 g fiber, 6 g sugar), <1 g protein
A full dozen brands of chocolate chips were included in CR's latest heavy metal study, and only two flunked the lead test. Ghirardelli got the overall best result in this worst metal category, beating out Nestlé, Whole Foods' 365, Lily's, and Costco's Kirkland Signature brand, among others. Ghirardelli also tested well below CR's limits for cadmium, too. You can get a standard 20-ounce bag of these chocolate chips from Amazon, Kroger, Target, Walmart, and other major retailers, or order a five-pound bag directly from the manufacturer for $52.95.
Navitas Organics Organic Cacao Powder
6254a4d1642c605c54bf1cab17d50f1e
Per Serving (1 tbsp)
: 25 cal, 0.5 g fat (0 g saturated fat), 0 mg sodium, 3 g carbs (2 g fiber, O g sugar), 2 g protein
Of all the chocolate products on the market, cocoa powder is probably the riskiest in terms of heavy metals, because it's "almost all cocoa solids," CR notes, making it highly susceptible to contamination. Scientists with the consumer watchdog group tested six different cocoa powder brands in the latest survey, and Navitas Organics had the lowest levels of both lead and cadmium within the entire category. CR points out that Navitas actually conducts its own testing to ensure low levels of toxic metals in its products. In fact, the company devotes an entire page of its website to the heavy metal issue. "All of our finished cacao products are tested for heavy metals using third party, independent labs," according to the Navitas. "Usually—but not always—trace amounts of lead and cadmium are present in the results. We monitor these levels carefully to ensure that they are within a normal to low range for cacao." An eight-ounce package of the brand's best-selling cacao powder costs $9.99 on the company's website.
Ghirardelli Premium Hot Cocoa Mix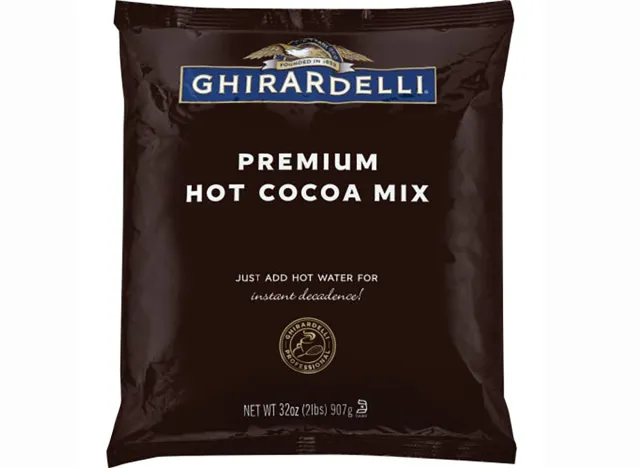 Per Serving (3 tbsp)
: 140 cal, 2.5 g fat (2 g saturated fat), 200 mg sodium, 30 g carbs (2 g fiber, 25 g sugar), 2 g protein
Four of six hot chocolate mixes included in the study were found to exceed the lead limit—a somewhat surprising result because most mixes contain other ingredients beyond just cocoa powder. This Ghirardelli mix, however, contained the lowest levels of both metals, according to CR's findings. You can get a case of four 32-ounce bags directly from the manufacturer for $56.95.
Betty Crocker Fudge Brownie Mix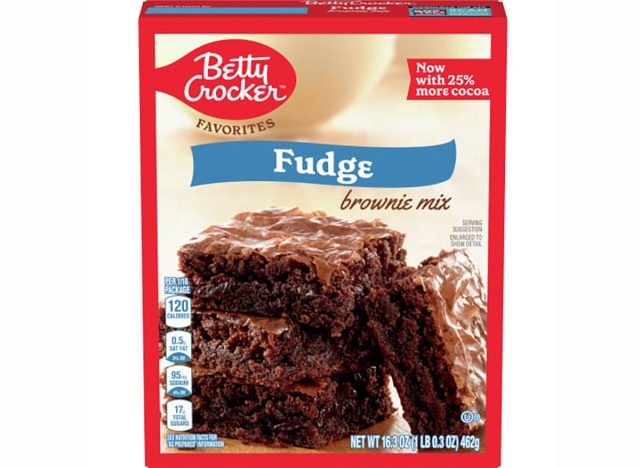 Per Serving (1/16 package)
: 120 cal, 1.5 g fat (1 g saturated fat), 95 mg sodium, 26 g carbs (<1 g fiber, 18 g sugar), 1 g protein
Most brownie mixes actually fared pretty well during CR's tests. None were found to be high in cadmium, and only one product (Ghirardelli's Premium Brownie Mix Double Chocolate) exceeded the lead limit. Betty Crocker's classic fudge brownie mix had the lowest levels of both metals in the study. The boxed mix is available from many national retailers, including Amazon and Walmart.
Great Value

Devil's Food Chocolate Cake Mix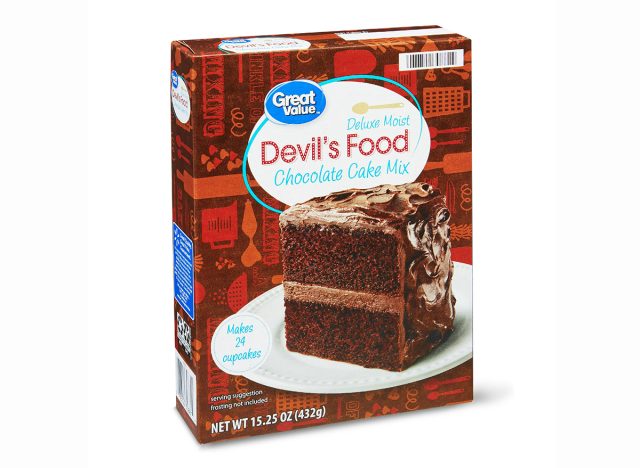 Per Serving (1/10 package)
: 160 cal, 3.5 g fat (1 g saturated fat), 380 mg sodium, 32 g carbs (1 g fiber, 17 g sugar), 2 g protein
As with brownies, most cake mixes also fared well in CR's tests. None of these tested high in cadmium, either, but two of six products flunked the lead test—"one by quite a bit," the report noted. The tests found the highest lead levels in Bob's Red Mill Gluten Free Chocolate Cake Mix. Meanwhile, Walmart's house brand, Great Value, had the best results. The brand's Devil's Food Chocolate Cake Mix had the lowest levels of both metals within the category. The product is affordably priced, as well. A 15.25-ounce box regularly costs less than a dollar.
Chris Shott
Chris Shott is the Deputy Editor covering restaurants and groceries for Eat This, Not That!
Read more about Chris