Trader Joe's Defends Selling Dark Chocolates That Contain Lead
The popular specialty grocer "stands by the safety of its products," according to its lawyer.
Despite its stated policy to remove any product from sale "if there is any doubt about its safety or quality," Trader Joe's is sticking with its troubled dark chocolates, which still remain on store shelves.
"Trader Joe's stands by the safety of its products," a lawyer for the popular specialty grocer recently wrote in response to a Consumer Reports investigation, which discovered high levels of toxic heavy metals—lead and cadmium—in 23 popular dark chocolate bars, including two sold by Trader Joe's.
According to the report, published this past December, Trader Joe's Dark Chocolate Lover's Chocolate Bar 85% Cacao tested high in both heavy metals, while Trader Joe's Dark Chocolate 72% Cacao tested high in lead. The consumer watchdog group noted that "[c]onsistent, long-term exposure to even small amounts of heavy metals can lead to a variety of health problems," adding that "eating just an ounce a day" is a risk.6254a4d1642c605c54bf1cab17d50f1e
Trader Joe's is now facing at least three federal class-action lawsuits as a result of the highly publicized report, including two filed in New York State (Ferrante v. Trader Joe's Company, Herd v. Trader Joe's Company) and another in its home state of California (Waring v. Trader Joe's Company). All three complaints accuse the retailer of endangering shoppers by failing to warn them about the presence of heavy metals on the products' labels.
Two of the suits also claim that Trader Joe's has known about the presence of heavy metals in its dark chocolates since at least 2014, when a consumer advocacy group previously tested the products and alerted the company about its findings. "Since then, however, Trader Joe's has systematically failed to mitigate lead and cadmium levels in its Dark Chocolates and failed to warn consumers that consuming its Products exposes them to unsafe levels of these carcinogens," according to a written complaint in the California case.
The retailer's lawyer, Dawn Sestito, a partner at O'Melveny & Myers LLP, seemed to confirm this timeline in her letter to Consumer Reports, writing: "of course Trader Joe's takes this matter seriously—and in fact, has been working on it for years."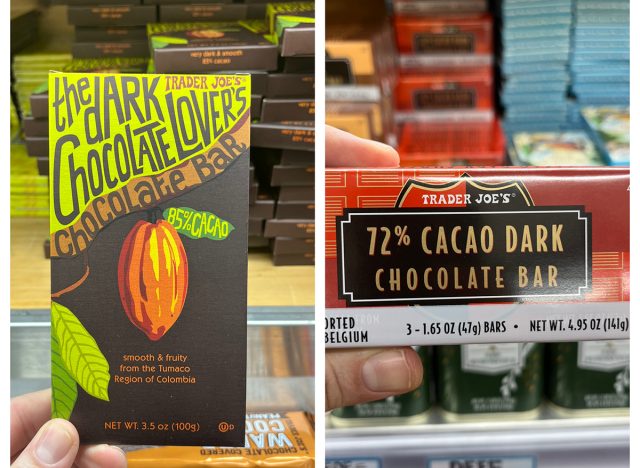 Portions of the lawyer's letter were published last week by Consumer Reports, after the watchdog group delivered a petition with over 55,000 signatures urging retailers and manufacturers to address the issue. Of the four companies called out in the petition, which also include Hershey, Mondelez International, and Theo Chocolate, Consumer Reports noted that Trader Joe's was the only one to formally respond.
In the letter, Trader Joe's reportedly took issue with the consumer group's scientific standard for determining what levels of heavy metals are unsafe for human consumption.
Consumer Reports based its findings on California's maximum allowable dose levels, which the group described as the "most health-protective limits" in the nation. (There is currently no federal standard for toxic metals in foods.)
The Trader Joe's letter argued that "these levels are meant to create an 'ample margin of safety,' meaning that it takes higher levels than these to definitively cause harm," according to Consumer Reports.
The consumer group disagreed. Brian Ronholm, Consumer Reports' director of food policy, called it "an example of how companies try to confuse consumers into believing a legal standard is the same as a public health standard. It's important for these companies to address this problem because consistent, long-term exposure to even small amounts of heavy metals can be harmful."
Eat This, Not That! has reached out to the law firm representing Trader Joe's to obtain a copy of the full letter. The firm has yet to respond. Other than the published portions of that letter, Trader Joe's has not publicly commented on Consumer Reports' findings or the legal action that has resulted.
Meanwhile, the Trader Joe's dark chocolate bars in question are still available for purchase. This reporter has repeatedly found both kinds cited by Consumer Reports during multiple visits to the retailer's store in downtown Brooklyn, N.Y., most recently on Feb. 23. "A rich & easy to portion treat!" according to a posted handwritten sign describing the 72% Cacao Dark Chocolate bars, available in a three-pack for $1.99.
Moreover, the store also stocks a number of other chocolate products, which appear to be made by the same Belgian manufacturer, including an enormous "Pound Plus" version of the 72% Cacao dark chocolate bar. (Note: the "Pound Plus" bar was not included in Consumer Reports' heavy metals study.) "They are made exclusively for Trader Joe's in a small town outside of Antwerp by confectionary artisans known for producing perhaps the finest chocolate in the world," according to the label.