8 Sausage Brands With the Highest Quality Ingredients
Traditional sausages can be overloaded with sodium and saturated fat, so we asked a registered dietitian for her healthier picks.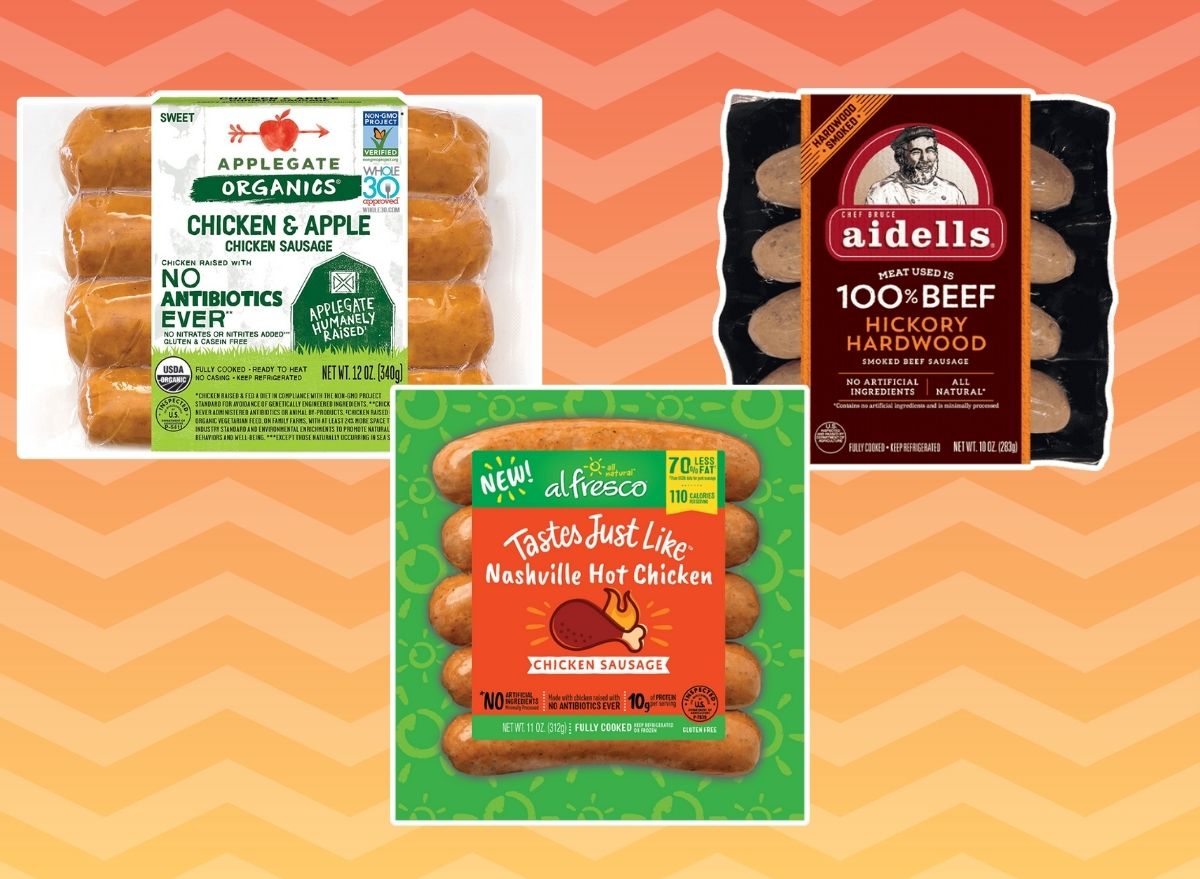 The product recommendations in this post are recommendations by the writer and/or expert(s) interviewed and do not contain affiliate links. Meaning: If you use these links to buy something, we will not earn a commission.
If sausages are your go-to breakfast protein or summer BBQ food, you may be on the hunt for a healthier version. After all, traditional sausages are high in sodium and saturated fat—two nutrients that are linked to poor heart health. What's more, sausages are usually filled with preservatives and additives such as nitrites and nitrates, which have been associated with cancer, says Jaime Windrow, RD, LDN, a registered dietitian with Top Nutrition Coaching. Plus, the World Health Organization (WHO) recommends we limit our intake of processed meats to reduce our risk of colorectal cancer.
While enjoying a juicy sausage once in a blue moon is totally OK, you'll want to pick a more nutritious option if you're eating them on the regular. So how does one go about picking a healthy sausage?
Windrow doles up her top tips on what to avoid (and what to look for) in a supermarket sausage:
Sodium: Aim for sausages that have less than 600 mg of sodium
Saturated fat: Try to choose a sausage with 4 grams or less saturated fat. Pro tip: Try draining the fat off when cooking you're cooking the sausages. And once they're browned, set the sausages down on a paper towel after you remove them from the pan.
Type of meat: Opt for sausages made with chicken or turkey, which are better options for your health than beef or pork
Preservatives: Try to avoid options with nitrites and nitrates (check the ingredient list!)
Casing: Choose sausages with a natural casing
"Those with fewer ingredients on the nutrition label are typically better choices," Windrow says. And don't forget about portion sizes! "If it's a full-size sausage (and not a small breakfast link) one is likely enough," Windrow says.
Below are the best healthy sausages in the supermarket. Read on, and for more, shop our list of 8 Hot Dogs That Use the Highest Quality Ingredients.
Alfresco Nashville Hot Chicken Sausage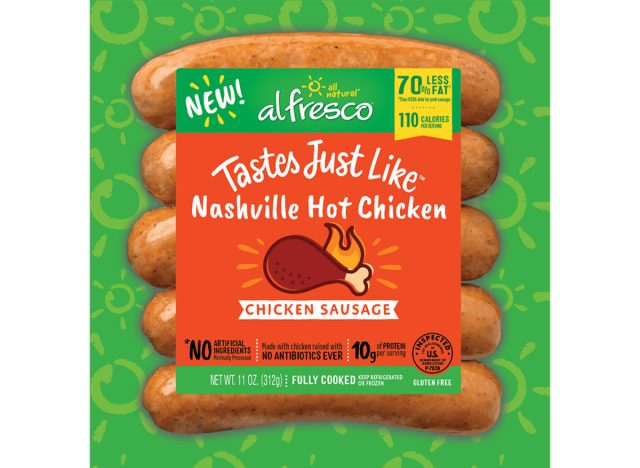 Per sausage
: 110 calories, 6 g fat (1.5 g saturated fat), 420 mg sodium, 2 g carbs (0 g fiber, 2  g sugar), 10 g protein
Windrow loves these finger-licking good sausages because they're made out of skinless chicken thigh and breast meat, which makes for a leaner link. One sausage has just 1.5 grams of saturated fat and 420 milligrams of sodium as well as zero artificial ingredients. And it comes fully cooked, so all you have to do is quickly heat it on the BBQ (or pop it in the microwave, we won't judge) for protein-packed dinner that brings the heat.
Alfresco Apple Maple Chicken Breakfast Sausage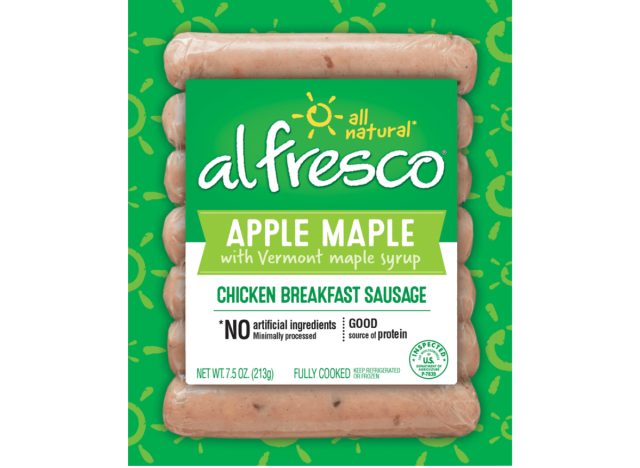 Per sausage
: 50 calories, 2 g fat (0.5 g saturated fat), 150 mg sodium, 3 g carbs (0 g fiber, 3 g sugar), 5 g protein
"This is, hands down, my favorite (and my kids!) favorite chicken sausage," Windrow says. She and her family love the apple-maple flavor, and as a dietitian, she especially appreciates that this product contains a simple ingredient list, zero artificial ingredients, and is low in sodium and saturated fat. "Because they are small breakfast links (one sausage is only 30 grams), you can enjoy more than just one," Windrow says.
Slice up a sausage and toss it into your omelet or serve it alongside whole-grain waffles for extra protein in the morning.
Applegate Organics Chicken & Apple Sausage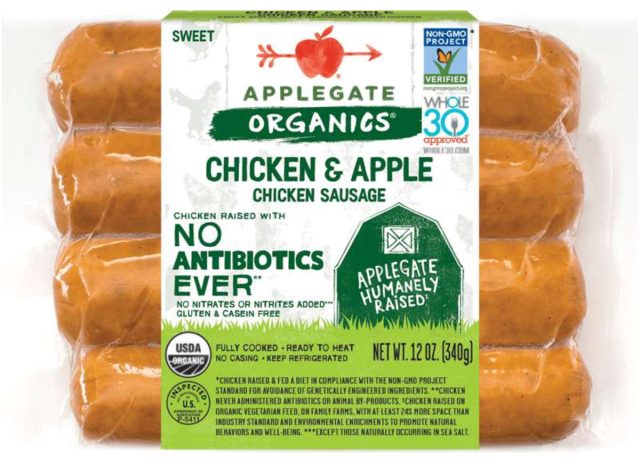 Per sausage
: 150 calories, 10 g fat (2.5 g saturated fat), 740 mg sodium,  4 g carbs (0 g fiber, 5 g sugar), 11 g protein
These chicken and apple sausages get the green light from Windrow because they're made out of fully cooked organic poultry and are relatively low in saturated fat. "While the sodium is higher, at 740 milligrams, than I like to look for, everything else is great," Windrow says. Try chopping one up and topping it over a salad with mixed greens, cranberries, walnuts, and red onion for a satisfying lunch or dinner.6254a4d1642c605c54bf1cab17d50f1e
Field Roast Smoked Apple & Sage Plant-Based Sausages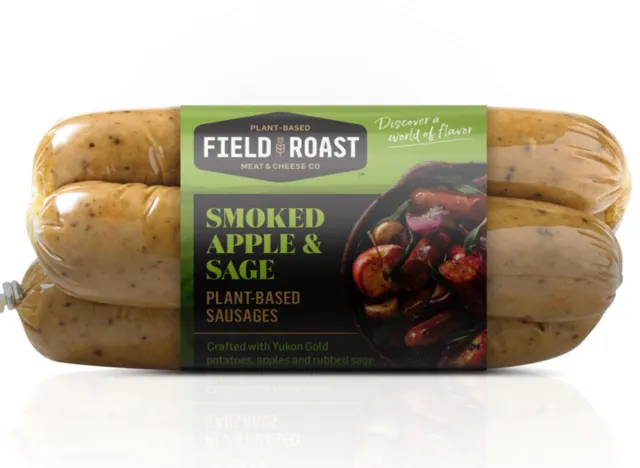 Per sausage
: 220 calories, 8 g fat (0.5 g saturated fat), 560 mg sodium, 16 g carbs (0 g fiber, 4 g sugar), 23 g protein
These vegan sausages might even taste better than the real thing. Windrow is a big fan of the smoked apple and sage flavor that marries sweet and savory. Plus, these links are large (at 92 grams) and still come in under Windrow's suggested sodium and saturated fat limits. We also love that these vegan links are packed with a whopping 23 grams of plant-based protein, coming from vital wheat gluten. Add these to your grocery list if you're plant-based and looking to eat more of the muscle-building macro.
Aidells Hickory Hardwood Smoked Beef Sausage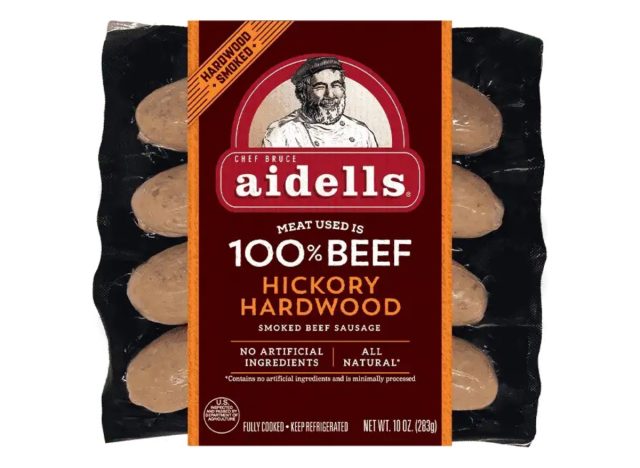 Per sausage
: 200 calories, 17 g fat (7 g saturated fat), 450 mg sodium, 1 g carbs (0 g fiber, 1 g sugar), 11 g protein
If you're looking for something close to the sausages you enjoyed during family cookouts, this is it. Aidells' hardwood-smoked sausages are made of 100% beef (with a pork casing), and they come recommended by Windrow because they don't contain any nitrites, nitrates, or artificial ingredients. They're pre-cooked, making them a convenient and quick option for meals. While the saturated fat is higher than what Windrow recommends, these are beef sausages after all, so consider your saturated fat intake for the rest of the day if you're grilling up one of these links for lunch.
Bilinski's Apple Ginger Sausage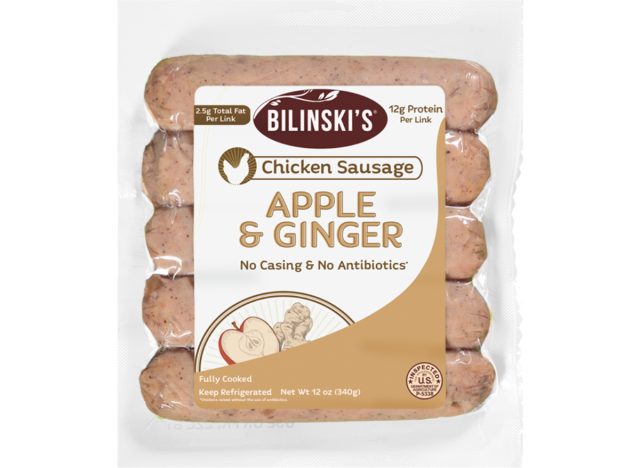 Per sausage
: 100 calories, 2.5 g fat (0.5 g saturated fat), 510 mg sodium, 5 g carbs (0 g fiber, 4 g sugar), 12 g protein
Bilinski's sausages come with a short and sweet ingredient list: Skinless chicken, dried apples, maple syrup, water, sea salt, ginger, black pepper, and onions. These get Windrow's seal of approval because they're organic, relatively low in sodium and saturated fat, and don't contain a casing. Plus, they come in a variety of flavors, so if apple ginger isn't your cup of tea, try the Italian Style with Peppers & Onions, Cajun Style, Tomato & Basil, or the Spinach & Garlic.
Beyond Sausage Sweet Italian Style Sausage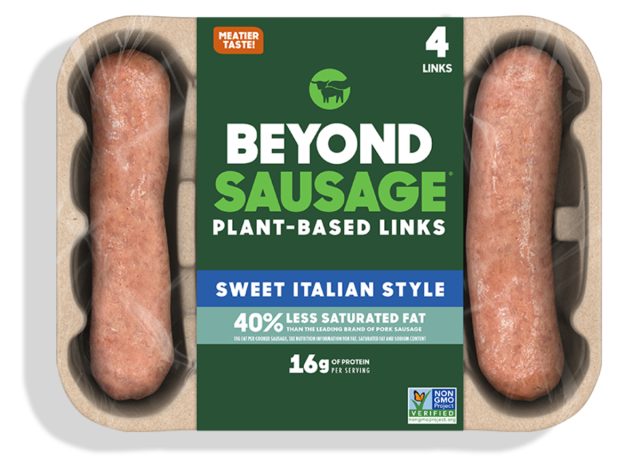 Per sausage
: 180 calories, 11 g fat (4.5 g saturated fat), 460 mg sodium, 6 g carbs (1 g fiber,  g <1 sugar), 16 g protein
Beyond is known for its plant-based meat alternatives that look and cook like the real thing — and these vegan sausages do not disappoint. Although these are a bit higher in saturated fat than Windrow recommends (these links are made with cocoa butter, which is a source of saturated fat); however, they're not too high in sodium and contain a solid amount of protein coming from peas. Dice a link up and toss it with whole-grain pasta and broccoli florets for a balanced meal.
Bilinski's Wild Mushroom Sausage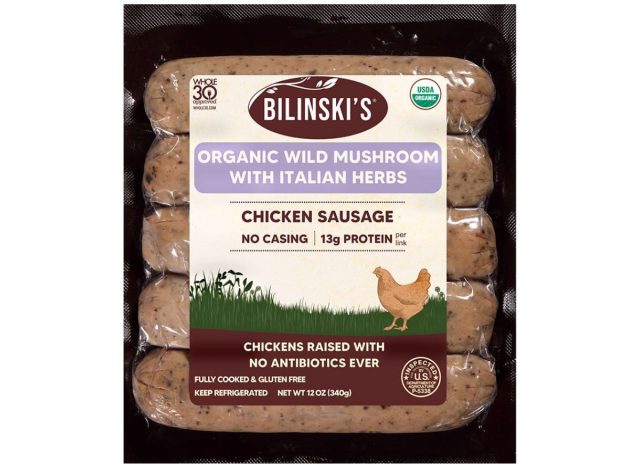 Per sausage
: 80 calories, 3 g fat (0.5 g saturated fat), 530 mg sodium, <1 g carbs (0 g fiber,  g 0 sugar), 13 g protein
These chicken sausages are lean — one link contains just half a gram of saturated fat and a satiating 13 grams of protein. The ingredient list is super short, plus we love that these get added protein and a burst of umami flavor from wild porcini mushrooms. Windrow loves that these are made with organic chicken, don't contain a casing, and are fully cooked for quick and easy meal prep.
April Benshosan
April is a born-and-raised Brooklynite who has a passion for all things health, wellness, and tastebud-related.
Read more about April
Sources referenced in this article