15 School Lunches Ready in 5 Minutes or Less
These midday meals get an A+ in nutrition.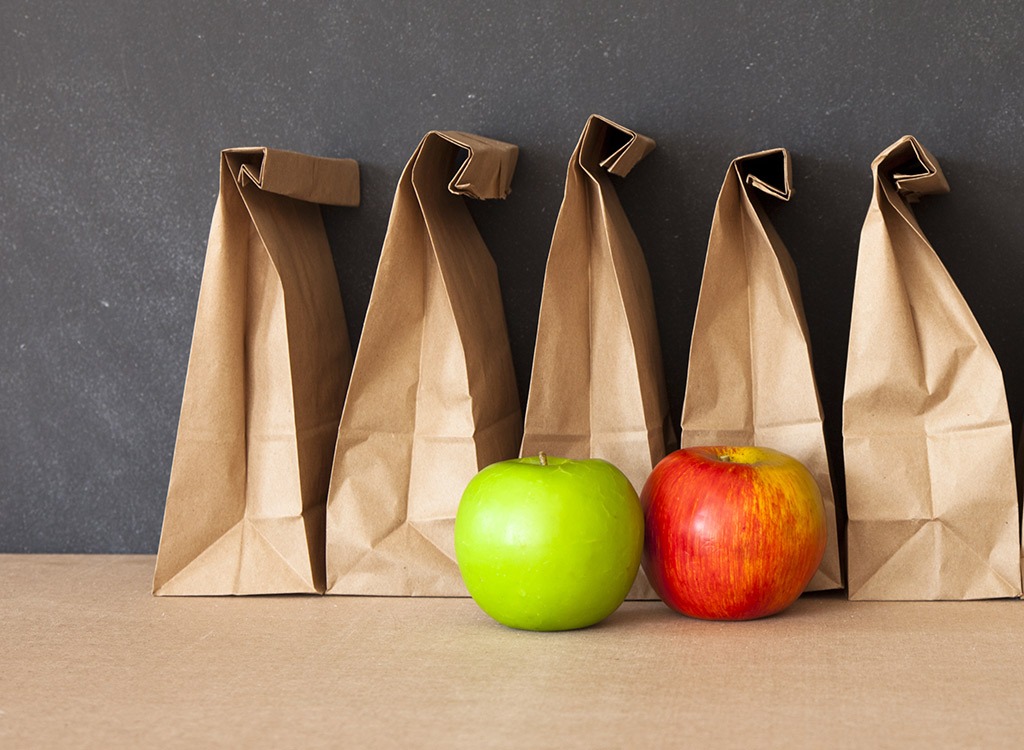 We get it: School is back in session, you're in a hurry, and Jimmy John's is freaky fast (and freaky easy). But serve your family grab-and-go takeout or restaurant fare, and you're staring at nearly twice the price tag, according to a Visa survey—not to mention the extra calories and unnecessary additives.
Enter these quick and healthy school lunches that you can assemble and eat in five minutes or less. Fair warning: They're all so delicious that you'll want to pack a serving for yourself, too. Made with vitamin-rich ingredients and high-protein foods, these midday meals will fuel the most active kids and adults. They'll also save your sanity, money, and stay-fit plan all at once. And for more ideas about feeding littles, check out these 25 Genius Bento Box Lunch Ideas for Your Kids.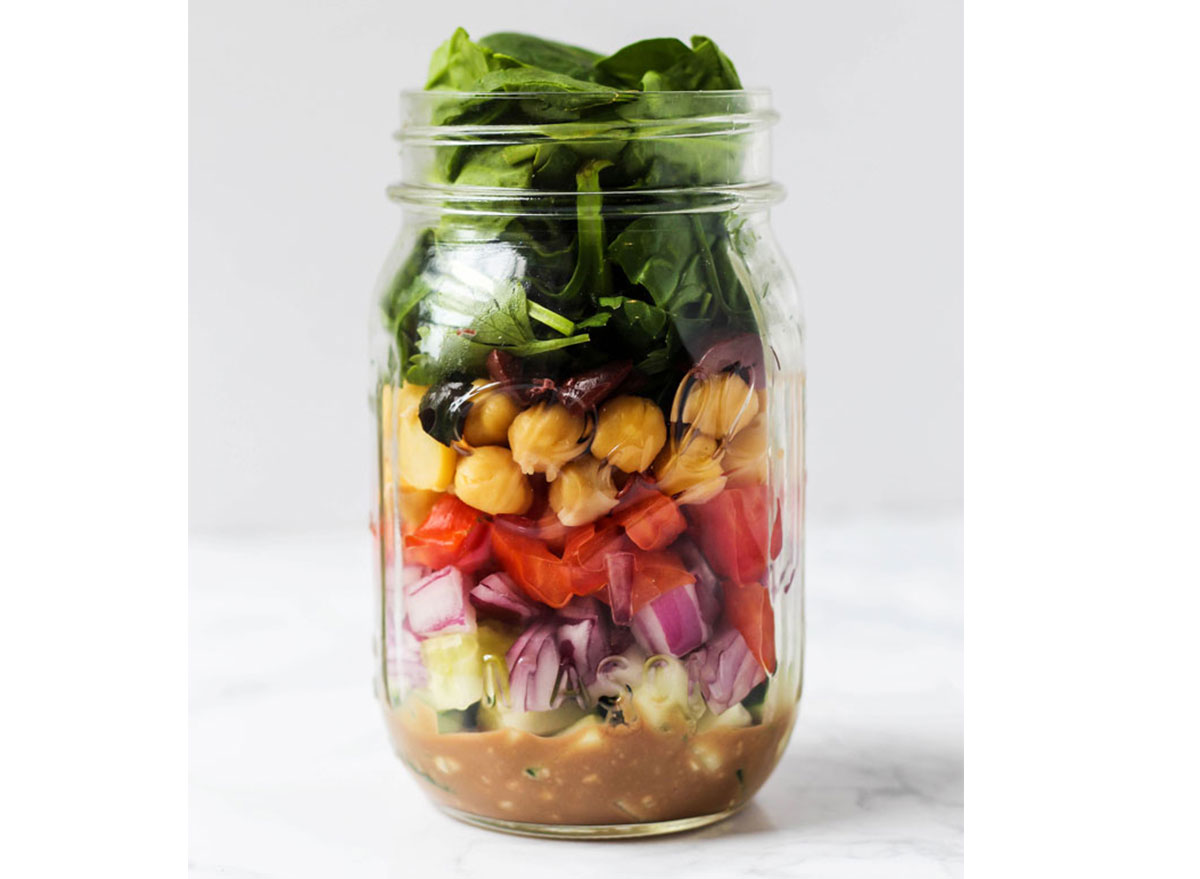 Ready in: 5 minutes
Perfectly packable (and so rainbow-colored that it will be worthy of bragging rights around the lunch table), this layered Mason jar salad is as easy as stacking, shaking, and eating it. Start with the hummus-balsamic dressing, then spoon in the cucumbers, onions, tomatoes, chickpeas, and olives before topping things off with the more delicate parsley and spinach. Come lunch, no soggy greens will be in sight.
Get the recipe from Emilie Eats.
Turkey sandwich with 90-second bread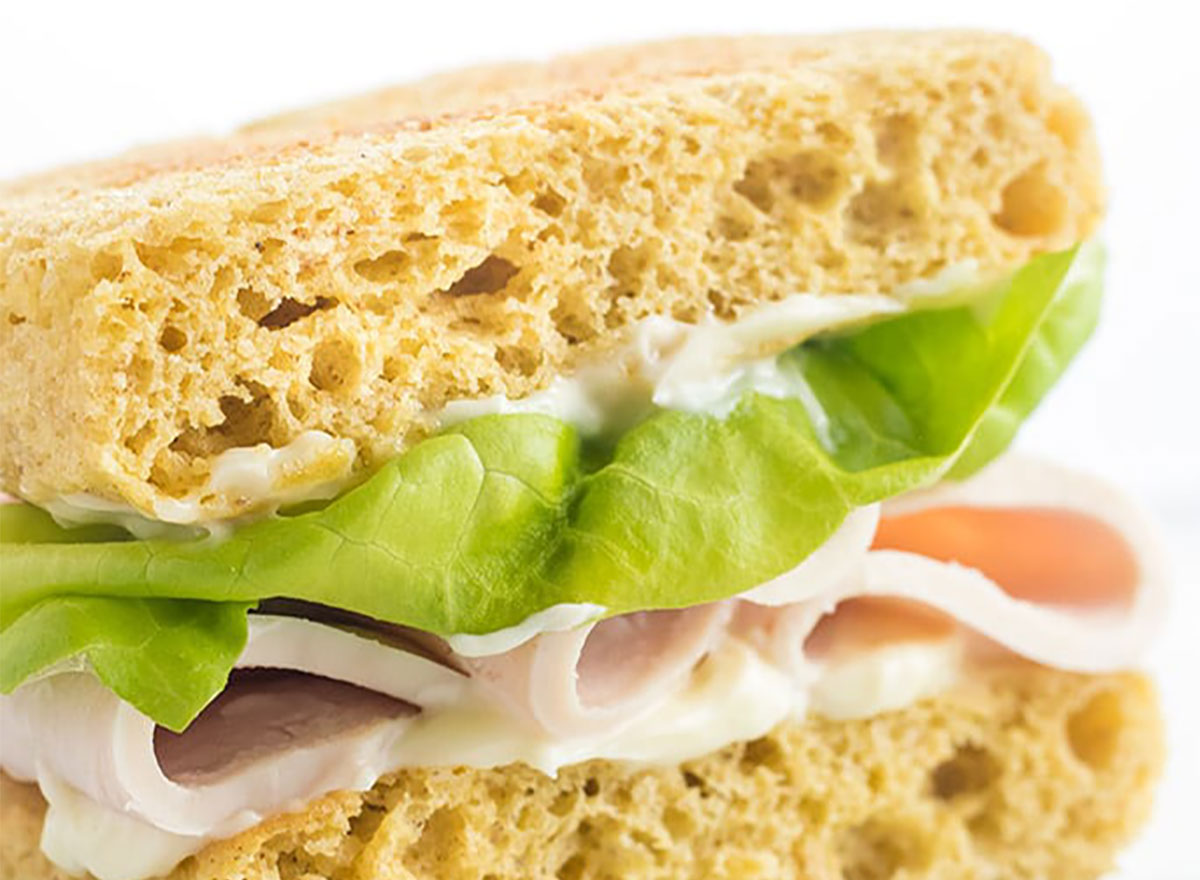 Ready in: 4 minutes
In less than two minutes, you can "bake" this homemade almond flour-and-egg bread in your microwave. Layer on lettuce, tomato, and onion, plus turkey, and top it off with your condiments of choice. Voila: Your high-protein, low-sugar school lunch is ready.
Get the recipe from Wholesome Yum.
Peach, tomato, chicken, and bleu cheese salad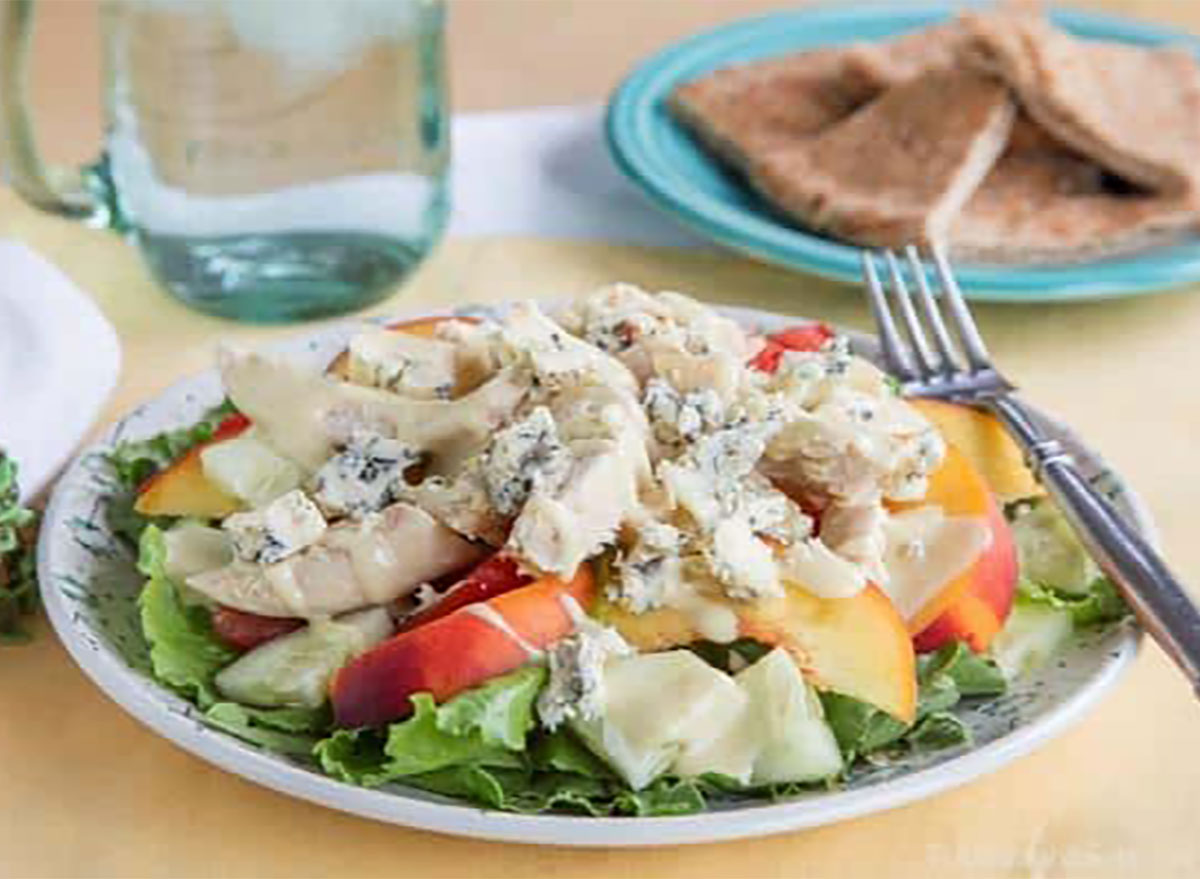 Ready in: 5 minutes
Here's a salad that showcases the best of summer produce in a family-friendly package. Shred leftover chicken to sprinkle over greens, tomatoes, and peaches, then transform this into a total kid-friendly treat by trading goat or feta cheese for bleu. Before handing over the brown bag, ask your child to determine their #1 dressing so they feel like they have control over the cuisine.
Get the recipe from Cupcakes and Kale Chips.
Red velvet beet smoothie bowl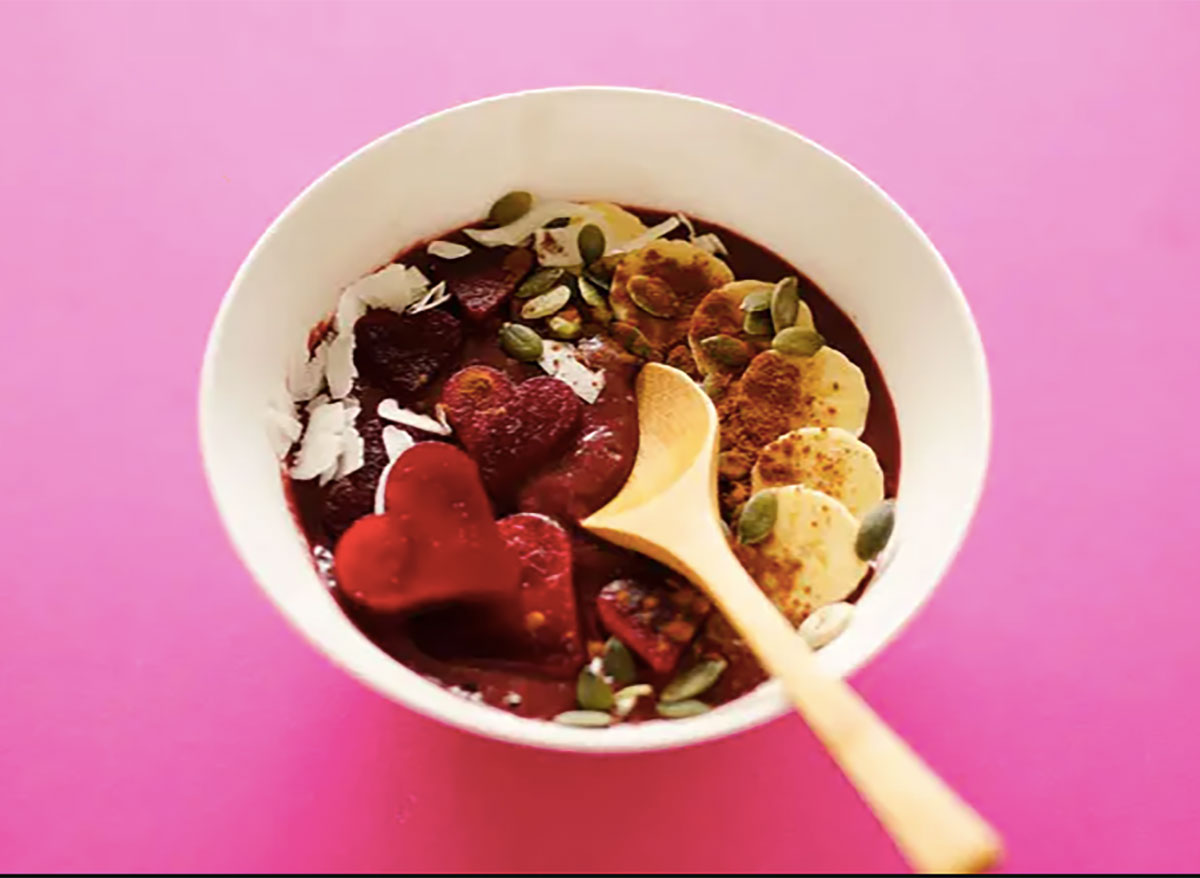 Ready in: 5 minutes
Something slurpable from a straw never feels quite like a meal. But serve a smoothie in a bowl and eat it with a spoon, and it's instantly more satisfying. (Plus, kids will love the pretty beet hearts.) Toss in a serving of almonds for a healthy fat boost and enough calories to power your mini-me through afternoon practice.
Get the recipe from Live Eat Learn.
Smoked salmon and cream cheese wraps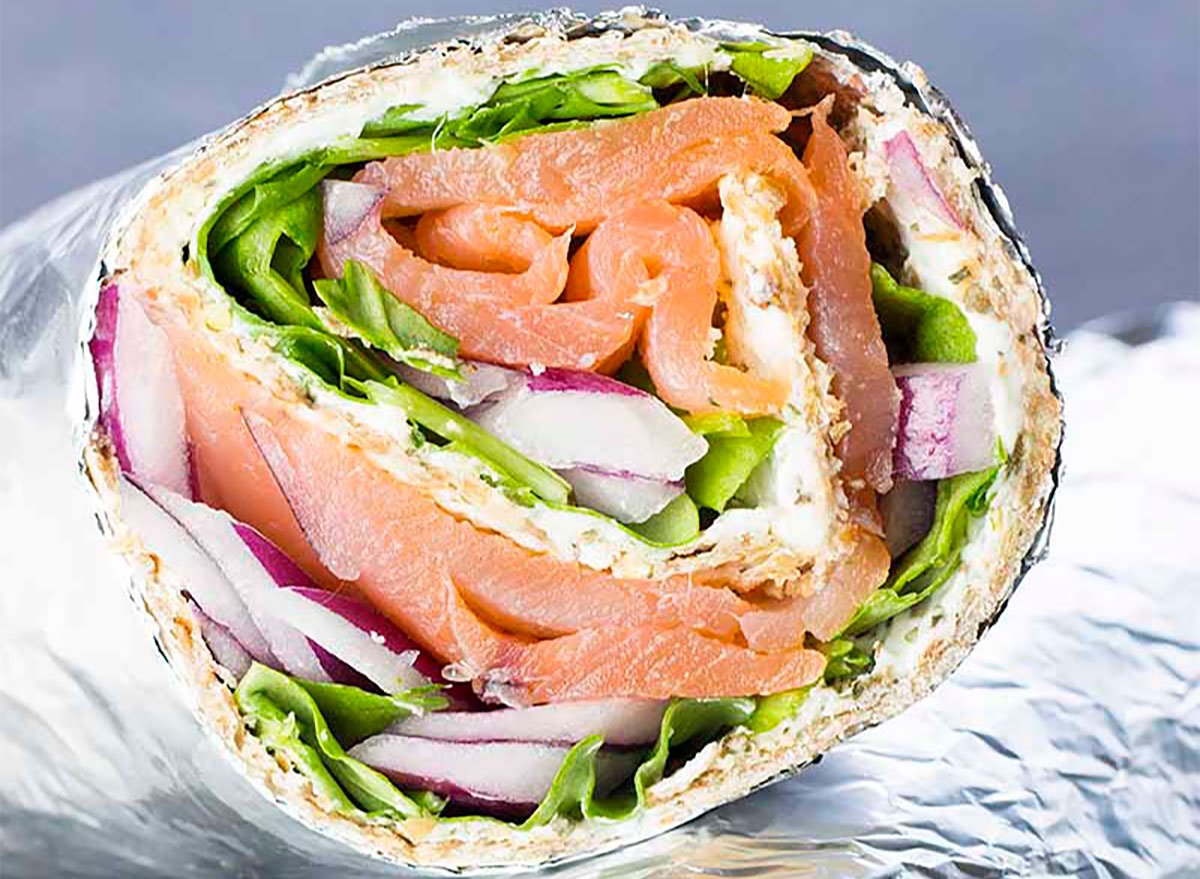 Ready in: 5 minutes
Burritos often get a bad "wrap" around here, but this is a far cry from the 1,200-plus calorie Chipotle creations. Beginning with a low-carb tortilla and filled with a light play on lox and cream cheese, each wrap offers a balanced macro mix: 291 calories, 15.2 grams of fat, and 23.8 grams of protein. If salmon is a tough sell for your family, try this same strategy with slices of leftover grilled chicken or turkey.
Get the recipe from Diabetes Strong.
Roasted red pepper dip with whole-wheat pita and veggies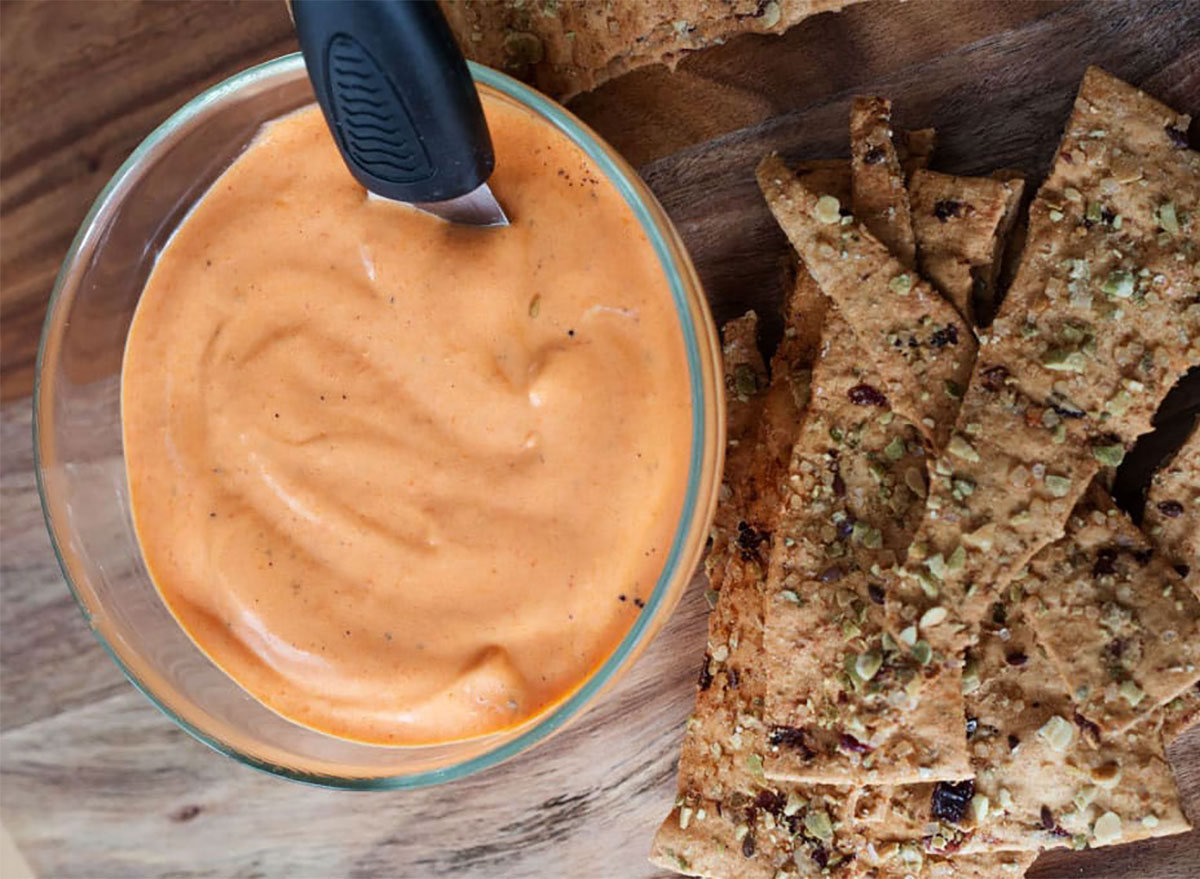 Ready in: 3 minutes
Put active hands to work with a DIY dunk spread. While the garlicky roasted red pepper mix blends, toss a handful of crudites and whole-wheat pita wedges in baggies. Three minutes later, your snack-turned-lunch is all set. To cut down on the less-healthy fats, try olive oil mayo of the regular, and swap plain Greek yogurt for sour cream.
Get the recipe from Blender Happy.
Farmers' market veggie sandwich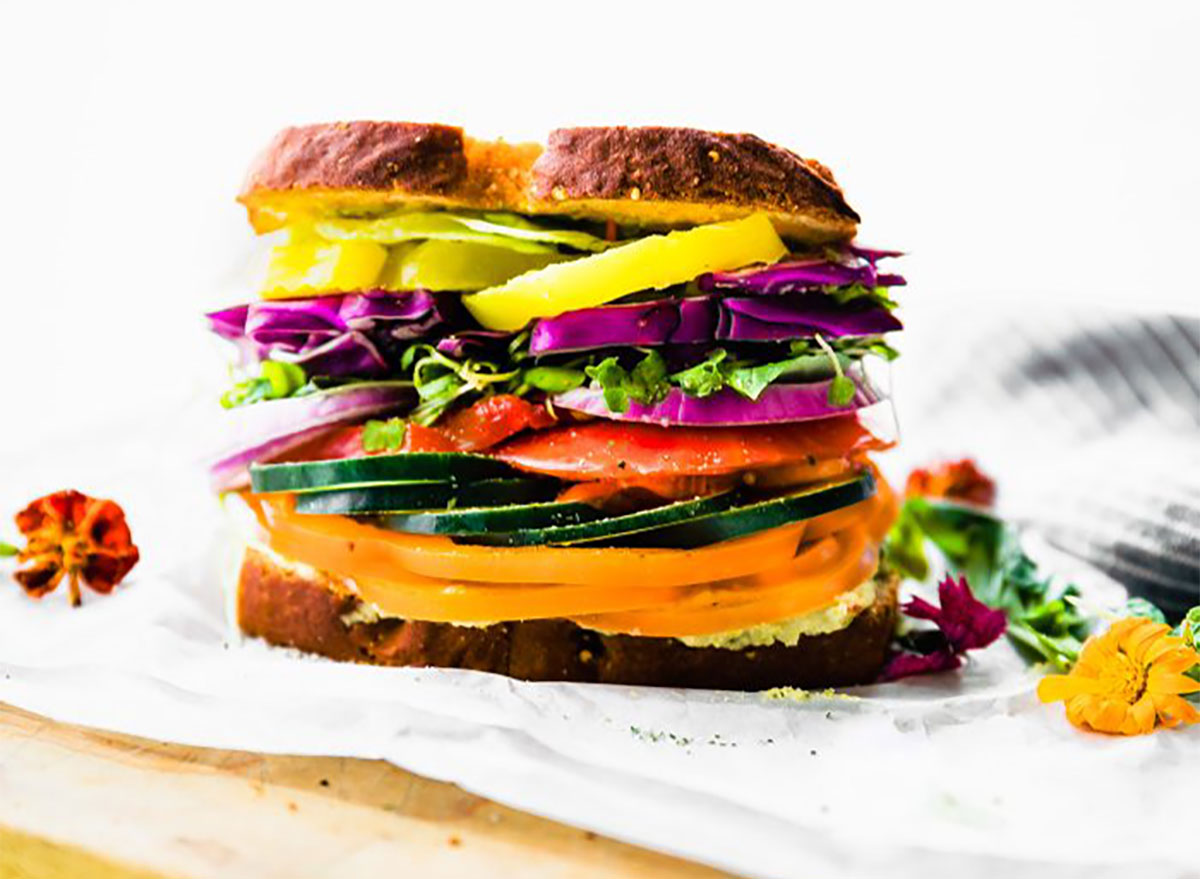 Ready in: 5 minutes
Always keep a container of hummus at home so that you're never more than five minutes away from a healthy school lunch. Unlike smooshed PB&Js (again), this sandwich is an easy win with kids because it's stacked with vibrant colors. Your child's immune system will be as grateful as their taste buds—this nutrient-dense sandwich supplies nearly twice as much vitamin C as the typical adult needs in a day.
Get the recipe from Cotter Crunch.
Peanut butter banana toasts with granola and honey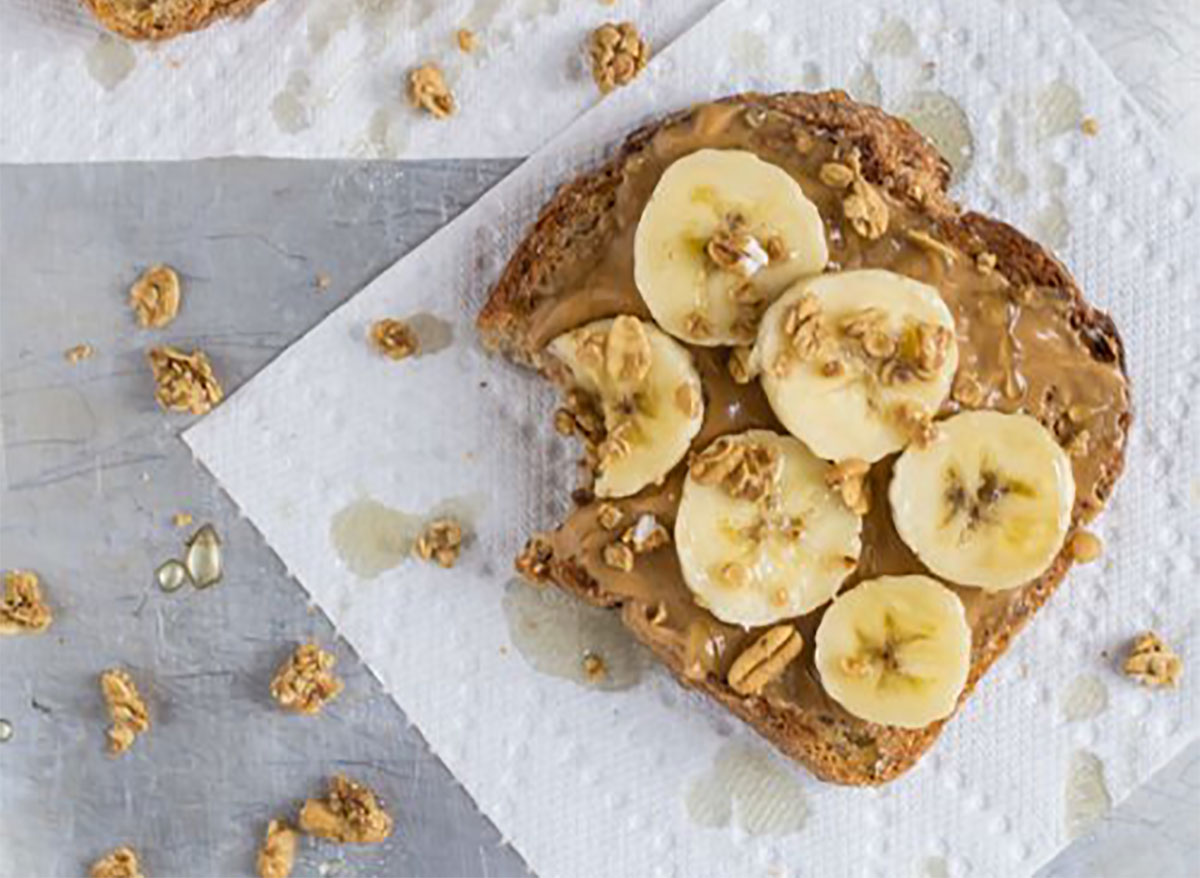 Ready in: 5 minutes
Here's one instance when you can—and it's better to—delegate the lunch duties to your little one. Toast the bread and put all that Tupperware to good use to hold nut butter, honey, and granola. Toss a banana (or pre-sliced berries for your tiniest) and a plastic butter knife in the brown bag so they can create their own healthy work of edible art.
Get the recipe from Well Plated.
Ready in: 2 minutes
Jazz up leftover or ready-to-eat brown rice with peas, lemon, and Parmesan for a meatless meal that tastes like you stirred all day to create it. In reality, it reaches its creamy consistency after just 60 seconds. For variety, try chopped asparagus or mushrooms in addition to (or in place of) the peas.
Get the recipe from Dinner Then Dessert.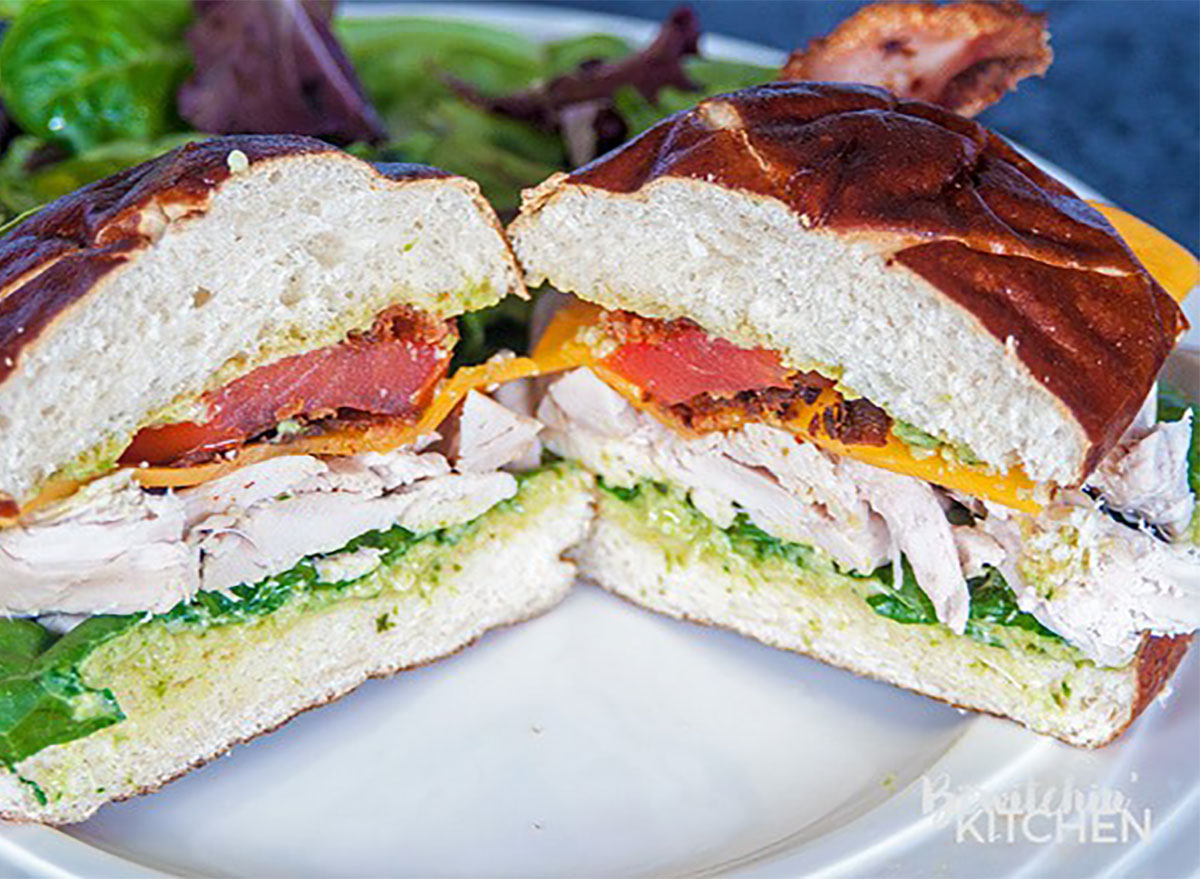 Ready in: 5 minutes
Treat your family to a restaurant-style meal with this upgraded BLT with chicken and a kid-pleasing pretzel bun.
Get the recipe from Bewitchin' Kitchen.
Ready in: 5 minutes
Don't be intimidated by the relatively lengthy ingredient list of this recipe. This lightened-up tuna salad comes together quicker than a Pixar short film; a third of the ingredients are herbs and spices! Separate the salad from the tortilla with spinach leaves to keep the wrap intact and sturdy through the commute and morning classes.
Get the recipe from The Healthy Foodie.
Sweet potato breakfast bowl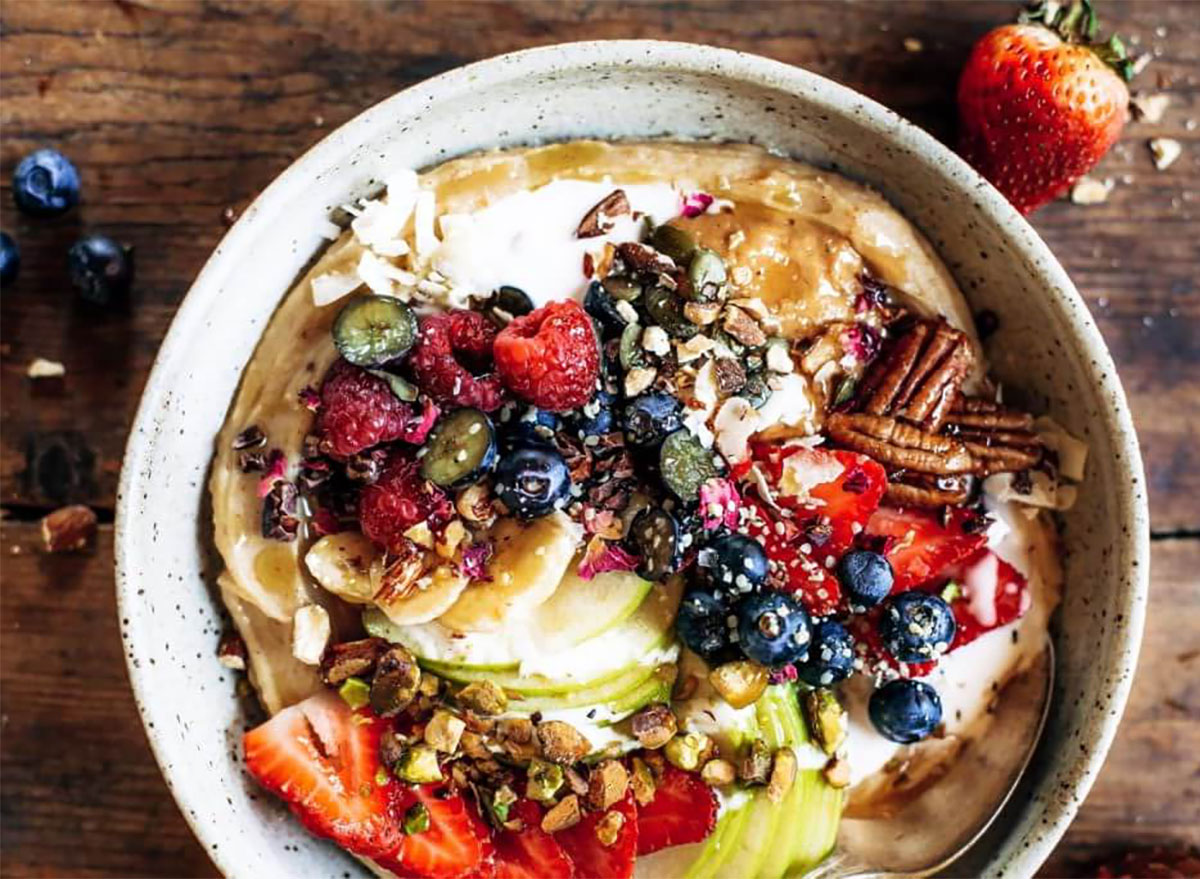 Ready in: 5 minutes
Sweet potatoes aren't just for candying and frying. Give them a whirl in the food processor with almond butter, milk, and vanilla for a smoothie bowl that's reminiscent of dessert—and a blank palette for your fruit-based artistic talents.
Get the recipe from Paleo Gluten Free Eats.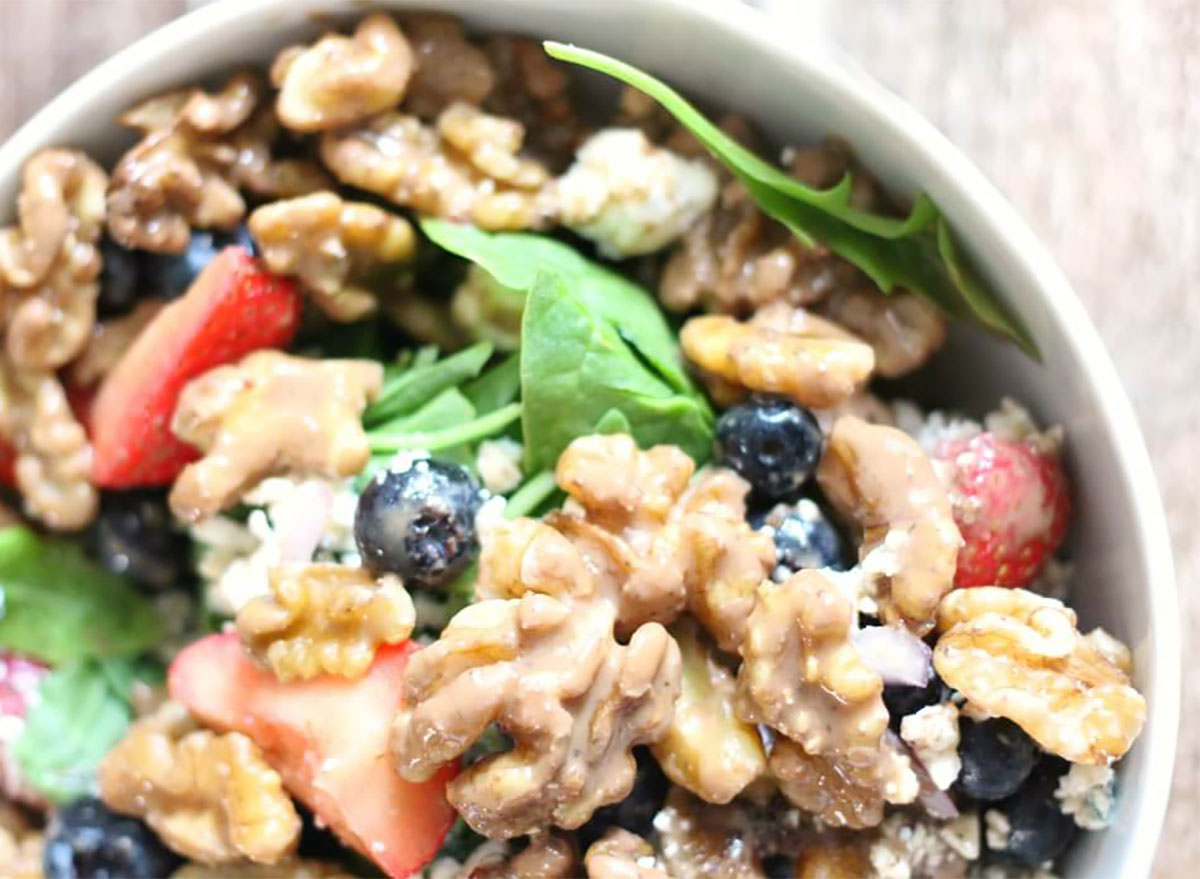 Ready in: 5 minutes
Kids will go nuts for this berry-and-leafy-green salad that is garnished with walnuts instead of croutons for a healthier crunch. This jar lunch is a meal prepper's dream because you can make several at once and store them in the fridge. Please heartier appetites and crank up the protein by including sliced steak or grilled shrimp, too.
Get the recipe from Mama Loves Food.6254a4d1642c605c54bf1cab17d50f1e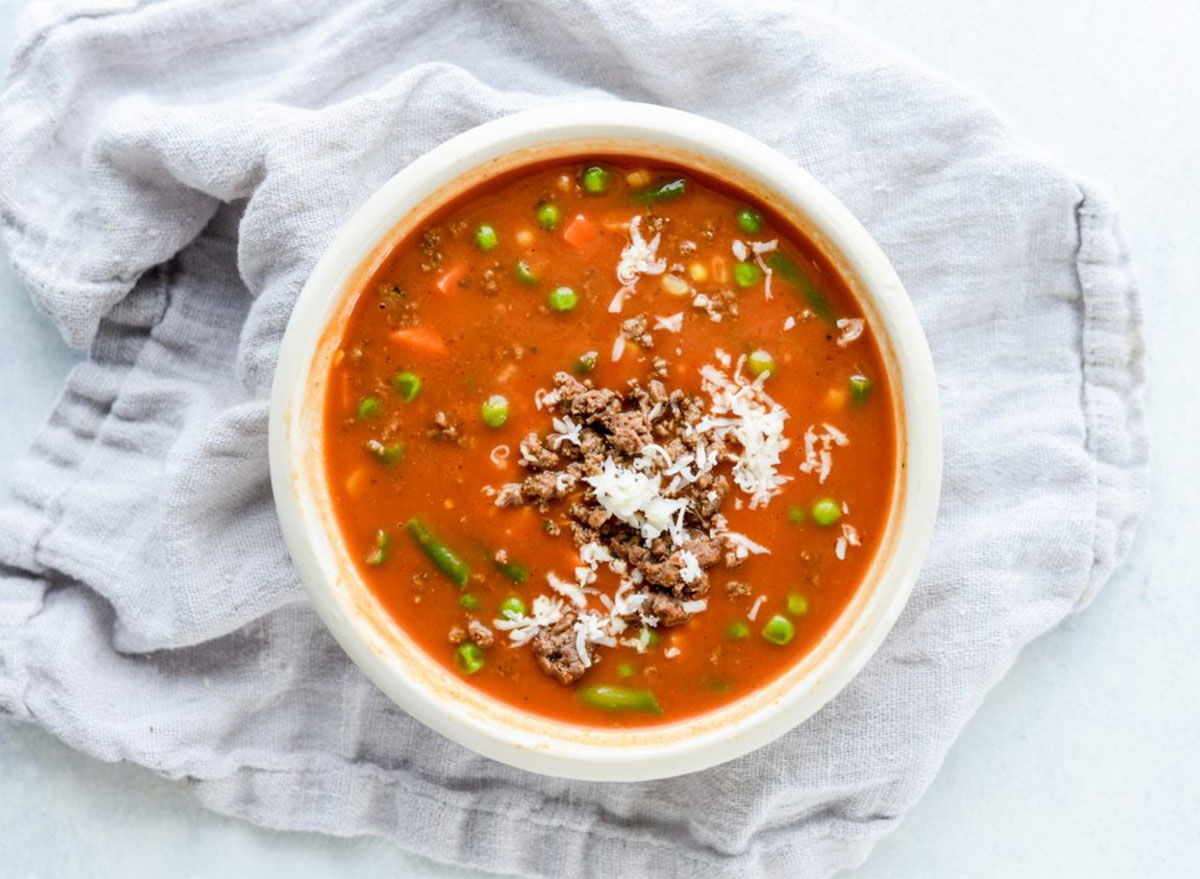 Ready in: 5 minutes
When you're feeling slammed, turn to this semi-homemade meal. Stock up on an all-natural tomato soup the next time you're at the grocery store, then upgrade it with pesto, basil, and Parmesan. While you could pack this summery soup warm in a Thermos, it's just as good chilled as a makeshift gazpacho.
Get the recipe from Simple Roots Wellness.
Curried chickpea salad sandwiches
Ready in: 5 minutes
When you're feeding the whole fam, try this vegan swap for chicken salad that serves six. With sweet apples, crunchy sunflower seeds, and zesty curry powder, this dish is made with chickpeas instead of poultry. For a lower-carb alternative, serve this high-fiber salad tucked inside two-ply lettuce wraps.
Get the recipe from Craving Something Healthy.
Karla Walsh
Karla Walsh is a freelance writer, editor and restaurant brand manager based in Des Moines, Iowa, where she reports on fitness trends, wellness research, psychology, and healthy recipes.
Read more about Karla