25 Genius Bento Box Lunch Ideas for Your Kids
Is your kid getting sick of eating the same thing every day? Switch up their school lunch with these clever bento box lunch ideas!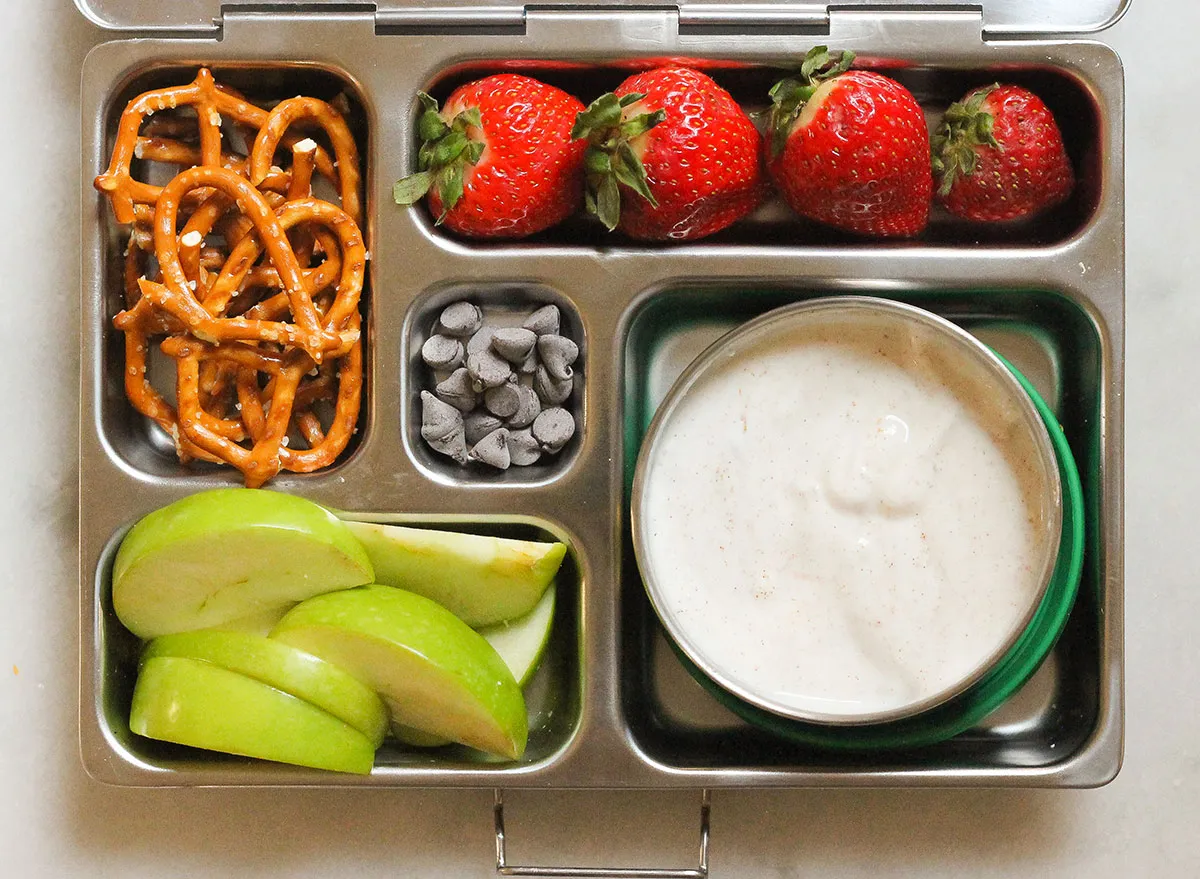 Getting sick of packing the same thing for school lunches? Never fear, the bento box is here! We put together 25 different bento box ideas for you to switch up your kid's school lunch. Let's be honest though: these lunch ideas could also work for adults! Who says these have to be strictly for kids? These bento lunch box ideas are easy to meal prep for yourself before work, too!
What's a bento box?
The bento box originates from Japan. It's a concept where you create a single-portion meal in a reusable container. While Japanese bento boxes are typically full of Japanese cuisine, the concept of packing the perfect single-portion lunch with different compartments has taken the Internet by storm. Plus, it's an easy way to pack an eco-friendly lunch for your kid without wasting so many plastic bags to pack all of their snacks.
If you're in the market for a bento lunch box, we used the PLANETBOX Rover Eco-Friendly Stainless Steel Bento Lunch Box for our bento box recipes. It comes with small containers that fit perfectly in the bento box compartments, as well as a lunchbox that fits the bento box.
Here are 25 original bento lunch box ideas you can pack on even the most hectic mornings.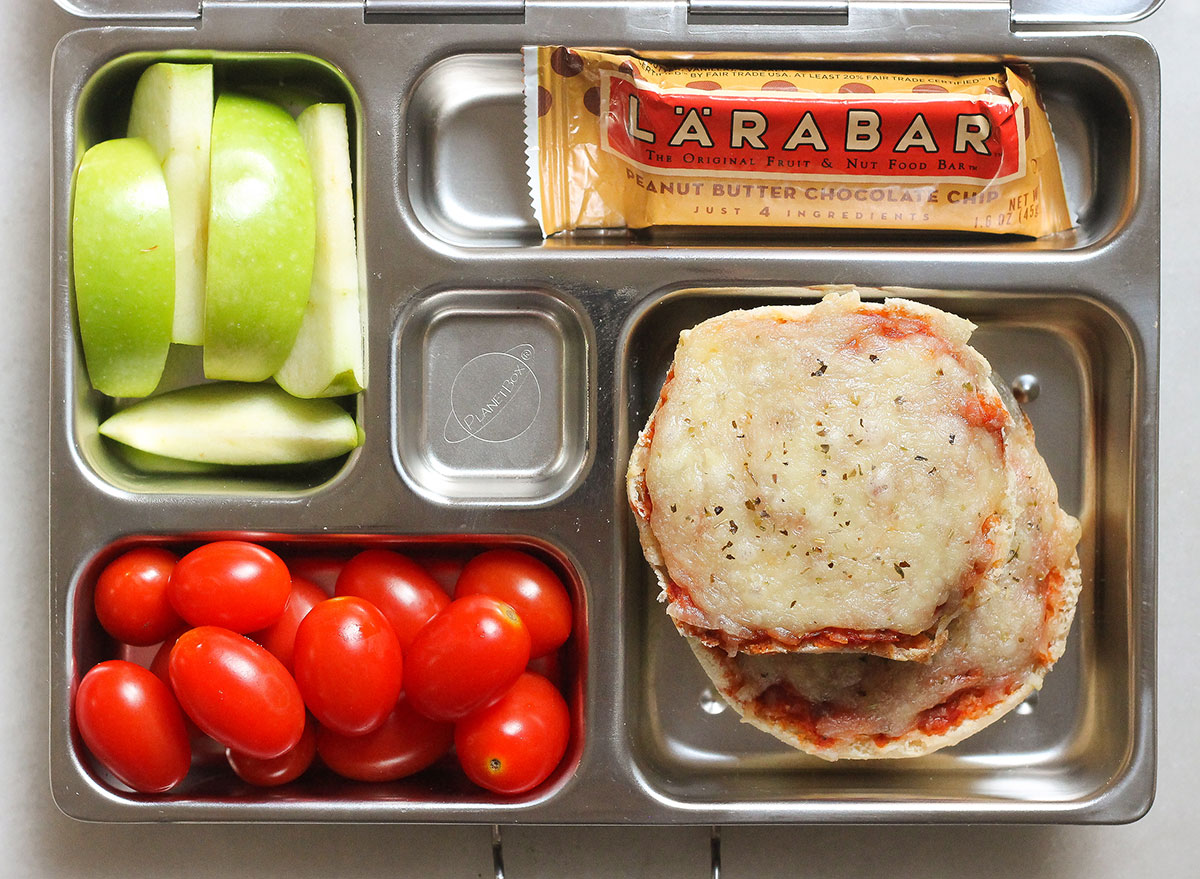 Kids are a huge fan of leftover pizza! To make these, cut an English muffin and spread some pizza sauce on each half. Sprinkle on some mozzarella cheese, and if your kid is a fan of spices and flavor, add a little bit of Italian seasoning as well. Bake in the oven at 400 for about 10 minutes. Prep a few ahead and store in a container in the fridge for the week! Pair with some apple slices, cherry tomatoes, and a fruit and nut bar (we like Larabars).
Turkey and cheese sandwich
If your kid isn't sick of a classic turkey and cheese sandwich yet, make it the main event! Pair it with some fun things to munch on, like carrot sticks, strawberries, and some veggie sticks or puff snacks. Hippeas are a great option!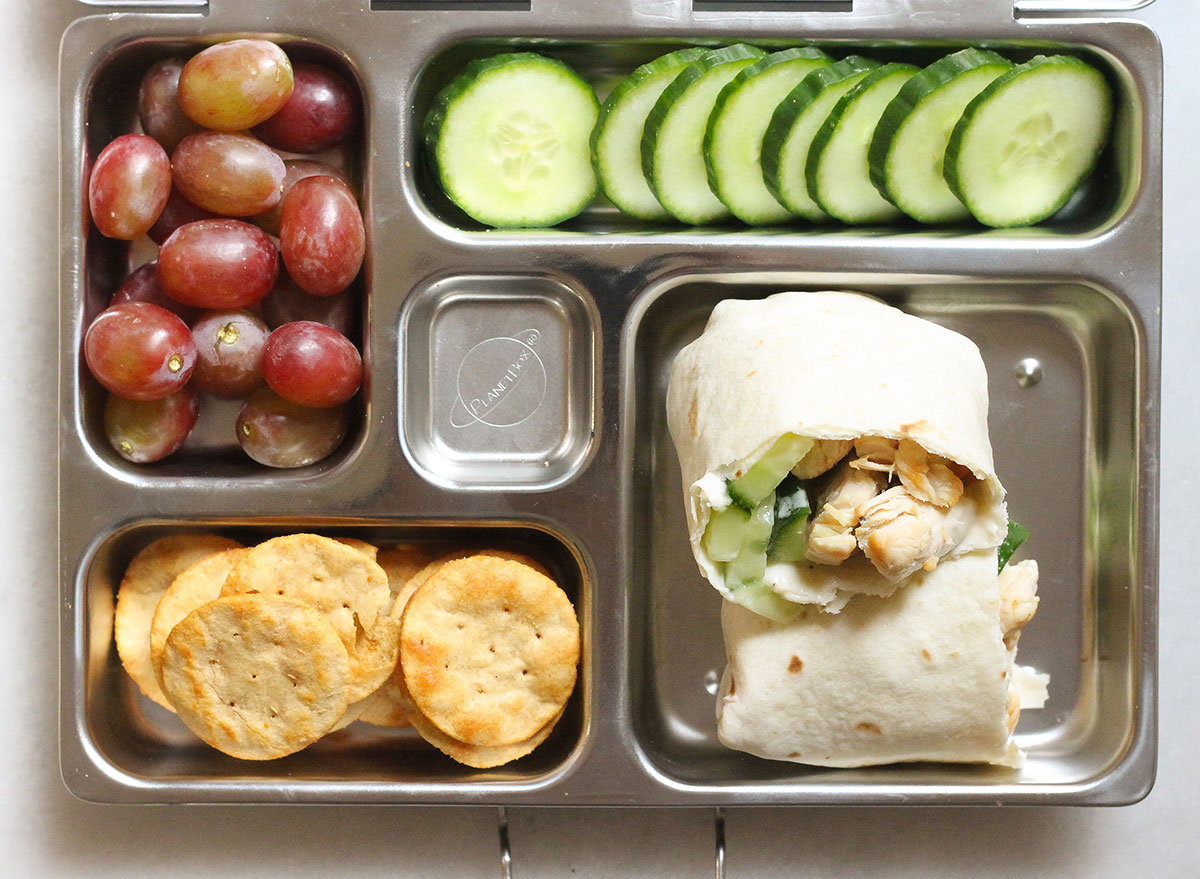 Wrap up some cooked chicken, diced cucumber (or some other green, like lettuce), and a squirt of ranch dressing into a tortilla or sandwich wrap. Add some extra snacks like cucumber slices, grapes, and sweet potato crackers to pair.
Why waste money on a few packs of Lunchables when you can make your own for much cheaper at home? Slice up some cheese and add some crackers to the bento box. For a fun side, add some celery sticks and a packet of ranch dipping sauce. And if they've got a sweet tooth, treat them to some chocolate chips!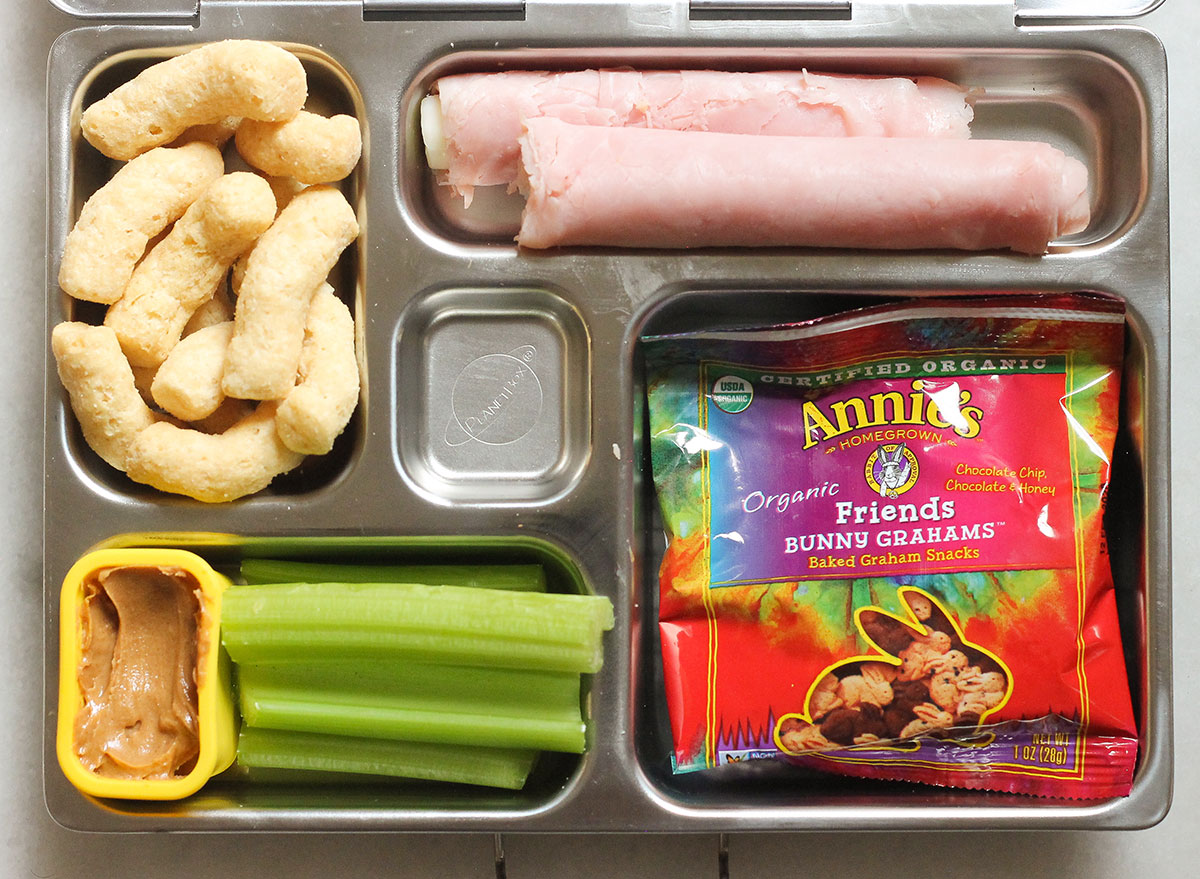 Skip the bread this week and roll up some mozzarella sticks around slices of ham! Pair with celery sticks with nut (or seed) butter, and add some other snacks to round out the meal. Annie's has a great variety of kid-size bag snacks you can easily throw into a bento box lunch.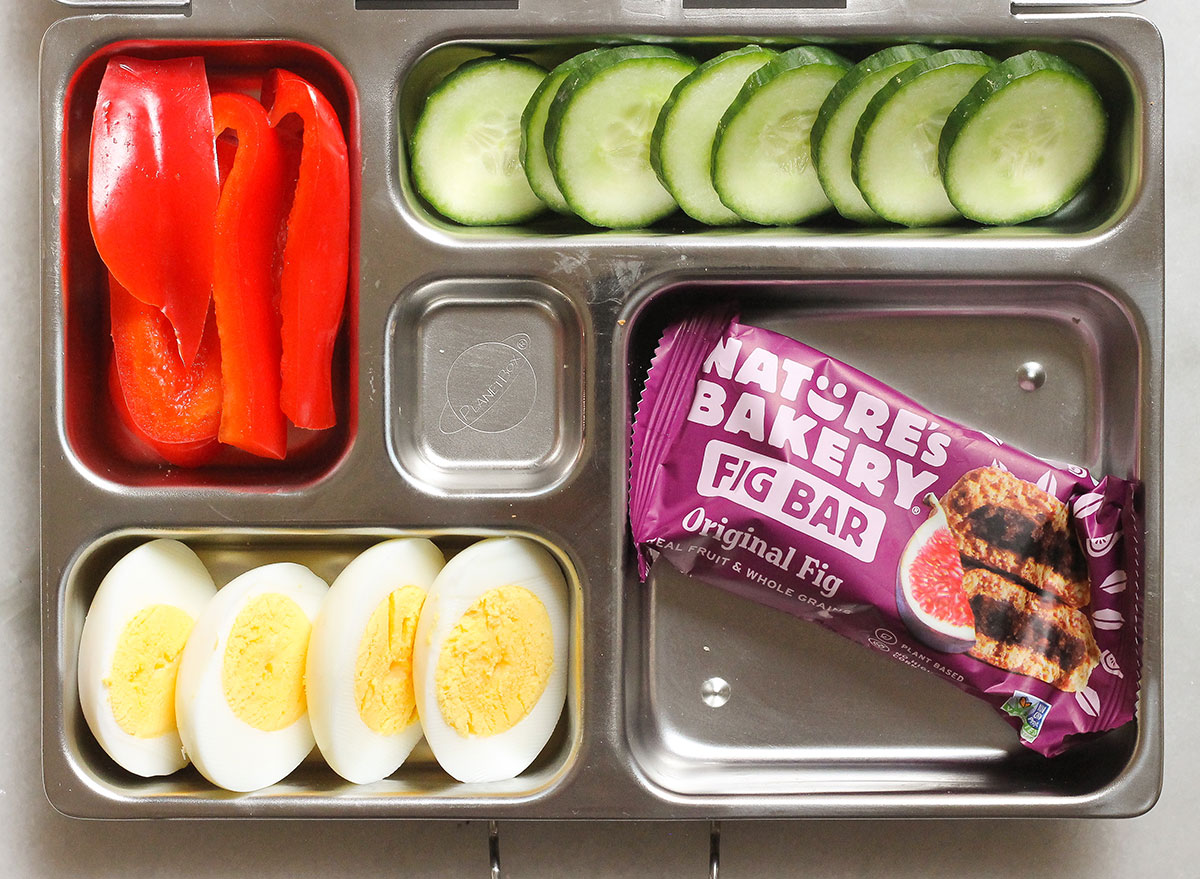 Not all kids may be a fan of hard-boiled eggs for lunch, but if your kid loves them, they're an easy and filling lunch you can make your kids in minutes. Pair with some extra vegetables—like bell pepper and cucumber slices—and a granola or fruit bar, like Nature's Bakery.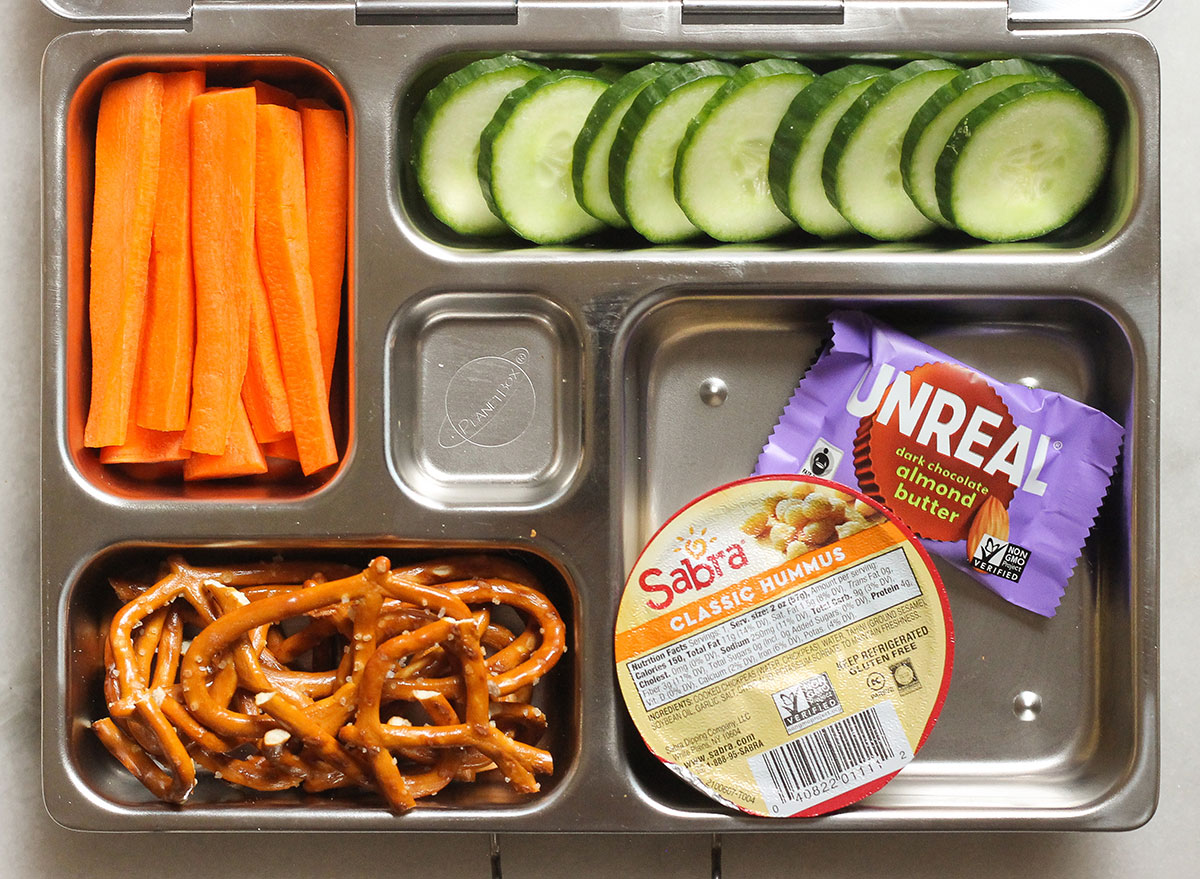 Kids love to dip! Throw in some sides that can easily be dipped into a packet of hummus. Pretzels, carrot sticks, and cucumber slices are easy to throw together for this mini bento box platter. Throw in a little treat if you want, like a small UNREAL almond butter cup!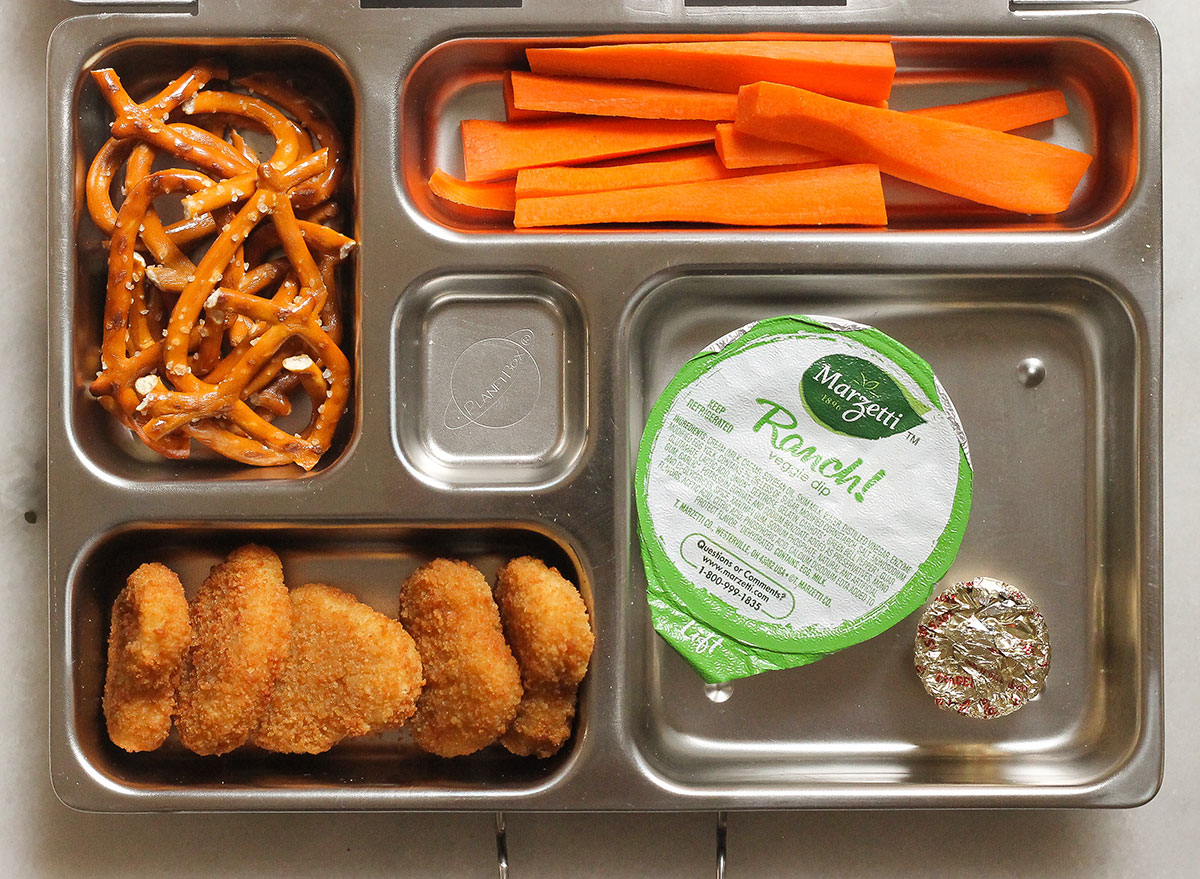 Similar to the hummus platter, you can make a ranch dip platter as well! You can dip the chicken nuggets, pretzels, and carrot sticks into a packet of ranch (or any other sauce your kid enjoys). Add in a small treat for fun! You can buy frozen chicken nuggets and prep them for the week, like these Kidfresh Super Duper Chicken Nuggets.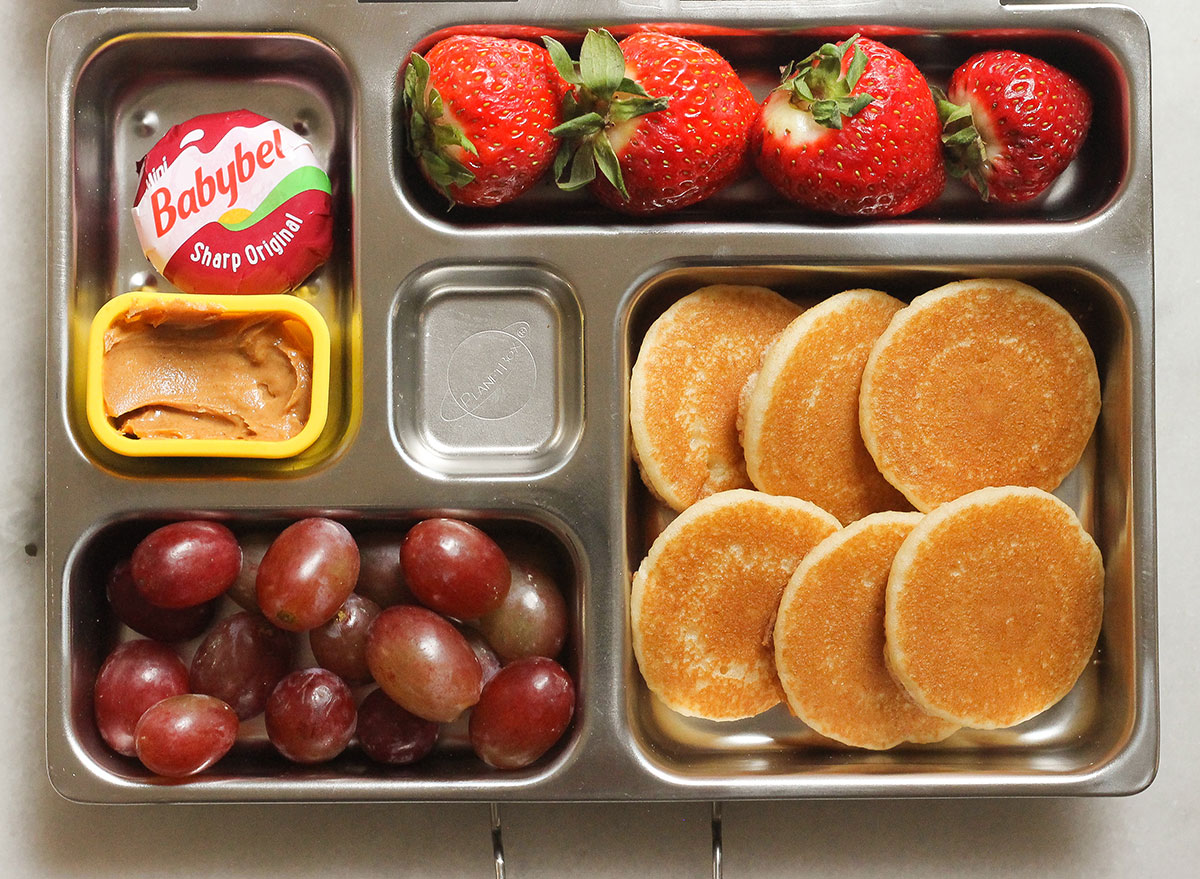 Breakfast for lunch? We're so in! Pair some pancakes with peanut butter for some extra protein, and pair with some fruit—like strawberries and grapes—with a small cheese to round out the meal. If you don't feel like prepping numerous mini pancakes for the week, you can just buy them frozen.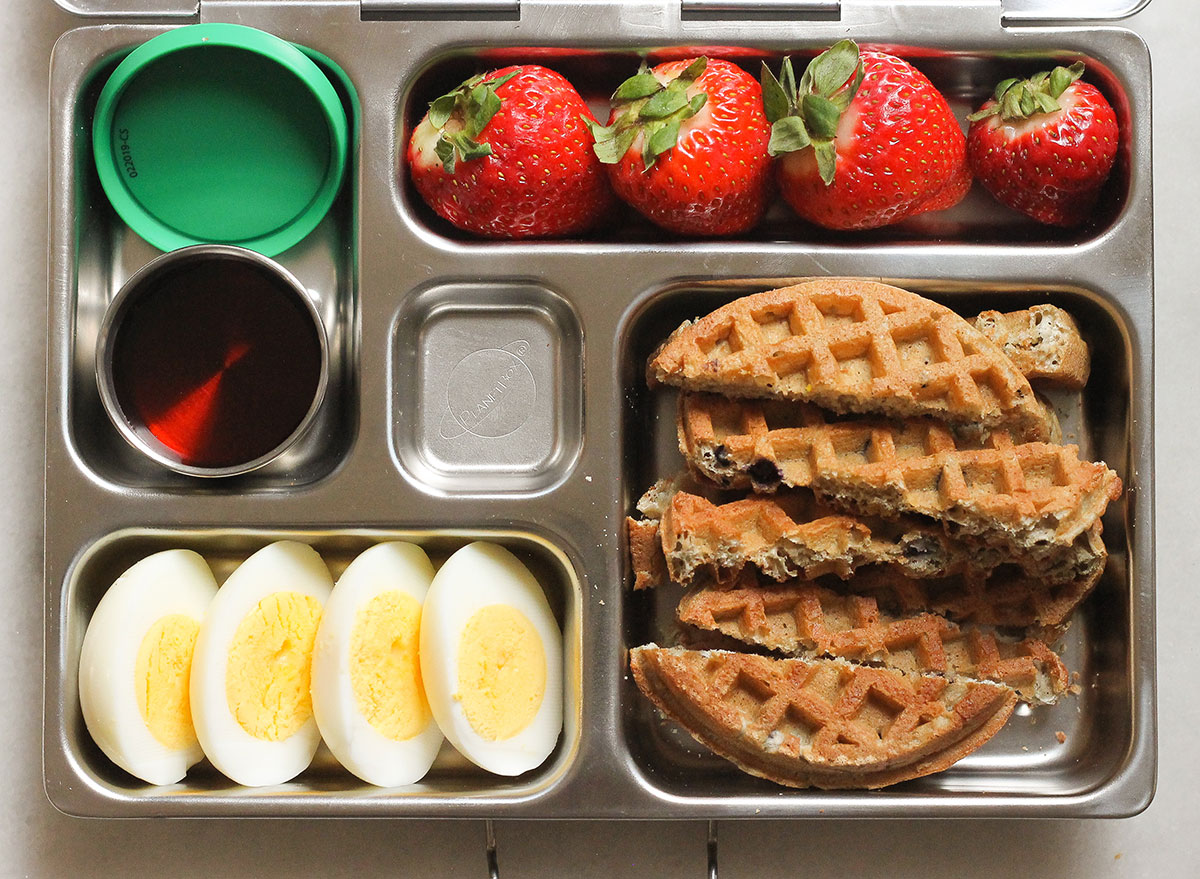 Is your kid more of a waffle fan instead of pancakes? Toast up two Kidfresh Blueberry Waffles and cut them into strips for dunking. Add in two hard-boiled eggs for protein, and a side of strawberries. Or you can get creative with your waffle iron and make homemade waffles for the week!
Who says you have to eat a grilled cheese warm? They're still delicious and crispy cold, which makes them a great option for a kids bento box lunch. To make the grilled cheese, add two or three slices of cheese between two slices of bread, then spread butter or mayo on the outside. Add to a hot skillet, and toast on each side for around 3 minutes. Pair with some fruit (like blueberries), cucumber slices, and a fun snack like popcorn!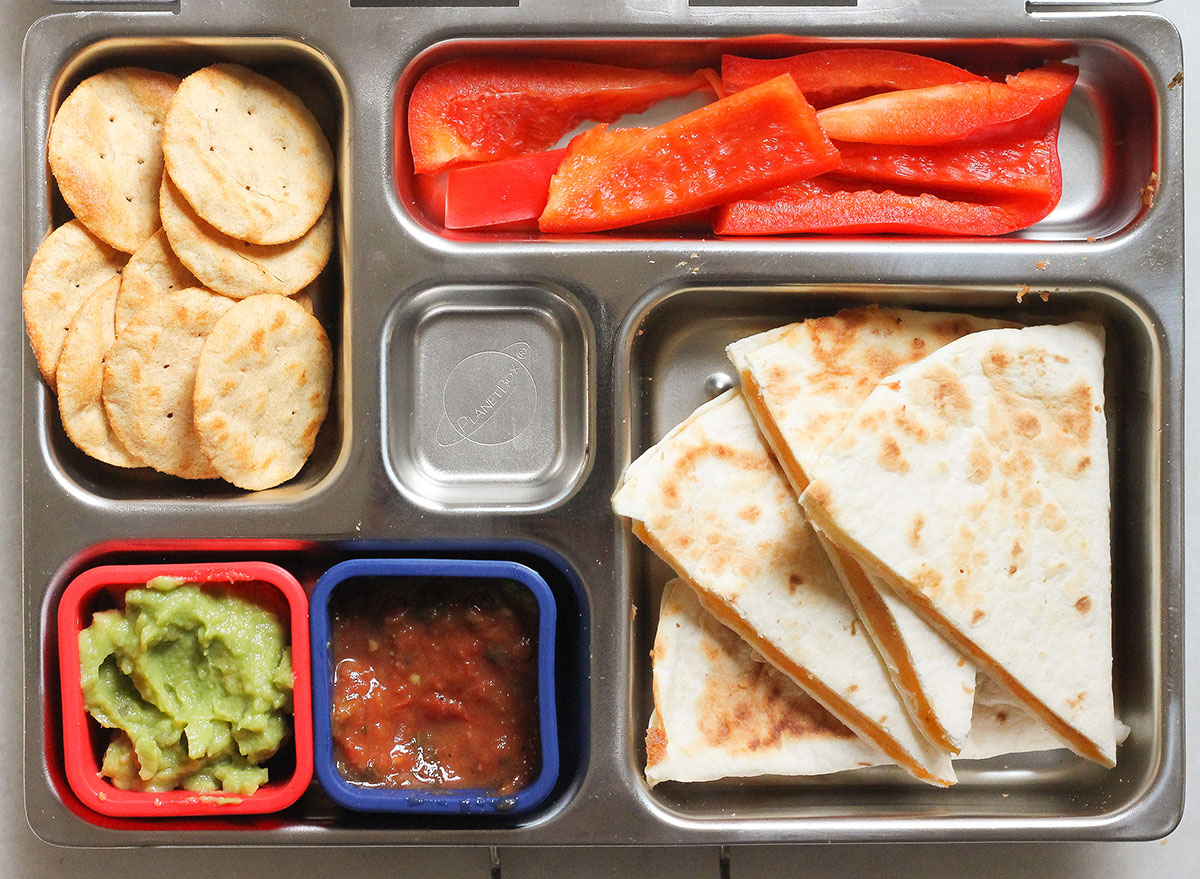 Similar to the grilled cheese, you can prep a few quesadillas for the week as well! To make the cheese quesadilla, grab a large soft taco tortilla and add taco cheese. Fold in half and add to a warmed skillet. Toast on each side for around 3 minutes, or until the cheese starts to melt before flipping. Add guacamole and salsa for dipping. You can also dip the bell pepper slices and sweet potato crackers in the guacamole and salsa as well.
Nut (or seed) butter sandwich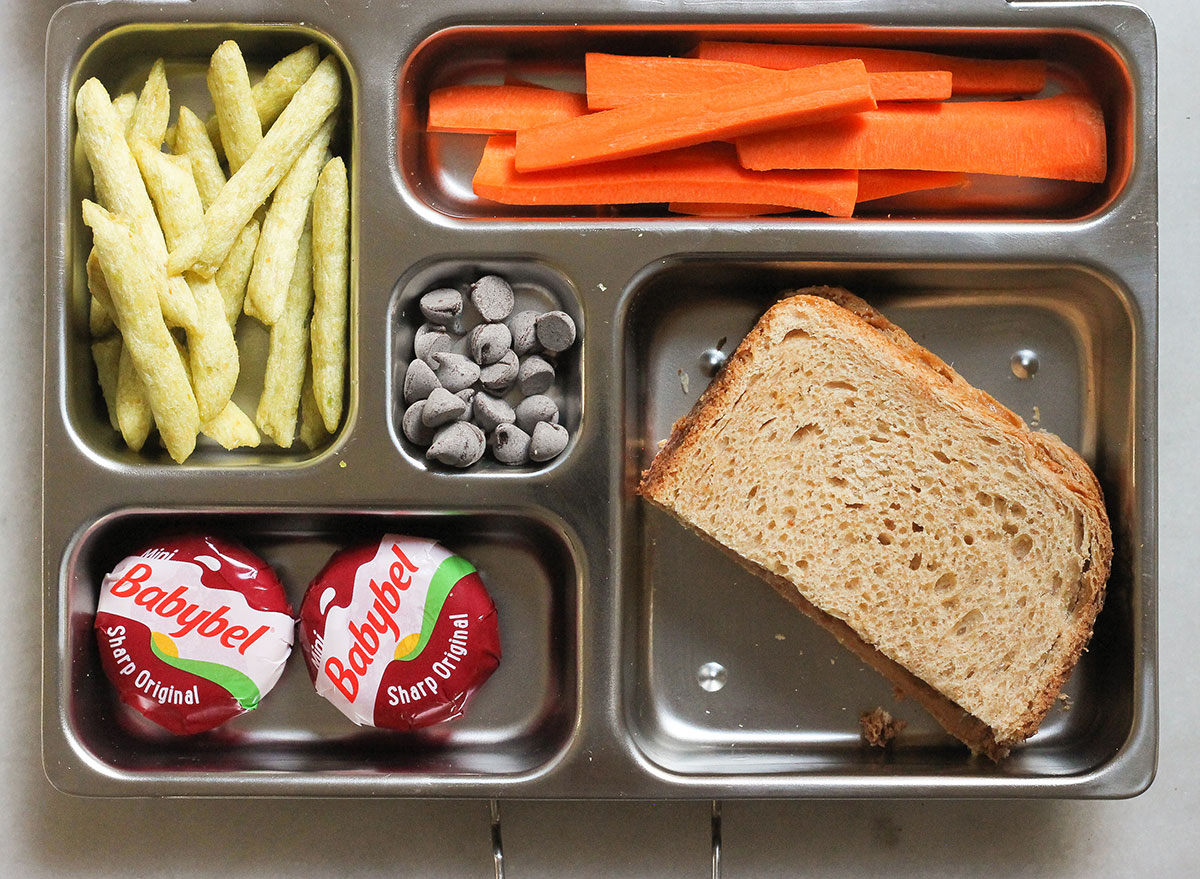 Peanut butter and bread makes the easiest sandwich ever, and kids love it! If your school has strict allergen guidelines, you can always swap out the nut butter for some seed butter. Add in some cheese sticks (or Babybel cheeses), snap pea crisps, carrot sticks, and a chocolate treat.
Skip the bun and let the kids just dip the hot dog in their favorite sauce—like ketchup! Add some cheese Whisps for a crunchy snack, as well as some sliced cucumber. Surprise them with a fun treat like a LuckyBar Chocolate Campfire Protein Bar!
Nut butter and hazelnut spread sandwich
Instead of surprising your kid with chocolate chips, add in some chocolate hazelnut spread to their nut butter sandwich! Pair with some salty pretzels, cucumber slices, and dried fruit.
Is your kid sick of sandwiches? Switch it up with a cold pasta salad! This one is super easy to make. Simply slice up some mozzarella and mix together with cooked pasta and a little bit of olive oil. Add in cherry tomatoes, apple slices, and a crunchy snack.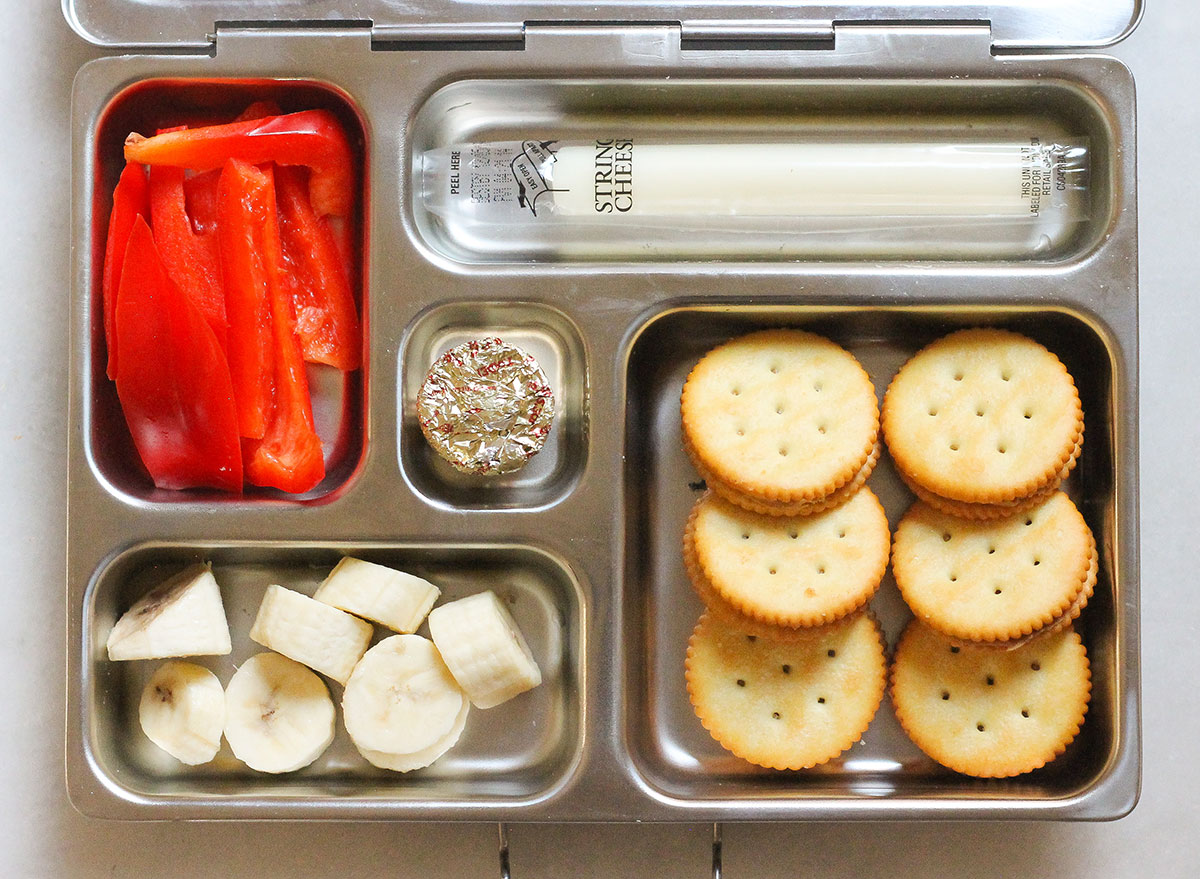 Skip buying peanut butter crackers in individual packs and make your own! Spread some peanut butter on a cracker and make a few mini sandwiches. To round out the meal, add in some sliced bell peppers, sliced banana, a string cheese, and a chocolate treat—like peanut butter cups!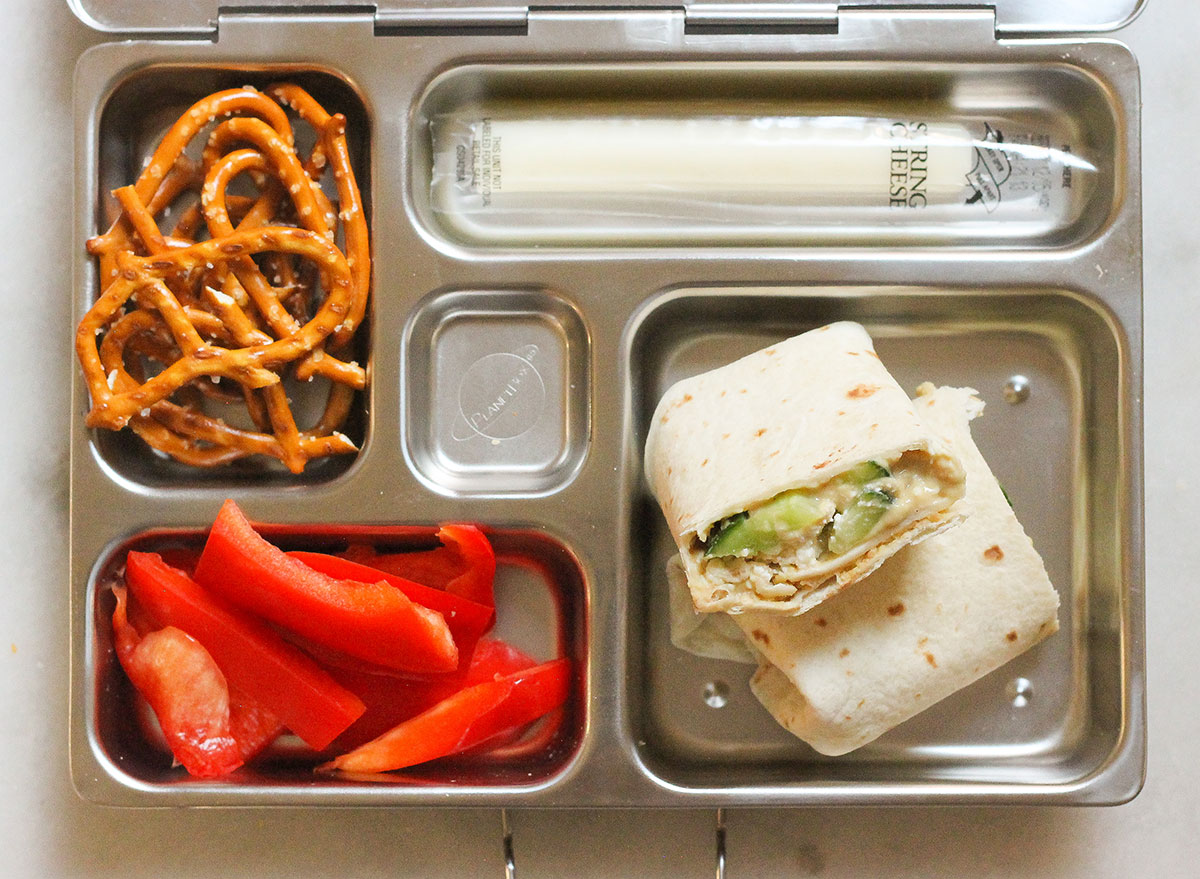 Do you have a little vegetarian on your hands? Make a hummus wrap for them. Spread some hummus and cucumber strips inside a tortilla, as well as some feta cheese (if your kid likes it.) Pair with some sliced bell peppers, salty pretzels, and a cheese stick.
You can't go wrong with a classic PB&J! Pair with some cheese crackers, blueberries, snap pea crisps, and a small chocolate treat.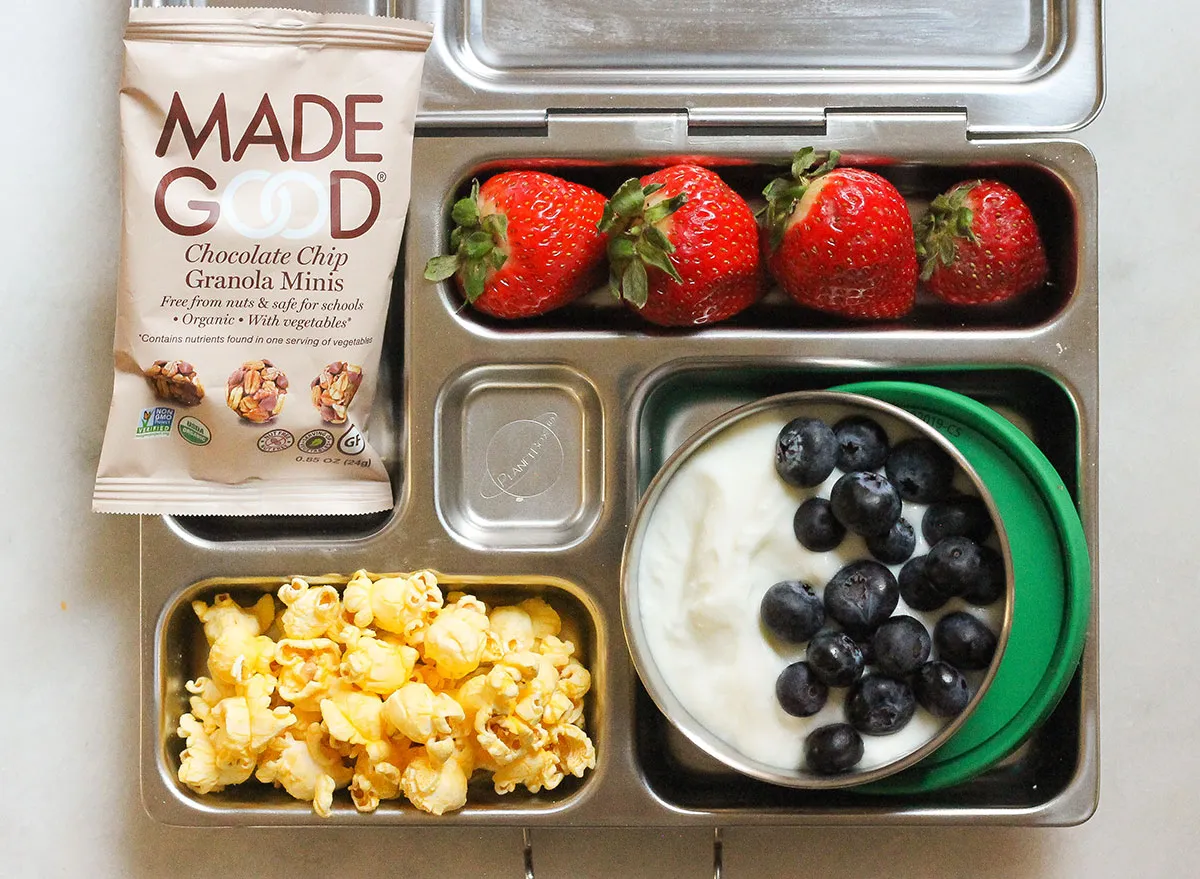 Do you have a kiddo who loves yogurt? It's a great option for lunch. Let them indulge in a mini yogurt parfait with some vanilla yogurt, blueberries, strawberries, and some mini granola bites, like these from Made Good. Contrast the sweet lunch with a salty snack, like popcorn.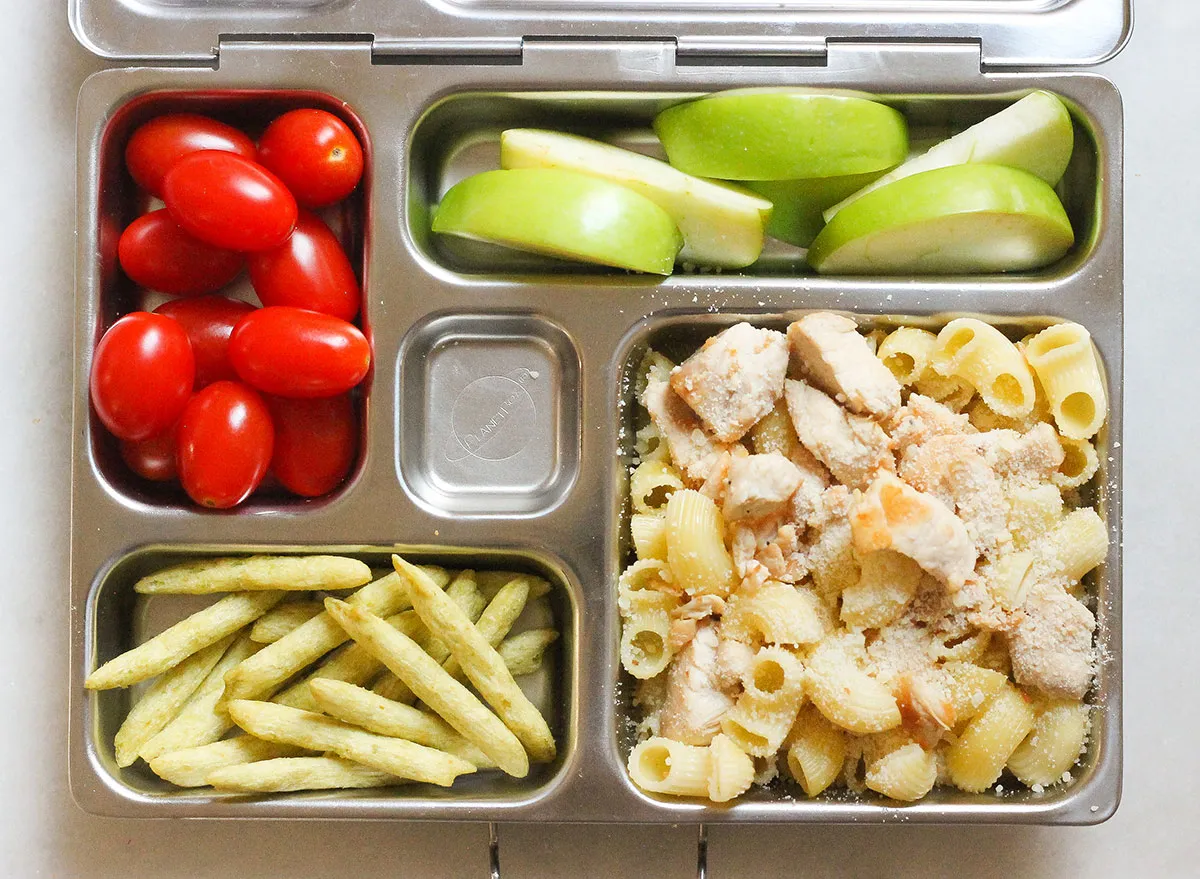 Another variation of kid-friendly pasta! This pasta is easy to throw together: cooked pasta, cooked chicken, oil, and a nice sprinkle of parmesan cheese. Prep a huge pot of it, and save it in the fridge to easily prep lunches for your kids the night before. Add in some snap pea crisps, cherry tomatoes, and apple slices for the rest of the meal.6254a4d1642c605c54bf1cab17d50f1e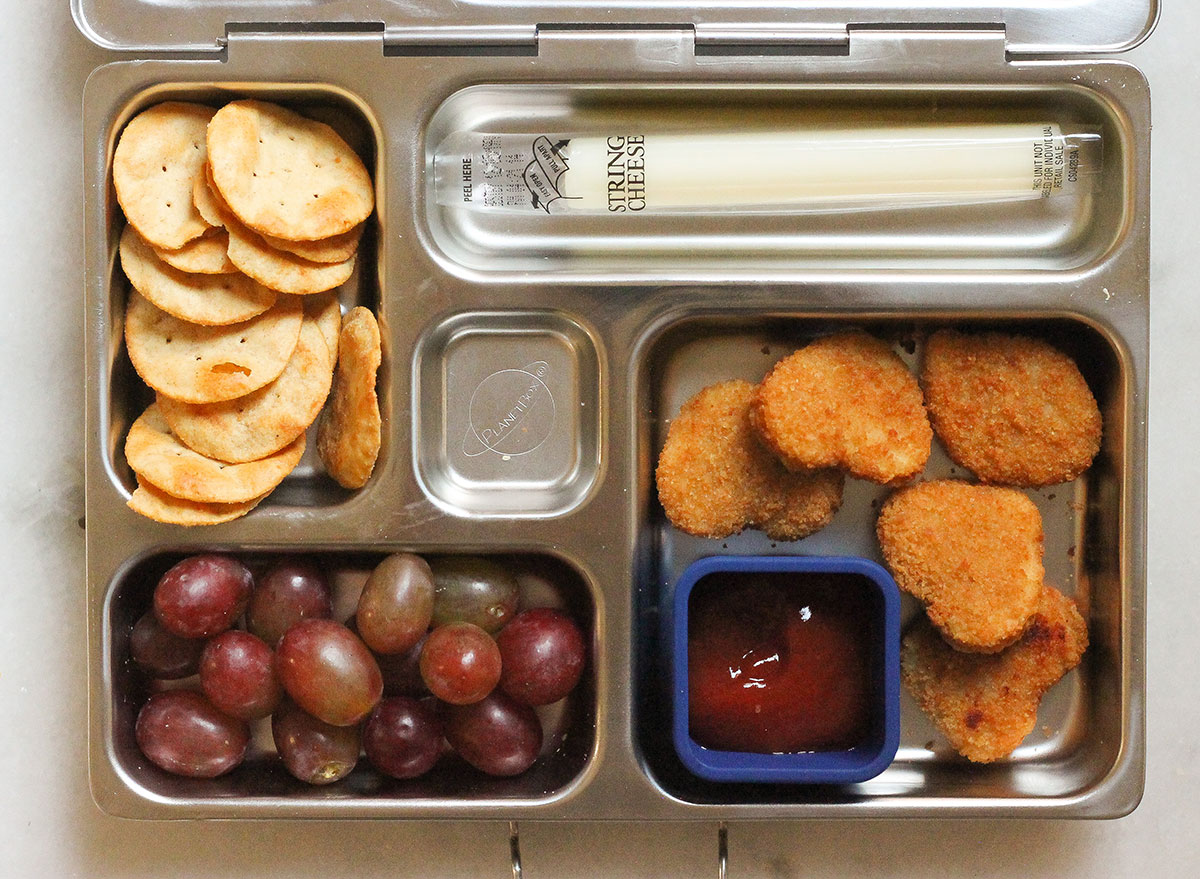 Kids sure do love their chicken nuggets! These chicken nugget dunkers can be paired with any dipping sauce your kid loves. Add in a fruit, some sweet potato crackers, and a string cheese.
Skip the deli meat this week and cook up some chicken breast instead! To make this chicken sandwich, spread on some mayonnaise, chicken breast, and a few slices of cheese. If your kid isn't a fan of mayo, you could always add in some ranch instead, or let them eat it plain! Pair with some celery and nut butter for dipping, cheese crackers, and grapes.
Another dipper bento box! Make some cinnamon yogurt by sprinkling in some cinnamon into vanilla yogurt. Slice up some apples for dipping, and add some pretzels and strawberries. Chocolate chips are a great snack to add because they could always throw them into the yogurt if they would rather eat it with a spoon.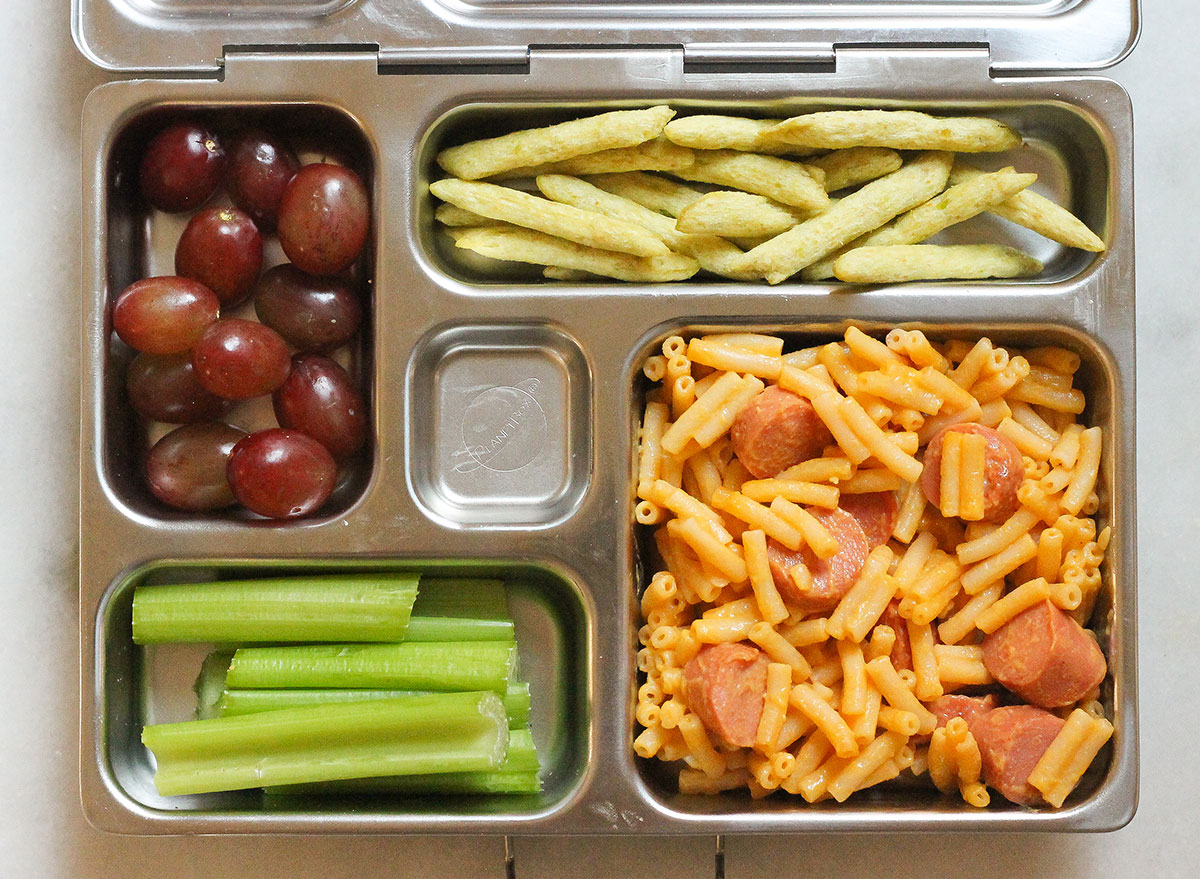 That's right—mac and cheese for lunch! Prep a box of mac and cheese, like this Annie's Classic Macaroni & Cheese, and add in some sliced hot dog for added protein. This lunch will probably be super filling for your kid, but if they're still hungry, add in some extras! Celery sticks, grapes, and snap pea crisps are lighter snacks to pair with a heartier main.