10 Arby's Secrets You Need to Know
Here are some secrets about Arby's that will make you think differently about the sandwich chain.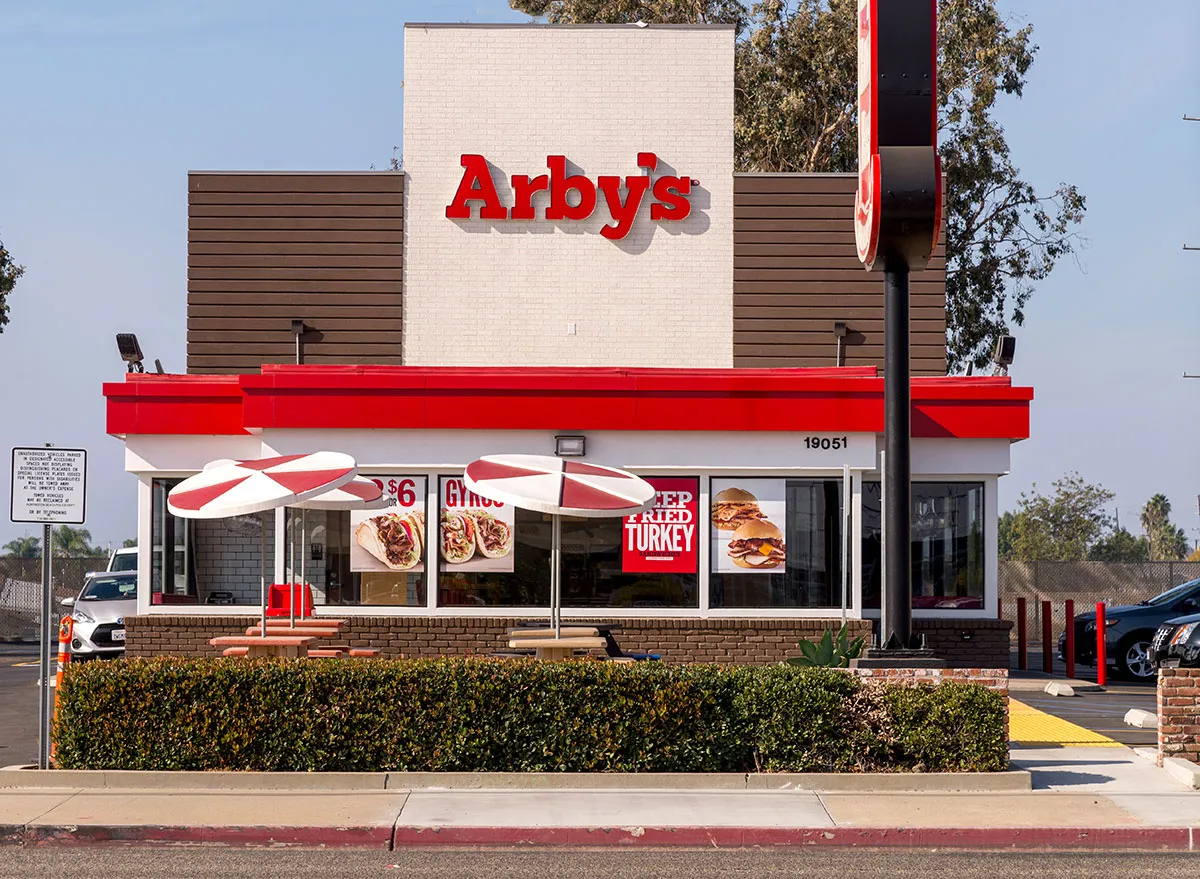 If you enjoy big beef sandwiches and tasty fried sides, you're probably a fan of the fast-food chain Arby's. But you may not know about the history of the chain, what's behind the name, and some other secrets the fast-chain wishes you know about the place known mainly for its roast beef.
In recent years, Arby's has become more known for its innovation and attractive limited-time offerings like the Real Country-Style Rib Sandwich that was created as a rival to McDonald's iconic McRib, than its roasted beef sandwich. If you haven't been to Arby's in a while you could be missing out of some of the most innovative fast-food items out there.
Here are some secrets you should know before eating at Arby's.
Arby's roast beef comes packaged in a bag.
I can personally attest to this as my first job was at an Arby's in Nashua, New Hampshire. The hot and delicious roast beef is shipped to the franchise, unsliced, in an air-tight bag to keep it fresh. Since I worked there, they've changed the process though, according to Mashed—the roast beef is cooked in the bag at the franchise—instead of being pre-cooked.
Arby's does not have grills.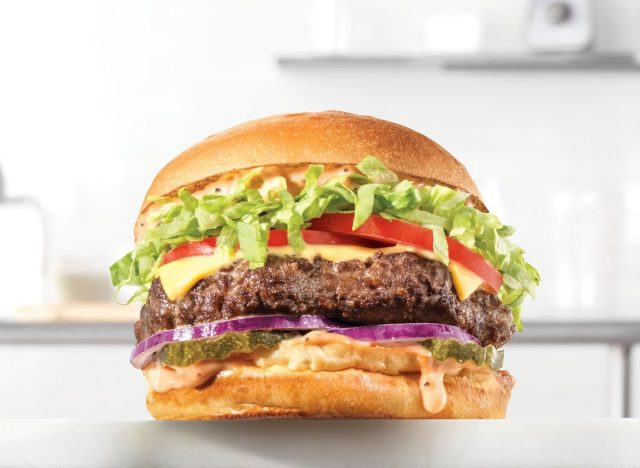 The Wagyu Steakhouse Burger, Arby's first burger, debuted in May of this year—and sold out in less than two weeks. The burger was the first for the chain and an interesting addition considering the chain does not have grills at any of its restaurants. The burger is cooked via a combination of sous vide and the fryer. It lands in stores again on Nov. 21 in case you didn't get a chance to try it the first time around.
There isn't anyone named Arby.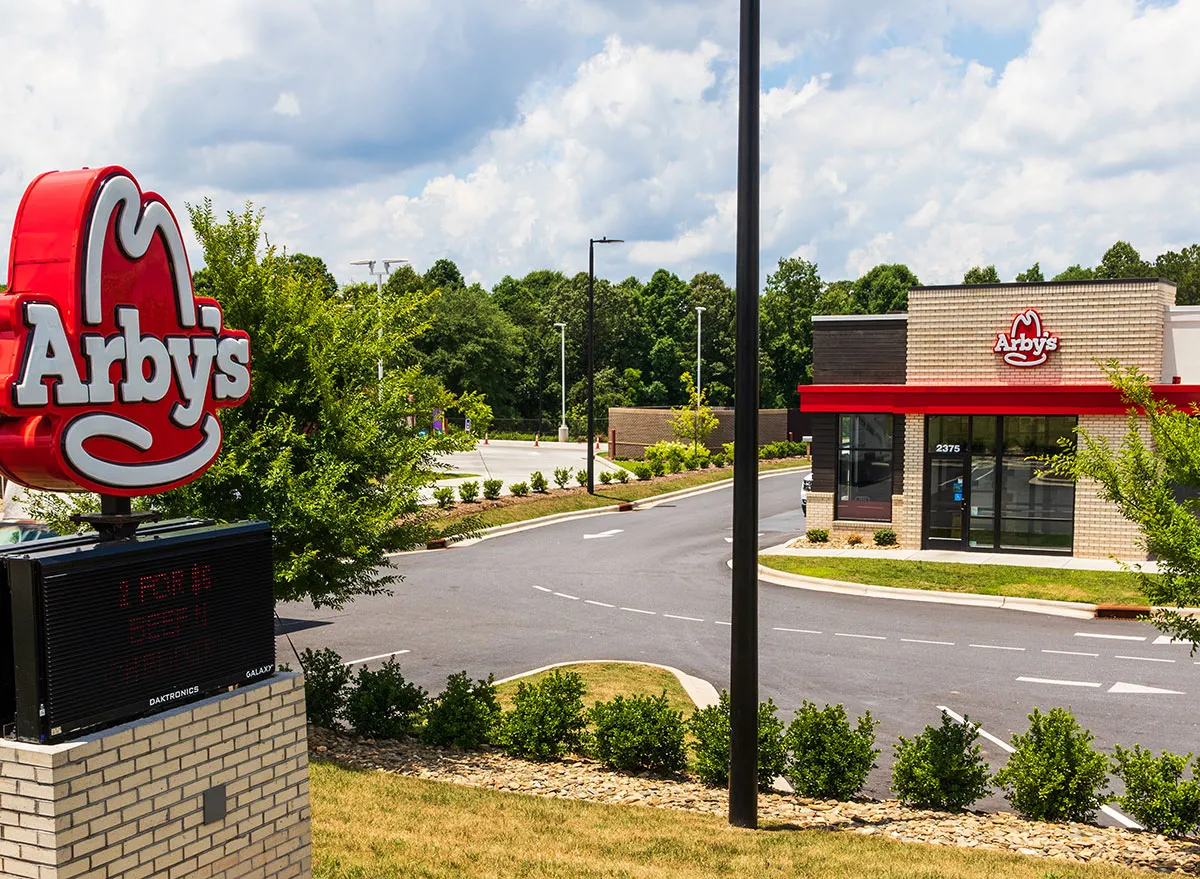 A lot of people think that Arby's is meant to be an abbreviation of roast beef, as in "RB." That's not actually the case, according to reporting from the Today Show, and Arby's sassy Twitter account. The name is actually a nod to the Raffel Brothers, Leroy and Forrest, who founded the Georgia-based fast-food chain in 1964.6254a4d1642c605c54bf1cab17d50f1e
Arby's was supposed to be upscale.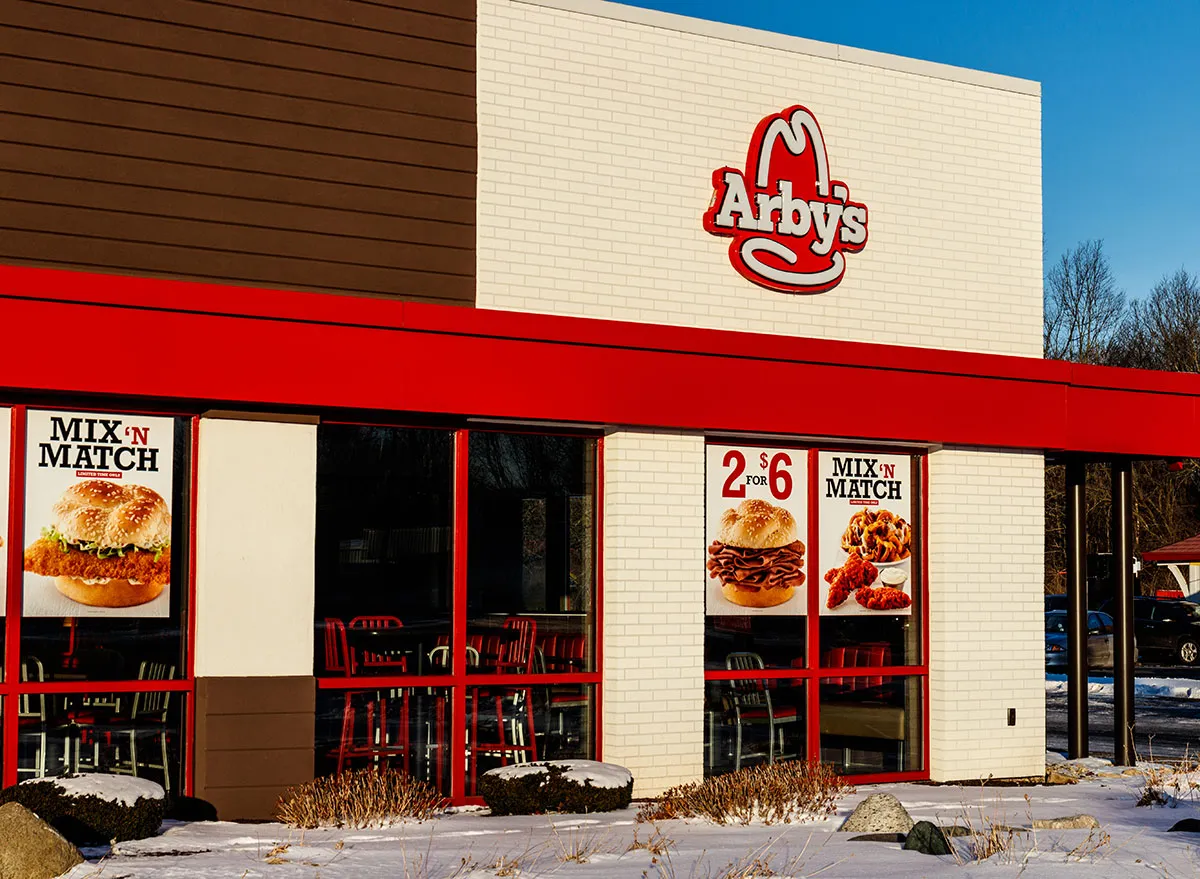 Leroy and Forrest Raffel opened Arby's on July 23, 1964, according to Mashed. They did it at a time when fast food was new, and everyone was doing burgers, so their original menu of fresh-sliced roast beef was considered completely new.
"On the day we opened, the McDonald's hamburger was 15 cents and our sandwich was 69 cents," Leroy Raffel told NBC News. "So, you had to be a little more affluent to buy our sandwich." Arby's could be making a play to be seen as more upscale again as word has it that they are testing a burger that's made with a blend of 52% Wagyu beef and 48% sirloin. Read more about it here: Arby's Is Testing a Rare New Premium Item, Customers Say
Arby's sassy Twitter account isn't some intern in a basement.
People love Arby's tweets, which are often funny, and speak in the language of the Internet. However, while you might think it's one funny person snarking on the competition, it's actually a whole internal team and a social media marketing agency. They're the ones that spend days crafting pop-culture reference-heavy tweets and trolling their competitors, according to reporting in Kotaku.
Arby's isn't antibiotic-free yet.
Common illnesses are becoming more difficult to treat because of increased antimicrobial resistance, and the food we eat plays a major role in this phenomenon. Most top fast-food chains in the United States continue to sell beef produced with routine antibiotic use, earning them poor grades in the fifth annual Chain Reaction scorecard, according to the National Resources Defense Council. Arby's consistently receives an F grade for the lack of transparency around antibiotics in their roast beef.
Many sauces contain secret sugars.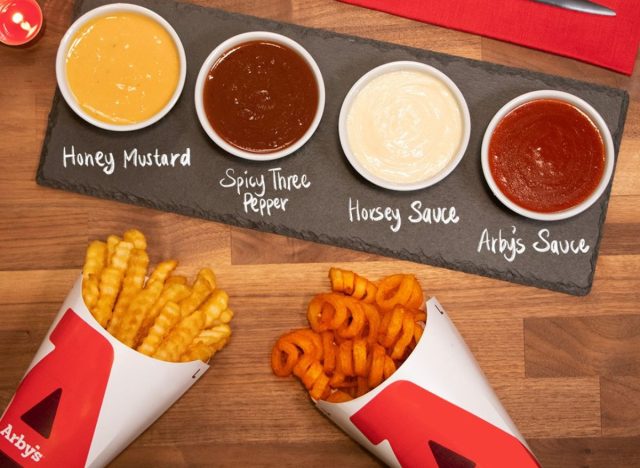 At Arby's the only thing that comes second to the meats are the sauces. But, before you douse your sandwich in a sweet BBQ sauce, take a look at the ingredients list. Sauces like Arby-Q and Arby's Sauce list high-fructose corn syrup as the first or second ingredient, many experts believe added sugars are a big contributor to the obesity epidemic in the US.
You can add fish to the Meat Mountain.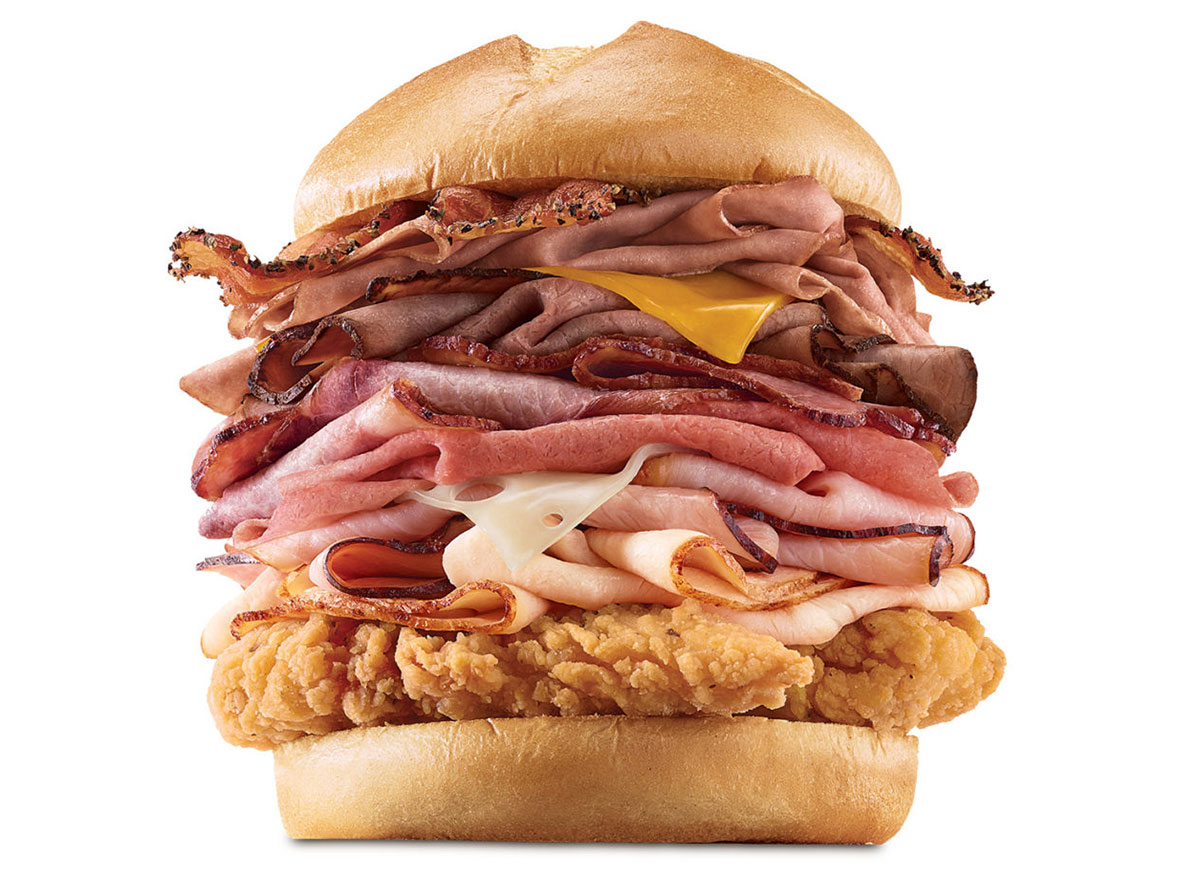 Stacked ridiculously high with almost all the meats, the famous sandwich comes with two chicken tenders, slices of roast turkey, pit-smoked ham, corned beef, 13-hour smoked brisket, USDA-choice Angus steak, roast beef, and pepper bacon. However, if that's not quite enough food for you, go ahead and ask for the "Denali." Meaning, add a fried fish fillet to the sandwich—it's certainly a choice.
You can get free extras.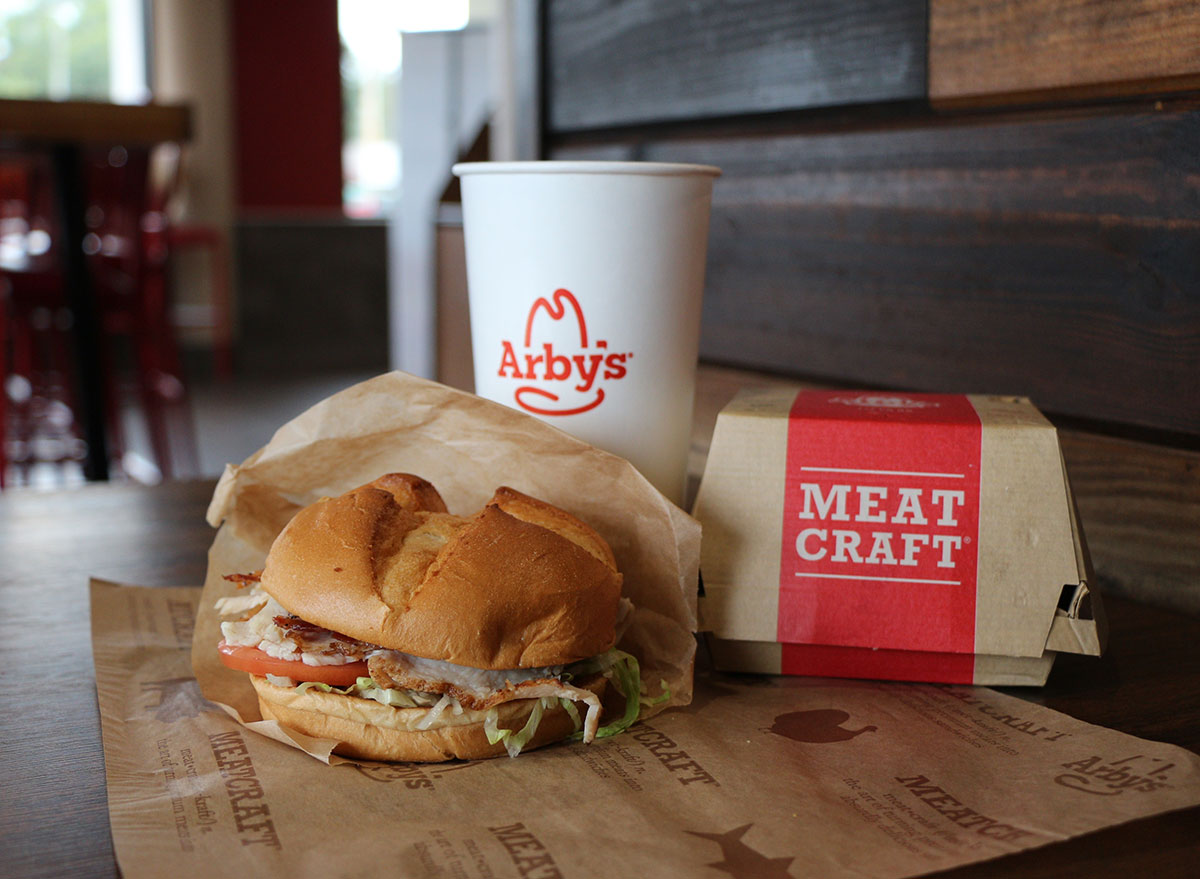 One thing the chain really doesn't want you to know? You can hack their menu and customize your sandwich with free extras, all you have to do is ask. For example, according to MenuHack, you can switch the bread on any sandwich with another type of bread the restaurant offers. We strongly endorse the Classic Roast Beef on an onion roll. Speaking of onions, you can add the chain's crispy onion tangler topping to any sandwich, for an extra oniony crunch!
Arby's has dipped its toes into the alcohol industry.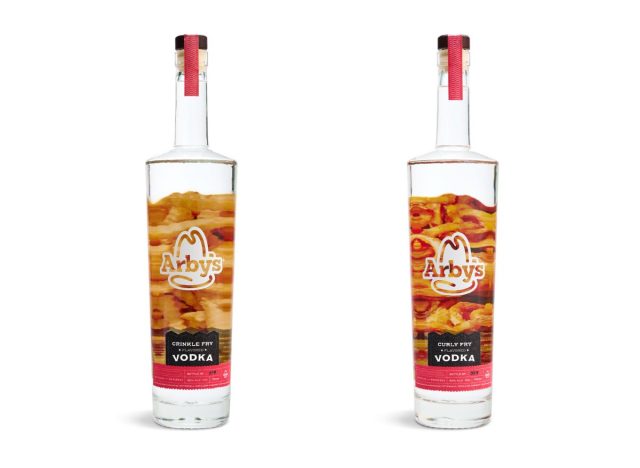 Arby's iconic curly and crinkle fries have been turned into two different kinds of vodka. Since vodka can be made with potatoes this is not a totally outlandish idea. The chain also just recently came out with a Smoked Bourbon that uses the same woods used to smoke the meats on Arby's Smokehouse Sandwiches. All, unfortunately, are sold out.
A previous version of this article was originally published in October 2021. It has been updated with new information.
Tanya Edwards
Tanya Edwards is a seasoned food and health journalist, who has held roles at Yahoo Health as Managing Editor and at Food Network as Programming Director.
Read more about Tanya