The #1 Eating Habit Sophia Loren Has To Look Amazing at 87
It's no act...she really looks this good
Deemed one of the greatest female stars of Classical Hollywood by the American Film Institute, Sophia Loren is an Italian actress who set the scene for the film industry for over 60 years. A beautiful woman on screen in the midst of her acting career, she still looks graceful and poised at 87 years old.
For someone who looks that flawless in her late eighties, there has to be a secret to how she did it. Her diet has played a big role in her overall lifestyle and throughout her career. According to Elle Australia, Sophia Loren follows the classic Mediterranean diet. Her diet contains fresh vegetables, pasta, and red wine.
The article continues to state that she once famously said, "everything you see, I owe to spaghetti," also deeming her proud of her natural, unperfect figure. Loren also once admitted that she'd "rather eat pasta and drink wine than be a size zero."
According to the Mayo Clinic, the Mediterranean diet is a way of eating that's based on the traditional cuisines of Greece, Italy, and other countries that border the Mediterranean Sea. Foods such as whole grains, vegetables, legumes, fruits, nuts, seeds, herbs, and spices make up the plant-based diet. The diet focuses on healthy fats, with olive oil being the main source of added fat. It also incorporates the traditional flavors and cooking methods of the region. Wine, in moderation, is associated with the diet as well.
The Mediterranean Diet has been linked to producing some substantial health benefits that could lead to a long and healthy life. It has been known to help the prevention of cardiovascular diseases, increase lifespan, and healthy aging.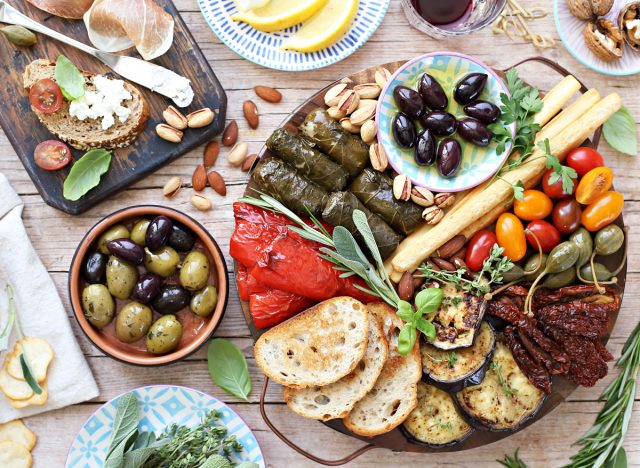 In a study done by PREDIMED, researchers concluded that the Mediterranean Diet is an affordable, attractive, and easily achievable way to protect against cardiovascular disease. The findings suggested that compared to a low-fat diet, one rich in high-unsaturated fat from natural vegetable sources is better for cardiovascular health.
The research continues to explain that it is never too late to begin the Mediterranean diet.  Switching your eating habits during any time of your life can help improve your cardiovascular health.
Another benefit of the diet is that it can help aid you in long-term weight loss. When trying to lose weight, it is shown to be more effective than a low-fat diet.
When it comes to increased lifespan, a study published in JAMA Internal Medicine showed that the Mediterranean Diet was linked to a reduced risk of early death due to cancer, cardiovascular disease, and other causes.
Kayla Garritano
Kayla Garritano is a Staff Writer for Eat This, Not That! She graduated from Hofstra University, where she majored in Journalism and double minored in Marketing and Creative Writing.
Read more
More content from
Celeb News