25 Healthy and Delicious Sweet Potato Recipes for Fall
These scrumptious sweet potato dishes boast loads of vitamin A and pack the flavors you love.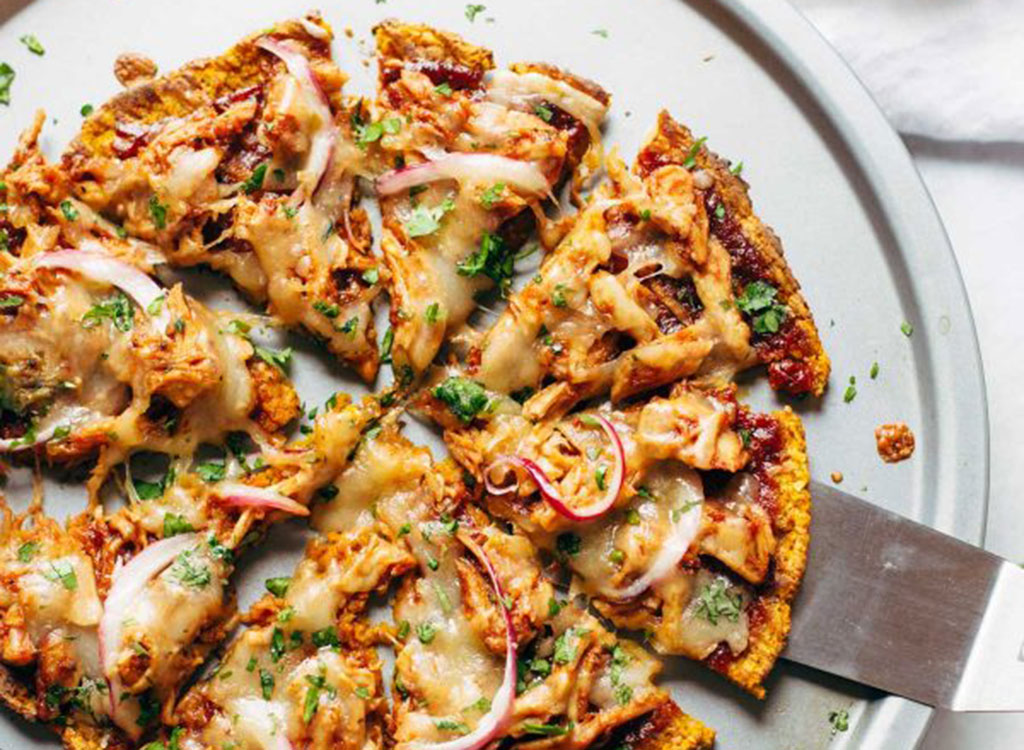 With summer in your rearview mirror, chances are you're in the mood for heartier fare. And as the weather gets crisper, your kitchen is beckoning you to get back to whipping up homemade meals. There's no other vegetable that can kick off this season of comfort food cooking than sweet potatoes.
On top of its strong fiber game, sweet potatoes supply excellent sources of fiber, vitamin A (beta-carotene), potassium, and vitamin B6. The good news is that it's not hard to reap the benefits of these root vegetables. From spaghetti to muffins to veggie burgers to pizza crust, these versatile veggies transform into any kind of dish your heart desires. These creative sweet potato recipes include dishes you can prepare in advance, so you can take your meal prep skills to a whole new level.  Read on to get a bite of these healthy sweet potato recipes.
Spiralized Sweet Potato Noodles with Ginger Peanut Tempeh
Swap your Asian-style glass noodles for this spiralized spaghetti for a low-carb option that won't sabotage your weight loss or keto efforts. A slightly spicy and sweet peanut sauce coats the sweet potato noodles and helps soften them up. Top with sliced green onions, roasted peanuts, fresh lime, and cilantro.
Get the recipe from My Darling Vegan. 
Curried Sweet Potato Burger with Tomato Chutney and Cilantro Aioli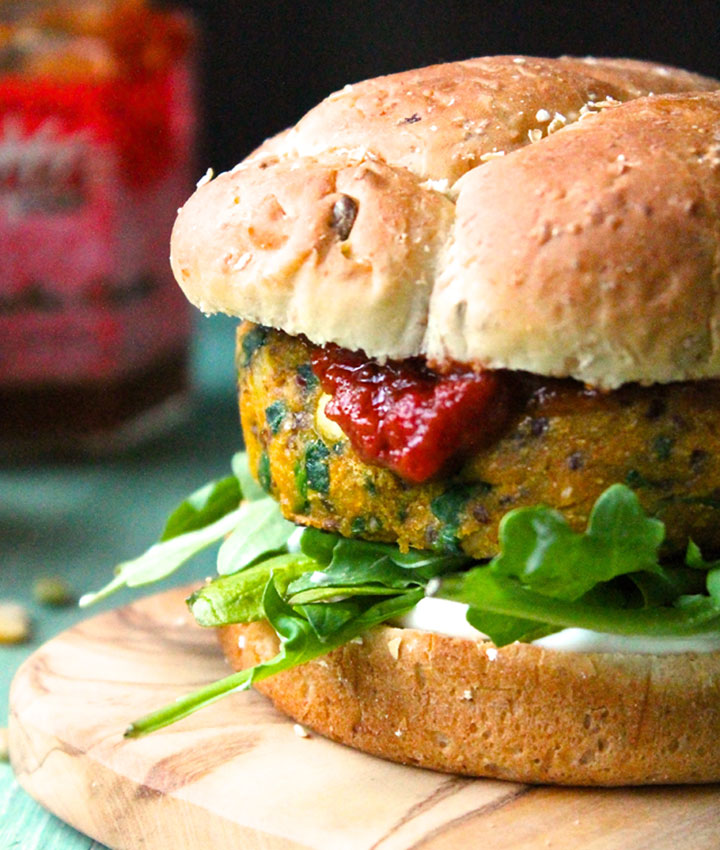 Craving a veggie burger? These super flavorful sweet potato burgers will satisfy your cravings for a hearty dish. Packed with lentils and quinoa and spiced with coriander, turmeric, paprika, and cayenne, these plant-based patties take up only 10 minutes to cook.
Get the recipe from My Darling Vegan.


BBQ Chicken Sweet Potato Pizza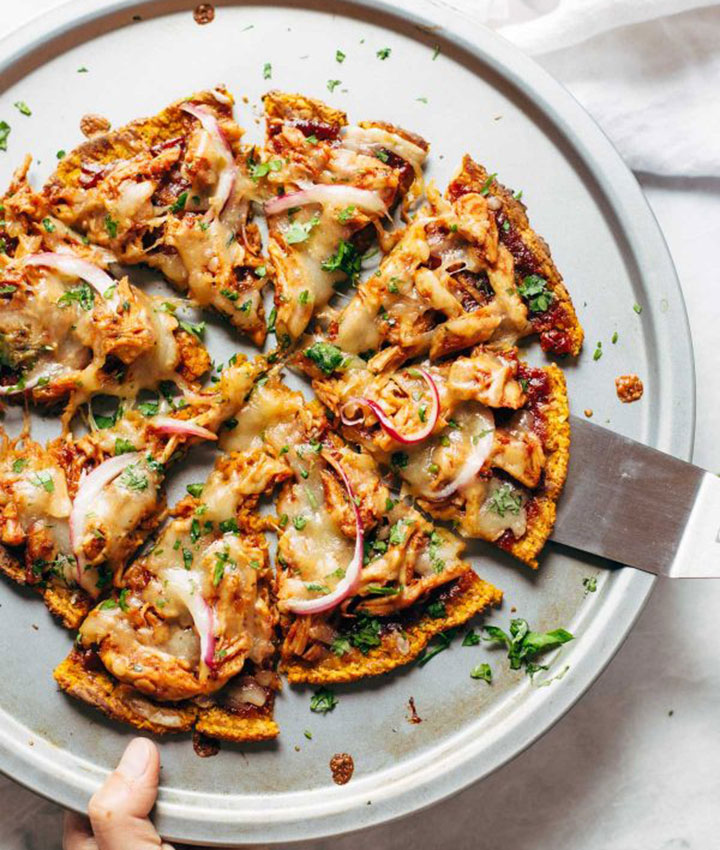 Paleo pizza is possible on a gluten-free diet with a sweet potato crust. Lindsay Ostrom of Pinch of Yum shows us just how with this delectable pie. Top with barbecue sauce, shredded chicken, red onion slices, mozzarella cheese, and chopped cilantro, you get the flavors you love for fewer calories and carbs.
Get the recipe from Pinch of Yum.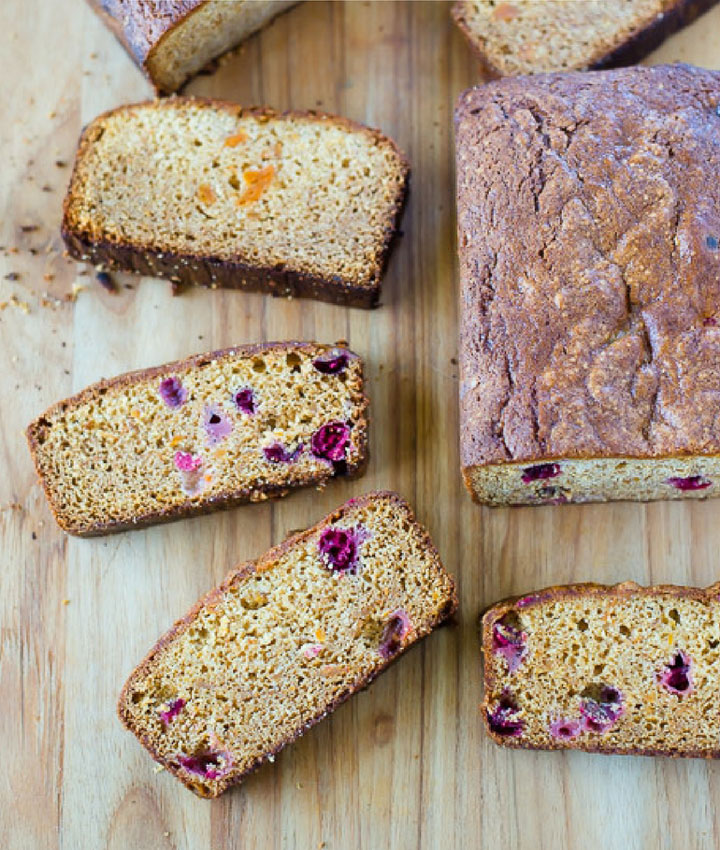 Studded with fresh cranberries and seasoned with heartwarming spices such as cinnamon and nutmeg, this hearty sweet potato loaf is the perfect fall treat. Enjoy it with a schmear of almond butter for a filling breakfast or snack.
Get the recipe from Flour on My Face.
Silky Ginger Sweet Potato Soup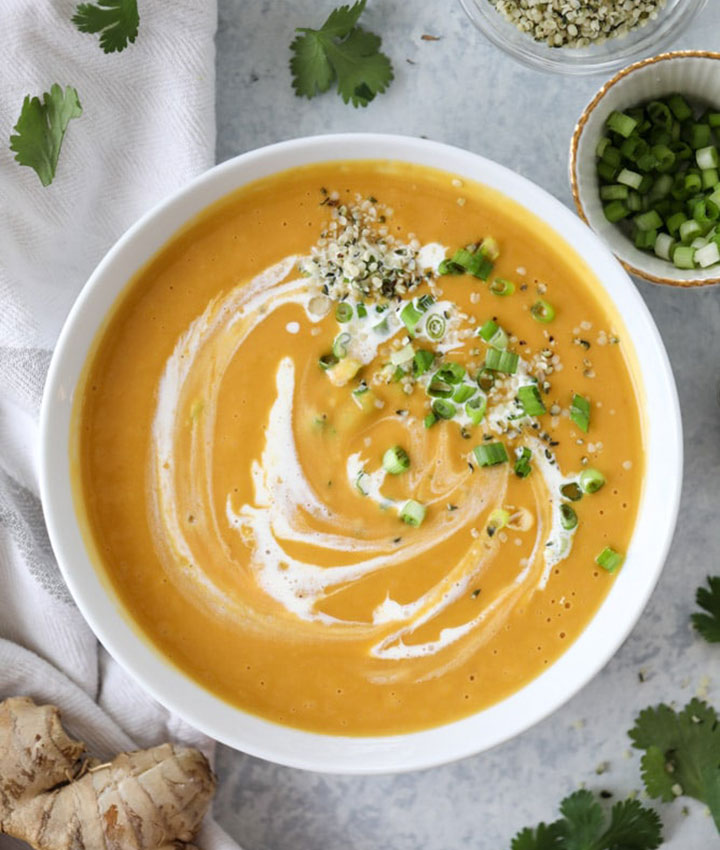 As the temperatures drop, you'll want to cuddle up to a bowl of this heartwarming sweet potato soup. This vegan-friendly dish is made with sweet potatoes, low-sodium vegetable stock, coconut milk, and fresh ginger. Top with thinly sliced green onions and hemp hearts for a healthy crunch that packs omega-3s.
Get the recipe from How Sweet Eats.
Healthy Chocolate Chip Sweet Potato Muffins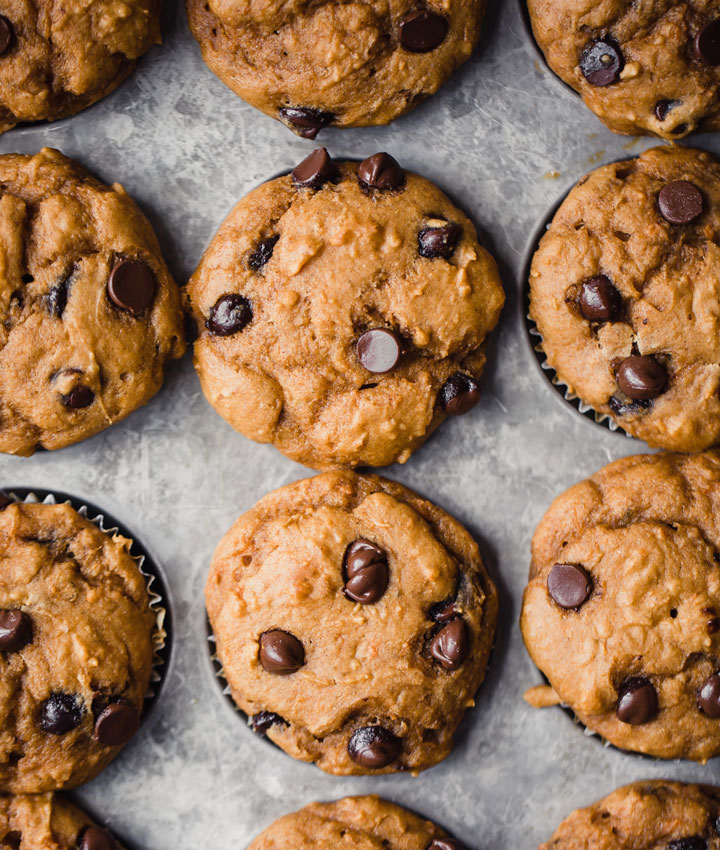 When you're tempted to dig into a cupcake, these chocolate chip sweet potato muffins are your saving grace. Greek yogurt keeps the muffins moist and ups their protein content while pure maple syrup naturally sweetens them without raising your blood sugar too much.
Get the recipe from Ambitious Kitchen.
30-Minute Sweet Potato Butter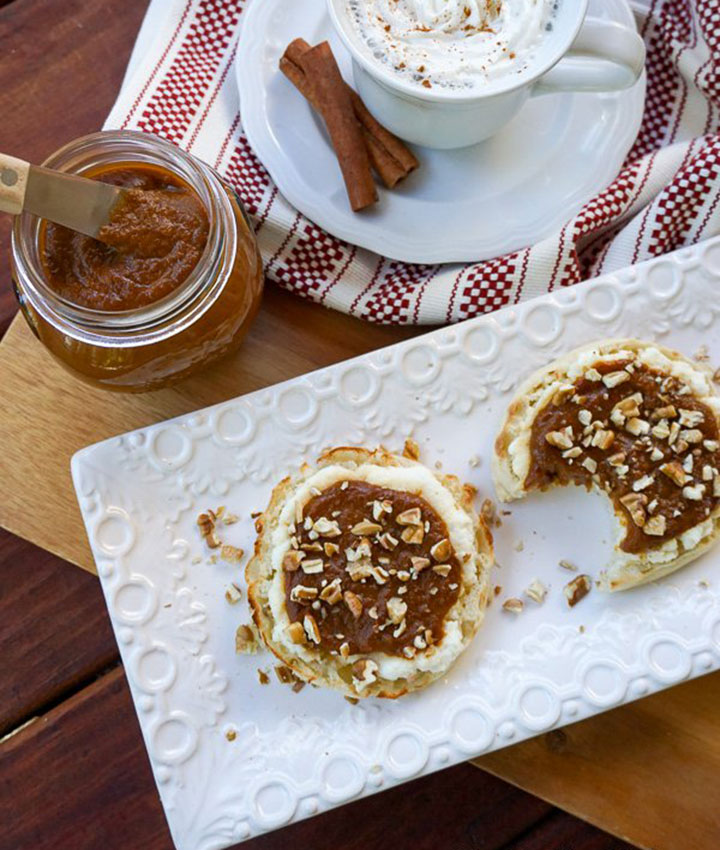 This delicious butter is totally our jam! Made with sweet potato puree, maple syrup, apple cider vinegar, and a load of spices, you get burst of all of fall's delicious flavors in one bite. Add it to whole-grain toast or crackers.
Get the recipe from A Healthy Slice of Life.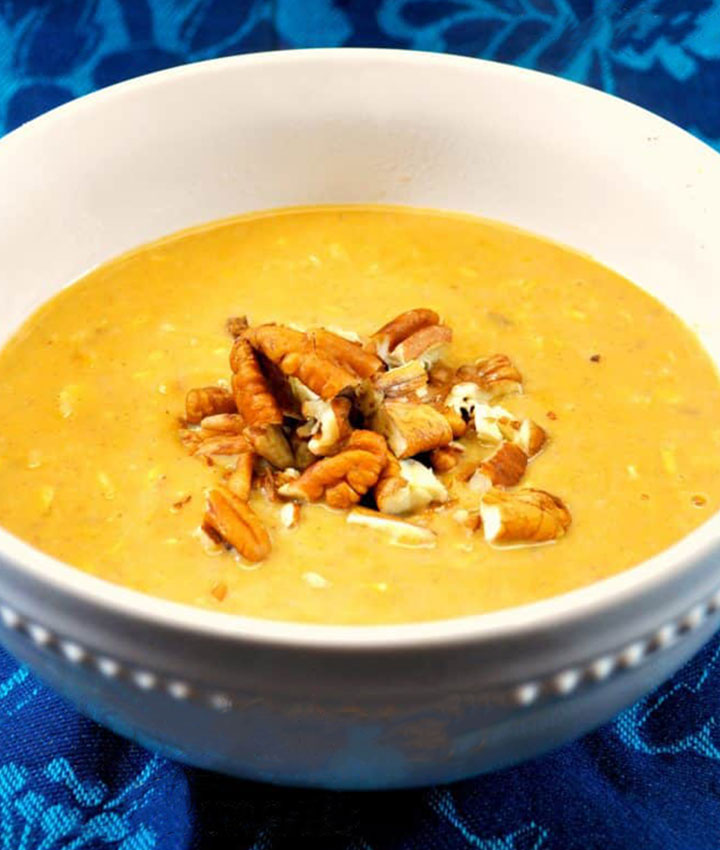 Add more bulk to your morning oats with some pureed sweet potato. The starchy veggie not only adds filling fiber, but it also infuses it with a creamy texture. Pack in flavor with pumpkin pie spice, vanilla extract, and a touch of brown sugar. Top with chopped pecans for a healthy crunch.
Get the recipe from The Seasoned Mom.
Sweet Potato Brownie Bites (Vegan & Gluten-free)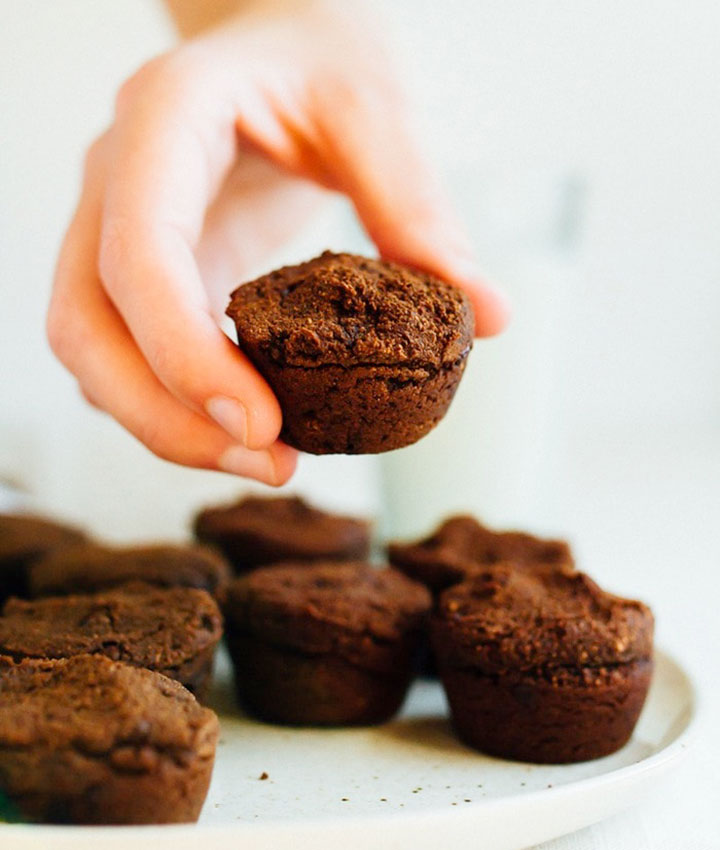 Moist and rich with flavor, these bite-sized treats are all you ever wanted in a brownie—minus the exorbitant fat and calories. Coconut flour and sweet potatoes make these brownies gluten-free and the almond butter gives it a nutty flavor.
Get the recipe from Eating Bird Food.
Breakfast Sweet Potato Toast 4-Ways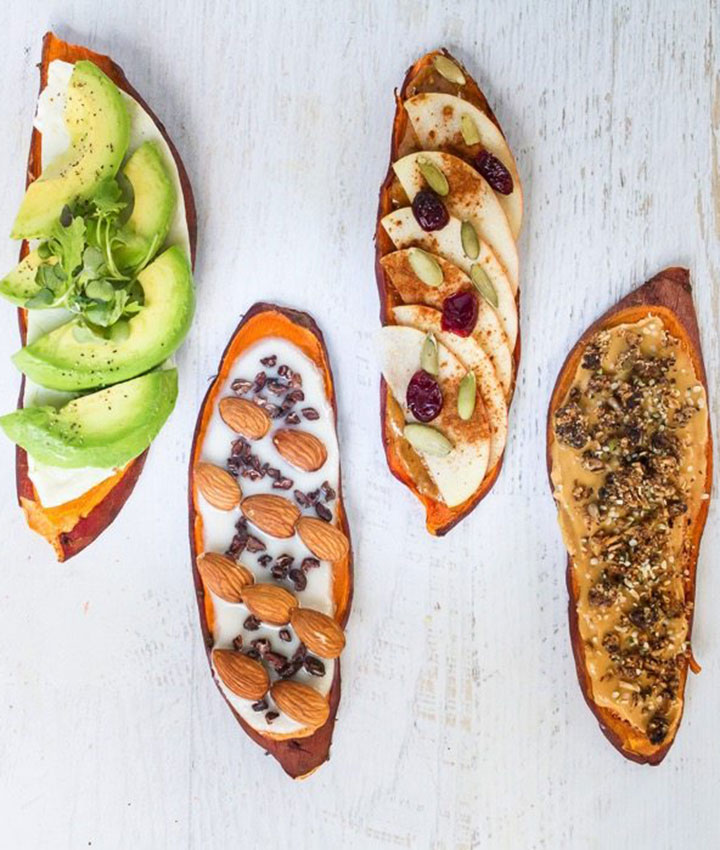 You'll get more fiber and health-boosting nutrients when you swap bread for these sweet potato toasts. Whether you like it savory or sweet, one of these open-faced sandwiches is guaranteed to keep you satisfied. For something lean and green, choose the avocado and egg toast. If you're in the mood for something nutty, try the almonds with coconut butter and cacao nibs.
Get the recipe from Eating Bird Food.
This one-pot dish is ideal for a weeknight meal that takes just 20 minutes to prep. Then, leave it to your oven to do the rest of the heavy lifting, er, heating. Simply slice the sweet potatoes thinly and then prepare the "ricotta" filling, which is made with tofu and B vitamin-rich nutritional yeast, to go in between the layers.
Get the recipe from Minimalist Baker.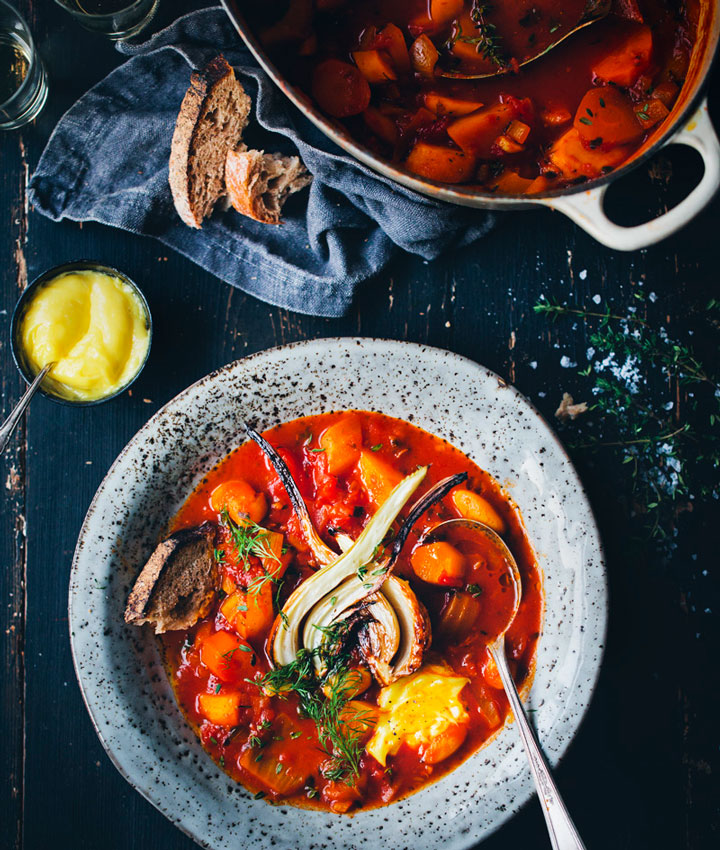 Vegans and meat-eaters alike will absolutely fall in love with this plant-based dish. Carrots, potatoes, parsnips, and fennel serve as the "meat" in this recipe, giving it a hearty texture and taste. Serve with slices of sourdough bread for dipping.
Get the recipe from Green Kitchen Stories.
Mashed Potato Cakes with Cheese & Bacon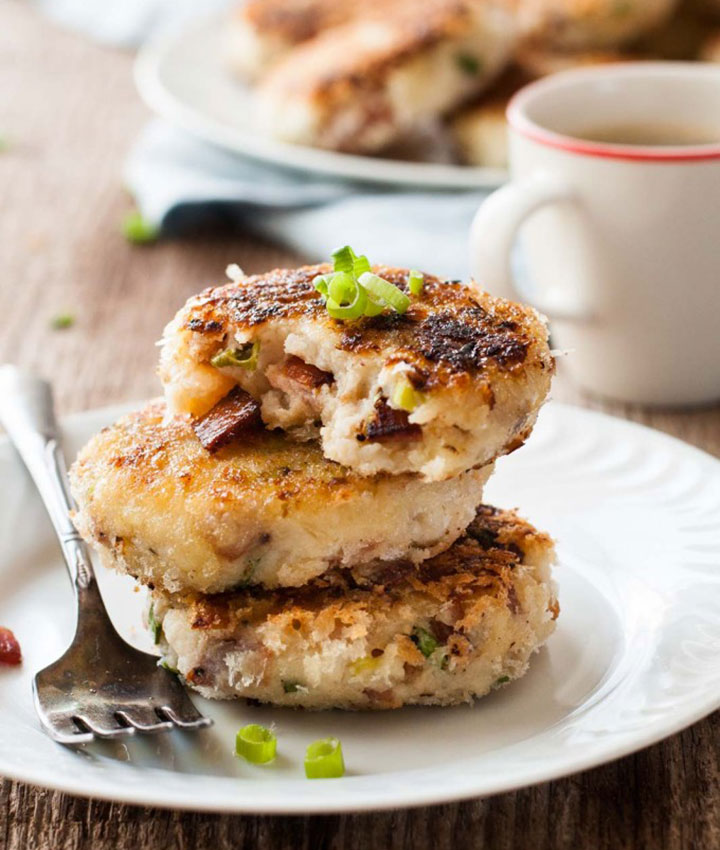 If you're looking to upgrade your breakfast, these savory patties pack mashed potatoes, eggs, cheese, bacon, and scallions. Bonus: You can prepare them ahead of time and reheat them in the morning.
Get the recipe from Recipe Tin Eats.
Vegan Gluten-Free Coffee Cake
This vegan-friendly recipe gives the classic coffee cake a healthy makeover. The special twist? Adding sweet potato puree in the batter. Almond flour, potato starch, and brown rice flour give the cake a soft and airy texture that matches its gluten counterpart. Instead of blood-sugar-spiking white sugar, we swap in maple syrup and coconut sugar. To prepare the crumble, combine almonds flour with oat flour, coconut sugar, pecans, vanilla extract, salt, ground cinnamon, and a little coconut oil.
Get the recipe from Vegan Richa.
Chocolate Chip Sweet Potato Cakes For Two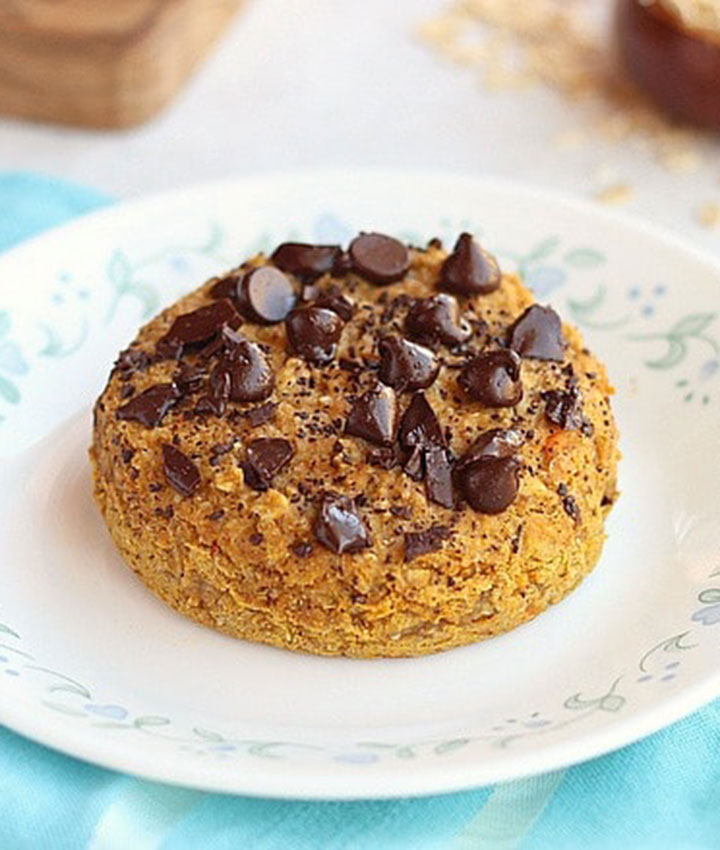 Splitting dessert just got easier with this cookie for two. Combine all ingredients in a bowl and pour the batter into two small ramekins. Sprinkle some chocolate chips and then bake them in the oven for 17-20 minutes.
Get the recipe from Oatmeal With a Fork.
You'll never guess that potatoes are the secret ingredient in these donuts. They make these baked goods denser and more filling than your average fritter.
Get the recipe from A Beautiful Mess.
Sweet Potato Breakfast Bars With Vanilla Coconut Butter Icing
Many store-bought granola bars often pack unnecessary amounts of sugar and fat. Instead, make a batch of these sweet potato breakfast bars, which use wholesome ingredients. Oatmeal, dried apricots, walnuts, and coconut butter give these bars the chewy crunch you crave.
Get the recipe from Oatmeal With a Fork.
Potato & Rosemary Focaccia Bread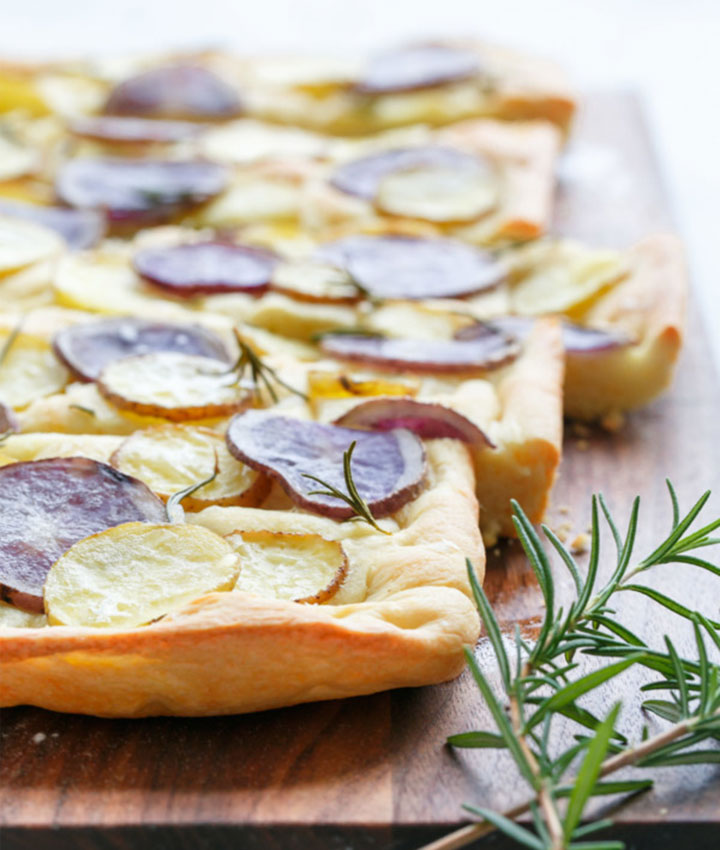 6254a4d1642c605c54bf1cab17d50f1e
The classic sheet pan bread gets a colorful dose of multi-colored potatoes in this delicious recipe. Focaccia is normally light, airy and yeasty, but adding potatoes gives it more depth and texture. Sprinkle some fresh rosemary for a savory finishing touch.
Get the recipe from Love and Olive Oil.
Beetroot Gnocchi With Capers and Leek Gremolata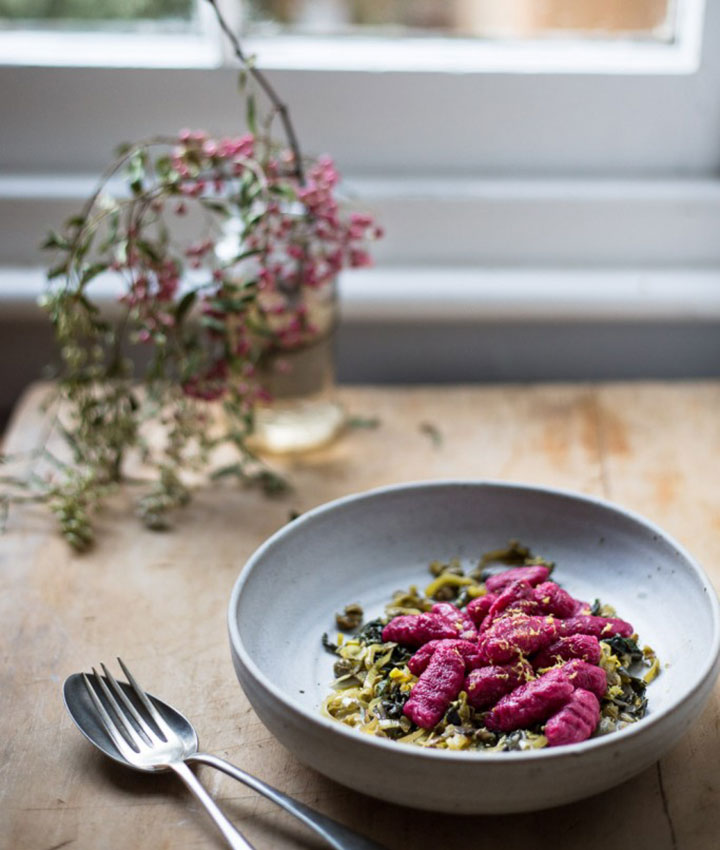 As if its vibrant color isn't enough to make you want to dig in, this delicious beetroot gnocchi packs mouthwatering flavors you love and delivers a wealth of health-boosting nutrients. While this dish is a labor of love, it's one worth preparing on a rainy day. It not only brightens up your table, but it'll warm your tummy, too.
Get the recipe from To Her Core.
If you're hosting a tailgate party, these loaded potato bites are the perfect finger foods for game day. Plus, they're easy to prep and are gluten-free. Slice red potatoes, drizzle them with a little olive oil and sprinkle a dash of sea salt and ground black pepper before heating them in the oven for about 20 minutes. Once they're golden and crispy, top with mashed avocado or guac, some salsa, and cilantro.
Get the recipe from Begin Within Nutrition.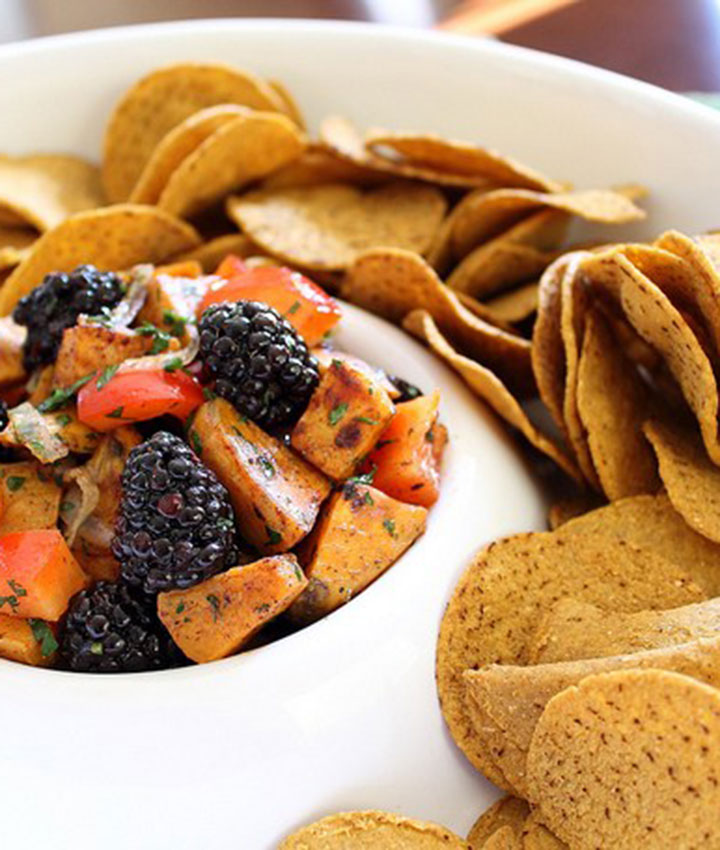 Another great dish for entertaining, this tasty twist on salsa marries summer with fall by combining sweet potatoes with blackberries, parsley, and pomegranates. Serve warm with whole-grain crackers or tortilla chips.
Get the recipe from Running to the Kitchen.
Sweet Potato Spice Latte Shake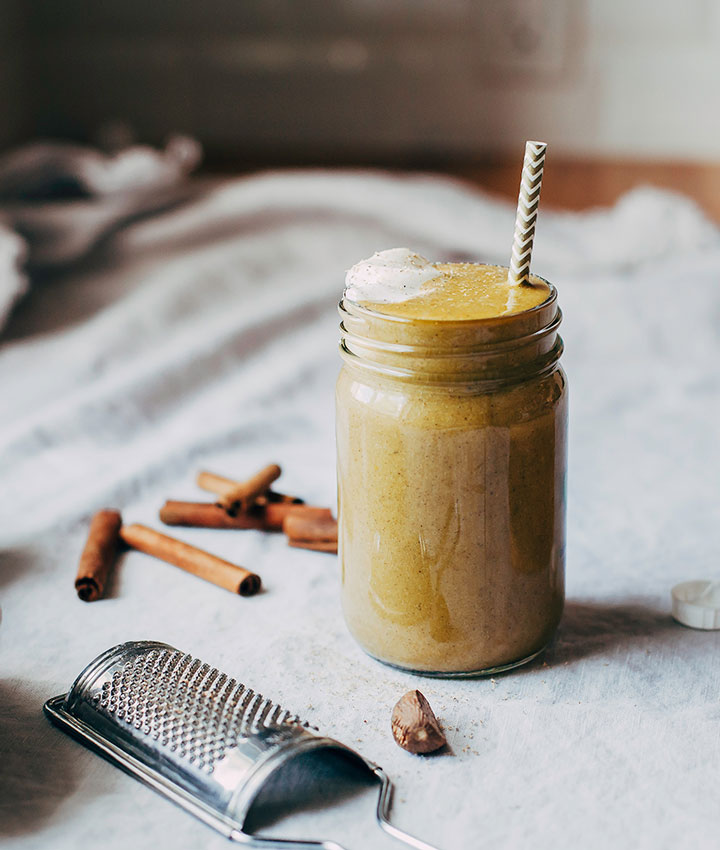 There's no better way to refuel after a workout than with this creamy sweet potato smoothie. Adding sweet potatoes increases the fiber content and supplies hefty doses of beta-carotene. It also has some cold brew for a boost of caffeine and protein powder for muscle recovery and repair.
Get the recipe from The First Mess.
Freezer Breakfast Burritos with Sweet Potato Hash and Black Beans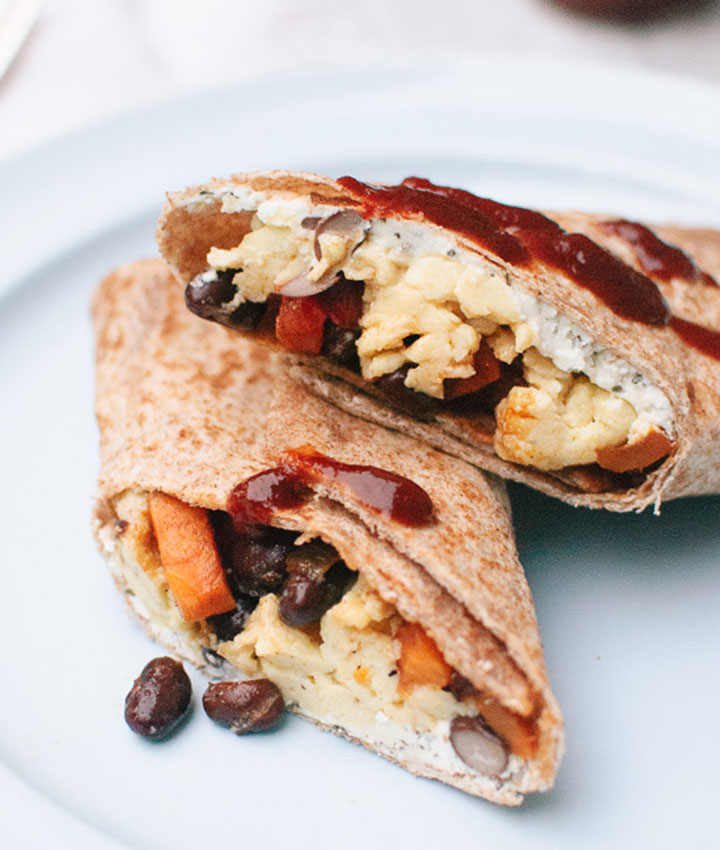 If you're not a fan of oatmeal or smoothies, these breakfast burritos are made for you. Packed with protein-rich eggs, sweet potatoes, red bell peppers, and onions, these freezer-friendly meals make a great meal-on-the-go. Store them in the freezer and reheat when you're ready to eat.
Get the recipe from Cookie + Kate.
Sweet Potato, Kale and Black Bean Enchiladas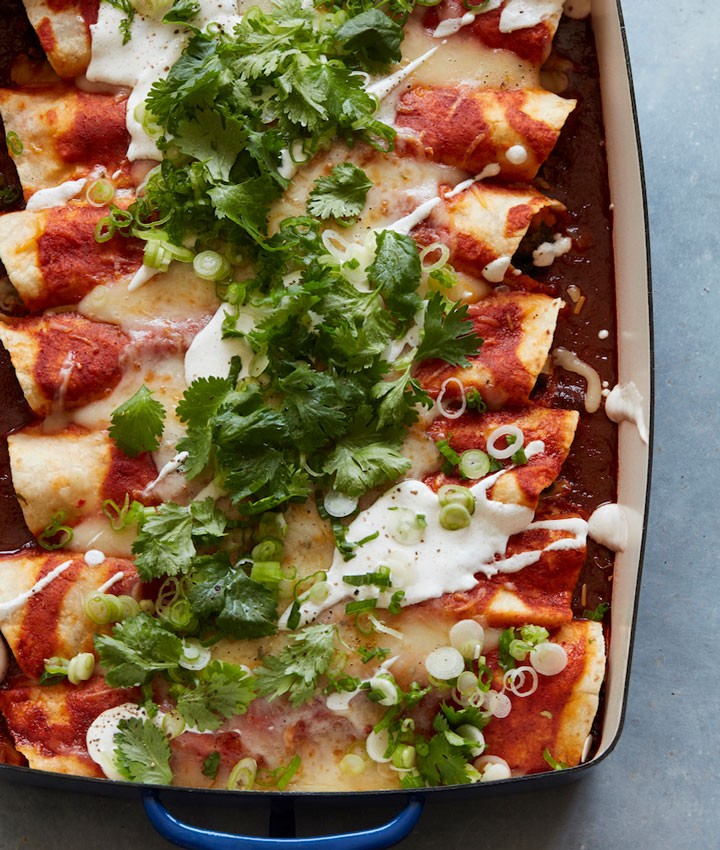 If you're craving a hearty dish, these enchiladas will hit the spot. Instead of using meat, sweet potatoes and beans serve as a "meaty" filling, cutting back calories and fat and upping the fiber and plant-based protein.
Get the recipe from What's Gaby Cooking.
Sweet Potato Noodle Carbonara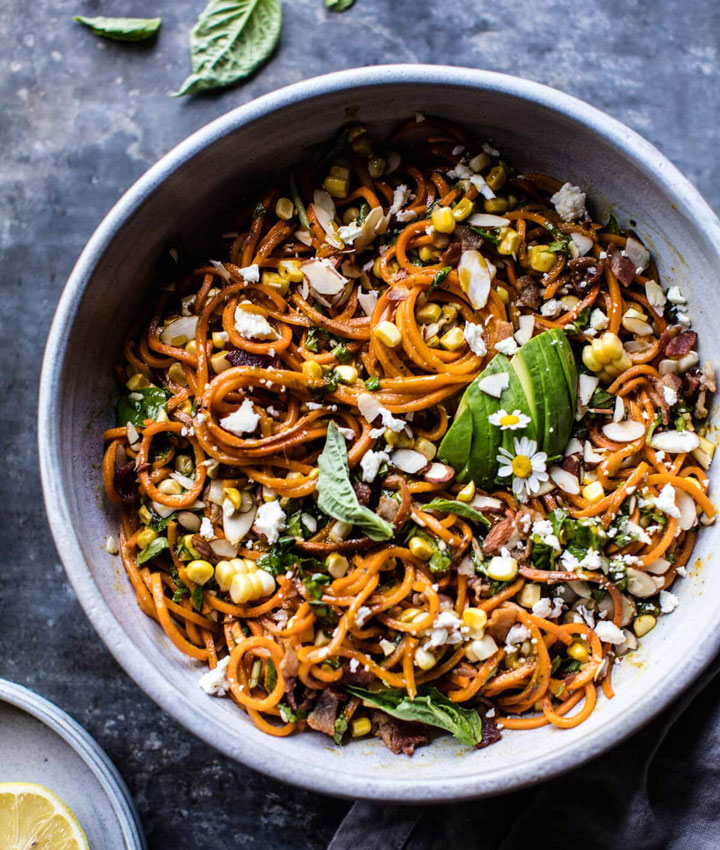 Sweet potato noodles don't come to mind when you think of the high-calorie carbonara dish. This recipe saves you calories and carbs by swapping in sweet potato noodles. Instead of slapping on a ton of cheese as most carbonara recipes call for, Tieghan Gerard prepares a white miso egg sauce and folds in some crumbled feta for some cheesy flavor.
Get the recipe from Half Baked Harvest.