25 State Fair Foods We'll Miss the Most This Year
Deep-fried Oreos are the ultimate state fair food.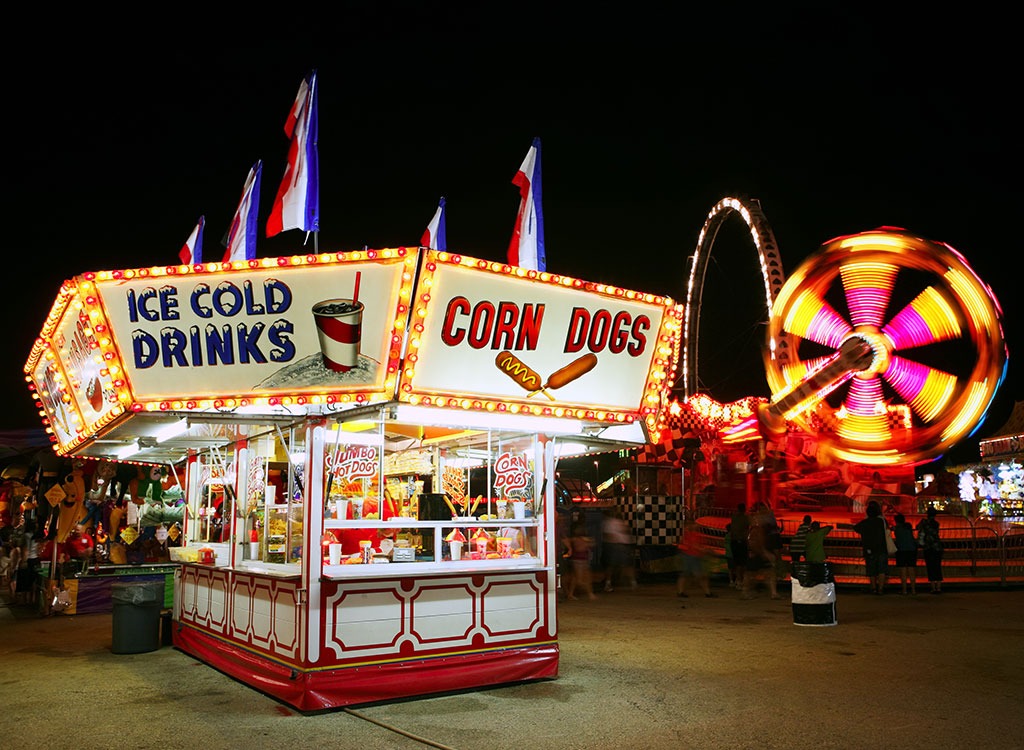 The coronavirus pandemic has left a lot of us without some of our favorite summer activities, including the state fairs that happen each year. The fair is filled with wacky food combinations and deep-fried everything (hello, deep-fried butter). Even though most state fairs across the country have been canceled, that doesn't mean we can't reminisce about the state fair foods we love and will miss eating this year.
And for more nostalgic treats, don't miss The Most Iconic Desserts Across the U.S.
Corn dogs
Corn dogs are the must-have state fair food. The classic snack takes a hot dog and batters it, and then the whole thing takes a swim in the deep fryer. And let's not forget that anything on a stick is just way more fun to eat.
A lot of people like topping their corn dogs with ketchup or mustard, but our favorite topping is melted nacho cheese! There's really nothing like walking around the fair with a corn dog in hand waiting to get on the next carnival ride or checking out some of the animals that are being showcased.
Cotton candy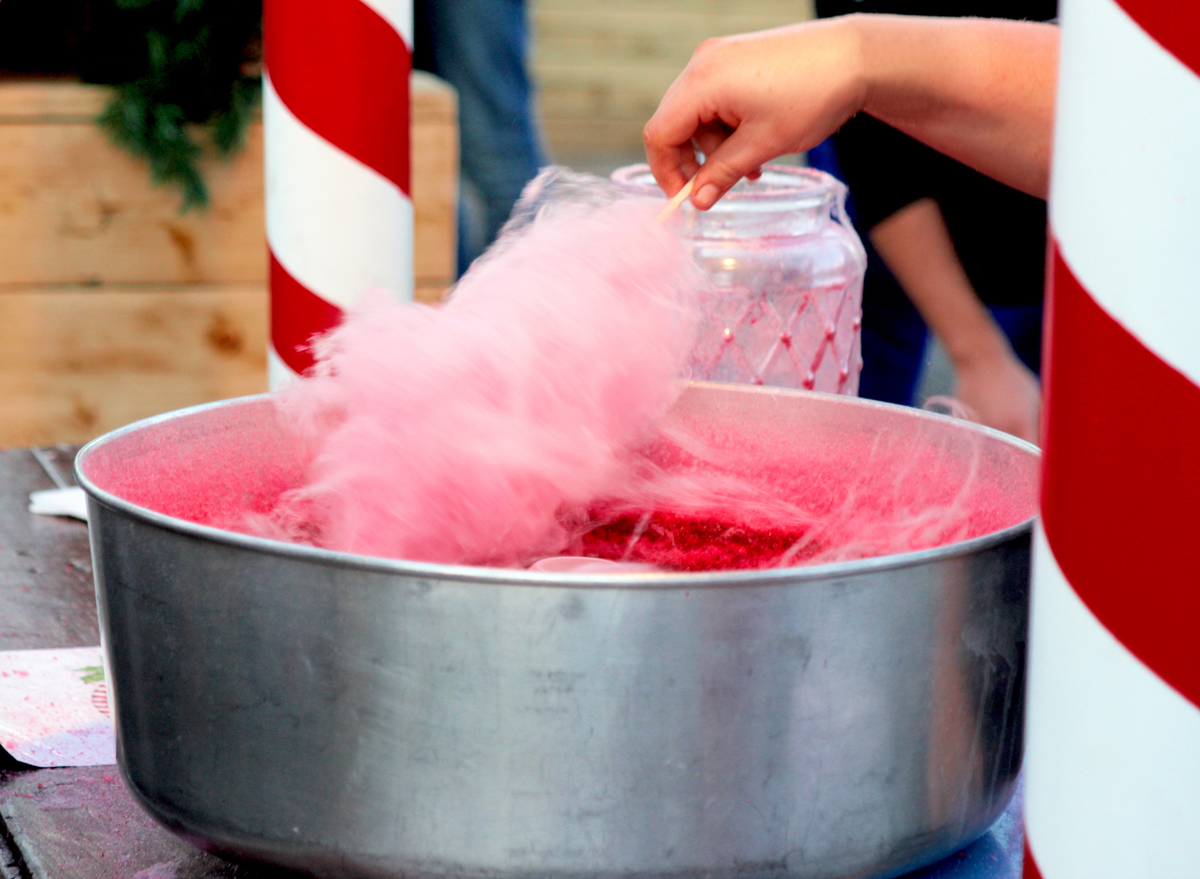 Cotton candy goes by lots of names, including fairy floss or candy floss. Whatever you call it, it's downright delicious, and it's a state fair staple. The sweet treat starts out as a powder poured into a hopper that magically gets spun into thin ribbons of candy. As the bowl gets full, the cotton candy master grabs it up and places it in a bag or on a paper cone.
Cotton candy comes in so many colors and flavors, and the fair usually has all of them! Next time you go to the fair, grab a flavor you've never had before and see if you like it. You might be surprised at how good orange-flavored cotton candy actually is.
Soft caramels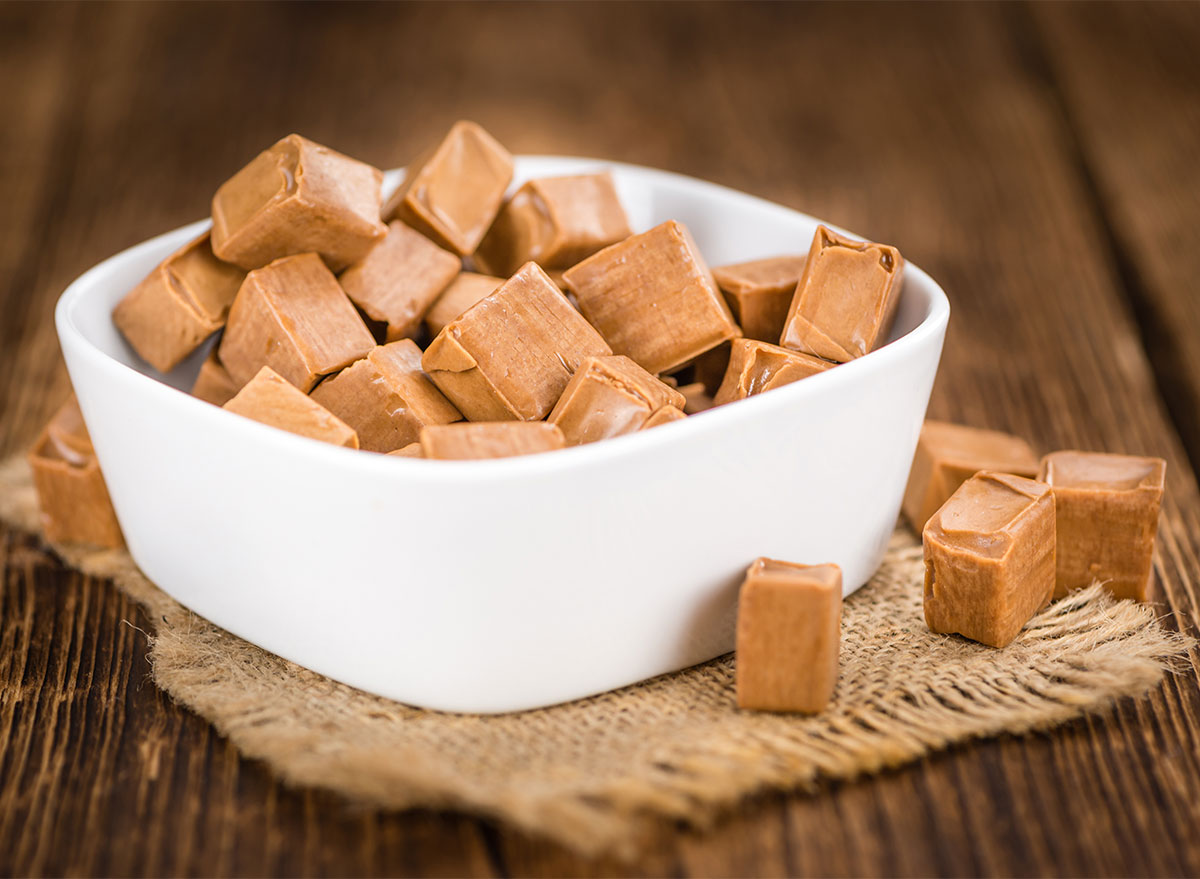 Getting any type of candy at the fair is a real treat, but when it comes down to it, the one that outranks them all is soft caramels. These little nuggets of joy are usually made in some sort of copper kettle and then poured on a surface to be cut into small squares or logs and wrapped up for you to buy. Popping the soft caramels in your mouth one at a time until they are all gone might cause a major sugar rush, but it's definitely worth it, especially at the state fair.
Funnel cakes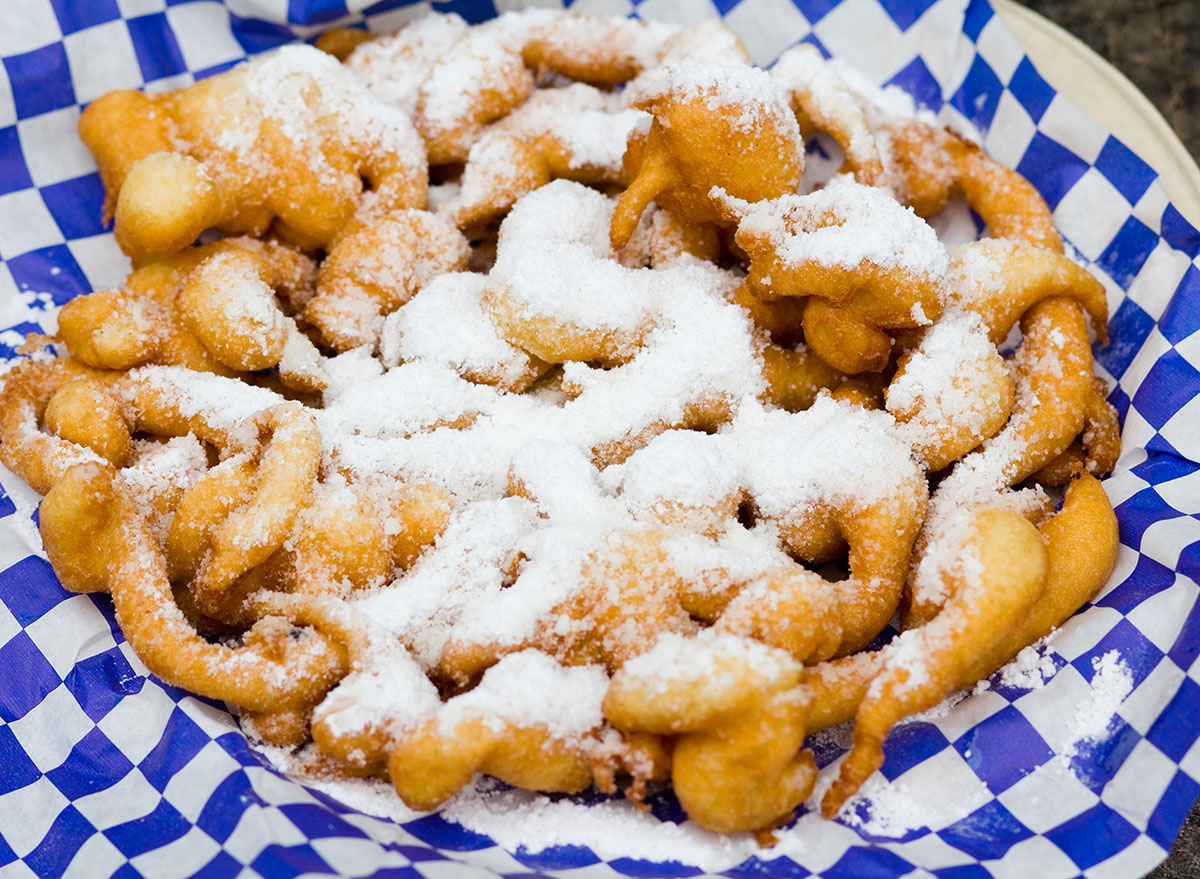 There's a distinct smell of funnel cakes in just about every state fair. The fried snack is literally a thin pancake-like batter streamed through an actual funnel into hot oil. The cakes are usually formed by some type of ring mold, or if the person making your funnel cake has been piping them out for years, you might get a freehand funnel cake.
Once the funnel cake is golden brown and delicious, it can be topped with just about anything. Classic toppings include powdered sugar or fruit, but a more modern spin on the fair food includes pulled pork or ice cream toppings.
Candied apples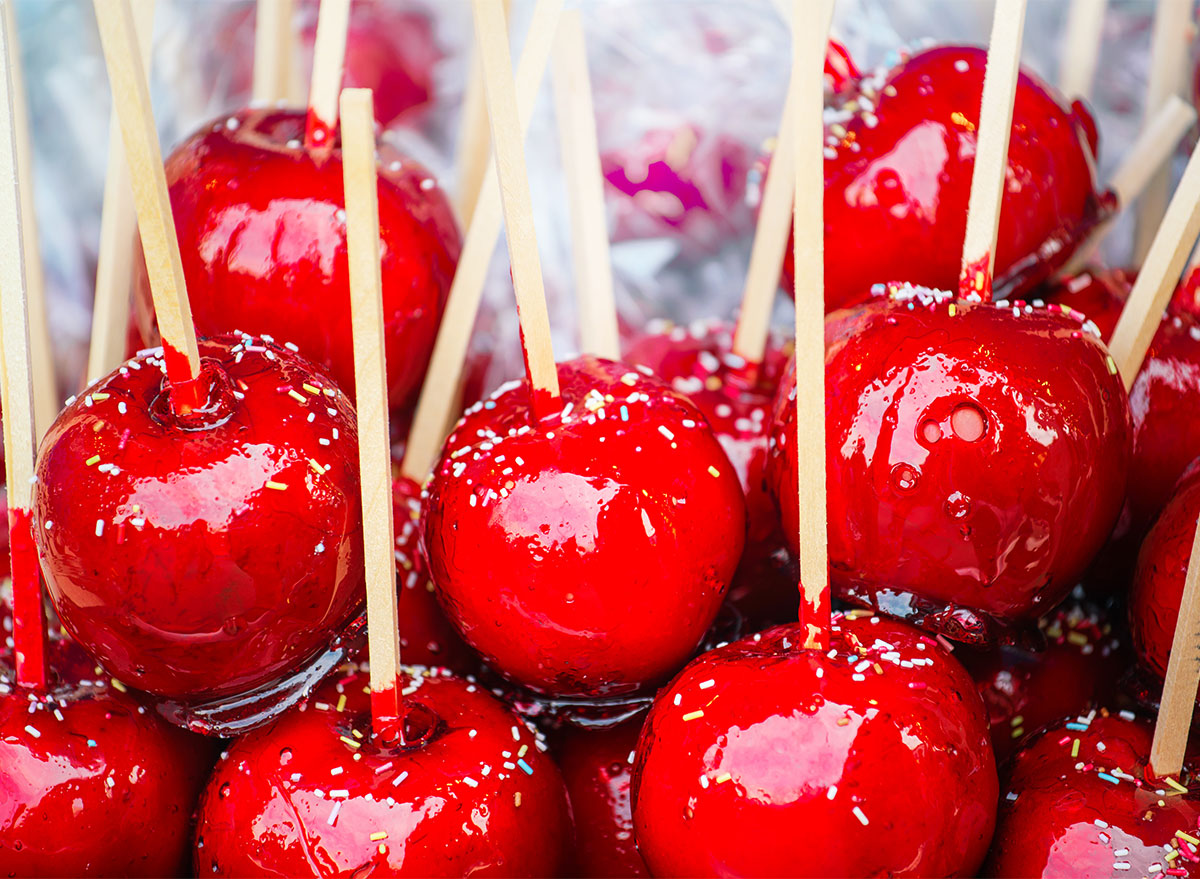 There are all types of candied apples that can be found at the fair, from the bright red, candy-dipped apples to caramel and chocolate-covered apples. While most people tend to eat their candy apple right off the stick, that can get really messy. For easier eating, try asking the vendor if they would cut the apple into wedges for an easy snack to munch on while you're walking around.
Love apples? Try one of these 19 Healthy Apple Recipes.
Boiled peanuts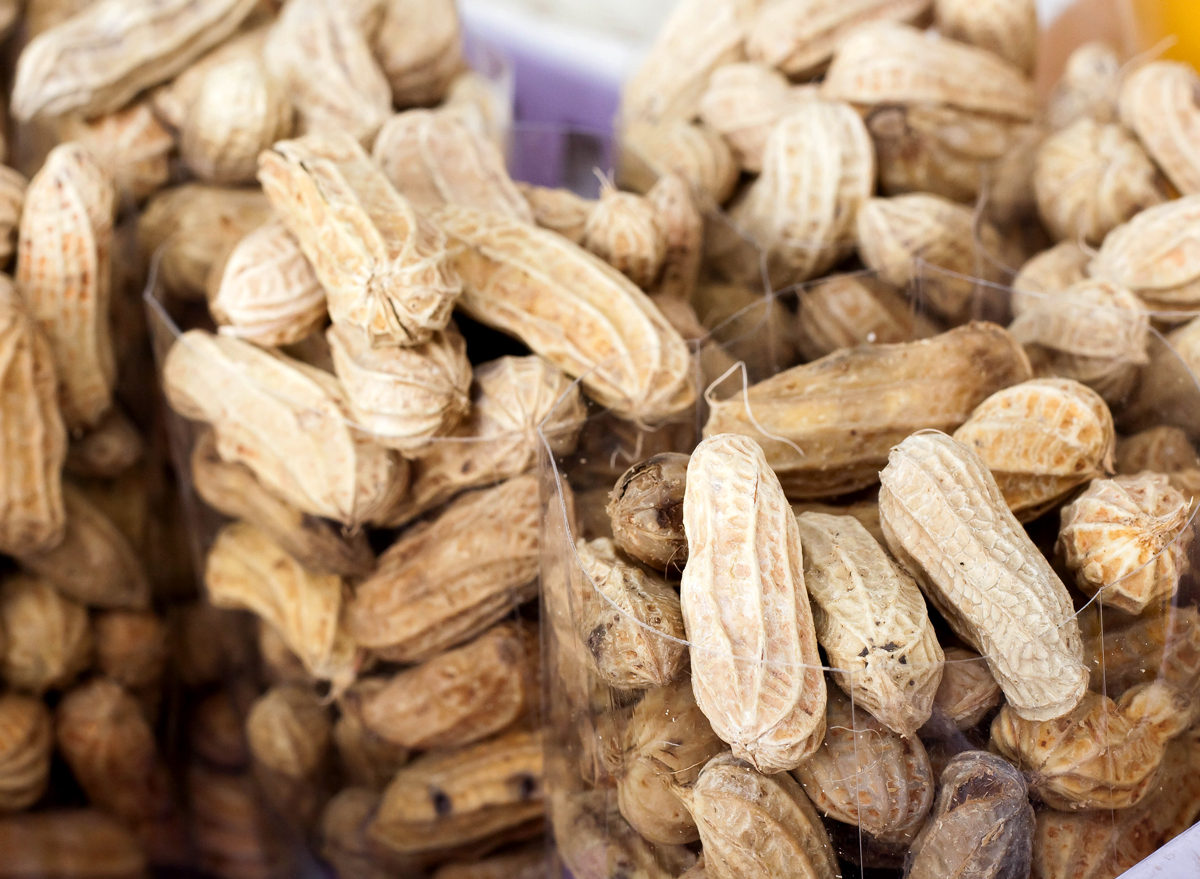 Boiled peanuts are a staple in the South. Even though you can find them at roadside stands along country roads, the best ones always come from the fair where the pot is always boiling and has been seasoned over years and years of use. Boiled peanuts typically come in two varieties, plain and spicy, but you never know what flavor combinations you'll find at the fair.
Even though state fairs have been canceled this year, you're in luck if you like boiled peanuts, because they are super easy to make at home!
Cheese on a stick
Just like corn dogs, cheese on a stick is fun to eat because it's on a stick, making it an easy portable snack to munch on while you explore the fair. This deep-fried favorite is just what it sounds like: a brick of cheese like you would get at the grocery store, placed on a stick, covered in a corn batter, and fried to golden brown perfection. The first bite of cheese on a stick is always the best because of the massive (and majorly Instagram-worthy) cheese pull.
And if you love cheese, don't miss these 18 Healthy Mac and Cheese Recipes.
Strawberry shortcake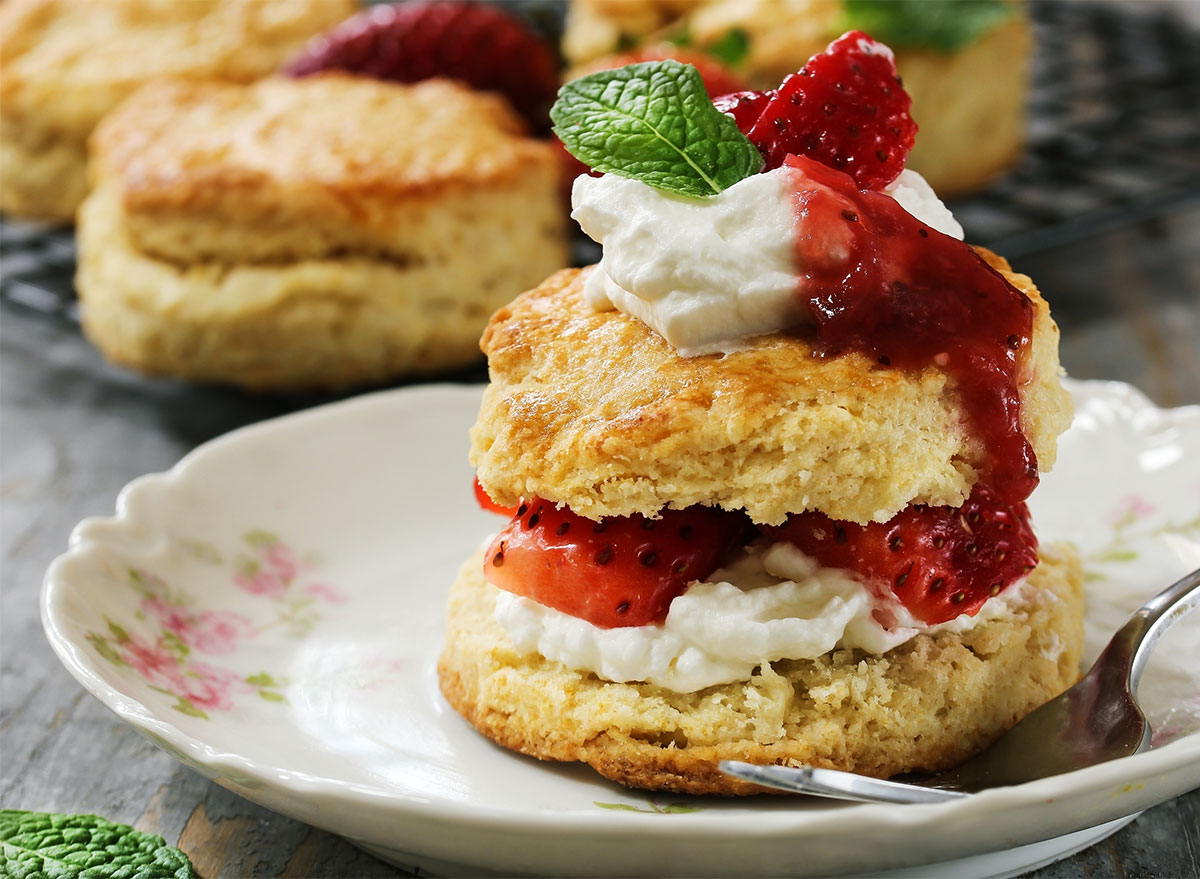 Southern states are really known for over the top desserts, and one that always rises to the occasion at the state fair is strawberry shortcakes. The dessert is built up in layers, starting with the base of a biscuit or shortbread, then fresh strawberries that have been macerated in sugar, then whipped cream, a biscuit or shortbread top, then more whipped cream. Talk about an indulgent dessert. These are usually so large at state fairs it's best to get one and share with a buddy. Even after sharing, you'll probably still have a few bites leftover.
Cheese curds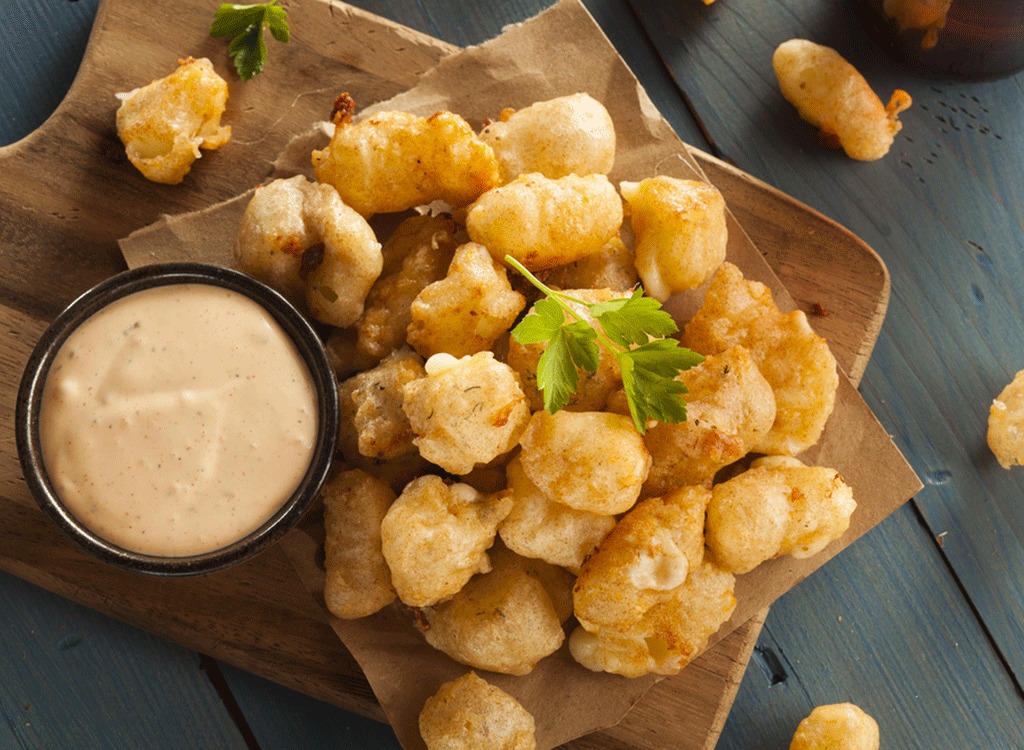 The Wisconsin savory snack has made its way across the country at state fairs. Cheese curds have a lot of different names at fairs, including cheese bites and squeaky cheese. No matter what you call them, they are delicious. Typically, you'll find these in white and yellow cheddar varieties and fried with a beer batter.6254a4d1642c605c54bf1cab17d50f1e
Some fair cooks have their own special sauce they serve with their cheese curds, but a lot of people serve them with ranch dressing. No matter what sauce you like, there's no way you can eat just one of these golden-fried nuggets—they're that good.
And for more classic foods, don't miss these 35 Southern Dishes Your Grandparents Used to Make.
Whoopie pie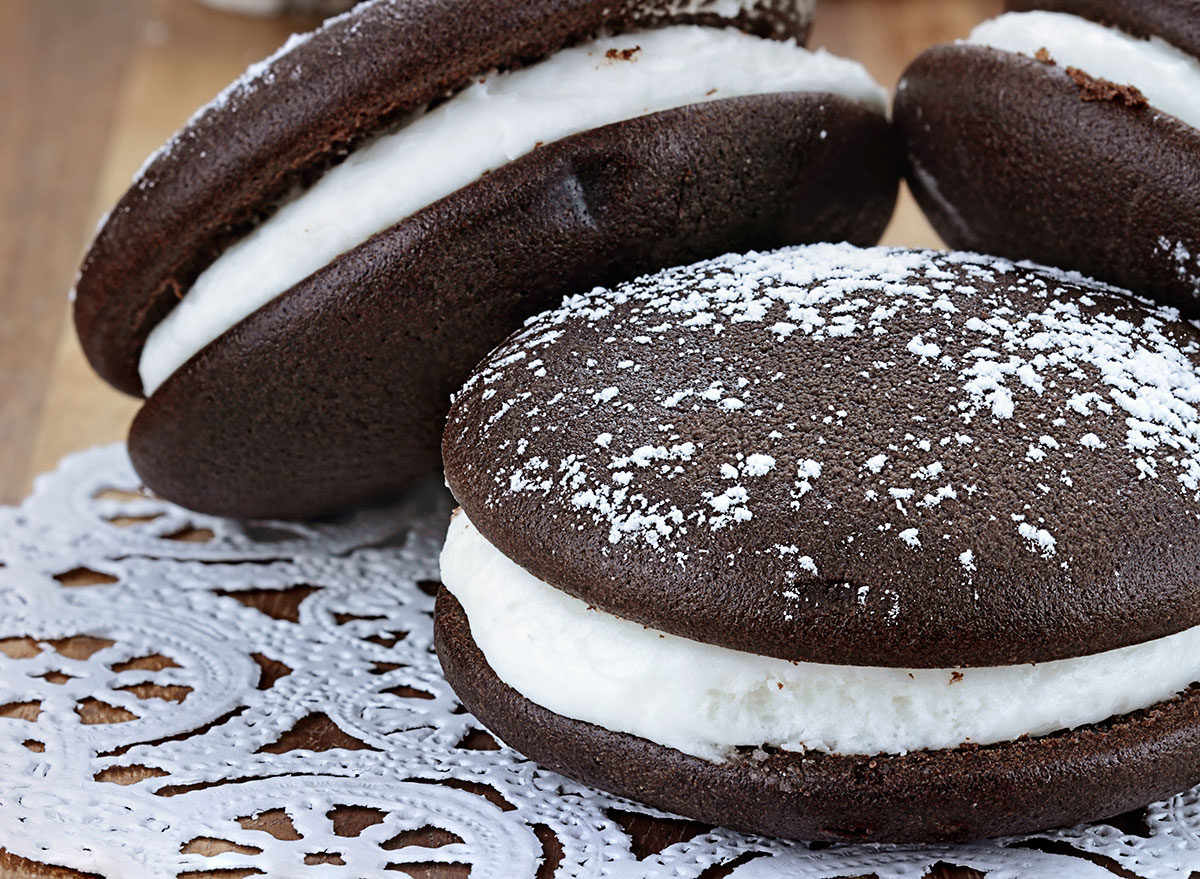 The Northeast United States are known for their famous whoopie pie dessert, and there's no better place to find these in a huge variety of flavors, sizes, and preparations. The basic whoopie pie is two chocolate cake "cookies" with a white frosting-like filling sandwiched between the two pieces of cake.
Some fun flavors you might find at the fair include pumpkin, maple bacon, or red velvet. While some state fair foods are hard to recreate at home, these are pretty easy, and they will instantly remind you of the times walking around the fair with friends or family.
Fried corn
Corn is a summer staple, and at the state fair, you can find corn prepared in a variety of ways. One that catches the attention of many people's noses is fried corn. The sweet corn on the cob has all of its husks and silks pulled back, and then the whole thing is dropped in hot oil. The corn kernels become browned around the edges and super sweet. When the corn is taken out of the fryer, it's immediately dunked into hot melted butter. The corn husks become the handle to hold on to the corn while you walk around the fair eating it. This is one thing we can't ever get enough of at the state fair.
Poutine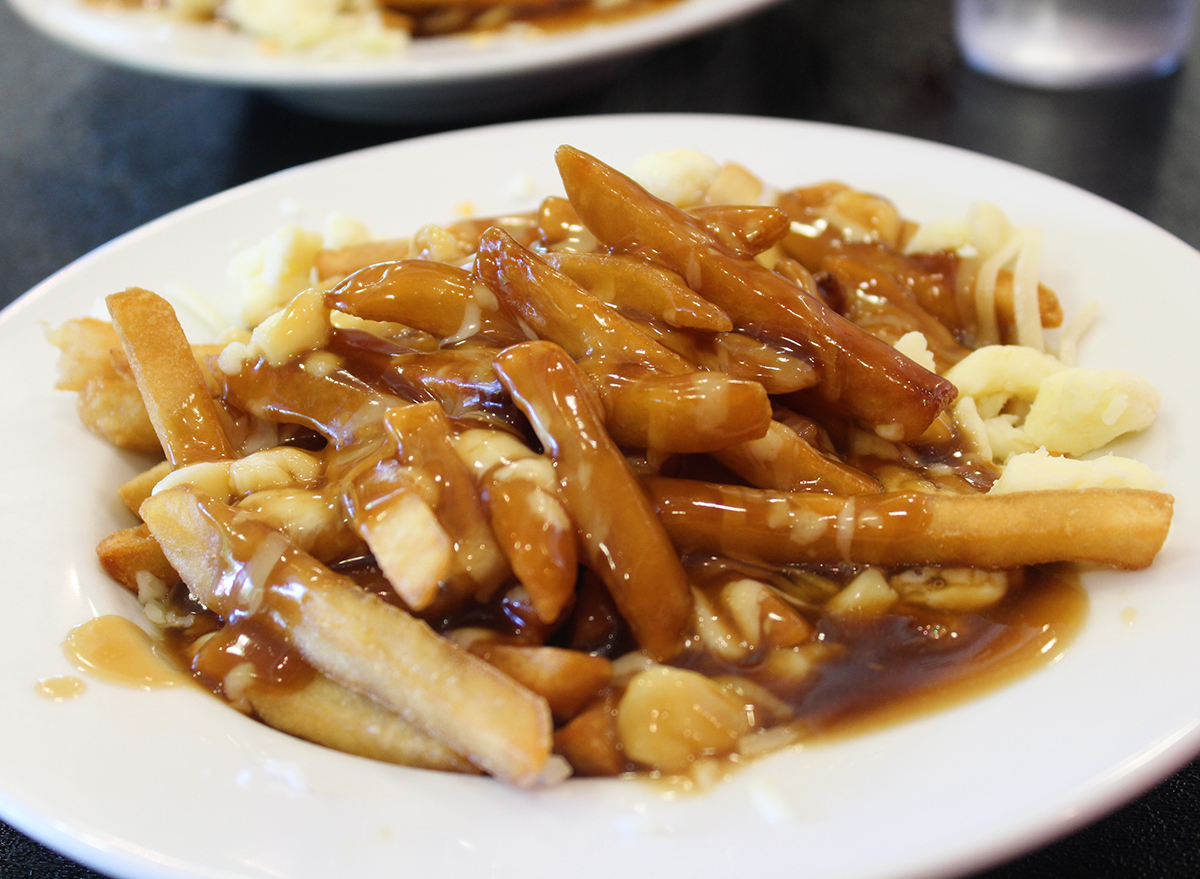 A classic Canadian dish, poutine has come across the border and made its way to the state fair. The dish is made up of hot French fries, cheese curds, and gravy layered into a loaded fry bowl that almost anyone will love. Poutine can be messy, thanks to the gravy, so you're going to want to grab a few extra napkins and a fork for this one before finding a spot to sit down and enjoy it.
Fry Bread tacos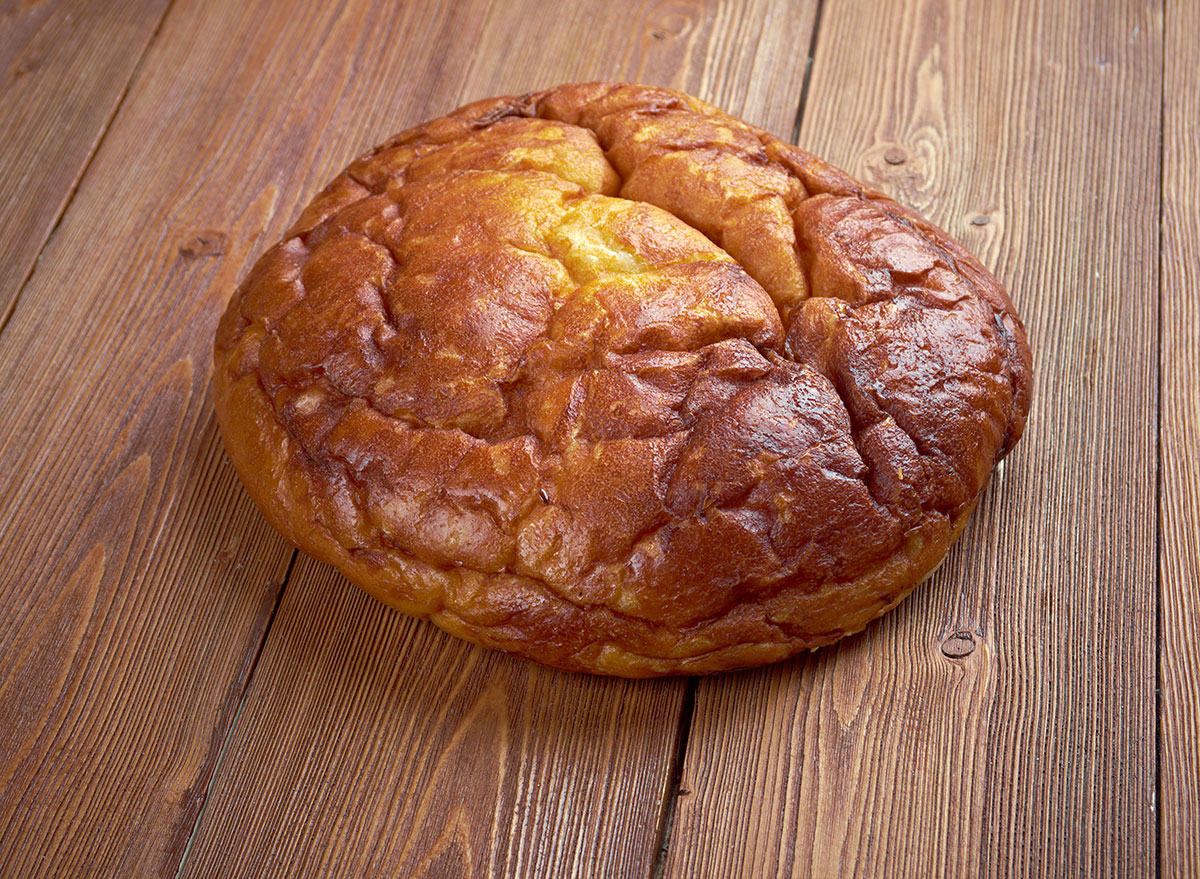 Fry Bread is mostly found in the Southwest United States, but it's gaining popularity at state fairs across the country. The bread is light and crispy but still super pliable, making it the perfect thing to make into a taco. These tacos can be filled with any traditional taco toppings or be made into a breakfast taco with eggs and bacon. Because the tacos are pretty large, they make for a filling meal while you're walking around and enjoying the state fair.
Blooming onion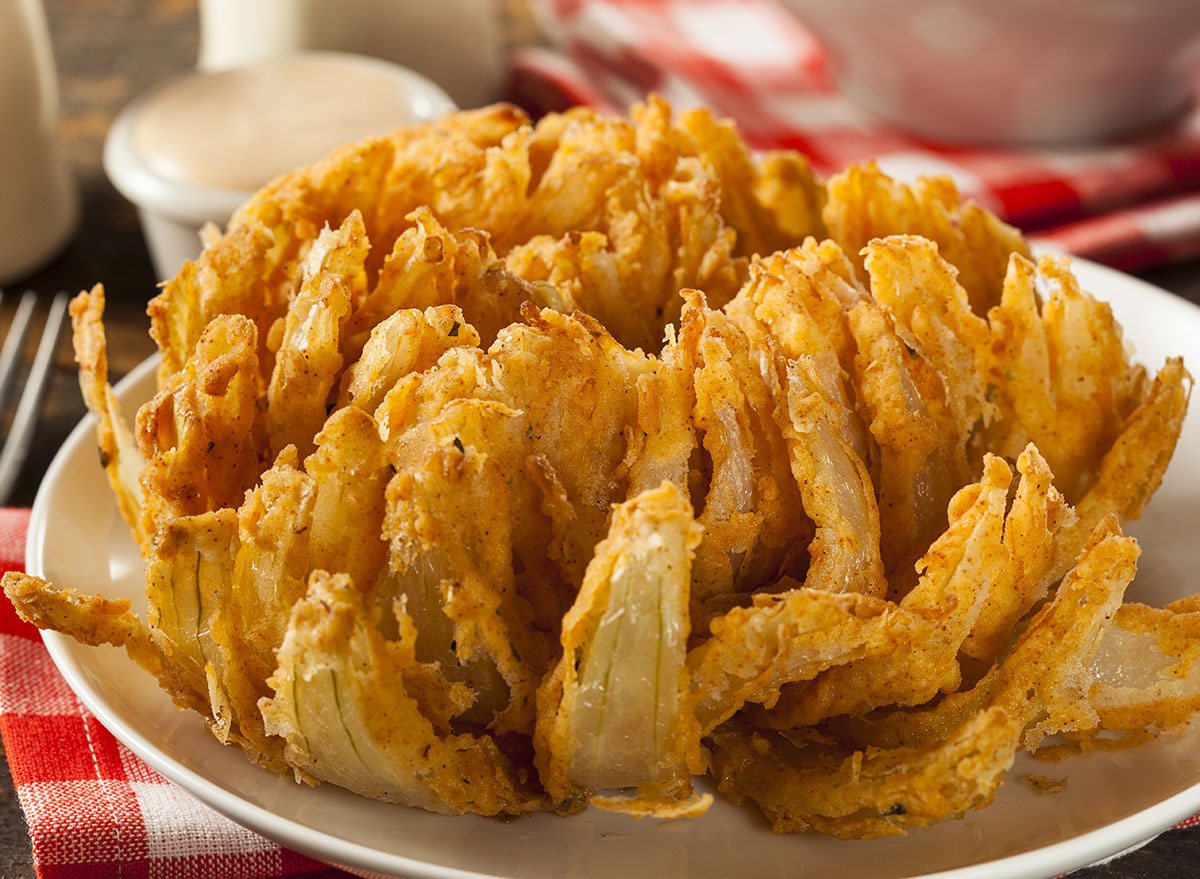 You might know the blooming onion from a chain restaurant, but those usually pale in comparison to the ones you can get at the state fair. First off, massive sweet onions are put into a contraption that cuts it into the right shape and separates out all of the layers into petals. Then the cut onion is dipped in a thin batter and fried until golden brown. The blooming onion looks like a large blooming flower when it's done, and usually served up with some type of dipping sauce like ranch dressing or spicy remoulade.
Deep-fried butter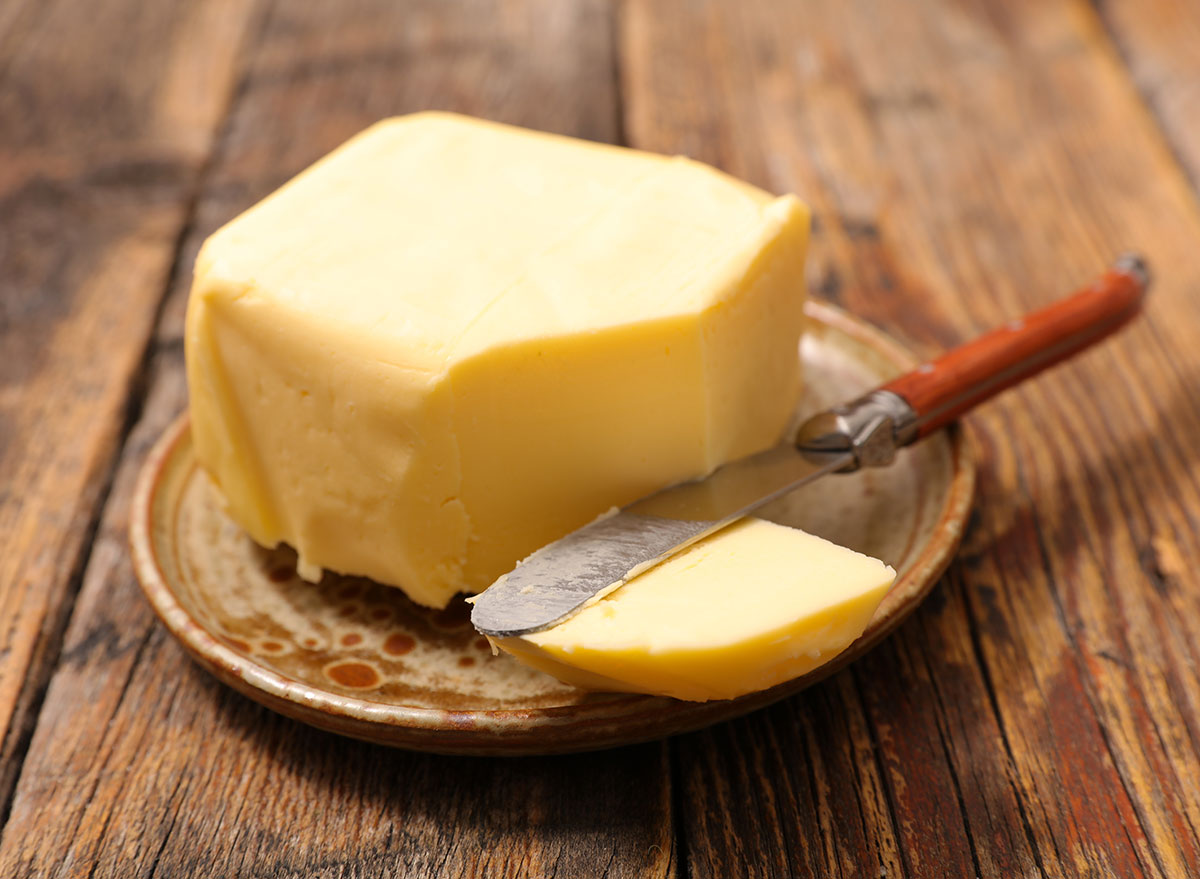 This weird and wacky fair staple has become an instant must-get at state fairs for the sheer novelty of the snack. Whole sticks of butter are put on a stick, dipped in beer or corn batter, then placed in the fryer until the batter turns the perfect golden brown. The butter melts while it's in the fryer, making the end result more like a buttered pancake rather than a gloppy buttery mess. Sometimes, you can even find deep-fried butter as little butter balls for something easier to share.
Fried Oreos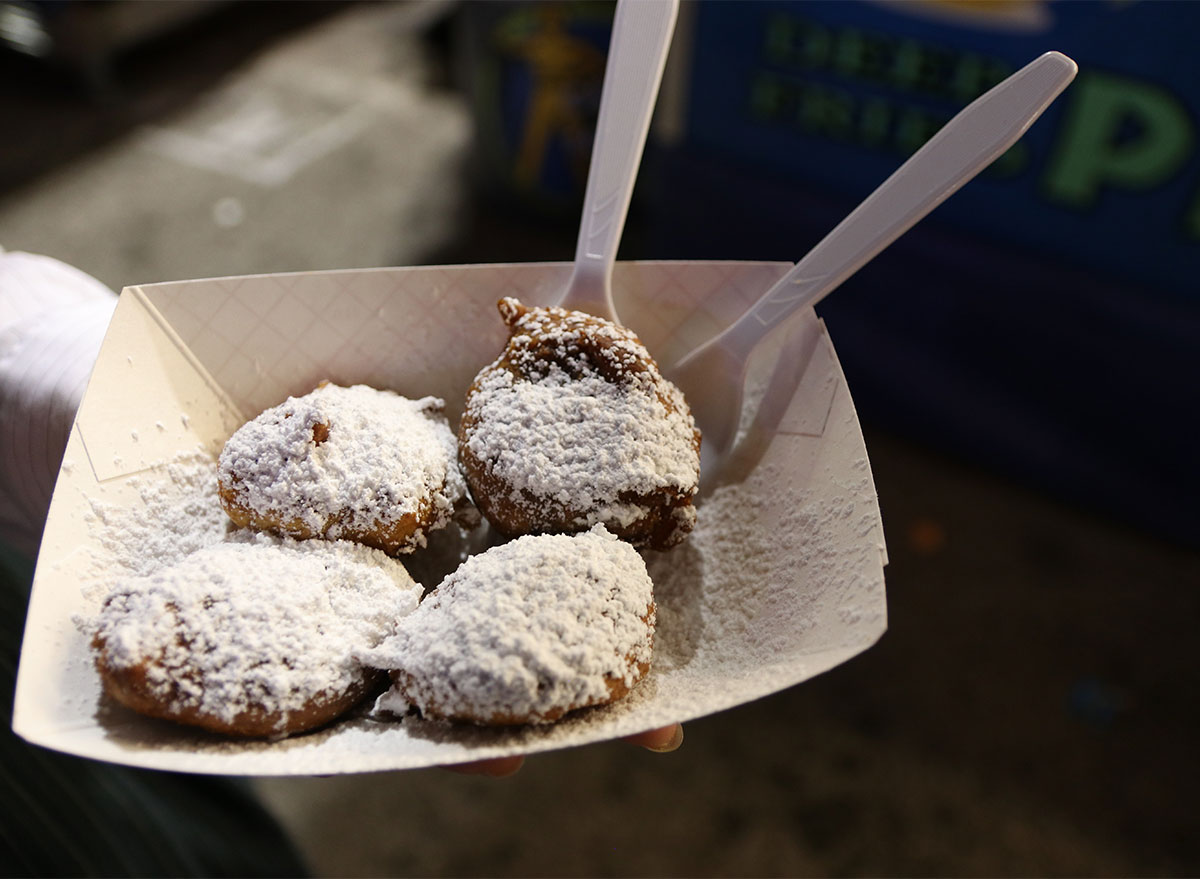 The fried Oreo cookie is a state fair classic! The iconic cookies are dunked into a thin batter, then fried in hot oil. While it may seem like the cookies could sop up a lot of oil, they typically don't. The cookies are usually served with powdered sugar and whipped cream. Even though the cookies go into the fryer as crisp little sandwiches, they come out with a more cake-like texture, and the frosting starts to melt into the cookie, making for a completely new treat.
Fried pickles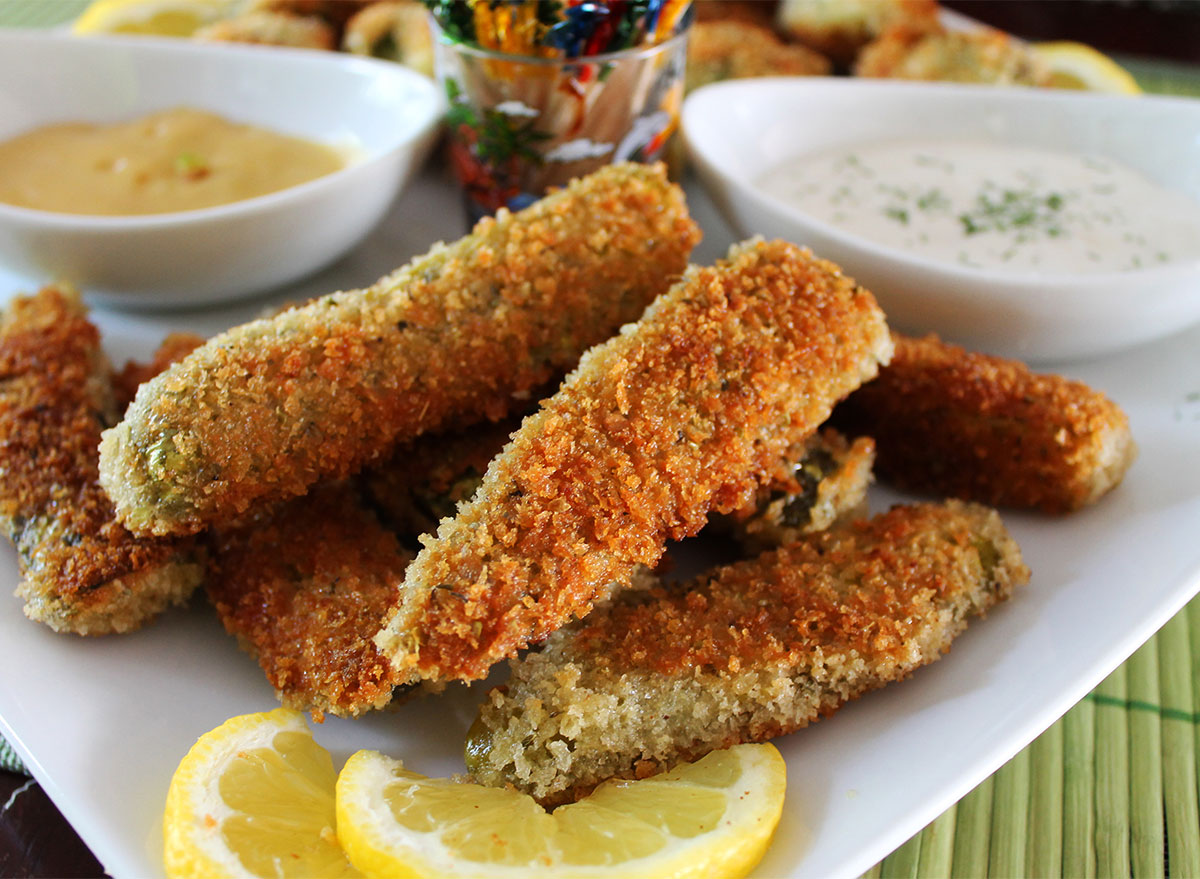 Fried pickles at the state fair aren't like the fried pickle chips that you get at a restaurant. Usually, the fair fried pickles are pickle spears or even a whole dill pickle, battered, and fried! For a really interesting fair treat, look for a fried pickle that's been hollowed out then had a hot dog inserted into the hole, called a pickle dog. Either way you go, the dish handed over is sure to be delicious. Top the whole thing with mustard or ranch dressing to give it even more flavor.
Caramel corn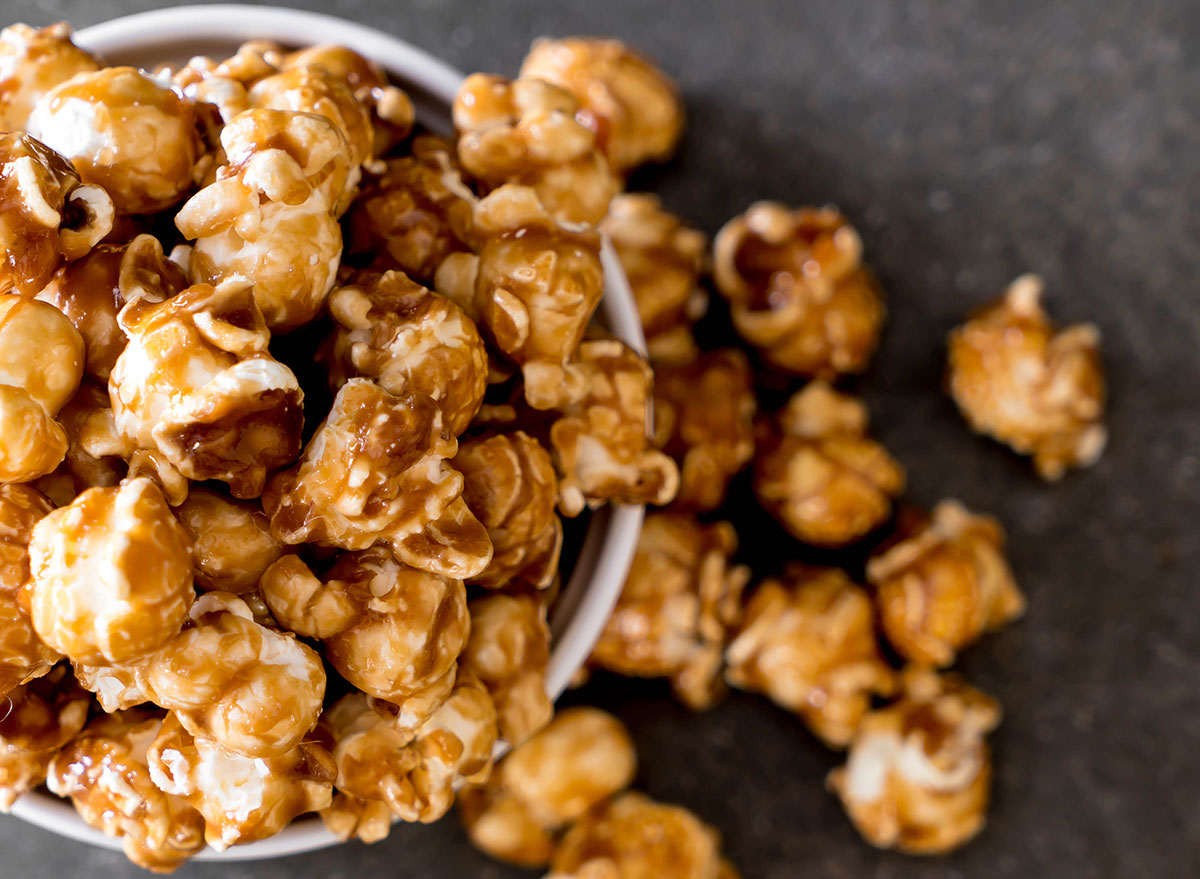 There's really nothing like hot caramel corn from the state fair. The fresh popcorn is popped right in front of you in a giant pot and stirred with a paddle. Once everything is popped, molten caramel is poured on top and stirred in. The sticky, salty, and crunchy snack is perfect to walk around with while searching for your next spot to grab a bite to eat. Caramel corn even makes for a fantastic take-home snack from the fair to eat the next day.
Elephant ears
Elephant ears and funnel cakes are often found at the same spots at the state fair, but they are completely different treats. In fact, elephant ears are more like Fry Bread than funnel cakes. The elephant ears start out as a piece of flat dough that's tossed in the fryer. Once the dough is browned and slightly puffy, it's tossed in cinnamon sugar and served up piping hot. This fun fair food can also be topped with ice cream or honey for a fun spin on a classic treat.
Frito pie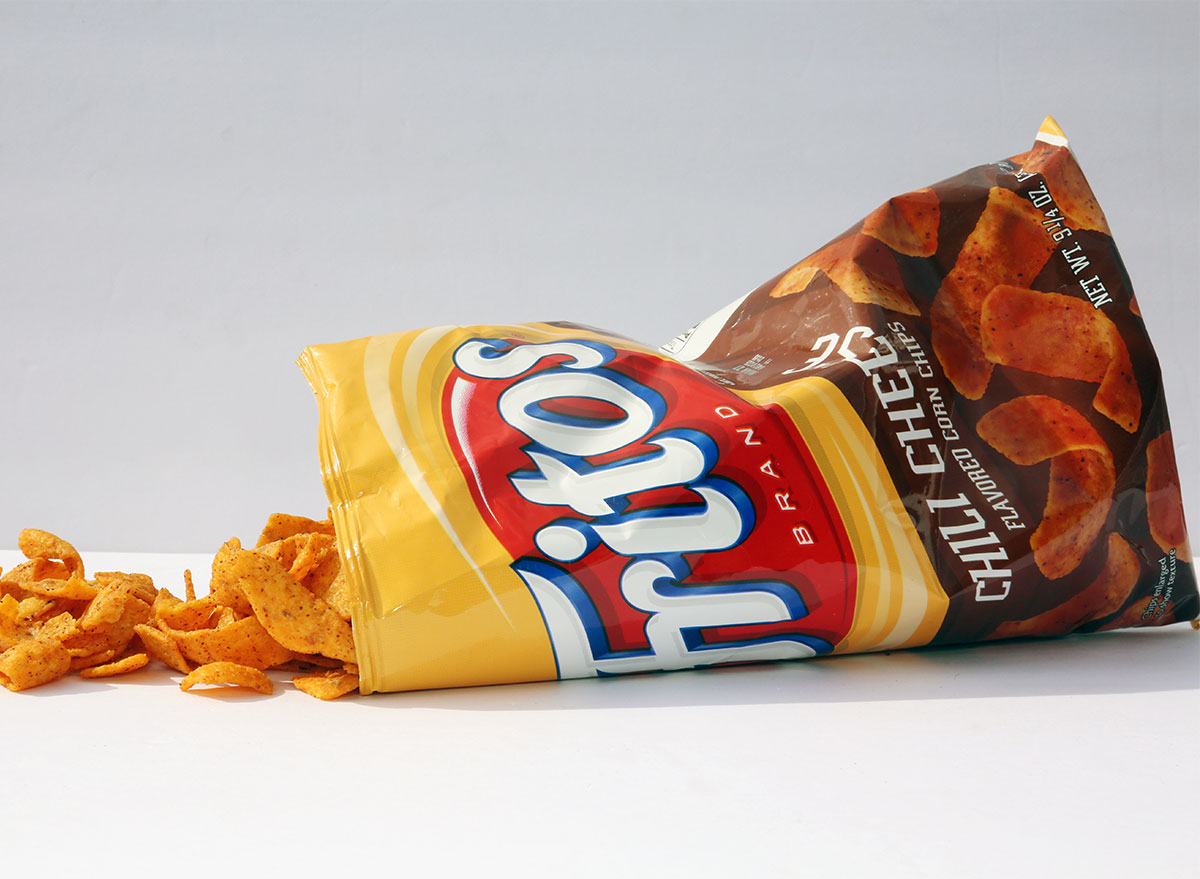 You might know this snack as firefly pie, nachos in a bag, or walking tacos, but whatever you name you call it, it's downright delicious. A bag of Frito corn chips are popped open, then topped with chili, onions, and cheese and eaten right out of the bag with a fork. Frito pie is the perfect walking snack as you enjoy the rides and shows at the fair. This fair snack is super easy to make, bringing a bit of the state fair right into your home.
Deep-fried candy bars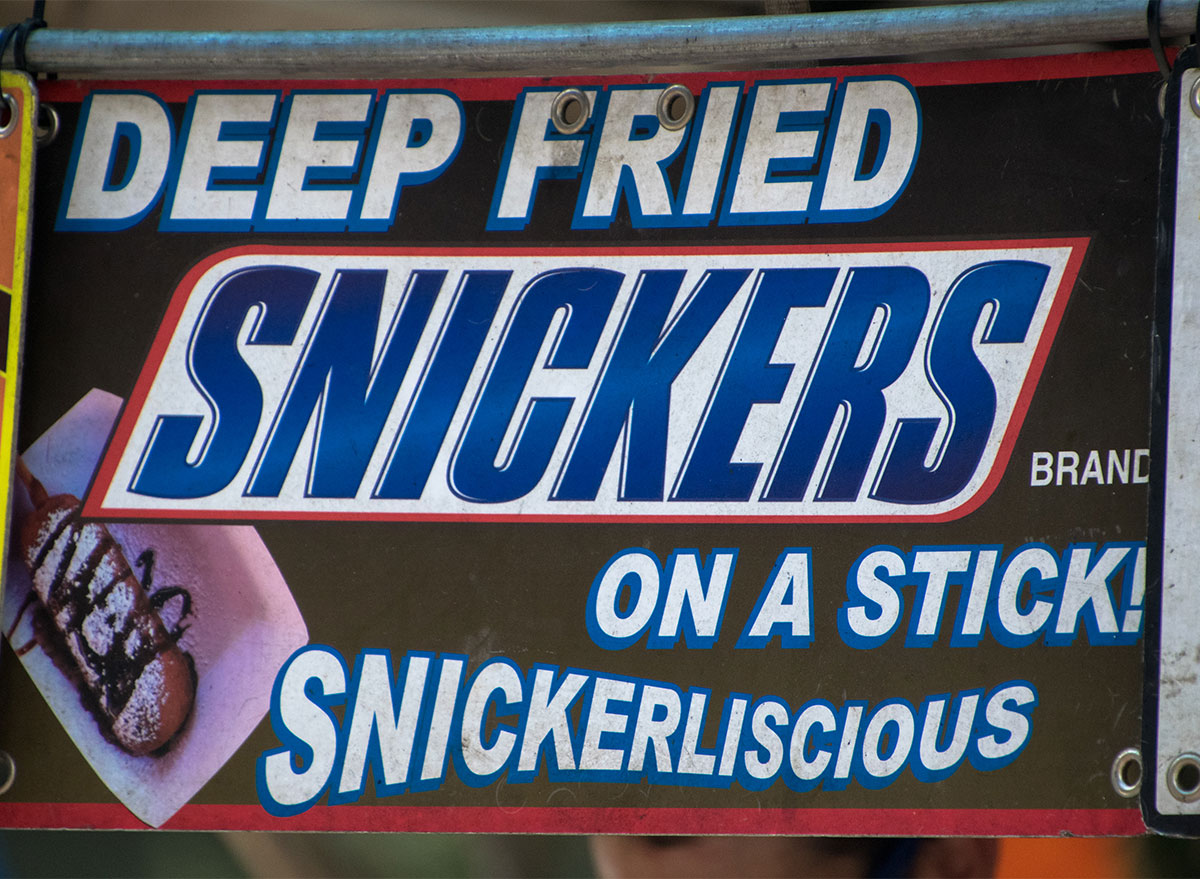 As if things couldn't get even more indulgent on this list, in come deep-fried candy bars. These state fair staples are sold across the country. No matter what kind of candy bar you choose to get, from Snickers to PayDay or even Reese's Peanut Butter Cups, all of them start out the same way. The vendor puts each candy piece on a stick, covers it in a thin batter, and then plunges it into the deep fryer until the batter is brown and the candy bar is almost molten. The candy bar is usually served with powdered sugar and chocolate syrup for even more of a sugar rush.
Italian sausage, onions, and peppers
Sausages of all kinds can be found at the state fair, but the classic Italian sausage with onions and peppers is a fan favorite. Usually, the sausage is browned on a griddle or grill, then topped with caramelized onions and peppers on a bun. This was always the perfect thing to get for a late-night snack at the fair, or even as dinner at the fair after an afternoon of riding carnival rides and checking out the different booths of animals.
Curly chips
Imagine if a curly fry and a potato chip were mashed together. That's exactly what a curly chip is. These thin and super crispy chips are made from a special cutter that makes ribbons of potatoes that are then fried to crispy perfection. When you find these at the state fair, they might come plain, or they might come loaded with toppings like cheese, bacon, sour cream, and chives. Either way, your order of curly chips is sure to be a delicious snack.
Deep-fried burgers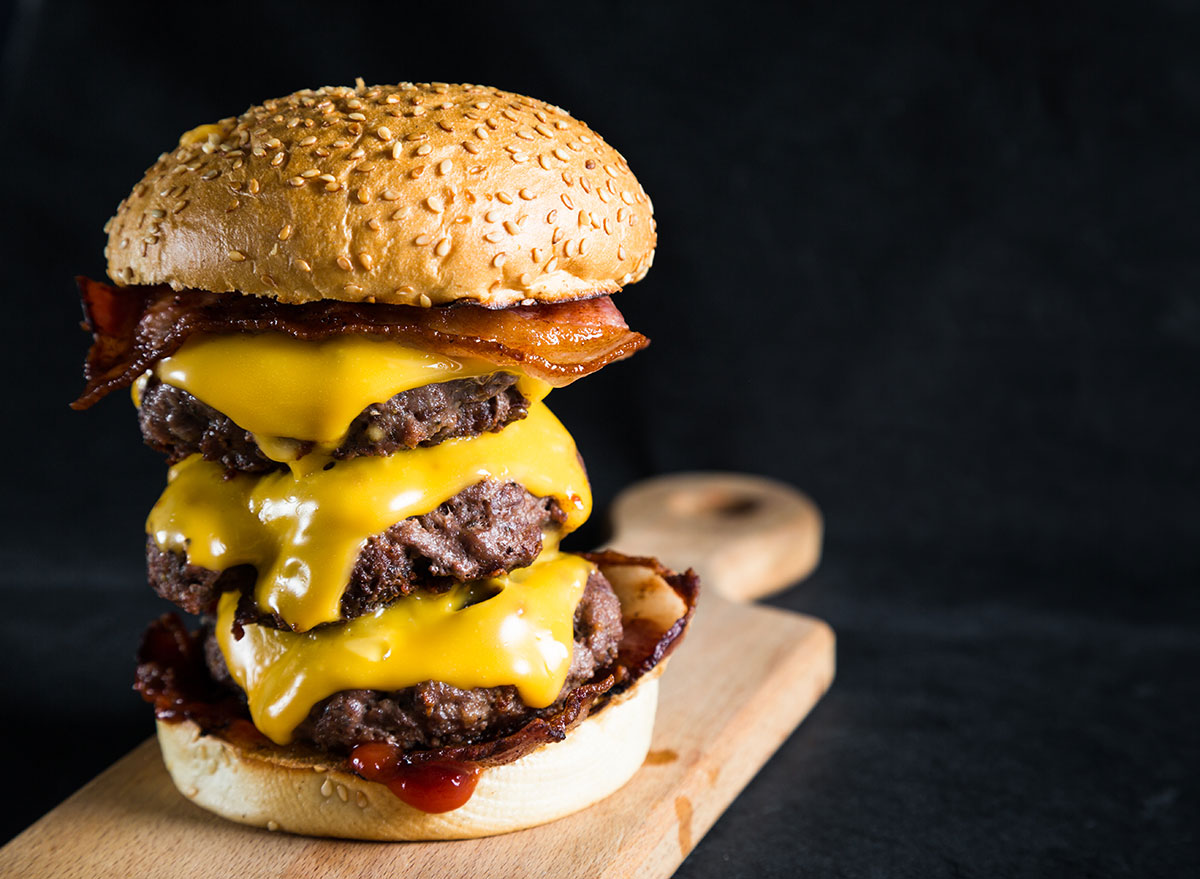 Just when you think things couldn't get crazier at the state fair, someone decided they were going to sell deep-fried burgers. The patty for the deep-fried burger is tossed into a batter and then sent straight into the fryer to brown and cook the meat. Then, the fried disk is put on a burger bun with all of the typical toppings like lettuce, onion, tomatoes, and ketchup. Even though this is something a doctor probably wouldn't advise eating, the fair is where all diet rules go out in the window.
Chocolate-covered bacon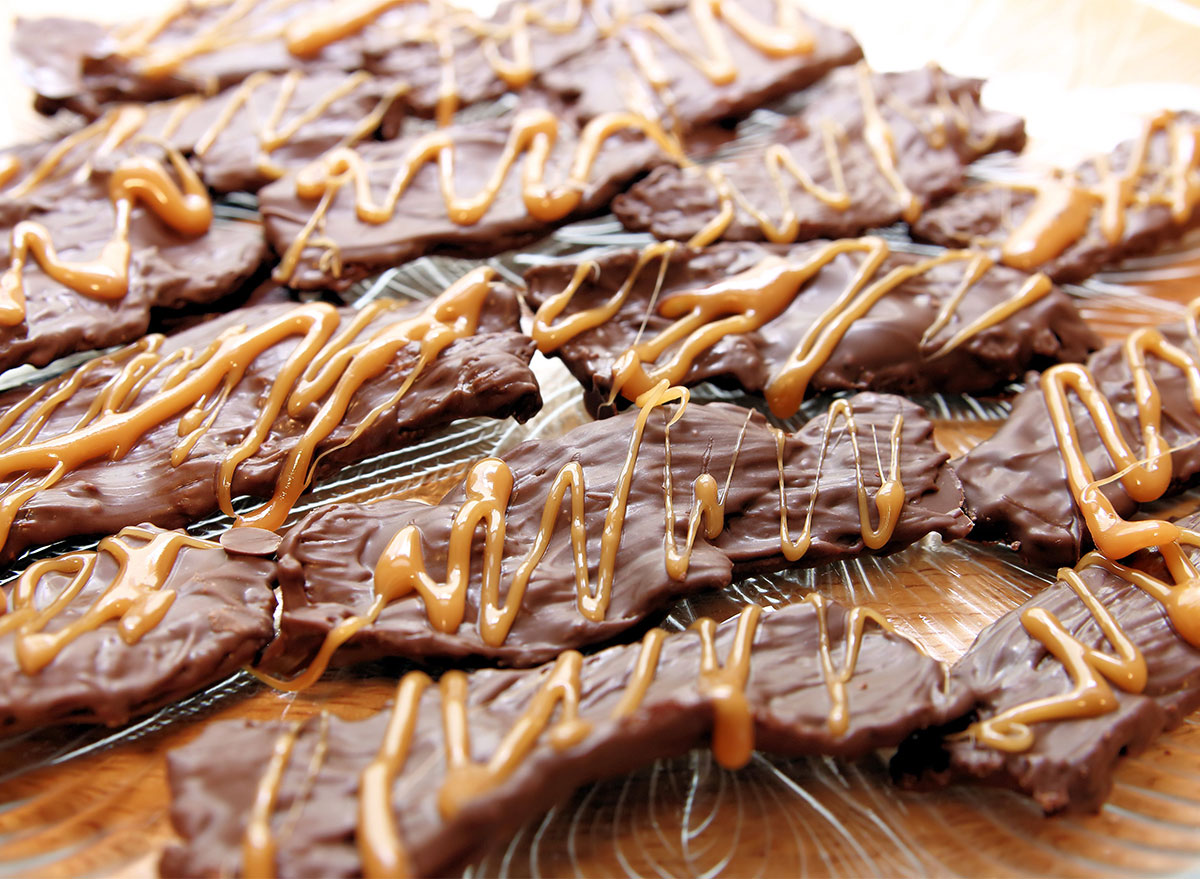 Bacon is one of the best foods, and it goes with just about everything. At the state fair, finding things with bacon isn't that hard, but one item is a little higher on the priority list to find: chocolate-covered bacon. Crispy bacon is skewered and dipped into milk chocolate then set aside to firm up before selling. This sweet and salty combo is worth the trip to the fair just to get this one thing. Some people make this even more over-the-top by adding bacon bits to the top of the chocolate for a bacon extravaganza!
And when you're cooking at home, don't miss these 52 Life-Changing Kitchen Hacks That'll Make You Enjoy Cooking Again.
Megan duBois
Megan duBois is a travel and lifestyle journalist with bylines across the internet and in print at Delish, Conde Nast Traveler, Travel + Leisure, Yahoo Lifestyle, and more.
Read more about Megan