Decadent French Toast Stuffed With Strawberries Recipe
A breakfast so yummy, you'll find it hard to believe it's healthy.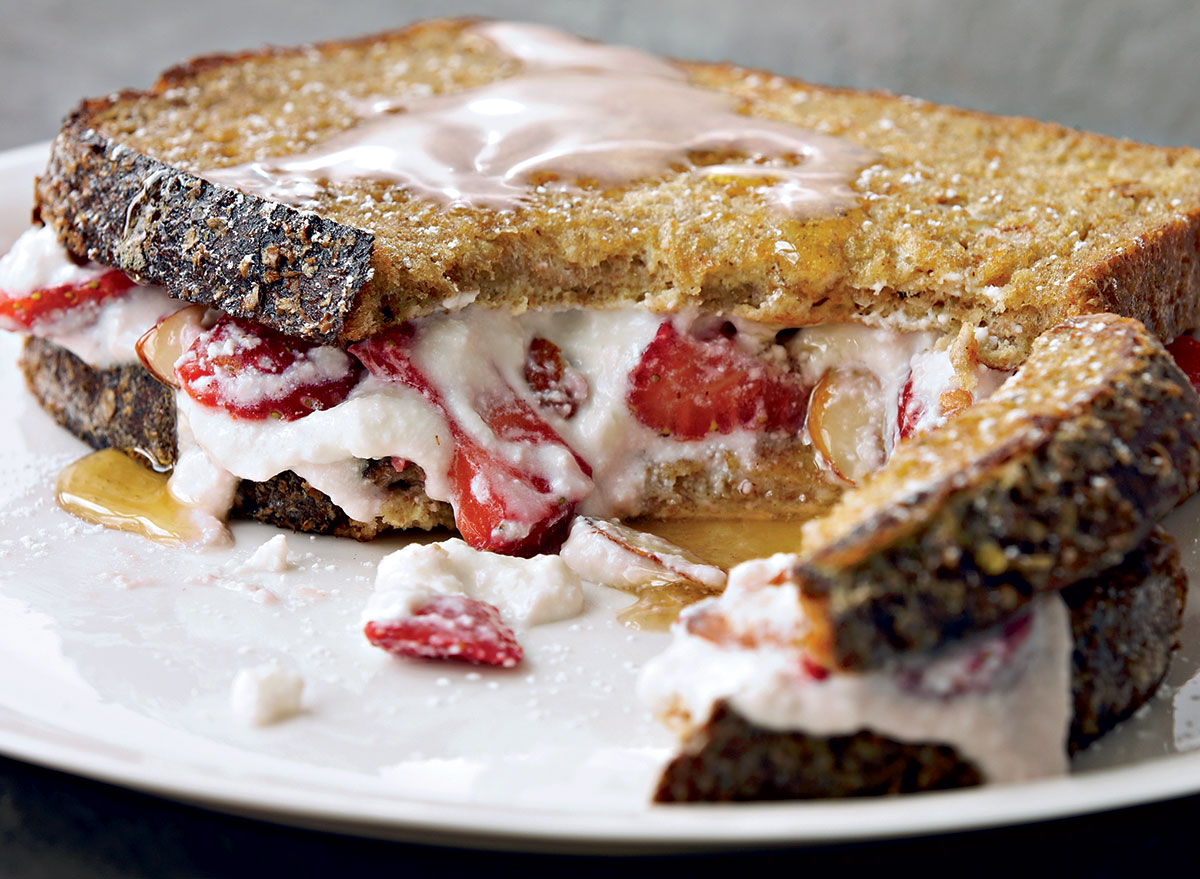 Odds are, if the word "stuffed" is in the menu description, the dish is likely pretty dangerous. That's because restaurants choose to use "stuffed" as an excuse to sandwich extra quantities of the cheapest, highest-calorie ingredients they have on hand—in other words: fat, sugar, salt—into a meal that is already high in fat, sugar, and salt as it is. Case in point: stuffed French toast.
At most places, the kitchen's stuffing technique takes a few pieces of thick bread and some fruit, and turns them into a dish with more than half your day's caloric allotment. But what if you stuffed your French Toast with some better for you, well…stuff? Done correctly, stuffing can actually be a nutritional boon: In this recipe, it adds a dose of low-cal protein, fiber, and all the energy-boosting vitamins from fresh strawberries and honey. Plus, it's simple enough to pull off, even on a weekday morning.
Nutrition: 370 calories, 12 g fat (4 g saturated)
Serves 4
You'll Need
1 cup low-fat ricotta or cottage cheese
1⁄2 cup skim milk
2 cups strawberries, sliced
2 Tbsp honey
2 Tbsp sliced or chopped almonds
1  Tbsp butter
2  eggs
1 cup milk
1⁄4 tsp cinnamon
1 tsp vanilla extract
8 slices whole wheat bread
Powdered sugar (optional)6254a4d1642c605c54bf1cab17d50f1e
How to Make It
Place the ricotta, milk, strawberries, honey, and almonds in a mixing bowl and stir gently to combine. Set aside.
Heat the butter in a large cast-iron skillet or nonstick pan over medium heat.
Beat the eggs with the milk, cinnamon, and vanilla in a shallow dish.
Working one slice at a time, place the bread in the egg mixture, turning it over once to thoroughly coat, then add it directly to the hot pan.
Repeat until the pan is full.
Cook each slice for 2 to 3 minutes per side, until a golden brown crust is formed.
Remove from the pan.
Divide the strawberry mixture among four slices of toast, spreading to evenly coat.
Top them each with another slice to make a sandwich, then slice on the diagonal to create two equal triangles. Serve with a shake of powdered sugar or a drizzle of pure maple syrup, if you prefer.