Pro Surfer Coco Ho's Jiu-Jitsu Workout Tips Will Make You Fit
Ho's workout will inspire you to get toned and fit for the beach this summer and beyond.
We're seriously counting down the days till summer, and that means one thing—surf's up! It's all too common to put on a bit of unwanted weight before swimsuit season, but fear not. We spoke with professional surfer Coco Ho from Hawaii to learn all about her jiu-jitsu workout, Ginástica Natural, and it will inspire you to get totally toned and fit for the beach this summer and beyond. Read on to learn more about this pro surfer's jiu-jitsu workout, and next, check out The 6 Best Exercises for Strong and Toned Arms in 2022, Trainer Says.
Ho trains aggressively with a workout routine called Ginástica Natural
It should come as no surprise that a professional surfer needs to stay extremely fit. Surer Today describes surfing as a "complete physical sport." Why is that? Well, riding the waves requires the movement of your tendons, bones, and a good majority of your body's muscle groups. Paddling utilizes your biceps, triceps, obliques, latissimus dorsi, rectus abdominis, the trapezius, and deltoids.
In order to be ready to handle this vigorous sport, Ho trains aggressively with a jiu-jitsu workout routine called Ginástica Natural. Ho explains, "It is great for mobility and agility. It started as a warm-up for jiu-jitsu, so naturally, it's a really nice warm-up for the hips and joints while firing up the core." The fact that she travels can be challenging, but this form of exercise is perfect. She adds, "I try to keep most of my workouts attainable on the road—so mostly body resistance. I'll add light weights ranging from 10 to 20 lbs when I want to ramp things up and build muscle."6254a4d1642c605c54bf1cab17d50f1e
According to the Ginástica Natural website, this method can be tailored to every age and every stage of exercise. You can practice it inside at your home gym or outside. These exercises have been used by individuals who are recovering from an illness, injury, or surgery. There's also training that's specifically geared toward preventing obesity.
Ho shares her favorite training tips, too
We got the inside scoop on Ho's favorite training tips, too. Ho shares that she enjoys "a nice warm-up stretch to wake muscles up," adding, "Incorporating stretches throughout your workout saves your soreness levels. I've found light hydration throughout is a game-changer (I usually have some electrolytes in my water during workouts) … Working out with friends always makes it easier!"
Related: Kaia Gerber's Workout Shows Off Her Killer Abs And Toned Body
She typically fuels up with a refreshing smoothie, avocado toast, or açaí bowl pre-workout
As with any workout routine, a solid pre and post-workout plan is a must. Healthy food choices go hand-in-hand with fitness. Ho explains, "I always like to be properly fueled and digested before a workout. Having the right fuel before a workout is so extremely important to get the value from the workout. Just know your hunger levels pre-workout! I operate off that."
What exactly does this professional surfer eat to provide her body with good energy? Ho divulges her choices to Eat This, Not That!, saying, "Something light like a smoothie or avocado toast pre, and electrolyte water throughout. Post-workout I'm usually thinking 'replenish,' whether it be with another meal or aminos to feed my muscles." Ho has another favorite, adding, "Açaí is the ultimate superfood—filled with natural antioxidants and energy. SAMBAZON offers a ton of different ways you can enjoy açaí." (From energy drinks, to smoothie bowls, to chocolate-covered frozen bites, who doesn't love açaí?)
Ho also tells us, "I typically have the Ready-to-Eat Bowls pre-surf or workout since they are great when you need something quick, healthy while on the go. The great thing about açaí bowls is they aren't too heavy and are easily digestible. A smoothie is great post-surf or workout, too, as it's so refreshing yet filling. I change up my toppings depending on hunger levels, so sometimes I add granola and peanut butter for extra protein."
Related: The Most Productive Floor Exercises To Get Rid Of A Flabby Stomach, Trainer Says
The pro surfer has an amazing philosophy when it comes to her beauty and wellness regimen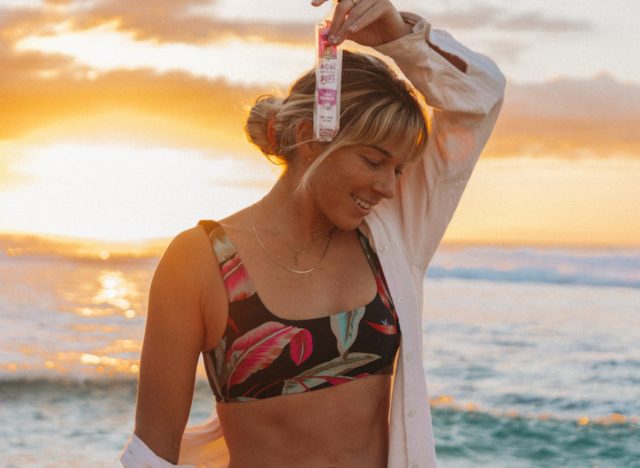 As far as Ho's beauty and wellness regimen is concerned, the pro surfer has an amazing philosophy. She advises, "Listen to your body. From a young age, I've always had good intuition about what my body was asking for—eat salad when your body needs nutrients, eat more carbs when you feel like you need more energy. Your body also directly reflects beauty rituals like your skin will quickly tell you when you need more of those nutrients or vitamins."
We also learned a very insightful mantra the extreme water sports lover learned from her dad: "When the waves are good and we'd get too excited, my dad would always say, 'One is better than none, and none is okay, too.' Because one good wave will always make you forget if you were having a sub-par session." We like that positive outlook for so many things we deal with on the regular, are we right?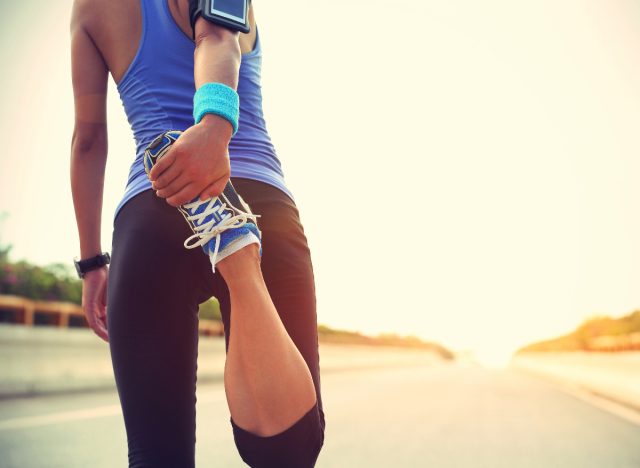 For more mind and body news, check out This One Thing Will Improve A Runner's Performance Big Time and The Most Productive Treadmill Workout For Firm Glutes, Trainer Says.
Alexa Mellardo
Alexa is the Mind + Body Deputy Editor of Eat This, Not That!, overseeing the M+B channel and delivering compelling fitness, wellness, and self-care topics to readers.
Read more about Alexa