25 Discontinued Fast-Food Items You'll Never See Again
As often as fast-food chains launch exciting new items, they also frequently get rid of fan-favorites—and these losses are never taken lightly. Thousands of fast-food enthusiasts have been forced to say goodbye to their go-to burgers, sandwiches, tacos, and more, with many protesting via petitions, Facebook groups, and Reddit threads. Some of these pleas have even been successful, resulting in the revival of these beloved menu items.
However, there is plenty of fast food that has had its moment in the spotlight but doesn't seem to be making a comeback anytime soon. But never say never; some of these items do resurface for a limited time. Just this week, Taco Bell temporarily revived its Volcano Menu, while KFC briefly brought back its Double Down in March.
Although it's hard to predict what will grace fast-food menus again soon, we do know what's currently not on them. For nostalgia's sake, we rounded up 27 discontinued menu items that have gone by the wayside.
From Burger King's Impossible Burger to Carl's Jr.'s Beyond Famous Star, fast-food chains have been releasing different plant-based meat items over the last few years. But for McDonald's, leveraging this ingredient wasn't a success. After a limited test in Nov. 2021, the fast-food giant rolled out the McPlant to 600 additional California and Texas locations in Feb. 2022. Around six months later, McDonald's confirmed to CNBC that the test had "concluded," with neither McDonald's nor Beyond Meat announcing plans for a national rollout.
Analysts believe the item's cancellation was due to low sales, as one analysis showed that McDonald's restaurants in the San Francisco Bay Area and Dallas Fort Worth only sold 20 McPlant sandwiches per day, while locations in more rural areas only sold three to five per day. Meanwhile, franchisees were aiming to sell 40 to 60 McPlant's daily.
Wendy's Big Bacon Cheddar Cheeseburger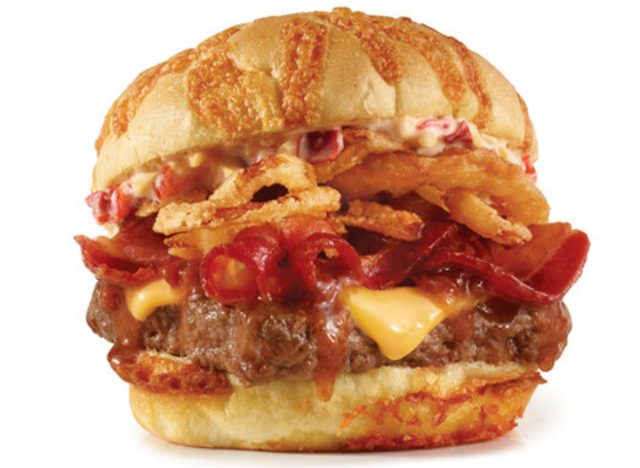 In September 2021, Wendy's debuted its Big Bacon Cheddar Cheeseburger, but the menu item's appearance was short-lived. The fast-food chain got rid of the burger during the summer of 2022 to make room for its Pretzel Bacon Pub Burger and Chicken Sandwiches—items that were originally nixed from the menu to clear the way for the Big Bacon Cheddar Cheeseburger.
Last year, Reddit users speculated that Wendy's was discontinuing its hot honey sauce—an item that made its first appearance in Feb. 2022 with the release of the Hot Honey Chicken Sandwich and Hot Honey Chicken Biscuit. While Reddit users who appeared to be Wendy's employees reported that their locations were no longer receiving shipments of the sauce, a spokesperson officially confirmed the news by telling Thrillist in September that the Hot Honey was getting "phased out."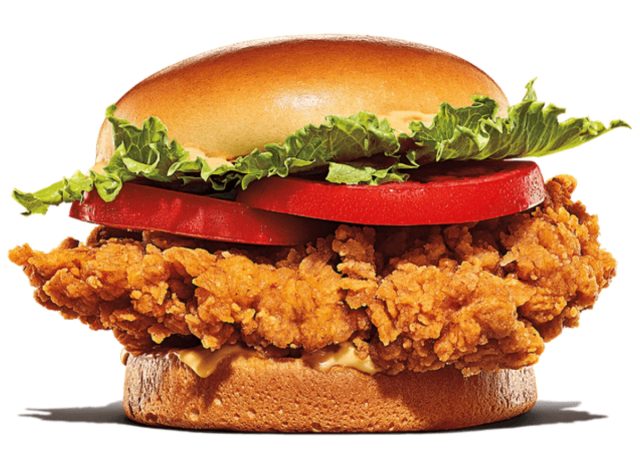 Introduced in June 2021, Burger King's Ch'King sandwiches had a brief stint on the chain's menu, but got axed in Aug. 2022, much to fans' dismay. Burger King ultimately replaced these sandwiches with its line of Royal Crispy Chicken Sandwiches, which are available in four varieties: Classic, Spicy, Bacon and Swiss Cheese, and Southern BBQ.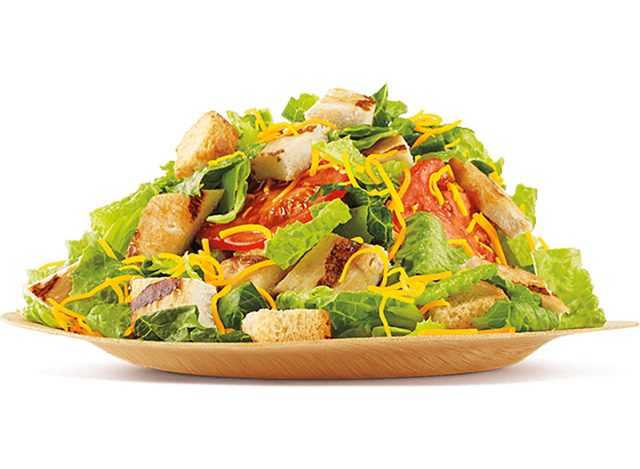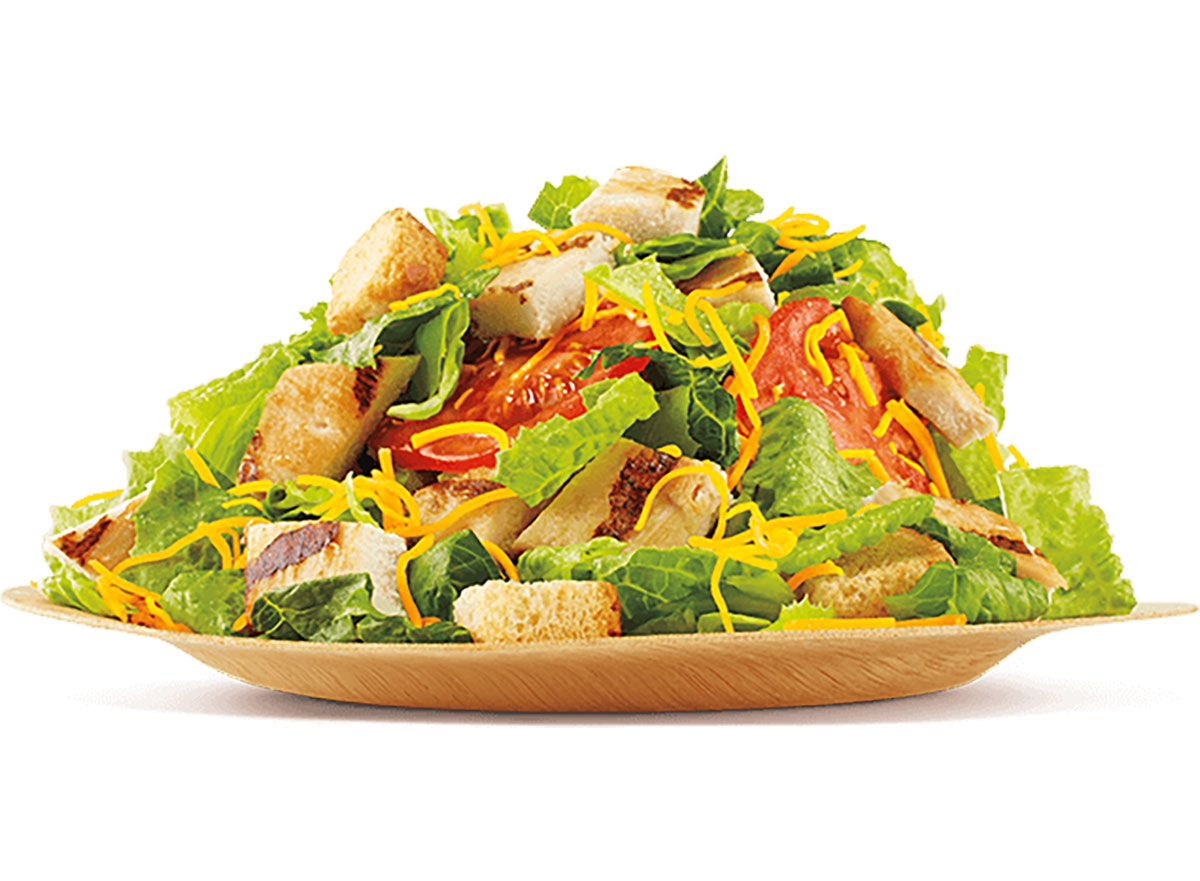 While fast-food chains aren't exactly known for their salads, they still have a presence across various menus. However, Burger King isn't one of them. In March 2022, Eat This, Not That! received confirmation from four New York-area restaurant managers that Burger King's salads were "gone" and "won't be coming back." One of them added, "Now, water is the healthiest thing on our menu."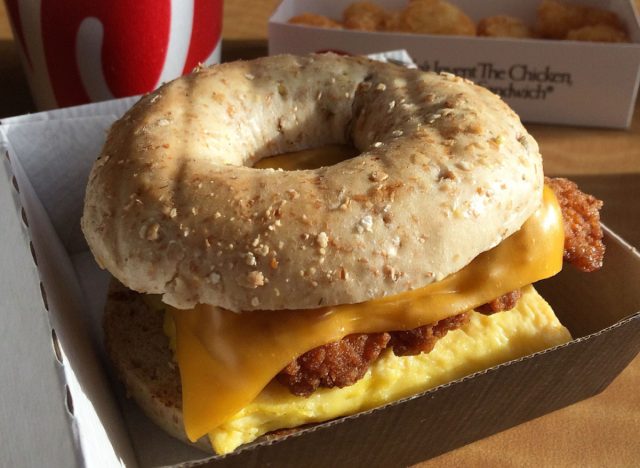 Chick-fil-A is home to a selection of breakfast sandwiches, all of which are served on a biscuit or English muffin. However, until two years ago, customers could also opt for a bagel. In Feb. 2021, the fast-food chain announced that it will be cutting bagels from the menu, as well as its decaf hot coffee.
According to a statement shared with TODAY, Chick-fil-A said this decision would allow the chain "to continue providing [its] customers the quality food and service they've come to expect, as well as make room for new future menu items."
Starbucks' Chicken, Maple Butter, and Egg Sandwich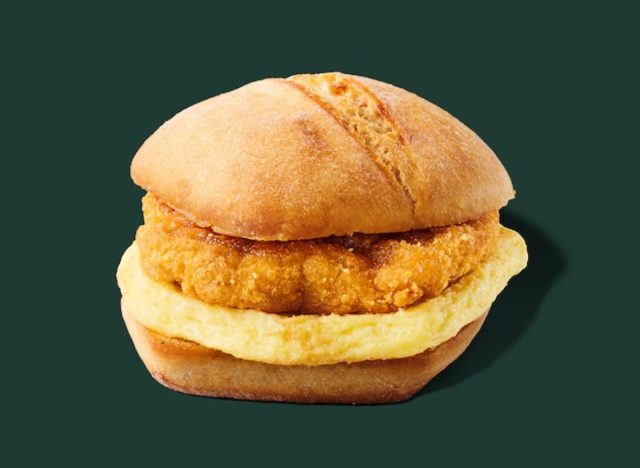 If you don't remember this sandwich, that's probably because it was on Starbucks' menu for less than a week. The coffee chain released its Chicken, Maple Butter, and Egg Sandwich on June 21, 2022, only to pull it from its stores on June 26. A Starbucks spokesperson told Restaurant Dive that the company "issued a voluntary stop sell and discard" of the item because it "didn't meet Starbucks quality standards."
While multiple people claimed that the new sandwich made them sick, Starbucks stated the item's quality issue "would not lead to foodborne illness and any reports linking the stop sale to illness are inaccurate."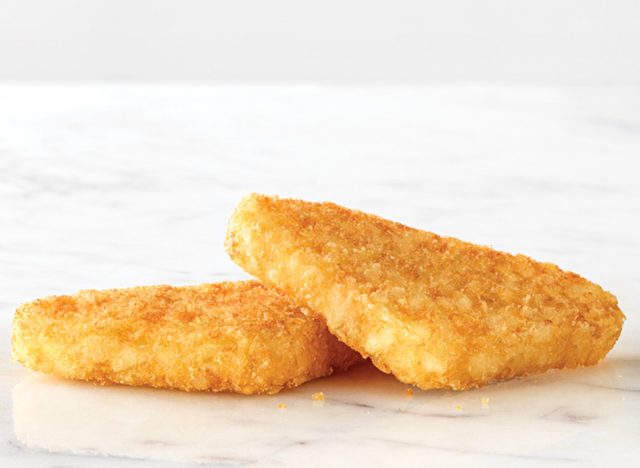 In March of 2021, rumors circulated on Reddit regarding the discontinuation of Arby's Potato Cakes, with several reporting that they will be replaced with the chain's Crinkle Fries. However, it wasn't until May that the Arby's confirmed the news, telling The Takeout, "Although our Potato Cakes have been discontinued (for now), who's to say they're gone forever?"
Most fast-food restaurants serve fries, but KFC was an exception—well, until 2020. After successfully testing its Secret Recipe Fries in 2019, the chicken chain discontinued its potato wedges and replaced them with these fries, which are seasoned in the chain's secret blend of herbs and spices.6254a4d1642c605c54bf1cab17d50f1e
Pizza Hut's Triple Decker Pizza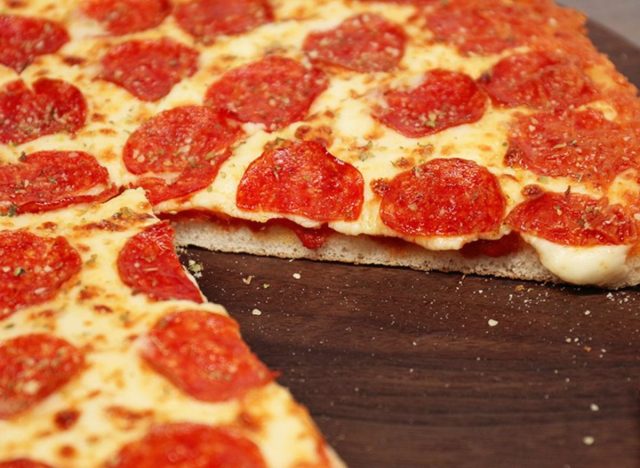 Certain things are objectively true: The sky is blue, 2+2=4, and pizza with more cheese is better. The good folks at Pizza Hut know this, which is why they stuffed as much cheese into this multi-layered pizza as they possibly could. Part of the late '90s boom of novelty fast food items, the Triple Decker secured a permanent place in customers' hearts. Over 20 years after its launch, a Facebook fan page still pays homage to the legendary pie.
Burger King's Chicken Tenders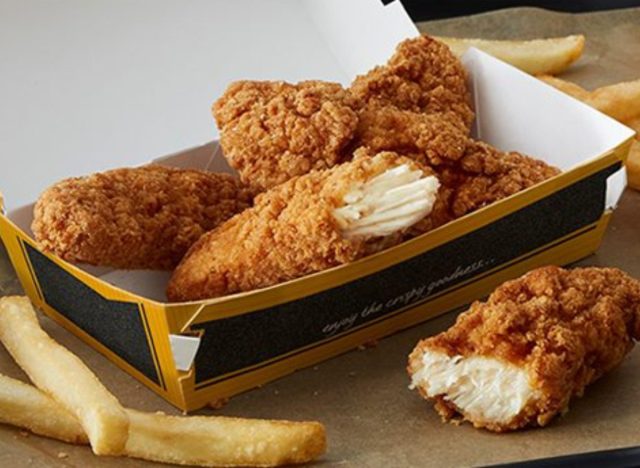 Behold, the mysterious case of the retired chicken tenders that never were. There are multiple Facebook pages that beg Burger King to bring back the chicken tenders, and some even have thousands of likes to match the energy of the many angry fans who derided the company's attempt at replacing tenders with nuggets.
In September 2018, Burger King announced that it would be serving chicken tenders, seemingly caving to public pressure with an encore appearance. However, they were again gone after a limited-time run.
Wendy's Frescata Sandwiches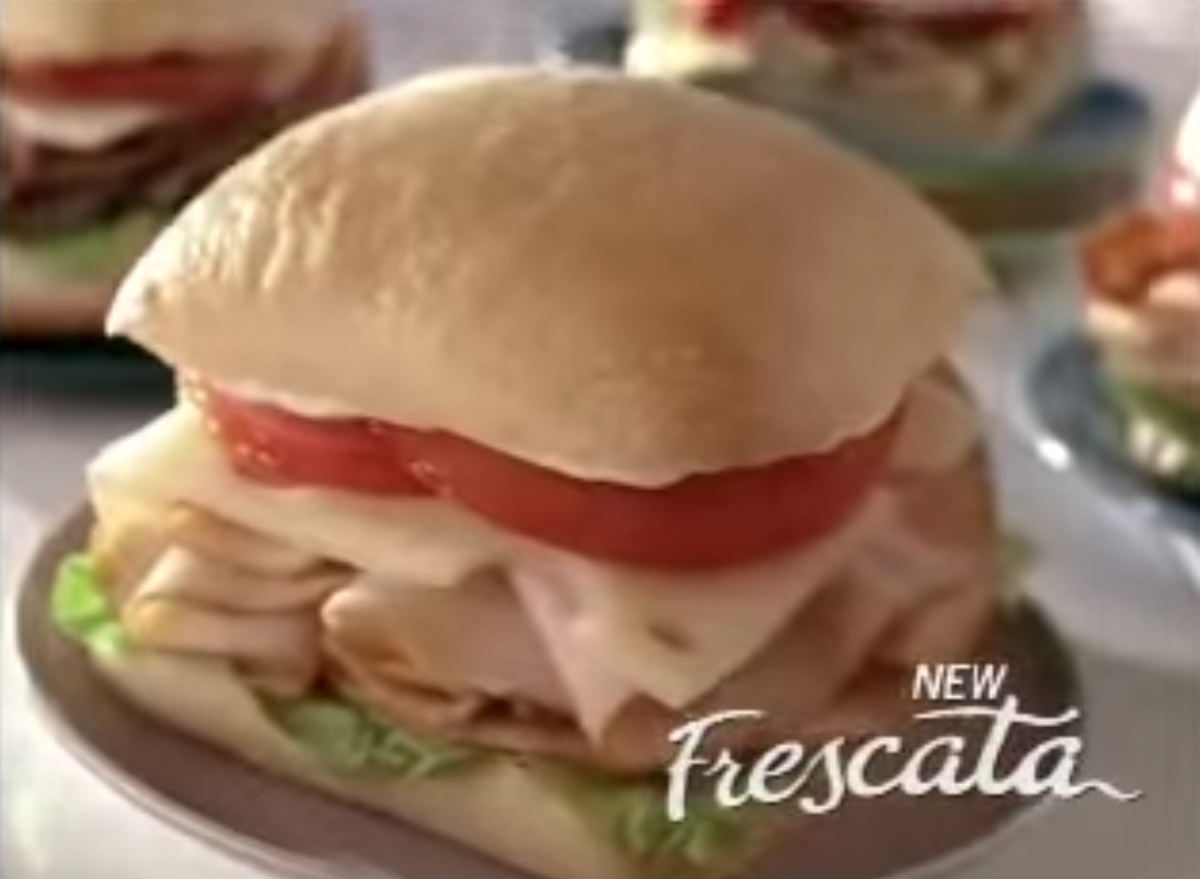 Subway gained a massive market share and was at its height in the early 2000s. The story could have stopped there with a sandwich monopoly, but Wendy's instead created a line of deli-style sandwiches in response. Many people loved the Frescata sandwiches, but unfortunately for those fans, they were discontinued just one year after their 2006 introduction.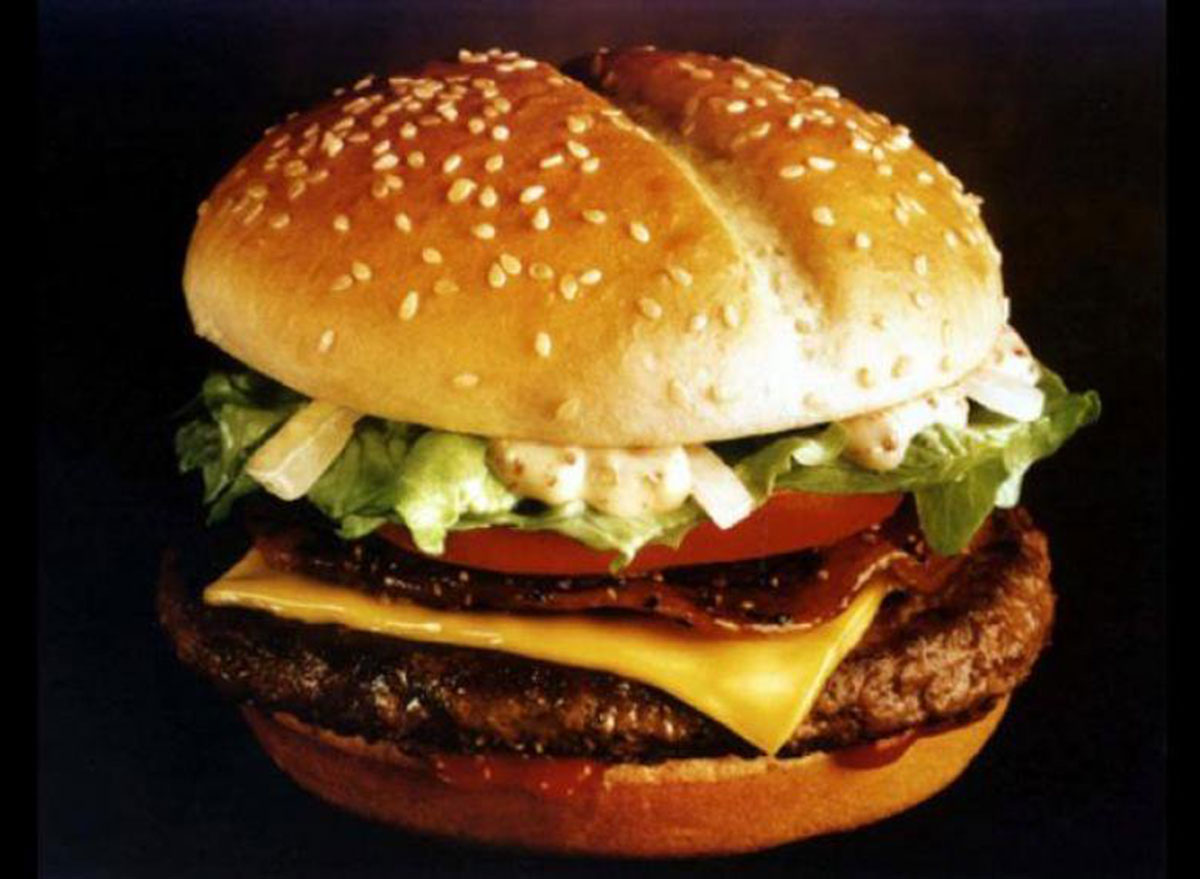 If you were alive during the 1990s, then you surely remember the craze that was the Arch Deluxe. McDonald's threw $150 million into marketing the burger, which included a quarter-pound beef patty, mustard-mayo sauce, cheese, peppered bacon, lettuce, tomato, and onions on a sesame seed bun. If this sounds like a remix of the Big Mac theme song embedded in all of our brains, you're not alone.
Most people dismissed the Arch Deluxe as a more expensive Big Mac, and it proved to be one of the biggest marketing flops of all time. But others with more sensitive, refined, fast-food palettes declared the Arch Deluxe the greatest burger in history and were dismayed at its demise. More than two decades later, these fans got their way (sort of) when McDonald's unveiled the Archburger in 2018. However, that didn't stay on the menu long either.
The Cheesarito was a simple, inexpensive pleasure of cheese, scallions, and the delightfully vague "taco sauce" nestled in a soft tortilla. While the Mexican chain discontinued the Cheesarito, enthusiasts need not despair. As the truly sophisticated fast-food patron knows, there are no finer delicacies than those on Taco Bell's "secret menu," where you can still find the glorious Cheesarito.
McDonald's Fried Apple Pie
As increasingly more customers expect healthier menu choices from restaurants, even fast-food chains jumped on the bandwagon. In response to public demand for more nutritious options, McDonald's replaced its crispy fried crust with a baked alternative in 1992.
Despite the baked version being touted as the "healthier" option, some pointed out that the nutritional difference wasn't so substantial. One 2016 petition to revive the fried apple pie put it like this: "McDonald's, we know you're not good for us, and you never will be. You found a way to make kale salad unhealthier than a Big Mac. You managed to cram six days' worth of added sugar into your oatmeal. We know you will never succeed here."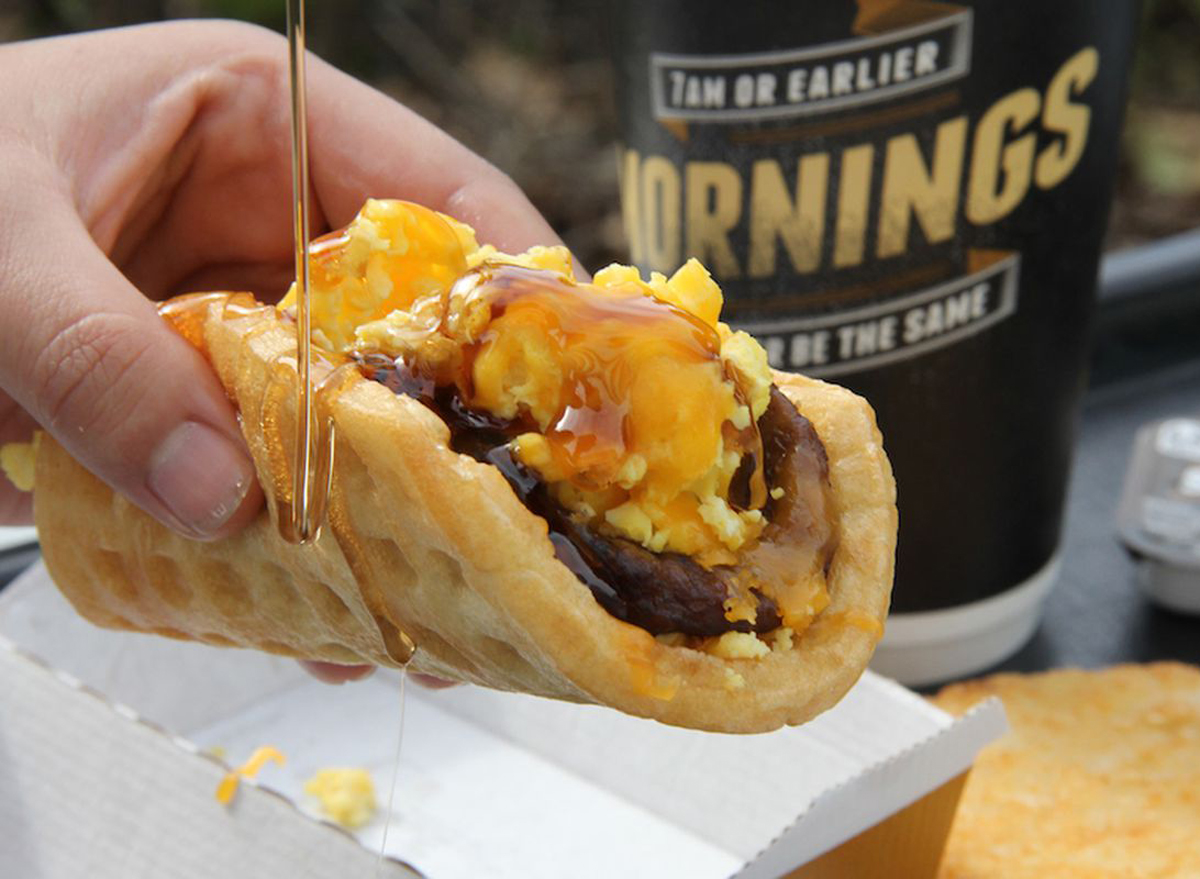 Do you like tacos? The answer to that question was surprisingly irrelevant when it came to Taco Bell's Waffle Taco. This foray into breakfast foods was a full diner breakfast wrapped in one convenient package. It was launched in 2014 and nixed in 2015 in favor of the Biscuit Taco, your run-of-the-mill egg and sausage breakfast sandwich curved into a taco-shaped novelty biscuit. However, this item didn't last long either and was cut from menus within a year.
This sandwich included two massive slices of French toast, eggs, and bacon or sausage. The item was introduced as a limited-time item in 2015 but, inexplicably, Sonic chose to replace it with the Breakfast Toaster. This sandwich removed the best part—the French toast—and replaced it with Texas toast, losing the sweet-savory combo that devotees loved.
McDonald's Szechuan Sauce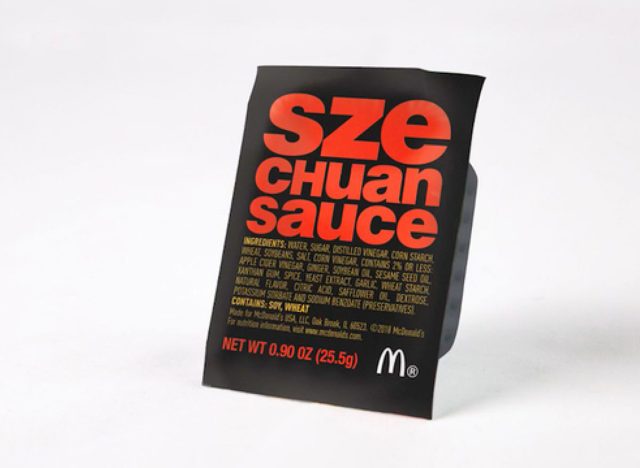 You may not be concerned about what sauce you eat your McNuggets with, but there are nearly 45,000 people who think otherwise. That's the number of signatures on a 2017 Change.org petition devoted to bringing back McDonald's Szechuan sauce. The popular sauce did make a reappearance in 2022, but sadly for fans, that was only for a limited time.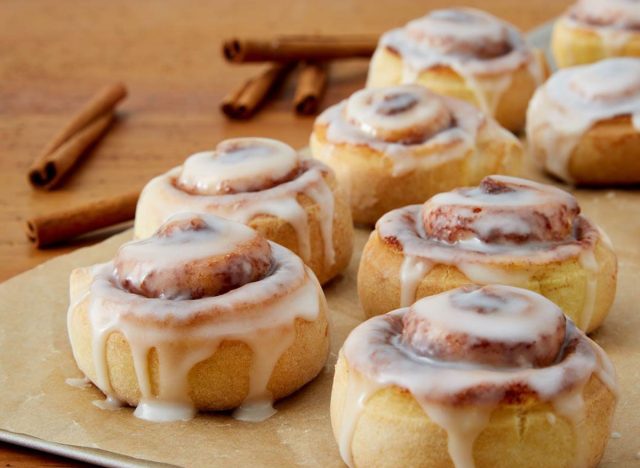 In the late '90s, Burger King started an unlikely turf war with Cinnabon, introducing its response to the famous pastries. Cini-Minis were delectable, miniature rolls of sugary, gooey tastiness, and they were a hit among fans of the King. One Change.org petitioner's pain is still very real: "Cini-Minis were a large part of my childhood, and Burger King chicken-stripped them away from me."
In 2018, Burger King brought back the Cini-Minis, doling them out for free to customers who spent at least $10 when ordering from the chain through GrubHub. However, this item revival was only available for a limited time.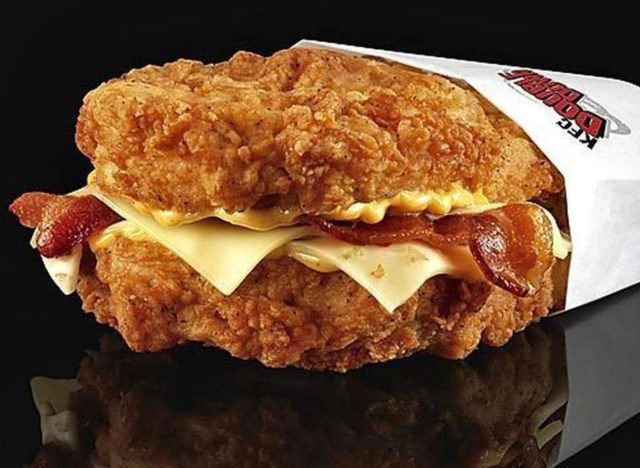 If sandwich buns were never your thing, KFC once offered an even crispier alternative—the Double Down. This iconic sandwich used two chicken filets instead of bread, then filled them with only cheese, bacon, and sauce. The menu item was the butt of many jokes when it was released, but its death was mourned by many—so much so that it made a return for a limited time in 2014 and again back in March of 2023, for a limited time.
McDonald's McSalad Shakers
Fast food isn't always about the taste—it's about convenience and choice. That's where the fans of McDonald's Salad Shakers—which were discontinued in 2003—come in. The novelty of the plastic cup alone led to a Facebook group of fans dedicated to bringing it back. Here's the core of their argument: "This was a revolutionary way for the fast-food giant to sell healthy, nutritious food in a convenient, portable way with almost no mess." Taste aside, they make a good point.
McDonald's Beef Tallow Fries
While vegetarians rejoiced when McDonald's switched from using beef fat to vegetable oil for their French fries in 1990, not everyone was pleased. As numerous sources have noted, it's not your imagination that the fries tasted better when you were a kid. The switch in the early '90s still has people riled up after all these years. The vegetable oil fries lack the savory flavor of old, but never fear—if you're committed, you can whip up a homemade batch of beef fat-fried goodness.
Burger King's Crown-Shaped Nuggets
Eating crown-shaped nuggets was the socially acceptable version of wearing the Burger King crown on your birthday as a kid—and don't we all still deserve that feeling? These nuggets were available from 2006 to 2011 and made a limited-time return in 2021 after numerous requests from fans, one of whom started a petition to bring the item back to menus.
KFC's Original Popcorn Chicken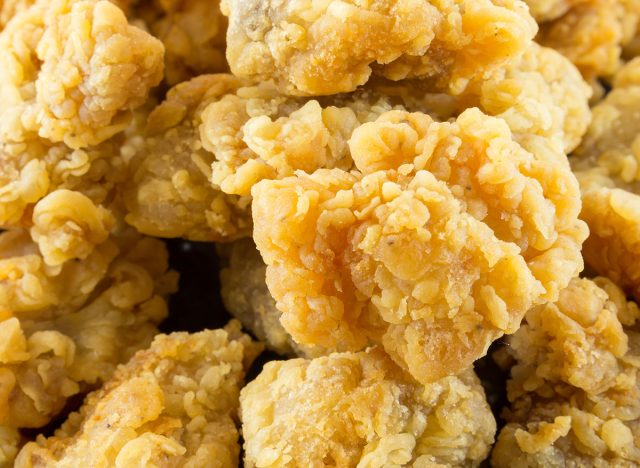 Popcorn chicken was huge in the late 90s because it cut to the core of why we love fried chicken—the fried part. Fans pressured KFC to bring back popcorn chicken, and KFC obliged in the form of Popcorn Nuggets, a slightly larger iteration that was recently cut from the menu.
Jack in the Box's Cheesy Macaroni Bites
Cheesy Macaroni Bites were introduced at Jack in the Box in 2008 with advertisements that made the odd claim that their compact triangular shape made them safer to eat while driving. However, these cheesy bites didn't need decent advertising to become a favorite. Despite the love they received, their time on the menu didn't last long. In 2021, Jack in the Box created a similar version of this item—introducing its Mac & Cheese Bites— which were available for a limited time.
A previous version of this story was originally published in August 2021. It has been fact-checked and updated with new entries and additional information. 
Brianna Ruback
Brianna is a staff writer at Eat This, Not That! She attended Ithaca College, where she graduated with a degree in Journalism and a minor in Communication Studies.
Read more about Brianna