I Tried Taco Bell's New Spicy Nacho Fries & They Are Beyond Delicious
The Yellowbird hot sauce added an irresistible kick.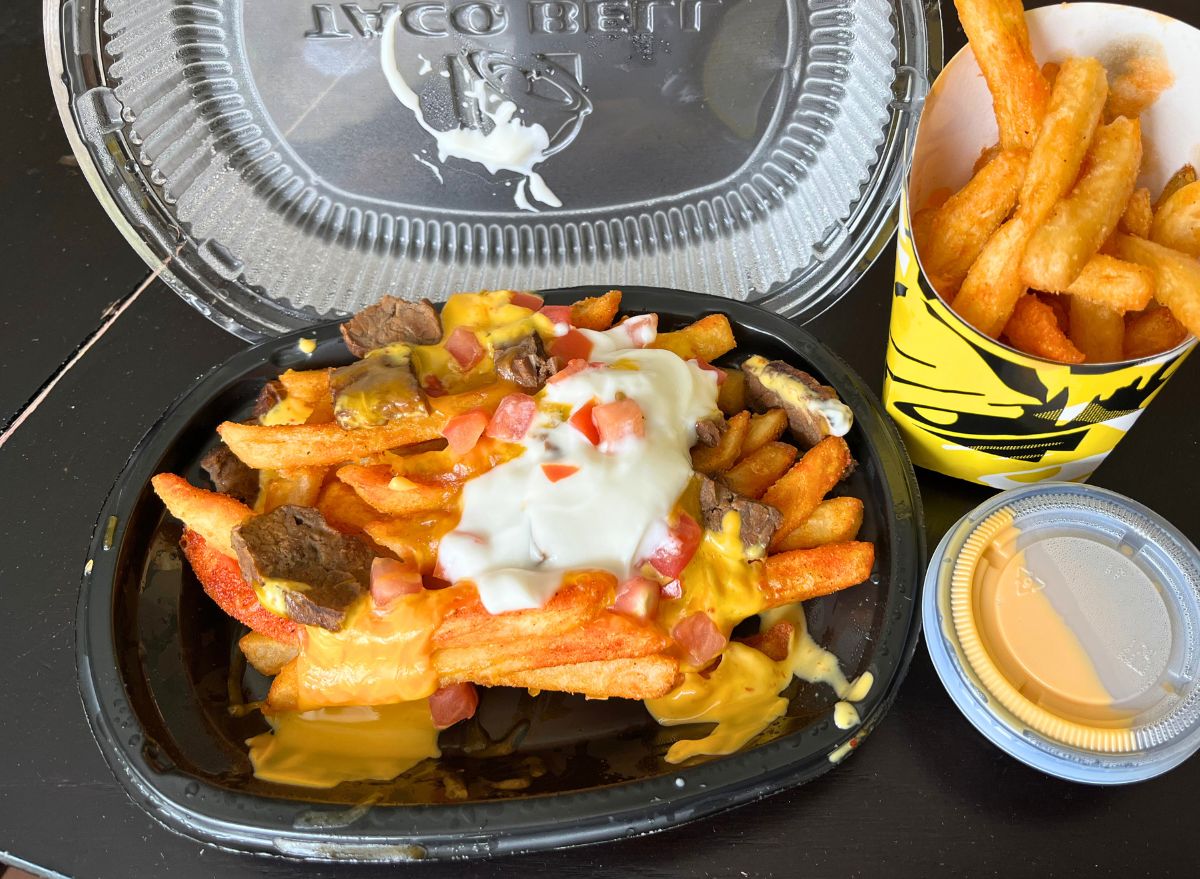 Taco Bell wasn't known for french fries—until it made them. When it came out with its spiced-up relatively thick fries served with a little cup of nacho cheese in 2018, the chain probably didn't expect them to become a phenomenon. But people absolutely loved them. The fries sold more than 53 million orders by mid-March, making it the most successful product launch in the chain's history.
These days the fries come on and off the menu, and the chain's execs have toyed with fans' emotions by insinuating that they could become permanent. Just recently, along with a few other items, the fries returned to the menu in a whole new way: drenched in hot sauce.
Taco Bell is now serving its famous fries topped with marinated steak, nacho cheese sauce, sour cream, and diced tomatoes, plus a heavy-handed drizzle of a spicy habanero ranch made in collaboration with Austin-based hot sauce brand Yellowbird.
Having never tried the famed fries and being intrigued by how Taco Bell turned the fries into nachos, I had to try this new menu item.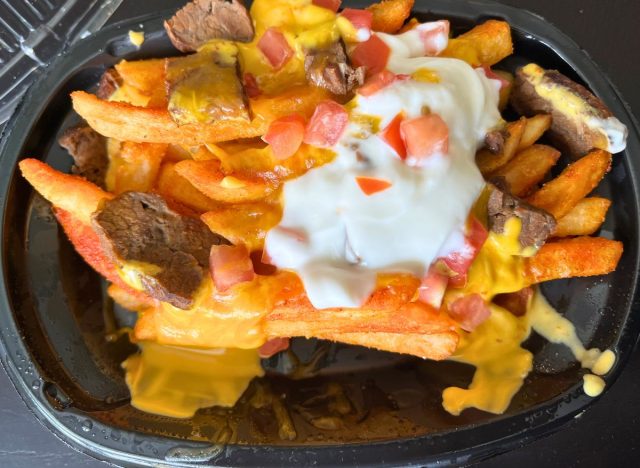 The look 
The first thing that hit me with this item was the smell. The aromas coming off the pile of orange-dusted fries and colorful toppings was amazing. When I opened the plastic container notes of toasty spice, nacho cheese, and a vinegary hot sauce hit my nose. I couldn't wait to take a bite.6254a4d1642c605c54bf1cab17d50f1e
It also didn't hurt that the item looked great after its long delivery journey. I cannot over-emphasize the importance of getting fast food that looks good after delivery. The fact is most people are not sitting down and eating at Taco Bell. The Yellowbird Nacho Fries looked like the ads for the item, and that is a rare plus.
The fries were spread out so that I could easily grab one end of the fry and pull out the other half covered in toppings. Dollops of sour cream were mounded in the center and I could see pieces of beef and bits of red tomato scattered about. The bright orange nacho cheese dripped heavily down the side of the fries indicating there was more than enough for the entire experience.
The taste
I couldn't resist first taking a bite of the generous pieces of steak scattered atop the fries. The beef was soft and lightly spicy with an amazing melty texture, with no gristle at all. Then I reached for a fry. The fries are spicy with that barest hint of sweetness and though the dish comes with a fork, I didn't need it at first, pulling a long fry out with dripping nacho cheese.
The cheese and Yellowbird sauce merged together into a moderately spicy sauce that I kept swiping the fry back into for more. When I got a bite with the steak, sour cream, spicy cheese, and tomatoes at once, everything melded into a smushy nachoey bite. While I get the appeal of these showcasing the fries in another way, these toppings would also be great on chips for another nacho variation.
The spice is incredibly balanced and mild, slowly building and then fading away to a smoldering ember in the back of my throat. The sour cream and cheese sauce help temper it, but it isn't overly spicy. This sauce should be served with the regular Nachos because it adds such a nice element to them.
The issue
This menu item is delicious and I polished it off without a second thought. But I had one question: Are these really nachos? Taco Bell got slammed for calling what looked to be a chicken Caesar wrap a burrito and these are essentially loaded cheese fries pretending to be nachos. Albeit, they are deliciously spicy loaded cheese fries with fun Mexican-inspired toppings, but let's call a spade a spade.
Taco Bell needs to own the fact that it's branching out from being merely a Mexican chain with great variations on tacos and just accept that it's just a fast-food chain bringing tasty menu items across the board. Maybe it's time for a return of the legendary 1970s Bell Burger to go with the delicious fries?