6 Big Changes You'll See at Taco Bell This Year
The Mexican fast-food chain is making moves and giving the competition a run for its money.
Taco Bell has never shied away from innovation or thinking outside the box, in fact, the brand often embraces change.  In 2022, the chain introduced numerous new and returning menu items that boosted sales astronomically. In 2023, the chain will continue to grow by capitalizing on unique and exciting food products, anticipating and responding to customers' wants, and keeping on top of technological advances in the business, plus, working on the massive expansion plans the chain has for the U.S. and internationally. 
As a result of same-store sales increasing by 11% during Q4 the chain has momentum leading into 2023, Taco Bell's parent company YUM! Brands reported in a recent earnings call. The chain's one-of-a-kind breakfast menu and surprising partnership with Pete Davidson drove 9% of transaction growth. Financial success also made room for the brand to break ground on additional restaurant locations. Taco Bell opened 250 new units domestically in the span of a year, the second-highest annual amount ever, reports Nation's Restaurant News. 
What's in store for the future? Since 2023 has been off to such a great start, the remaining months are sure to be filled with exciting new menu offerings and a few nostalgic items making a comeback, more customer engagement on social media, some surprising plant-based and sustainability initiatives, and, if the chain has anything to say about it, a restaurant located on every corner.
Taco Bell is committed to making changes to better accommodate customers, said CEO Mark King, by "making the best Mexican style fast food providing fast, friendly, & accurate service."
Here are six big changes you'll be seeing at Taco Bell for the rest of this year.
Expanding Locations in U.S. & Abroad
While Americans are currently used to seeing either a McDonald's or Starbucks on every corner, it's possible that Taco Bell isn't far behind in that race. After one franchisee reached the milestone of opening 300 units in less than 10 years, the company publically committed to even more growth.
Diversified Restaurant Group (DRG), which holds over 300 Taco Bell locations, plans to expand the business by doubling the chain's revenue and store count across the U.S. within the next five years. Considering customers have DRG to thank for Taco Bell Cantinas coming to life back in 2015, and the franchise has such a tight-knit relationship with the Taco Bell brand, this ambitious goal has major potential. 
In addition to becoming more widely available in America, Taco Bell isn't slowing down on its global expansion plans either. With nearly 300 locations spread across 26 countries, the chain is constantly creating special menus to cater to the different tastes and cultural preferences of customers in the world. Going forward, more restaurants will open in the most profitable places for the company—including Spain, India, Australia, and the U.K. 
More Innovative & Throwback Menu Items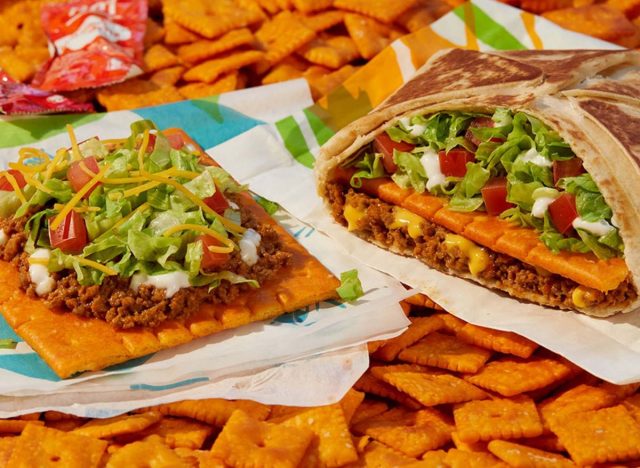 Taco bell fans everywhere go crazy for a good product launch or new menu item that breaks the barriers of "normal" fast food. Earlier this year, the chain ran a one-time shareable "Big A** Mexican Pizza" for Superbowl weekend, where only select rewards customers who were a part of the Taco Bell Fire! Tier got the exclusive delivery. This stunt was on top of bringing back the chain's crispy chicken wings (with a new recipe) for a limited time and making the fan-favorite Mexican Pizza a permanent menu item nationwide. 
A few potential new menu items are being tested in a few U.S. states. In Knoxville, Tenn., the chain is testing a Cheesy Chicken Crispanada—customers receive an empanada shell packed with shredded chicken and ​​a blend of melted cheddar and mozzarella cheeses, served with a spicy ranch dipping sauce. Alongside the savory empanada treat, comes Taco Bell's Cheez-It partnership with a Tostada and Crunchwrap supreme variation. The Mexican chain debuted the Cheez-It mashup of products at one location in California and saw so much attention that it had to pull the item before its two-week test period was over when the restaurant ran out of supplies.
When it comes to curating menu items abroad, Taco Bell is attempting a few different avenues never seen in America. Dessert is a focus in Spain and Guatemala, with the Chocodilla (a chocolate-filled quesadilla) and Taquito Lupita (a cinnamon sugar crispy tortilla, meant to be dipped in vanilla ice cream and cinnamon dulce syrup). Japan, is one of the first countries to see fish on Taco Bell's menu with a Shrimp and Avocado Burrito. Whether or not these items will see the light of day in the U.S. is unknown, but with the customer satisfaction and success they've globally, there's always a chance!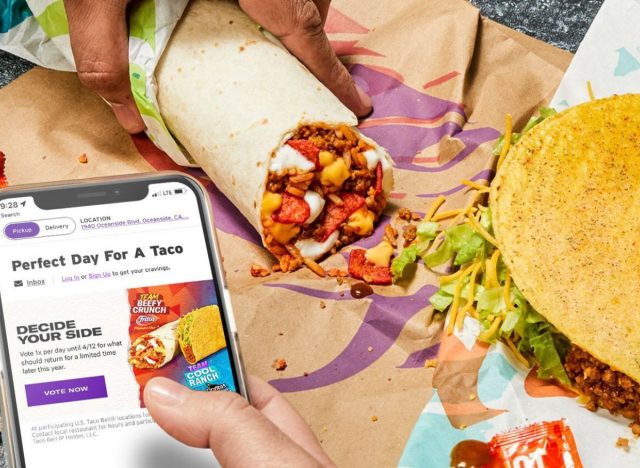 Heading into this year, YUM! Brands and Taco Bell specifically made a point about breaking further into the fast food industry and reaching for the top. In terms of current popularity, the Mexican fast-food chain is ranked sixth among major fast-food brands in the American Customer Satisfaction Index. However, looking ahead, Taco Bell has set its sights on upping that popularity status through restaurant expansion, creative product development, and growing its engagement with customers and fans. 
For the second time in the chain's history, the company is allowing customers to vote and pick a discontinued menu item to return. From now until April 12, using the Taco Bell app, fans will be able to choose between the Beefy Crunch Burrito or the Cool Ranch version of its Doritos Locos Tacos, for a comeback sometime in fall 2023. 
Make Moves Toward Sustainability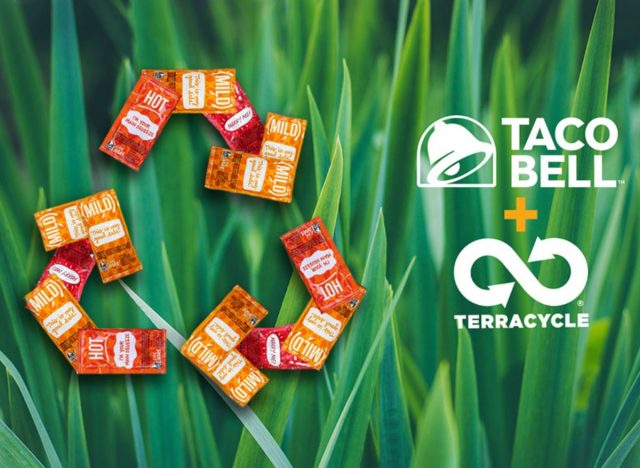 The world we live in won't be the same forever if we don't take good care of it—Taco Bell is aware of this and is ready to start making big, sustainable changes. While going 100% sustainable by 2023 isn't in the cards, reducing energy, waste, and the use of plastic silverware and cups at the company's headquarters is already underway. 
Taco Bell also has a recycling program called TerraCycle, where over 100,000 sauce packets have been properly disposed of and recycled, will continue to grow and become more widely available to consumers and stores. To accomplish this, the chain plans to implement more resources in each restaurant location, such as dividing the waste bins into recycle, compost, and trash areas. 
Develop More Plant-Based Options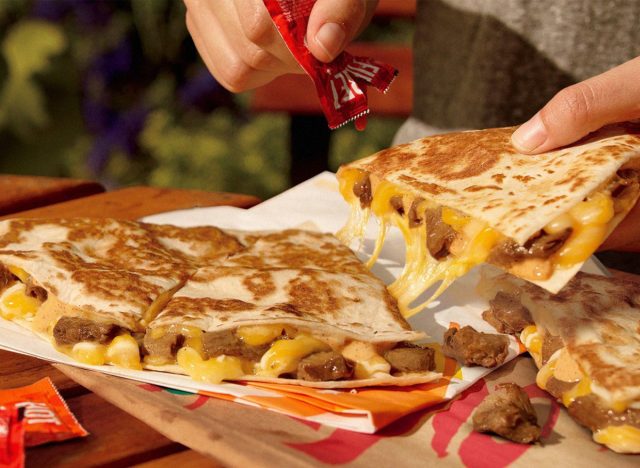 Beyond burgers and meatless chicken have popped up at many fast-food chains, but we've never seen Taco Bell take a stab at a plant-based protein option nationwide. The company proudly claims to carry over 30 vegetarian ingredients certified by the American Vegetarian Association—which also make up over 12% of store sales—but there is more to come in this meatless menu department. 
Taco Bell has tried testing a plant-based protein option, that mimics the classic seasoned ground beef, inside the Crispy Melt Taco. There's also speculation that a Beyond Carne Asada Steak will become available permanently sometime this year, if things go as planned, (the CEO) King hints. 6254a4d1642c605c54bf1cab17d50f1e
More Contactless and Digital Ordering Innvations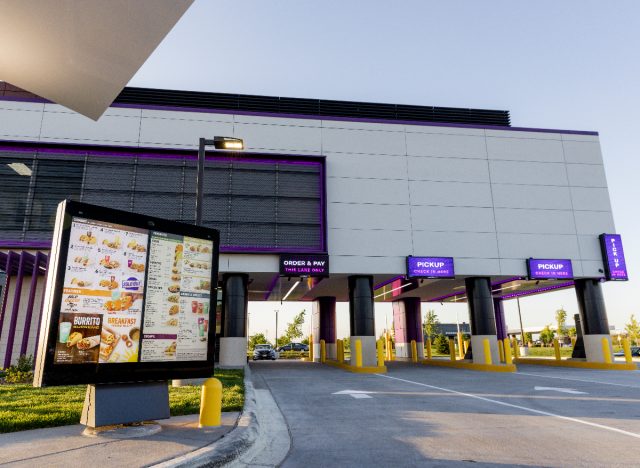 Out of all the new drive-thru technology entering the fast-food industry, none have quite lived up to Taco Bell's most innovative drive-thru location ever. Taco Bell Defy is the futuristic, four-lane drive-thru restaurant that opened in Brooklyn Park, Minn. last summer, with digital check-in screens for mobile orders and two-way audio and video services for customers to talk to team members. One of the most innovative features is a vertical lift that delivers food from a second-floor kitchen down to the cars. Taco Bell confirmed similar changes are being made in more locations across the country. (Unfortunately, plans haven't been shared for another Defy restaurant, yet)
A vast majority of Taco Bell restaurants are receiving kiosks and digital ordering screens for customers to take charge of their transactions. Also, to encourage more availability and ease, the chain is putting more delivery options in place through a Doordash partnership and in-app delivery. Will Taco Bell hop on the popular ghost kitchen train that other fast food chains have had varying success with? Considering the intrigue of the Defy location, it might not completely be out of the question.
Jordan Summers-Marcouillier
Jordan Summers-Marcouillier was born and raised in San Jose, California and now works as a writer in New York, NY.
Read more about Jordan