10 Popular "Texan" Dishes That Aren't Actually from Texas
The Texans didn't originally create these dishes all on their own.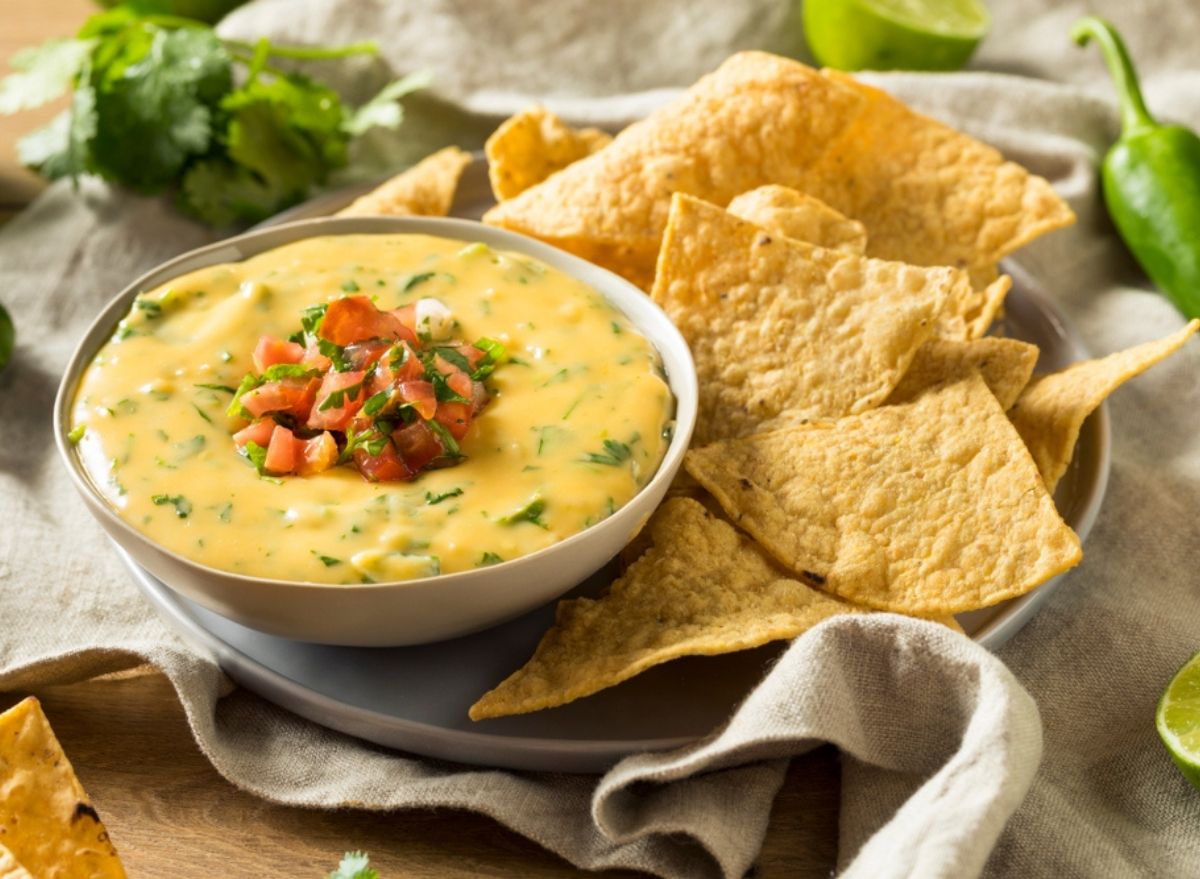 For some of the Lone Star State's most ubiquitous dishes, Texas wasn't their first rodeo. In fact, Tex-Mex is your first clue that Mexico has played a larger role in the humongous state's cuisine, and many Texan dishes originated south of the border. And, there are also significant contributions to Texas' favorite meals and snacks from European countries.
As you'll see, Texas is a melting pot of cultures, many with great food traditions. People from Mexico and other Latin-American countries met with European settlers and some of our favorite foods— including several iconic snacks and desserts—were born. Surprisingly, even bean-free chili has its roots far across the Atlantic. We asked chefs, a pitmaster, and other experts with their hands on the Texas food world, to explain the actual origins of some dishes you'll find everywhere in Texas.
Say howdy to these dishes that aren't actually Texas-born, but are bred there. Plus, don't miss 8 Popular "Midwestern" Dishes That Aren't Actually From the Midwest
Chicken Fried Steak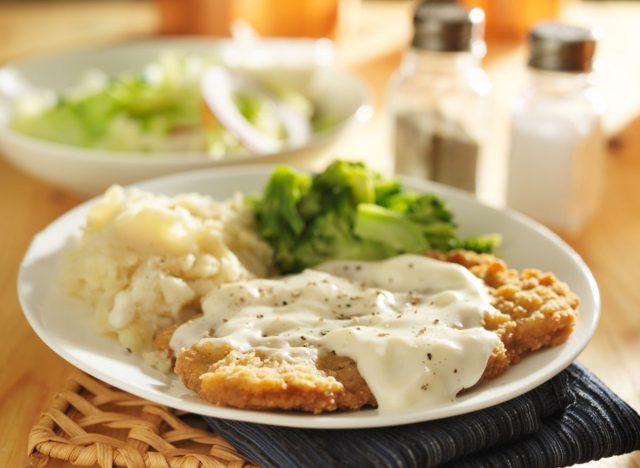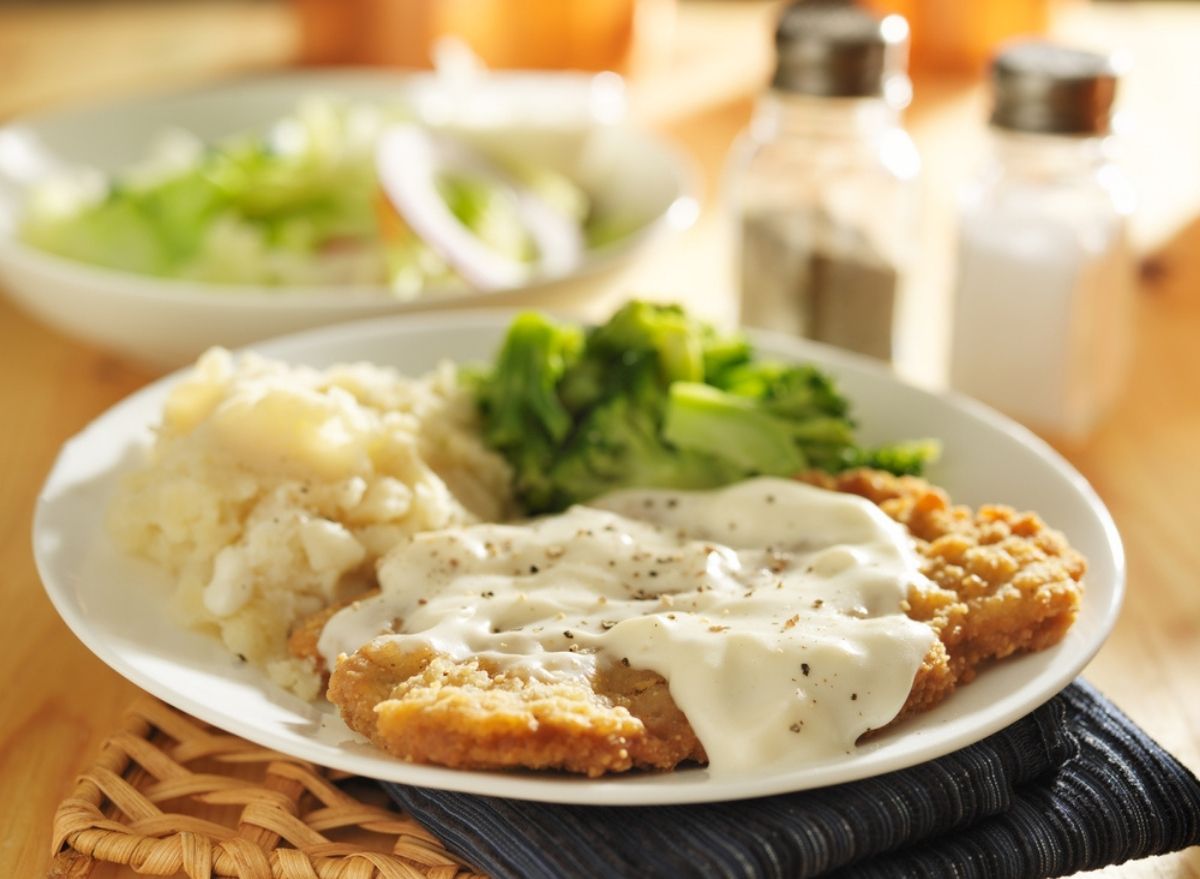 The birthplace of this Texan comfort food dish—a hug on a plate—made of fried steak, peppery gravy, and mashed potatoes may not actually be the Lone Star State.  "Texas claims this dish came from German immigrants that settled the state and brought German schnitzel cooked with veal and breadcrumbs," says says professional pitmaster Matt Pittman, owner of Meat Church BBQ. "They were instrumental in taking cheaper/tougher cuts of beef and turning it into this dish ultimately."
Don't hang your hat just yet. "The earliest the term 'chicken fried steak' was seen in print was in a Colorado Springs newspaper in 1914," says Pittman. "There are also reports of this being served in 1918 for 45 cents a plate with fries in Kansas." Today, chicken fried steak is especially popular in the Texas Hill Country, where many German immigrants settled.
Texas Kolaches
"The kolache, originally created in Moravia, Czech Republic, was brought over to Texas by Czech immigrants back in the late 1800s," says Michael Murdy of Robust Kitchen.
It was originally a doughy pastry filled with fruits and savories designed as a morning treat. "While Texas natives continue to make traditional Czech kolaches, they also stuff these pastries with things like brisket, corned beef, coleslaw, BBQ beans, sausage, and eggs," says Murdy. "They make 'Texas-style' kolaches, and they're usually a treat that will readily put you in a food coma."
Fried Pork Rinds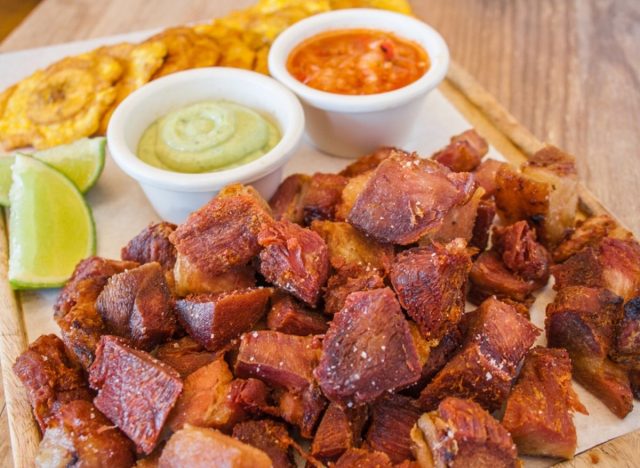 Said to be a favorite of Texan native George H.W. Bush, the crunchy crispy fried pig skin snack, also known as chicharron, has Spanish roots, specifically Andalusia, according to PorkRinds.com. Bush apparently liked to spice them up with Tabasco sauce—which, by the way, is reckoned to have come from New Orleans.
Conchas
Meaning 'shell' in Spanish, conchas are Mexico's national sweet bread, a yeasted roll in vanilla or chocolate made from eggy biscocho dough. The history of conchas, aka pan dulce, dates to the 18th century during the colonial era, says David Gonzalez, VP of Media Relations and Communications at Visit San Antonio. "French, Spanish, and Italian bakers established themselves in Mexico or New Spain, bringing their recipes like brioche and baguettes. Pan dulce was developed by the creativity and work of nuns, indigenous women, and criollas using the ingredients they had on hand," says Gonzalez.
Gonzalez says that in the U.S., conchas were relatively unknown until the Cáceres brothers in San Antonio, inspired by the 48-hour sourdough bread baked by their mother in Mexico, opened the bakery-café La Panadería. "The bakery's overwhelming local popularity began to spill over beyond the city limits and go national over the years—so much so that this year David was nominated as a semi-finalist for 'Outstanding Baker' by the James Beard Foundation for his pan dulce," says Gonzalez.
Chile Con Queso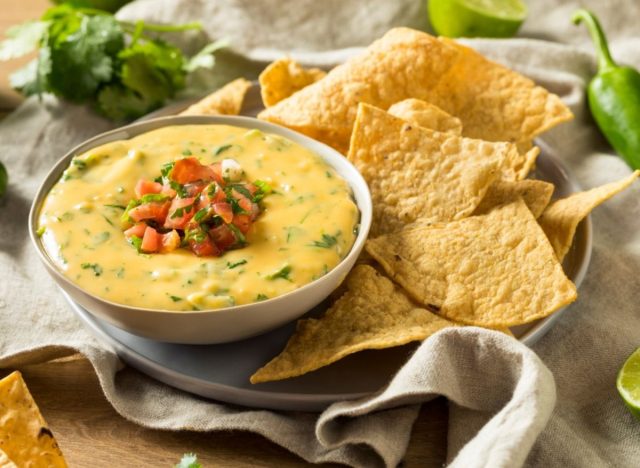 An uber-popular dish in Texas is this cheesy treat, also known as chile con queso, typically a blend of melted cheese like Velveeta or some other form of processed cheese and chile peppers.
Like many Texan dishes, queso is said to have originated in Mexico, especially the chile con queso version found in El Paso, according to Lisa Fain of Homesick Texan. The loved dish was adopted by Texas as it became popular for its variations—with the addition of ingredients like chorizo, ground beef, salsa, and guacamole. Queso is traditionally served with tortilla chips as an appetizer but is also a topping for tacos, burritos, or enchiladas.
Frito Pie
Fritos—"little fried things"— were created in Mexico and were considered beach food, according to NPR. But the origin of the beloved Frito Pie in Texas is up for grabs—New Mexico and Texas both stake claim to a piece of the pie, says Pittman. "If you have ever been under the Friday night lights at a high school football game in Texas, then you know Frito Pie," says Pittman. "The most iconic concession-stand-food in our Lone Star State. Also, when we visit the State Fair of Texas, we have to walk straight to the Frito Pie."
"Truth be told it originated in New Mexico," says Pittman. But others claim its origins belong to Texas. Football rivalry at its best.
BBQ and Brisket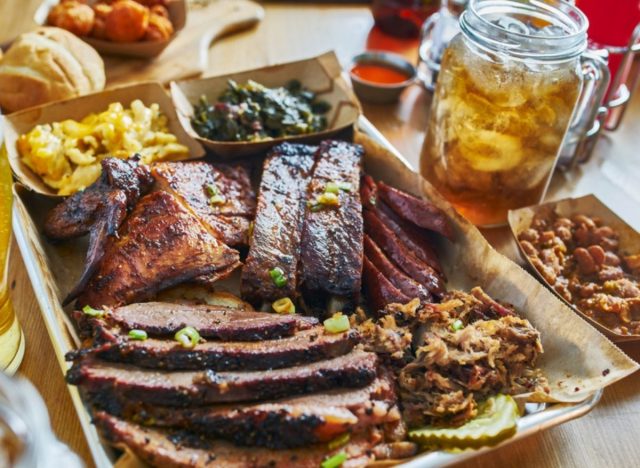 Beef was plentiful in Texas due to the thriving cattle business, and brisket is as popular as the state is big. "It's during the late 1800s, many Jewish, Czech & Germans immigrants settled in Texas," says Adam Briscoe, Director of Food & Beverage of The Beeman Hotel, home of Seely's Mill restaurant. "Brisket was a less expensive cut of meat, and fell in line with the Jewish dietary laws." There are many iterations of brisket; sliced smoked brisket is one of the popular ones, and is on the menu at Seely's Mill.
Chili (no beans)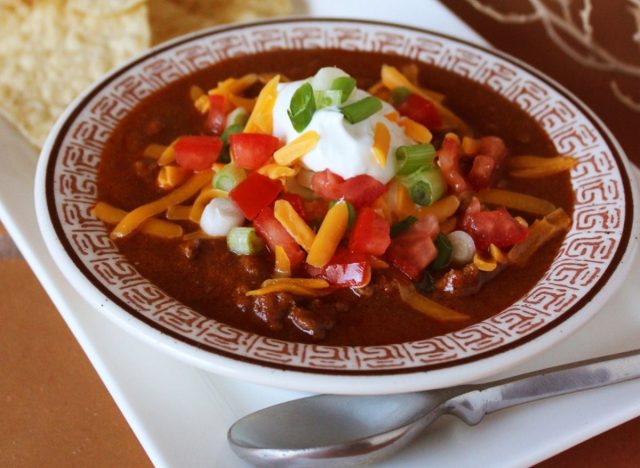 Chili, better known as a "bowl of red," in this neck of the woods, was proclaimed the state dish of Texas by the Texas Legislature in 1977.6254a4d1642c605c54bf1cab17d50f1e
According to Texas Monthly, the heart of Texas chili is in the meat, usually beef, and the peppers. Ground or cubed beef shoulder (pork and venison are sometimes used, as well) is cooked down in dried chilis (or chili powder) and other herbs and spices, including cumin, onions, and garlic. The end result is a thick, spicy stew with a bold red color, which is where the name "bowl of red" comes from.
And there is no lone explanation for the Lone State's loved dish—by many accounts, it is a true melting pot dish. One theory has it that it came to Texas from the Canary Islands. Immigrants from the Canary Islands had been recruited to settle in the area, and many of the women began cooking up the earliest forms of chili to sell to people in the city's Military Square, on the grounds of the Alamo.
A spicier story gives it Mexican roots.
And Robb Walsh, author of The Tex-Mex Cookbook notes that the spices used in meat and tomato stews, not unlike chili, are rooted in Moroccan cooking. "In the 1700s, the government of New Spain recruited Canary Islanders to move to San Antonio," Walsh writes. "Canary Island women made a tangia-like stew with meat, cumin, garlic, chili peppers, and wild onions that they cooked outdoors in copper kettles in their settlement, La Villita. Their peculiar, chile and cumin-heavy spice blend resembled the Berber seasoning style of Morocco."
Breakfast tacos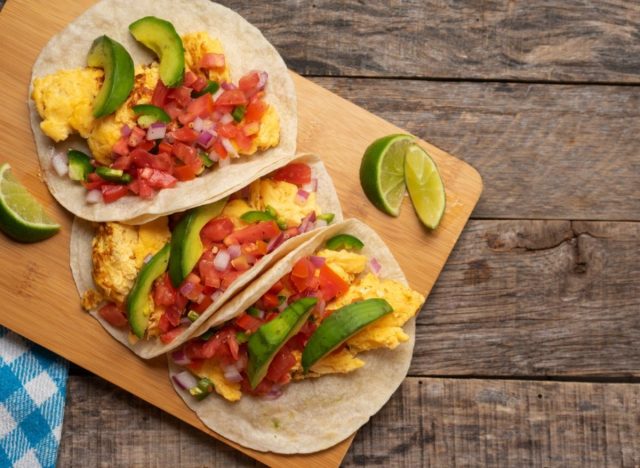 A hot Tex-Mex food, especially in Austin, says David Tooke of Camping Fun Zone. "They originate from Mexican immigrants living in Texas." Soft, warm, and filling—some are spicy hot. And they're not just for breakfast. They are made from small tortillas and filled with varying combinations of eggs, bacon, green chilies, avocado, tomatillo sauce, brisket, beef, potatoes, jalapeños, salsa, and cheese.
Nachos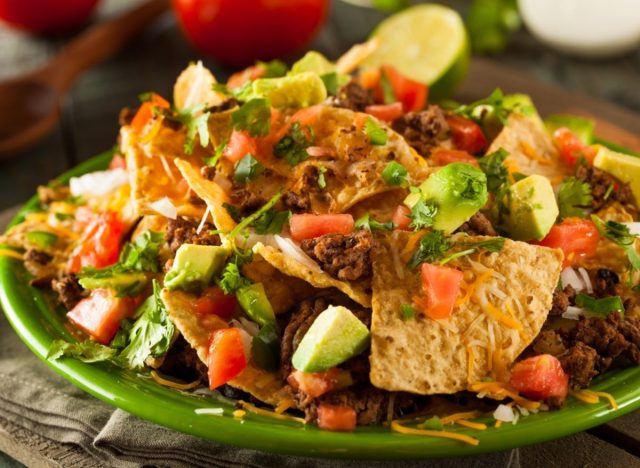 The birthplace of nachos is Northern Mexico, more specifically in Piedras Negras in Coahuila, Mexico, says Carlos Cantu, general manager of Painted Marlin Grille. Cantu explains: As the story goes, it all started in 1940 when Ignacio (Nacho) Anaya, the maître d'hôtel of Victory Club in Piedras Negras, Mexico, was greeted by a few women looking for something to eat after business hours, only to find he had no cooks left in the kitchen. "Not wanting to turn them away, he decided to whip something up himself using the few ingredients he found," says Cantu. "Delightfully surprised by the tasty dish and wanting seconds, the women started calling them 'Nacho's Special', thus bringing about the creation of the iconic and beloved snack concept."