10 Popular "Midwestern" Dishes That Aren't Actually From the Midwest
While these dishes may be popular, they did not originate in the Midwest as many people may think.
The Midwest is a vast expanse of farmlands and cities and lakes—with cuisine particular to each region. And, while these dishes may have a hometown advantage, many of these "indigenous" dishes came from somewhere else—Northern European and German Old Country influences are everywhere. So while you can enjoy things like cheese curds and sugar cream pie in the Midwest, these popular Midwestern dishes are not truly from the Midwest. You can bet the farm on it. Plus, don't miss 13 Healthier Old-Fashioned Midwestern Recipes To Try Tonight.
Sugar cream pie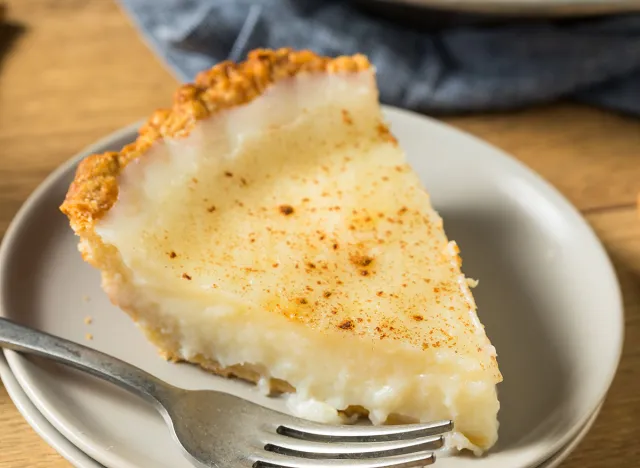 This simple pie—sugar, flour, cream, vanilla, and nutmeg—is also known as Hoosier Pie, and is Indiana's unofficial pie. It's believed to have migrated to Indiana in the 1800s with Quaker and Shaker settlers—German and Dutch immigrants and those moving north from Appalachia, according to the Indy Star. But the proof is in the pie.
Get Martha Stewart's recipe for Indiana Sugar Cream Pie.
Toasted Ravioli
This breaded, deep-fried dish is the favorite app in St. Louis. Stuffed with beef or cheese, these golden-brown ravioli are crispy and dusted with parmesan cheese. Lombardo's Restaurants, with several locations in the St. Louis area, claim to have been among the first to bring toasted ravioli to the U.S. from Sicily; menus from the 1930s include it, according to Explore St. Louis.
Get Garnish and Glaze's recipe for Toasted Ravioli.
Burgoo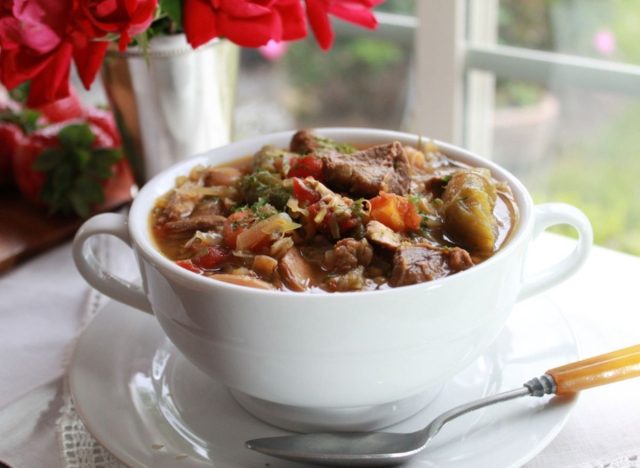 Kentucky's favorite stew is a crowd favorite. Typically made with at least three different meats and lots of atypical veggies like okra and lima beans, the slow-cooking dish dates to pre-Civil War days. One theory has it that it was invented by a French chef—but word is that it also comes from England, according to Gotolouisville.com. Whatever the origin—Burgoo and bourbon are always a sure bet at the Kentucky Derby. And for those of you who debate whether Kentucky is a Midwestern state, many sources say it has both Midwestern and Southern influences since it is so far north.6254a4d1642c605c54bf1cab17d50f1e
Get Chili Pepper Madness' recipe for Burgoo.
Rolled Oyster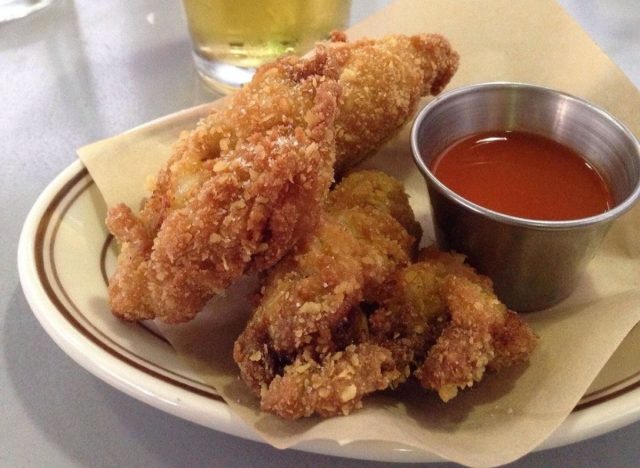 Rolled oyster is a baseball-sized seafood fave and is unique to Louisville, Kentucky. It's made of three raw oysters dipped in an egg-milk cornmeal batter called pastinga, rolled in cracker crumbs, and deep-fried. Rolled oysters were first served by Italian immigrant Phillip Mazzoni and his brothers in the late 19th century as a free giveaway to their saloon patrons with a purchased beer or whiskey, according to Gotolouisville.com. Today, seafood restaurants and fish fries in the Louisville area star their own versions on menus.
Get Saveur's recipe for Rolled Oysters.
Danish Kringle (aka Racine Kringle)
Danish Kringle is the official pastry of Wisconsin and the city of Racine. In fact, Wisconsin is known as "The Kringle Capital of the World." It's made with layers of buttery dough, formed into an oval or pretzel shape, filled with a nut or fruit filling, and crowned with frosting or drizzled icing. "It can be found on the countertop of any true midwestern kitchen," says Dan Zehr co-founder of Platter Talk. Kringles are believed to have come to Wisconsin in the 1800s, he says, by way of Danish immigrants and their ancestral recipes.
Get Platter Talk's recipe for Danish Kringle.
Bratwurst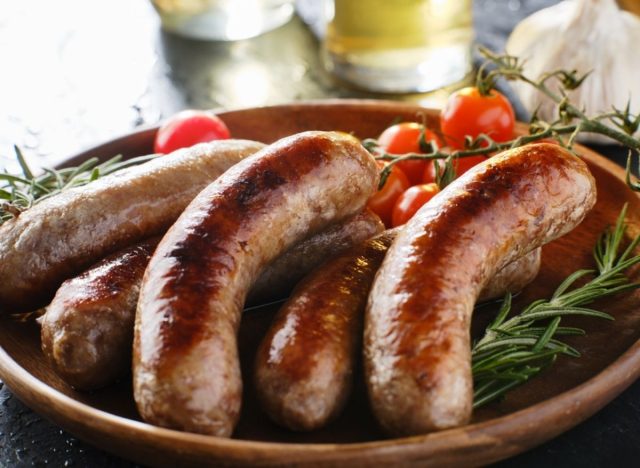 "Bratwurst is as common in the Midwest as bright lights are to city streets," says Zehr. It's a "much-loved Midwestern food" that's grilled, boiled, and even rolled into a finger food like brat bites, he says. Wisconsin is the home of the "beer brat", where the brats are simmered in beer (generally a mixture of a Pilsner-style beer with butter and onions). In the 19th-century, when German immigrants settled in Wisconsin, bratwurst was in their carry-on. The dish was elevated to star status in Wisconsin in the 1920s.
Get Foodie Crush's recipe for Bratwurst in Beer With Onions.
Cabbage Rolls
Cabbage Rolls are hearty and popular in the Midwest, says Zehr. "Featuring cabbage from the fields and a combination of meat and seasoning, this recipe has a tomato base and only gets better with time." They rolled into the Midwest along with immigrants from Hungary, Poland, Croatia, and Russia, according to the Chicago Tribune.
Get Small Town Woman's recipe for Cabbage Rolls.
Pierogis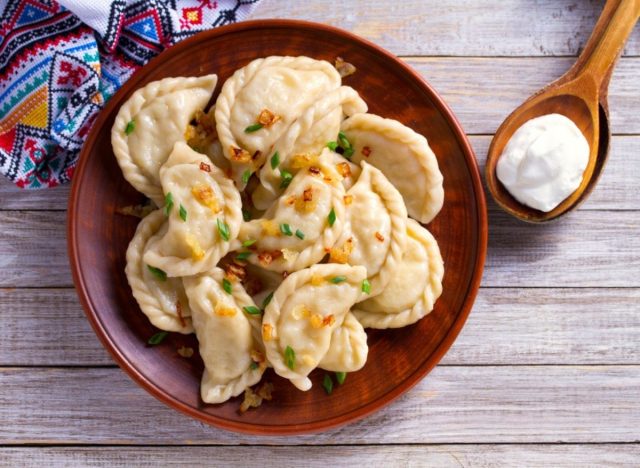 These savory dumplings have Eastern European roots. "As early settlers moved West, this versatile recipe became a mainstay in many midwestern kitchens," says Zehr. "You can fill these with anything from cabbage and mushrooms to fruits and meat. As a bonus, they freeze well making them a convenient meal at dinner time."
Get The Recipe Critic's recipe for Pierogis. 
Cheese Curds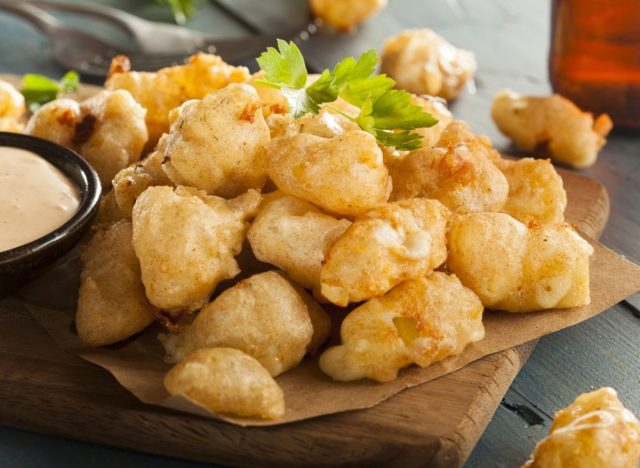 Wisconsin, the Cheesehead state, is where you'll find the revered cheese curds. According to What's Cooking America, it was in the mid-1800s when cheesemaking began in Wisconsin, and immigrants from European countries, including Switzerland and Germany, subsequently brought over their cheese-making traditions and coveted recipes—including recipes for cheese curds. Note: Cheese curds should be eaten not long after they're prepared (if they don't squeak, they aren't fresh.) And the cheese doesn't stand alone: cheese curds are typically served with dipping sauces.
Get I Am Baker's recipe for Cheese Curds.
Hopple Popple
Think: Potato, meat, eggs, cheese, onions—basically a kitchen sink kind of breakfast casserole with varying iterations depending where in the state it is prepared. The variations are usually inspired "by the fare of the previous evening," according to Great Lakes Cuisine. Like many Midwestern dishes, Hopple Popple has origins in Germany and is still a popular breakfast dish there.
Get Food.com's recipe for Hopple Popple.
The next time you're passing through the Midwest, be sure to try these classic, old-fashioned dishes, but remember their real origins.
A previous version of this article was originally published on May 19, 2022.