17 Flavorful Tilapia Recipes to Dress Up the Mild Fish
Find out why tilapia is one of the most popular fish options in America.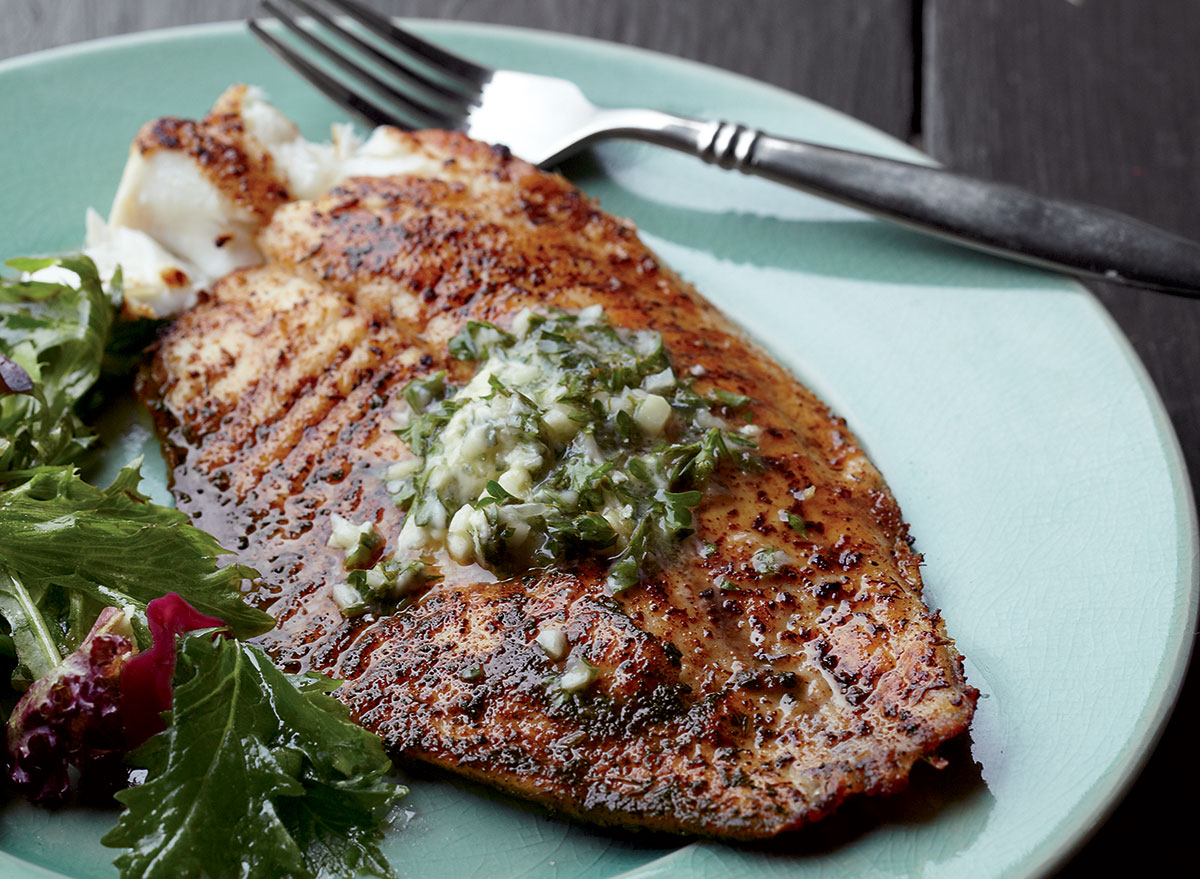 Let's play a virtual round of Go Fish—but instead of winning the round, you'll win 17 super-flavorful tilapia recipes.
The mild-tasting freshwater fish is among the most consumed types of fish in America, due to its chameleon-like ability to work in a variety of cuisines and its general affordability.
It's high in protein and has a good amount of vitamins and minerals, and while it doesn't have as much omega-3 as salmon does, it's a light, healthful choice that you'll find yourself using in tacos, sandwiches, salads, and more.
Instant Pot Tilapia with Vegetables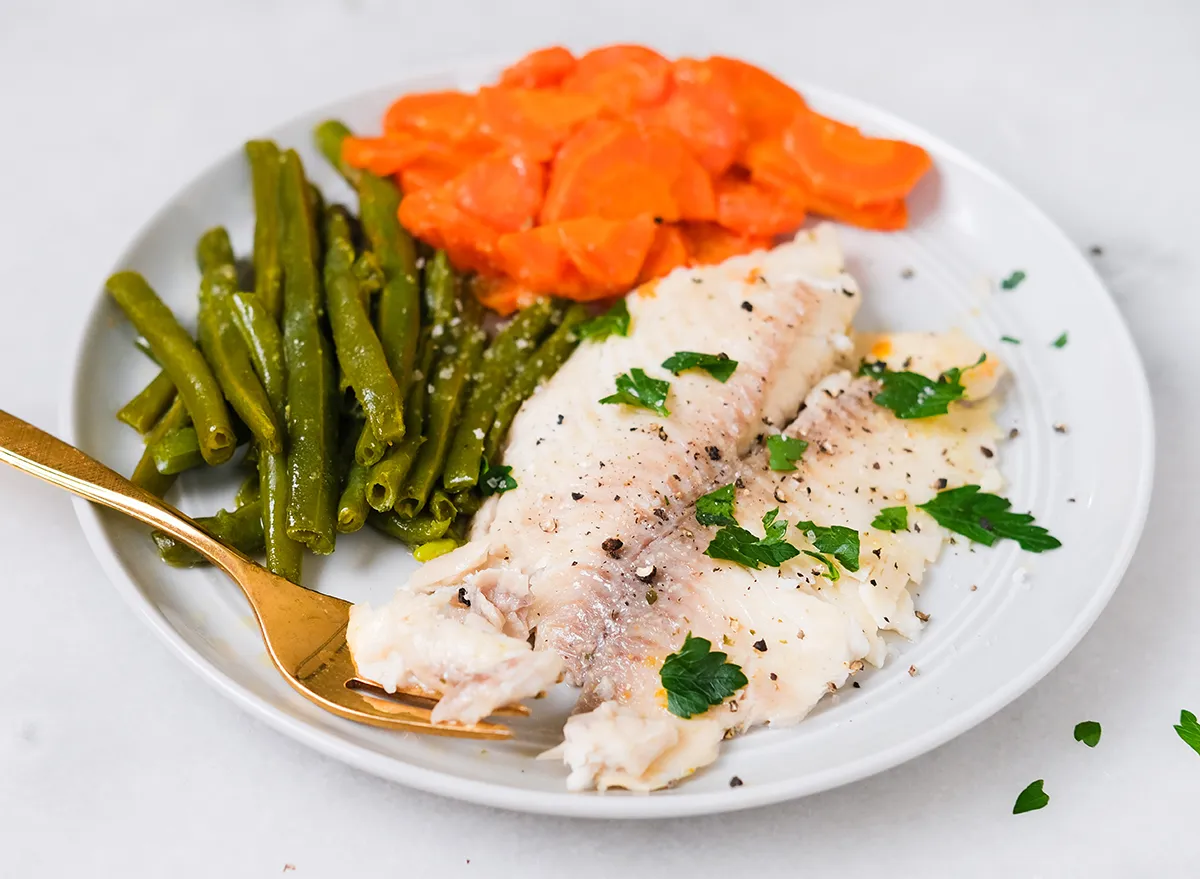 You're likely well-versed in the benefits of an Instant Pot by now, so you know the magic it can work on a quick weeknight meal. Add the ingredients to the pot and set it for 8 minutes before you go take a quick post-work shower. When you're done, your flaky broth-steamed fish (plus buttery carrots and green beans) will be ready.
Get our recipe for Instant Pot Tilapia with Vegetables.
Blackened Fish Sandwich with Avocado and Cabbage
Fish sandwiches can often be the pescatarian equivalent of "mystery meat," making you hesitant to order one at a fast food joint or a local pub. Here though, there's no ambiguity as to the type of fish in question. It's just spice-rubbed tilapia filets blackened in a cast-iron skillet, then served on sesame rolls with crunchy cabbage and cooling yogurt sauce—all from the comfort of your own kitchen.
Get our recipe for a Blackened Fish Sandwich.
Fish Tacos with Tilapia and Avocado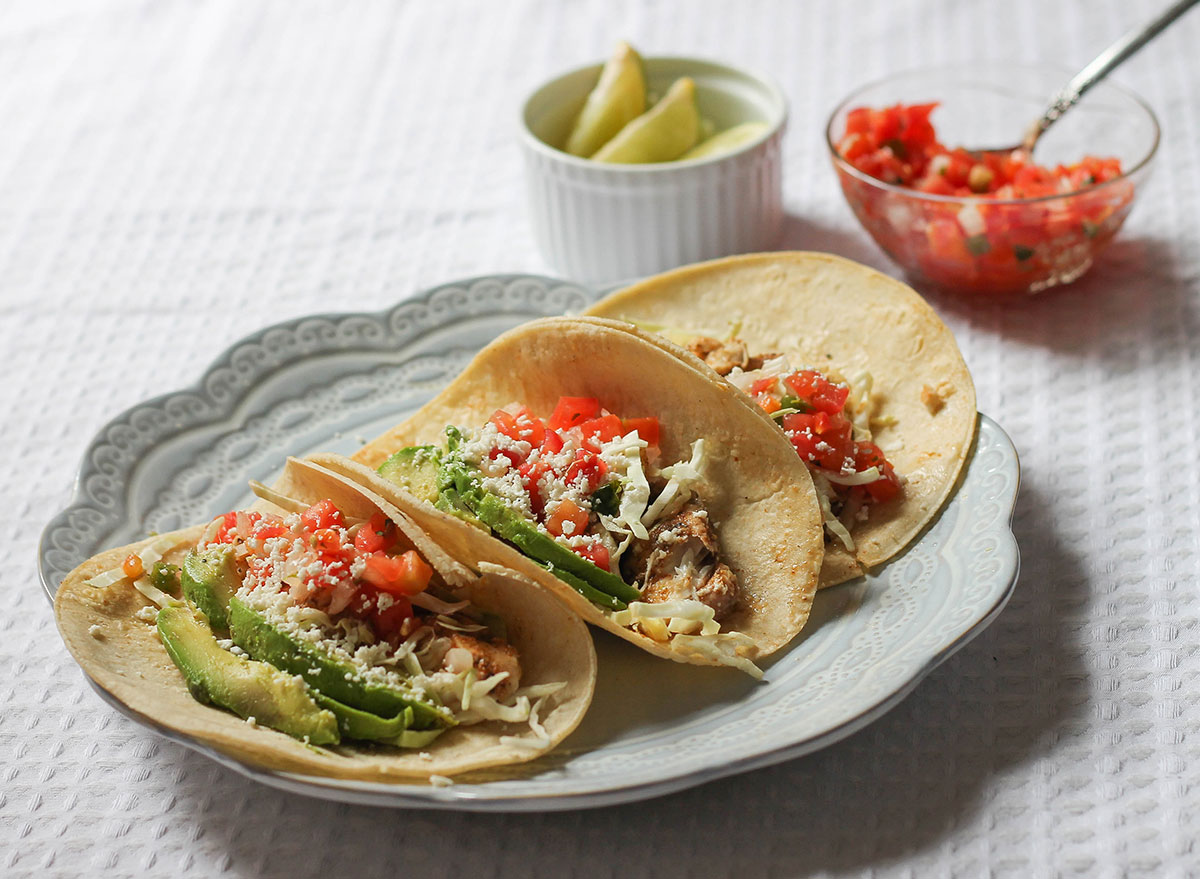 As delicious as fried fish tacos are, you may not want to make a habit out of them. This version is one that does deserve weekly attention, as it calls for baking the filets instead of frying them. A quick marinade in taco seasoning and olive oil helps infuse flavor to their core.
Get our recipe for Fish Tacos with Tilapia and Avocado.
Blackened Tilapia with Garlic-Lime Butter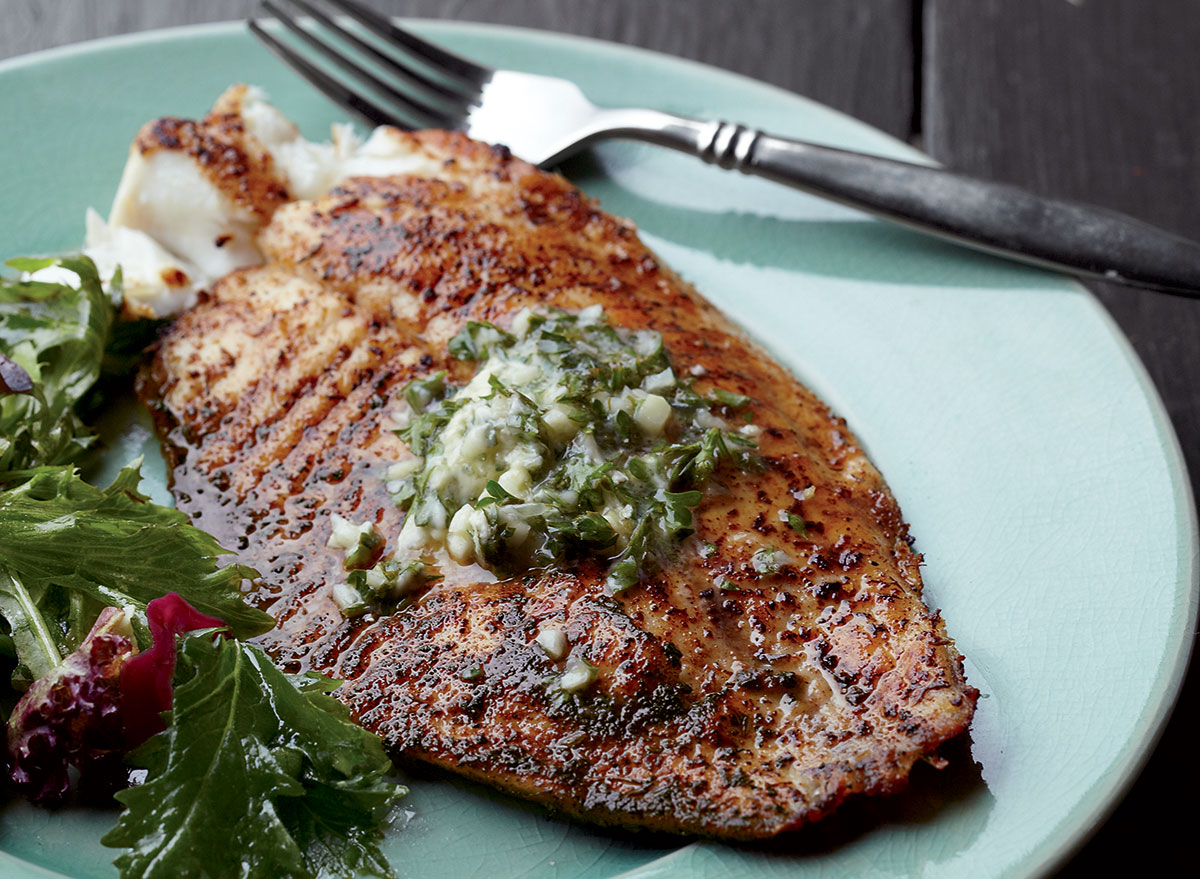 Yes, this recipe cooks up in just around five minutes. Yes, the crispy spice-rub coating will leave you wanting to cook all your protein this way. But the real star of the show is the garlic-lime butter, which is infused with a dose of fresh cilantro.
Get our recipe for Blackened Tilapia with Garlic-Lime Butter.
Toasted Coconut Tilapia with Pomegranate Salsa
Coconut fans will rejoice in this tropical-vibes recipe. The tilapia is both cooked in coconut oil and topped with shredded coconut, which toasts up to a beautifully fragrant effect as you sear the fish. The pomegranate salsa is a true workhorse, as it can be repurposed as an appetizer with tortilla chips for leftovers.
Get the recipe from How Sweet Eats.
Cheese-topped anything is bound to be a success, and this healthy fish main is certainly not an exception. It's not just any Parmesan topping though: This one is also flavored with dried basil, onion powder, celery salt, and black pepper. Round it out with a bed of greens or roasted broccoli, and you're ready to go.
Get the recipe from The Girl Who Ate Everything.
Mediterranean-Style Baked Tilapia
One of tilapia's greatest qualities, besides its well-rounded nutrient profile, is how it can take on scores of different flavors. This one goes the Greek route, with green olives, oregano, tomatoes and, of course, a final sprinkling of feta.
Get the recipe from Diethood.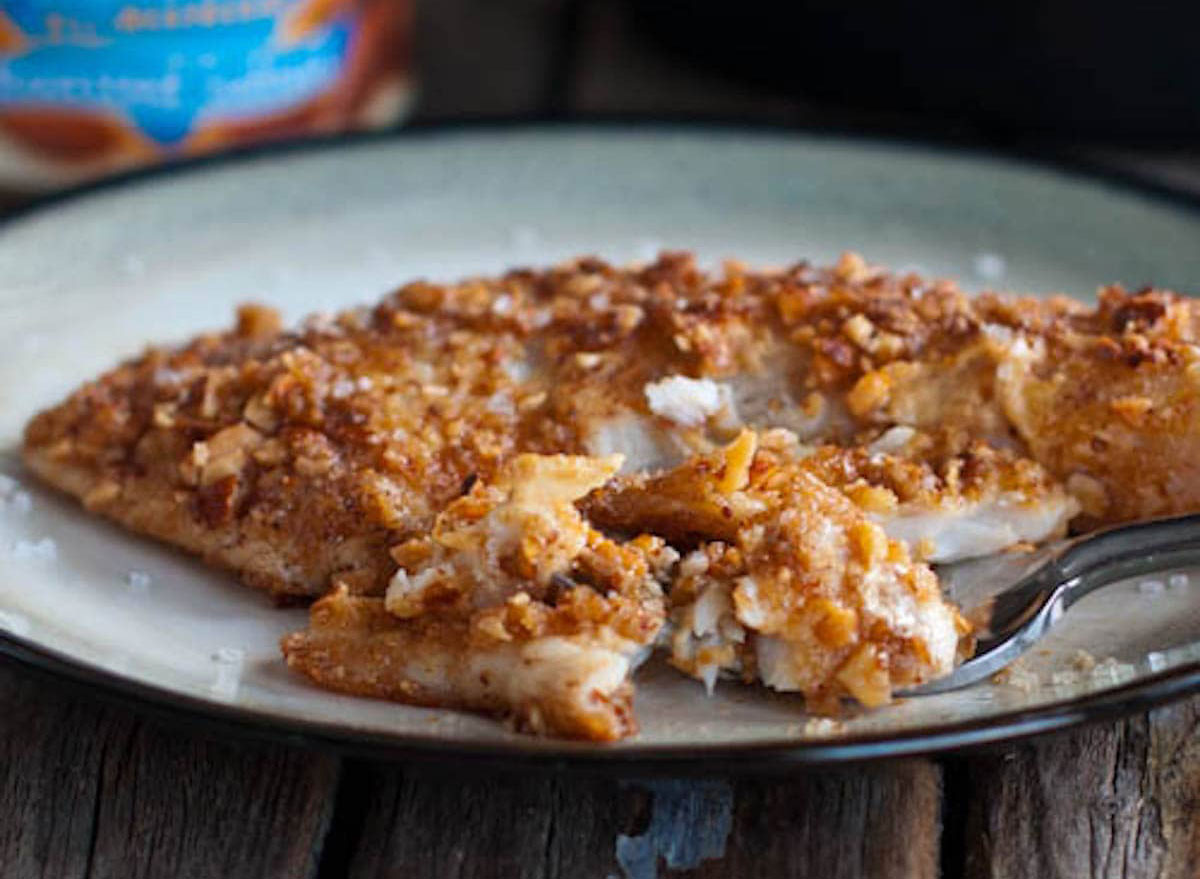 To get the full effect of breadcrumbs but keep your dinner from feeling like crumbled bread with a side of flaky fish, temper the bread coating with pulverized salted almonds. This recipe uses dijon to adhere the crumbs to the fish, giving it more flavor than you'd get from using beaten eggs.6254a4d1642c605c54bf1cab17d50f1e
Get the recipe from Pinch of Yum.
Tilapia with Roasted Corn
Get yourself in a full-on summer mindset with this healthy tilapia recipe, which takes the best produce of the season and pairs it with spicy sauce and tilapia filets. Luckily, you can still make it in the throes of winter by substituting frozen corn.
Get the recipe from Taste & Tell.
Blackened Tilapia with Homemade Spice Rub
Going the homemade spice rub route means you can adjust each of the spices to your personal preferences, so cayenne fans can pump up the heat or oregano haters can remove it all together. Then you just have to rub it on the tilapia, toss it in a hot skillet, wait five minutes, and you're done. Don't forget the final lemon squeeze to top it off.
Get the recipe from Show Me the Yummy.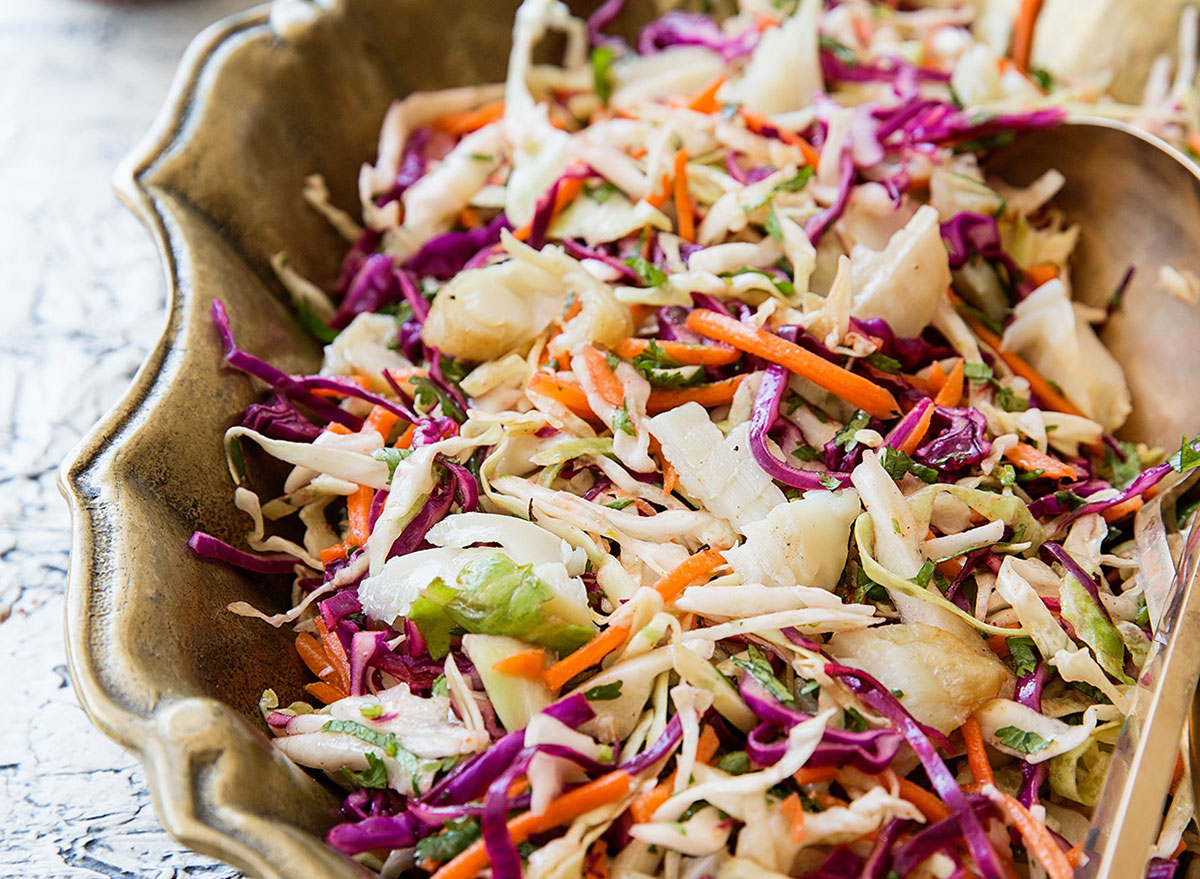 You've been putting coleslaw on your fish sandwiches all this time, and now it's time to put the fish into the coleslaw. When you use a pre-made slaw mix to cut down on prep time, it becomes a 15-minute tilapia dinner recipe that will please a hungry family.
Get the recipe from Real Food by Dad.
You no longer need to decide whether you want to have tacos or nachos. It's hard to say whether the naturally gluten-free recipe is bolder in color or in flavor, but both are definitely present. Blackened tilapia, avocado-mango slaw, shredded cheese, and fresh cilantro on a bed of blue tortilla chips is our new favorite way to call nachos dinner.
Get the recipe from Gimme Some Oven.
Southwest Tortilla Crusted Tilapia Salad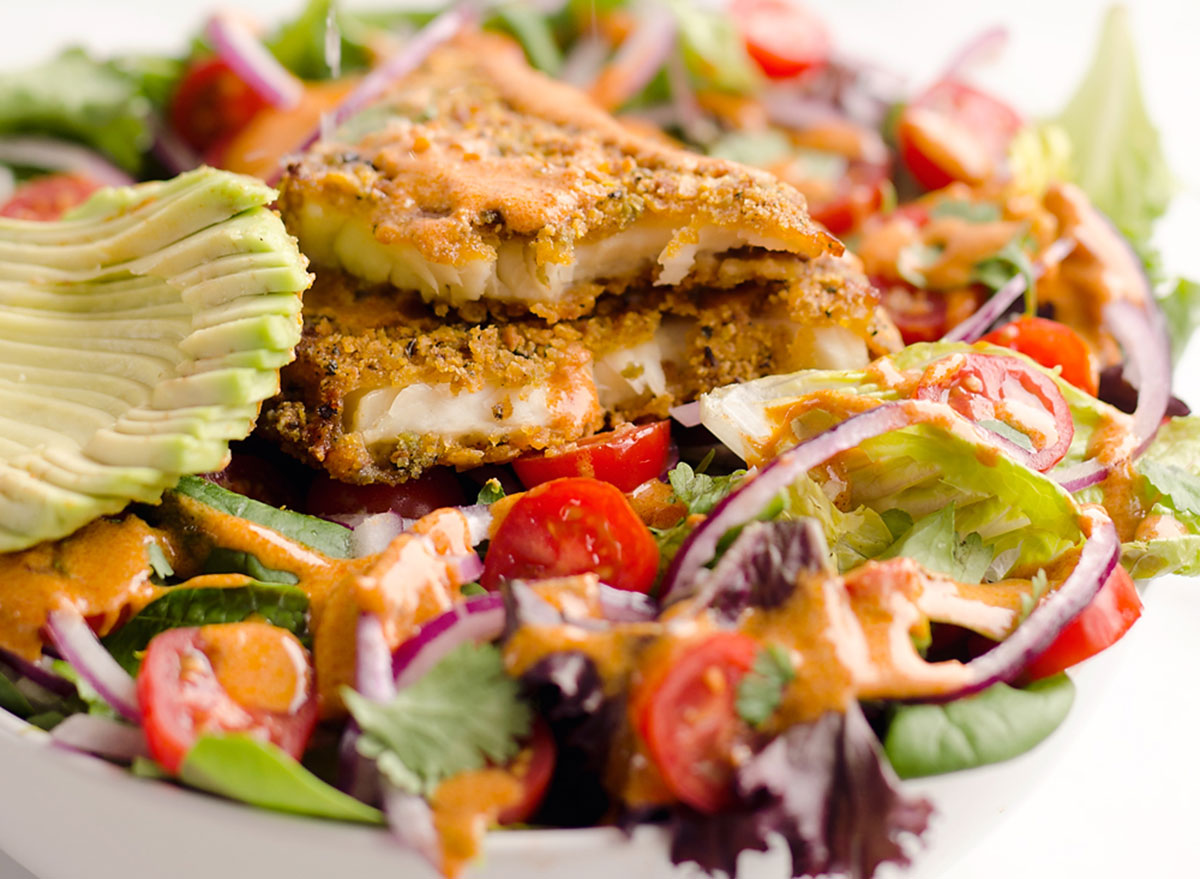 Make good use of your air fryer by using it on tortilla-crusted tilapia filets. They'll come out crispy as can be, and when you put them on a bed of greens, they become a mainly hands-off (and deceivingly healthy) meal.
Get the recipe from The Creative Bite.
Five-Ingredient Garlic Parmesan Tilapia
The fewer ingredients a recipe calls for, the easier it tends to be. This recipe follows suit, and all you have to do is brush the tilapia with lemon-garlic butter and sprinkle it with Parmesan. If you have the time, roast some asparagus or squash as a side dish.
Get the recipe from The Seasoned Mom.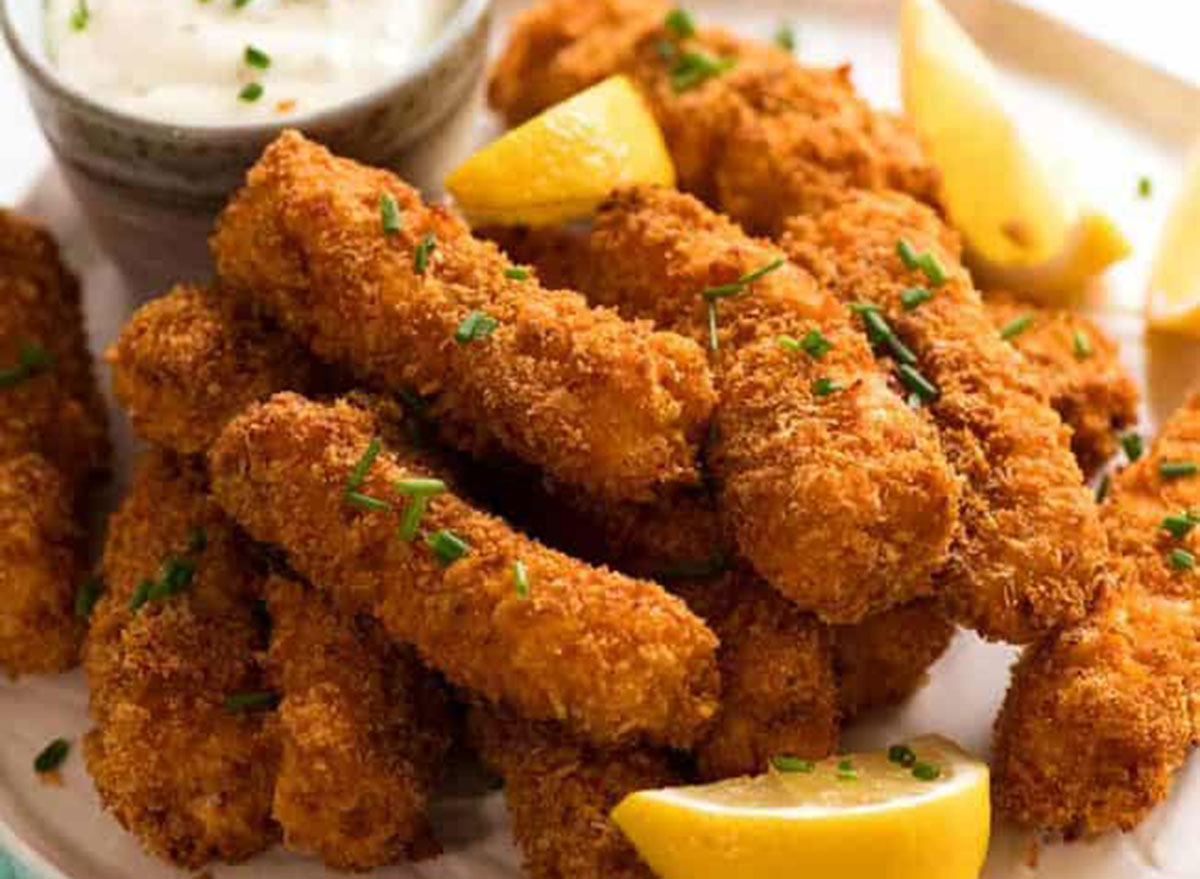 Whether you're five or 55, fish fingers are always a good time. They're the gem of the freezer aisle (second only to ice cream, of course), but a healthied-up version can easily be made at home by breading and baking tilapia—and making a dipping sauce, of course.
Get the recipe from RecipeTin Eats.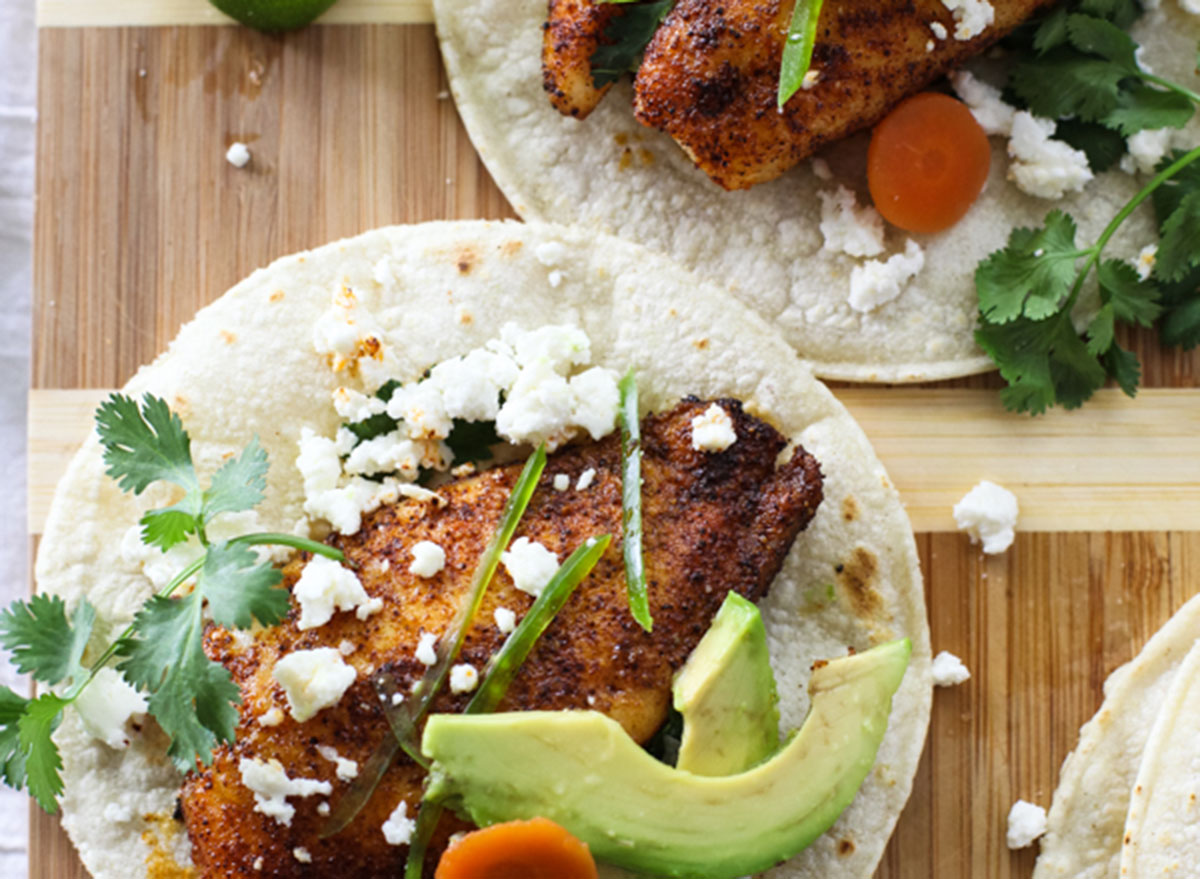 Calling all the spice lovers. This fish taco recipe uses smoked paprika, cumin, and chili powder for a flavorful tilapia filet, balancing the heat with pickled carrots, cooling cotija cheese, and a squeeze of lime.
Get the recipe from Foodie Crush.
Easy Miso Fish Soup with Soba
Soup is always a big bowl of comfort, so when you could use a food hug but still want to keep everything feeling light and fresh, turn to this umami-rich recipe. It has earthy soba noodles, sugar snap peas, and shiitake mushrooms, not to mention the pieces of lean flaky tilapia. Added bonus: You'll go from start to finish in 25 minutes, making it the ideal solve for any soup cravings.
Get the recipe from Simply Recipes.
Abby Reisner
Abby is a food writer, editor, cook, and digital strategist living in Brooklyn.
Read more about Abby