27 Air Fryer Recipes That Make Healthier Fried Foods
Further proof that this versatile tool belongs in your kitchen (you'll find some space).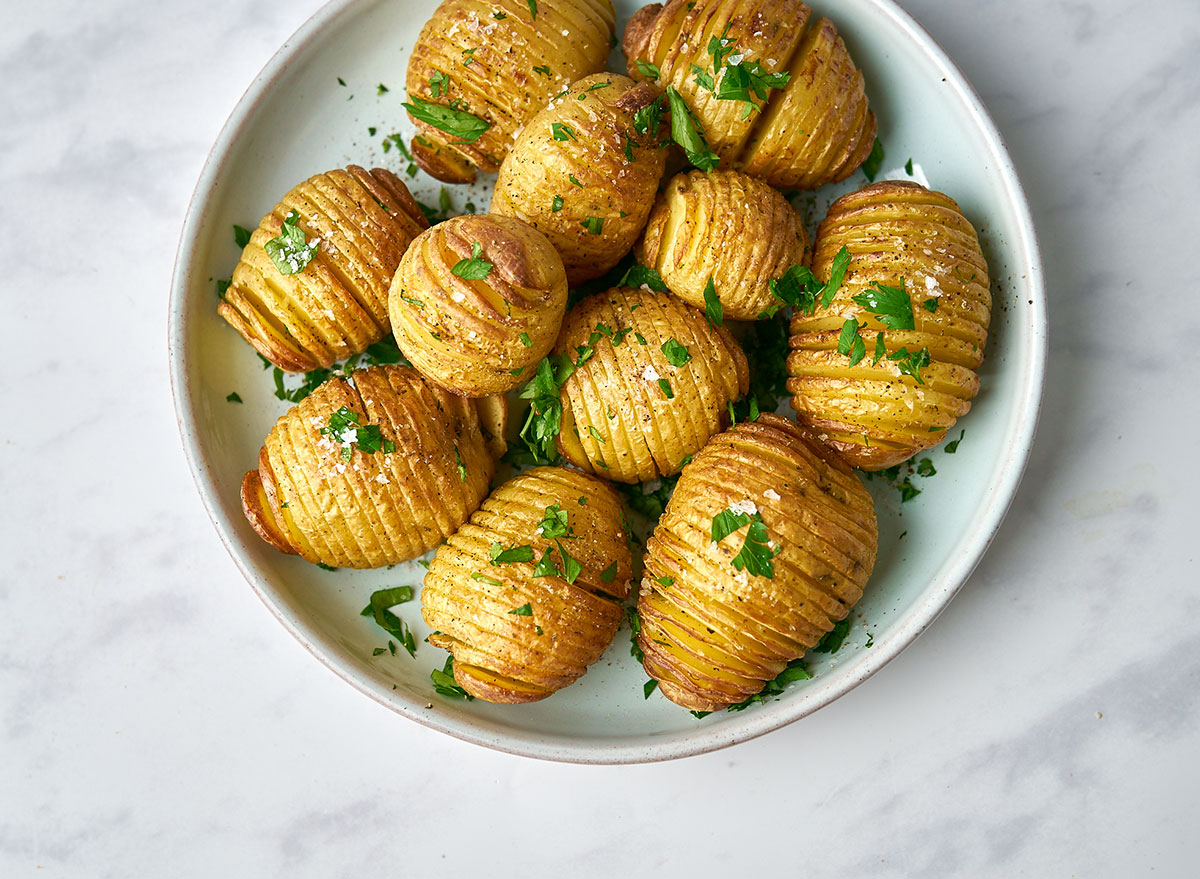 Owning an air fryer is like wearing a dress with pockets: You just have to preach about its greatness to everyone and anyone. While they're best-known for cutting out excess oil, air fryers also let you get the crispy, golden, delicious qualities of deep-fried food without the mess of stove-top frying.
Plus, it's a versatile technique that can be used on everything from chicken wings to sweet potato dessert fries. If you're asking yourself whether or not you need yet another kitchen gadget, these 27 recipes will prove why an air fryer deserves to go from your wishlist to your countertop.
Breaded Air Fryer Pork Chops
Get the applesauce out: It's time for pork chop night. The combo of Panko and seasoned whole wheat bread crumbs give the outside of these crispy chops a varied texture, and by air-frying instead of pan-frying, you can reach your end goal without suffering a countertop covered with splattered oil.
Get our recipe for Breaded Air Fryer Pork Chops.
Baby Hasselback Air Fryer Potato Bites
Everything's cuter in miniature form, and Hasselback potatoes are definitely not an exception. Plus, you'll learn a useful trick for getting uniform slices that are the perfect depth to hold all the seasonings and toppings you choose to add.
Get our recipe for Baby Hasselback Air Fryer Potato Bites.
Air Fryer Sesame Soy Garlic Chicken Wings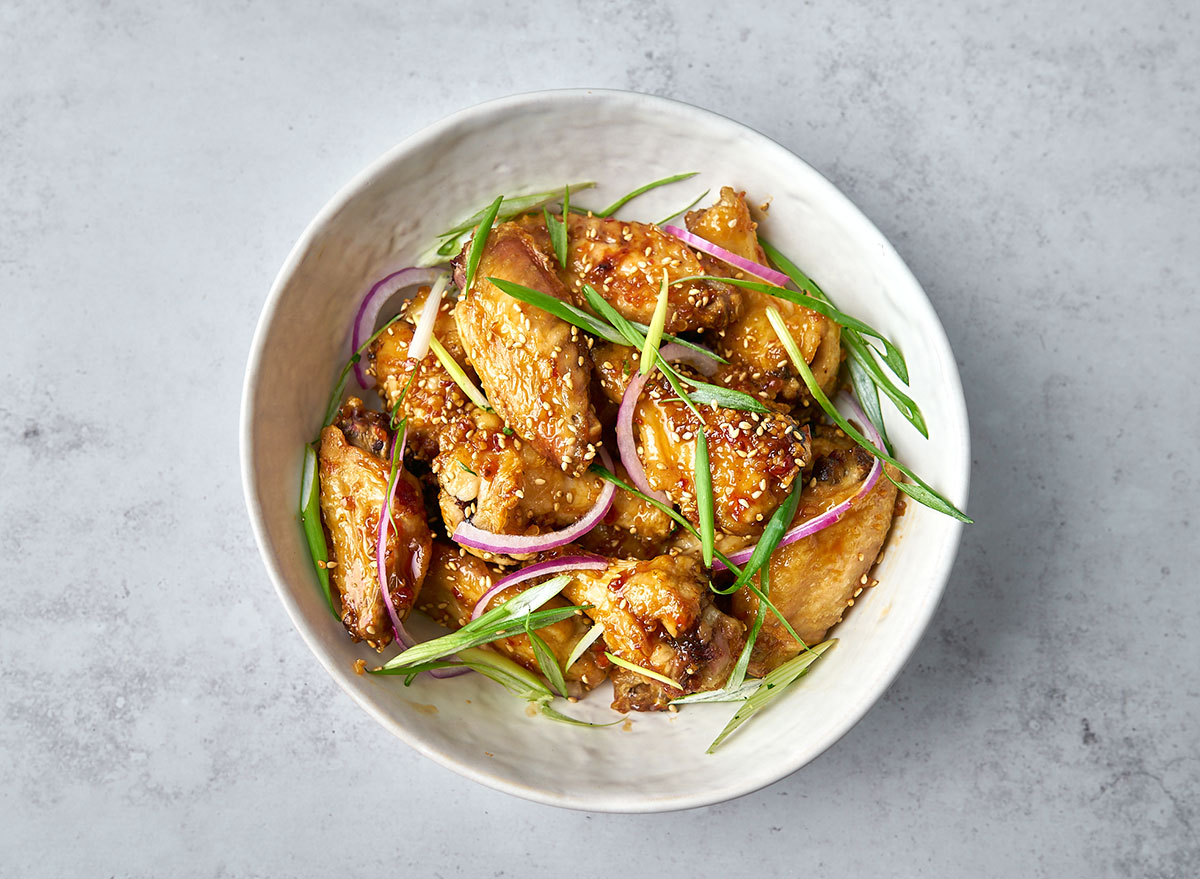 This method unlocks the option of serving a whole tray of hot wings at a party, meaning no one gets stuck with a lukewarm first batch straggler. The honey-sweetened sesame, soy, and garlic sauce gets added post-fry, so you won't have to deal with cleaning up a sticky air fryer basket.
Get our recipe for Air Fryer Sesame Soy Garlic Chicken Wings.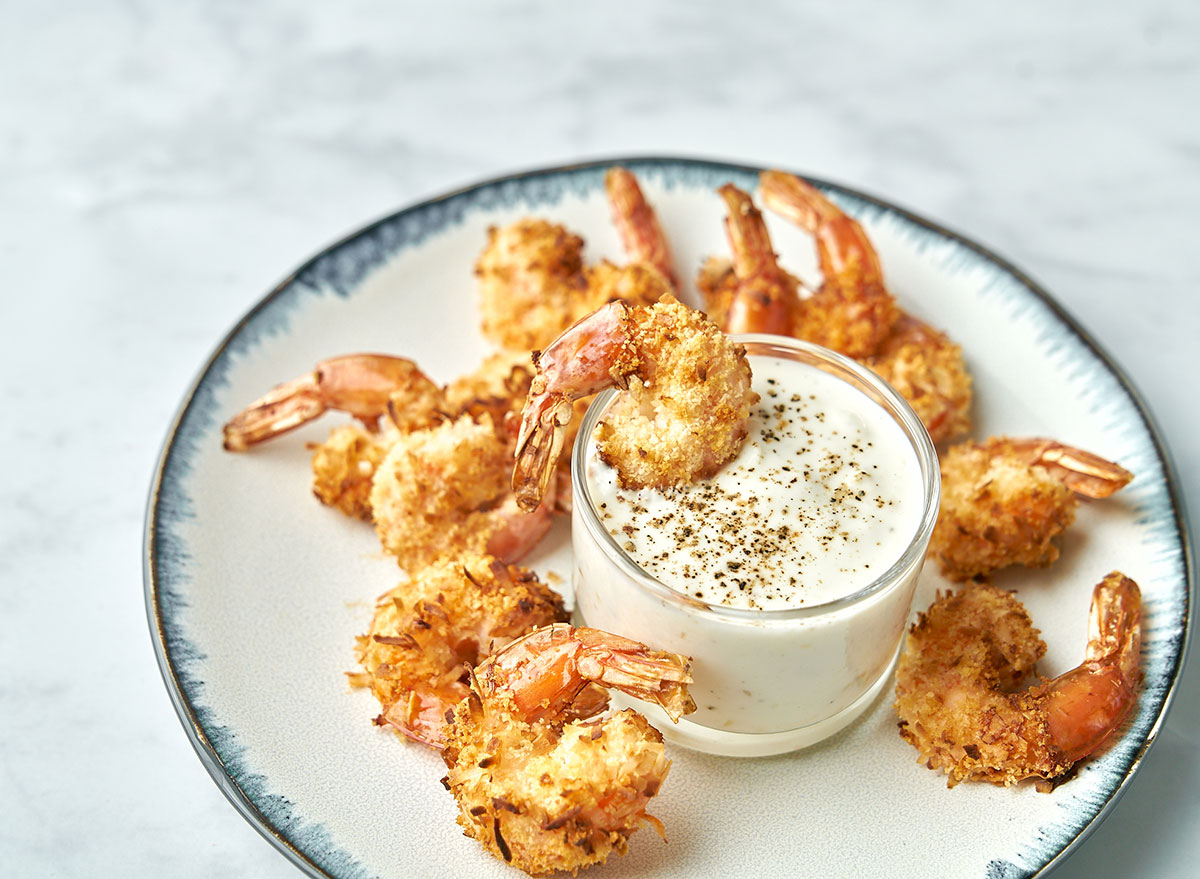 Using coconut milk to help Panko breading adhere to the shrimp deepens the coconut essence of this keto-friendly party app. You could serve it with your favorite dipping sauce, but the tropical flavor is strong enough that all you need for success is a dusting of salt and pepper.
Get our recipe for Air Fryer Coconut Shrimp.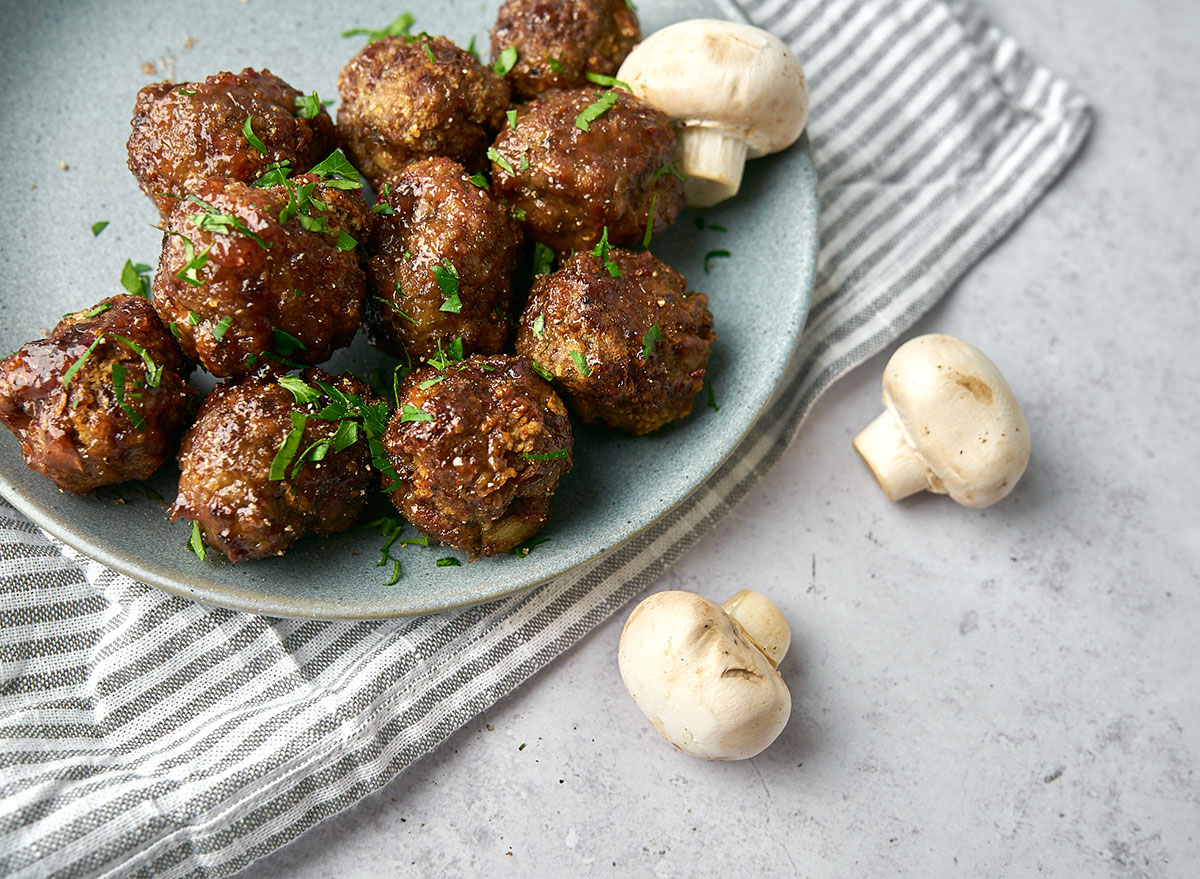 There's plenty of meat in here to satisfy a carnivore's craving, but the inclusion of finely chopped mushrooms adds vegetable power without compromising the taste. For plating style bonus points, use a small cookie scoop to evenly portion out and shape the meatballs.
Get our recipe for Air Fryer Meatballs.
If you haven't been using store-bought pizza dough for homemade calzones, you've been missing out. Making them in the air fryer ensures a crisp shell that pulls apart to reveal a steaming filling of spinach, roasted red peppers, onions, and mozzarella cheese.
Get our recipe for Veggie Pizza Calzones.
Sweet and Sour Crispy Cauliflower Bites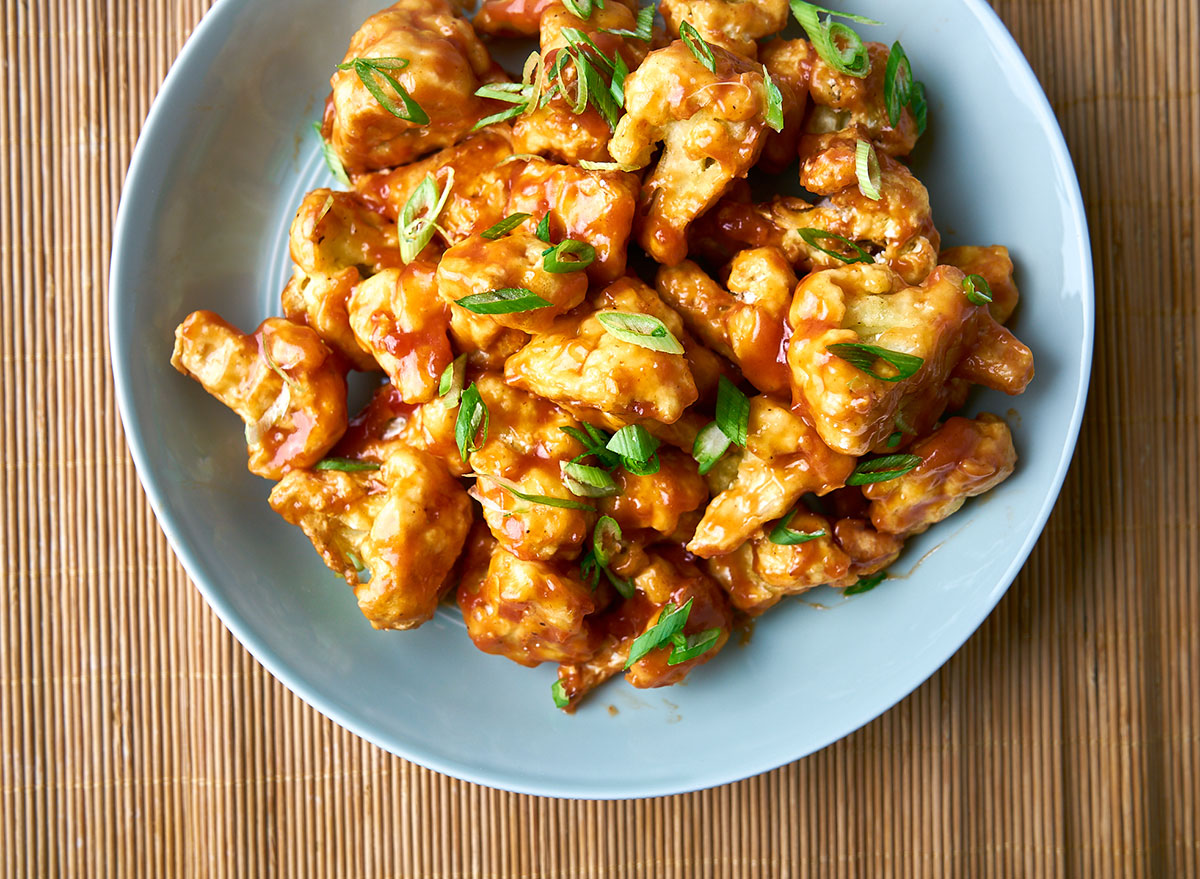 Sweet and sour chicken has met its vegetarian match. The air fryer makes sure all the natural nooks and crannies of the cauliflower florets get equal airtime (and thus equal crispiness), and going the homemade route for the takeout staple means you can adjust the sriracha to your exact preferred heat level.
Get our recipe for Sweet and Sour Crispy Cauliflower Bites.
Air Fryer Lemon-Pepper Salmon Jerky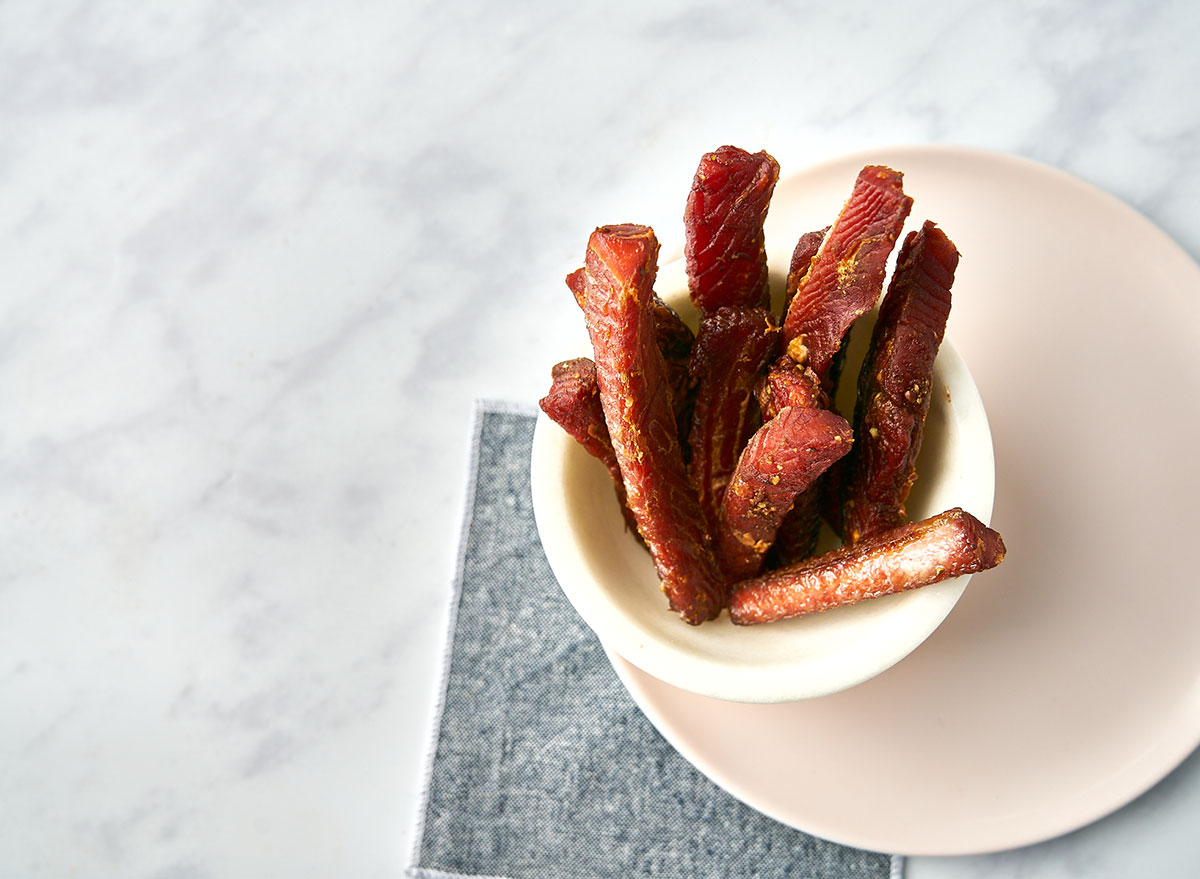 If you've always wanted to whip up DIY jerky snacks but didn't want to shell out for a dehydrator, the air fryer is here for you. With this recipe, you can easily create portable smoky bits of Omega 3–rich salmon for that 4 p.m. hunger pang.
Get our recipe for Air Fryer Lemon-Pepper Salmon Jerky.
Ranch Veggie Air Fryer Chips
Happiness is a warm ranch-flavored snack, even (and especially) if it's one made out of vegetables. Homemade chips are not only more affordable than store bought, but they also save you the heartbreak of excitedly tearing into a bag that proves to be two-thirds full of air.
Get our recipe for Ranch-Flavored Veggie Chips.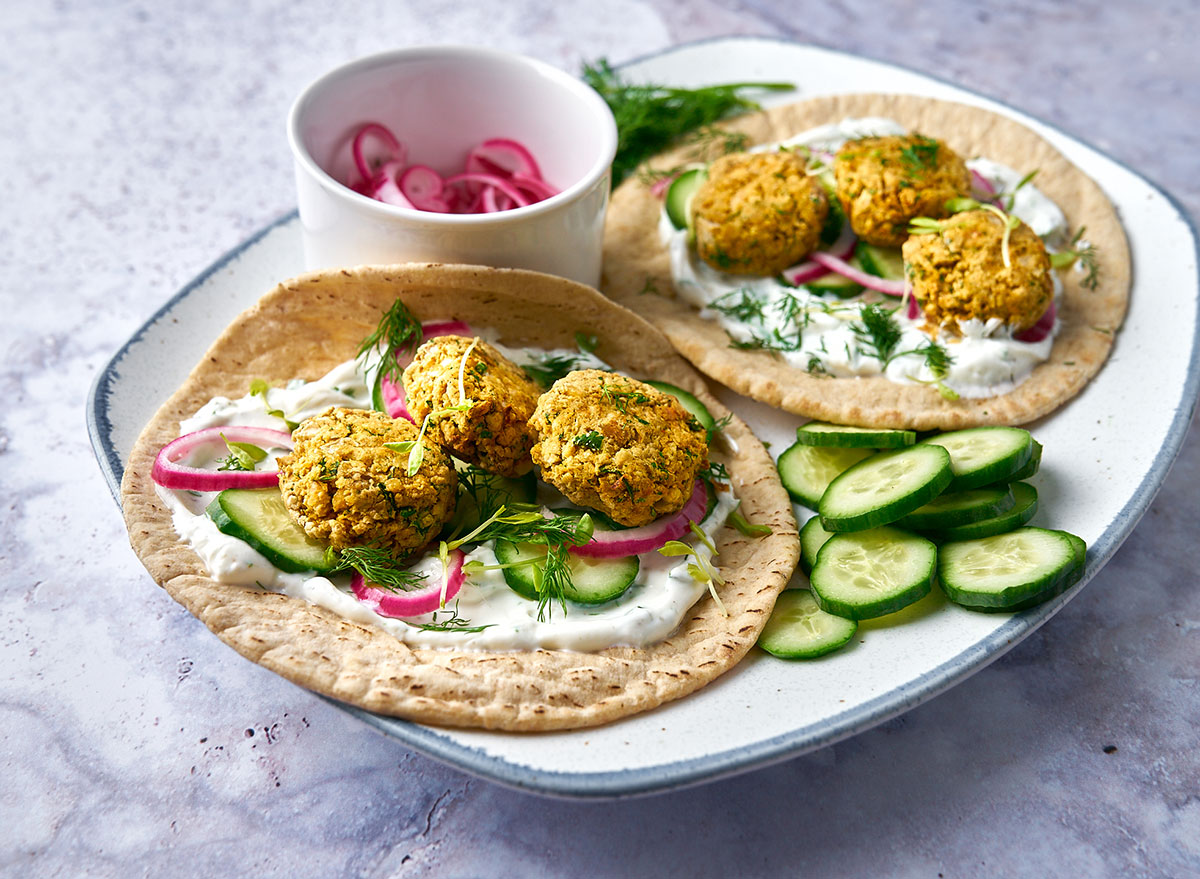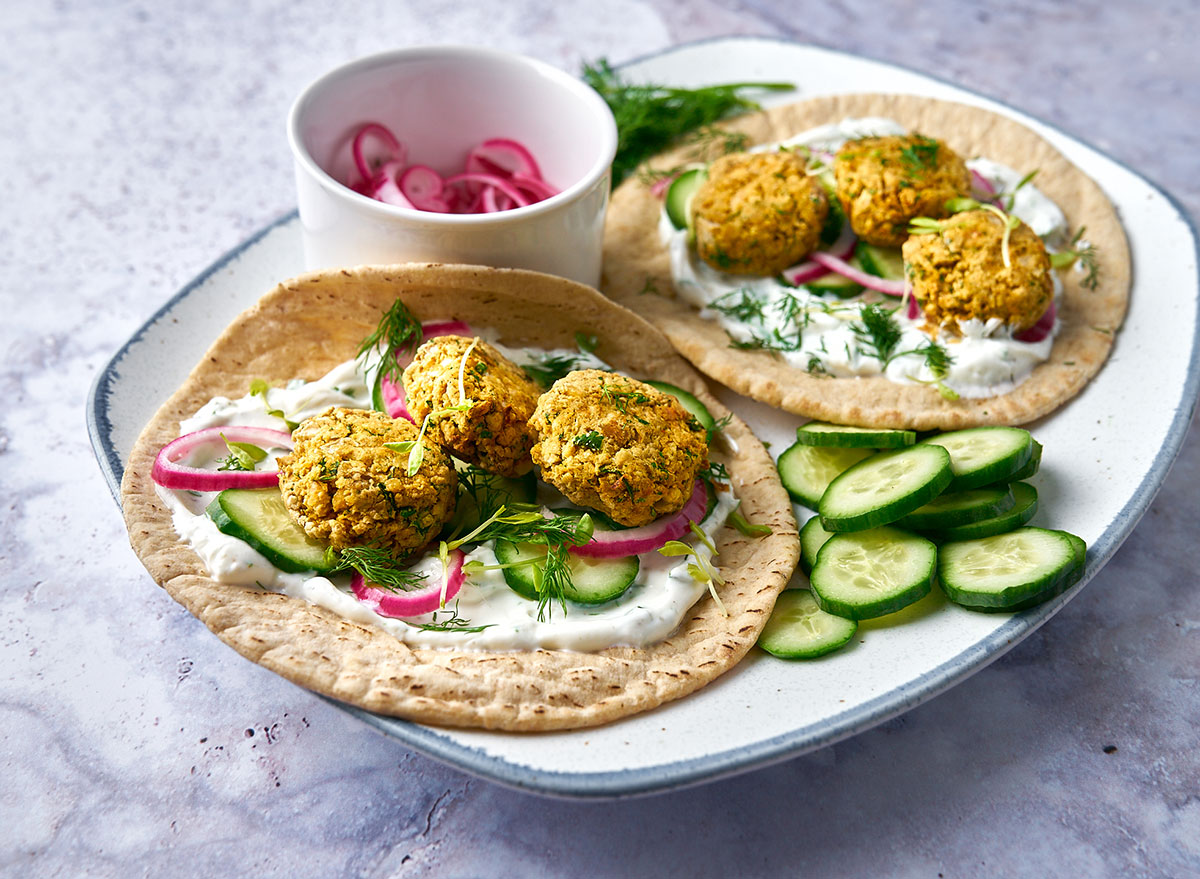 Rather than being a stand-in for cubes of lamb or chicken, falafel is a staple protein in its own right. In addition to being delicious, the Mediterranean dish is highly versatile, whether on its own, in a salad, or tucked into pita.
Get our recipe for Air Fryer Falafel.
Parmesan Dill Fried Pickle Chips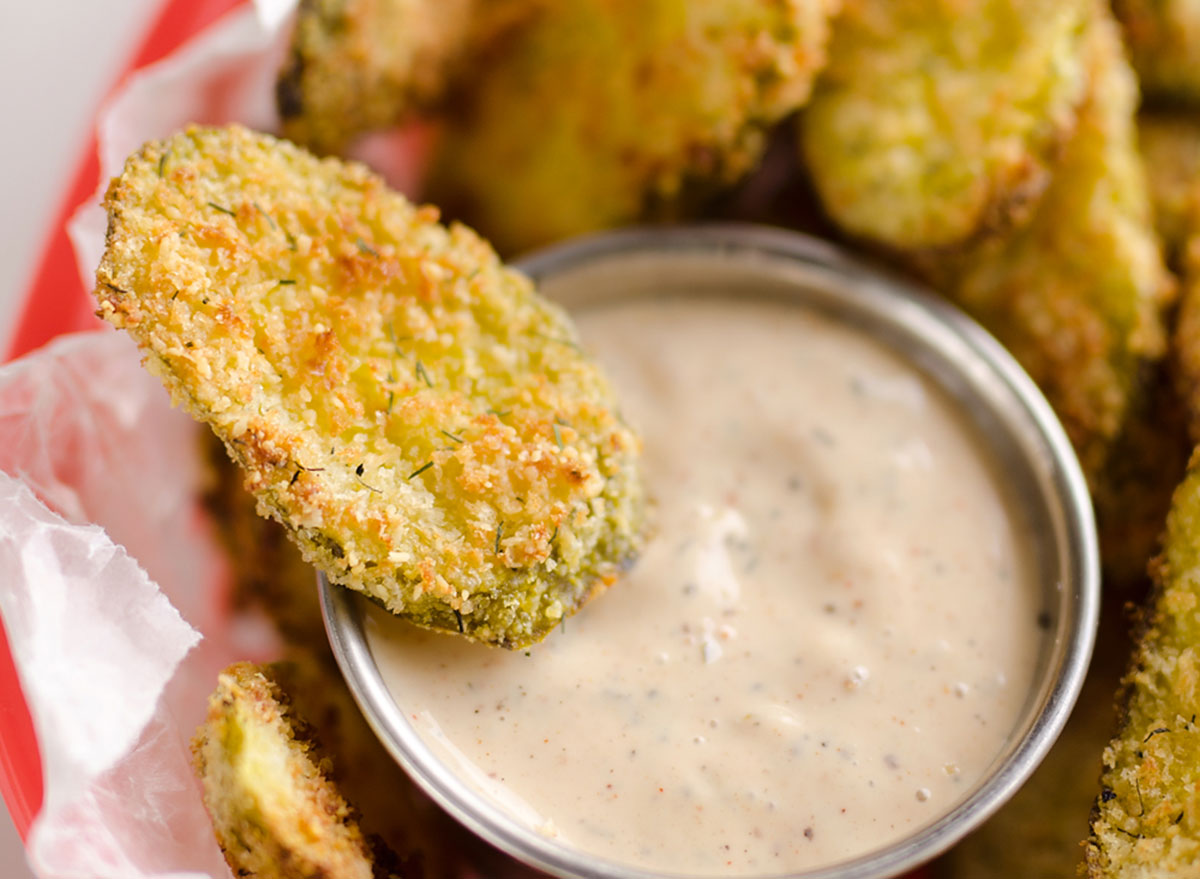 What's even better than a bowl of pickle-flavored chips? Fried rounds of sliced pickles seasoned with dill and Parmesan. The air fryer cuts down on wait time if you were to bake them, and eliminates the oily mess of traditional frying.6254a4d1642c605c54bf1cab17d50f1e
Get the recipe from The Creative Bite.
Air Fryer Mozzarella Sticks
If you're one of those people whose eyes glaze over at any restaurant menu that doesn't include mozzarella sticks, this one goes out to you. This recipe includes a genius method for at-home cheesy bites that are flavored with onion powder, garlic powder, chili powder, and smoked paprika.
Get the recipe from Show Me the Yummy.
Cinnamon Sugar Air Fryer Donuts
As any donut lover will tell you, not all fried snacks are savory. Stock up on treats (or breakfast) for the week by whipping up a batch of these bites, which are secretly just jumbo biscuits dressed up in a cinnamon sugar coating.
Get the recipe from Julie's Eats and Treats.
Crispy Parmesan Air Fryer Brussels Sprouts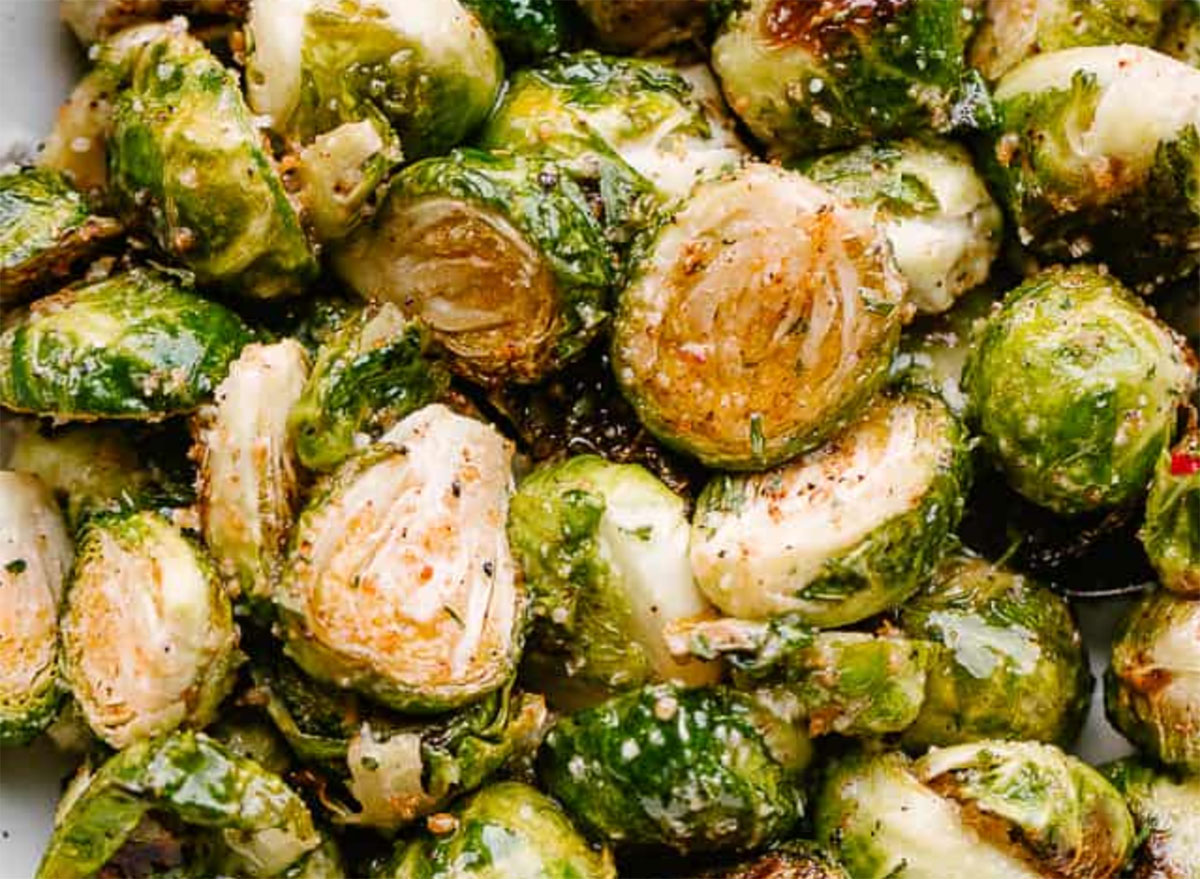 Anyone who typically turns their nose up at Brussels sprouts will be a quick convert with this simple side, which fulfills your vegetable and your cheese quotas all at once. The pork Panko bread crumbs are a truly special addition that just might wheedle their way into more of your go-to recipes.
Get the recipe from Diethood.
5-Ingredient Cuban Air Fryer Empanadas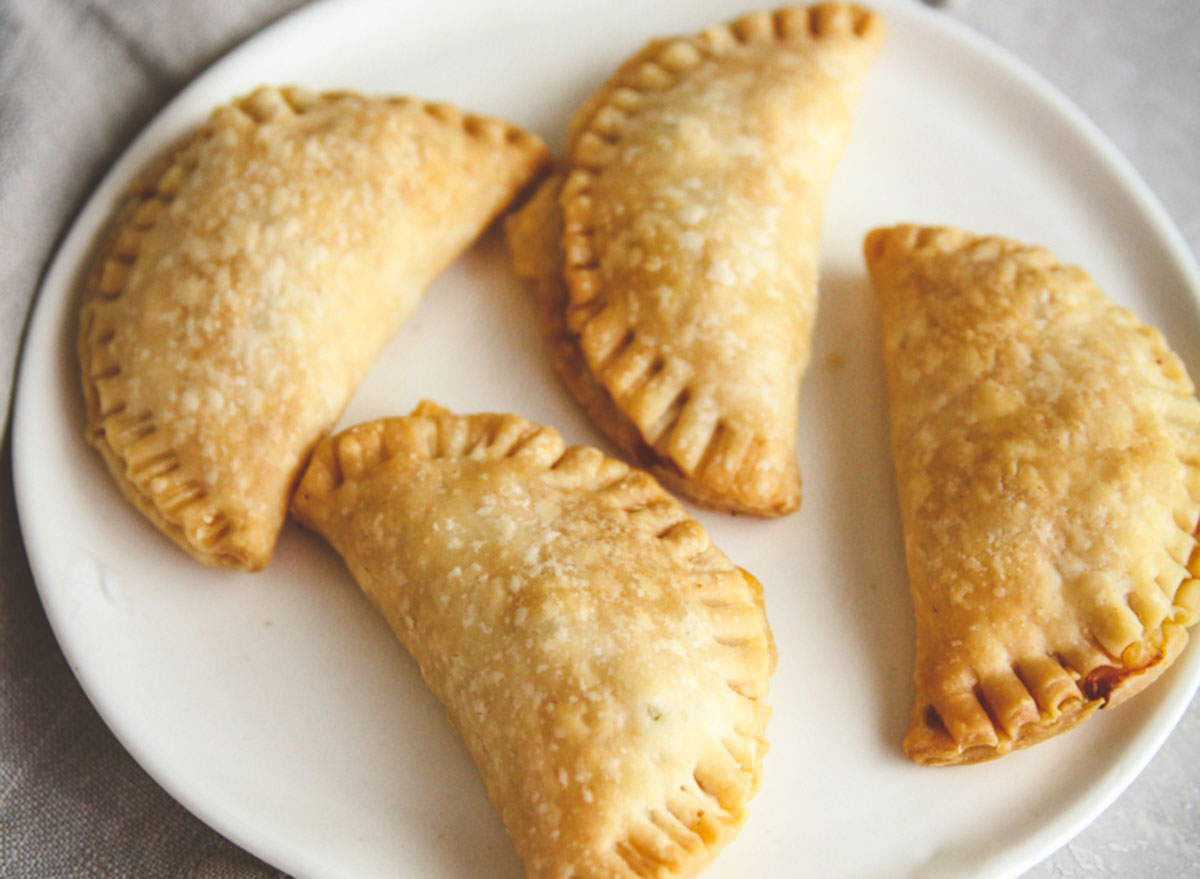 Picture a Cuban sandwich, in all its ham and cheese glory. Now, picture it in empanada form, with crimped edges and a crispy fried-dough exterior. This recipe will help you turn that into a reality, with only a handful of easily accessible ingredients.
Get the recipe from Sweet Phi.
Crispy Air Fryer Chicken Strips
Ah, chicken fingers: The fast food (and children's menu) item that we'll forever be starry-eyed over. Now, they're just another excuse to use your beloved air fryer. Take the time to give the chicken pieces a quick buttermilk marinade so that they're as tender and flavorful as possible.
Get the recipe from i am a food blog.
Most tofu naysayers mainly have a bone to pick with the texture, but this version will have them eating their words. A quick spin in the air fryer is all that cubed tofu needs to be ready to add to curries, stir-fries, salads, and more.
Get the recipe from A Beautiful Mess.
Air Fryer Honey Goat Cheese Balls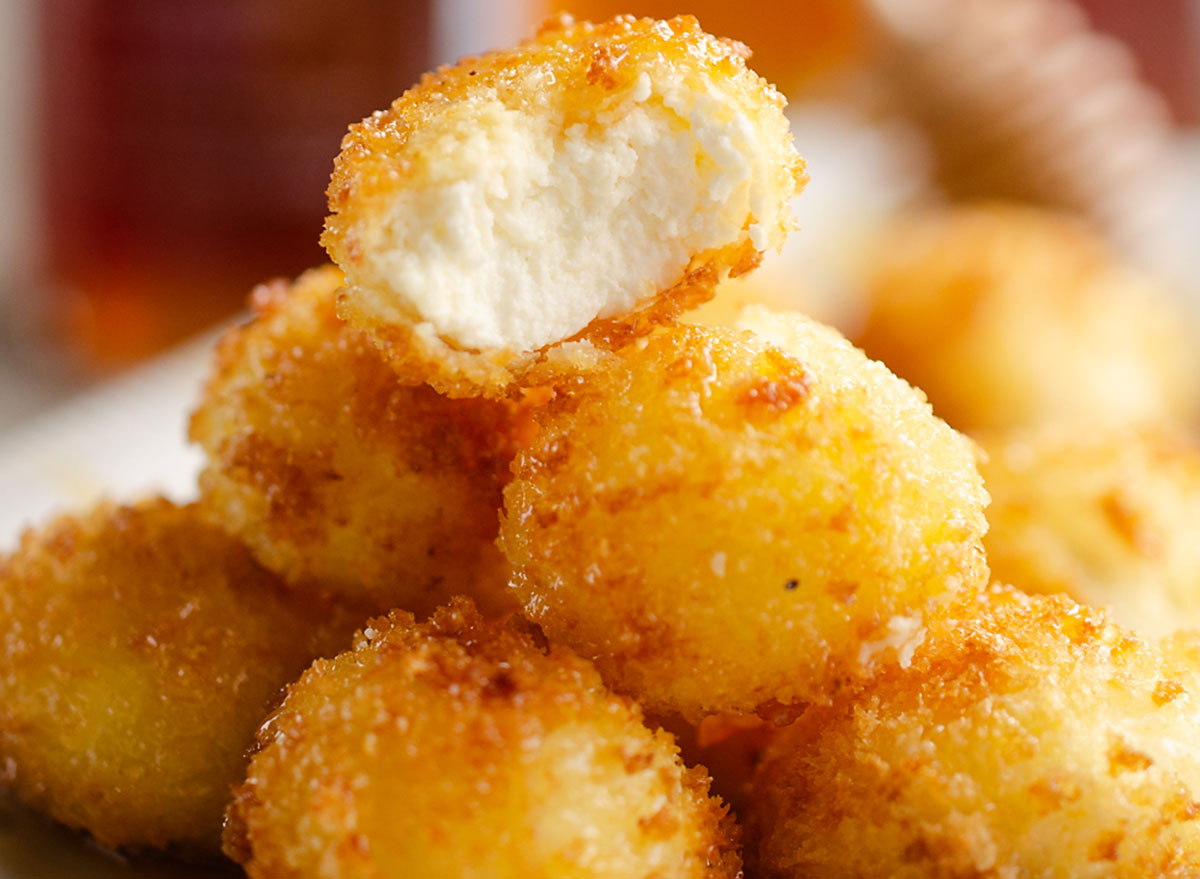 Serve these at your next party and be prepared to be asked by everyone to send the recipe. You'll find it's truly an impossible feat to eat just one of these bites, which are easier to make than you might think, thanks to the added step of freezing the cheese before frying.
Get the recipe from The Creative Bite.
Crispy Parmesan Buttermilk Chicken Tenders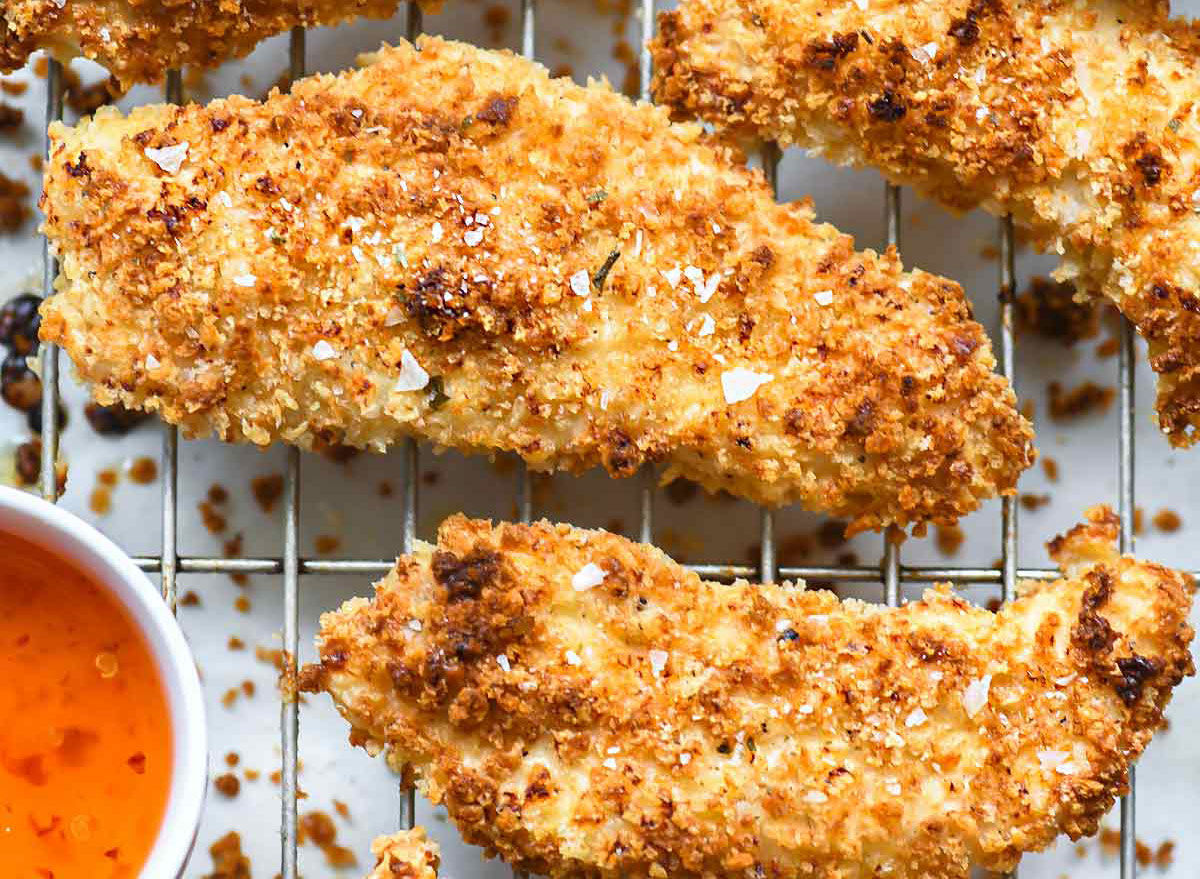 Chicken tenders are already a nearly unbeatable snack, so when you add Parmesan to the breading, they're even closer to the perfect food. Flaky Panko and melted butter give the chicken an irresistibly golden coating, just waiting for a dunk in honey mustard or ranch.
Get the recipe from Foodie Crush.
Air Fried Sweet Potato Dessert Fries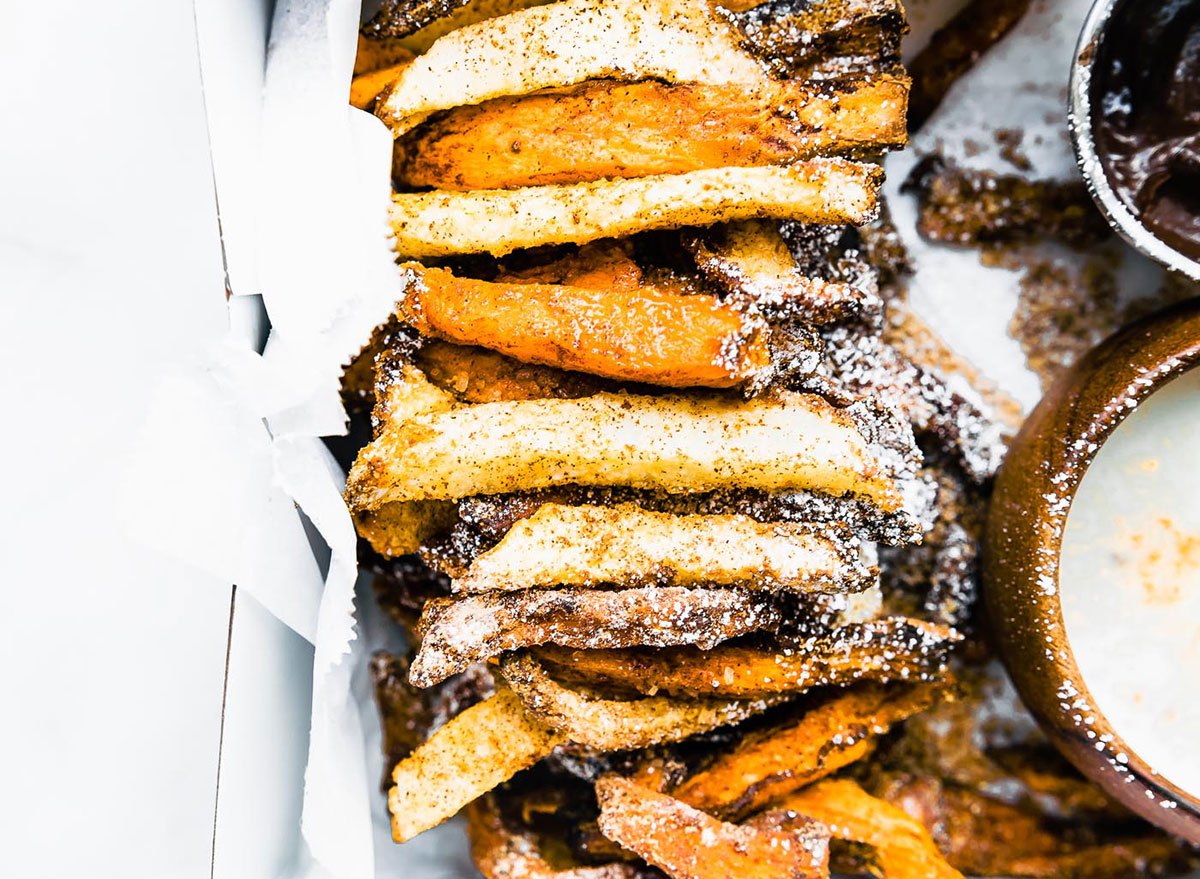 One bite of these cinnamon-coated sweet potato strips and you'll be wondering why "dessert fries" haven't been more present in your life before. Swap ketchup for sweet hummus or maple frosting, and you'll want to get a room with these sweet snacks.
Get the recipe from Cotter Crunch.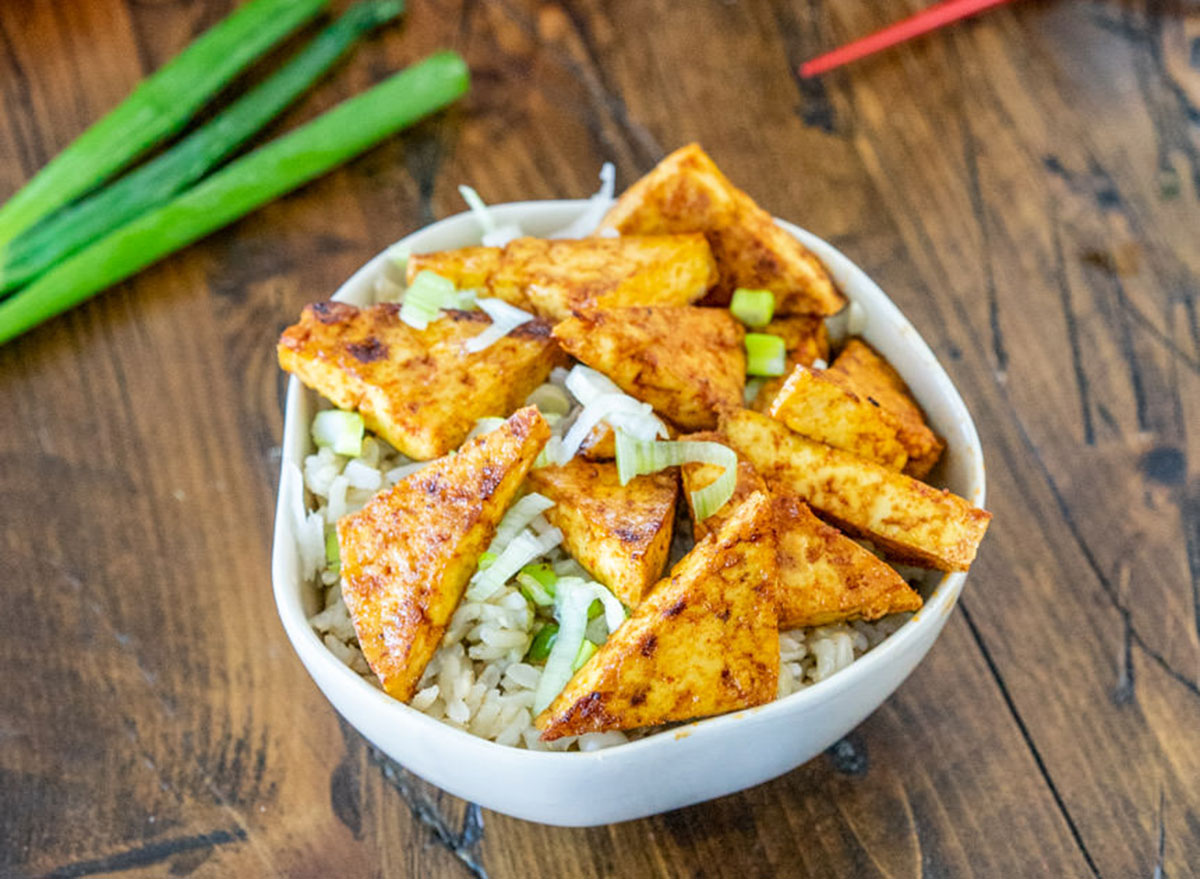 You can never have too many options for air fryer tofu recipes, especially when it includes this sesame glaze. Whether you're looking for a Meatless Monday recipe or are a diehard plant-based fan, add this one to your repertoire.
Get the recipe from One Ingredient Chef.
Air Fryer Chicken Parmesan
Use your air fryer to get a healthied-up version of the classic Italian dish without sacrificing any of the flavor you love. The chicken is still juicy, the cheese is still layered high, and a sprinkling of herbs keeps everything feeling fresh.
Get the recipe from Julie's Eats and Treats.
Homemade Cajun Breakfast Sausage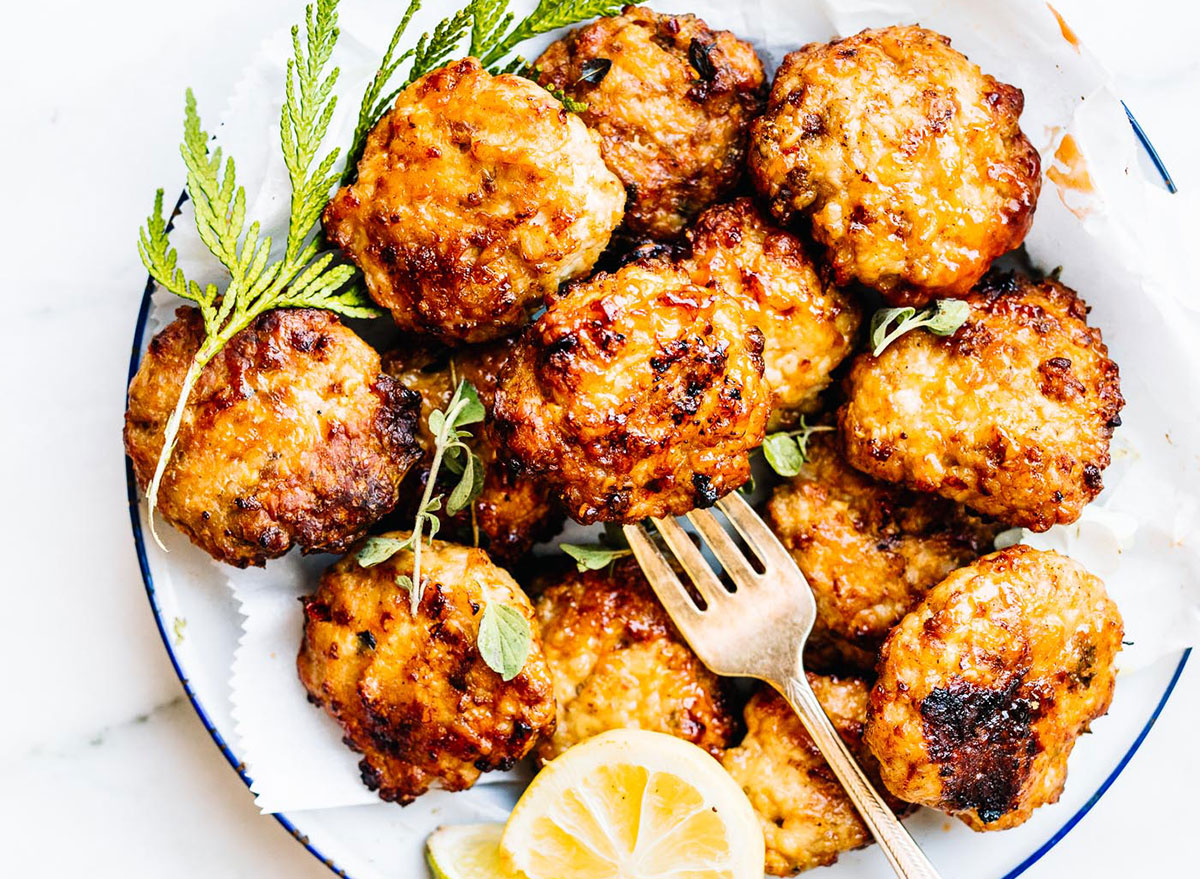 A worthwhile kitchen tool is one that can be used around the clock, and this recipe proves that an air fryer fits that description. Wake up to secretly healthy sausage patties that work on their own, put in a sandwich, or served with waffles.
Get the recipe from Cotter Crunch.
Air Fryer Broccoli Cheese Egg Rolls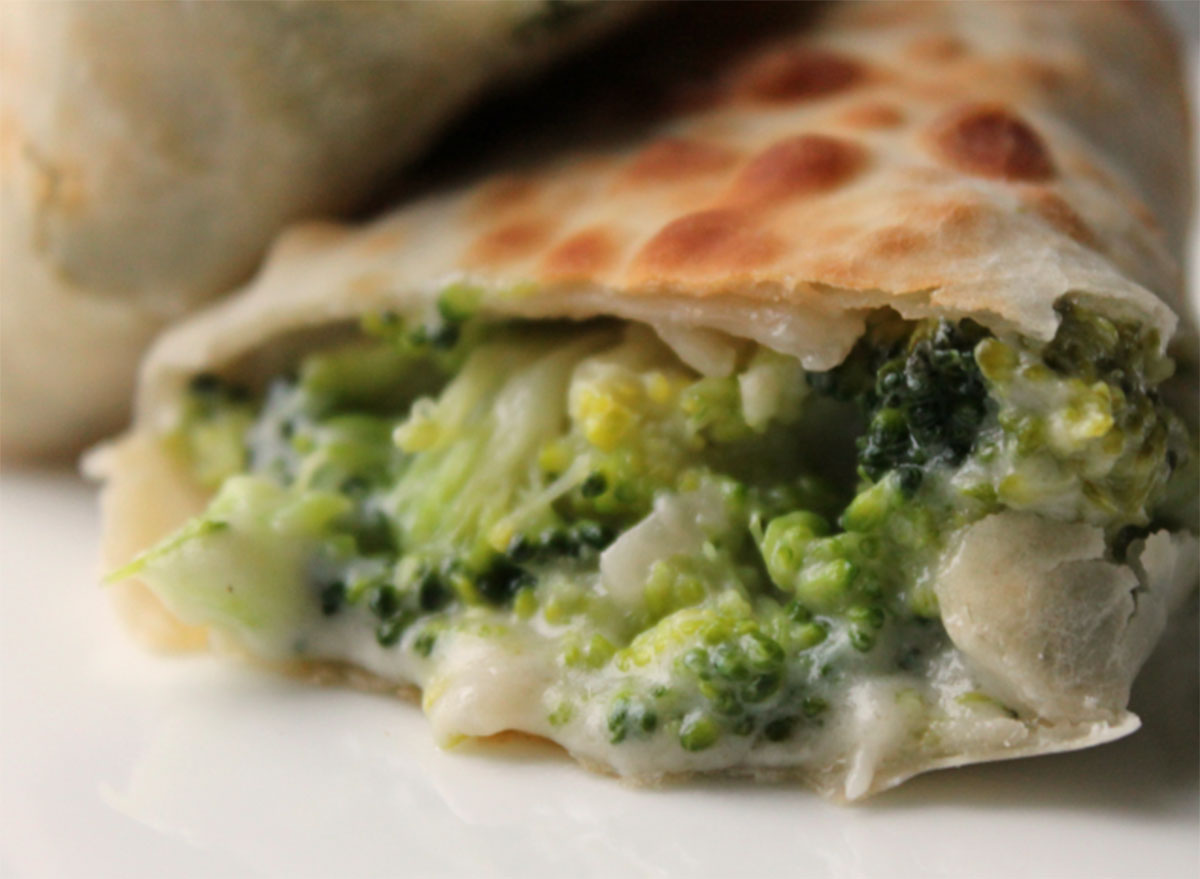 Broccoli and cheese is a classic combination, and when you put the two into an egg roll wrapper, roll it up, and toss it into the air fryer, you have a grab-and-go snack for the ages.
Get the recipe from Foody Schmoody Blog.
Air Fryer Buffalo Cauliflower Bites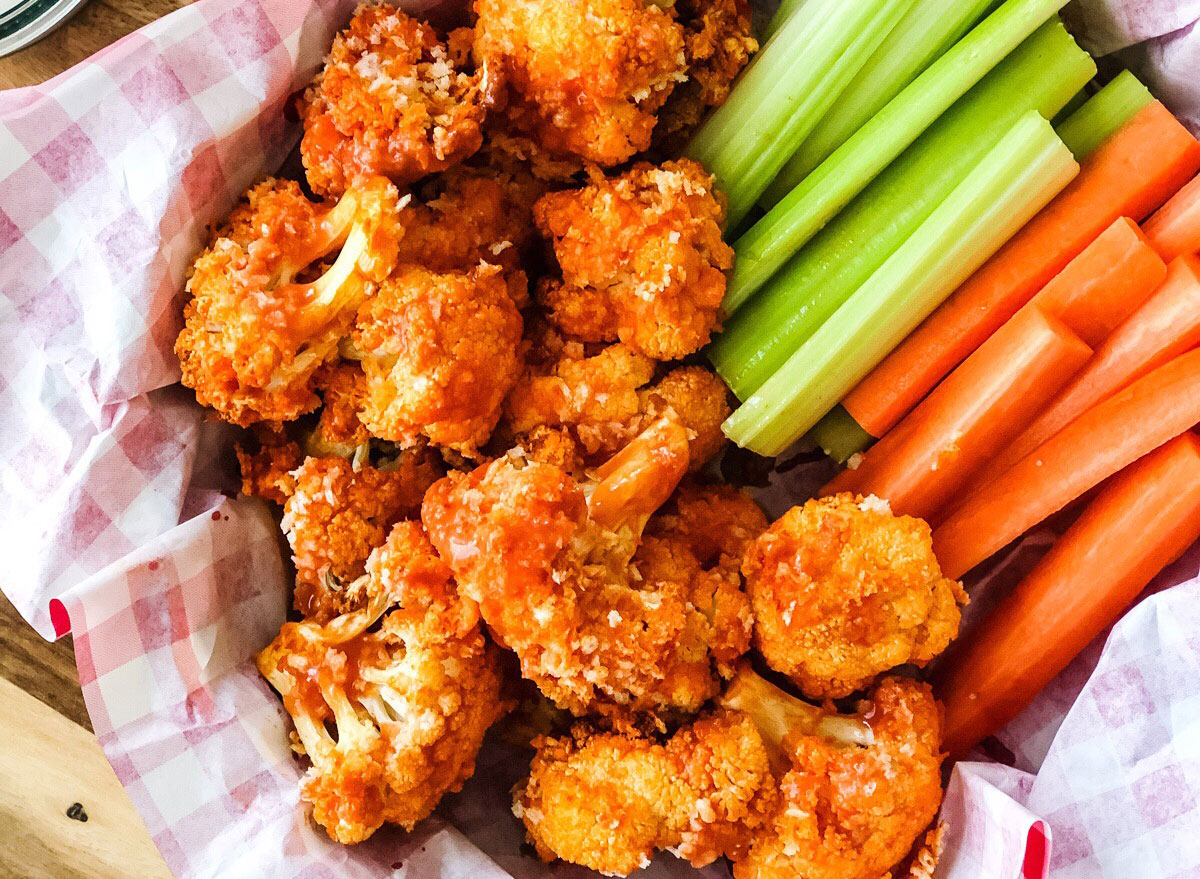 Anything worth eating can be buffalo-ed if you try hard enough. But it's not a far stretch from chicken for this fiery popcorn cauliflower, which reads like a boneless wing but has the added benefit of being a vegetable.
Get the recipe from A Pretty Life in the Suburbs.
A life without fried ravioli bites is a sad one indeed. Luckily, thanks to the air fryer you can add these toasty, sauce-filled pasta pockets to your dinner rotation (without overspending at Olive Garden) by turning any refrigerated ravioli into a fried version.
Get the recipe from Show Me the Yummy.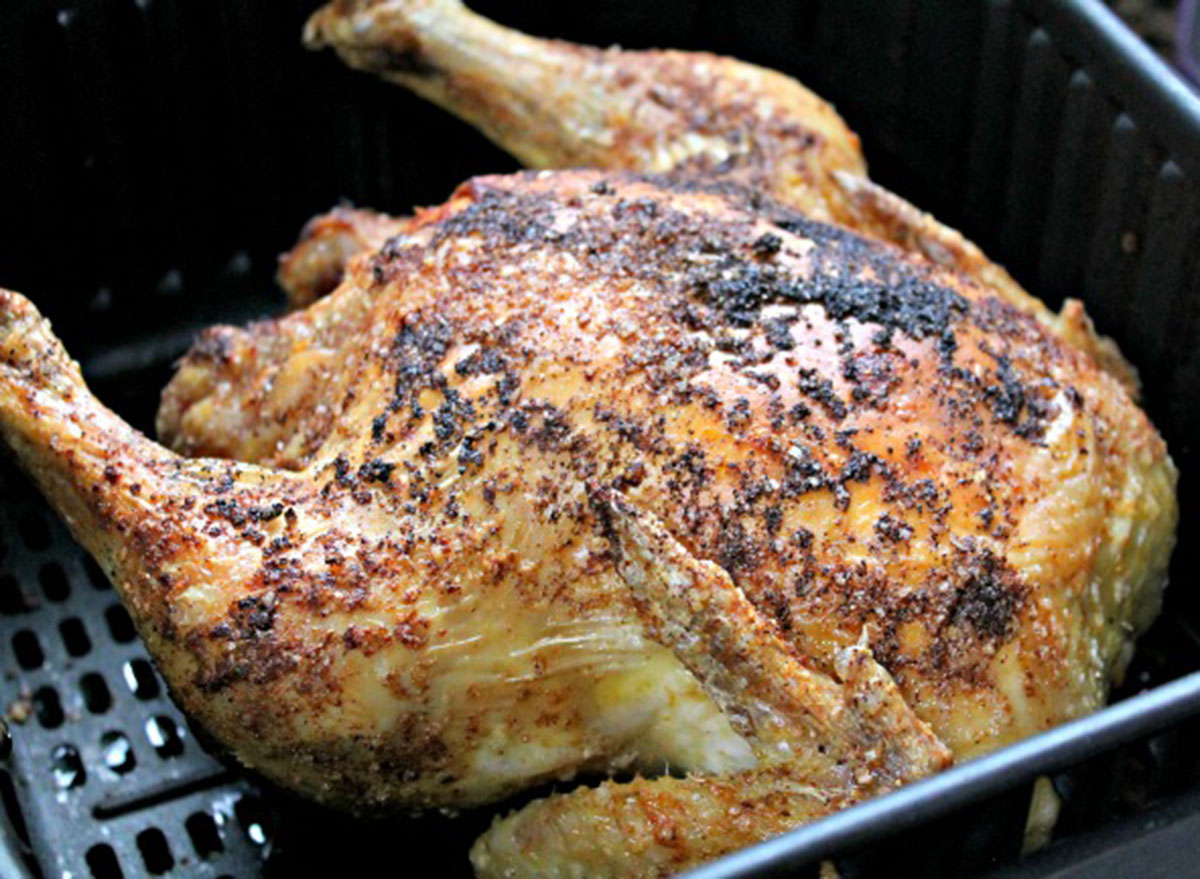 Yes, you read that correctly. Similarly to how you can use a slow cooker to bake a cake, you can use an air fryer to roast a chicken. Coat it with ghee and seasoning, place it in the fryer basket, and in under an hour you'll have a juicy chicken dinner on your hands.
Get the recipe from Foody Schmoody Blog.
Abby Reisner
Abby is a food writer, editor, cook, and digital strategist living in Brooklyn.
Read more about Abby