Trader Joe's Just Backtracked on This Big Brand Name Change
The grocery store is no longer considering changing the "stereotypical" names of their international food lines.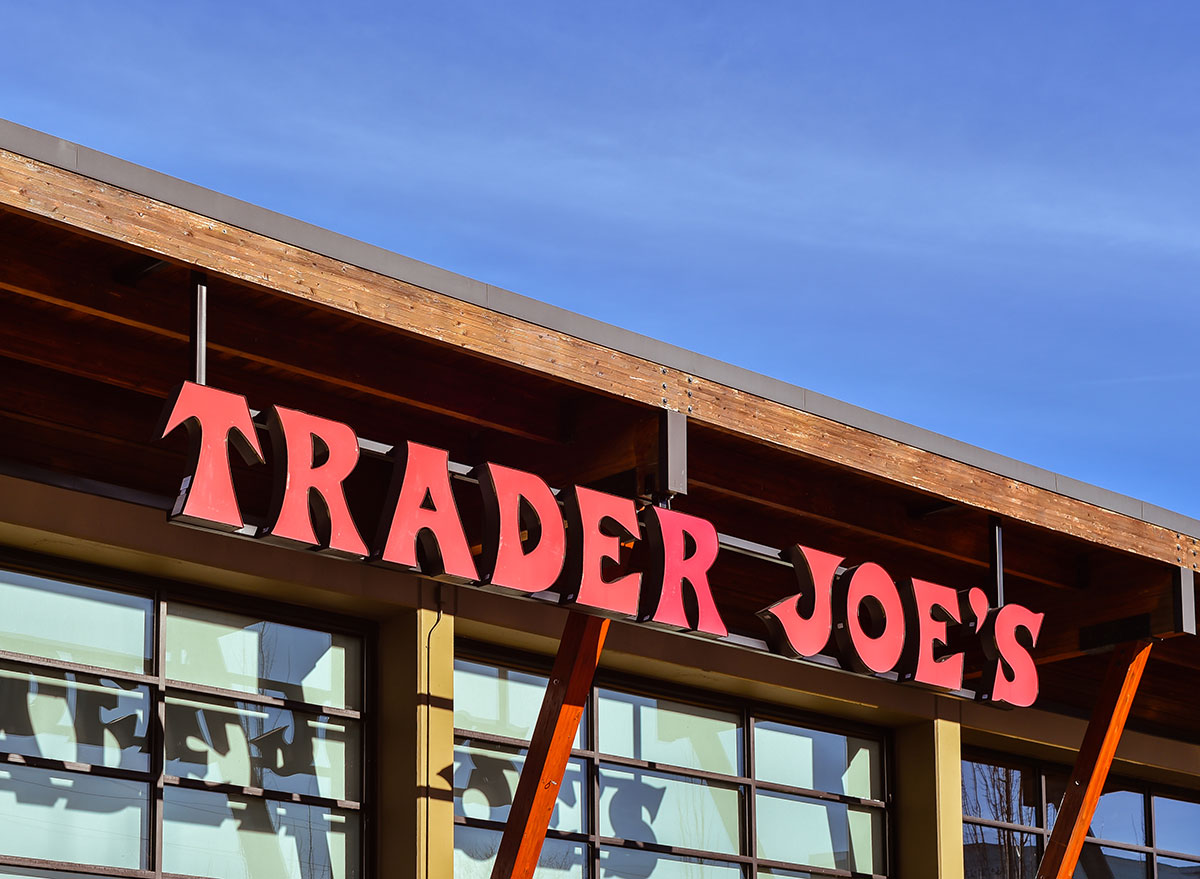 Recently, Trader Joe's announced it would consider changing the branding of several of its international foods after a petition calling attention to the cultural stereotypes they incite gained major traction. Now, the beloved grocery chain appears to be walking back on that action.
The petition, titled "Trader Joe's: Remove Racist Packaging From Your Products," was started on Change.org by 17-year-old high school student, Briones Bedell, in California. "The grocery chain labels some of its ethnic foods with modifications of 'Joe' that belies a narrative of exoticism that perpetuates harmful stereotypes," Bedell wrote. "For example, 'Trader Ming's' is used to brand the chain's Chinese food, 'Arabian Joe' brands Middle Eastern foods, 'Trader José' brands Mexican foods, 'Trader Giotto's' is for Italian food, and 'Trader Joe San' brands their Japanese cuisine."
The petition (which, at the moment, over 5,700 people have signed) launched shortly after the parent companies of big-name brands such as Aunt Jemima and Uncle Ben's announced they were undergoing review for changing their brand names that were built on racist foundations. (Related: All of the Beloved Grocery Items That Are Secretly Being Discontinued.)6254a4d1642c605c54bf1cab17d50f1e
On July 17, Kenya Friend-Daniel, Trader Joe's national director of public relations, was quoted by The New York Times saying, "While this approach to product naming may have been rooted in a lighthearted attempt at inclusiveness, we recognize that it may now have the opposite effect—one that is contrary to the welcoming, rewarding customer experience we strive to create every day." The statement also included Friend-Daniel saying, "With this in mind, we made the decision several years ago to use only the Trader Joe's name on our products moving forward."
While it seemed like the beloved grocery chain was on board to make those changes, on July 24, the company published a statement on its website under Customer Updates saying that it will not be making any of the changes that were said to be in the works just a few days prior. The company also admitted they don't think their current branding could be perceived as racist. The statement reads:
"A few weeks ago, an online petition was launched calling on us to 'remove racist packaging from [our] products.' The following were inaccurate reports that the petition prompted us to take action. We want to be clear: we disagree that any of these labels are racist. We do not make decisions based on petitions.

We make decisions based on what customers purchase, as well as the feedback we receive from our customers and Crew Members. If we feel there is need for change, we do not hesitate to take action.

Decades ago, our Buying Team started using product names, like Trader Giotto's, Trader José's, Trader Ming's, etc. We thought then—and still do—that this naming of products could be fun and show appreciation for other cultures…

Recently we have heard from many customers reaffirming that these name variations are largely viewed in exactly the way they were intended­—as an attempt to have fun with our product marketing. We continue our ongoing evaluation, and those products that resonate with our customers and sell well will remain on our shelves."
In other news, here are 7 major changes at Trader Joe's you can expect to see moving forward.