9 New Trader Joe's Items Shoppers Are Raving About Right Now
The grocery chain recently expanded its product offerings...again!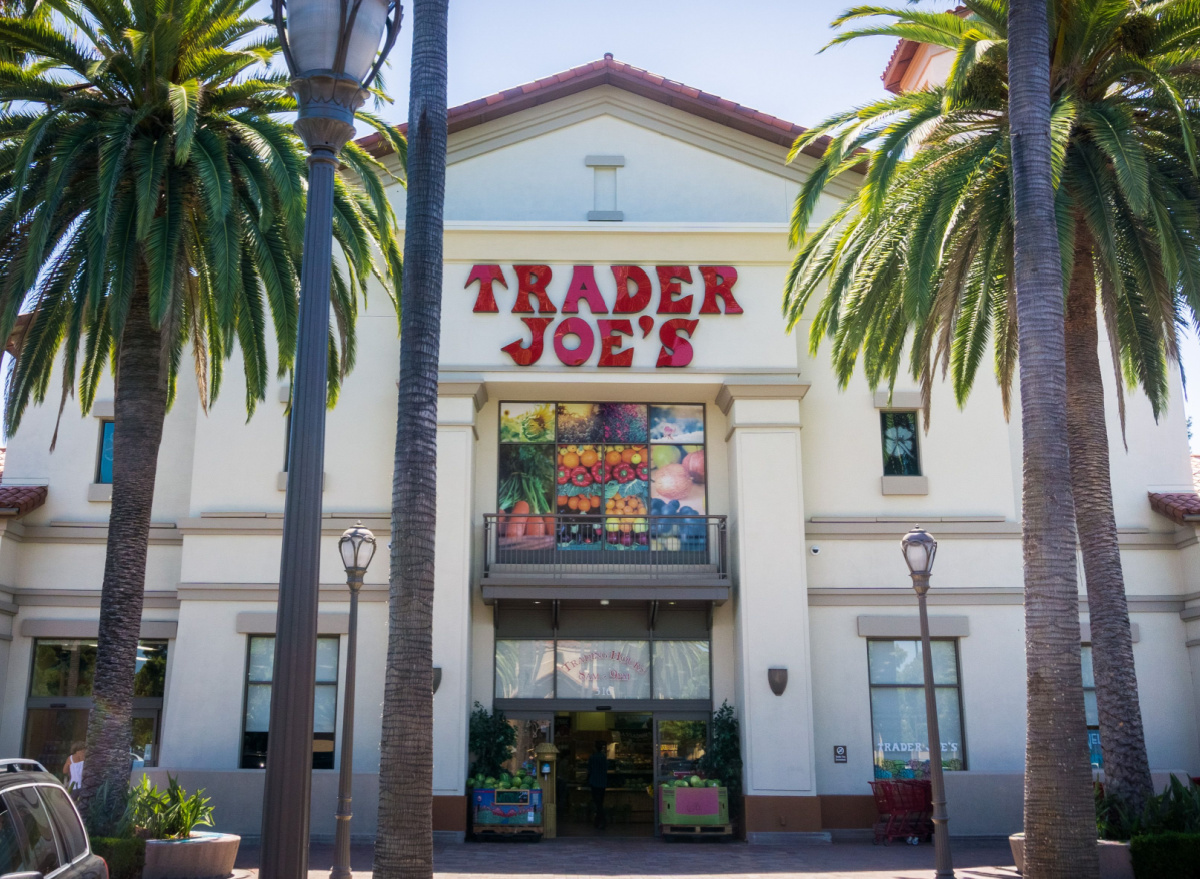 The product recommendations in this post are recommendations by the writer and/or expert(s) interviewed and do not contain affiliate links. Meaning: If you use these links to buy something, we will not earn a commission.
Without a doubt, one of the most notable parts of Trader Joe's allure is the constantly evolving selection of fun, delicious products. While the chain has many of these on a temporary rotation, it makes up for the discontinuations by not only releasing new items but also reviving some of the most popular fan favorites from time to time.
"When you walk into a Trader Joe's, you're confronted with products you may not have ever seen before. That's part of the Trader Joe's experience," Tara Miller, vice president of marketing at TJ's, said during the latest episode of the "Inside Trader Joe's" podcast. According to Miller, Trader Joe's loves it when customers branch out and discover new favorites while perusing the aisles.
Planning a trip to Trader Joe's soon? No one knows the neighborhood grocery store better than its loyal customers, so here are some of the chain's newest items that have recently impressed shoppers.
Crunchy Chili Onion Hummus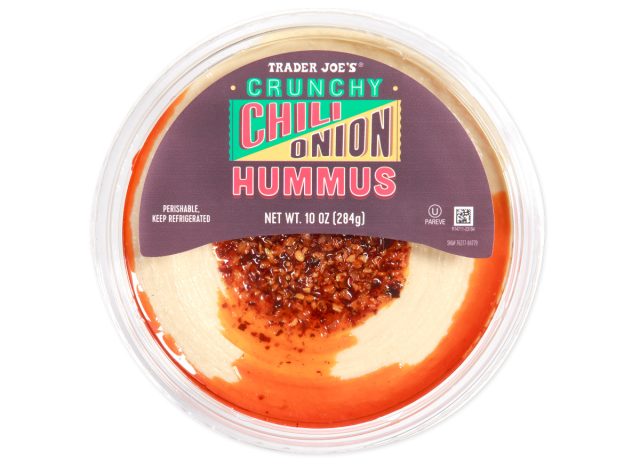 Trader Joe's latest hummus addition includes a hearty scoop of the grocery chain's Crunchy Chili Onion, which is made with dried onions, garlic, red bell peppers, and crushed chili peppers.
Available for $3.99, the brand-new spread has excited customers, one of whom wrote on Reddit, "Chili onion crunch AND hummus… at the same time. Now this was the TJs collab I've been waiting for!"
Breaded Cheddar Cheese Curds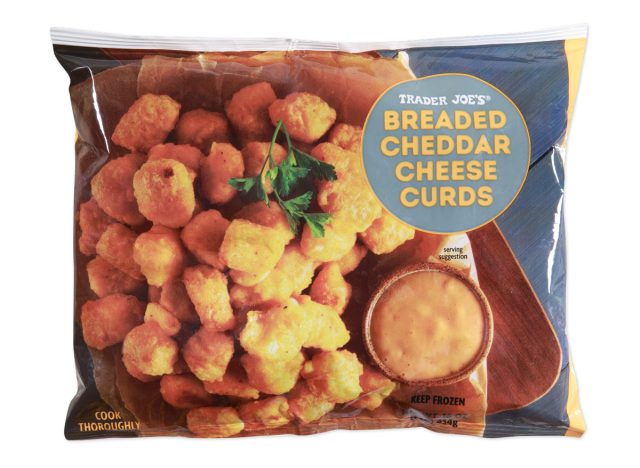 TJ's is now serving up a taste of Wisconsin by offering Breaded Cheddar Cheese Curds, which are proudly made with cheddar from the Badger State. The supermarket chain likens the item's texture to fried halloumi or bread cheese, adding that the cheese curds can be enjoyed on their own, served with a dipping sauce, or paired with a pint of your favorite lager or ale.
In a recent product review, Instagram user @traderjoesfoodreviews wrote, "The cheddar cheese inside the breading was creamy, salty, and delicious. A little bit oozed out as they cooked and turned a nice golden brown. So good!"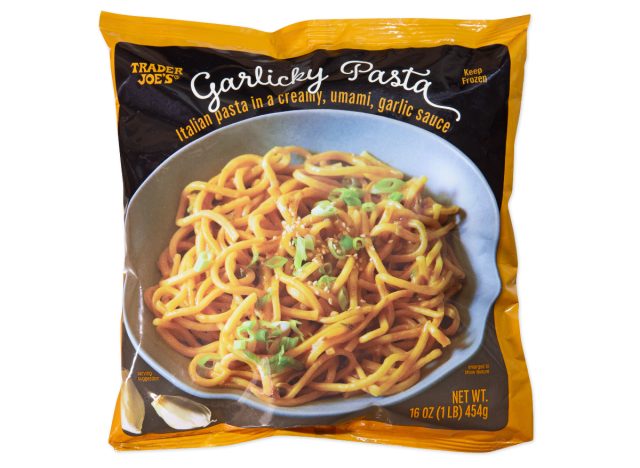 Priced at $4.49 per bag, Trader Joe's Garlicky Pasta also recently made its debut in the frozen food aisle. On social media, shoppers have shared numerous ways to elevate the dish, such as adding various proteins and vegetables to it.
While one Reddit user paired the item with salmon, garlic spinach, and TJ's Korean Rice Cakes, another fan noted on Instagram that they incorporated shaved Brussels sprouts, Trader Joe's Rainbow Cauliflower, and shrimp into the pasta.
Mini (Almost) Everything Bagel Sandwich Crackers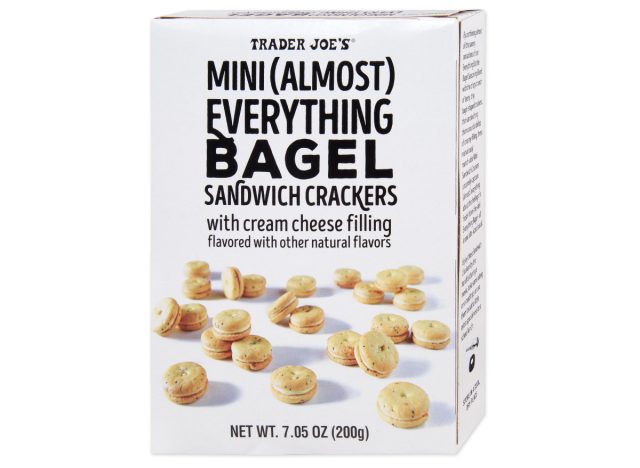 From potato chips to smoked salmon, TJ's has put an everything bagel twist on several different products. Now, the grocer is transforming the beloved everything bagel yet again by unveiling mini bagel-shaped crackers filled with cream cheese. The classic breakfast lookalike currently sells for $3.49 per box.
"I bought these and they were so good, BUT I ate the whole box in just 2 days!" one shopper commented on a recent Instagram post from Trader Joe's. "These are so addictive!" another one added.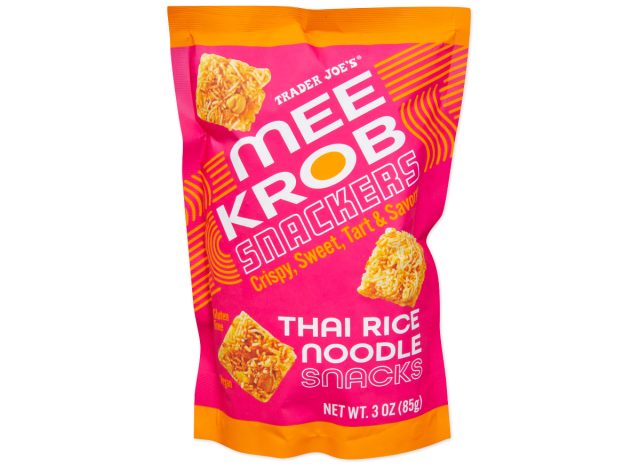 First spotted in January and then again in the spring, Trader Joe's new Mee Krob Snackers were inspired by the popular Thai dish, Mee Krob (also spelled "mi krop"), which features thin, crispy fried noodles with a sweet and sour sauce.
Priced at $2.99 per bag, these snackers consist of deep-fried crunchy rice noodles that contain bits of fried garlic, fried shallot, and cashews. For a punch of flavor, they're coated in a sauce made with tamarind paste, vinegar, chili sauce, lime juice, and sugar.
"These are too dangerous. I tried a bag and then went back for EIGHT more the next day," one Instagrammer wrote on a post shared by Trader Joe's fan account @traderjoeslist.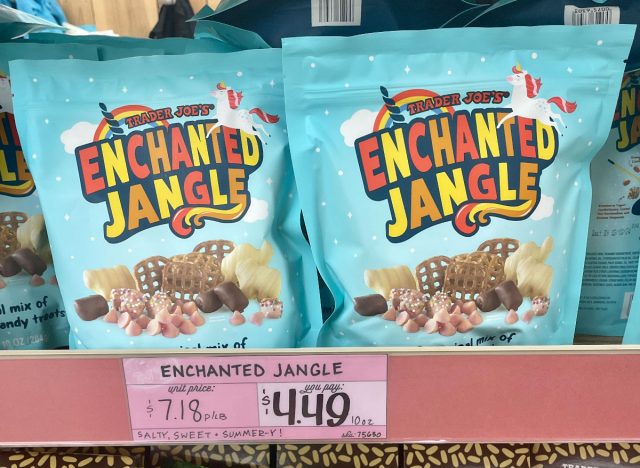 First, there was the winter-themed Jingle Jangle candy treat mix. Then came the Springle Jangle. Now, there's the summer-inspired Enchanted Jangle.
Available for $4.49, each 10-ounce bag includes lemon yogurt-coated animal-shaped cookies; chocolate-coated pretzel nuggets; strawberry yogurt-coated marshmallows; sweet pink and orange swirled confectionery chips; and savory salted waffle pretzels.
Since its arrival to stores, customers have been buzzing about this whimsical treat. One Instagram user commented on a post from @traderjoeslist, "OMG! I literally just picked up a bag of this today. And can't. Stop. Eating it!!!! Love." Similarly, someone else called this candy mix, "A MUST!"
Chocolatey Coated Peanut Butter Crispy Rice Bites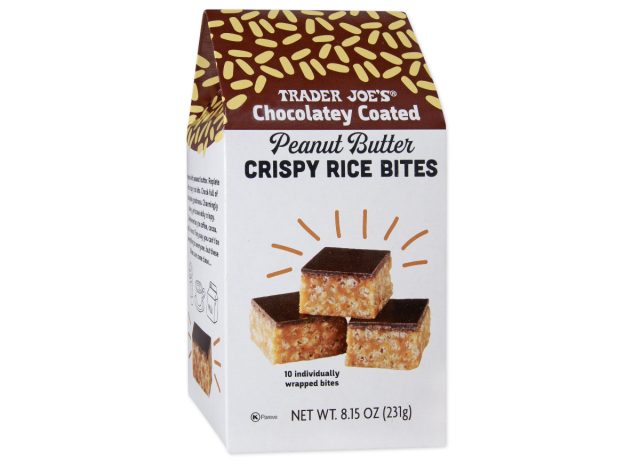 These chocolate peanut butter treats come individually wrapped in 10-count boxes being sold for $3.99. Despite some variation between recipes, social media users have compared this new item to Scotcheroos—dessert bars made with chocolate, butterscotch, peanut butter, and Rice Krispies.
Meanwhile, others have drawn similarities to Whatchamacallit candy bars, which are made with chocolate, peanut butter flavored crisps, and caramel.
"They are SO GOOD! Chewy, crispy and the perfect balance between chocolate and peanut butter," one Instagrammer wrote on a post shared by @traderjoeslist.
Milk Chocolate Bar with Corn Flakes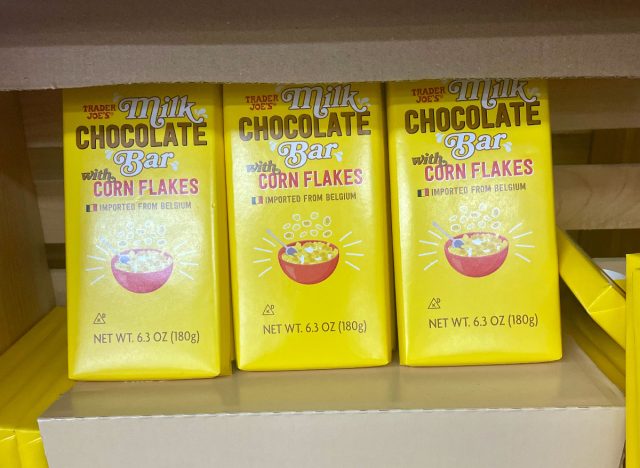 Who said corn flakes are only for breakfast? Trader Joe's revamped this cereal staple by combining it with Belgian chocolate, writing on its website, "Adding Corn Flakes amplifies everything, imbuing the bar not just with crunch, but with a hint of saltiness, too."6254a4d1642c605c54bf1cab17d50f1e
And the limited-time confection appears to be a success among customers. "Omg I ate this entire bar yesterday so good," one Reddit user shared. "I find it has a really nice balance of corn flake crunch to chocolate," another one said.
Others expressed their interest in trying the product by noting their fondness for Ritter Sport's milk chocolate cornflake bar, also known as "Knusperflakes."
Golden Caramel Swirl Ice Cream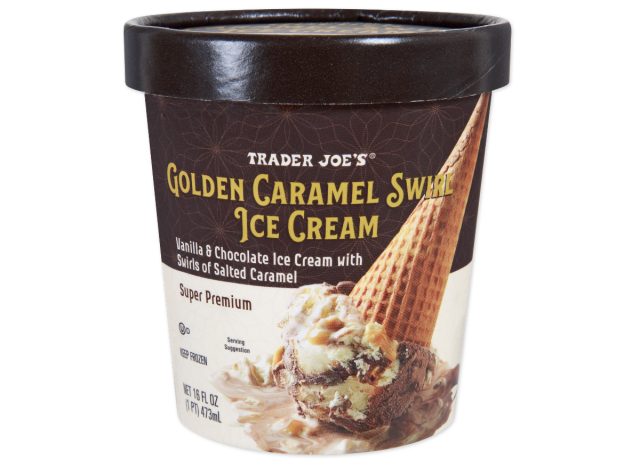 Repeatedly compared to Baskin Robbins' Gold Medal Ribbon ice cream flavor, TJ's Golden Caramel Swirl Ice Cream is back in stores. But this time, it has a new recipe, according to recent Instagram comments from @traderjoeslist. Each pint is made with vanilla and chocolate ice cream with swirls of salted caramel—and shoppers are excited to try it.
"I want this now!" one user commented. "My mouth is watering," another one added.
Brianna Ruback
Brianna is a staff writer at Eat This, Not That! She attended Ithaca College, where she graduated with a degree in Journalism and a minor in Communication Studies.
Read more about Brianna