7 Unhealthiest Fast-Food Tacos To Stay Away From Right Now
You may want to limit or totally avoid eating these unhealthy fast-food tacos, per the advice of an RD.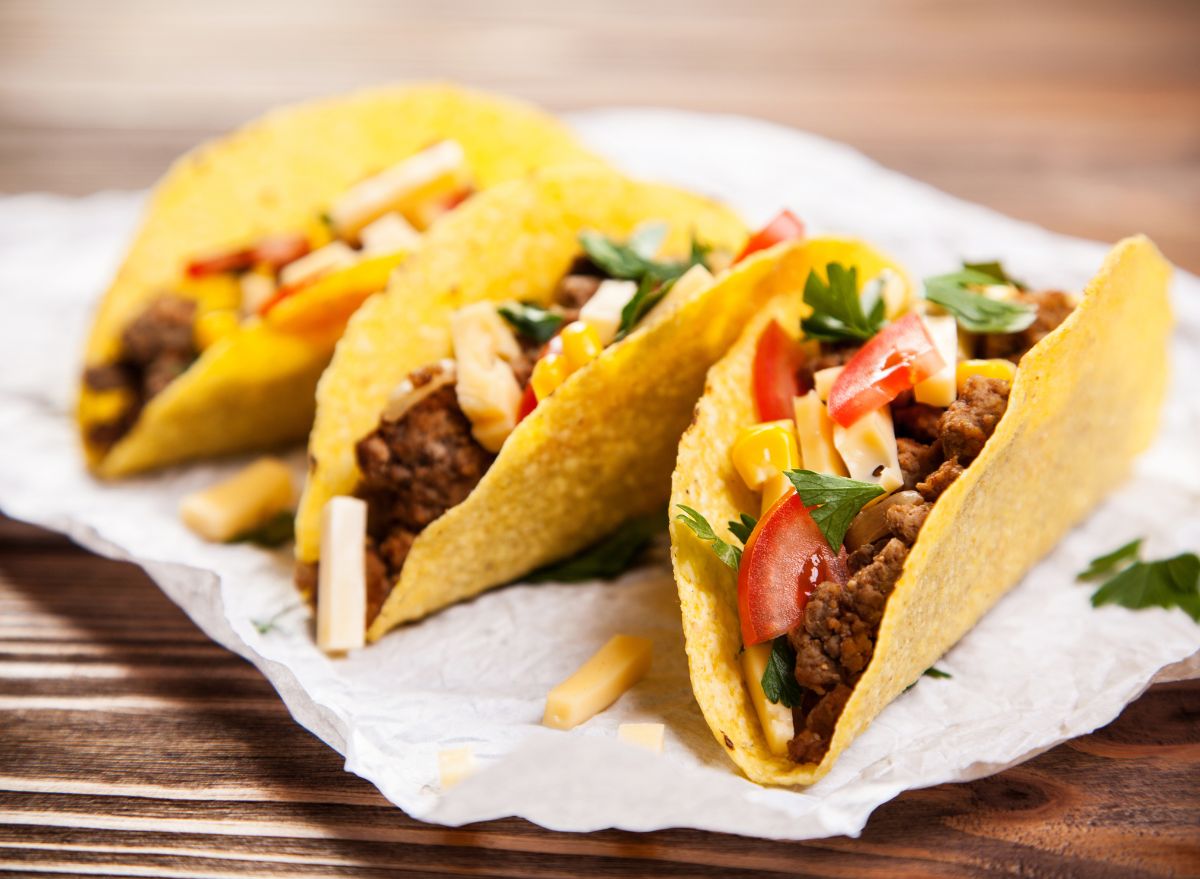 One of the best ways to enjoy tacos is at your favorite Mexican restaurant with chips, salsa, and a margarita (or two) in hand. If that isn't your style, perhaps spending Taco Tuesday while cooking at home is more your groove. But if you're too tired to cook and too short on time to enjoy a sit-down meal at a restaurant, you can always pick up some affordable, greasy, delicious tacos from your favorite fast food restaurants. But if you're trying to be mindful of your health while chowing down on some on-the-go Mexican, how do you know which are the unhealthiest fast-food tacos you may want to avoid?
Most fast food will lack nutritional value because of its ultra-processed nature—and fast-food tacos are no exception.
"When it comes to fast-food tacos, there are a few options that are generally considered to be less healthy due to their high calorie, fat, and sodium content," says Mary Sabat MS, RDN, LD.
This is going to be especially true for tacos with fried shells, cheese, creamy sauces, and those made with a ton of beef or pork.
Read on for more on the unhealthiest fast-food tacos currently available. Then, for more tips on how to make healthier choices when it comes to fast food, check out What 500 Calories Looks Like at 9 Fast-Food Restaurants.
Taco Bell Doritos Locos Taco Supreme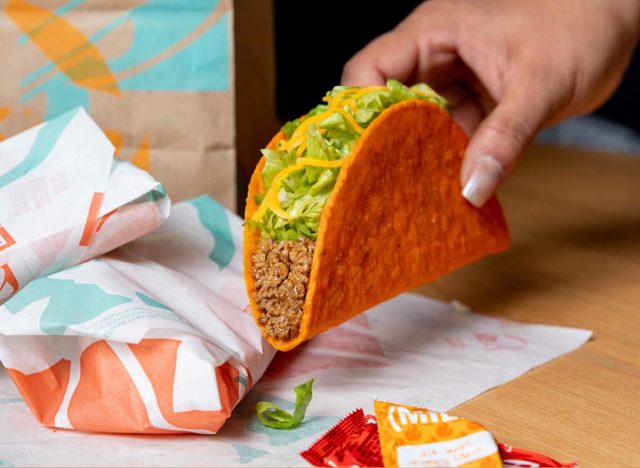 Per taco
: 190 calories, 11 g fat (5 g saturated fat), 380 mg sodium, 14 g carbs (3 g fiber, 2 g sugar), 8 g protein
At first glance, the nutrition info may not seem all that scary for the Doritos Locos Supreme from Taco Bell. But let's face it—who honestly has the willpower to eat just one of these tacos at a time?
"It's worth remembering that these are small, and people often eat more than one," says Sabat. "[However,] the shell is also made from a Dorito, which is a processed food high in sodium and artificial ingredients."
Taco Cabana Steak Fajita Taco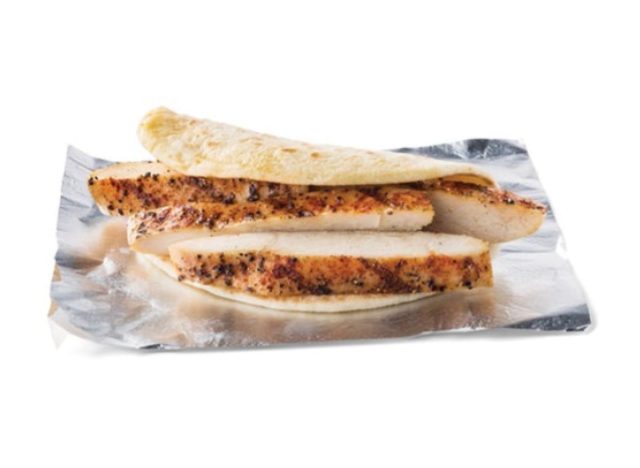 Per taco
: 220 calories, 9 g fat (4 g saturated fat), 790 mg sodium, 21 g carbs (1 g fiber, 0 g sugar), 15 g protein
"Taco Cabana's Steak Fajita Taco is made with marinated and grilled beef, tortilla, and various toppings," says Sabat. "While the beef itself can be a good source of protein, the taco is still high in fat and sodium."
The sodium content of this fast-food taco is what is especially concerning, seeing as there are 780 milligrams in just one. If you end up having two (or three), you'll be getting close to your daily recommended limit of sodium (2,300 milligrams of sodium, which is about a teaspoon) in just one meal.
Jack in the Box Taco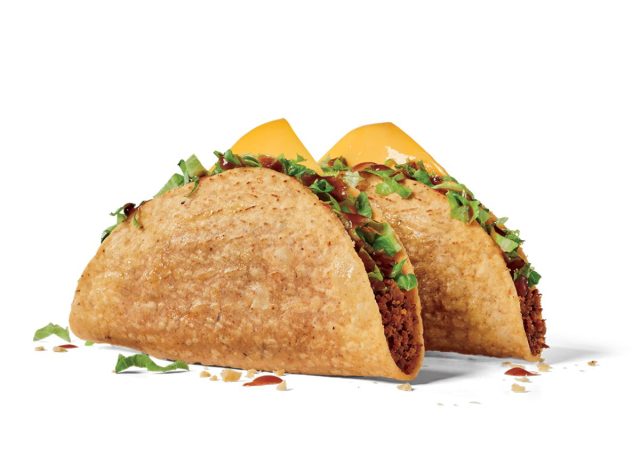 Per taco
: 170 calories, 9 g fat (3 g saturated fat), 360 mg sodium, 16 g carbs (2 g fiber, 1 g sugar), 2 g protein
For a fast-food restaurant with an enormous menu offering many options—including burgers, chicken sandwiches, breakfast foods, fries, and tacos—Jack in the Box is the perfect choice. Unfortunately, it's hard to make a healthier choice at this restaurant, and this is especially true in the case of its beef tacos.
"Jack in the Box's tacos are known for their crispy shell and seasoned beef filling," says Sabat. "However, they are often criticized for being highly processed and high in fat and sodium."
Jack in the Box Tiny Tacos Loaded & Sauced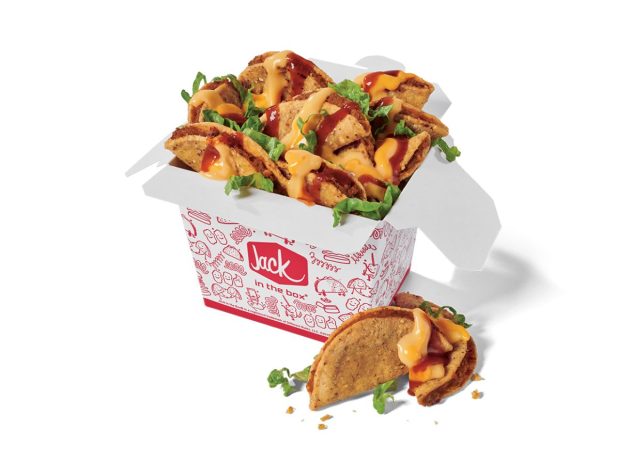 Per serving
: 600 calories, 33 g fat (8 g saturated fat), 1,230 mg sodium, 59 g carbs (6 g fiber, 4 g sugar), 9 g protein
Just when you thought the nutritional value of a regular fast-food taco couldn't get any worse, Jack in the Box unleashed these mini tacos—which are overloaded with sauce and cheese—on the hungry and health-seeking public. Jack in the Box's Tiny Tacos Loaded and Sauced are high in total fat, saturated fat, and sodium. In fact, just one serving of these contains over half of the American Heart Association's recommendation for the amount of saturated fat one should consume in an entire day (13 grams).
Chipotle Carnitas Soft Taco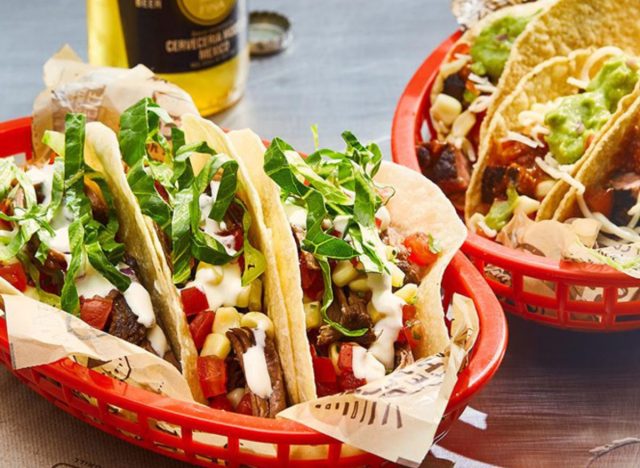 Per three tacos
: 1,020 calories, 43 g fat, 1,560 mg sodium, 105 g carbs, 48 g protein
"While Chipotle prides itself on using fresh, natural ingredients, their portions can be large, leading to high calorie counts," says Sabat. And if you're going to go for their Carnitas Soft Taco with all the fixings, you'll be getting over 1,000 calories, 43 grams of fat, and over 1,500 milligrams of sodium.6254a4d1642c605c54bf1cab17d50f1e
To reduce the calories and sodium, get your tacos without sour cream and cheese. Additionally, you can always try the veggie option of these tacos instead, and save yourself over half of the calories you'd get from the carnitas.
Taco John's Fried Chicken Taco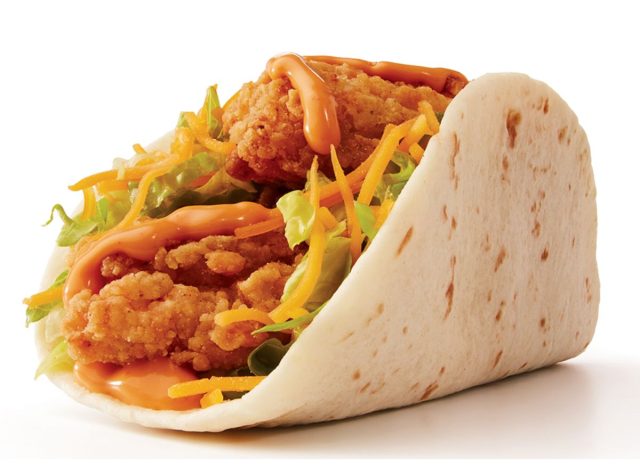 Per taco
: 370 calories, 20 g fat (4.5 g saturated fat, 0.5 trans fat), 830 mg sodium, 32 g carbs (3 g fiber, 2 g sugar), 15 g protein
The menu at Taco John's is extensive, featuring all types of quesadillas, burritos, breakfast items, and of course, tacos. But if you're craving something from this fast-food joint and don't feel like breaking the nutrition bank, you may want to steer clear of their Fried Chicken Taco.
Just one taco is packed full of 20 grams of fat, 4.5 grams of saturated fat, and 830 grams of sodium. Not only that, but each one has 0.5 grams of trans fat, which the World Health Organization advises against consuming.
Del Taco Buttery Garlic Parmesan Stuffed Quesadilla Shrimp Taco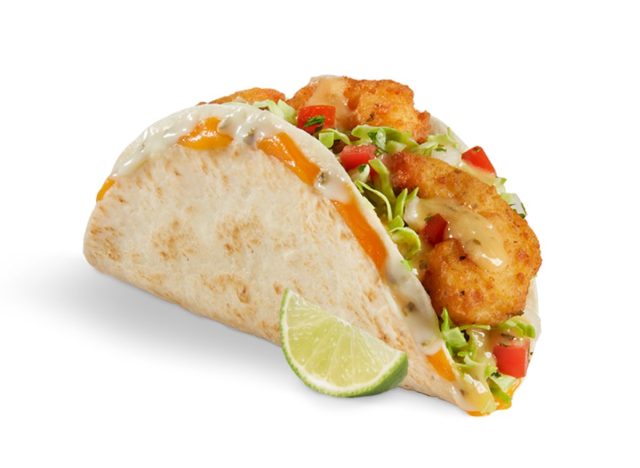 Per taco
: 440 calories, 23 g fat (7 g saturated fat), 1,140 mg sodium, 41 g carbs (1 g fiber, 2 g sugar), 14 g protein
The Buttery Garlic Parmesan Stuffed Quesadilla Shrimp Taco from Del Taco is basically a taco and quesadilla in one, so it comes as no surprise that in just one taco, you'd be getting 440 calories, 23 grams of fat, and 1,140 milligrams of sodium. Having even just two of them would send you over your daily sodium limit and give you more calories than you may want in one meal.