The Worst Chicken Sandwiches on Restaurant Menus
Even some typically "safe" grilled sandwiches are just downright scary...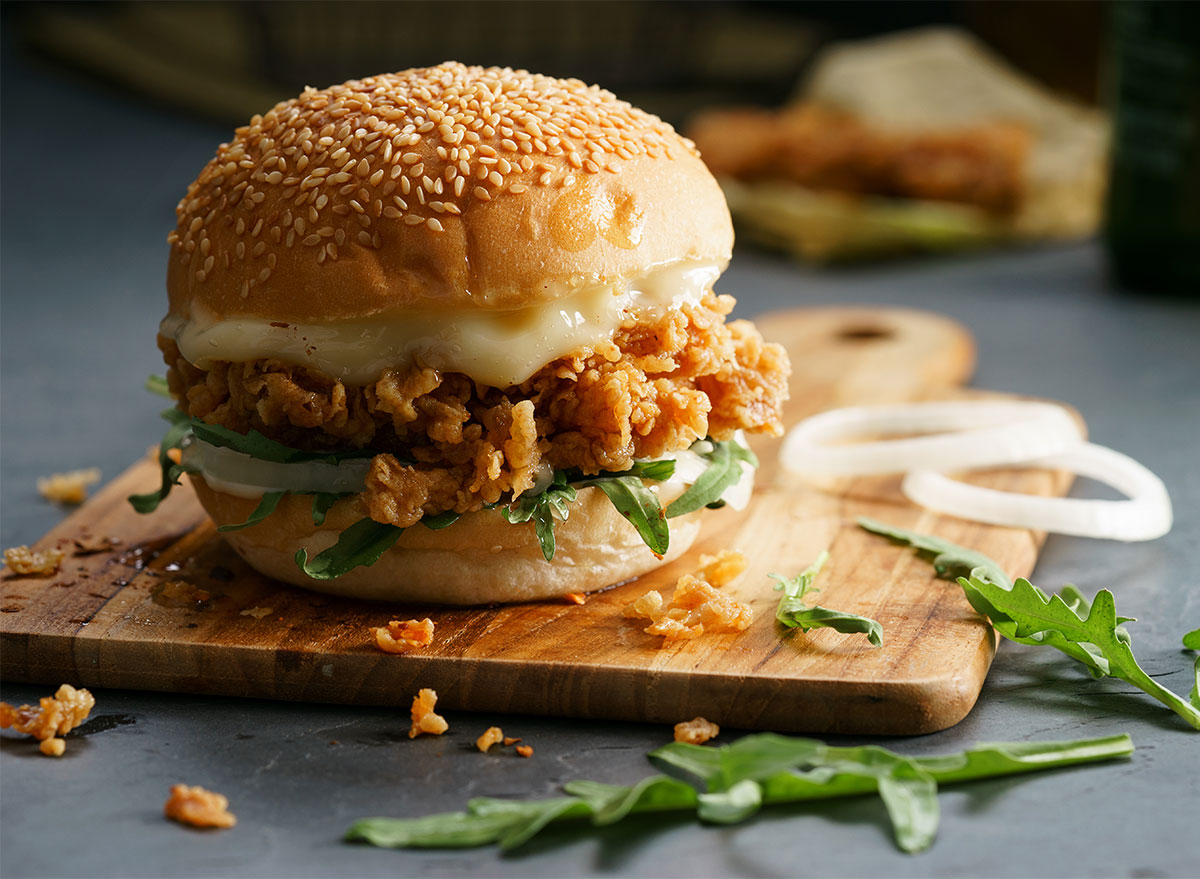 When you're dining out or ordering in a meal from a chain restaurant, you oftentimes think that going for a chicken sandwich is a safe bet. It's healthier than getting a burger, right? Well, not so fast. See, there are some chicken sandwiches that might seem harmless, but they're actually packed with sodium, fat, and are sky-high in calories. Big yikes.
Don't worry, though—we're here to help you want to spot the biggest offenders so you can make the smartest choice next time you have a craving for a chicken sandwich. When it doubt, it's best to just eat half at a time, and either share the sandwich or save the other half for the next day. You can also plan ahead if you know you're going to indulge, too.
"Yes, hese sandwiches pack a calorie punch, but if you really want one, you can fit it in by adjusting the calories at other meals," says Eat This, Not That! medical board expert, Leslie Bonci, MPH, RD, CSSD, LDN." Going higher fiber, lower fat at breakfast and dinner, or breakfast and lunch will soften the punch!"
Keeping all that in mind, below are the worst restaurant chicken sandwiches you're going to want to think twice about ordering. And while you're making better meal choices, be sure to add The 7 Healthiest Foods to Eat Right Now to your rotation.
Cheesecake Factory Chicken Parmesan Sandwich
1,960 calories, 126 g fat (60 g saturated fat, 3.5 g trans fat), 3,510 mg sodium, 99 g carbs (6 g fiber, 9 g sugar), 107 g protein
It's no secret that Chicken Parmesan isn't necessarily the best meal option if you're dining at an Italian restaurant. At Cheesecake Factory though, the sauce and cheese smothered chicken is served in a sandwich that is nearly 2,000 calories and contains nearly a day and a half's worth of sodium, if you're looking at the American Heart Association's recommendations. And the 126 grams of fat along with the 3.5 grams of trans fat? There are simply too many red flags here.
TGI Fridays Signature Whiskey-Glazed Chicken Sandwich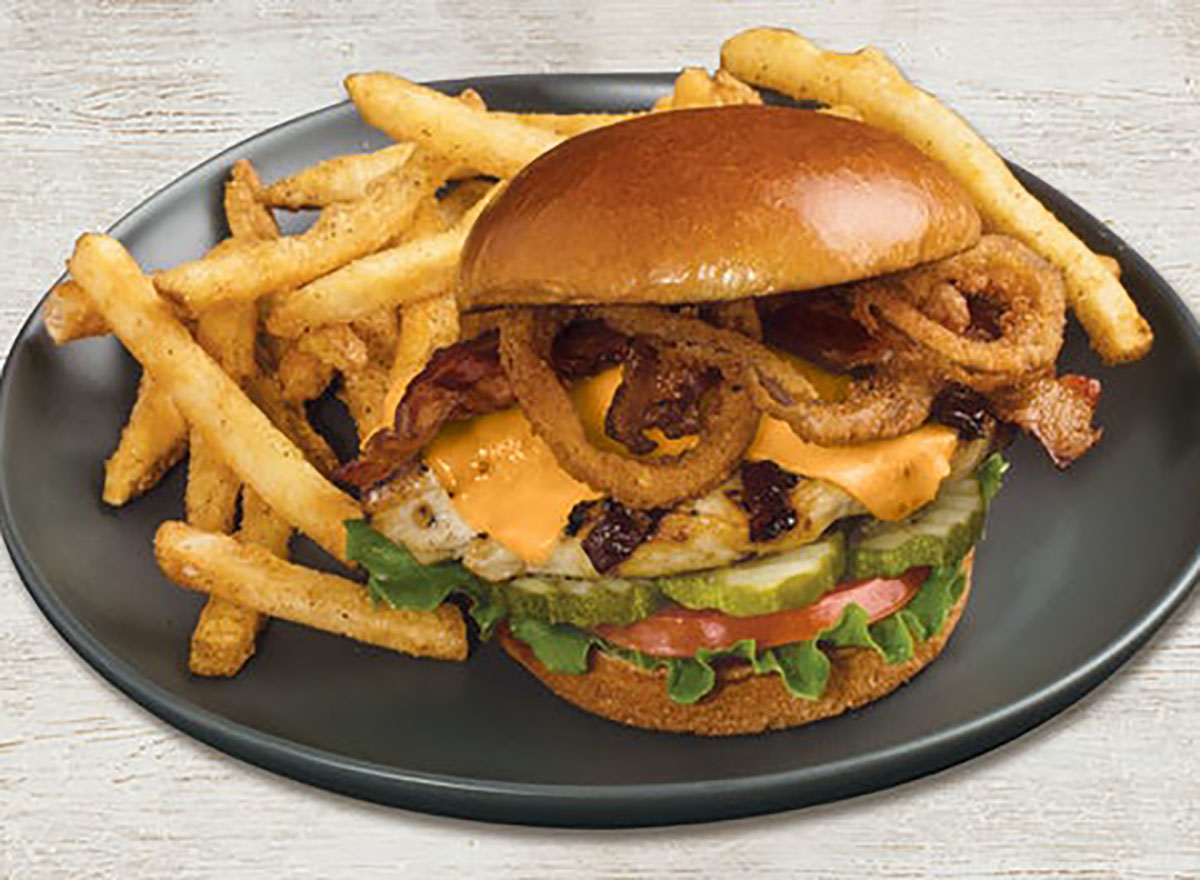 1,110 calories, 57 g fat (21 g saturated fat, 0.5 g trans fat), 2,910 mg sodium, 100 g carbs (3 g fiber, 56 g sugar), 3 g protein
This TGI Fridays sandwich is an example of how grilled chicken can go so wrong. Here, grilled chicken is slathered in the chain's signature Whiskey-Glaze and topped with hickory-smoked bacon, cheddar cheese, Cajun-spiced crispy onion strings, lettuce, tomato, pickles, and a Whiskey-Glaze mayo. It's no wonder it's packing 56 grams of sugar, which is the same amount of sugar you would get if you ate 18 and a half Oreo Thin cookies.
Applebee's Bacon Cheddar Grilled Chicken Sandwich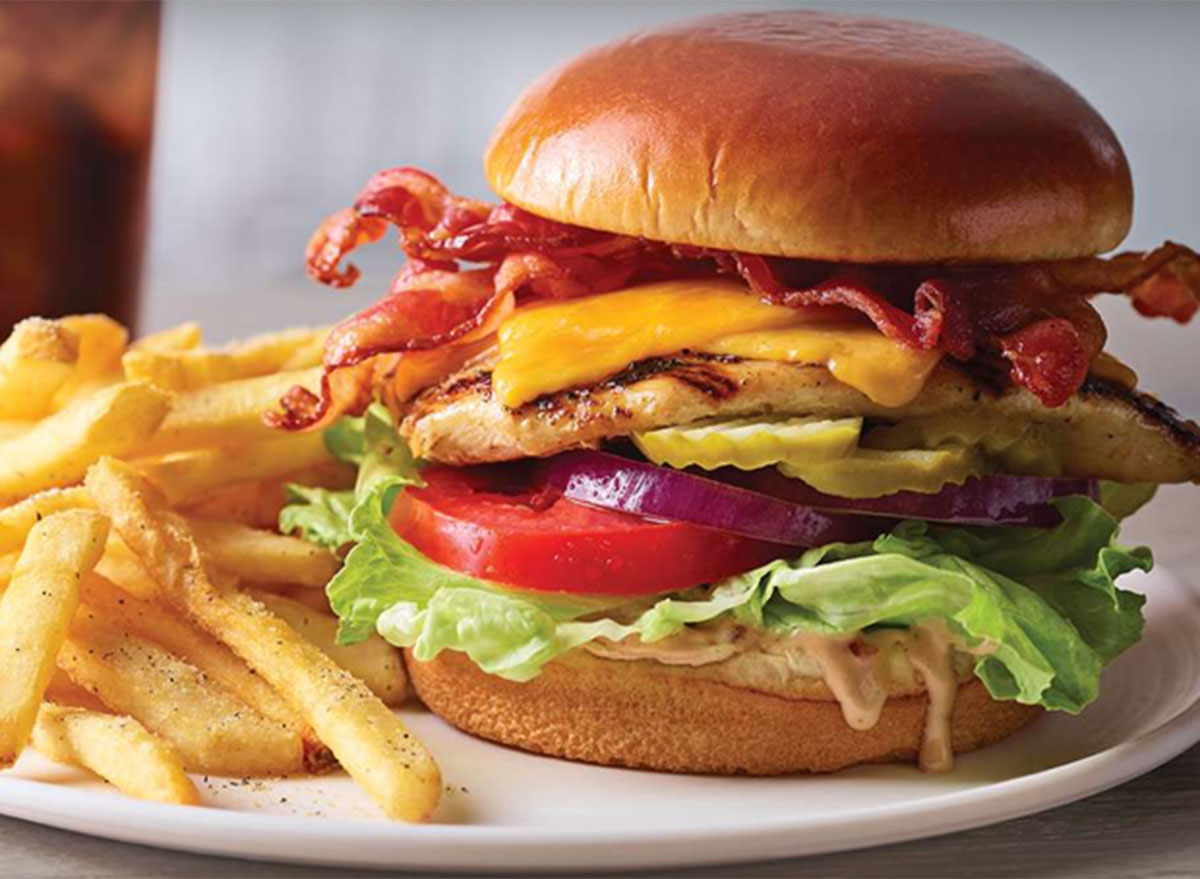 1,250 calories, 65 g fat (20 g saturated fat, 0.5 g trans fat), 3,100 mg sodium, 99 g carbs (6 g fiber, 10 g sugar), 68 g protein
Whenever bacon is added, you already know the sodium is going to be much higher. Adding Applewood-smoked bacon and cheddar cheese to this grilled chicken sandwich that is also topped with a tangy house-made BBQ ranch creates a sandwich that is high in fat and saturated fat, too. There are much better dishes you can get when you're at Applebee's!
Chili's Chicky Chicky Bleu Sandwich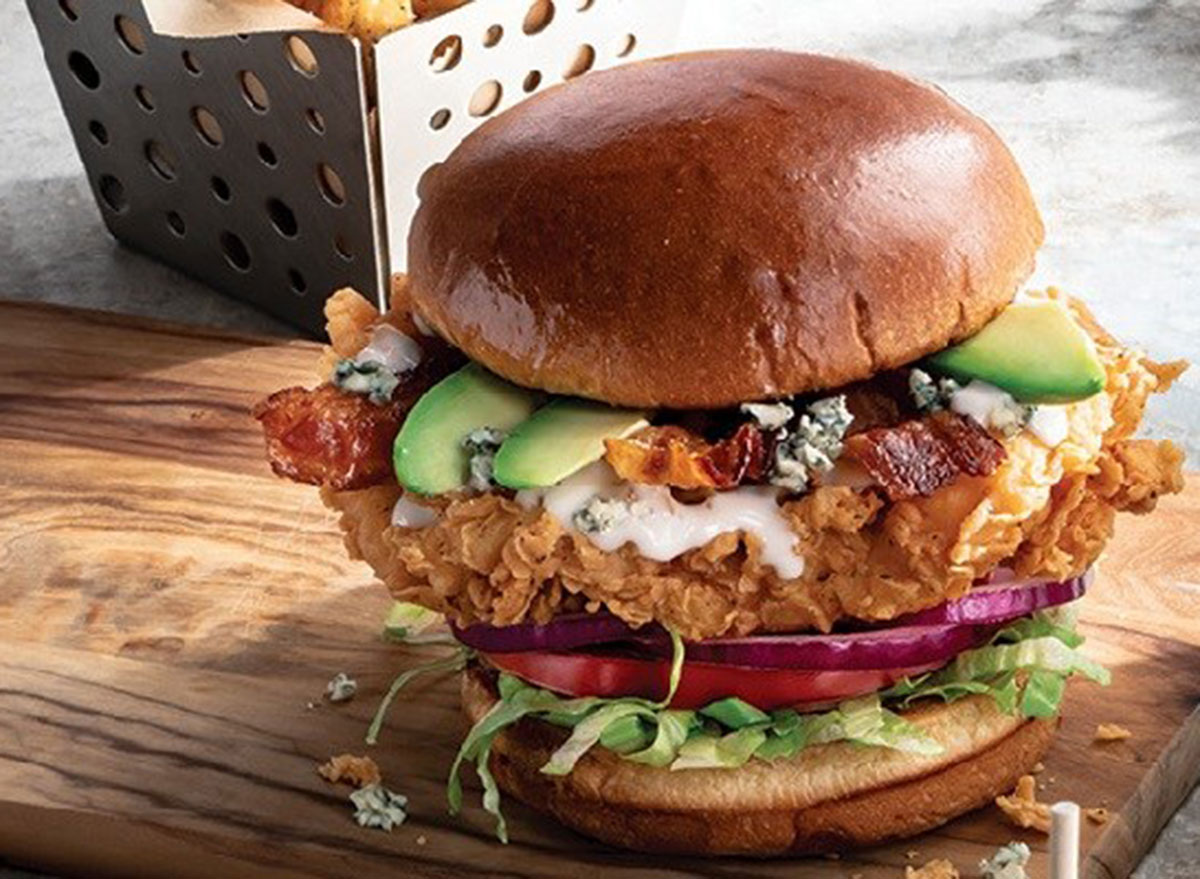 1,260 calories, 77 g fat (17 g saturated fat, 1 g trans fat), 3,510 mg sodium, 90 g carbs (0 g fiber, 16 g sugar), 56 g protein
At Chili's, this sandwich might have a cute name, but it's a rather scary menu option. Here, you're in for some hand-breaded crispy chicken that is topped with lettuce, tomato, red onion, avocado, bacon, bleu cheese crumbles, and bleu cheese dressing, all on a brioche bun. Don't let the "hand-breading" wording throw you off—it's just another way of saying this chicken is fried. So it should come as no surprise that the sodium here is just, high.
It's important to note that consuming a lot of sodium daily can cause heart damage, according to a study published in the Journal of the American College of Cardiology. All this salt (especially if you're eating like this daily) can be harmful in the long-run.
Ruby Tuesday Spicy Crispy Chicken & Pimento Sandwich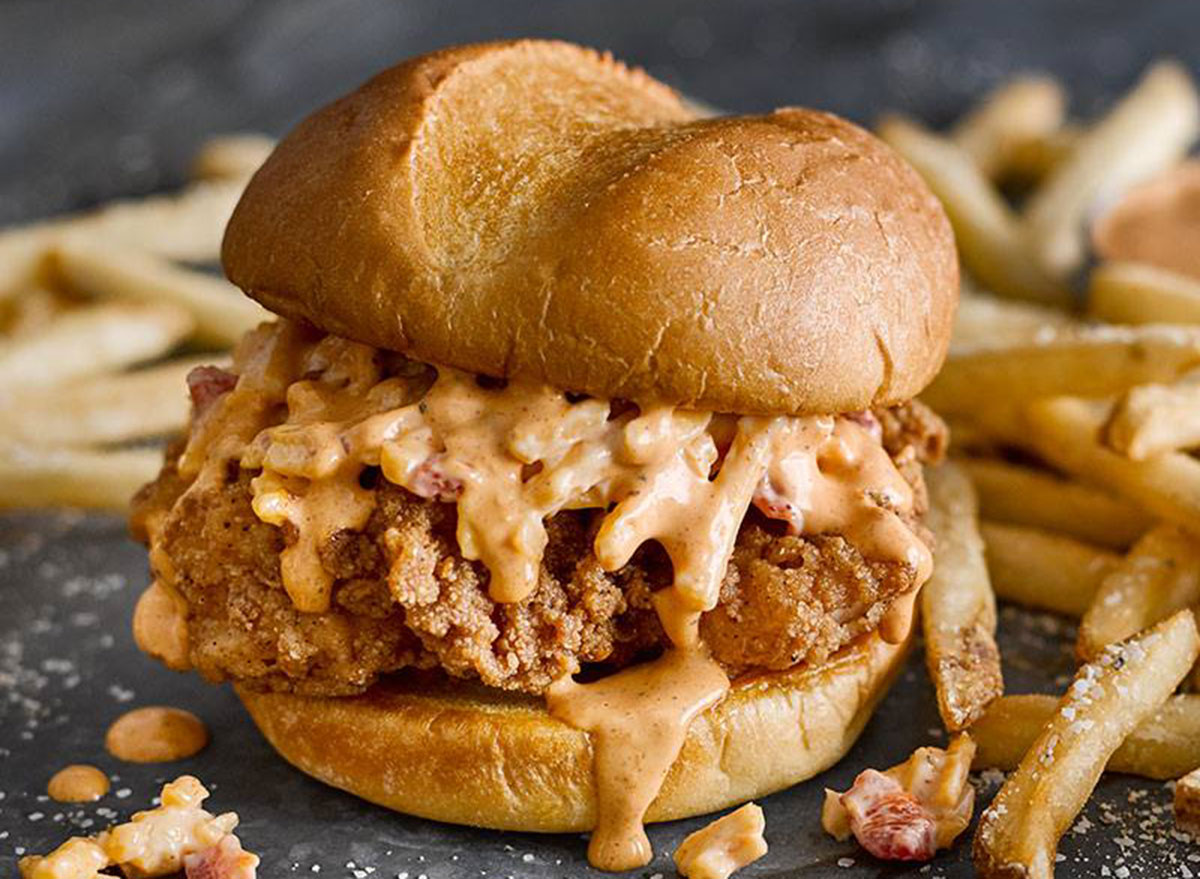 1,480 calories, 109 g fat (28 g saturated fat, 1 g trans fat), 3,280 mg sodium, 78 g carbs (4 g fiber, 17 g sugar), 47 g protein
This crispy chicken sandwich at Ruby Tuesday is topped with housemade pimento cheese and a BBQ ranch sauce, which sounds like a delicious and creamy way to add some spice to your meal. While that might be true, you're also consuming yet another highly fatty, sodium-filled sandwich. (If you're looking for more helpful tips, be sure to check out your ultimate restaurant and supermarket survival guide!)
BJ's Restaurant & Brewhouse Southern Comfort Fried Chicken Sandwich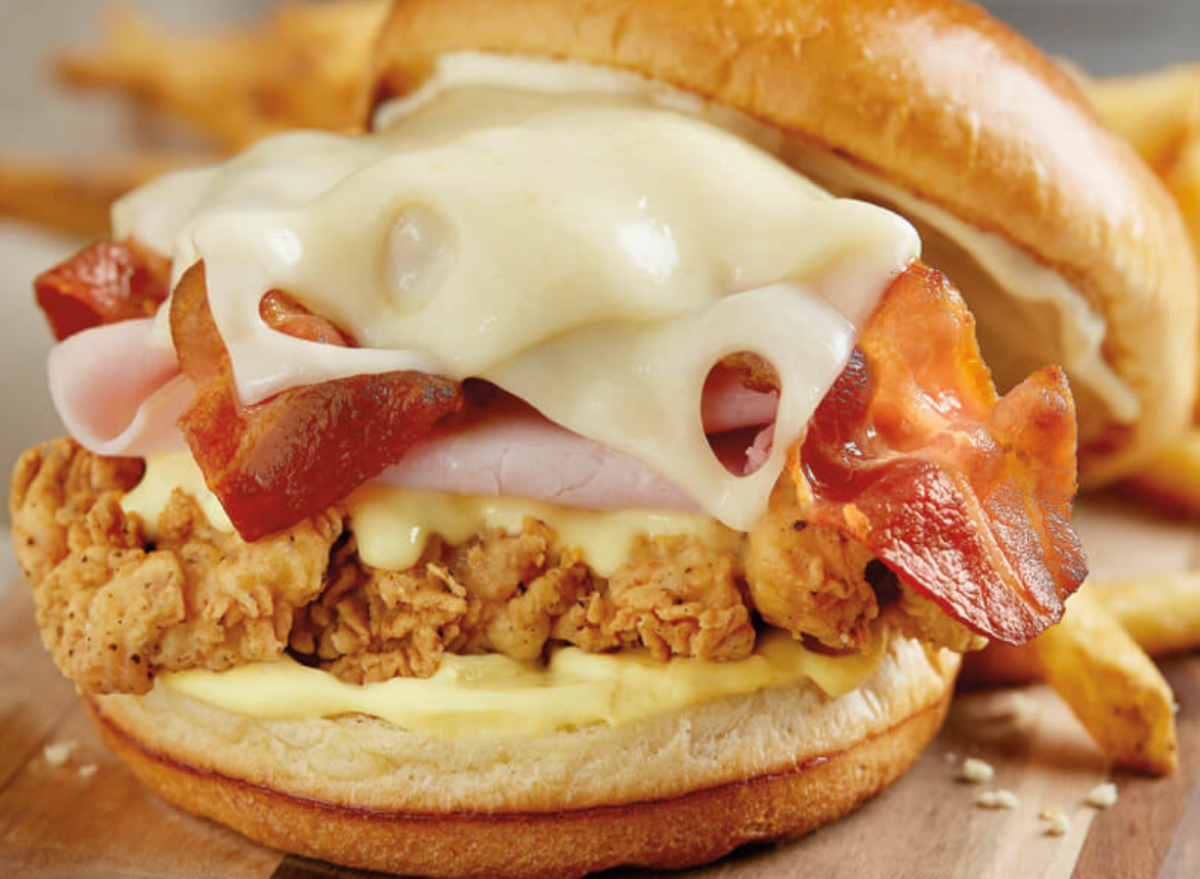 1,510 calories, 87 g fat (33 g saturated fat, 0 g trans fat), 2,968 mg sodium, 116 g carbs (7 g fiber, 13 g sugar), 62 g protein
This is one sandwich that just by looking at it, you can tell it's going to be intense. The Southern Comfort Fried Chicken Sandwich from BJ's Restaurant & Brewhouse is topped with smoked ham, applewood smoked bacon, a creamy Alfredo, Swiss cheese, and dijon mayonnaise. That is a lot going on, and it's yet another sandwich that is just serving up too much of everything. Save yourself and your waistline!
O'Charley's Nashville Hot Chicken Sandwich
2,000 calories, 101 g fat (21 g saturated fat, 2 g trans fat), 3,020 mg sodium, 119 g carbs (8 g fiber, 19 g sugar), 47 g protein
Sometimes, you just want to indulge in something with a bit of a kick and spicy foods are good for you. Peppers actually contain a chemical called capsaicin which has been shown to speed up metabolism and fight off inflammation. But at O'Charley's, you're not really getting much of that in this Nashville Hot Chicken Sandwich. It's a deep-fried boneless chicken breast that has been "blasted" with a spicy hot chicken sauce. Coming in at 2,000 calories—you know, the number of calories you should consume throughout an entire day and not just in one meal—and a ridiculously high amount of fat, saturated and trans fat, sodium, and sugar, there really isn't much that is redeeming about this dish.6254a4d1642c605c54bf1cab17d50f1e
Buffalo Wild Wings Buffalo Ranch Chicken Sandwich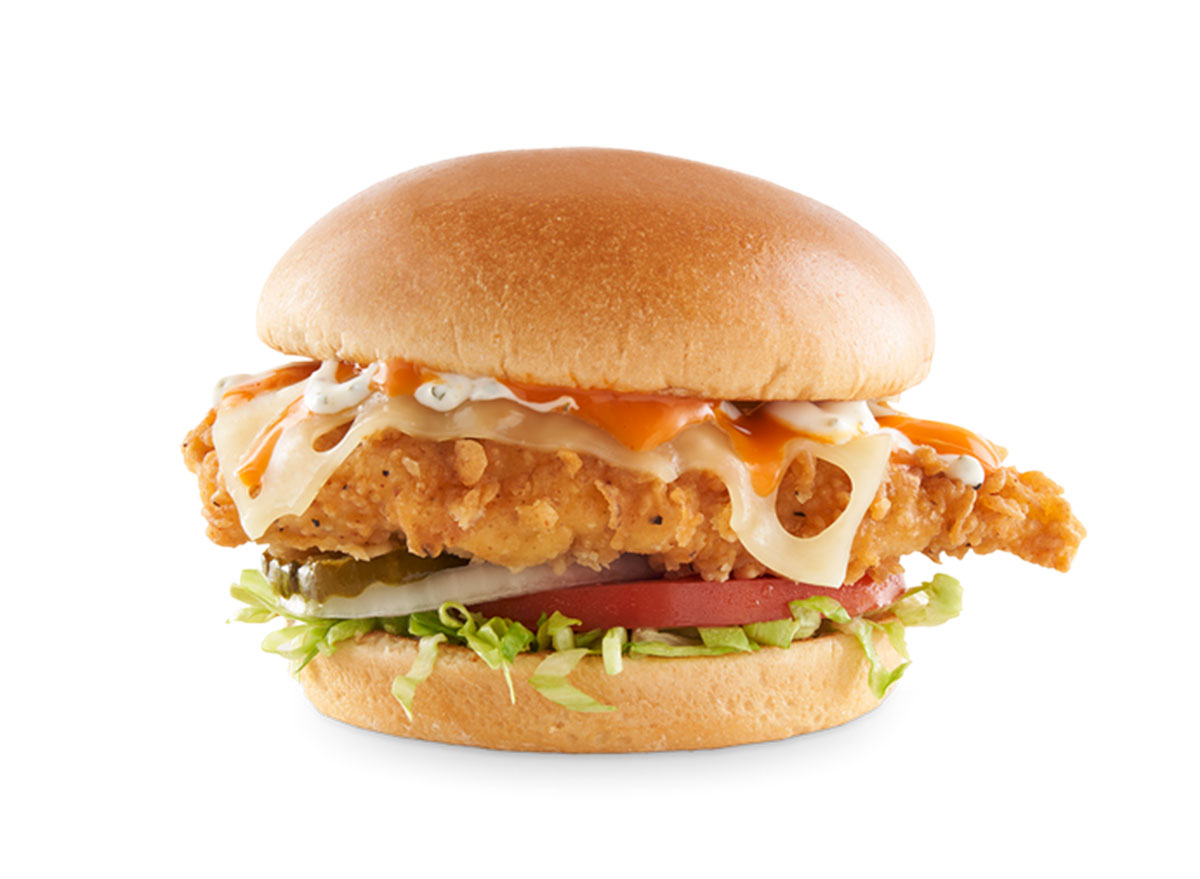 730 calories, 41 g fat (12 g saturated fat, 1.5 g trans fat), 3,440 mg sodium, 59 g carbs (4 g fiber, 7 g sugar), 31 g protein
This sandwich from Buffalo Wild Wings looks modest compared to the others on this list, but that doesn't mean it's innocent. It's yet another piece of breaded chicken that is fried (shocker!) and topped with Buffalo sauce, ranch dressing, and cheese. While it may be under 1,000 calories, the 1.5 grams of trans fat and high amount of sodium are plenty of reasons why you'll want to think twice before ordering this sandwich.
IHOP Cowboy BBQ Sandwich With Crispy Chicken
920 calories, 43 g fat (13 g saturated fat, 0.5 g trans fat), 2,550 mg sodium, 93 g carbs (4 g fiber, 22 g sugar), 39 g protein
At IHOP, it's not just some of the over-the-top pancake dishes you need to worry about that bring on the sugar. The Cowboy BBQ Sandwich is made of crispy chicken that is topped with two onion rings, hickory-smoked bacon, American cheese, lettuce, tomato, and a tangy BBQ sauce. This makes for a meal that, no surprise here, is overloaded with sodium. And the sauce no doubt is contributing to those 22 grams of sugar.
Red Robin Whiskey River BBQ Chicken Sandwich
960 calories, 56 g fat (14 g saturated fat, 1 g trans fat), 1,730 mg sodium, 74 g carbs (5 g fiber, 23 g sugar), 44 g protein
At Red Robin, the Whiskey River BBQ sauce sounds delicious, and paired with cheddar cheese, crispy onion straws, lettuce, tomatoes, and mayo over grilled chicken, what could go wrong? Well, this sandwich clocks in at nearly 1,000 calories and has more sugar than two French Crullers from Dunkin'.
Cheesecake Factory Crispy Fried Chicken Sandwich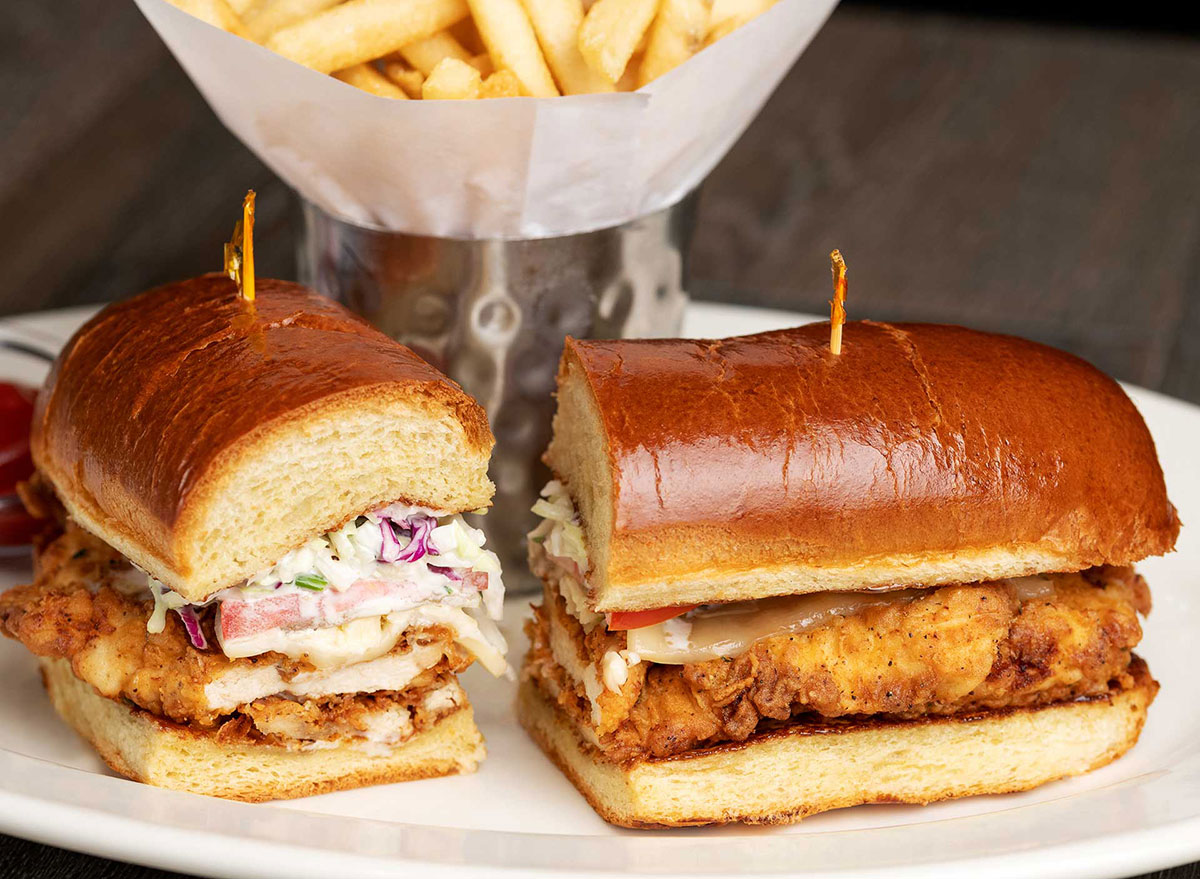 1,540 calories, 95 g fat (34 g saturated fat, 1 g trans fat), 2,240 mg sodium, 110 g carbs (7 g fiber, 23 g sugar), 61 g protein
Cheesecake Factory strikes again, this time with the Crispy Fried Chicken Sandwich. The chicken breast here is "fried crisp," as it's topped with cheese, coleslaw, tomatoes, pickles, and mayonnaise. Again, it's super high in calories and sodium, so it's hard to justify eating this in one sitting. Plus, there are 23 grams of sugar, which is a little more than what you would get if you ate two Krispy Kreme Original Glazed Donuts. If you really want to indulge, just eat half of the sandwich and perhaps order a side salad and skip the fries.
Speaking of surprisingly sugary options, you'll want to avoid ordering any of These Sodas With More Sugar Than 4 Donuts while you're at dinner, too.
Jennifer Maldonado
Jennifer Maldonado is a senior editor at Eat This, Not That!, specializing in food and health content.
Read more about Jennifer