#1 Order To Avoid at a Steakhouse When Eating Healthy
Skip the fried appetizers if you can.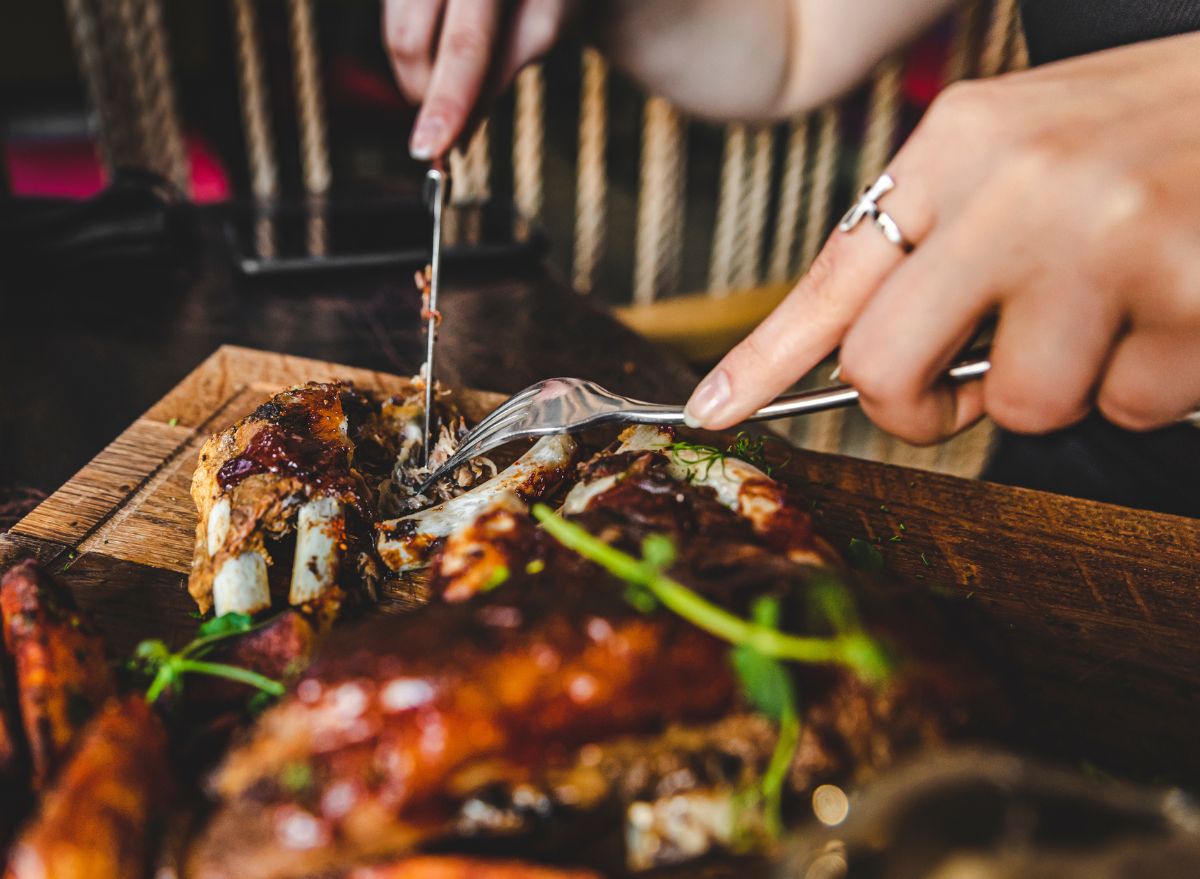 Steak on your mind? No worries. There are many ways steak lovers can enjoy their favorite dishes at their local steakhouse or popular chain favorites like Peter Luger's, Morton's, Pappas Bros., Fogo de Chao, or The Capital Grille without destroying their diet. The key to ordering healthier options at a steakhouse is knowing the options you have that will help keep you on track, as well as learning how to navigate the nutritional minefields on the menu.
Many classic American steakhouse menu items are extremely high in calories, total fat, saturated fat, and sodium, and these restaurants often market their menu items by the enormous portions that are more appropriate for several people to share rather than one person.
What's even more surprising about steakhouse menus is that many times, the appetizers or starters are often the unhealthiest options on the entire menu. What's more, dishes that aren't even steak, like the fried chicken with mashed potatoes, are oftentimes unhealthier than your favorite steak dinner.
To help you feel confident in sticking to your health goals when you're out at a restaurant, here is what to avoid for your next steakhouse meal, as well as some healthier alternatives to try.
Ribs
One of the worst items to order at a steakhouse is an order of ribs. Whether they are pork or beef ribs, they usually have more calories, fat, saturated fat, and sodium than most other main dish choices. For example, an order of Baby Back Pork Ribs from BJ's packs in 1,300 calories in just the ribs alone—and that's without any sides.
French Dip Sandwiches
Another menu item to steer clear of at steakhouses is the French Dip sandwich. The Logan's Pile High French Dip packs in 770 calories, 36 grams of fat (12 grams of saturated fat), and 3,230 milligrams of sodium! With just 2 grams of fiber, this carnivore's favorite may send your cholesterol and sodium levels soaring. For comparison, a 6-ounce sirloin steak at Logan's has 330 calories, 28 grams of total fat (8 grams of saturated fat), and 990 milligrams of sodium. While some of these numbers are still a bit high, it's a healthier alternative.
Fried Chicken
Most steakhouses have extensive menus with plenty of chicken and fish dinners as well, but one to steer clear of is the fried chicken dinner. For example, the Bloomin' Fried Chicken at Outback has 920 calories, 18 grams of saturated fat, and 2,030 milligrams of sodium. Most fried chicken dinners will have similar nutrition, and that's before any sides.6254a4d1642c605c54bf1cab17d50f1e
Fried Onion Appetizers
As a rule of thumb, any fried foods at steakhouses are usually diet disasters—even appetizers. For example, the Outback Steakhouse Bloomin' Onion is one of the worst steakhouse options for your health. Weighing in at 1,620 calories, 126 grams of fat, 41 grams of saturated fat, and 4,140 milligrams of sodium, this starter has about half the calories you need in an entire day! What's more, it packs in about 2.5 times the amount of sodium you should get all day long.
The Best Choices To Make at a Steakhouse
If you decide your dinner menu in advance, you can enjoy a delicious steakhouse meal and still stay on track. The best bet is to stick with smaller cuts of lean steaks, which would be any cut of steak that has "loin" or "round" in its name. A sirloin or eye of the round are leaner options than a filet mignon, ribeye, or T-bone steak.
A simple veggie side dish is one of your healthiest choices for side options. Other healthier side options include a baked potato, corn, coleslaw, or green beans. If your restaurant has a house salad, any way to get additional veggies into your meal is great for adding fiber and essential nutrients without the fat and calories.
Julie Upton, MS, RD, CSSD
Julie Upton is an award-winning registered dietitian and communications specialist who has written thousands of articles for national media outlets, including The New York Times, US News & World Report, and USA Today.
Read more about Julie