The #1 Unhealthiest Way To Make a Smoothie, According to a Dietitian
If you're not careful, that smoothie can turn into a sugar-laden dessert pretty quick!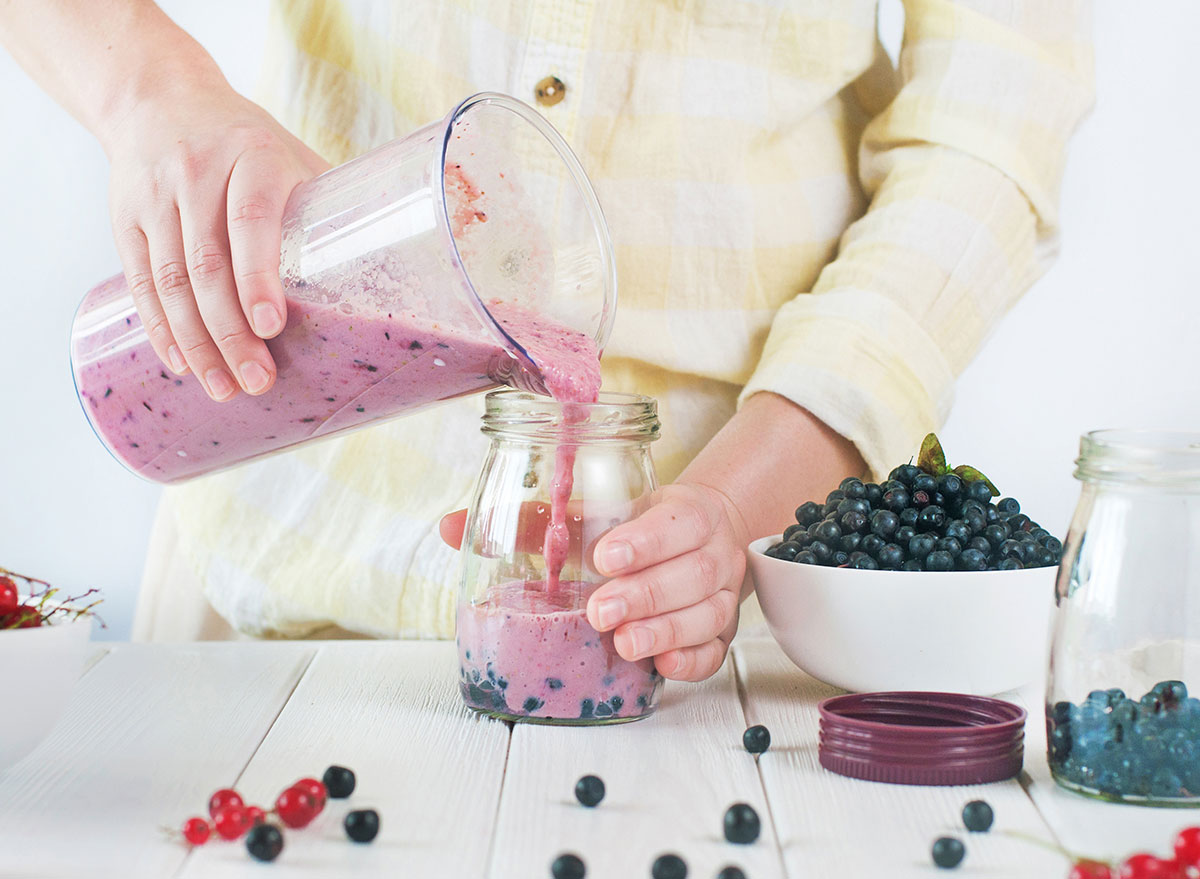 Blending up a smoothie for mealtime feels like the epitome of health. Smoothies are usually full of good-for-you ingredients, making them a full-proof way to get a boost of those nutrients you need every day. And yet, while smoothies are relatively healthy, it's easy for those calories to rack up pretty quickly. If you're not careful, you may find yourself slurping on a smoothie with more calories—and sugar—than you would see in a bowl of ice cream. This is why we decided to determine the unhealthiest way to make a smoothie, so you never have to make this mistake ever again.
In order to determine the unhealthiest way to make a smoothie, we spoke with Amy Goodson, MS, RD, CSSD, LD, author of The Sports Nutrition Playbook, who gave us some key pointers on how to avoid calorie-laden smoothies in the future. Here are the tips she gave us, and for even more healthy ways to get those good-for-you nutrients, check out our list of 100 Easiest Recipes You Can Make.6254a4d1642c605c54bf1cab17d50f1e
Limit those calorie-dense ingredients.
In an effort to make smoothies taste good, we add in all kinds of ingredients. However, most of the time those tasty add-ins can actually be calorically dense, causing the number of calories and added sugars in your smoothie to skyrocket.
"One of the biggest smoothie traps out there is making them too high in calories," says Goodson. "Adding large amounts of ingredients like nut butter, honey, agave, or juice can really push the calories up."
The unhealthiest way to make a smoothie is by adding in a lot of these calorie-dense ingredients. If you're throwing in nut butter, honey, juice, and even extra fruit, your smoothie will go from healthy to unhealthy pretty quickly. Especially if you're blending up one of these 11 Most Fattening Smoothie Ingredients.
Plus, if you're adding in a lot of those calorie-dense ingredients, it's likely your smoothie won't have a ton of substance that will keep you feeling full. If you intend for your smoothie to be a full-on meal for the day, you need to ensure it has different elements that will keep you feeling full.
Here's how to make a healthier smoothie.
Protein, in particular, is an important element to have if you want to make your smoothie healthier. Protein keeps you feeling fuller for longer, which means you won't be reaching for a snack an hour after sipping on your smoothie. Instead, focus on getting a protein element in your blender that will make your smoothie substantial.
"To make a smoothie that is calorically balanced and will help you stay full, consider adding a protein like milk, yogurt, and/or whey protein, one to two servings of fruit, some spinach or kale, and a tablespoon of your favorite nut butter," says Goodson.
Yes, fruit is still a great element to your smoothie—and a tasty one! Rely on the fruit to give your smoothie that sweetness you desire, without adding in the extra calorie-dense ingredients that were making your smoothie unhealthy before. By adding in fruit and veggies—like spinach, kale, or even cauliflower—you're also giving your smoothie a boost in fiber. Both the protein and the fiber in your smoothie will keep you feeling fuller longer, which is always what we desire after a nutritious meal!
More Smoothie Stories on Eat This, Not That!