Unhealthy Drinks Dietitians Say You Should Stop Sipping Right Now
If you want to stay healthy, it's time to cut these drinks from your routine now.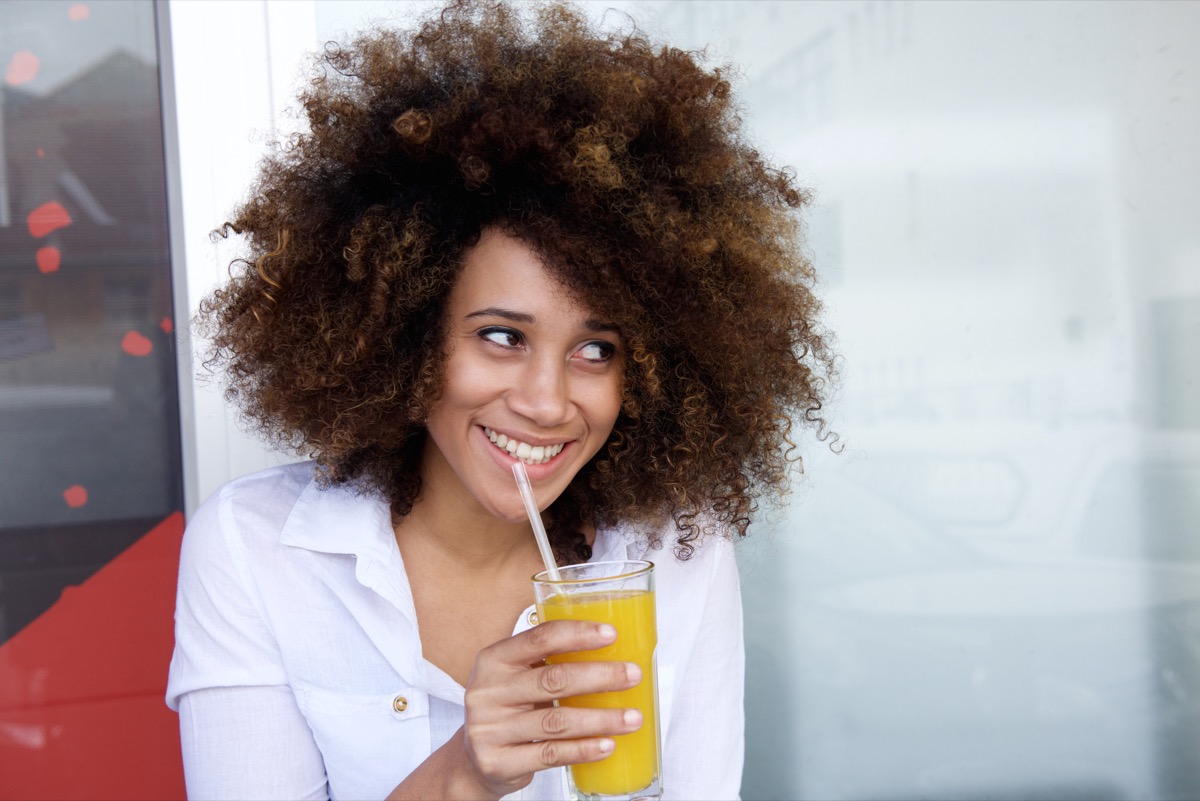 When it comes to improving your health and overall wellbeing, it's not just what's on your plate that counts. Even if you eat a near-perfect diet, the beverages you drink on a daily basis could be sneakily sabotaging your health and fitness goals with every sip.
From sugar-laden coffees to supposedly healthy smoothies that aren't what they seem, read on to discover the unhealthy drinks dietitians say you need to stop drinking now. And if you want to revamp your eating and drinking habits, start with The 7 Healthiest Foods to Eat Right Now.
It's a soda that comes in fluorescent hues more reminiscent of highlighters than anything found in nature, so it likely comes as little surprise that few would consider Mountain Dew a healthy drink.
"Not only is it high in sugar, but it contains controversial preservatives and ingredients such as yellow #5 (food coloring) and sodium benzoate. Yellow #5 is a controversial food coloring with concerns around negative health effects. For example, a 2015 study concluded prolonged intake of yellow #5 could trigger carcinogenesis," says Holly Klamer, MS, RDN, of My Crohn's and Colitis Team.
Klamer notes that just one 12-ounce Mountain Dew not only packs 170 calories, but it also contains 46 grams of sugar—more added sugar than the American Heart Association recommends adults consume in a day.
For more drinks you'd be wise to ditch, check out The Worst Drinks on the Planet.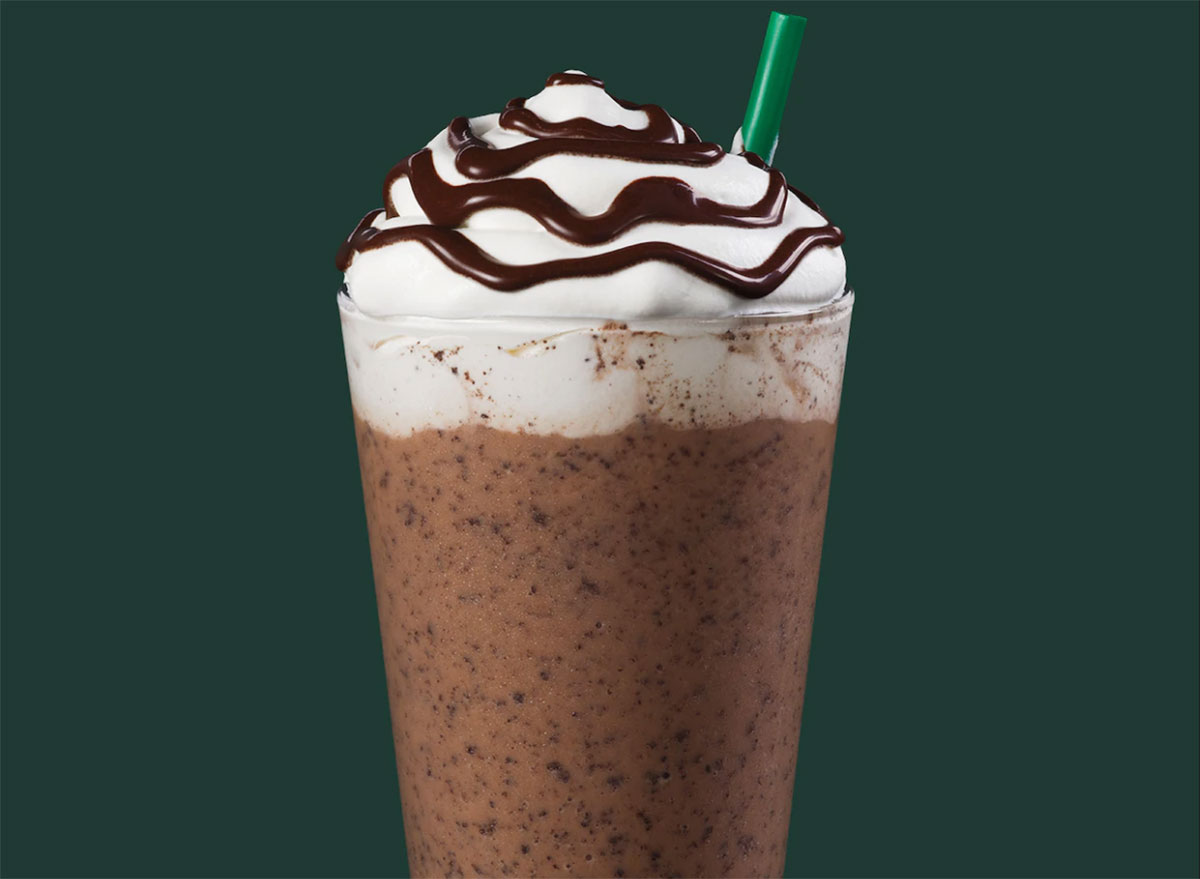 It's easy to keep your morning pick-me-up healthy if you limit the addition of high-fat milks and sugary syrups and toppings. However, if you're turning to Frappuccinos to get your caffeine boost, you're doing no favors for your health.
"Anything and everything Frappuccino is the worst drink," says Tina Marinaccio, MS, RD, CPT, an integrative culinary registered dietitian nutritionist with Health Dynamics, LLC.
Marinaccio says that the Double Chocolaty Chip Crème Frappuccino stands out as being a particularly poor choice.
"A 16-ounce serving has a whopping 47 grams of sugar, almost the equivalent of four tablespoons in a two-cup beverage. With only 15 milligrams of caffeine, the boost you get is likely from the sugar rush, which will lead to an empty calorie crash later in the day."
Naked Boosted Probiotic Machine Tropical Mango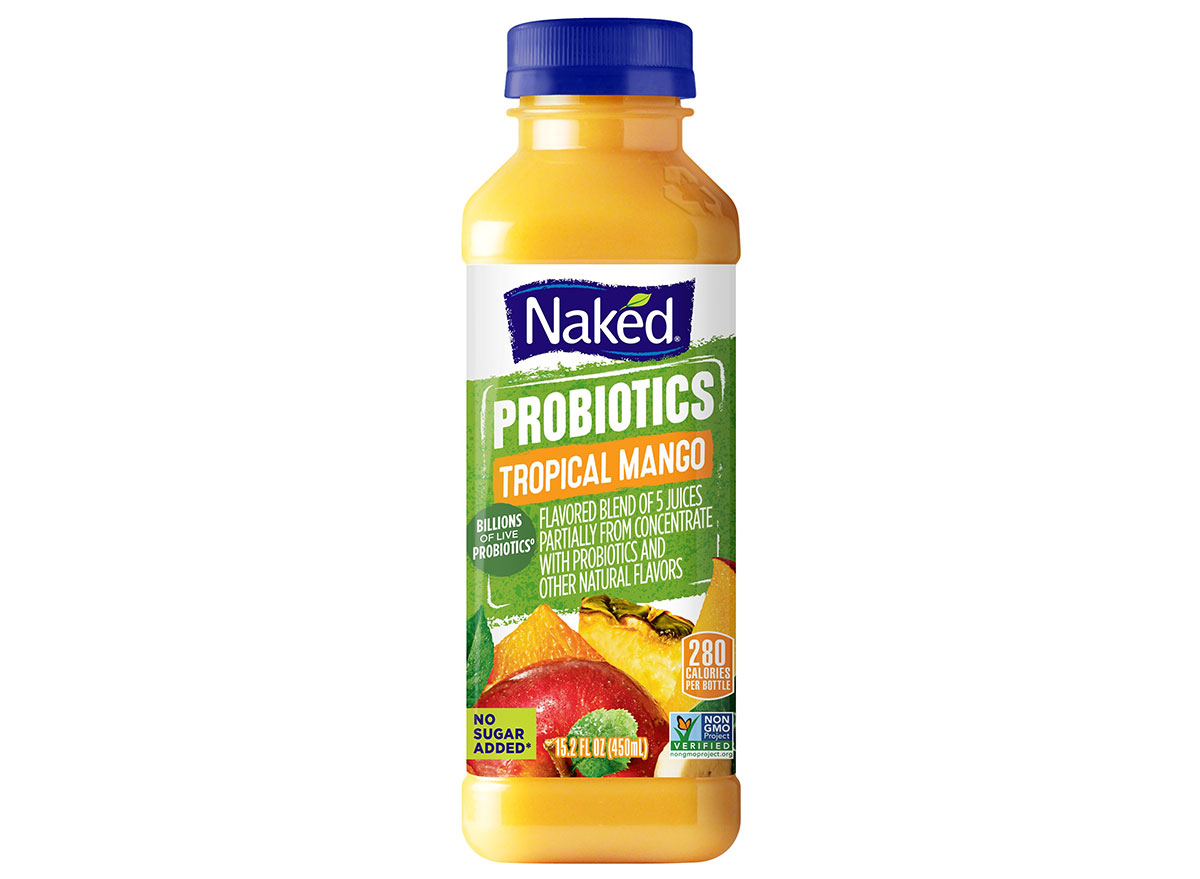 While this probiotic smoothie may look healthy at first glance, experts say you're better off avoiding this sugary drink.
"At 280 calories, this smoothie makes up nearly the entire calories needed for one meal or snack, and out of the 66 grams of carbs, 53 grams are added sugar!" says Kelsey Pezzuti, MS, RD, owner of Kelsey P. RD. "It has a bit of protein and fiber but not nearly enough to prevent blood sugar from spiking or keep you feeling full," Pezzuti adds.
For more incentive to skip those sugary drinks, check out these 5 Reasons You Should Stop Drinking Juice, According to Dietitians.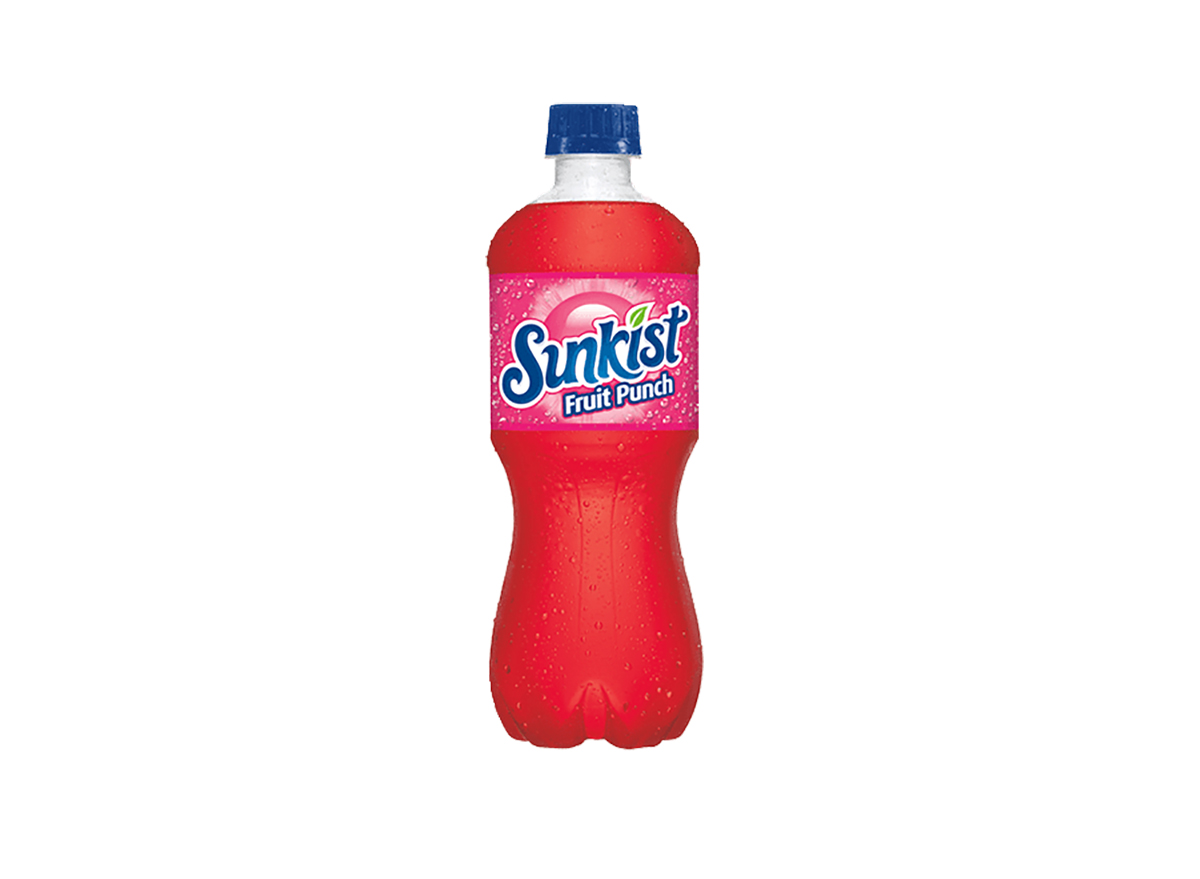 Sunkist Fruit Punch isn't just devoid of any actual fruit, it's also packed with inflammatory ingredients that could be sabotaging your health.
In addition to the 300 calories and 80 grams of sugar you get in every 20-ounce serving, "It uses high fructose corn syrup, which causes inflammation in the body, and it also uses Red 40, which is controversial, due to its possible carcinogenic properties," explains Harland Adkins, RDN, a registered dietitian nutritionist and founder of Fast Food Menu Prices.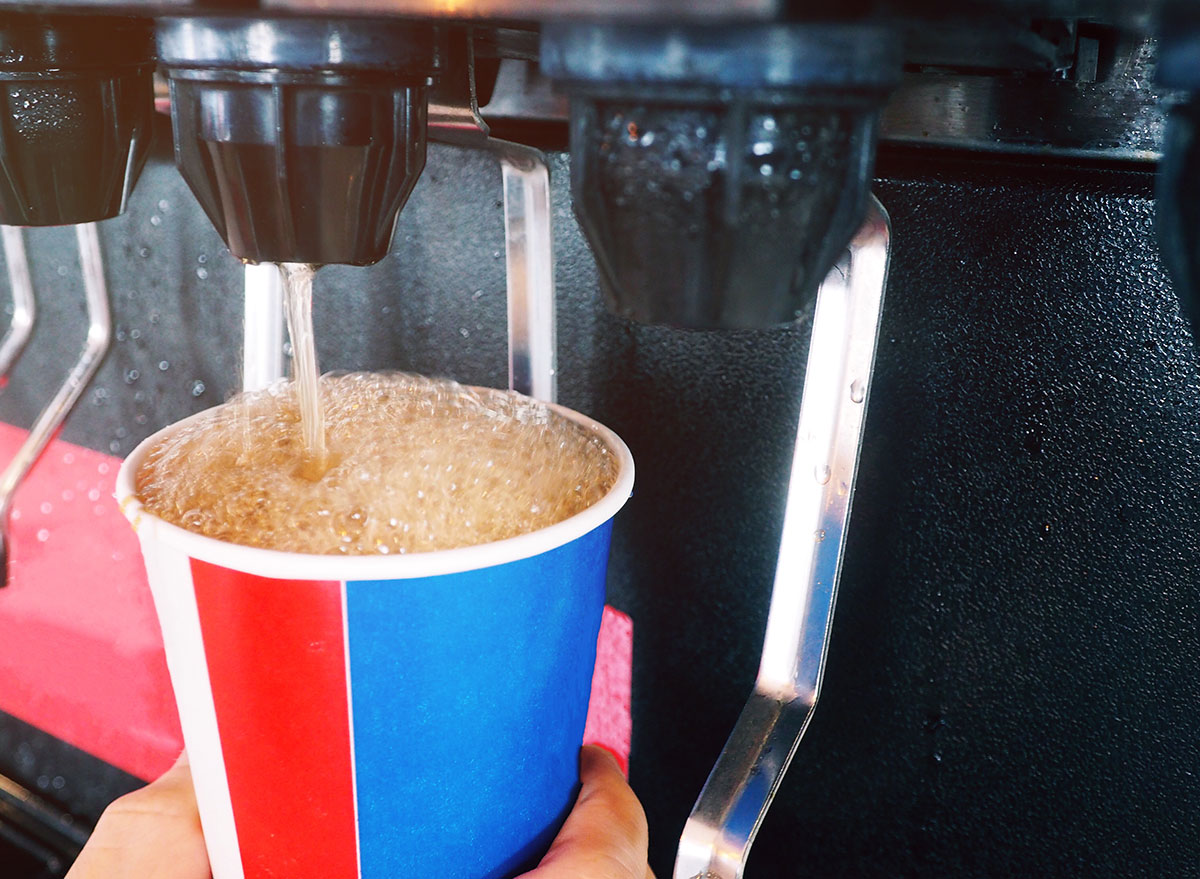 While diet sodas may seem like a healthier choice than regular ones, their ingredients are doing no favor for your wellbeing.6254a4d1642c605c54bf1cab17d50f1e
"Diet fountain beverages still add saccharin, a potential carcinogen, to sweeten them. Saccharin can also cause allergies and reactions such as diarrhea and headaches," says Heidi Moretti, RD, resident nutritional advisor to Sovereign Laboratories. "Unfortunately, these fountain drinks also contain aspartame as well, which is harmful to the gut microbiome and tends to be related to people having more belly fat."
If you want to make better choices for your body, check out the 11 Healthiest Drinks for Weight Loss, and for the latest food and health news delivered to your inbox, sign up for our newsletter!
Read this next:
Sarah Crow
Sarah Crow is a senior editor at Eat This, Not That!, where she focuses on celebrity news and health coverage.
Read more about Sarah