15 Best Drinks to Have Every Day for a Flat Belly
Beat belly bloat with any of these beverages.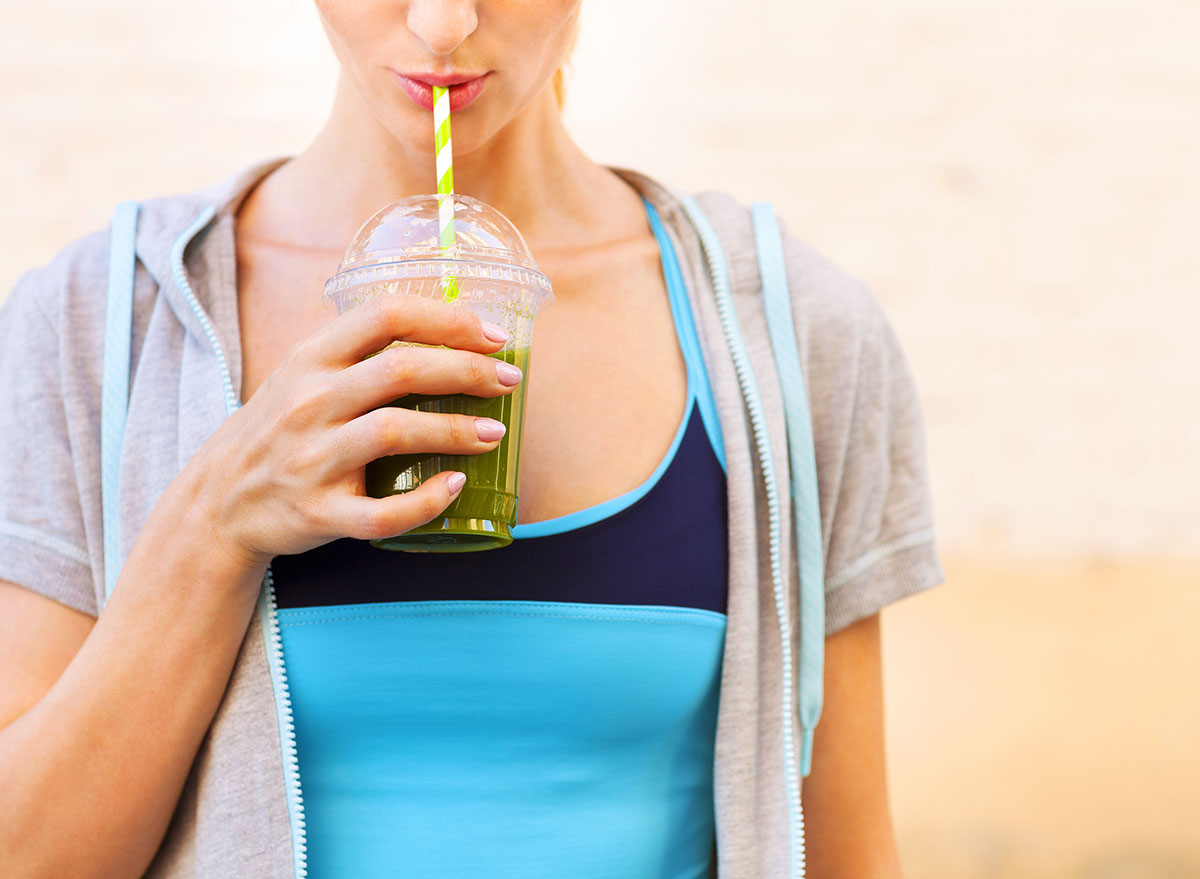 Keeping a trim waist feels impossible. When it comes to sorting through the whirlwind of drinks advertised as "healthy", finding the right products that won't retain water weight, cause bloating, or pack on the pounds seems hopeless. With an ever-rotating variety of beverages touted as "the next big thing," at our fingertips, sorting through nutritional fact and fiction makes any fitness goal possible—and making it seem almost impossible to find the best drinks for a flat belly.
To help us sort through the ocean of drinks that claim to have medicinal benefits, Amy Goodson, MS, RD, CSSD, LD, helped us assemble the master list of the top beverages that ensure your flat belly dreams become a reality. Whether you have just started your diet journey or have years of experience under your belt, choose one of these drinks for a flat belly that can help you keep a tight midsection. And for more healthy drinking tips, check out our list of 21 Best Healthy Cooking Hacks of All Time.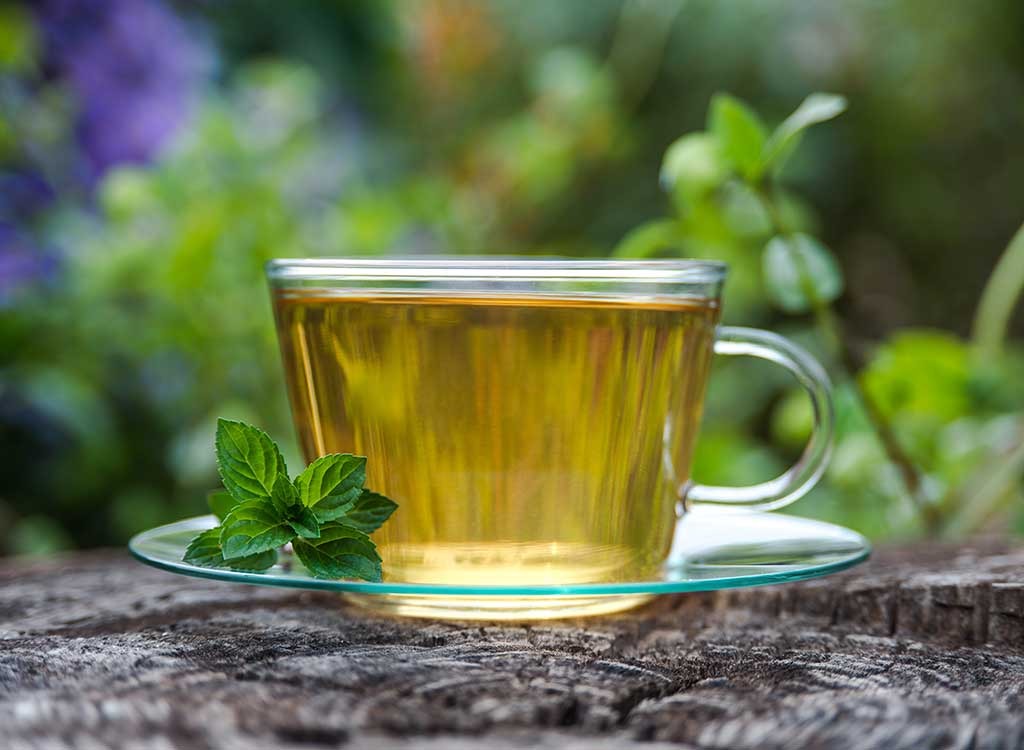 "Peppermint tea soothes muscles which helps food and gas to pass more quickly," Goodson says. "It also acts as an anti-inflammatory, which can help improve digestive issues."
When you need to keep your stomach tight, peppermint tea can solve most issues you might face on a day-to-day basis. Anti-inflammatory properties make this drink a winner on all fronts and freshen up anyone's day.
Here's What Happens to Your Body If You Drink Tea Every Day.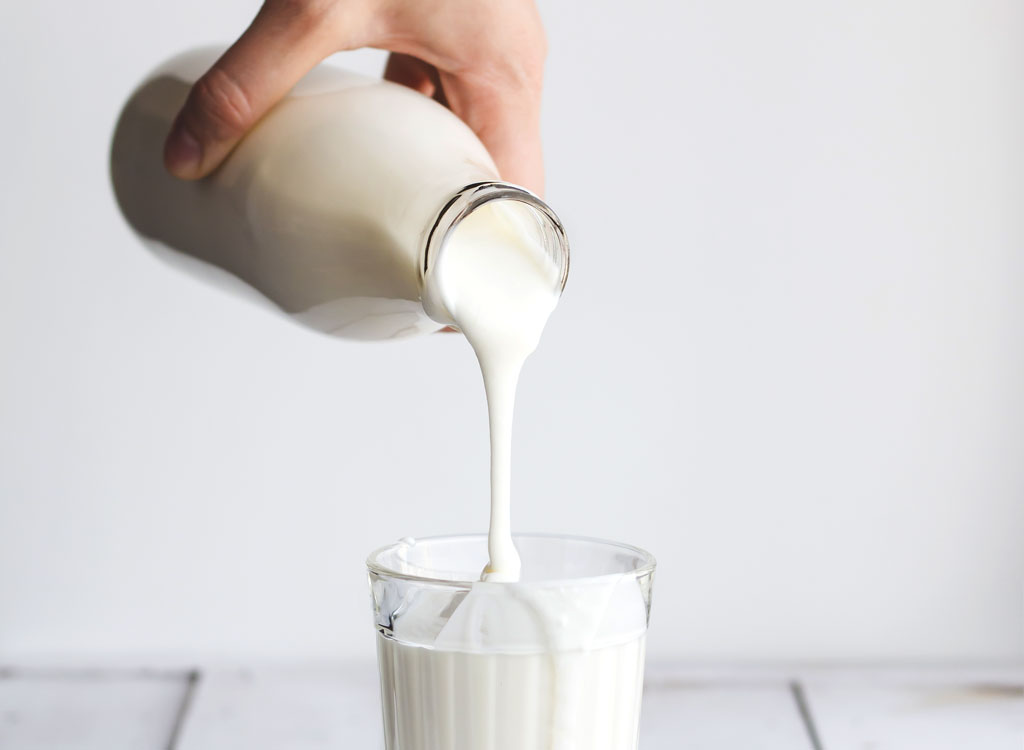 Whether you favor a bottle of Siggi's, Lifeway, or another probiotic infused yogurt drink on the market, your stomach will thank you for treating it to such a wholesome beverage.
"Yogurt contains probiotics, which are good bacteria that fight off bad bacteria, as well as active cultures that can aid in digestion are great for decreasing bloat and other negative gastrointestinal issues," Goodson says.
To keep your belly nice and flat, make sure to add this drink into your daily meal routine. Especially because of these 7 Ways Yogurt Can Help You Lose Weight.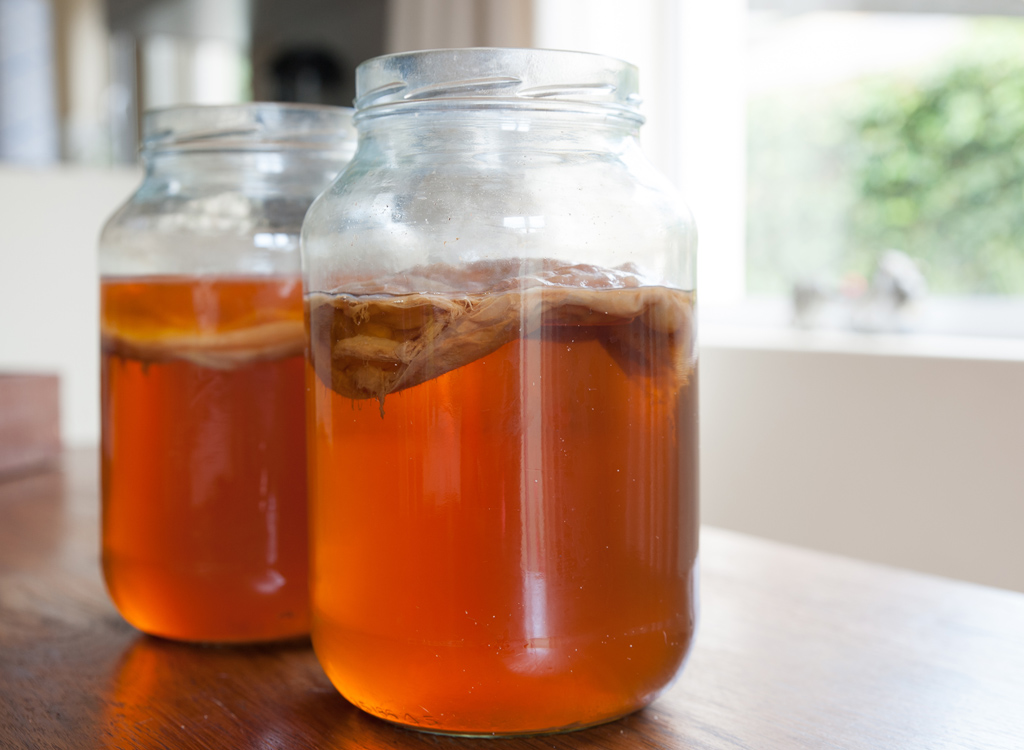 "Kombucha is a fermented tea drink that contains probiotics as well as several species of lactic-acid bacteria which may have probiotic function and strengthen a healthy gut," Goodson says.
This wholesome drink not only serves up a refreshing bite that goes well by itself or a meal, but it also has a vast variety of health benefits. No matter your preferred brand, you can't go wrong with a kombucha if you need to tighten your midsection. Here are 11 Best Low-Sugar Kombucha Brands You Can Buy.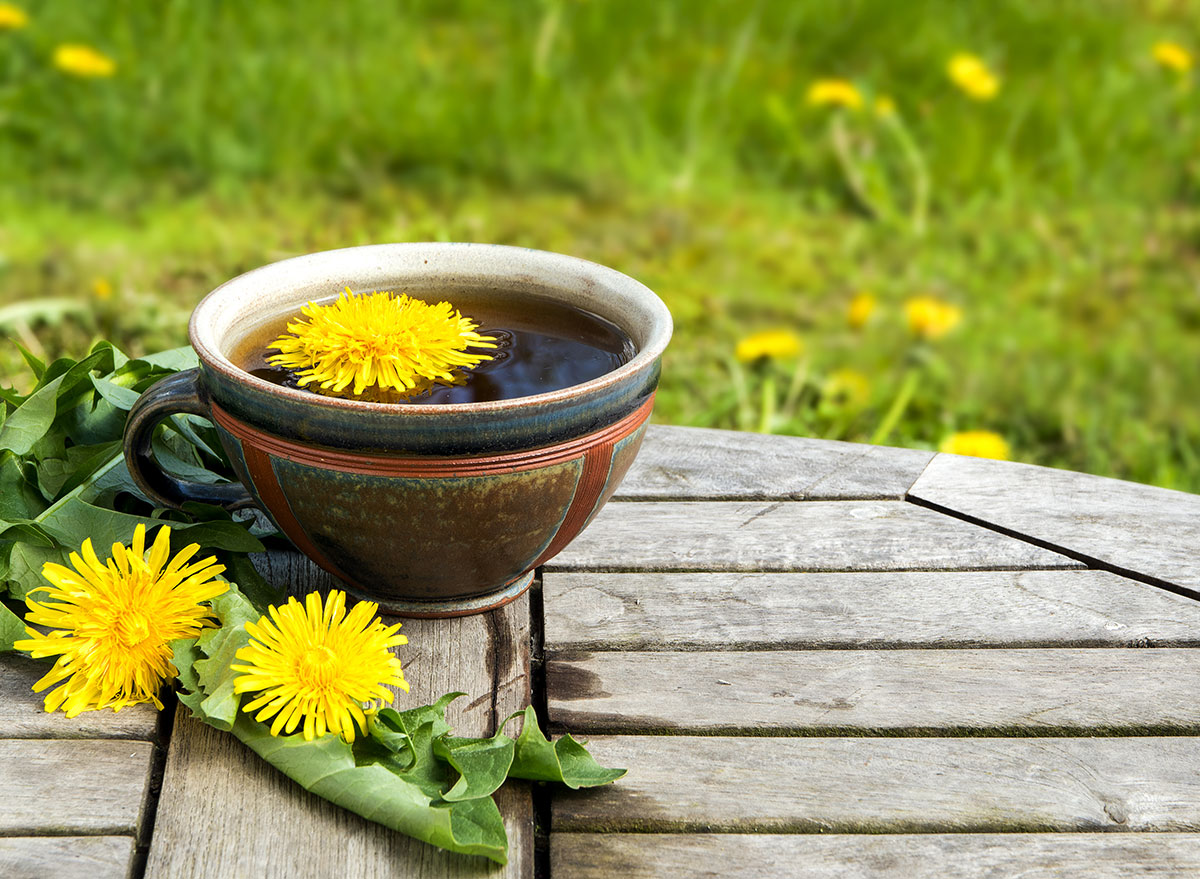 You may have seen this tea at the grocery store and wondered about what kind of benefits this alluring herbal blend might encompass. For anyone looking to flatten their waistline, you are in luck!
"This tea has been found to help combat digestive illness by improving digestion and increasing blood flow to the stomach," Goodson says.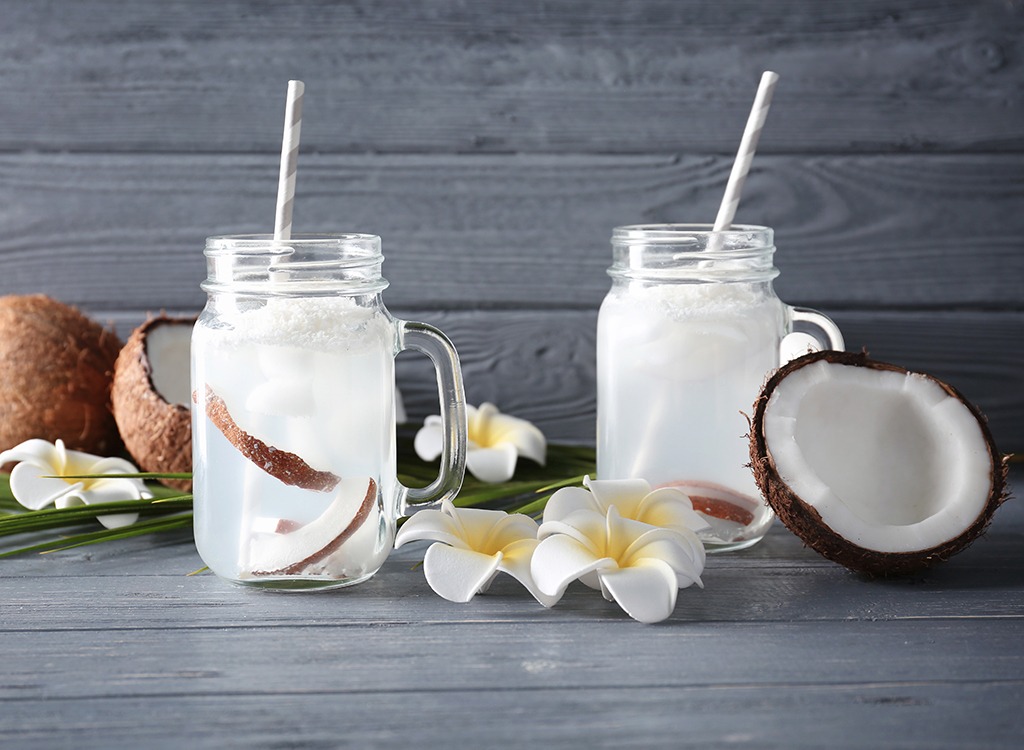 "Coconut water helps regulate your fluid levels and counterbalances the effects of eating or drinking too much sodium (a prime bloating culprit)," Goodson says.6254a4d1642c605c54bf1cab17d50f1e
Everyone's favorite electrolyte replenisher now has a second function—keeping your stomach tight and flat. With its ultra-hydrating properties, any version of this drink should enter your diet, whether you need to rehydrate after the gym or just want to shape up your core.
Not sure which one to buy? We Tried 7 Coconut Waters And Named This One The Best.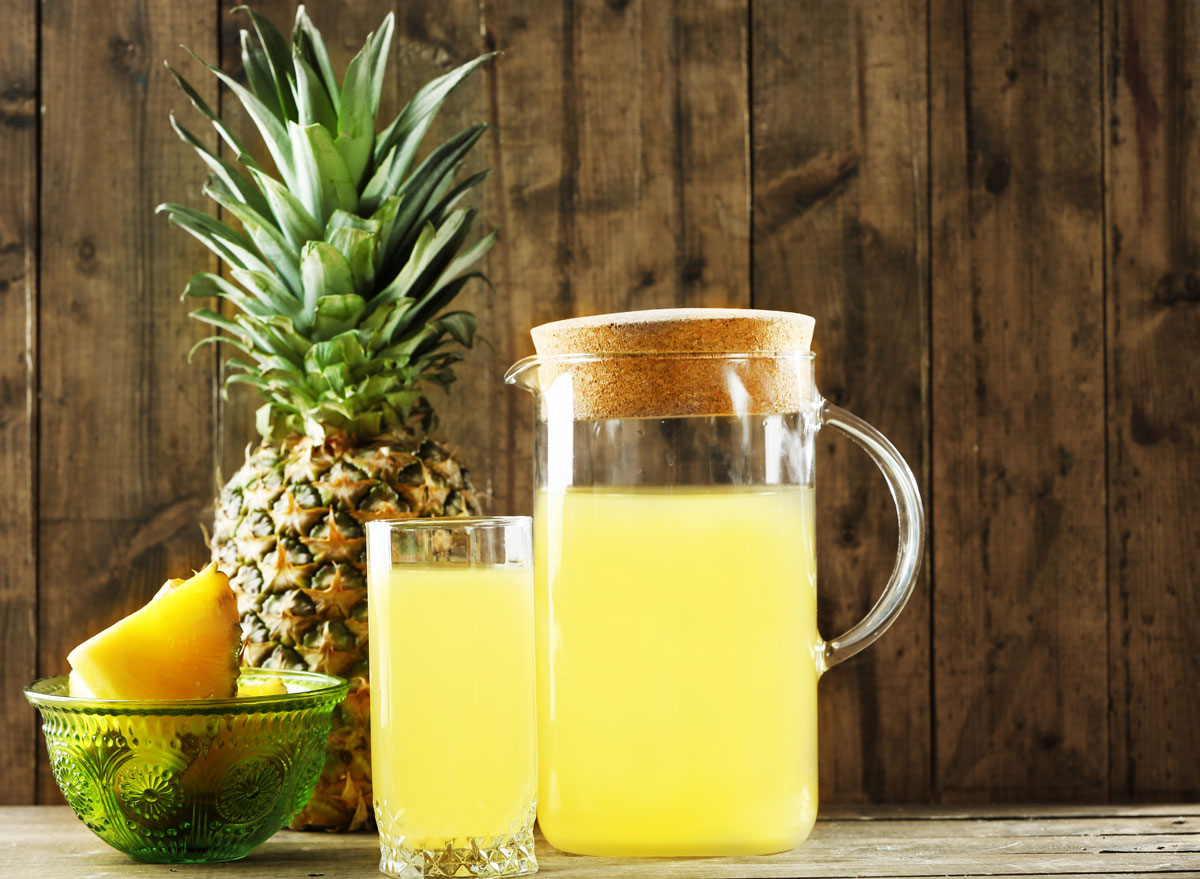 "Pineapple contains a digestive enzyme called bromelain," Goodson says. "That can help breakdown protein and ease digestion."
Those same tingly enzymes we feel when we chow down on fresh pineapple can help us keep bloat down and make our daily digestion cycles that much better. Don't take this juice for granted on your next grocery run.
Everyone has heard that ginger ale can help an upset stomach, but now the benefits go beyond just settling your stomach you when you feel sick.
"Ginger tea is known for its soothing effects by decreasing cramping, bloating and indigestion, while also stimulating stomach emptying," Goodson says.
Next time you have any stomach trouble, reach for your favorite ginger tea to keep you from feeling bloat and discomfort.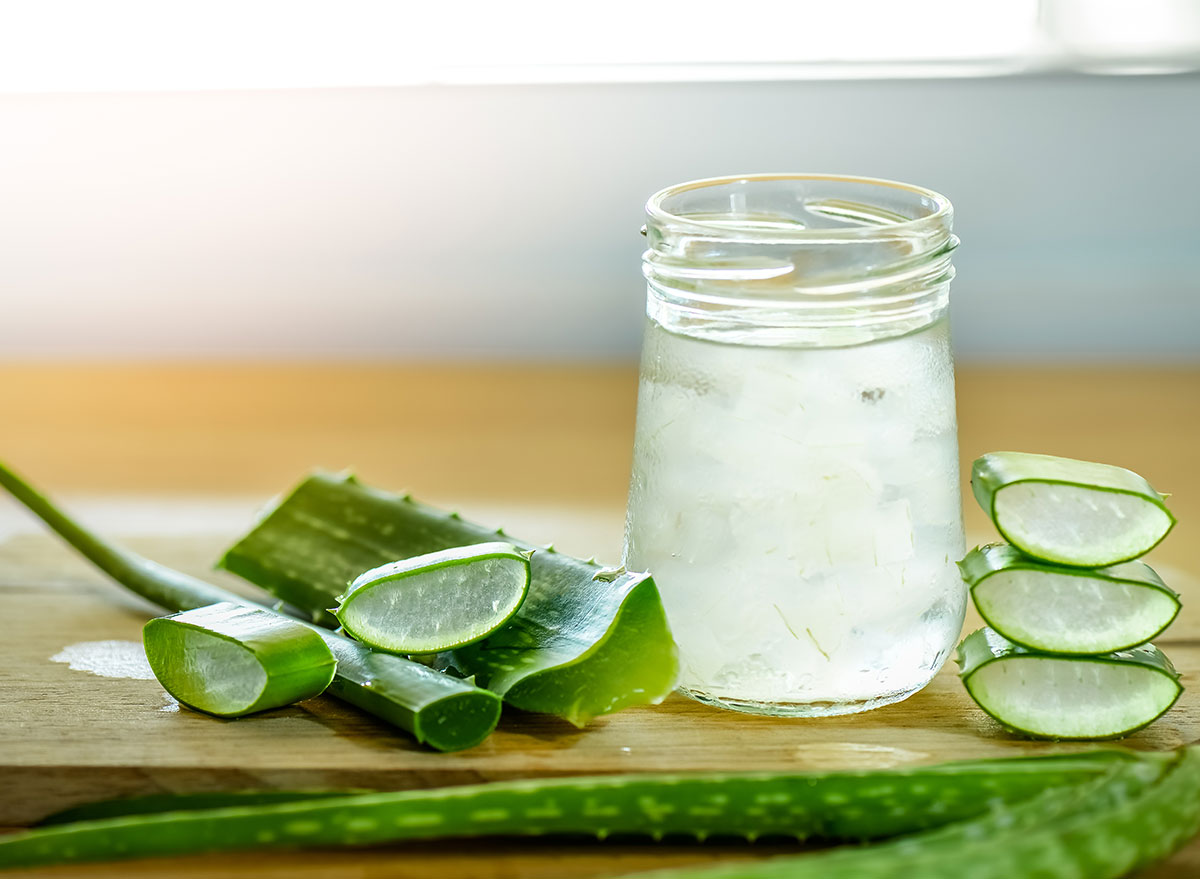 Don't let the prospect of aloe vera juice turn you off. This burn remedy has a plethora of health benefits, and keeping your waistline trim remains a key secret for anyone looking to better their stomach region.
"Aloe vera contains laxative properties as well as anti-inflammatory effects," Goodson says. "This helps keep you regular, can help increase digestions rate, and [decreases] bloat."
"A digestif is an alcoholic beverage served after a meal, to help aid in digestion," Goodson says. "Digestifs typically come in the forms of fortified wines, aged liquors, herbal liqueurs, and bitter liqueurs."
Nothing feels as classy as having a small sip of grappa, brandy, or limoncello after dinner, and now you can indulge without any guilt. These liqueurs truly live up to their name and help your digestion track process any rich food, rounding out any hearty meal. You could even sip on one of these 9 Immune-Boosting Cocktails That Pack Vitamins and Antioxidants.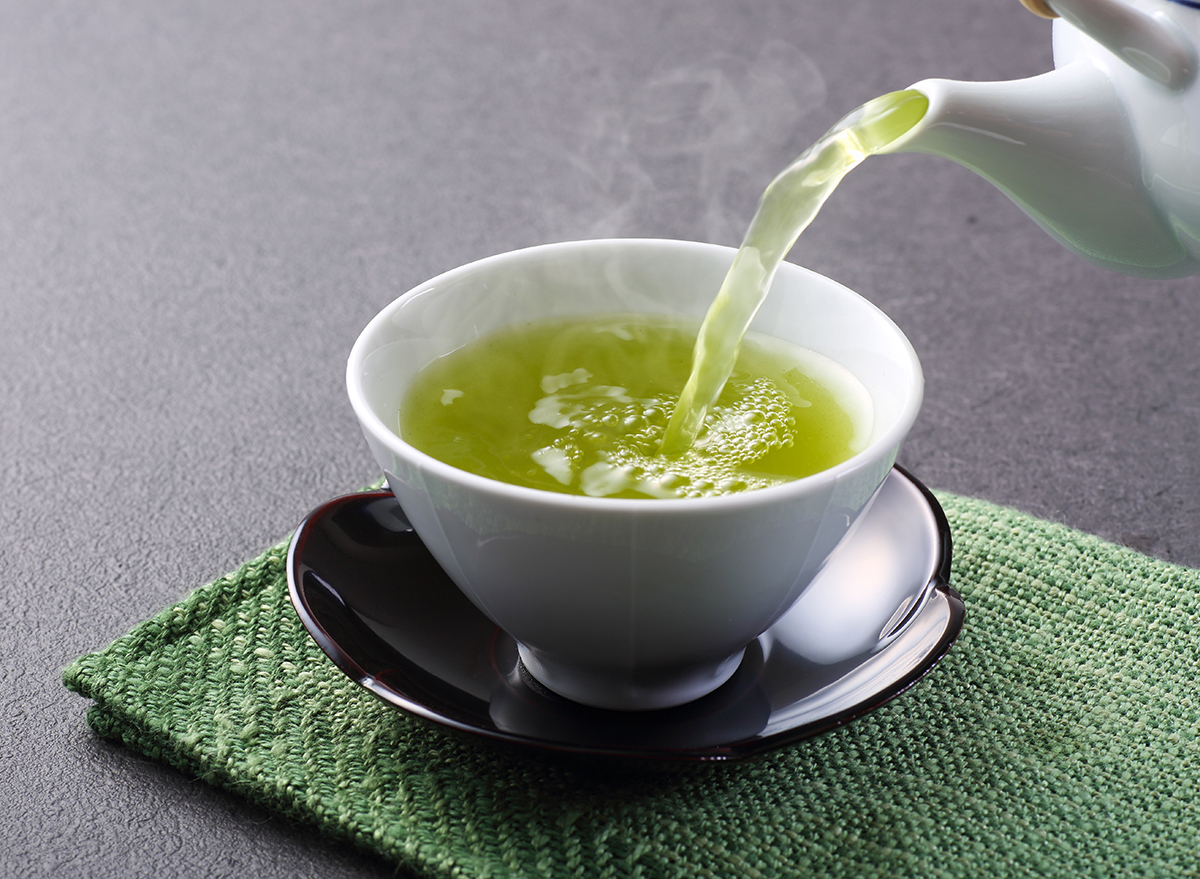 Whether you want to pack in the antioxidants or just relax with a hot mug of a relaxing tea, a serving of green tea can do wonders for your health and stomach.
"Green tea is abundant in polyphenols, antioxidants and catechins," Goodson says. "It has compounds which can help soothe the digestive system, increase the breakdown of food and help relieve bloating and gas."
Next time you need some help digesting after dinner, reach for a cup of this hot beverage for your health. Here are 7 Amazing Benefits of Drinking Green Tea.
"The lactic acid bacteria in fermented foods like kefir helps breakdown lactose (milk sugar) into lactic acid, which can help decrease digestive stress for some," Goodson says.
This Eastern European favorite has stuck around for a good reason. Packed with probiotics, this rich dairy beverage can help regulate anyone's digestive track and promotes smooth, flat bellies on anyone looking to slim down.
Water does wonder for everyone with good reason. At zero calories a glass, it can fill you up without slowing you down, and the health benefits extend to anyone looking to keep a tight stomach.
"Water and other liquids help break down food so that your body can absorb the nutrients," Goodson says. "It also softens stool, which helps prevent constipation."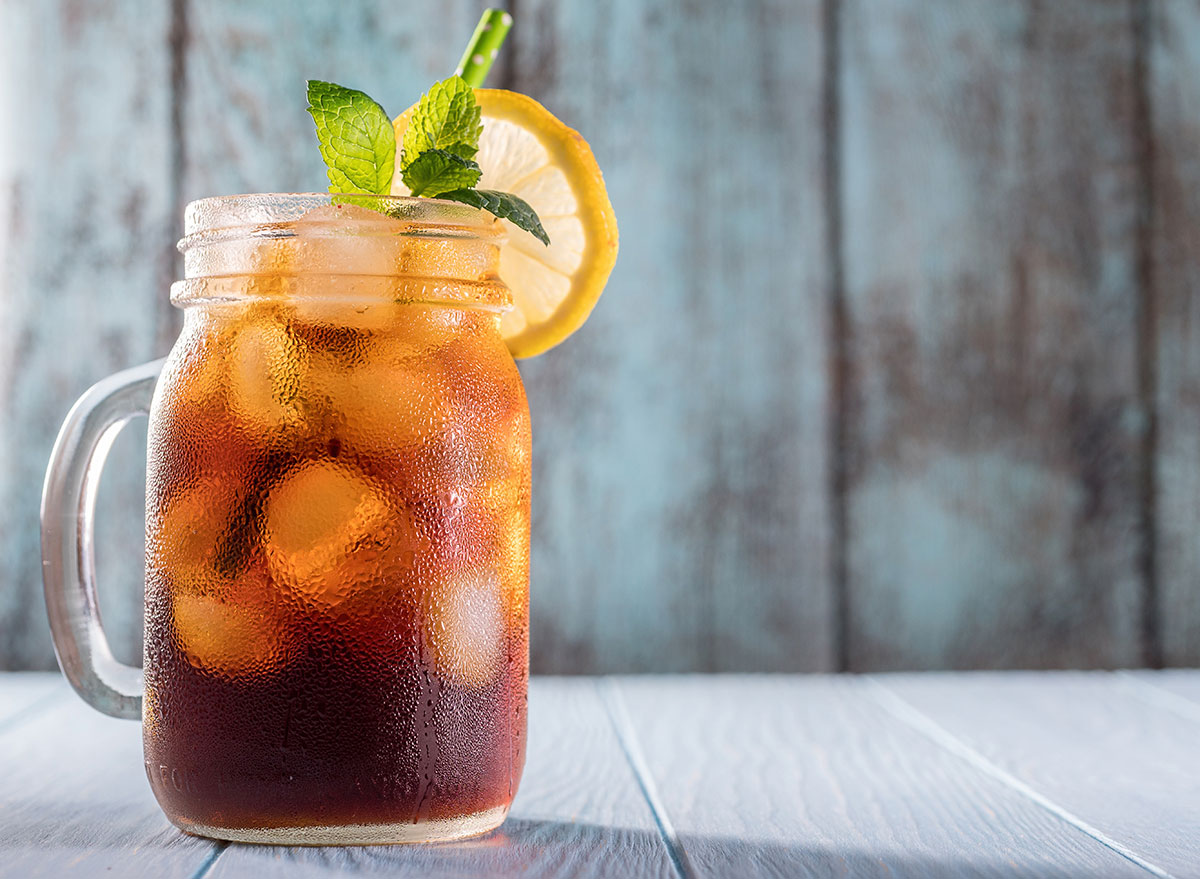 "Similar to other types of tea produced from the camellia sinensis plant, black tea has been shown to help aid digestion and prevent bloating and stomach upsets," Goodson says.
With so many iced teas on the market, trying to decide which can help the most seems tough. Have no fear—as long as you indulge in this treat, you can keep your waistline consistently flat. Avoid any added sugar if possible, and your waistline will thank you. And stay away from these Unhealthiest Iced Teas on the Planet.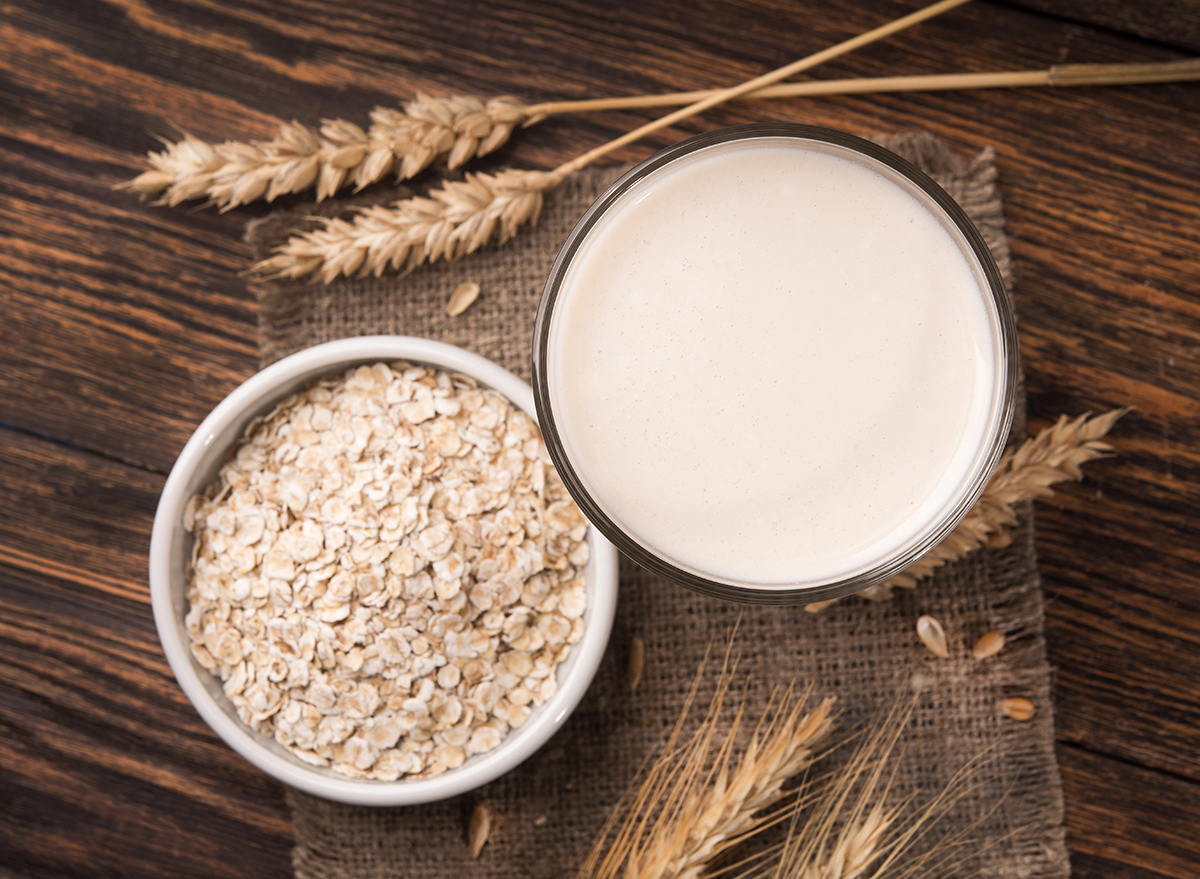 Don't get turned off by all dairy products. Lactose-free milk can keep down any unwanted bloat from other dairy and might provide the answer for a new beverage to help keep your figure together.
"Lactose-free milk is a 100% cow's milk that includes the enzyme lactase, which breaks down the milk sugar lactose," Goodson says. "This can help those who experience lactose intolerance and typically have gas and bloating after drinking milk."
"Reach for a balanced smoothie," Goodson says. "Here's the formula—probiotics plus prebiotics plus digestive enzymes equals [a] balanced smoothie."
For probiotics choose a yogurt or kefir base. "You need [prebiotics] to feed the probiotics," Goodson says. "Examples include [adding a] banana or apple."
Plus, don't forget digestive enzymes. "These enzymes help break down foods for you," Goodson says. Pineapples or papayas can do the trick and make for the perfect balance next time you need to keep your waistline trim and tight.
Blend up a smoothie today with one of these 27 Best Immune-Boosting Smoothie Recipes!