Venus Williams Just Launched Her Own Protein Shake Line
The tennis legend and entrepreneur debuted a new vegan recovery drink today.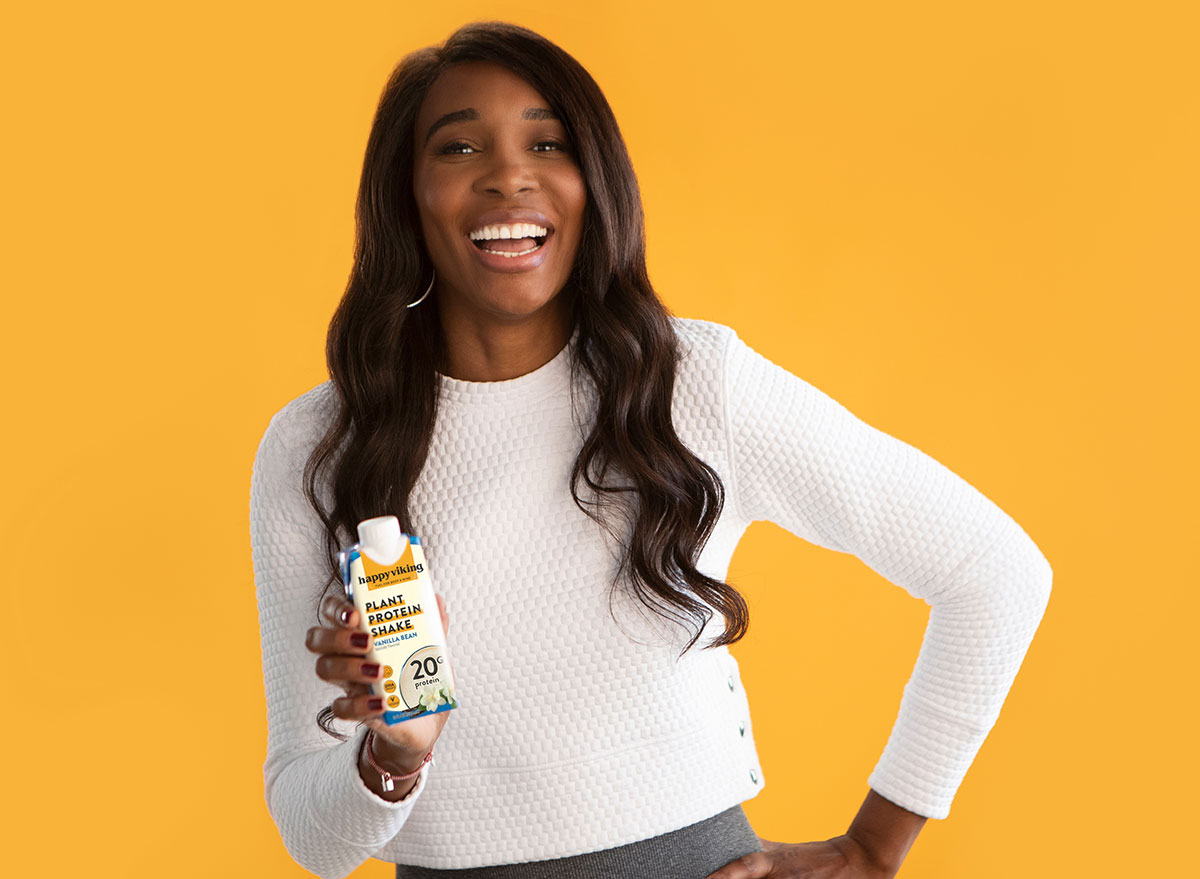 Today, seven-time Grand Slam Champion and four-time Olympic Gold Medalist Venus Williams announced the launch of Happy Viking, a new protein shake line co-founded in partnership with beverage company Dyla Brands.
Happy Viking is 100% vegan and packed with 20 grams of protein, and was inspired by Williams' plant-based diet, which she's been following for nearly 10 years ever since she was diagnosed with Sjögren's Syndrome—an autoimmune disorder that causes the body's immune system to attack its healthy cells. In 2011, the syndrome caused her to drop out of the U.S. Open, after which, Williams got to work at home on refining a protein shake that was rich in anti-inflammatory, plant-based protein sources. (Related: The 7 Healthiest Foods to Eat Right Now.)
It was this switch to a primarily plant-based diet that helped the star-studded athlete make a comeback. "It really was able to open a lot of doors for me," Williams tells Eat This, Not That! "I couldn't play anymore, and this was my way to get back into what I love—into the game."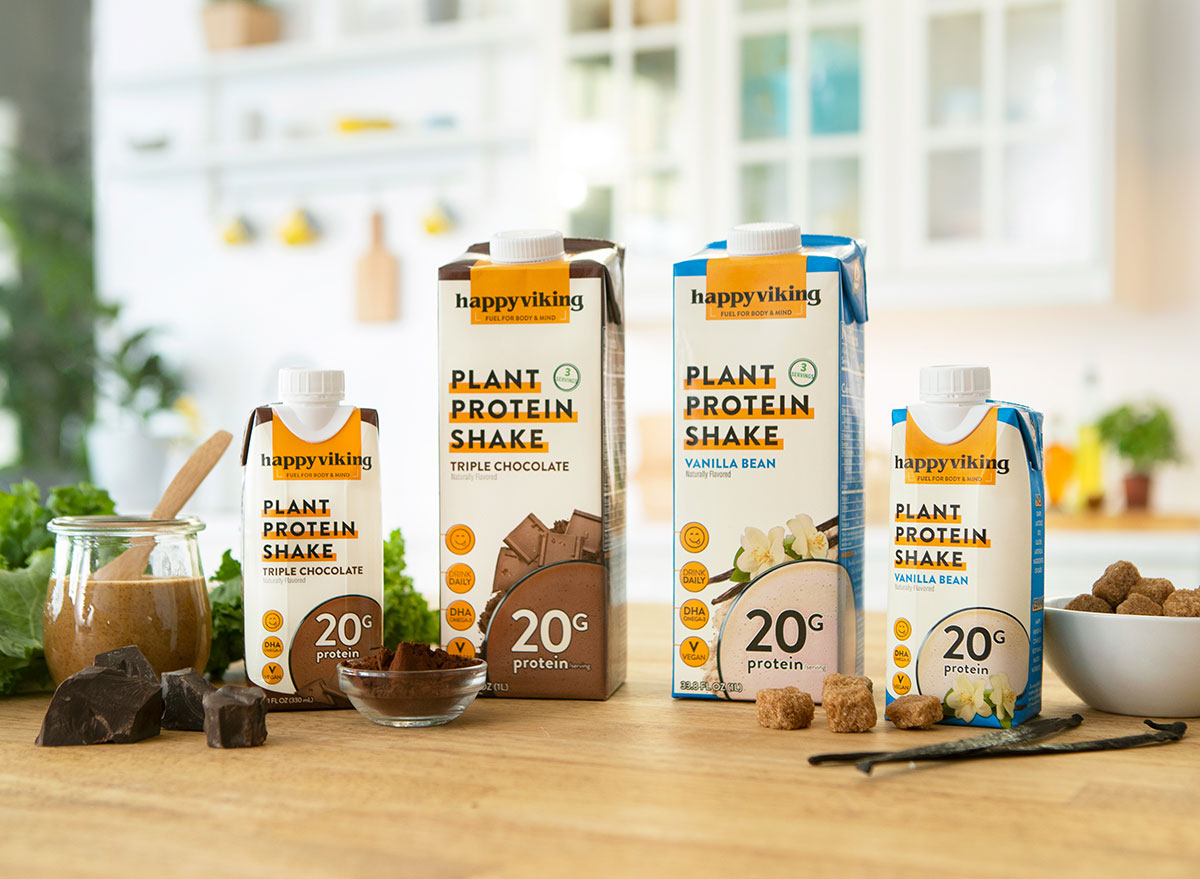 Now, with the help of leading nutritionists and registered dietitians, Williams developed the Happy Viking protein blend, a combination of yellow pea and brown rice protein that's rich in heart-healthy omega-3 fatty acids and gut-friendly prebiotic fiber. "Happy Viking is the only product on the market with all five key macronutrients: fats, protein, carbs, water, and fiber," says co-founder Neel Premkumar, who's also the CEO of Dyla Brands.
Below, Williams fills us in on the inspiration behind her new protein shakes and shares her top tips for adopting a more plant-based diet.
Williams' Inspiration
At the time of Williams' diagnosis, there weren't a lot of plant-based protein shake options to choose from, and as an athlete of her caliber, the convenience of having a recovery drink on-hand after practice was (and still is) critical for replenishing muscles.
"You need that opportunity to reach for something healthy, quickly, that way you don't reach for something very unhealthy quickly," says Williams. "That's why I was so excited to be able to offer Happy Viking. It really keeps in mind what we need in our bodies to be at optimum performance, which is something that I need to do every day."
Of course, the product name wasn't just chosen by random, either. As Williams notes, Happy Viking is a striking name that stays in your memory. "It's about being a warrior for health, being a warrior for you, and being a warrior for what you put in your body," she says.
The Shake's Details
As of right now, you can get the all-new protein shakes on Amazon or drinkhappyviking.com, and they're available in 11-ounce bottles or one-liter containers. By spring 2021, Kroger will be selling the product in stores nationwide.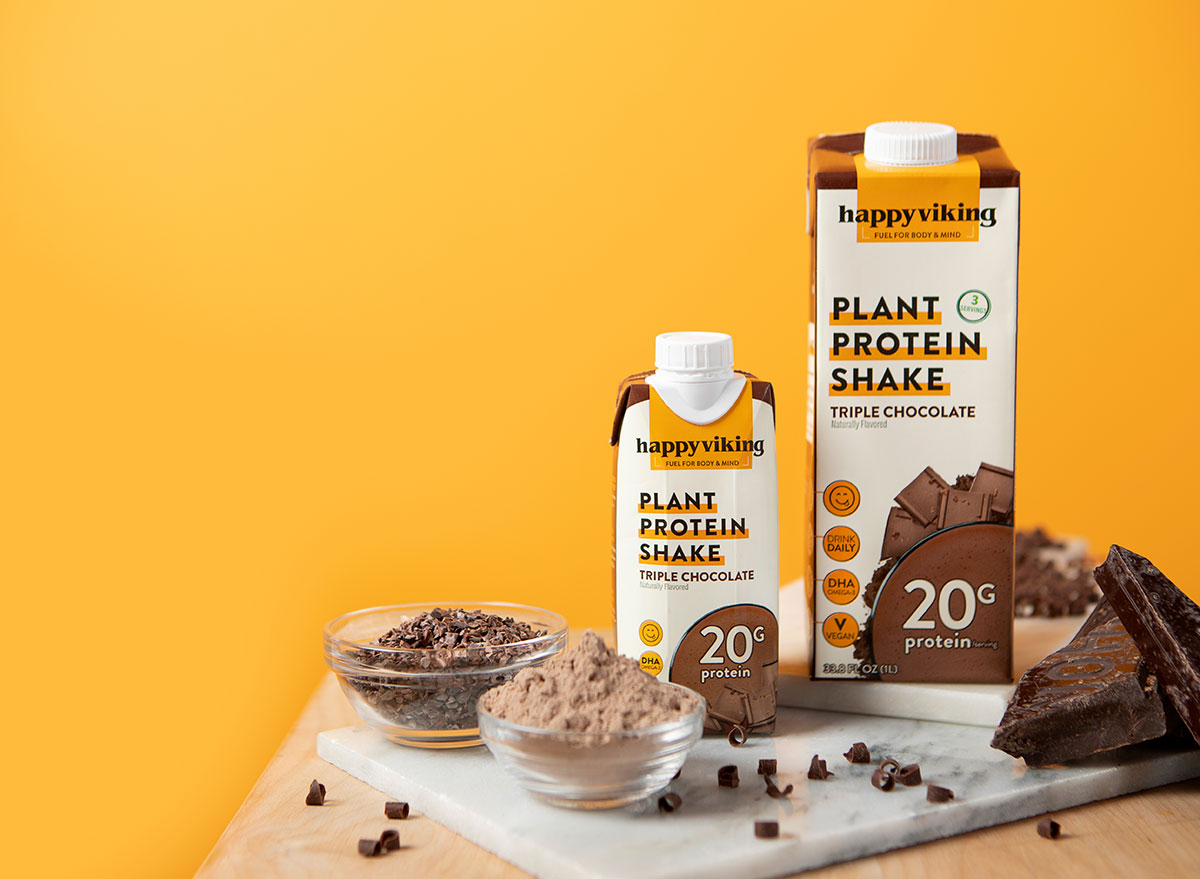 Nutrition for Triple Chocolate (11 ounces)
: 160 calories, 5 g fat (1 g saturated fat, 0 g trans fat), 540 mg sodium, 10 g carbs (3 g fiber, 5 g sugar), 20 g protein
Happy Viking's Triple Chocolate has hints of sunflower oil, which makes it taste both nutty and earthy. The shake also has a thinner consistency, which is ideal for those who need a quick way to refuel. (In other words, you won't get a stomach ache with this formula. And the chocolate flavor makes for a delightful treat.)6254a4d1642c605c54bf1cab17d50f1e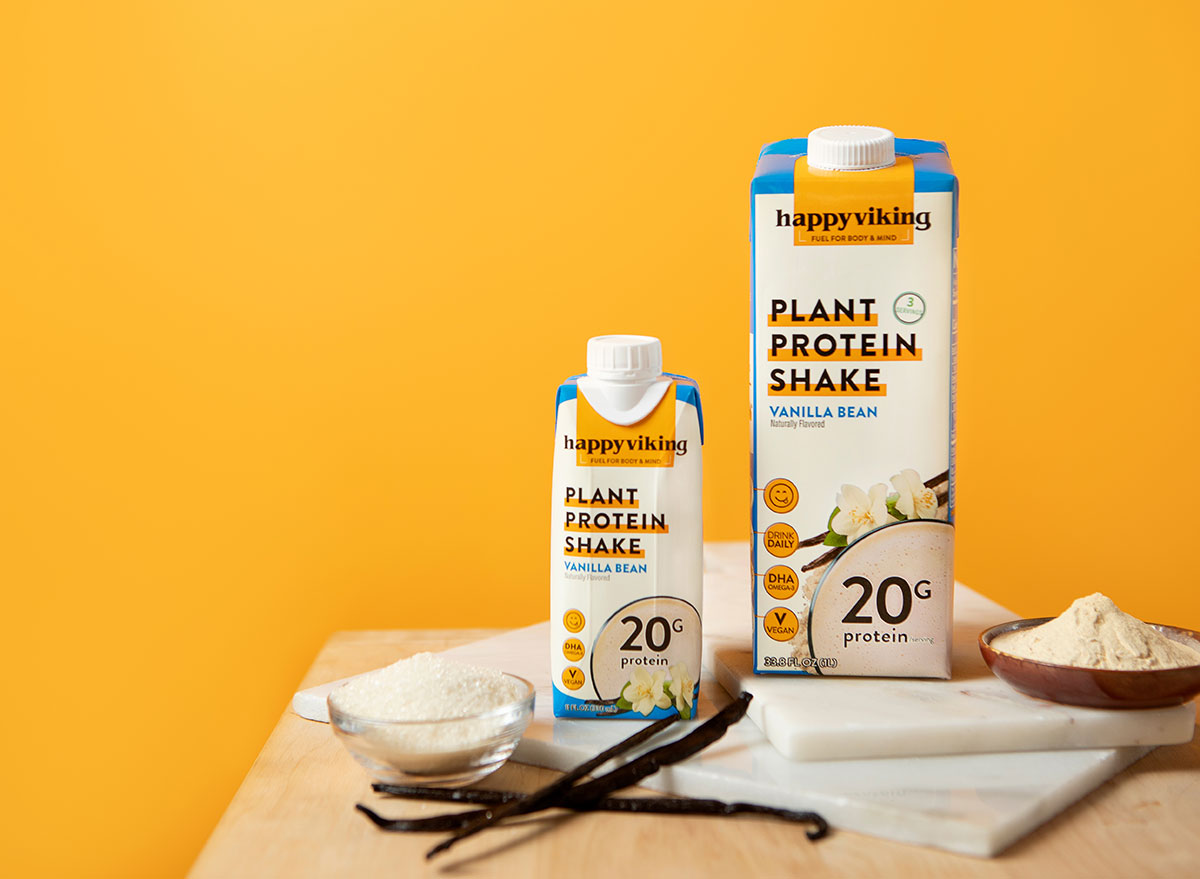 Nutrition for Vanilla Bean (11 ounces)
: 150 calories, 4.5 g fat (0.5 g saturated fat, 0 g trans fat), 530 mg sodium, 9 g carbs (3 g fiber, 5 g sugar), 20 g protein
For those whole love vanilla bean ice cream, you're bound to love this protein shake. It's creamy and spiced just right.
Williams' Advice for Going Plant-Based
"Don't be afraid about not getting enough protein, you will," says Williams. "Quite honestly, I think most people start to feel a lot better, have a lot more energy, and be a lot more clear-minded when they switch to it."
As is the case with any change in diet, it can be challenging to make the switch, especially if you do so abruptly. Williams says patience and not getting down on yourself are key factors in the process.
"Be forgiving, when you fall short that's fine just jump right back on. Try to do it often, so you can start with one meal per day that's plant-based," says Williams. "The most important part is to try and be consistent. Sometimes it takes time, especially when it's big life changes."
For more, be sure to read up on Here's Exactly How a Plant-Based Diet Can Protect You From Disease, According to Experts.