5 Ways You're Wasting Money at the Grocery Store Right Now
Navigate the rising prices of food due to coronavirus by following these money-saving tips.
When checking out at the register after a grocery shop, you hear every beep-beep-beep of the scanner and your bill always seems to add up fast. Then you throw COVID-19 into the mix, and the subsequent rising prices of food staples and household necessities only destroys your budget even more.
According to the U.S. Bureau of Labor Statistics, between March and April 2020, grocery prices skyrocketed at the highest rate we've seen in 46 years. The food price index for meats, poultry, and fish rose 4.3 percent, and the price tag on eggs increased a massive 16.1 percent.
It's always helpful to know exactly where your money is going when you grocery shop for your family. Many consumers regularly overspend unnecessarily without knowing it—and on the heels of a viral pandemic, saving your pennies can only have benefits. So, here are five easy tips for knocking a few bucks off your supermarket bill from here on out.
You're always brand loyal.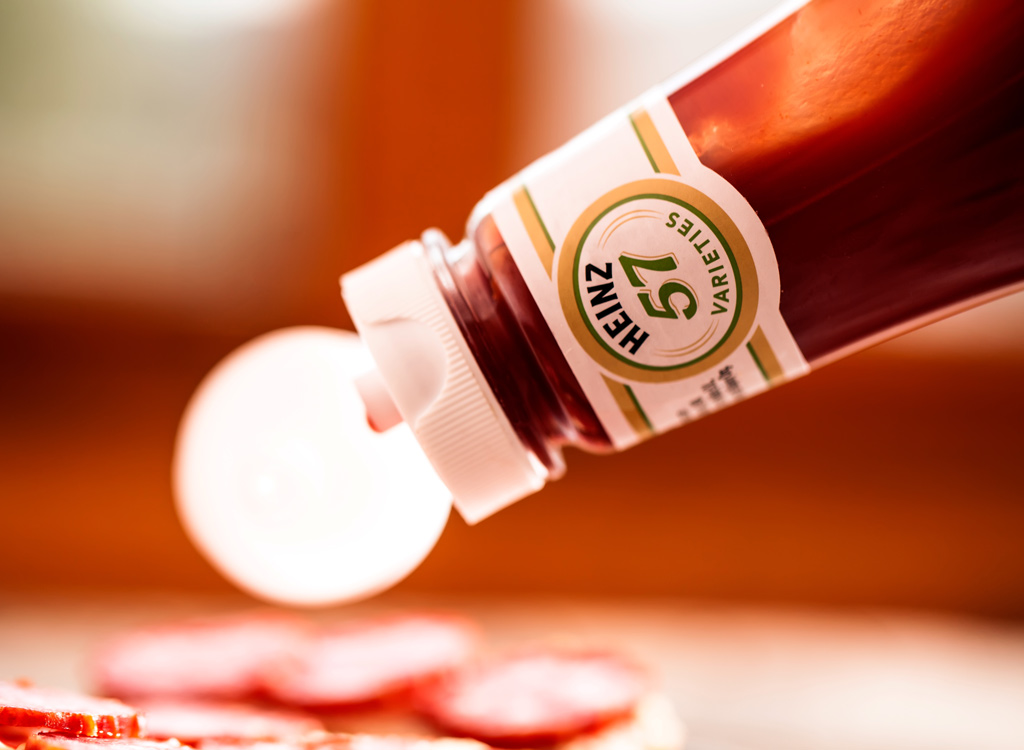 Some people struggle to get over the mental hurdle of buying generic ketchup over Heinz—but looking past the label is a great way to save money. According to Consumer Reports, store-brand foods and beverages ring up at 20-25 percent less than the known name-brands of the same item. With pantry staples (e.g., sugar, salt, flour, spices), "most of those items only have one ingredient, so a brand name can't make it any differently than a cheaper generic alternative," says budgeting expert Andrea Woroch.
If you're looking to save some money, always compare item prices across brands to see which one gives you the best bang for your buck. A saved dollar here and there adds up over time! (Related: These are the Safest Grocery Store Chains to Shop Right Now.)
You're overbuying fresh produce.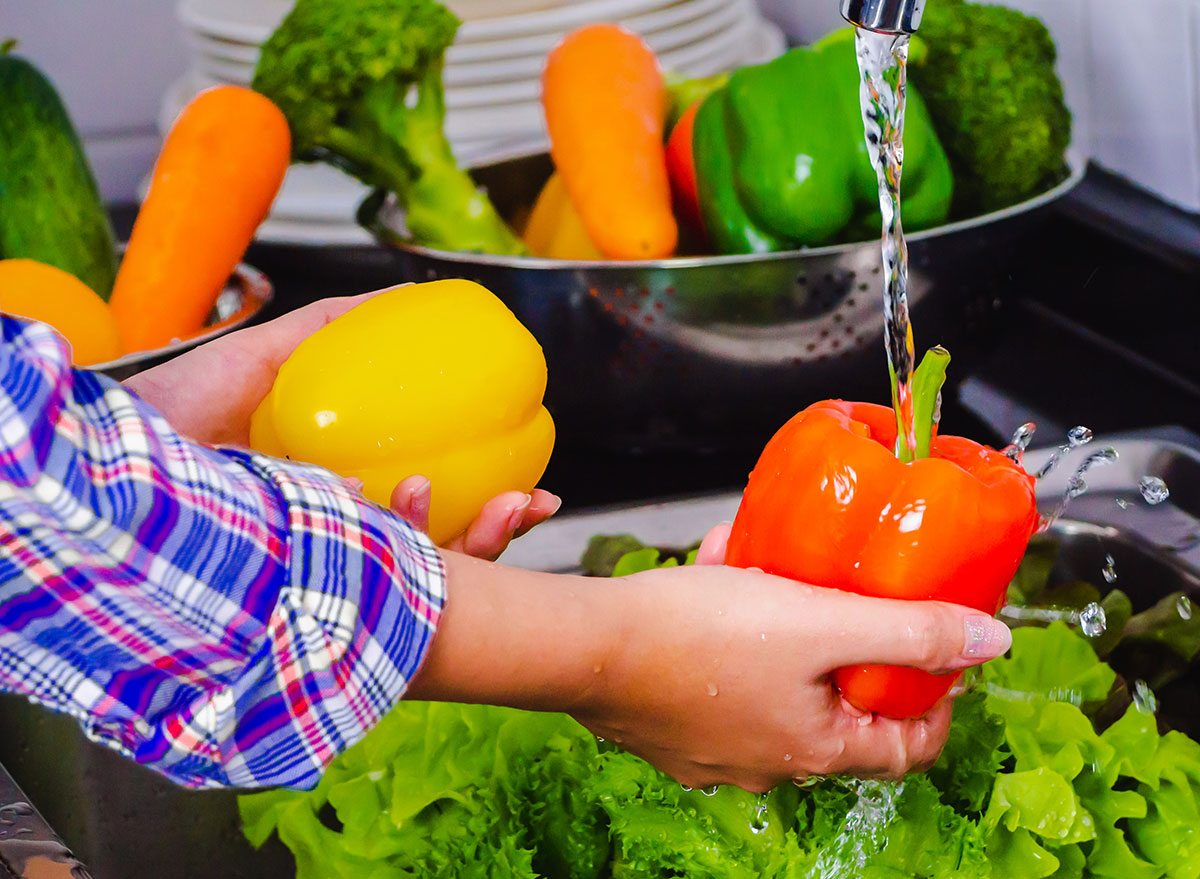 As you try to avoid frequent trips to the store during COVID-19, buying all your food in bulk may seem savvy. However, fresh fruits and veggies have a short shelf life and your family can only consume so much in a few days. Stockpiling fresh produce—even if those big bags of oranges and containers of lettuce are on sale—will ultimately result in tossing food (and money) into the trash.
To avoid expensive food waste, plan your meals ahead of time and go to the store with a list—then stick to it. "Only buy enough fresh produce for what a recipe or your meal plan calls for," says Woroch. (Related: How to Write an Effective Grocery Shopping List.)
You may also consider buying frozen produce, which you can buy in bulk; it also costs significantly less than the fresh options and is just as healthy. Plus, you'll have all the ingredients on-hand for last-minute smoothies and stir-fries.
You're not scoping out deals.
Grocery stores are filled with sales and deals if you know how to find them and take advantage of them. Even during COVID-19, many retailers are still accepting the paper coupons that come in the mail. Checking the store's weekly circular online before you go, and planning your meals based on what's on sale, is a great way to save money. Then, once you're in the store, ask an associate if there is a clearance section—this is a good place to start shopping for household items on your list.6254a4d1642c605c54bf1cab17d50f1e
You may also want to "check out the manager markdowns for discounts on meats, fish, and produce that may be nearing their expiration date," says Woworch. "Even if you don't plan to cook it right away, you can likely freeze and store it for later."
There are also apps right on your smartphone that can help you get cash back on your purchases. Fetch Rewards, for instance, allows you to earn points by scanning a picture of your grocery receipt; then, you can redeem those points for free gift cards to popular retailers. Checkout 51 is another one that gives rebates on spotlighted items at your favorite stores (you can then cash out what you've earned once you've hit $20). (Related: 7 Genius Grocery Shopping Tips to Make You a Safer Shopper.)
You're shopping with a cart.
Shopping carts at large retail stores are so big they can seem bottomless—no matter how many items you toss in, there always seems to be room for more! The optics of this can encourage you to keep trolling the aisles and keep adding grocery goods, some of which you don't really need (like those $6 organic banana chips in the fun packaging).
"When running in for a quick and small shopping trip, use a basket instead of a cart," says Woroch. A basket will quickly fill up and get heavy once you've grabbed the essentials, leaving no room for spendy impulse purchases.
You're overlooking checkout errors.
As the store associate quickly scans your food items at checkout, how closely are you monitoring the register display screen? In 2010, it was estimated that consumers lose $1 billion to $2.5 billion dollars each year due to scanner errors at the checkout counter. "From punching in the wrong produce code to missing out on a currently promoted sale, it's possible you're overpaying if you aren't reviewing your bill," says Woroch.
Instead of reading Us Weekly at the checkout, get in the habit of paying attention during scanning (and this applies at self-checkout kiosks too), then double-checking your printed receipt. If there's a mistake, don't be afraid to go to customer service and ask for your money back, even if it's just 50 cents. For more helpful tips, make sure to sign up for our newsletter and read up on these tips for a safe grocery shopping run.