6 Easy Ways to Cut Pizza Calories
Pizza night can support your weight loss goals—as long as you stick to these hard-and-fast rules.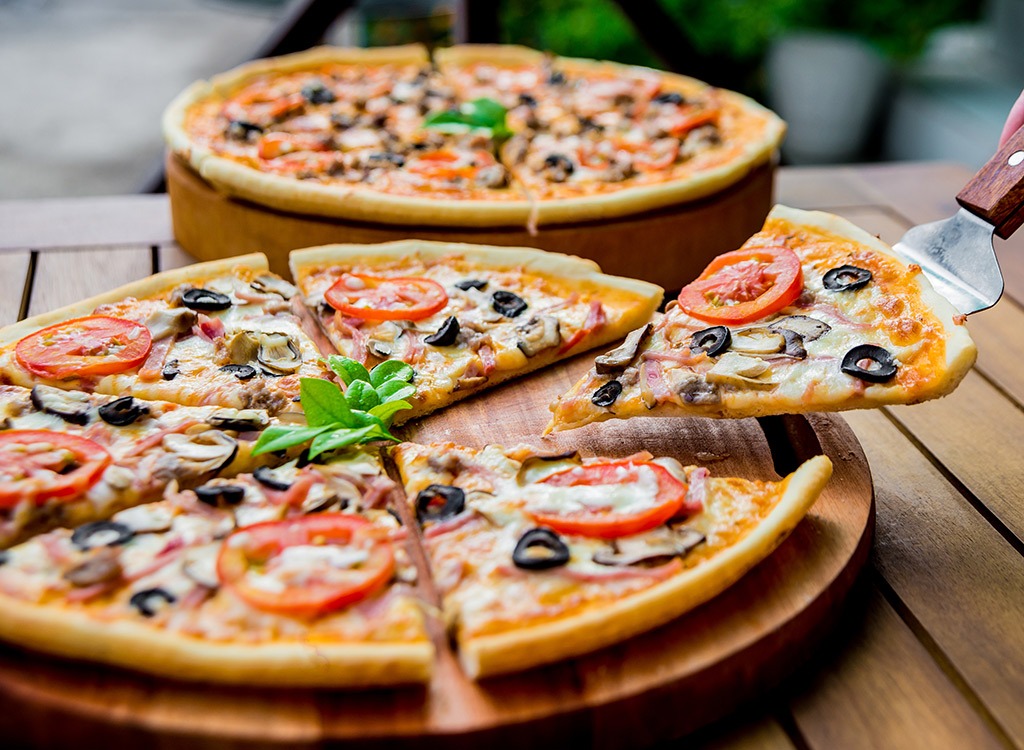 Pizza shouldn't be that bad for you. Heck, it's basically a Caprese salad on some bread, right? Unfortunately, American food manufacturers have turned this Mediterranean masterpiece into a caloric monstrosity with enough sodium and fat per slice to make an artery cry. Welp. But pizza is delicious, and we want you to enjoy it. And you can! With these six simple rules to cut pizza calories, you can make a regular pizza night support your weight loss goals—and even improve your health. Mangia, mangia!
Don't Be Plain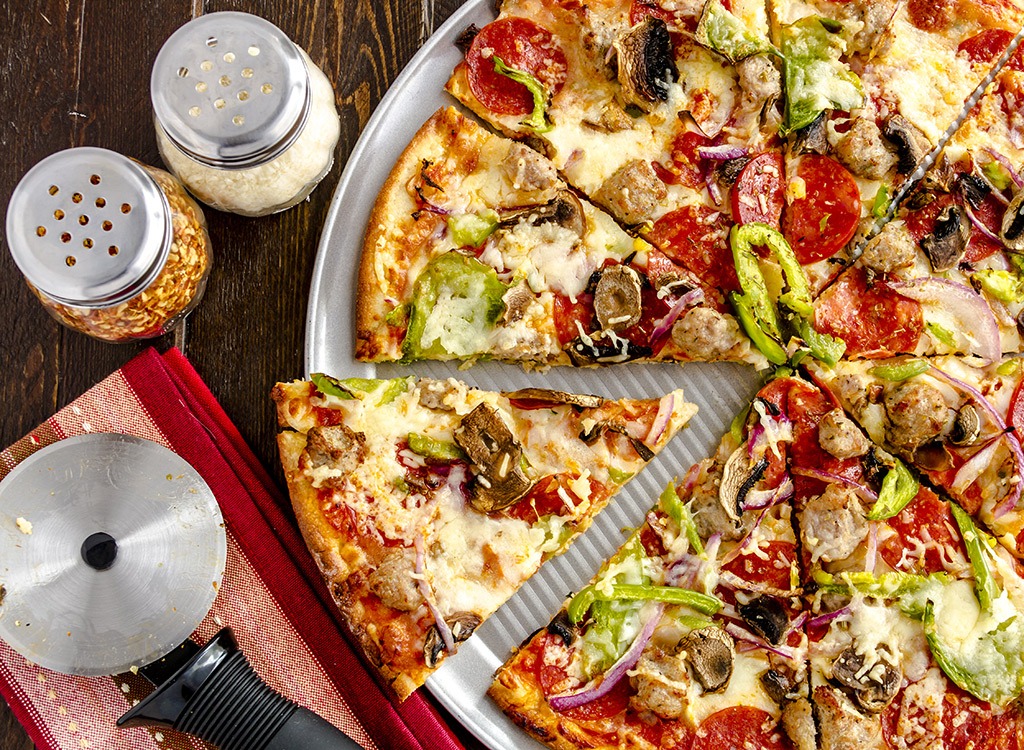 You can lower a pizza's Glycemic Index (GI)—a measure of how quickly blood glucose levels rise in response to a certain food—by adding fiber- and protein-rich toppings. For example, while a simple cheese pizza scores an 80 (out of 100), a veggie supreme pie clocks in at 49. Raw veggies and lean meats (chicken breast, ham) make for the best toppers. Dodge sodium and fat by avoiding processed meats like bacon and sausage, and veggies that are fried, roasted or grilled (onions and eggplant are often first cooked in oil!).
See Red
6254a4d1642c605c54bf1cab17d50f1e
The biggest health benefits from pizza come from lycopene-rich tomato sauce, which recent studies have found may help protect against the development of prostate cancer. White pizzas sacrifice the biggest health benefit of a traditional pie, so think like Quentin Tarantino: the redder the better.
Think Thin
Most of the evils of pizza lie in the empty-calorie, yet highly caloric crust. Typically made from refined white flour, pizza dough offers little nutrition to your body and will spike your insulin levels, causing you to crave more. The less crust you indulge in, the better. That means thin-crust pizzas are almost always the better option.
Turn Up the Heat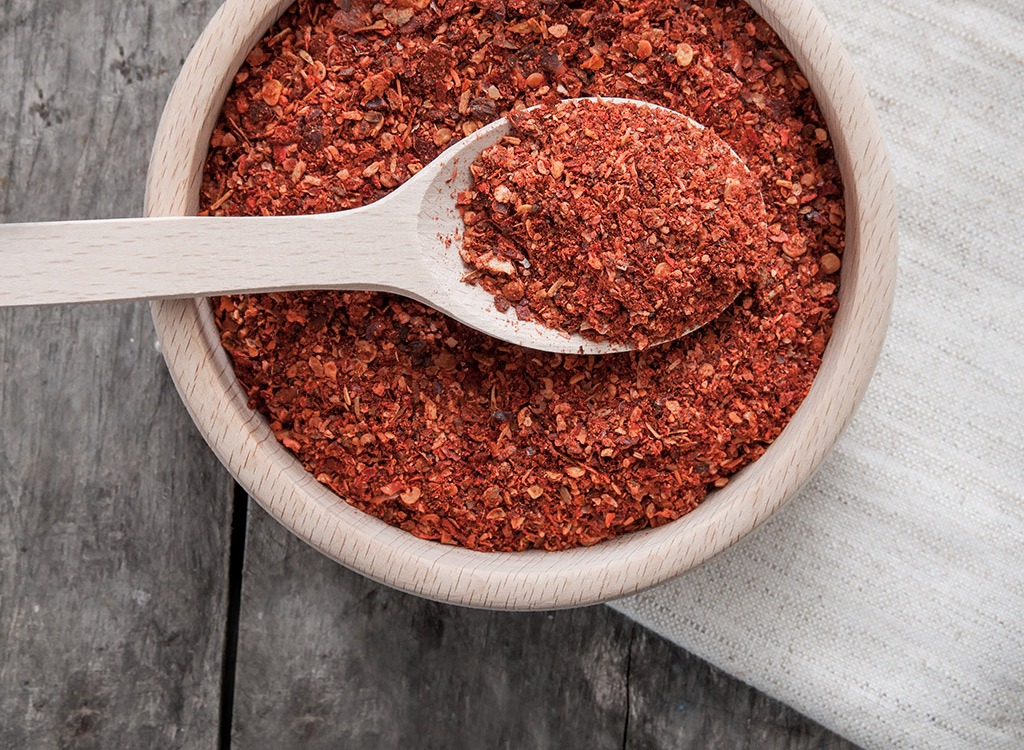 You can trick yourself into eating less and boost your metabolism by adding a little spice to your pie. In fact, a study by Canadian researchers found that men who ate spicy appetizers consumed 200 fewer calories than those that skipped the hot sauce. To cut pizza calories effortlessly, top your pie with a few grinds of fresh black pepper, red chili flakes, or if you're really brave—stingers!
Cut the Cheese
Ordering your pizza with "half cheese" is an easy way to cut the saturated fat on a plain- or veggie-topped pie by 50 percent! Even if you decide to boost the cheese factor on your slimmed-down pie with an additional tablespoon of pungent parmesan (only 22 calories), you'll still save mega pizza calories.
Go Green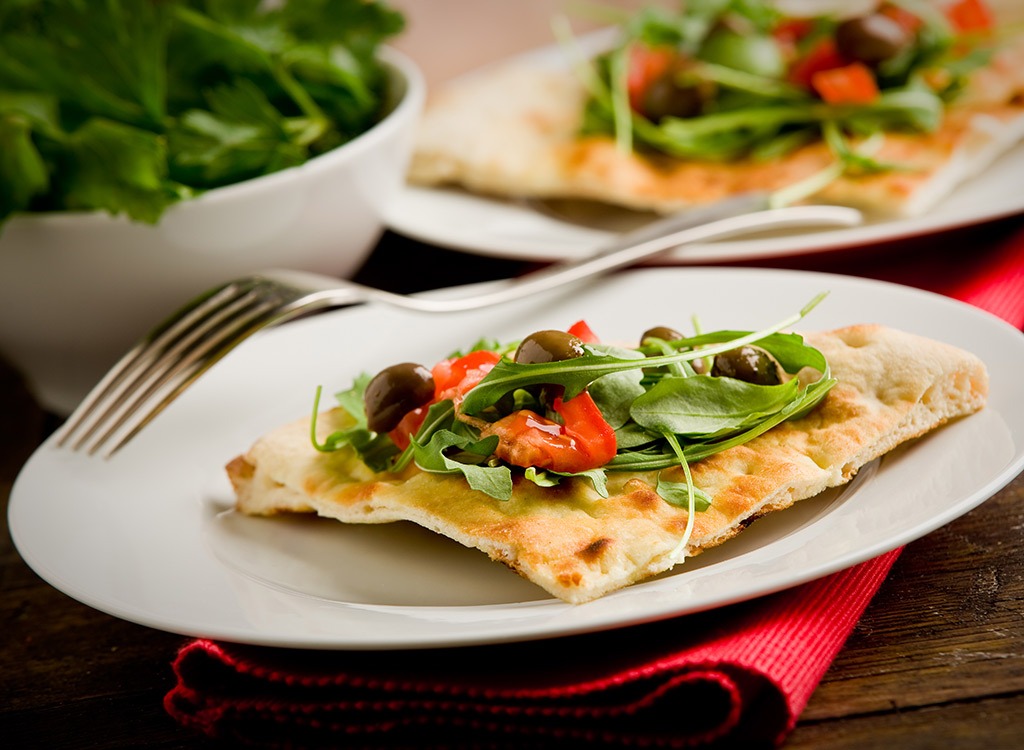 A study in the Appetite journal suggests eating a salad appetizer can reduce total calorie intake over the course of the meal by 11 percent. For a 600-calorie pizza-fest, that would mean a savings of about 120 calories—more than a mile on the treadmill! Top your greens with a scant tablespoon of vinaigrette, as there's developing research to suggest vinegar can aid weight loss by keeping our blood sugar steady. A Diabetes Care study among pre-diabetics found the addition of vinegar to a high-carb meal (like pizza!) reduced the subsequent rise in blood sugar by 34 percent.
Eat This, Not That!
Inspired by The New York Times best-selling book series, Eat This, Not That! is a brand that's comprised of an award-winning team of journalists and board-certified experts, doctors, nutritionists, chefs, personal trainers, and dietitians who work together to bring you accurate, timely, informative, and actionable content on food, nutrition, dieting, weight loss, health, wellness, and more.
Read more about Eat This