7 Most Underrated Salad Toppings
These salad mix-ins give greens a big boost of flavor and texture, and they can help you lose weight, too!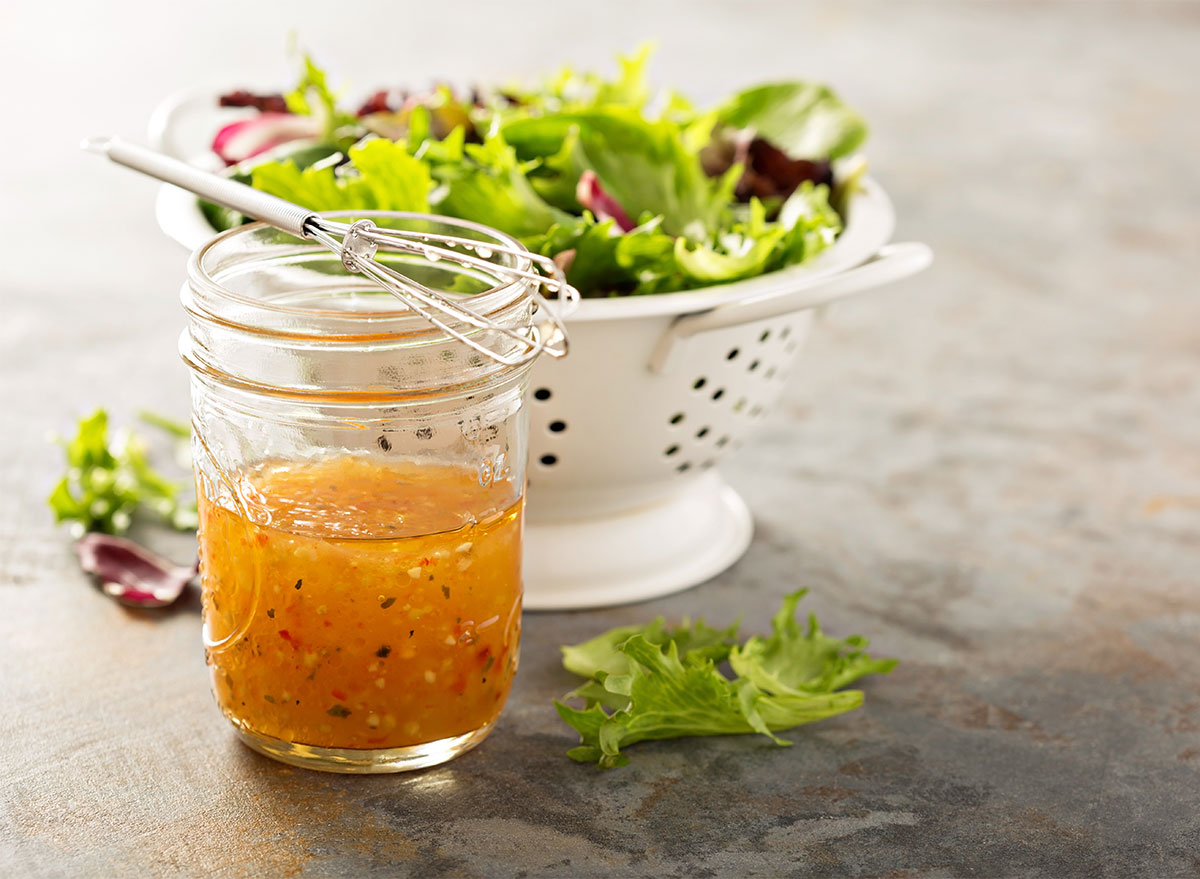 Salad has a reputation for being a healthy meal or side dish, and for good reason. Salads are packed with veggies, and if you top them with protein and healthy fats, they can be filling, too. The road to weight-loss success can be slow going, but by throwing ingredients in your bowl that scientists say rev metabolism, bust hunger, or burn belly fat, your daily bowl of greens can become an effective vehicle in helping you reach your goals even faster—without sacrificing flavor.
Whether you're whipping something up at home or grabbing a make-your-own variety from the corner deli, our delicious salad topping picks will deliver the results you're looking for at lightning speed. Plus, they're super tasty, especially when eaten with the suggested salad pairings we've provided.
And for more, here's What Happens to Your Body When You Drink a Smoothie Every Day.
Sweet Peppers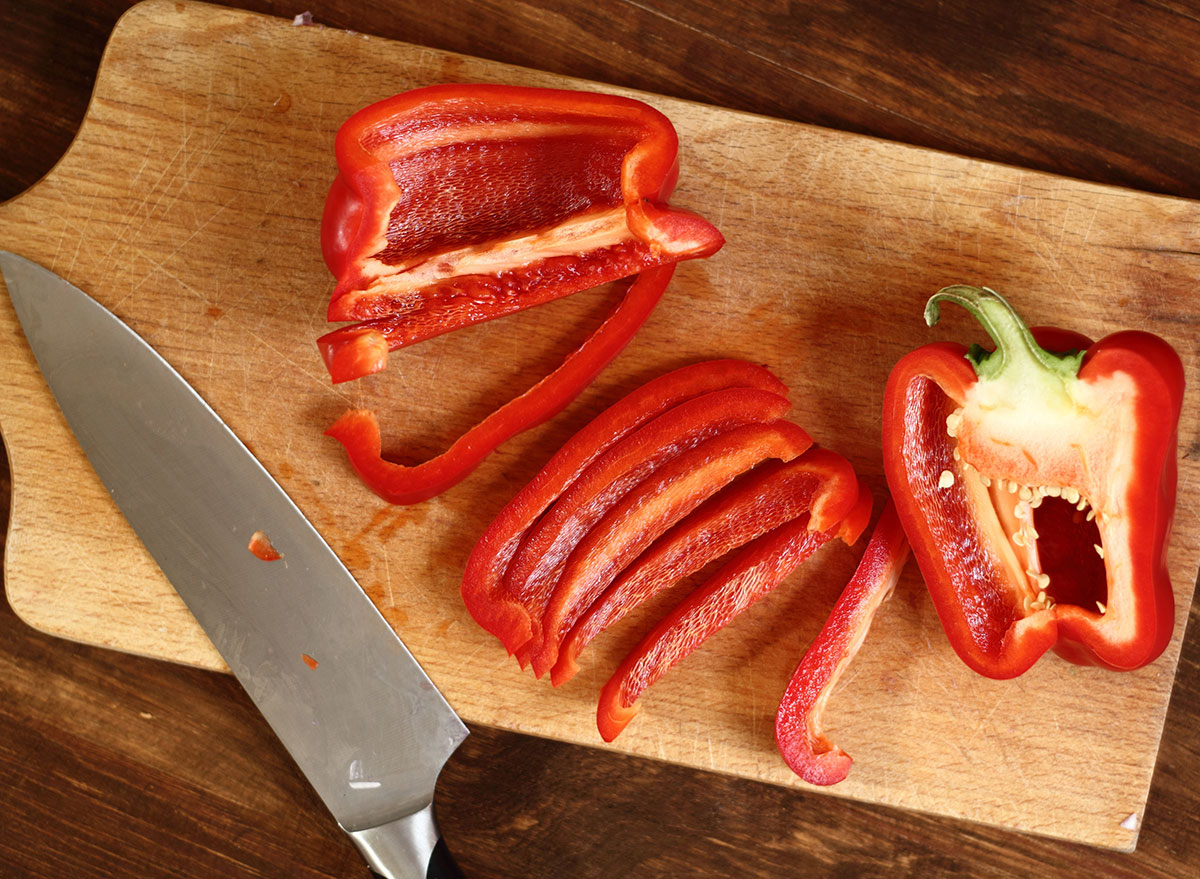 You may already know that hot peppers can rev your metabolism, but did you know that their sweet-tasting, bell-shaped cousins have similar effects? It's all thanks to a metabolism-boosting compound called dihydrocapsiate. In one study, participants who consumed dihydrocapsiate experienced a metabolic boost that was nearly double that of the placebo group. But that's not all: Sweet red and green bell peppers are also rich in vitamin C, a nutrient that fights back against stress hormones that trigger fat storage in the stomach.6254a4d1642c605c54bf1cab17d50f1e
Pair it with: Romaine + avocado + onion + black beans + tomato + balsamic vinegar + fresh pepper
Eggs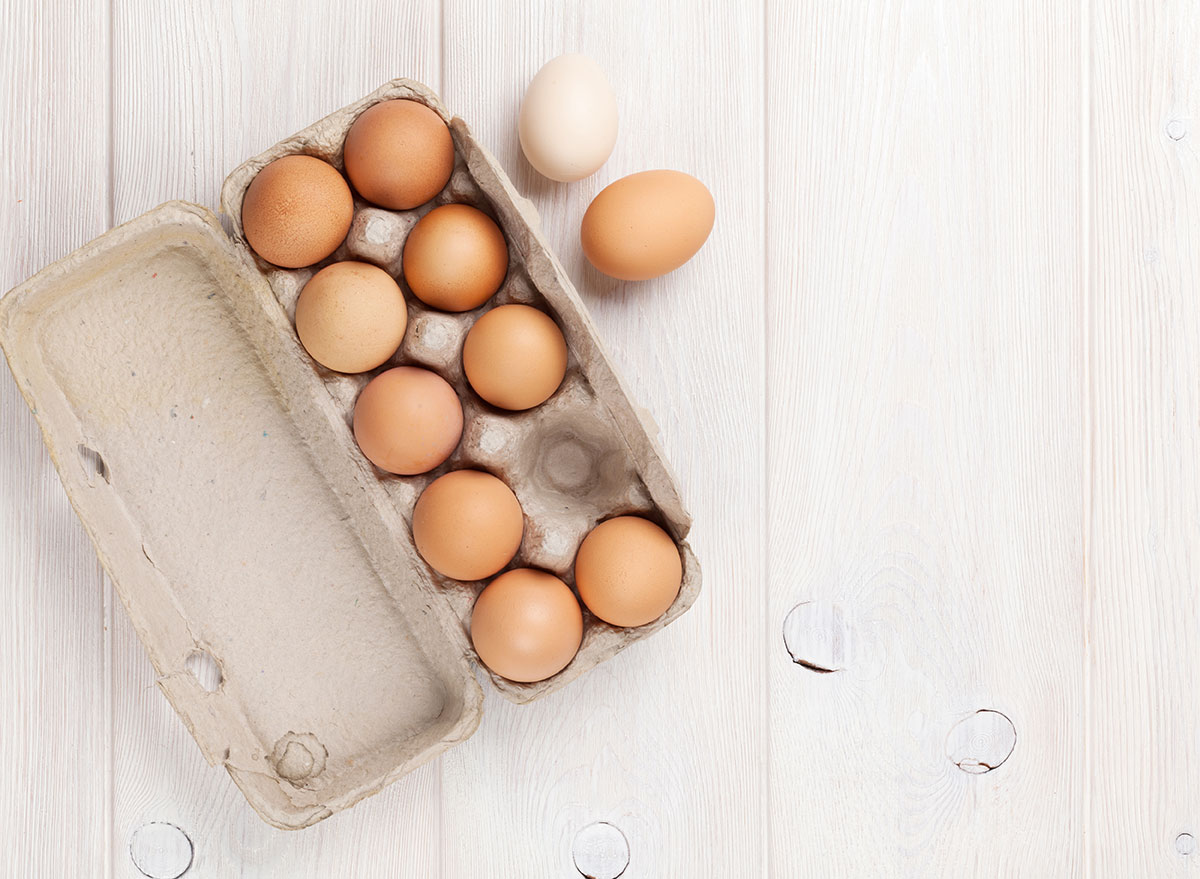 Want to save cash, improve your health, and lose weight in one fell swoop? Add eggs to your greens in lieu of more expensive protein sources like chicken. In addition to the hunger-quelling effects of the whites, the yellow center is an abundant source of a fat-fighting nutrient called choline. It works by suppressing levels of the hunger-stoking hormone leptin, which fuels between-meal cravings. Yolks also increase your body's absorption of heart-protecting, cancer-fighting antioxidants called carotenoids, found in popular salad veggies like broccoli, Brussels sprouts, kale, carrots, and sweet potato.
Pair it with: Kale + sautéed Brussels sprouts + carrots + mushroom + red wine vinegar + extra-virgin olive oil + fresh pepper
Berries
We've got some berry good news! The sweet fruits are filled with water and fiber—two nutrients that help ward off hunger—so there are proven benefits to adding them to your plate of greens.
Pair it with: Mixed greens + Gorgonzola + pecans + onions + grilled chicken + balsamic vinaigrette
Still not convinced? Here are 6 Reasons to Stock Your Kitchen with Blueberries.
Peaches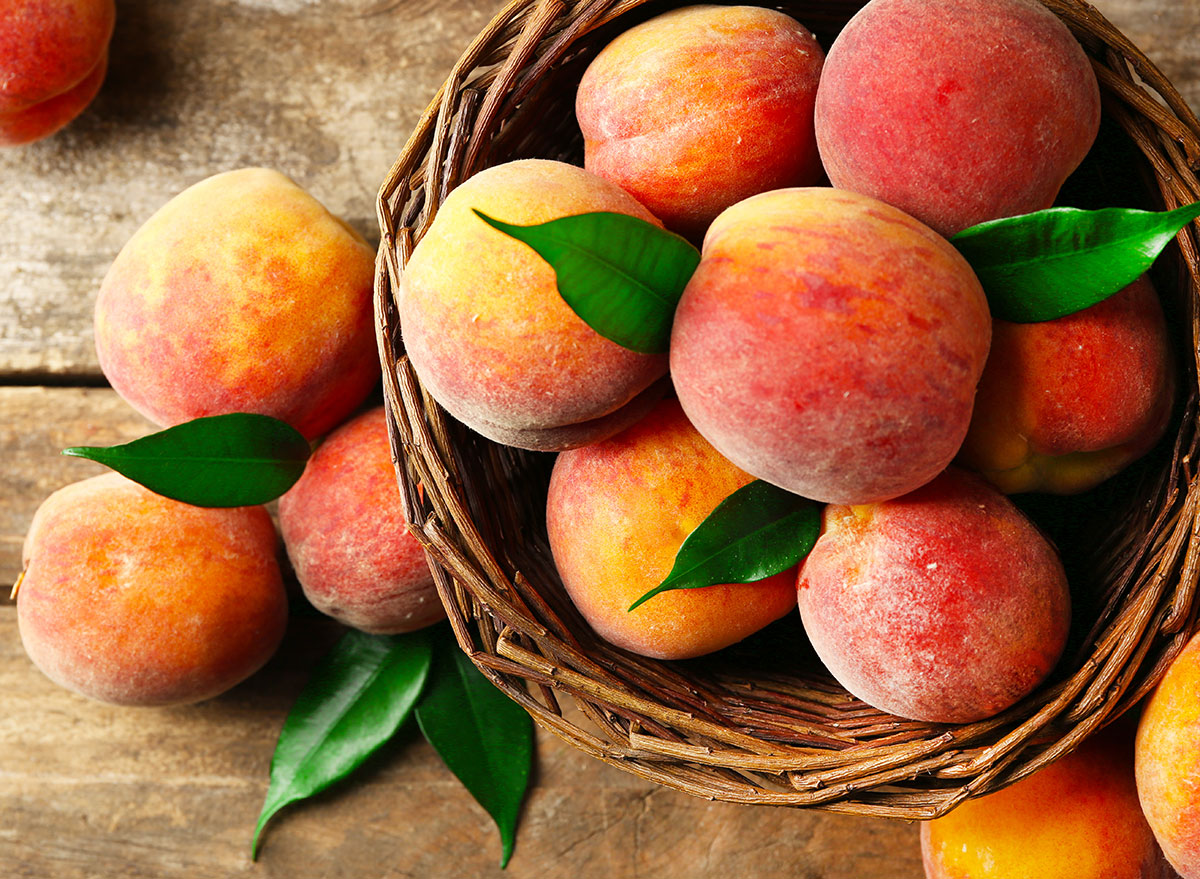 Make the most of the stone fruit season and throw slices of a delicious, juicy peach into your greens. According to Texas A&M University researchers, the stone fruit contains phenolic compounds that modulate different expressions of genes to ward off obesity, high cholesterol, inflammation, and diabetes. Now that's something to feel peachy about!
Pair it with: Arugula + red onion + tomatoes + feta + grilled shrimp + poppy seed dressing
Legumes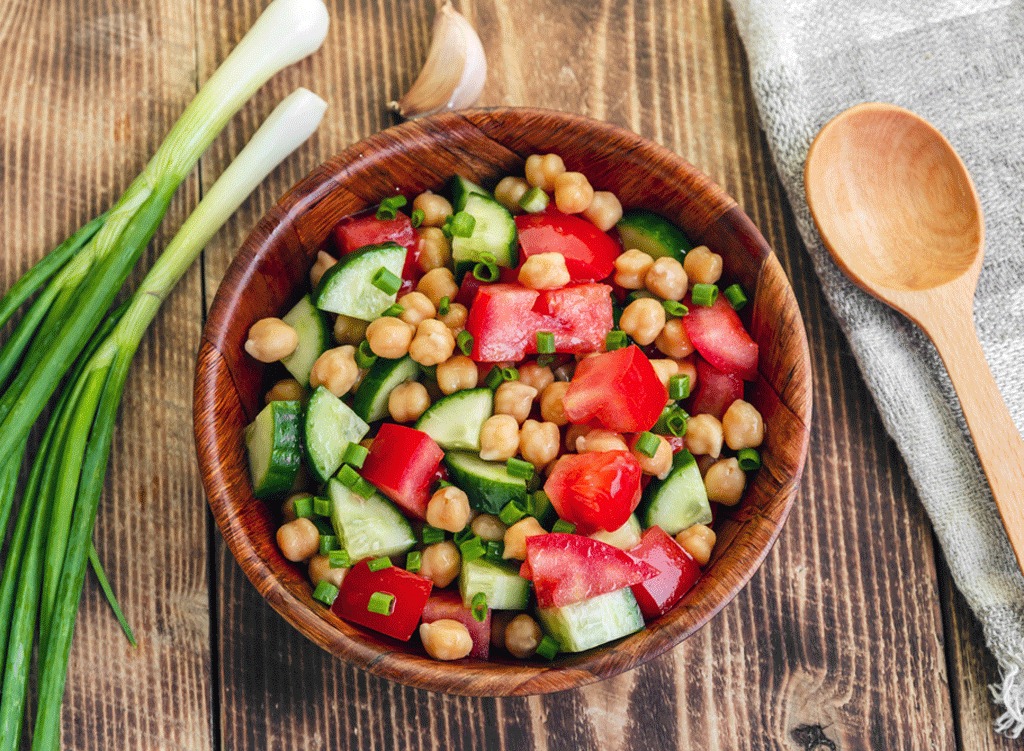 From time to time, it's beneficial to replace animal proteins with plant-based sources of the nutrient in your diet. Doing so can reduce your risk of chronic conditions like cancer, cardiovascular disease, diabetes, and obesity. In one Spanish study, participants who ate a calorie-restricted diet that included four weekly servings of legumes lost more weight than those on a calorie-equivalent diet that didn't include beans—likely due to their belly-filling fiber content.
A study published in the journal Obesity backs that assumption: The researchers found that eating 160 grams—or a little more than a half cup—of legumes led people to feel 31% fuller. It doesn't matter what types of beans you eat (so long as they aren't re-fried), just be sure to work them into your diet to reap the benefits.
Pair it with: Romaine + radish + orange + scallions + feta + citrus dressing
And if you're looking to add more beans to your salads, here are the 14 Beans with the Highest Amount of Protein.
Onions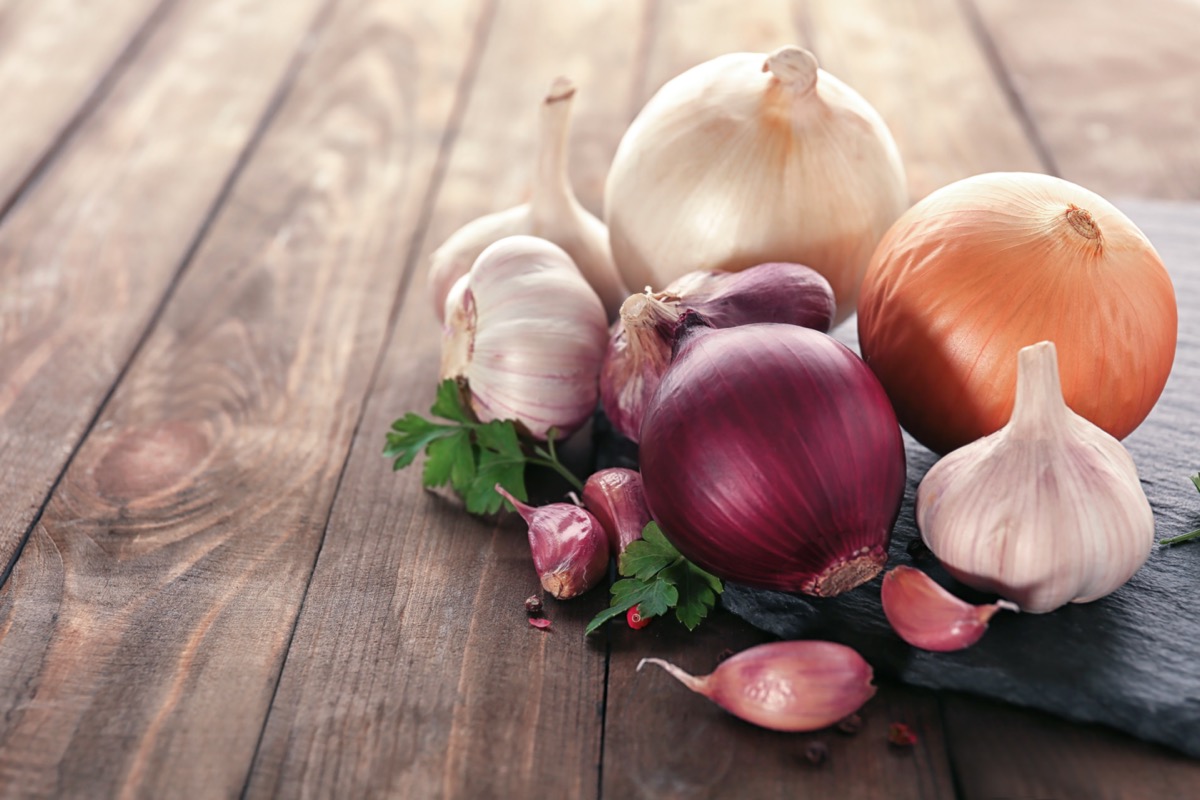 Pick up a pack of breath mints and ask the deli clerk to pile on the onions. The flavorful, low-calorie veggie (a quarter-cup has just 16 calories) breathes new life into bland beds of lettuce, while simultaneously boosting endurance (which can help you burn extra calories at the gym) and torching body fat. The onion's diverse skill set comes from a powerful flavonoid called quercetin that increases blood flow and mimics the effects of exercise by enhancing the production of the energy-producing units in our cells.
Pair it with: Romaine + cucumber + tomato + carrots + chickpeas + red wine vinegar
Canned Tuna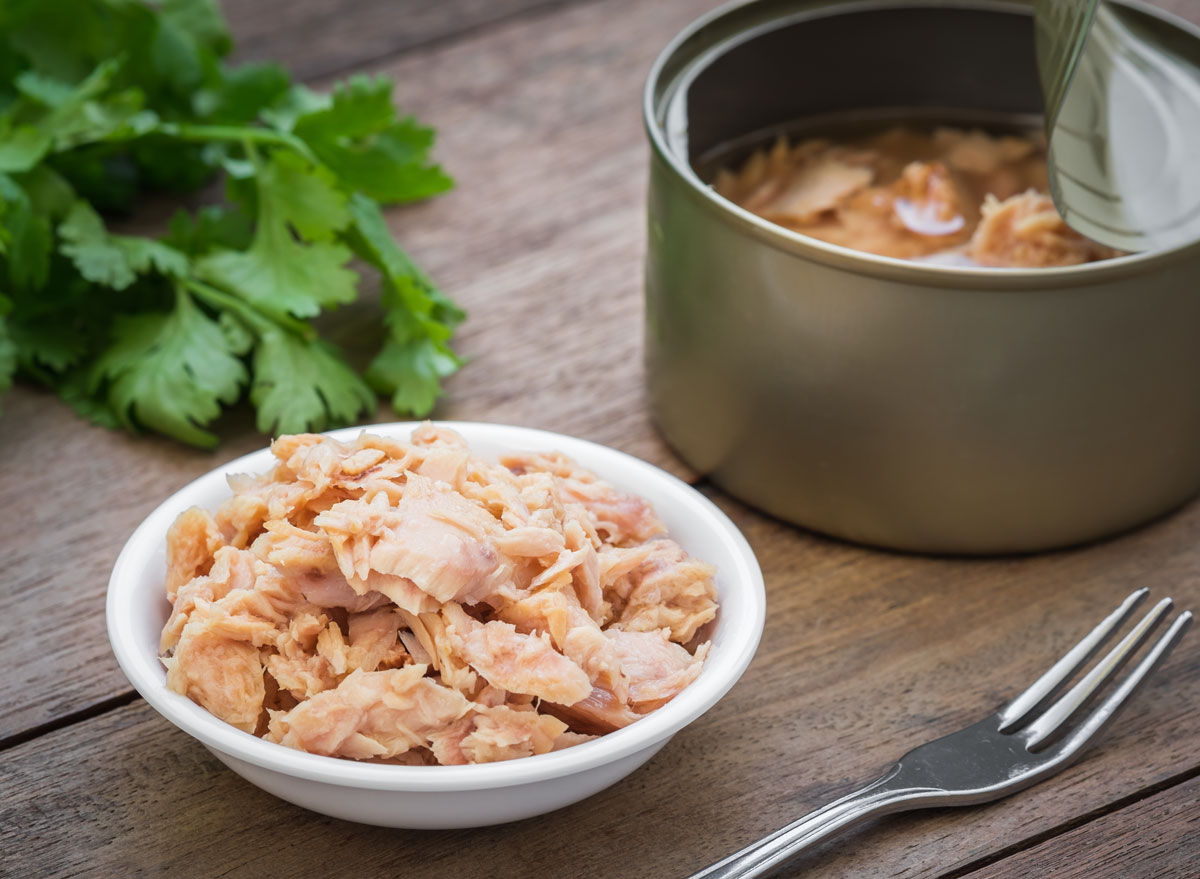 Sick of grilled chicken? Add some chicken of the sea to your greens. Sure, ounce-for-ounce, canned tuna has two fewer grams of protein than the classic bird, but its nutritional profile more than makes up for it.
Tuna is a primo source of docosahexaenoic acid, a powerful omega-3 fat that can shrink—and eventually kill off—young fat cells in the belly, according to research published in the Journal of Nutrition.
Worried about the mercury? Canned tuna is considered a "low mercury fish" and can safely be enjoyed two to three times a week, according to the FDA's guidelines.
Pair it with: Spinach + tomato + green pepper + cucumber + onion + feta + Greek dressing
For more, check out these 108 most popular sodas ranked by how toxic they are.