Protein-Packed Blueberry Lemon Ricotta Pancakes Recipe
Once you try this recipe, you'll never go back to boxed mixes ever again.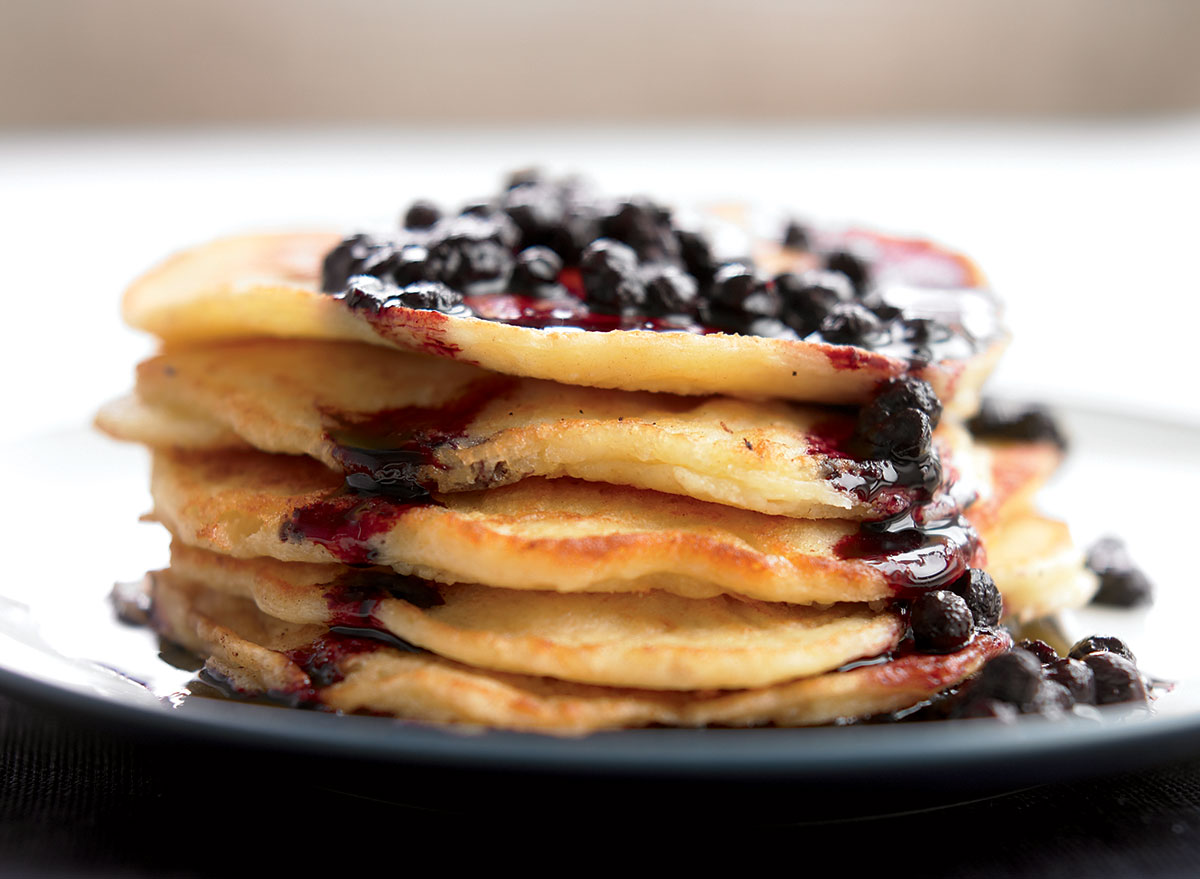 Using yogurt and cottage cheese to make these pancakes does two things: It brings extra protein to the breakfast table, and it helps produce the lightest, moistest pancakes you've ever tasted. Plus, once you try this simple and healthy blueberry compote, you'll never go back to lackluster syrup again. Can you think of any maple syrup that's grocery or farmer's market bought that's also a superfood? Exactly—case closed. This recipe proves that indulgence has never been so healthy!
Nutrition: 310 calories, 8 g fat (3.5 g saturated), 500 mg sodium
Serves 4
You'll Need
2 cups frozen wild blueberries
1⁄2 cup water
1⁄4 cup sugar
1 cup plain Greek yogurt
1 cup low-fat cottage cheese or ricotta
3 eggs
Juice of 1 lemon
1 cup white whole wheat flour (we like King Arthur's, but these can be just as easily made with white flour—you'll just sacrifice a few grams of fiber.)
1⁄2 tsp baking soda
Pinch of salt
How to Make It
Mix the blueberries, water, and sugar in a saucepan.
Cook over low heat, stirring often, for 10 minutes or until the blueberries begin to break apart.
Whisk together the yogurt, cottage cheese, eggs, and lemon juice in a bowl.
Mix the flour, baking soda, and salt in another bowl. Add the flour to the yogurt mixture, and stir just until blended.
Heat a large skillet or sauté pan over medium-low heat.
Coat with nonstick cooking spray, and add batter in large spoonfuls (about 1⁄4 cup each).
Flip the pancakes when the tops begin to bubble, 3 to 5 minutes, and cook the second side until browned. Serve with the warm blueberries.
Eat This Tip
Most supermarket syrups are junk, made almost entirely from high-fructose corn syrup and chemical additives designed to approximate a maple flavor. But real maple syrup can be prohibitively expensive. The solution? Fruit compote.
Take a bag of frozen fruit (like blueberries, strawberries, or mixed berries), dump into a saucepan with 1⁄2 cup water and 1⁄4 cup sugar, and simmer for 10 minutes, until the fruit is warm and the mixture has thickened. It's not just cheaper than real maple syrup, but it's also better for you than anything else you might top your pancakes or waffles with.