18 Chocolate Chip Recipes to Try
No chocolate chip cookies here!
If you have a bag of chocolate chips on hand, you can go down two different routes. You can make them join a cast of other dessert-destined characters in your pantry and make an elaborate, weekend-project dessert.
Or, you can make them the star of the show and combine them with another ingredient or two (or three) to make a simple-yet-effective sweet treat that'll get you and your family through a dessert craving until the next grocery store run. We've gathered the best recipes with chocolate chips that have you covered no matter what you choose.
And for more, check out these 15 Classic American Desserts That Deserve a Comeback.
Our zucchini bread recipe features chocolate chips and is packed with healthy ingredients. It's as delicious as it is nutritious—and yes, there are chocolate chips involved.
Get our recipe for Zucchini Bread.
There's more to desserts than a chocolate chip cookie. If you find yourself craving a decadent crumble, and with a bag of chocolate chips in your pantry, make some chocolate chip blondies! They have the same satisfying density as brownies and a butterscotch vibe from the brown sugar. This version is keto, and all that means is you'll be eating a delicious dessert without consuming a ton of sugar and carbs. It's a win-win!
Get our recipe for Lighter Chocolate Chip Blondies. 
Want more keto cookies? Check out our 11 Quick and Easy Keto Cookie Recipes.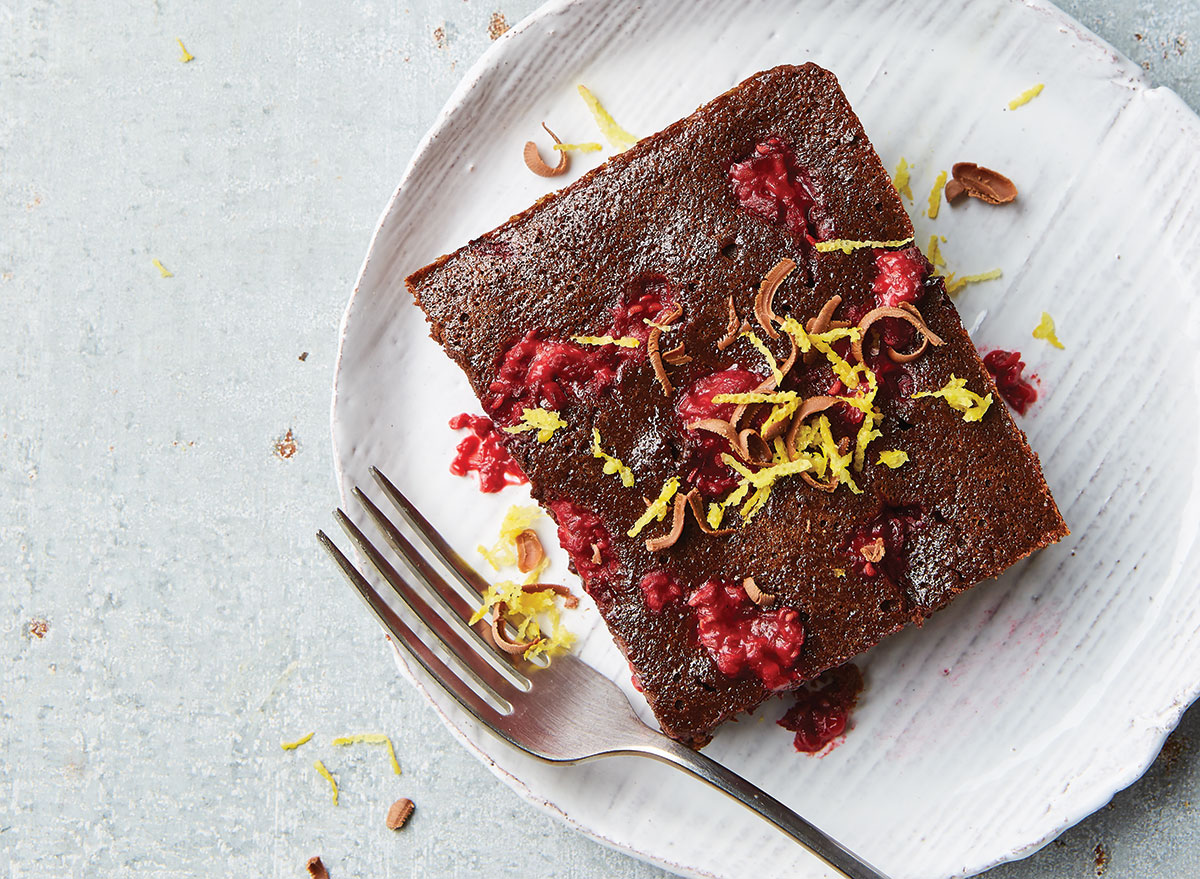 The chocolate chips provide an extra gooey texture to this already chocolatey recipe. But the raspberries make this a standout brownie among the rest of its kind.
Get our recipe for Fudgy Raspberry Brownies.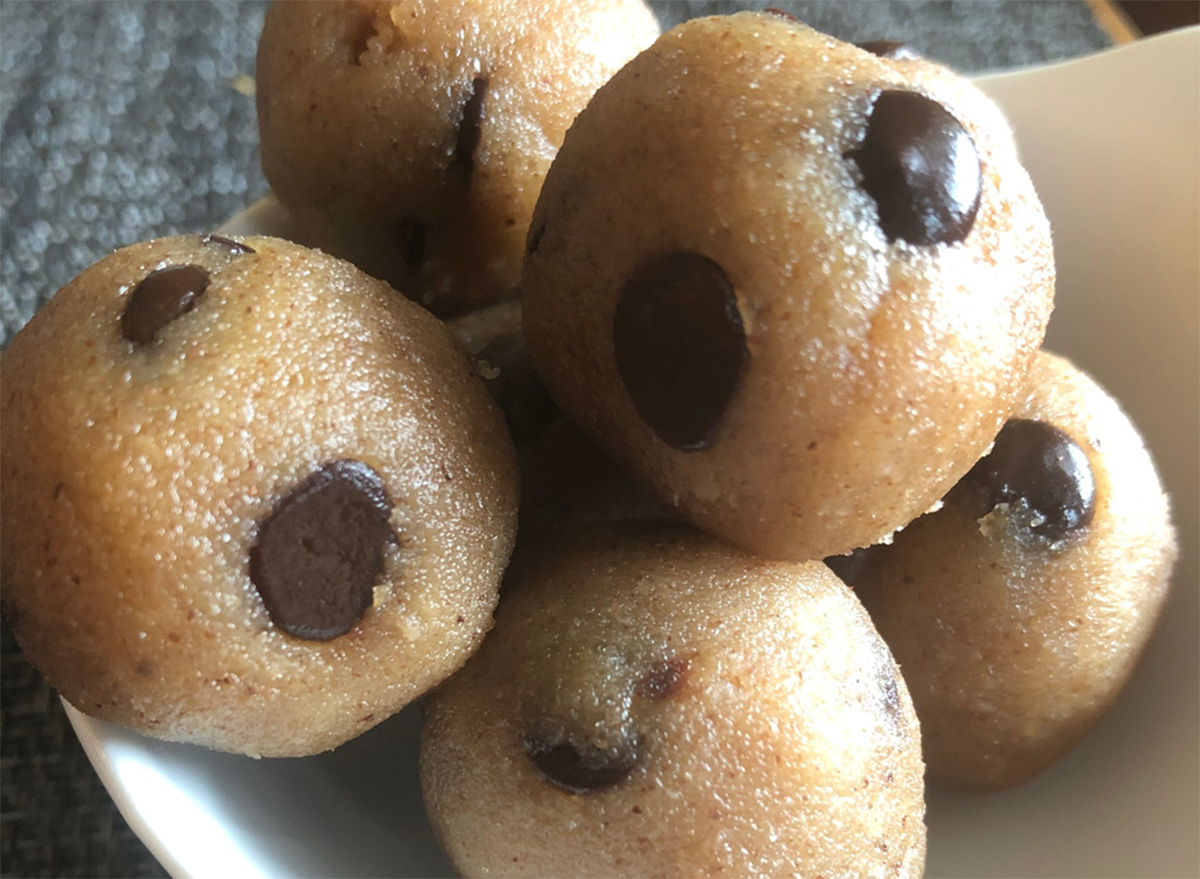 You may be tired of the same old chocolate chip cookie routine, so take a step back and turn the oven off—chocolate chip cookie dough is even easier to make! Our version is keto, which means it's high in fat and low in carbs—just as a healthful dessert should be.
Get our recipe for Keto Cookie Dough. 
Peanut Butter, Strawberries, and Chocolate Chips on Toast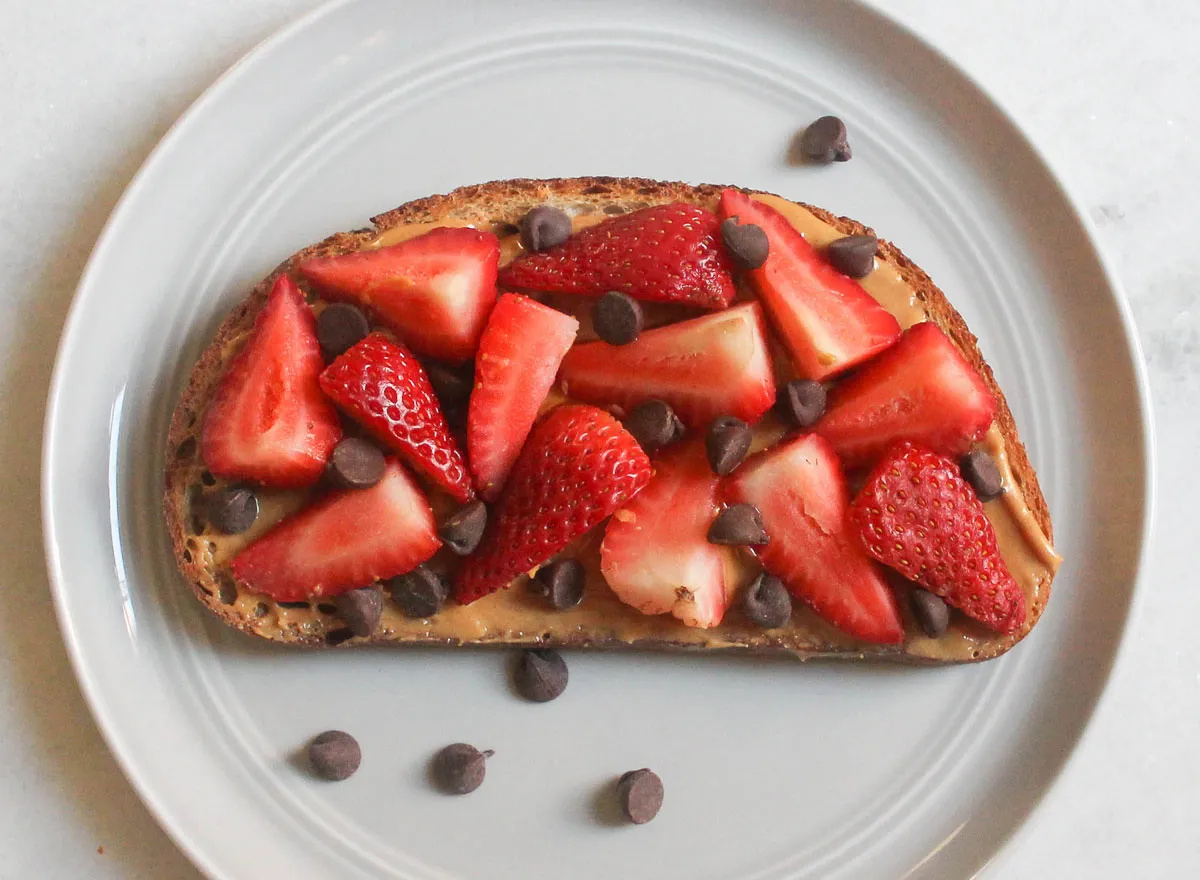 When baking supplies are low, and all you've got is some chocolate chips, it's back to basics. Sprinkle some over warm toast slathered with peanut butter (or any other nut butter), and add some fresh fruit. Popping it in the oven for a second is highly recommended so the chocolate melts.
Get our recipe for 15 Toast Recipe Ideas. 
Chocolate Pudding With Olive Oil and Sea Salt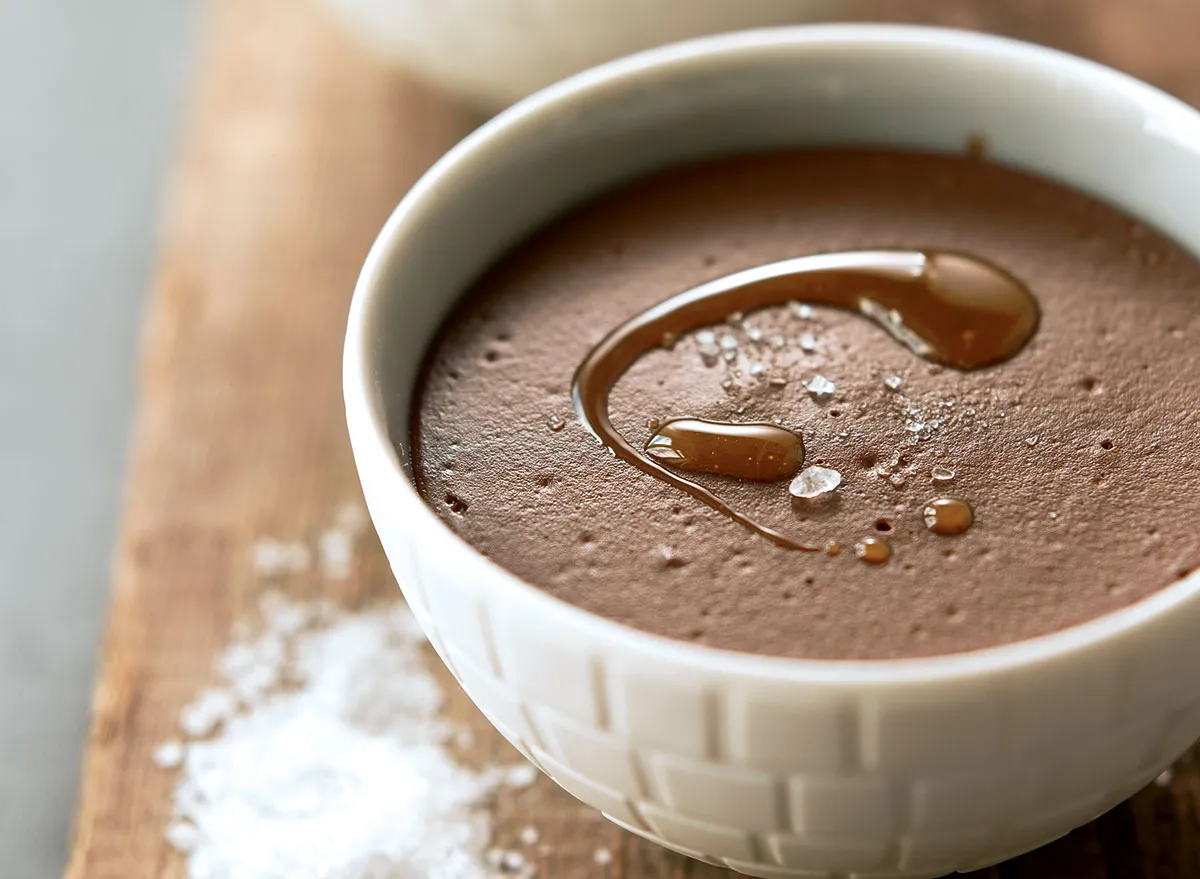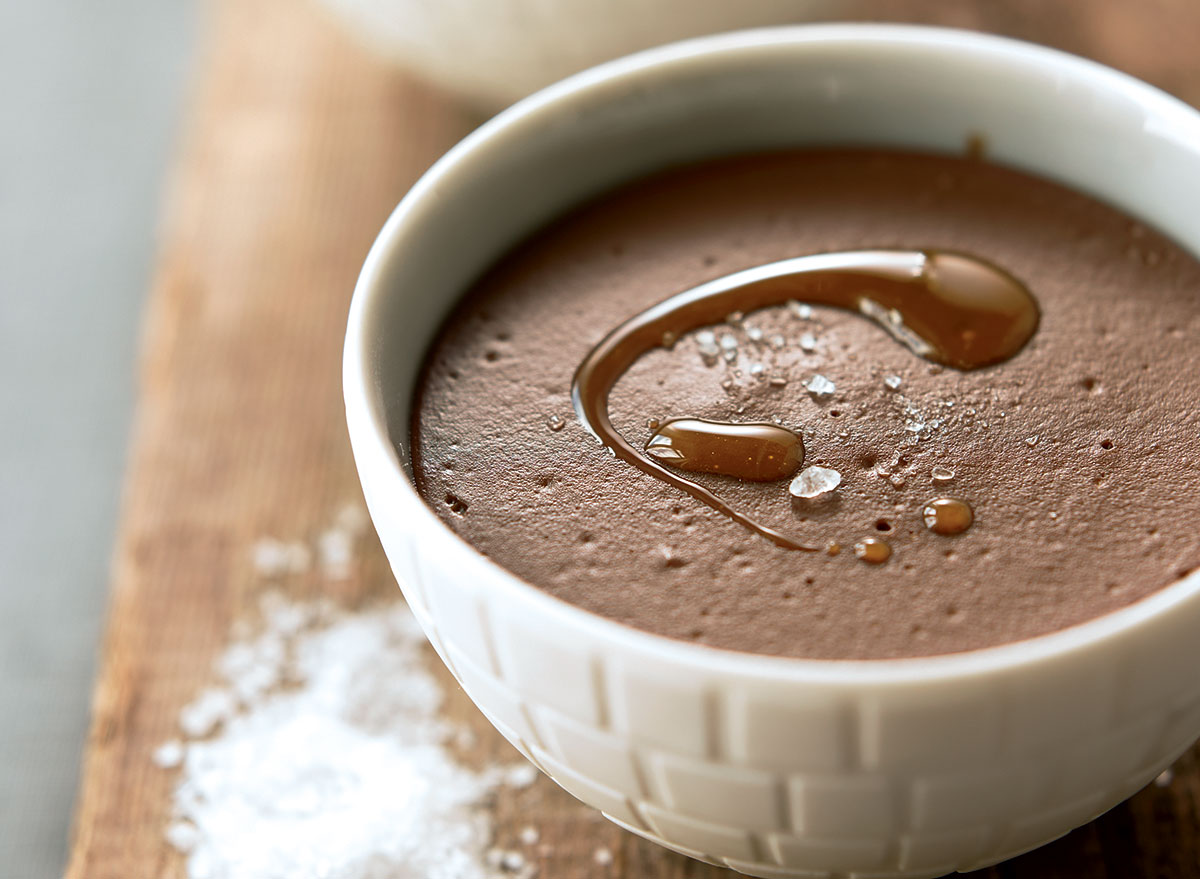 This is a truly inspired way to transform a bag of chocolate chips (semi-sweet work best for this recipe) into a completely fancy dessert. This mousse-like chocolate pudding doesn't need any eggs or flour, but it does call for a generous drizzle of olive oil and a pinch of flaky sea salt. Do not skip these flavor enhancers!
Get our recipe for Chocolate Pudding with Olive Oil and Sea Salt. 
Banana Chocolate Chip Ice Cream Bites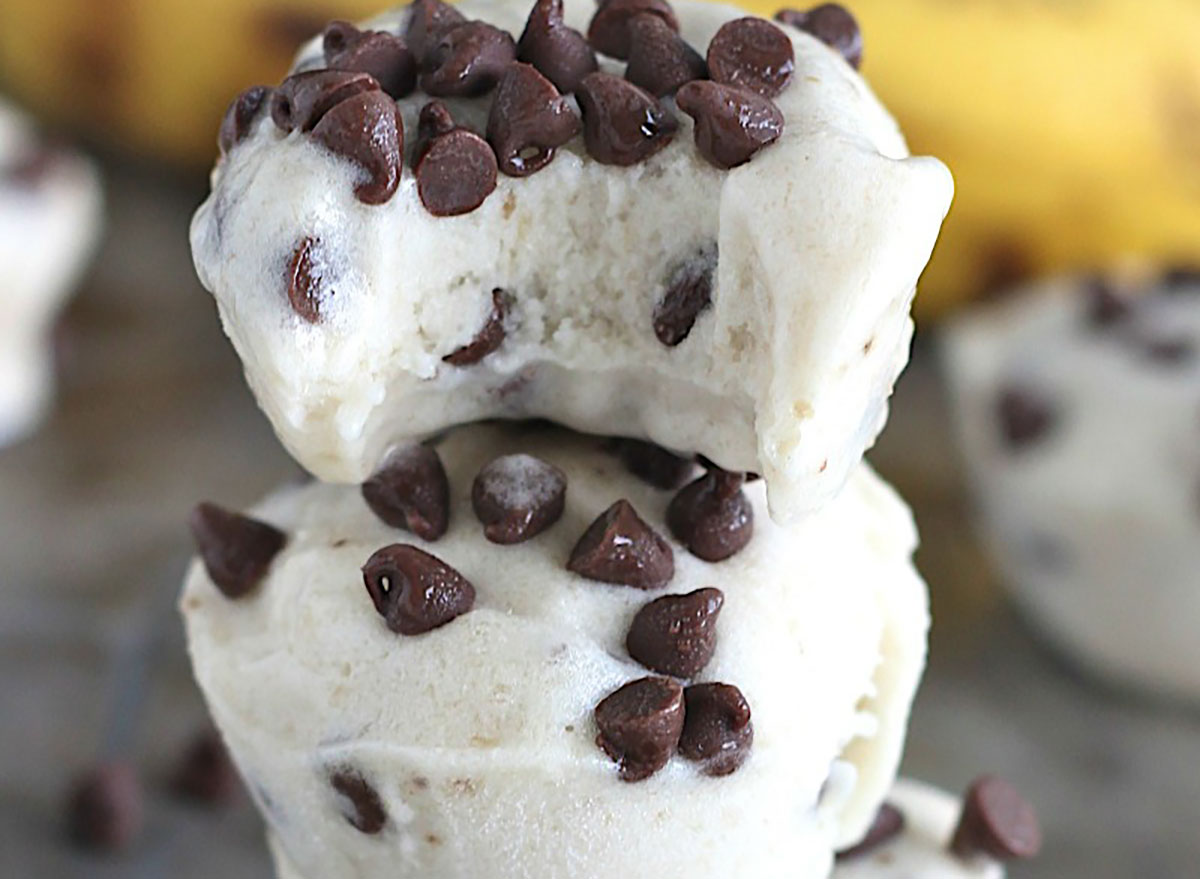 We love this two-ingredient recipe for its simplicity and pure maternal ingenuity. Kids whining about wanting something sweet but you can't feed them chocolate chips straight out of the bag? Mix them into a frozen banana treat.
Get the recipe from The Baker Mama.
Skinny Chocolate Chip Cheesecake Bars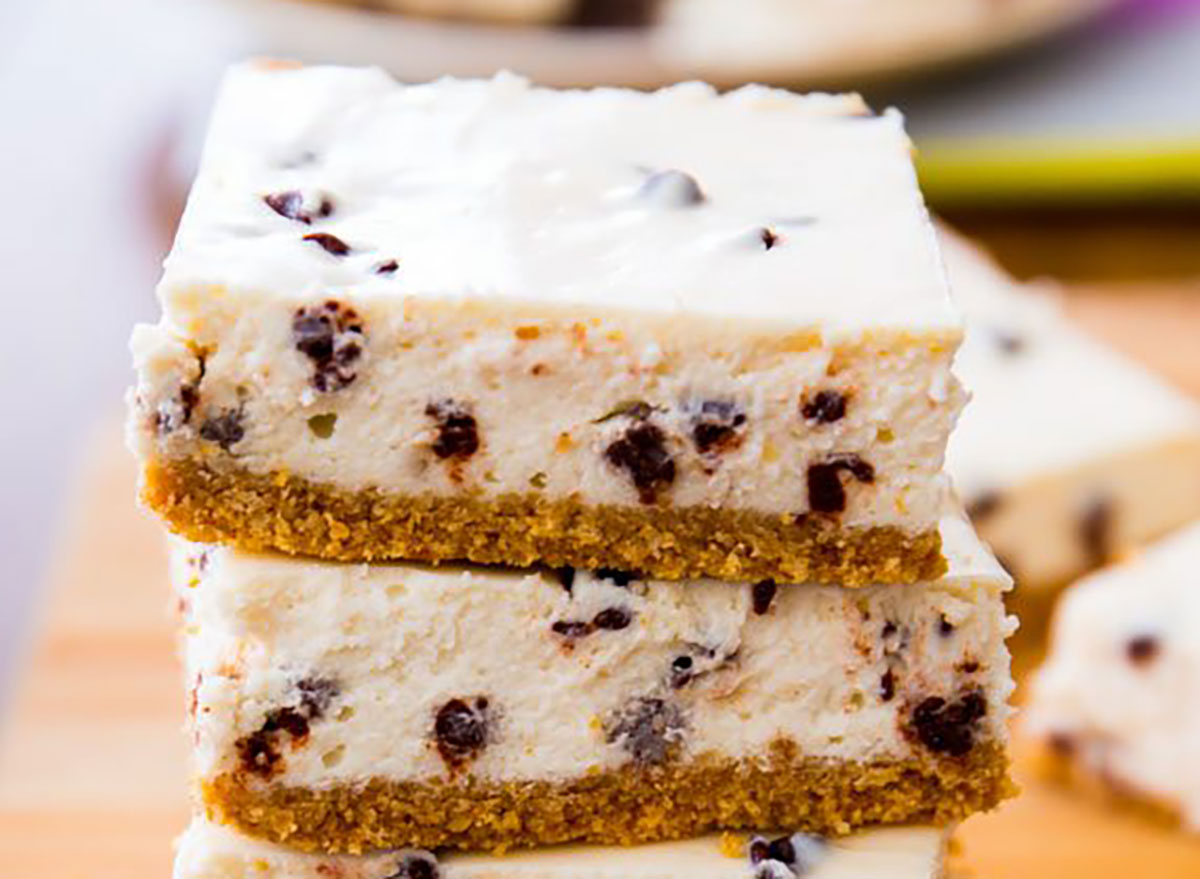 Cheesecake probably isn't where you think you'll end up when you're starting with a bag of chocolate chips, but this dessert combines the two for maximum indulgence. The chips get mixed into the cheese filling and sprinkled over the top, too.6254a4d1642c605c54bf1cab17d50f1e
Get the recipe from Sally's Baking Addiction.
Almond Chocolate Chip Granola Bars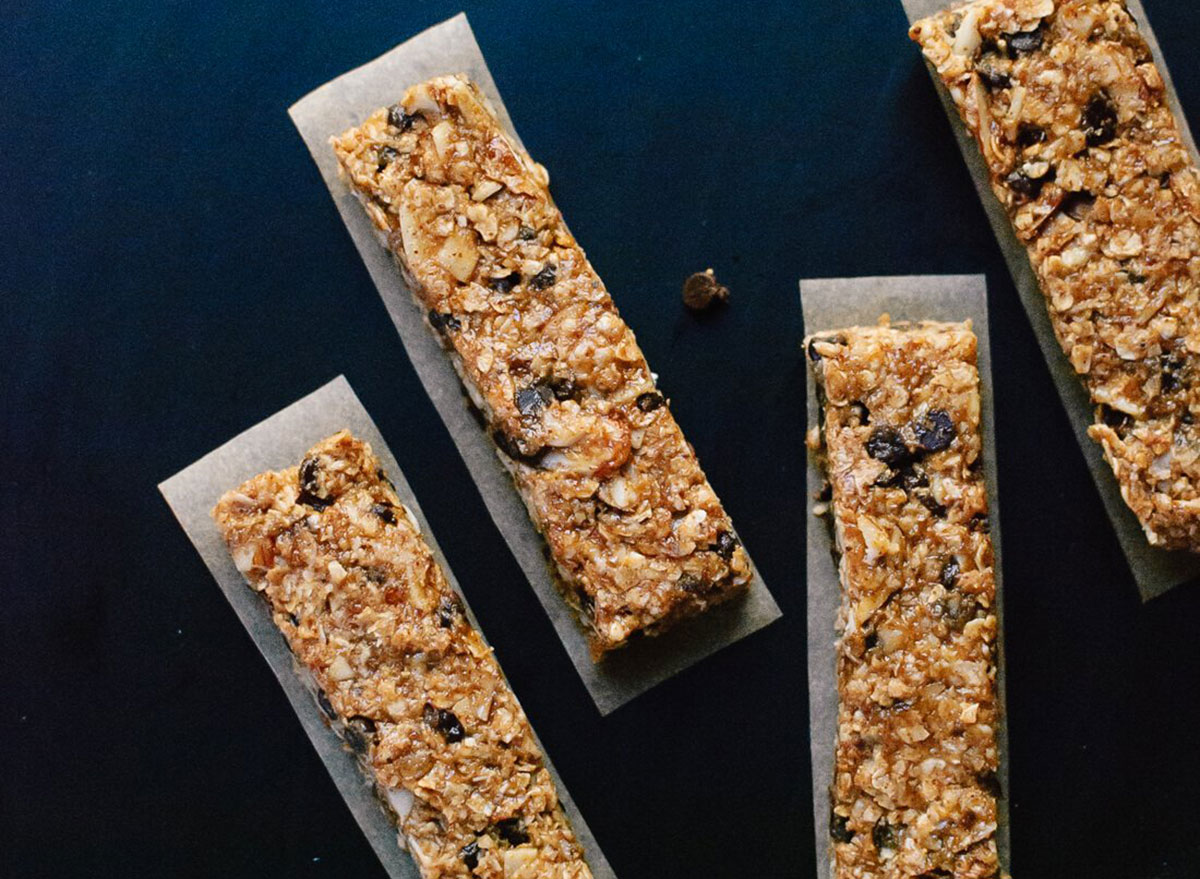 Turn your chocolate chips into a healthy snack by mixing them with oats and almonds for a simple homemade granola bar. Or simply use this recipe as a template for your pantry clean-out creation.
Get the recipe from Cookie and Kate.
Chocolate Chip Peanut Butter Swirled Cookie Bars
There are few food combos as heavenly as chocolate and peanut butter. Try them in this rich cookie bar that'll become your weekend baking go-to.
Get the recipe from Half Baked Harvest.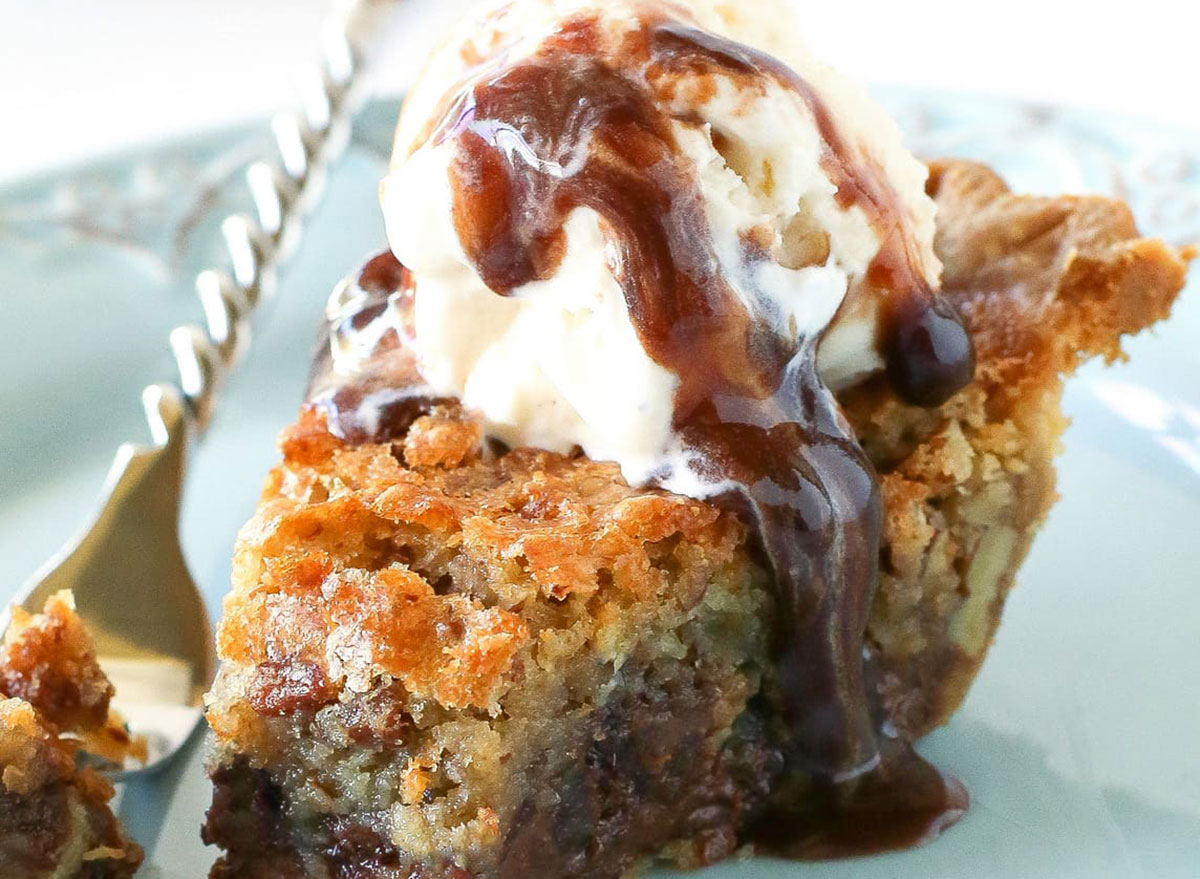 Why make a chocolate chip cookie, when you can make a whole pie. It's rich, moist, and begs for a scoop of vanilla or strawberry ice cream on top.
Get the recipe from The Girl Who Ate Everything.
Chocolate Chip Oatmeal Pancakes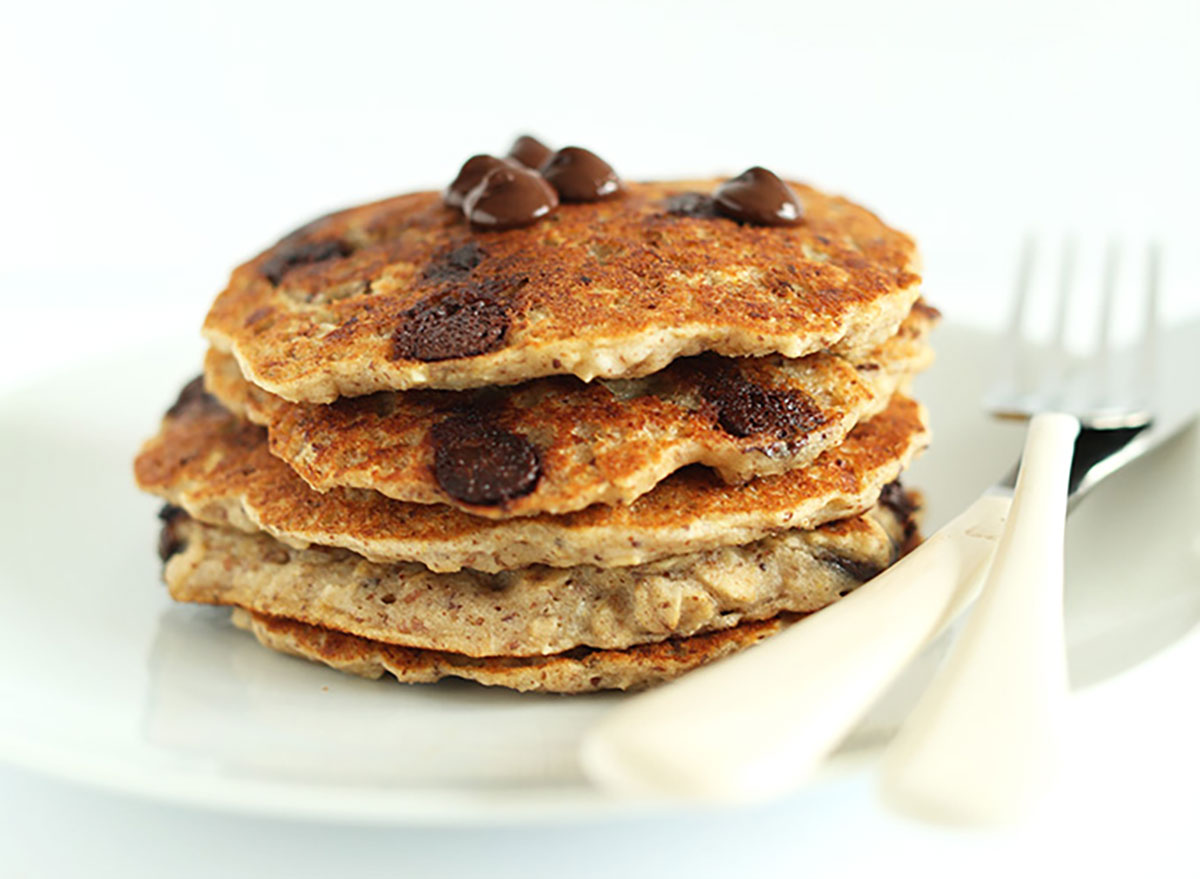 A tried and true classic that never disappoints. The addition of oats in this recipe will pump your stack up with extra fiber, which makes it a perfect candidate for breakfast.
Get the recipe from Minimalist Baker.
Banana And Chocolate Chip Baked French Toast
This is a fancy French toast if we've ever seen one. First off, it's made with cinnamon toast bread instead of regular bread, which is layered in a baking dish, along with sliced bananas and chocolate chips. The whole thing gets topped off with oatmeal crumble. Yum!
Get the recipe from Foodie Crush.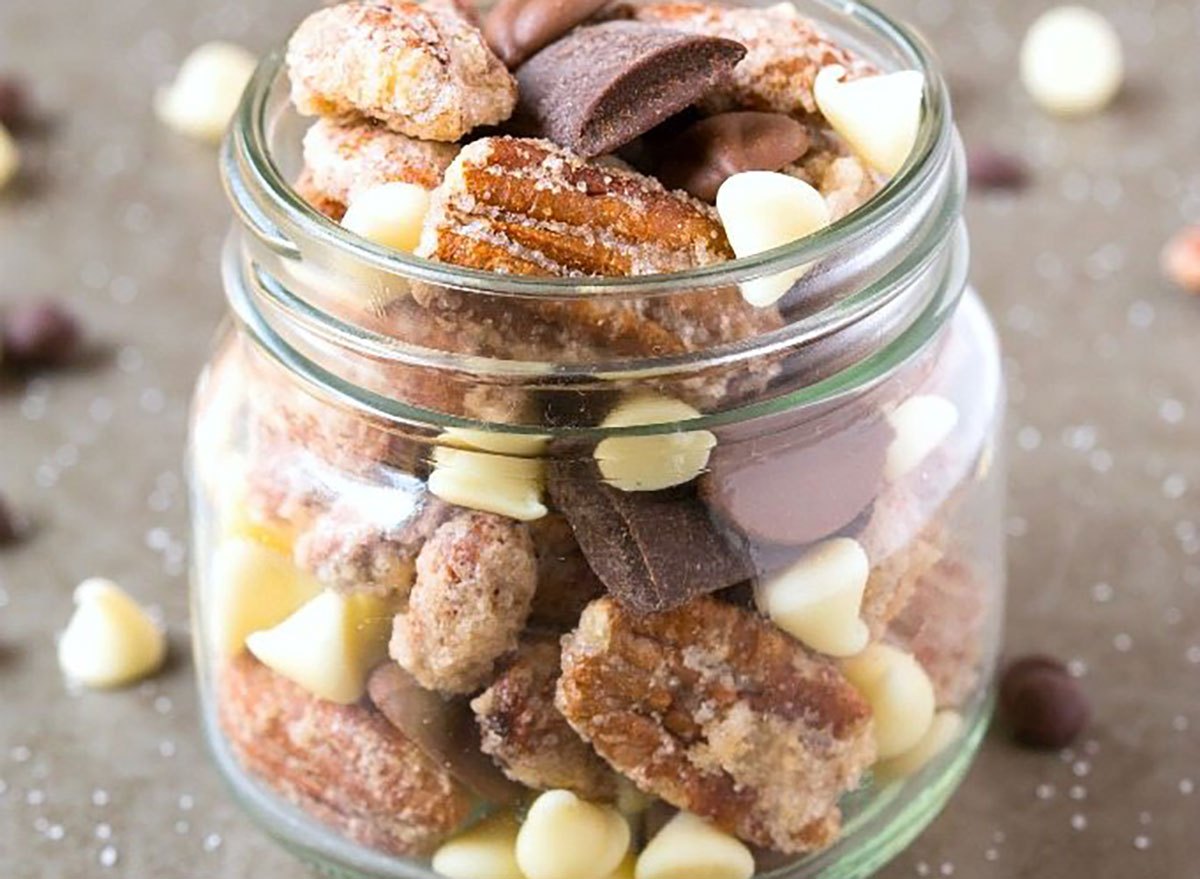 Here's a dessert you don't have to mix or bake but can still take all the credit for. Get some candied nuts and mix them with the exact amount of chocolate chips you deem necessary. We won't judge.
Get the recipe from The Big Man's World.
Chocolate Chip Carrot Cake Bread
This carrot cake bread is a healthy riff on carrot cake. Ditch all that sugary frosting and add in some chocolate chips instead.
Get the recipe from Fit Foodie Finds.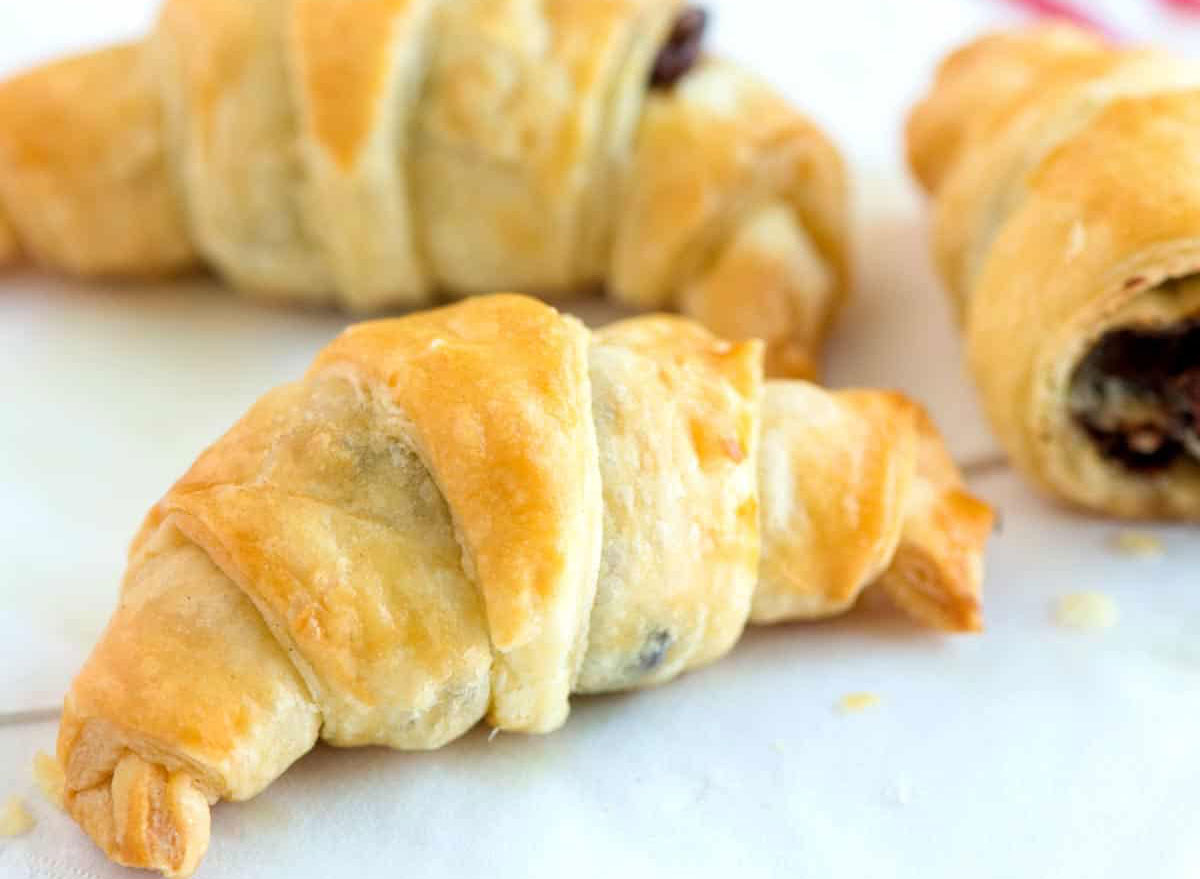 We love simple, clever ways of making delicious things. Get some store-bought puff pastry and turn it into chocolate croissants with a simple chocolate chip trick. Roll some chips up in the dough and they will be gooey and melted to perfection by the time these come out of the oven.
Get the recipe from Inspired Taste.
Another clever way to make something sweet out of things you already have at home. This creamy chocolate dip is made with yogurt and cream cheese, which reminds us of cheesecake. Try serving it as an afternoon snack with some fruit and watch it disappear in minutes.
Get the recipe from Julie's Eats and Treats.
Chocolate Chip Rosemary Scones
Chocolate chips belong in scones. We particularly love this recipe because of the rosemary-infused icing, which adds an air of sophistication to this simple baking project.
Get the recipe from My Name is Yeh.
For more, check out these 108 most popular sodas ranked by how toxic they are.
Mura Dominko
Mura is ETNT's Executive Editor, leading the coverage of America's favorite restaurant chains, grocery stores, and viral food moments.
Read more about Mura