These Weight Loss Mistakes Harm Your Health, According to Experts
Doctors and dietitians reveal some major dieting no-nos to avoid for the sake of your body.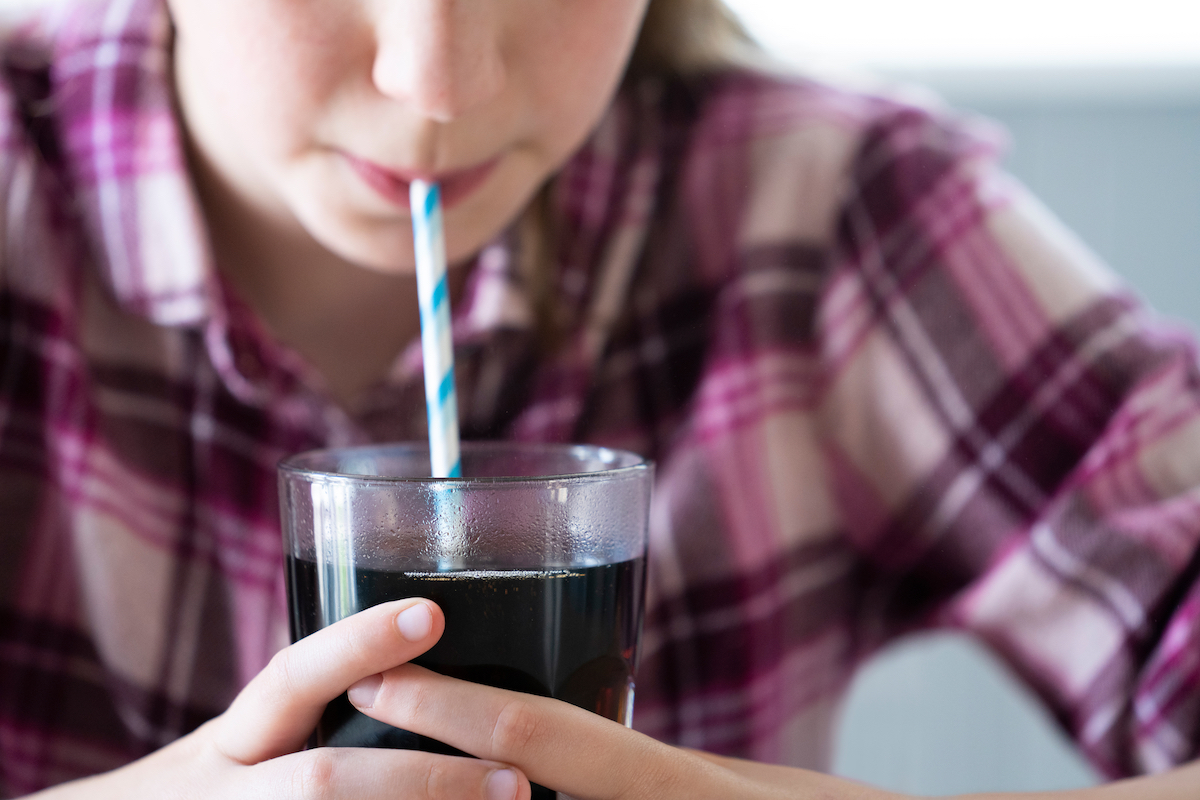 If there's one thing I've learned in all of my years of helping people lose weight, it's that entirely too many people view the process of weight loss through the lens of perfection. You know, they think they've got to eat the perfect diet of the perfect foods containing the perfect number of calories day after day, while at the same time needing to maintain the perfect amount of exercise in which they're burning more energy than they're storing away as fat. If they accomplish anything less, they've failed and they won't reach their goals.
It's a noble thought, but let's face it: it's wildly unrealistic and simply not true. In weight loss, your mindset is everything—positivity, self-compassion, and setting realistic expectations are paramount—and I'd encourage anyone looking to drop a few pounds to view the process of weight loss through the lens of mistakes. After all, you will make a lot them trying to lose weight—whether it's sneaking a few Oreos now and then or finding out that your unexpected Zoom call has suddenly replaced your evening jog.
The ultimate goal is to welcome some mistakes while minimizing others. But while it's OK to cheat every now and then, there are some mistakes that are complete and total no-nos. You'll find that they work against you, and that the stubborn fat you're trying to lose will only get more stubborn. Even worse, these mistakes can harm your health if you're committing them too often.
To compile a list of at least five of some of the most offending dieting mistakes you need to avoid, I reached out to a few doctors, nutritionists, and other great weight loss experts to add their answers to my own. So if you're looking to erase the mistakes you shouldn't be making for the sake of your body, read on, because I've laid some of the most important ones out right here. And for more amazing weight loss advice from us at Eat This, Not That!, be sure to read these Simple Ways to Start Losing Weight Immediately, According to Science.
You're cutting out foods you actually need.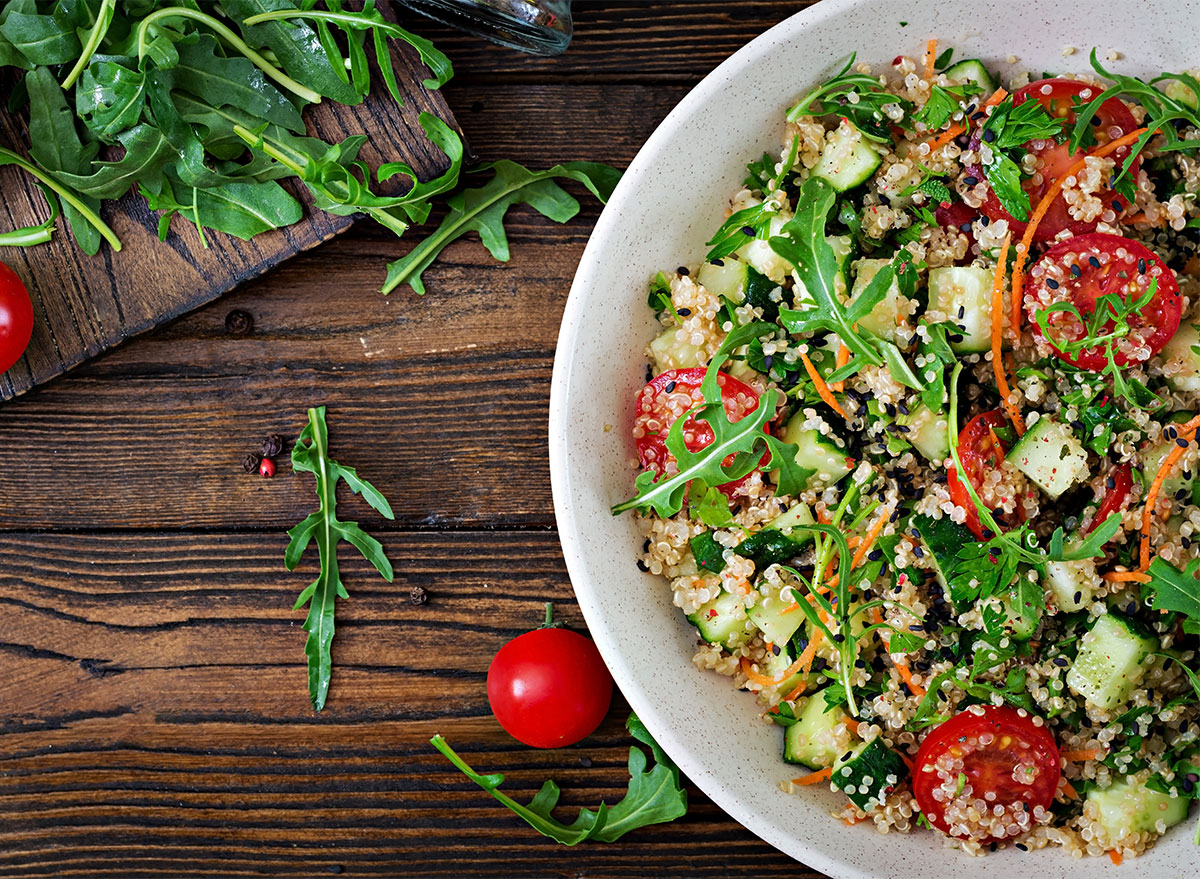 Leslie Bonci, MPH, RDN, CSSD, LDN, a sports dietitian who works with the NFL's Kansas City Chiefs (who, for the record, are currently 11-1), calls this no-no "elimination without justification." It refers to slashing certain foods from your diet that could be bad for other people but aren't necessarily bad for you. "Arbitrarily cutting out dairy without a medical reasons, for instance, lowers your intake of calcium D," she says. "If you were eating yogurt and you suddenly stop, you're not getting as many probiotics for your gut."
That's just one example. She's got more. "Cutting out gluten without a medical reason may decrease the presence of good bacteria in the gut and also increase the presence of pathogenic bacteria, while increasing fiber too much, too soon—especially without adequate fluids—may cause gut discomfort."
Other examples include cutting out too many fats, which could reduce your lipid levels and decrease your body's absorption of fat-soluble vitamins, which adversely impact the health of your skin and hair; and if you're going Vegan, make sure you find ways to supplement your diet with adequate levels of protein. "Remember," says Bonci, "Putting just fruits and veggies on the plate may result in weight loss, but will not promote great health."
So make sure you're not cutting out essential foods that your body really needs. And for more great weight loss advice, don't miss our enormous list of 200 Best Ever Weight Loss Tips!6254a4d1642c605c54bf1cab17d50f1e
You're restricting way too many calories.
I always tell people that one of the surest ways to gain weight is to lose it too quickly in the first place. I'm not the only one who feels this way. "Surprisingly, not eating or restricting calories can cause the body to ultimately store fat," says Amy Lee, MD, an expert in nutrition, obesity, and weight control. "You have to treat the body like a machine and provide good quality macro/micronutrients to optimize the metabolism. Biggest mistake for a dieter is not eating enough."
You're not just depriving your body of weight loss. If you're starving yourself, you're simply not getting enough nutrients to walk through this world a healthy person—and it shows. It affects your skin, your bones, even your teeth. "Malnutrition can weaken the jaw bone and cause tooth loss, increase tooth decay, and increase gum deficiency leading to gum disease," says Hunter Dawson, DMD, MSD, an oral and maxillofacial surgeon.
You follow diets that tell you to avoid exercise.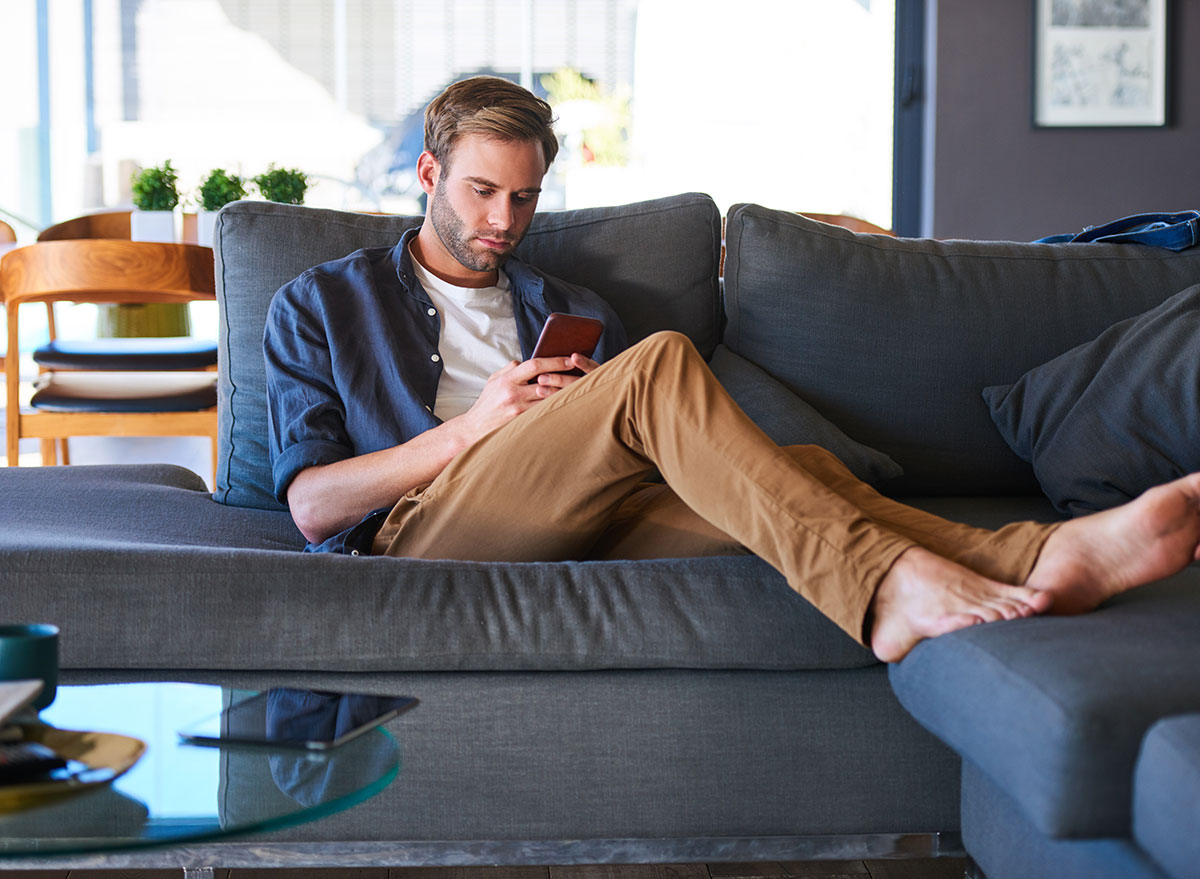 Never trust a branded diet that tells you it's OK to not exercise at all. "Exercise and physical activity should be part of a healthy weight loss plan—period," says Brenda Braslow, RD, who works for the weight loss app My Net Diary.
Here's why: While you can lose weight without exercising, you'll come out of the experience with a less healthy lifestyle. If you incorporate exercise into your weight loss regimen, you'll be building into your habits some crucially healthy ones that will benefit your body for a long time. Don't just take it from me, though. According to research of obese subjects published in the journal Applied Physiology, Nutrition, and Metabolism, any weight loss program that incorporates a dedicated exercise regimen is better at both weight loss and improving health biomarkers than any program that's simply food-based.
You're drinking "diet" drinks.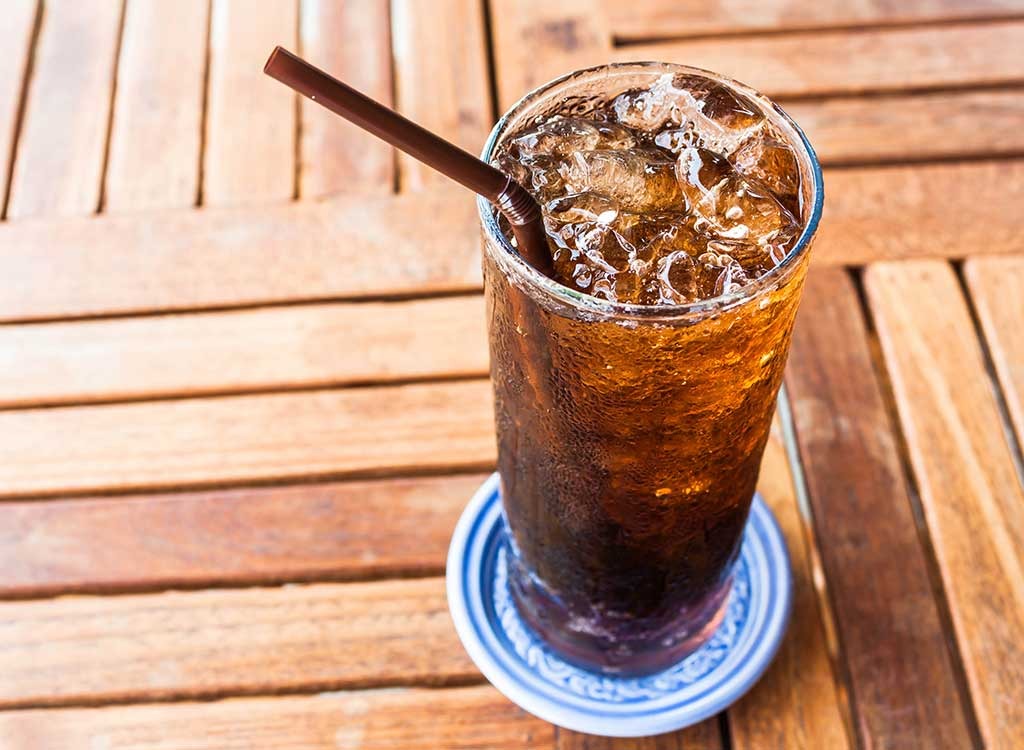 I honestly can't count the number of times I've written about this: "Diet" or "Sugar-Free" drinks are simply not the answer—whether you're dieting or not. According to a study published in the Journal of the American Geriatrics Society, increasing diet soda intake is directly linked to greater abdominal obesity. In a study of older adults, researchers found that those who drank diet soda daily experienced more than triple the increase in waist size over the course of nine years.
In another study, researchers reporting in the journal Physiology & Behavior discovered that the brains of those who drink diet sodas regularly react differently to sweet tastes than those who don't have regular doses of artificial sweeteners. The scientists gave young adults drinks containing either sugar or saccharin. Afterward, their brains were examined using MRIs.
Researchers found that those who had consumed the saccharin drinks demonstrated greater activation of the brain sensors that react to sweet tastes. But more important, they found that those who regularly consumed diet sodas seemed to have impaired dopamine response—the "feel good" hormone that's released when we do something pleasurable, like eat delicious food.
You don't cheat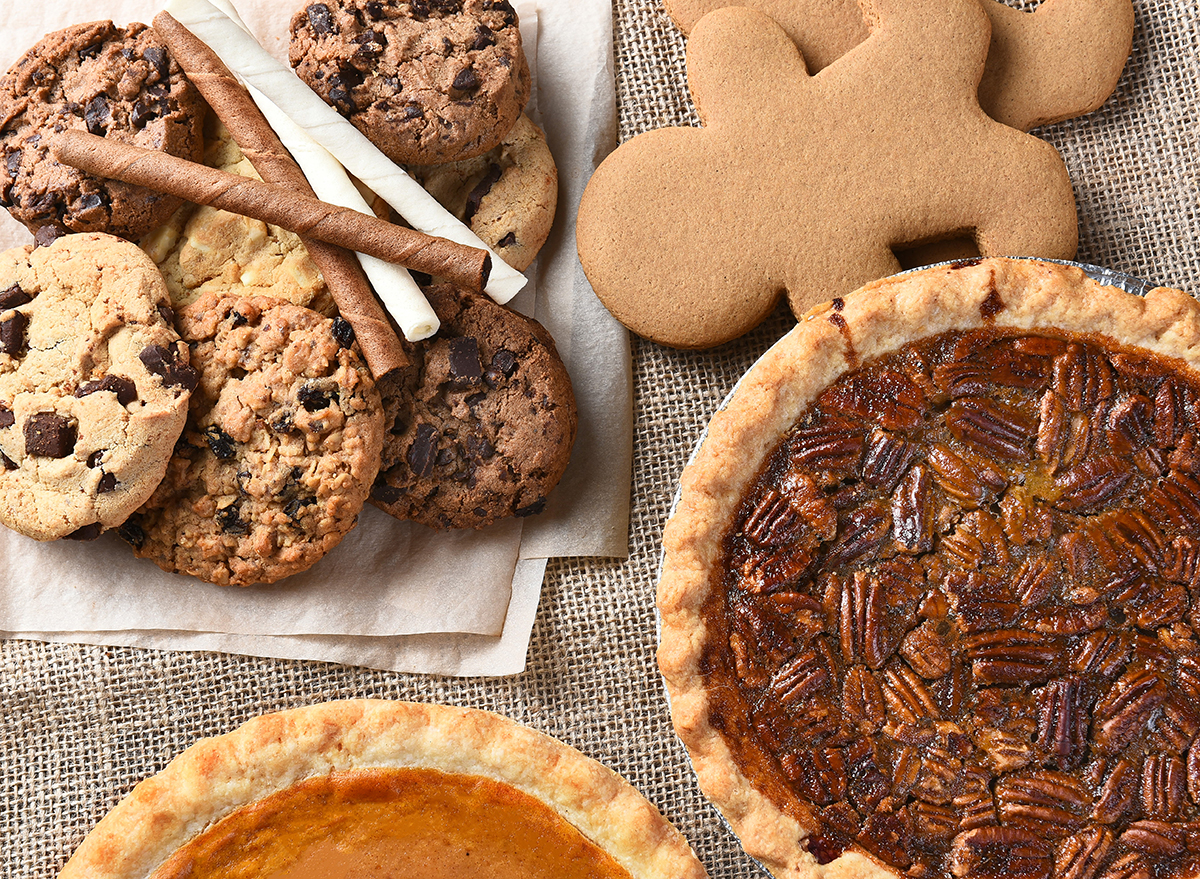 When it comes to weight loss, dietary cheaters almost always prosper. That's because under the right parameters, a weekly "cheat meal" has been proven to boost your metabolism and ward off feelings of deprivation—improving not only your ability to lose weight but your ability to stick to your diet plan as well. One way these meals can boost metabolism is by increasing levels of leptin, "the "anti-starvation" hormone responsible for sending hunger messages to the body. When you diet, leptin levels drop, prompting the metabolism to slow down and conserve energy. Throwing a calorie-rich cheat meal into the mix tricks your system into thinking food is plentiful and that it's okay to burn through its fat stores. And for more great weight loss advice, see this list of Underrated Weight Loss Tips That Totally Work.
David Zinczenko
Dave is a globally recognized expert in health, fitness, nutrition, and weight loss and is the #1 New York Times bestselling author of 25 books in 15 languages.
Read more about David