The Best & Worst Menu Items at Wienerschnitzel
There are plenty of hot dogs, fries, and sweet treats on this menu! Here's what you should and shouldn't order, according to a nutritionist.
They don't call it the World's Largest Hot Dog Chain for nothing! Wienerschnitzel is an American restaurant chain that was founded in 1961, and for the past nearly 60 years, the franchise has been serving up some of the most delicious and well-known hot dogs, desserts, and other yummy treats to hungry customers.
Located predominantly in California and Texas, Wienerschnitzel serves "The World's Most Wanted Wiener," which is why we decided to take a closer look at its lengthy menu. We checked in with Morgan Brod, RDN, CDN to educate us on some of the best and worst Wienerschnitzel menu items. Much to our surprise, her picks went far beyond their lengthy choices of delicious hot dogs. She also pointed out that this establishment has "very few healthy options," so definitely be cautious when ordering here.
Here are the best and worst menu items available at Wienerschnitzel.
Hot Dogs
Best: Mustard Dog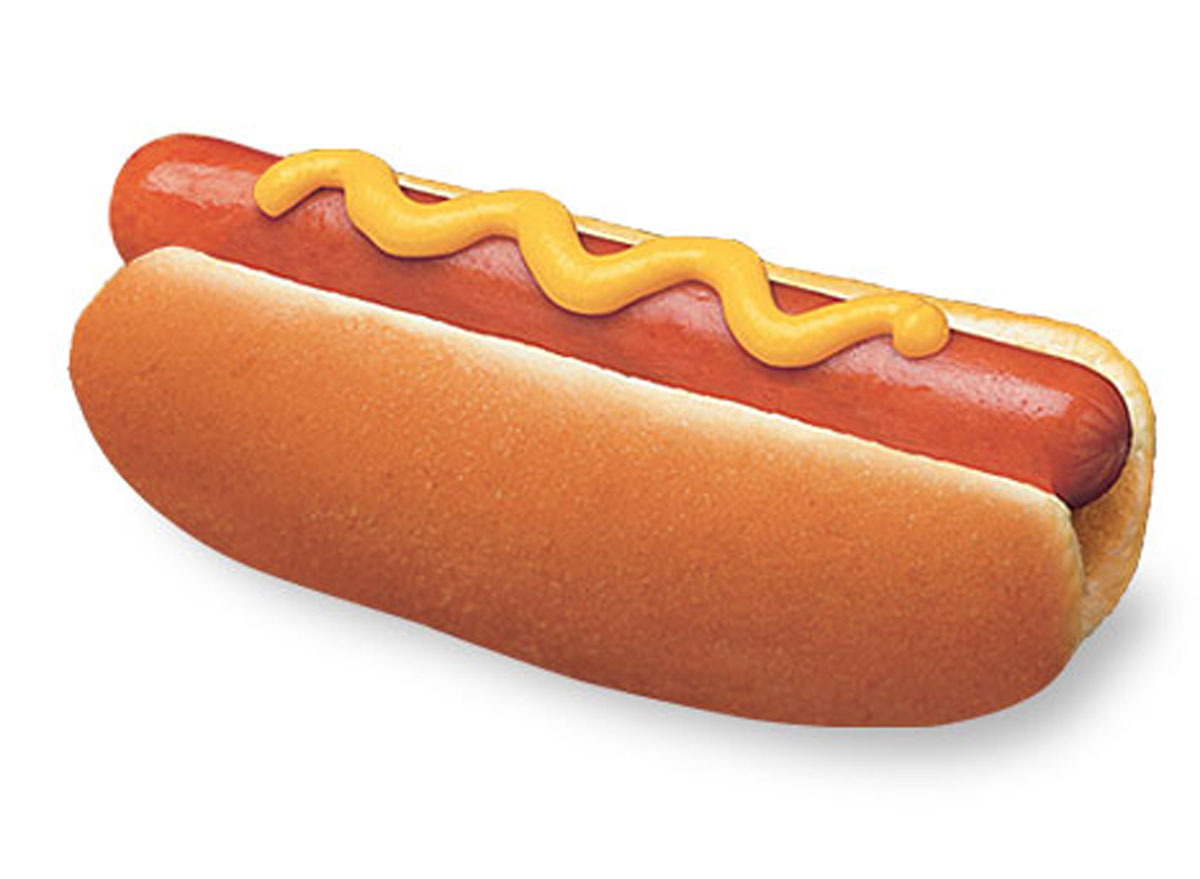 280 calories, 14 g fat (4 g saturated fat, 0 g trans fat), 700 mg sodium, 28 g carbs (1 g fiber, 4 g sugar), 11 g protein
Your "best" bet from the hot dog menu is one with everyone's favorite tangy condiment because it's the lowest calorie option in this category, according to Brod. "However, it still is lacking in much nutritional value," she says.
Worst: Junkyard Dog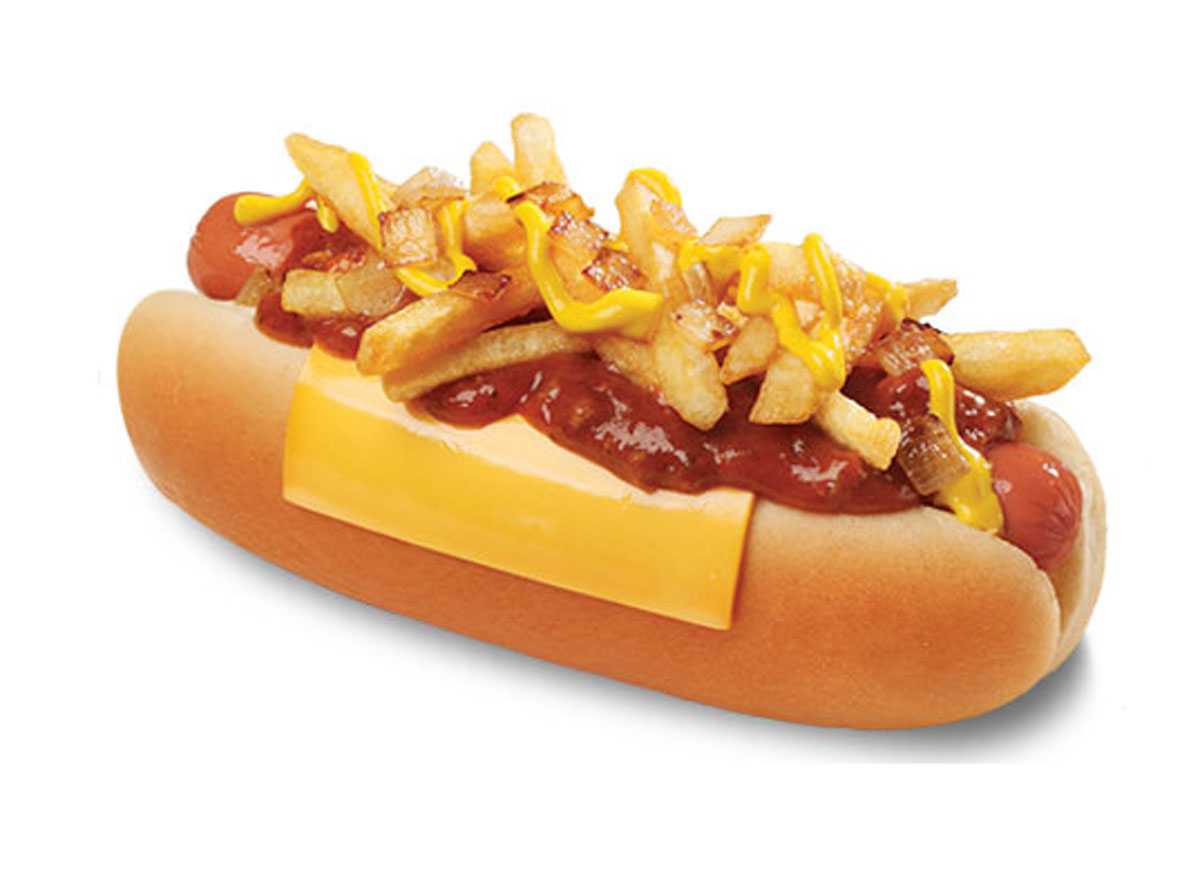 430 calories, 24 g fat (7 g saturated fat, 0 g trans fat), 1,370 mg sodium, 42 g carbs (2 g fiber, 5 g sugar), 15 g protein
This hot dog, topped with French fries, the world-famous chili sauce, a slice of American cheese, and mustard, is a big no-no due to the high saturated fat content.
"According to the 2015-2020 Dietary Guidelines, a healthy eating pattern includes less than 10 percent of daily calories from saturated fat," Brod says. "Over half of the calories in the Junkyard Dog come from saturated fat. Too much saturated fat in the diet has been associated with an increased risk for chronic disease, especially cardiovascular disease."
Burgers and Sandwiches
Best: Chili Cheeseburger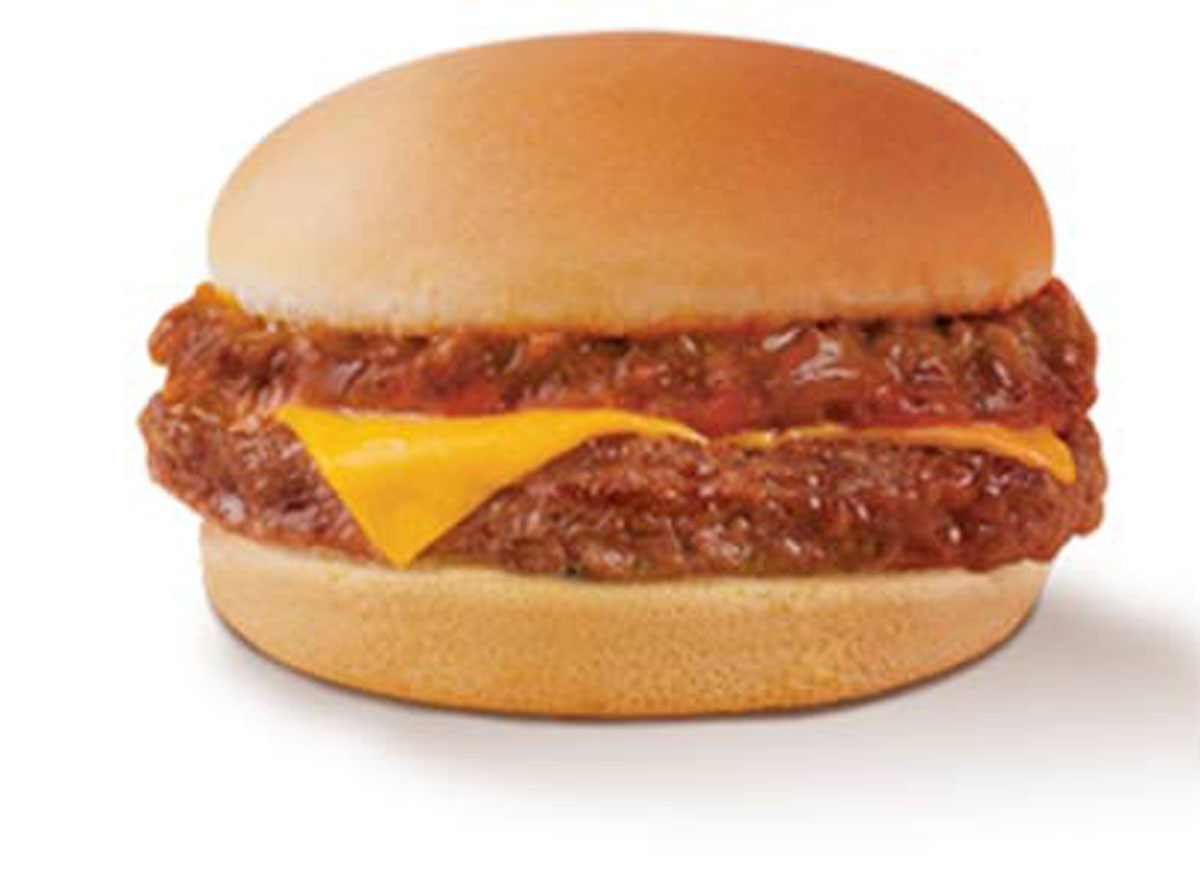 450 calories, 24 g fat (9 g saturated fat, 1 g trans fat), 1,290 mg sodium, 27 g carbs (1 g fiber, 3 g sugar), 32 g protein
This single-patty burger, topped with the chain's famous chili sauce and American cheese on a toasted bun, "is considered 'the best' as it is lower in calories and lower in sodium compared to 'the worst,' but similar to the Mustard Hot Dog above, it still does not hold much nutritional value," Brod says.
The nutrition expert also pointed out that there are ways to make a burger an even healthier option.
"A burger can be a perfectly nutritious option in moderation, using lean cut beef and veggie toppings with limited added oils and sauces, and even a whole wheat bun," she says.
Worst: BBQ Bacon Cheeseburger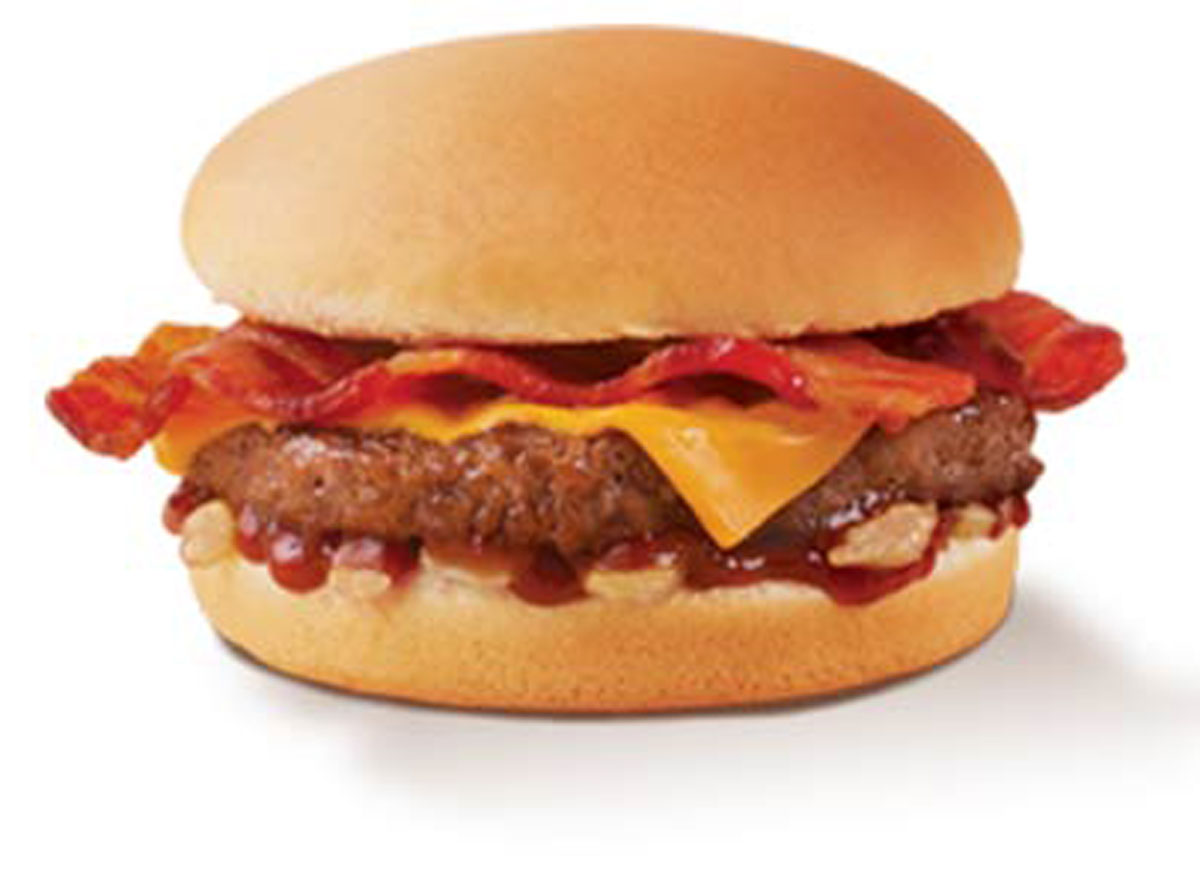 610 calories, 34 g fat (12 g saturated fat, 1 g trans fat), 1,980 mg sodium, 33 g carbs (1 g fiber, 9 g sugar), 40 g protein
The extra ingredients in this burger (bacon, American cheese, and BBQ sauce) is what puts this meal over the edge.
"Here, you are consuming additional calories and saturated fat from both the barbecue sauce, which tends to be loaded with added sugars, as well as the bacon and cheese," she says. "Though this burger does have a lot of protein, there are significantly better ways to incorporate protein into your diet."
What's even more eye-opening is the high amount of calories in one burger.
"The calories here are equivalent to 25 Hershey kisses," Brod says. Yikes!
Fries and Snacks
Best: Small Fries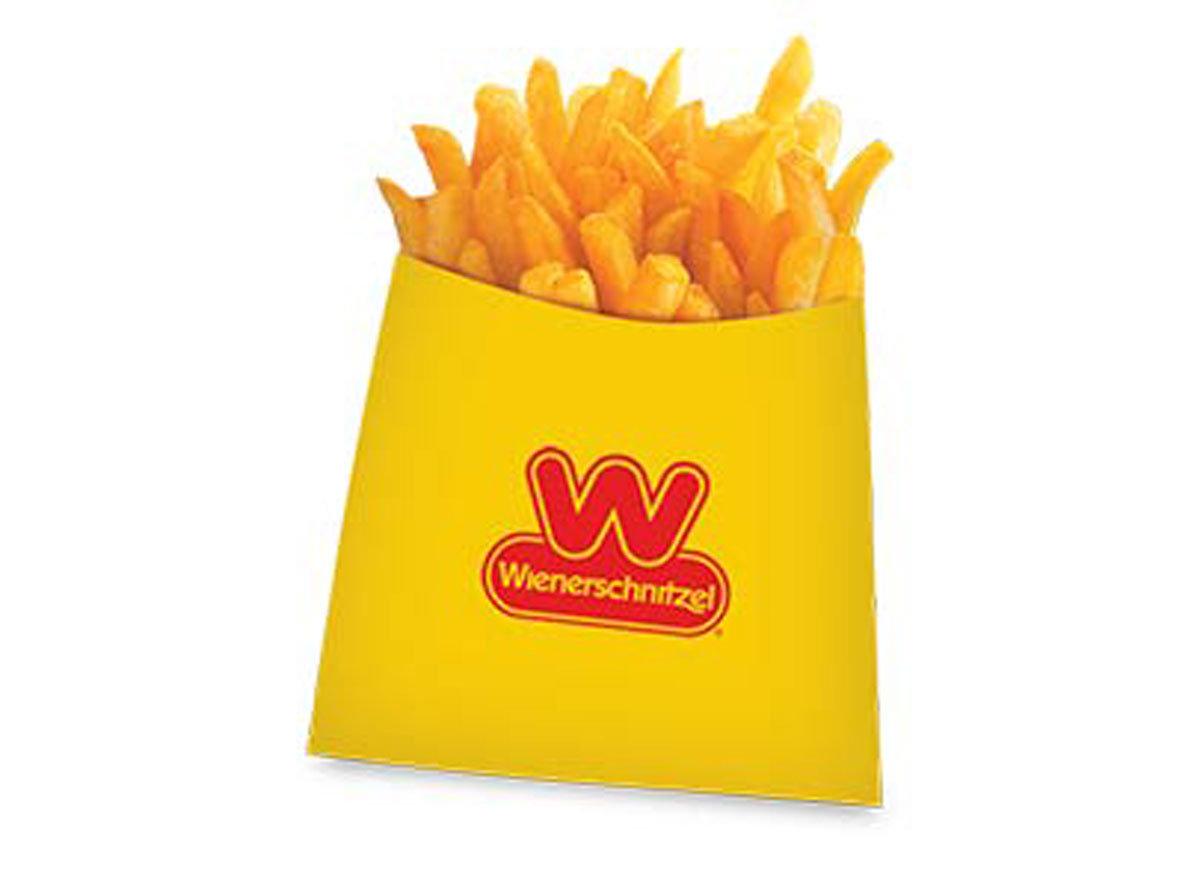 310 calories, 16 g fat (1.5 g saturated fat, 0 g trans fat), 510 mg sodium, 38 g carbs (4 g fiber, 0 g sugar), 4 g protein
A small order of crispy golden French fries is one of the better choices from the fries and snacks category, but portion is key in this case (don't splurge and order the large!).
"French fries truly have no significant nutritional value, however, portion control in more indulgent scenarios is always going to be a significant strategy to maintaining any health and wellness goals," Brod says.
Worst: Large Thousand Island Chili Cheese Fries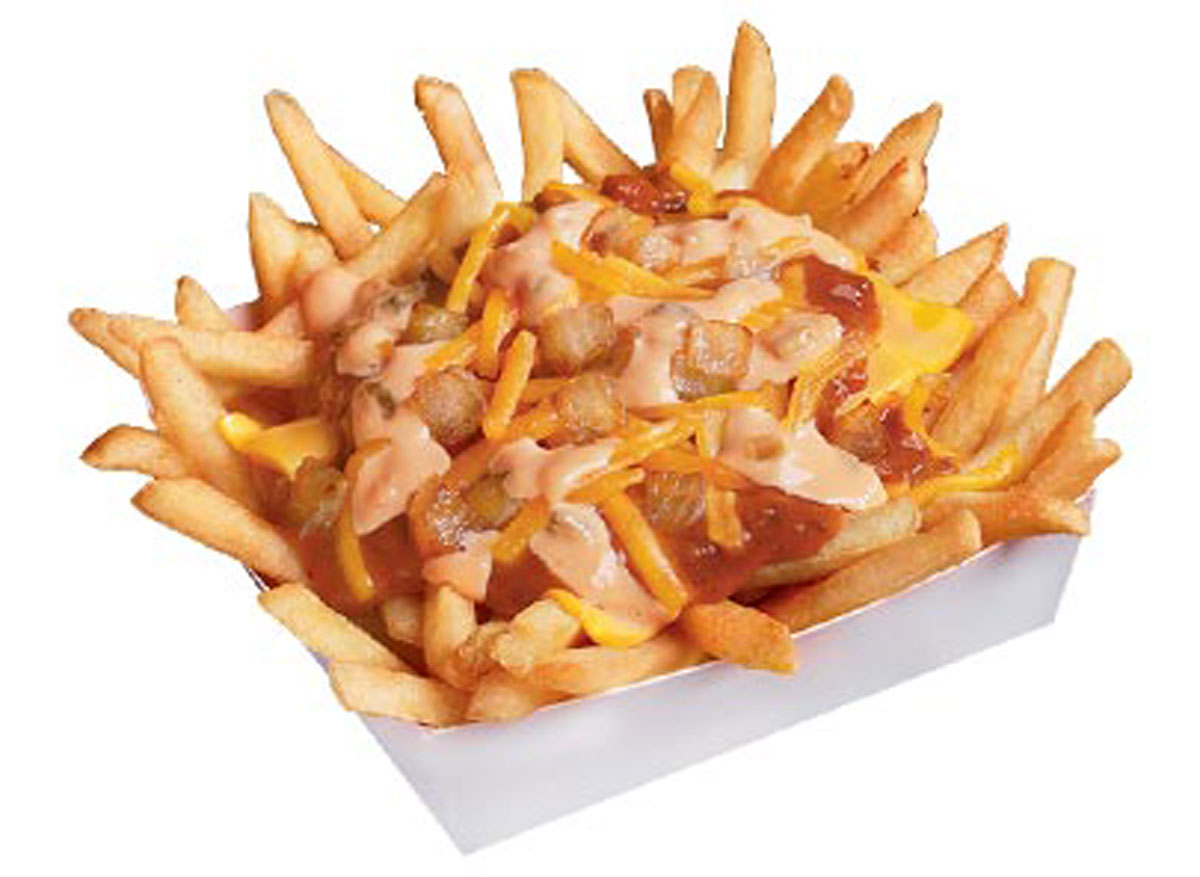 1,510 calories, 95 g fat (22 g saturated fat, 0 g trans fat), 3,500 mg sodium, 131 g carbs (13 g fiber, 13 g sugar), 33 g protein
The very high-calorie count and sodium content in these fries, which are topped with chili, thousand island dressing, shredded cheddar cheese, and grilled onions, are the most eye-opening factors.6254a4d1642c605c54bf1cab17d50f1e
"These fries have as many calories as many people likely intake in an entire day," Brod says. "They also have nearly double the amount of recommended daily sodium!"
Breakfast (Note: Only served until 10:30 at participating locations)
Best: Hash Brown Po'Taters
330 calories, 23 g fat (2 g saturated fat, 0 g trans fat), 570 mg sodium, 28 g carbs (3 g fiber, 0 g sugar), 3 g protein
These fried potato delights are the "best" breakfast option due to the lower calorie count, but they likely would not be eaten by themselves during a meal, which is important to note.
"I would opt for something that is a more complete meal and then practice portion control (maybe a plain egg and cheese sandwich if available, for example)," Brod says. "If available to you, pairing the hash browns with something of more nutritional value like hard-boiled eggs or fruit would be a way to create a more balanced meal."
Worst: Biscuit Sandwich with Egg, Sausage, and Cheese
580 calories, 39 g fat (19 g saturated fat, 0 g trans fat), 1,580 mg sodium, 40 g carbs (1 g fiber, 3 g sugar), 18 g protein
This warm biscuit is topped with an omelet style egg, sausage, and American cheese, and it unfortunately has a high amount of sodium and calories.
"Biscuits add a lot of added calories and sugar to what could otherwise be an OK breakfast choice," Brod says. In this case, maybe ask for regular toast or opt out of the bread completely.
Soft Serve Cones
Best: Plain Soft Serve Cone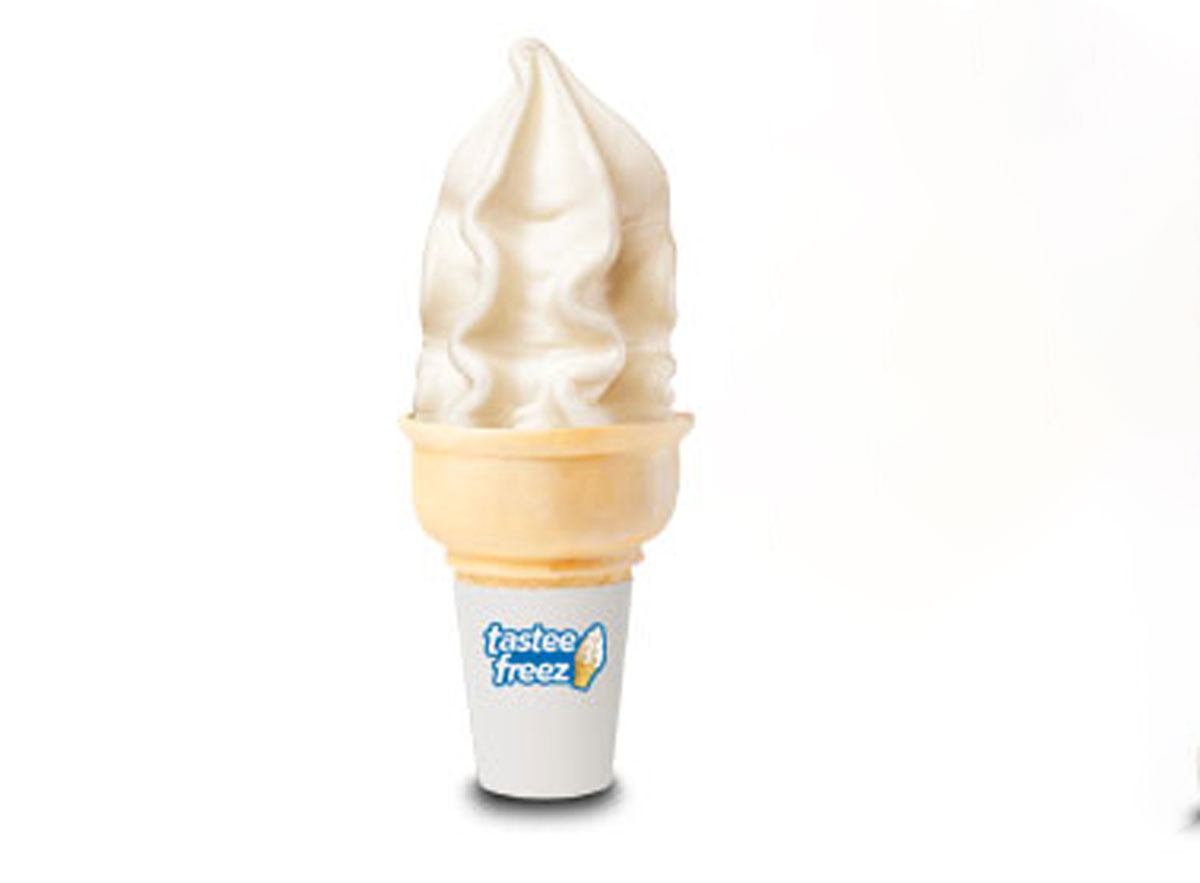 205 calories, 7 g fat (4 g saturated fat, 0 g trans fat), 150 mg sodium, 34 g carbs (1 g fiber, 24 g sugar), 4 g protein
This classic, tasty plain vanilla cone is a better choice if you plan to indulge in dessert after your meal.
"This is one of the most simple desserts on the menu, therefore, it's lower in overall calories," Brod says. "If you just need a taste of something sweet after a meal, keeping it simple can be calorically beneficial."
Worst: Chocolate Dipped Soft Serve Cone
350 calories, 21 g fat (17 g saturated fat, 1 g trans fat), 165 mg sodium, 40 g carbs (2 g fiber, 29 g sugar), 5 g protein
Even though this cone is dipped in sweet chocolate, Brod says that "in terms of dessert, this is still not all that bad," even though the chocolate adds additional calories. "Consider splitting this cone with someone and it is a very reasonable treat," she says.
Shakes and Freezees
Best: Oreo Freezee
630 calories, 24 g fat (13 g saturated fat, 0 g trans fat), 480 mg sodium, 99 g carbs (3 g fiber, 76 g sugar), 13 g protein
This Oreo and vanilla soft-serve blended treat may be the "best" of this category despite the high sugar content, but "this dessert is still more calories than a typical meal," Brod says. "If this was an addition to a meal, especially from this restaurant, you are likely exceeding a days worth of needed caloric intake. The best way to make this a 'best' choice is to enjoy it with a few other spoons in the mix!" she says.
Worst: Oreo Cookie Chocolate Candy Shake
950 calories, 35 g fat (19 g saturated fat, 0 g trans fat), 670 mg sodium, 155 g carbs (5 g fiber, 122 g sugar), 17 g protein
This thick and creamy shake made with soft serve vanilla ice cream, chocolate syrup, and Oreo cookies has landed itself at the bottom of the list due to its poor nutritional value, specifically the high sugar content.
"This shake is about 1/2-3/4 an average person's daily intake," Brod says. "The 122 grams of sugar here is equivalent to over three cans of soda. It's super crucial to keep an eye on your daily sugar intake. The American Heart Association recommends no more than 25 grams of added sugar daily for women and 36 grams of added sugar daily for men. In fact, the new nutrition labeling laws now breakdown natural sugar (like from fruits) vs. added sugars on the nutrition label. Added sugars are not needed from a functional nutrition level, and add to inflammation and obesity."
Sundaes, Banana Splits and Root Beer Floats
Best: Strawberry Old Fashioned Sundae
370 calories, 14 g fat (8 g saturated fat, 0 g trans fat), 220 mg sodium, 59 g carbs (1 g fiber, 49 g sugar), 7 g protein
To make this soft-serve vanilla cup topped with strawberry sauce, whipped cream, and a cherry an even better pick, ditch all the toppings and/or share this dessert with other people.
"Added toppings and big portions add to your total intake of calories, added sugars, and added fats," Brod says.
Worst: Candy Banana Split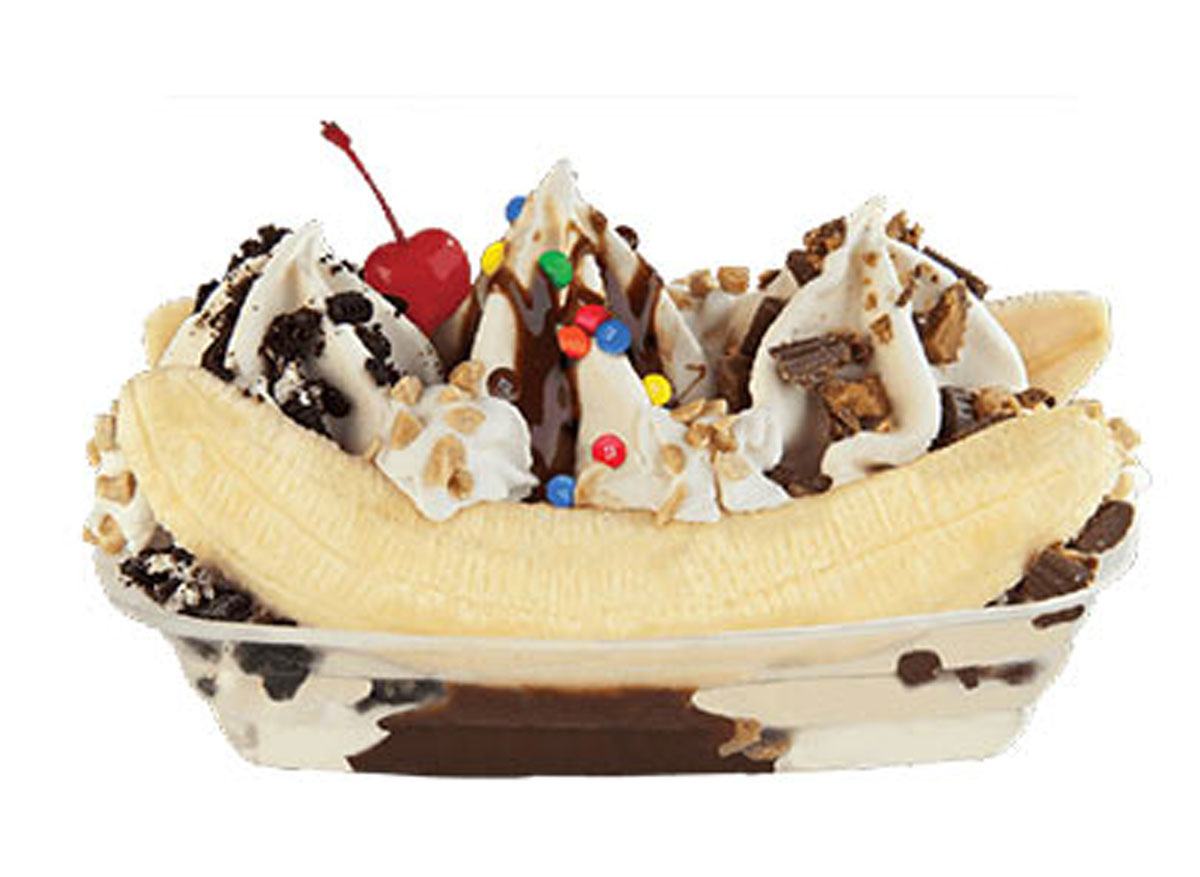 880 calories, 35 g fat (14 g saturated fat, 0 g trans fat), 450 mg sodium, 137 g carbs (8 g fiber, 107 g sugar), 15 g protein
Because the Candy Banana Split is loaded chocolate syrup, M&Ms, Oreos, and Reese's Peanut Butter Cups, it's amped up the amount of sugar in the sweet treat.
"Due to the added sugar from candy, ice cream, and toppings, this dessert is loaded with goodies, but also loaded with added sugars totaling at 107 grams," she says. Yikes!
Samantha Faragalli Younghans